There are some places on Earth whose magic can only be felt by traversing its jagged roads, strolling across its undiscovered lands, and immersing yourself in the aura the place exudes. No matter how many reasons we give you, the true charm of Ladakh can only be felt once you have witnessed its beauty with your naked eyes. To give you a better insight into why a Ladakh Road Trip is a Bucket List adventure, we have jotted down the Top 10 Reasons to visit Ladakh!
Ladakh is a land of unexplored wonders that remains untouched by the average tourist. Be it its majestic roads that unfold unhindered views of the Himalayan ranges or pristine blue lakes that make the entire scenery look like a painting, the Land of High Passes never fails to amaze you.
Sandwiched between the Karakoram Range and the Great Himalayas, Ladakh is a vast stretch of mountain desert that is home to several unexplored destinations that are beautiful beyond comparison. A road trip to Ladakh allows you to travel on the most epic roads in India that slowly unfurl its magical landscapes with every passing turn.
EXTRAORDINARY JOURNEY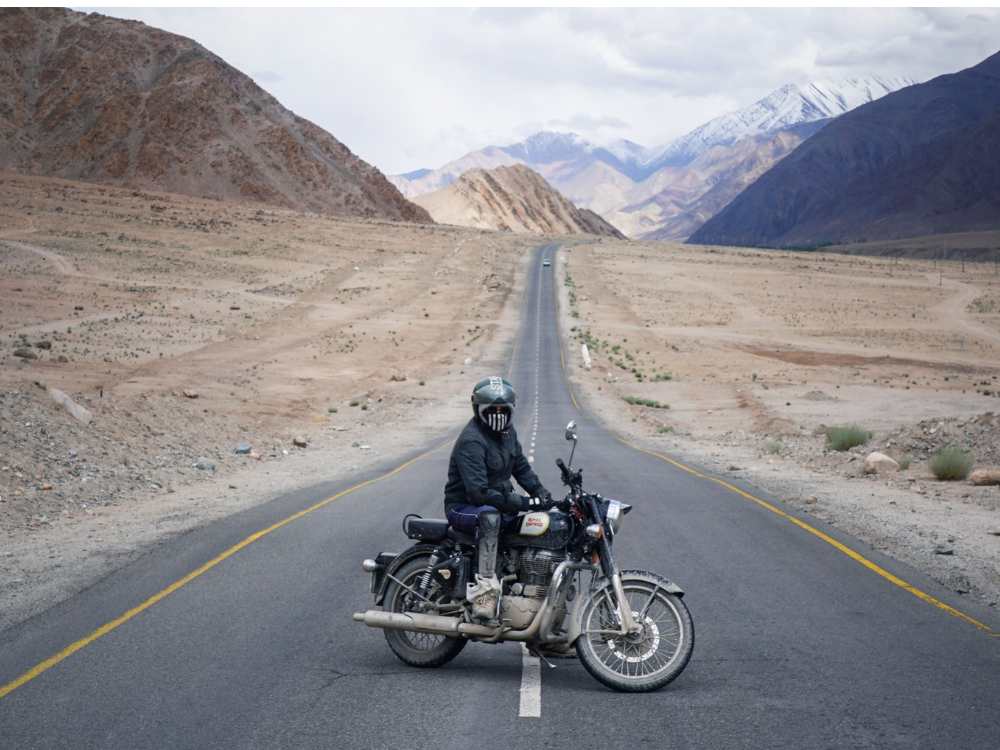 A trip to Ladakh is all about the journey that presents to you all the emotions available to the human platter. From adrenaline coursing through your veins as you drive through the rugged terrains to the peace you feel while exploring some of the most offbeat destinations, it's all here. A full-circuit Ladakh Road Trip is an 11 Day Journey that starts from Delhi and ends at the same. On these 11 Days, you travel across the verdant landscapes of Kullu Valley followed by Lahaul after crossing the Atal Tunnel and slowly approaching Leh-Ladakh within a few days.
The change of landscapes and the stunning sceneries that you capture is truly something that you can only witness on a trip to Ladakh and undoubtedly counts as the top reasons to visit Ladakh! We all know that the Himalayas are epic beyond comprehension and a Ladakh road trip gives one the chance to explore a vast chunk of it by road.
Below listed are some of the most epic roads that you experience on this Ladakh Trip.
High Passes of Ladakh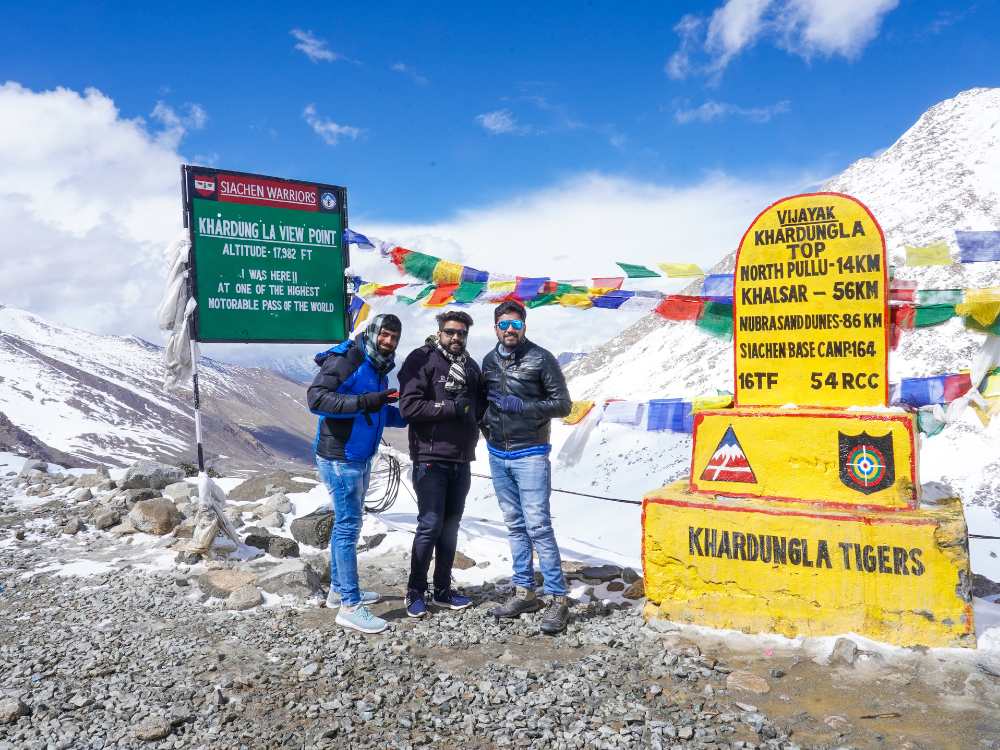 In Ladakhi, 'La' means High and 'Dakh' means Passes and that's how the name Ladakh comes into existence. Basically known as the Land Of High Passes, Ladakh is home to world's highest motorable roads that have also served greatly to the Indian Army.
Khardung La

– Khardung La is the World's 2nd Highest Pass after Umling La, also in Ladakh. It was built in 1976 and has been open to travelers since 1988. The Khardung La Pass is of utmost importance to the Indian Army as it connects Leh to the Kashgar region of Central Asia and is the major route of transport for goods to Siachen Glacier. Khardung La is also the gateway to Shyok and Nubra Valley and presents its travelers with mind-boggling views from the top. Since it is elevated at a staggering altitude of 17, 580 ft, one can only stop here for a few minutes. Conquering the Khardung La Pass is a big achievement for Bikers and presents one with the thrilling opportunity to offroad at the top of the world, quite literally!

Baralacha La Pass

– Baralacha La Pass is the first pass that falls on the way to Ladakh and is known to have some of the toughest terrains and curves. Riders and Drivers have a tough time crossing the same and this is your first sneak peek into the rest of the journey that awaits you. The challenging road to Baralacha La is however made absolutely bearable by two stunning lakes, Suraj Tal and Deepak Tal where you can take a small halt to sip some tea, hog on steaming momos, and gear up for the rest of the journey.
NOTE IT DOWN:- 

While driving through the rough patches, one comes across a certain stream called the Pagla Nala that flows aimlessly in any direction.
Gata Loops

– There are many points on the Manali-Leh Highway when even the most expert drivers feel challenged and Gata Loops is one of them. This intriguing road is an amalgamation of 21 adrenaline-rushing hairpin bends that make the ascent incredibly challenging but also amazing. Gata Loops takes you through three high passes of Ladakh landing you at the NakeeLa Pass perched at 16, 000ft that offers mesmerizing first views of the Mountain Deserts of Ladakh.

Moore Plains

– After riding through the wicked turns and curves for several hours, every biker finally finds peace while traversing the Moore Plains. It is a vast stretch of plain road for about 35 kms before the ascent to Tanglang La starts. Moore Plains is also known as Biker's paradise because of its raw unhindered beauty of mountains flanked on either side of the roads making it yet another top reason to visit Ladakh. This is where you get the perfect chance to rev up the engines and feel the cool wind hit your face as you experience ultimate freedom on the roads of Ladakh.
INCREDIBLE HIGH ALTITUDE LAKES AND RIVERS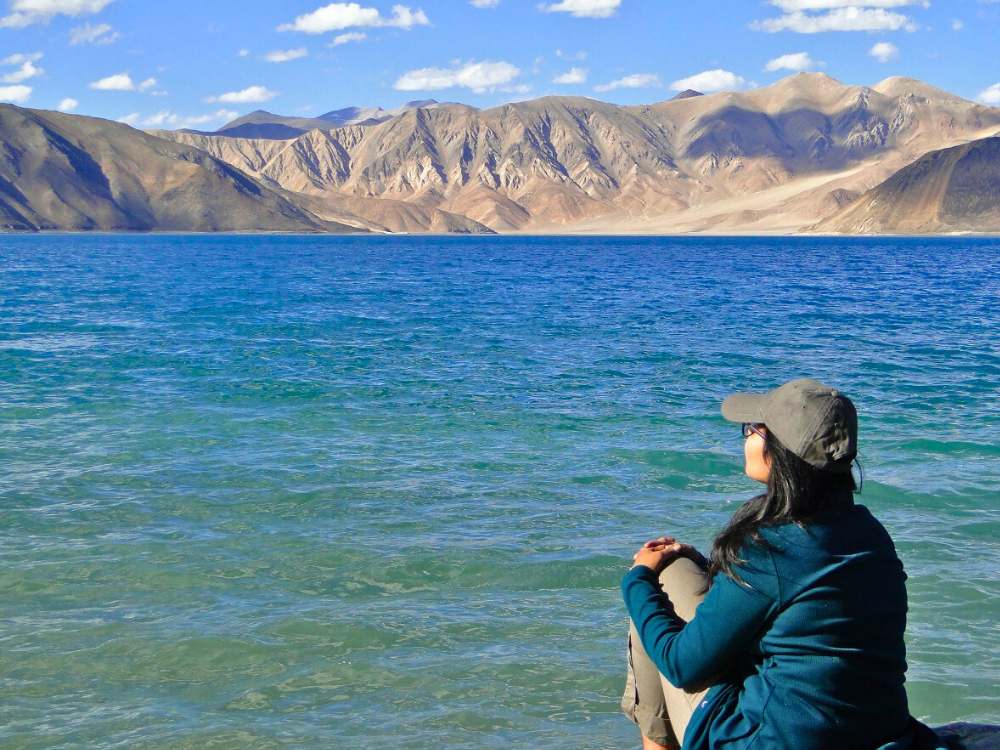 The Indus River and its tributaries give life to the people and landscapes of Ladakh. The pristine waters flow right through the entirety of Ladakh bestowing its barren lands with greenery and making the entire scenery look like an intricately drawn painting by god himself. Not only do these rivers and streams make the landscapes bewitching but the high-altitude Lakes are no less than gems of Ladakh.
Together, the glimmering blue waters flowing right through the vast stretches of mountain deserts make Ladakh come together as one of the most beautiful places you will visit in this lifetime. When listing out the best reasons to visit Ladakh, remember that its landscapes will always take precedence.
SUGGESTED READ: HIDDEN PLACES TO VISIT IN LADAKH
Pangong Tso
You must remember being in awe of the Yellow Scooter ride scene from 3 Idiots, the roads that led to the grandness of a clear blue lake where Amir and Kareena manifest their perfect kiss. Yes, that was Pangong Lake in Ladakh! Known to be the highest high-altitude saltwater lake in India, Pangong is just not gigantic but also extremely alluring. Cradled by snow-clad mountains on either side, a clear blue sky dotted with clouds and marmots, and other wildlife thriving by its banks, Pangong is the picture-perfect spot for you.
Note 

What makes this place one of the Best Places to visit in Ladakh is the fact that you don't just go here to take those perfect shots but can also spend the night by its banks. There are numerous options available for travelers starting from luxury cottages to camps where they can spend the day soaking in pure bliss, catching sunsets, and 
witnessing ethereal views of the night sky. 
Tso Moriri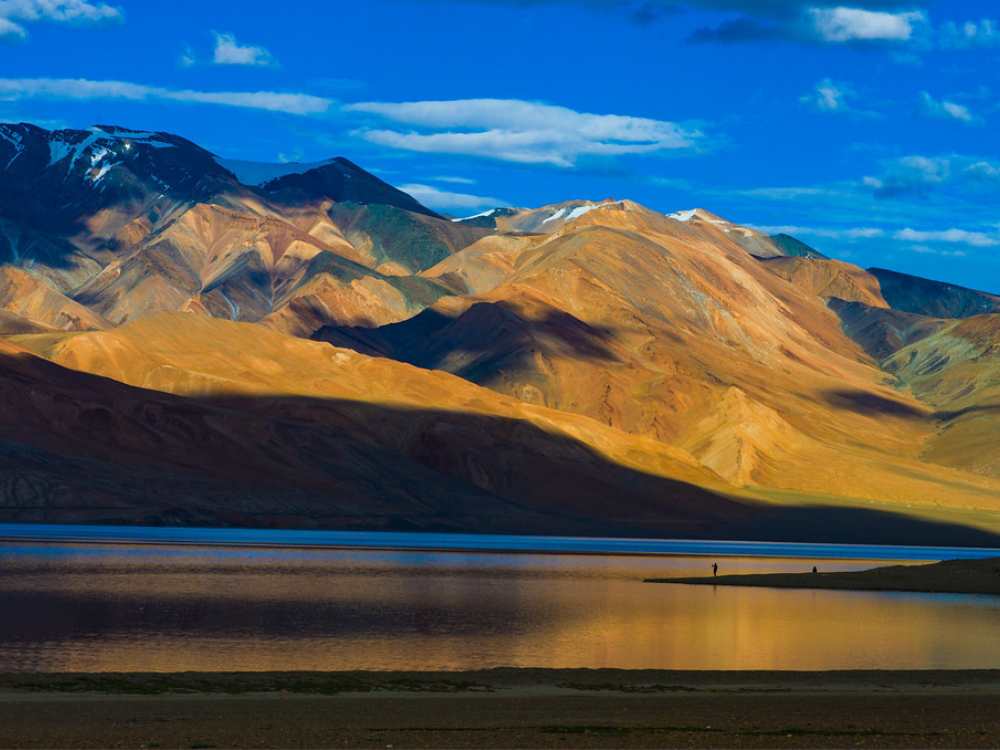 The aura of some places is such that it leaves an everlasting mark on your soul. Tso Moriri in Ladakh is one such lesser-known lake that stays quaintly perched amidst the towering mountains of Ladakh. It is also a part of the Ramsar Wetland Reserve and is home to many rare species of wildlife like black-necked crane, Himalayan Red Fox, marmots, and rarely the Tibetan Wolf. Tso Moriri is also the largest high-altitude lake (29 km long, 8 km wide) that falls entirely in the Indian territory and is surely one of the hidden gems of Ladakh that nature enthusiasts should visit. Being a part of the Tsomoriri Wetland Conservation Reserve, camping by the banks is prohibited. However, one can find homestay options nearby where you can spend a couple of days exploring the Changthang region and the hidden wonders it beholds. Catching a glimpse of sunrise, sunsets and even the night sky from the lake is surely an experience that shall fill you with a palpable sense of peace.
Deepak Tal And Suraj Tal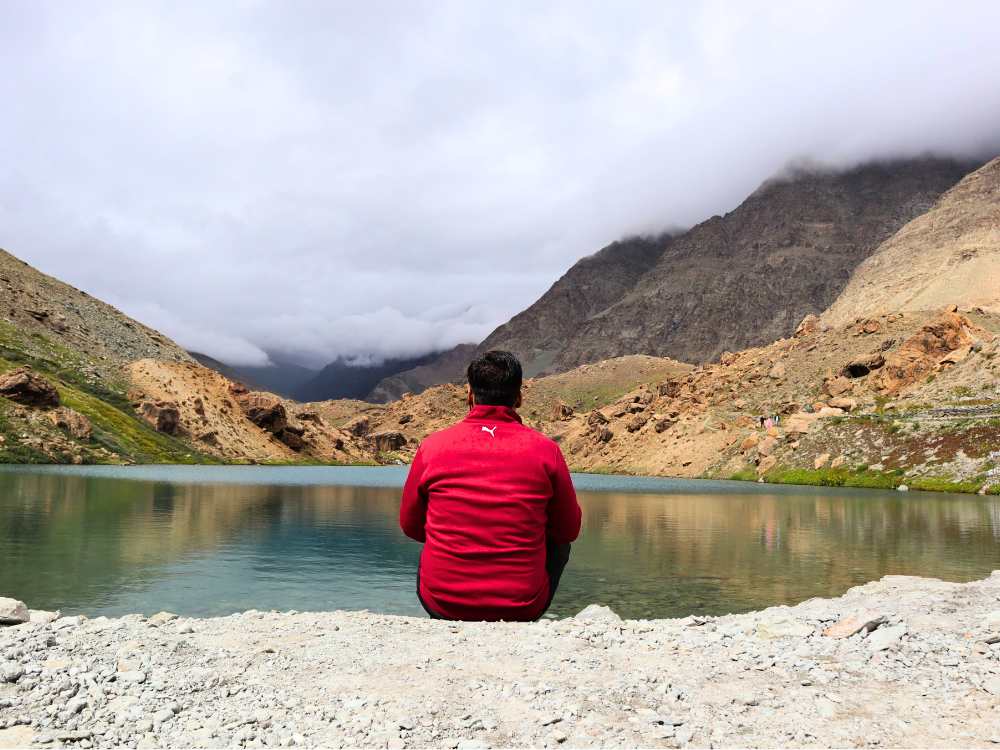 The beauty of Ladakh increases tenfold with these emerald green and blue lakes adding a splash of colors to the barren lands. Deepak Tal and Suraj Tal are the first two high-altitude lakes you witness on the way to Baralacha La Pass. Both these lakes are crystal clear and glimmer in all shades of blue as the clouds play hide and seek with the sun.
Deepak Tal is situated at an altitude of 3750m, around 20 kms from Jispa and 45 kms from Keylong and has gained massive popularity after Sissu in Lahaul Valley became easily accessible via the Atal Tunnel. This lake is fed by melting glacial water and stays completely frozen during the winter months. One can find many small stalls and dhabas nearby where you can stop for a small halt, indulging in soulful food with a view.
Suraj Tal lies 28 kms ahead of Deepak Tal after Zing Zing Bar and is very close to Baralacha La. Its blue waters are fed by the Bhaga River streams and the backdrop of snow clad mountains hanging in the background makes the entire scenery look picture perfect. There is no place to take a halt on this road, however one can park their cars around the corner and hike down to the lake for a holy dip.
WE KNOW, IT'S HARD TO SAY NO TO LADAKH…CLICK HERE AND SAY I DO
GEMS OF LEH TOWN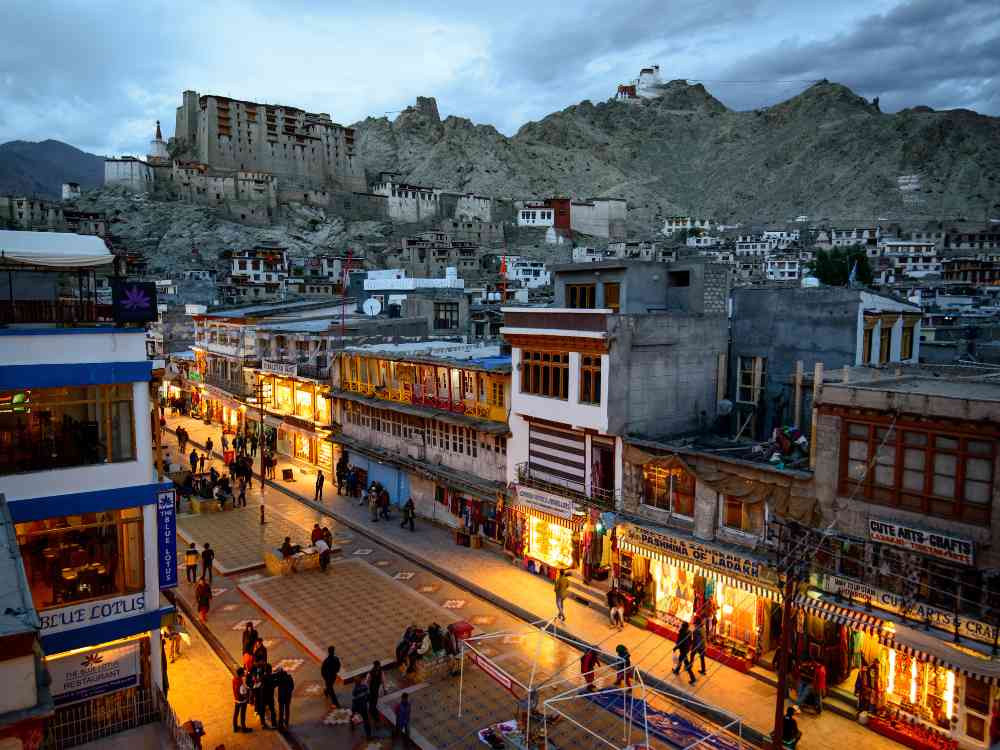 Leh is known to be the heart of Ladakh, an indispensable part of the journey to The Land Of High Passes. It is perched at a staggering height of 11, 526 ft and experiences harsh winters during off season. However, with the onset of Spring the entire town gets wrapped in spring hues with fresh apple blossoms, greenery at the banks of rivers and lakes, blooming apricots in Turtuk and clear blue skies making the landscapes look absolutely surreal.
Leh is not just the holy grail for mountaineers and bikers but also the perfect destination for honeymoons and family vacations. For those seeking a few days of tranquility in the lap of nature, Leh is the perfect spot also making it one of the top reasons to visit Ladakh!
Being the center for all cultural activities, adventure sports and iconic must visit destinations, Ladakh now boasts to have unique properties with splendid views that are just perfect for those looking for a luxurious getaway. It also has numerous hostels, home stays and camps that are ideal for backpackers and solo travelers looking to meet new people and form new friendships.
It goes without saying that staying local also helps one to dive into the lives of local people and listen to their stories that inspire and intrigue. If you want to truly immerse yourself in Ladakh's unique culture, make sure to spend at least 2 days in Leh exploring its delectable cuisine, vibrant markets and must visit locations.
READ MORE : BEST PLACES TO VISIT IN LADAKH
Leh Palace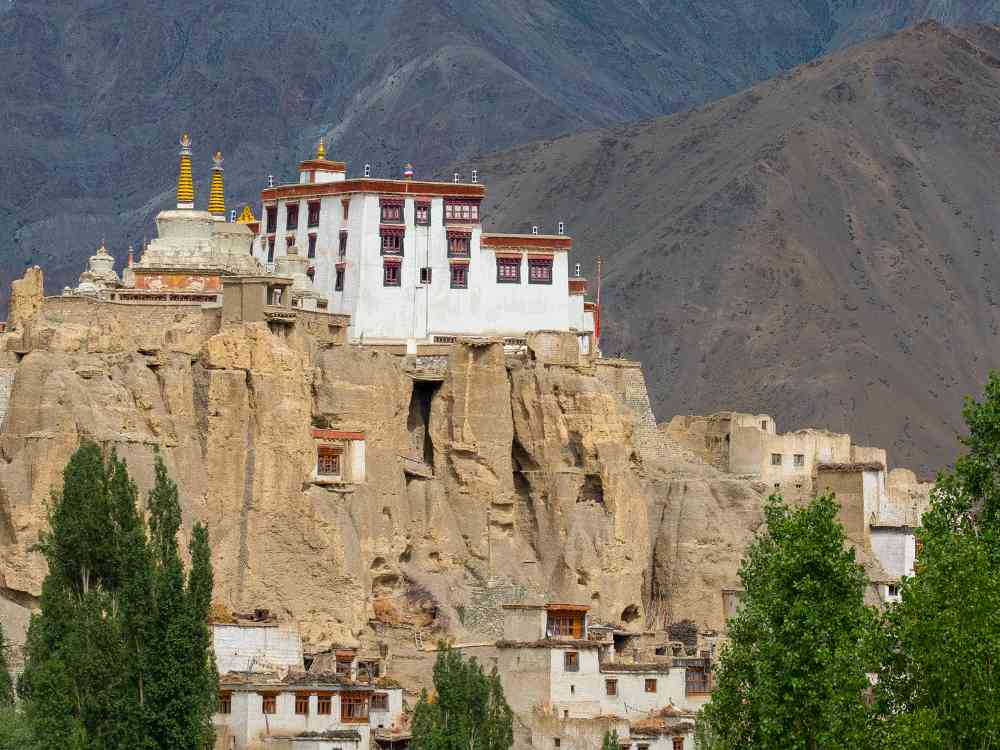 The Leh Palace, also known as Lhachen Palkhar, is a magnificent nine-story palace that dominates the skyline of Leh. Built in the 17th century by King Sengge Namgyal, it served as the royal residence of the Namgyal Dynasty for several years. The palace is an architectural marvel, resembling the famous Potala Palace in Lhasa, Tibet.
Standing at the top, you can enjoy sprawling views of the entire Indus Valley with widespread mountain ranges, streams of water merging to form the river, and a bird eye view of Leh. Make sure you also explore the intricately designed rooms, including the royal apartments, prayer halls, and the museum that displays ancient artifacts and thangkas (Tibetan Buddhist paintings).
Shanti Stupa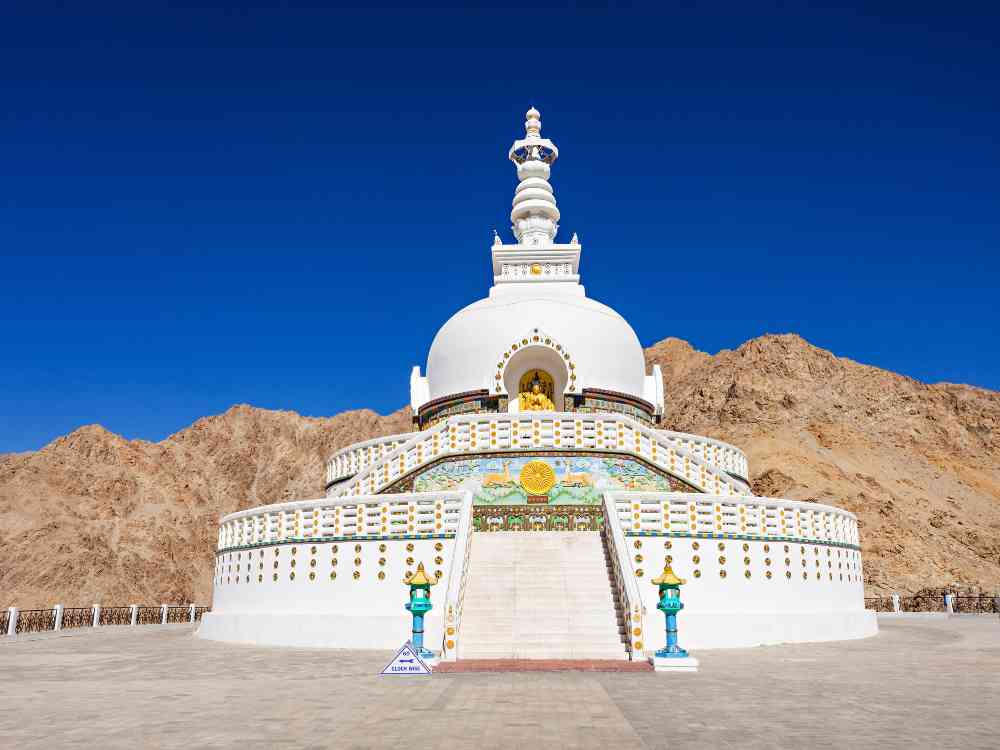 The Shanti Stupa has long been a symbol of peace and tranquility and is one of the most famed destinations of Ladakh. Built in 1991 by Japanese monks to promote world peace, the stupa is a beautiful white-domed structure adorned with intricate carvings and a golden Buddha statue. It is also considered to be one of the holiest spots as it holds the relics of Buddha that were enshrined by the 14th Dalai Lama. If you are someone who likes to catch sunrises, this is surely the best spot to watch the rising sun drape Leh town in all shades of golden. The peaceful atmosphere and the stunning vistas make it a must-visit place for travelers.
EVER THOUGHT OF ALL GIRLS LADAKH TRIP? IF NO, THEN START THINK NOW!!
Thiksey Monastery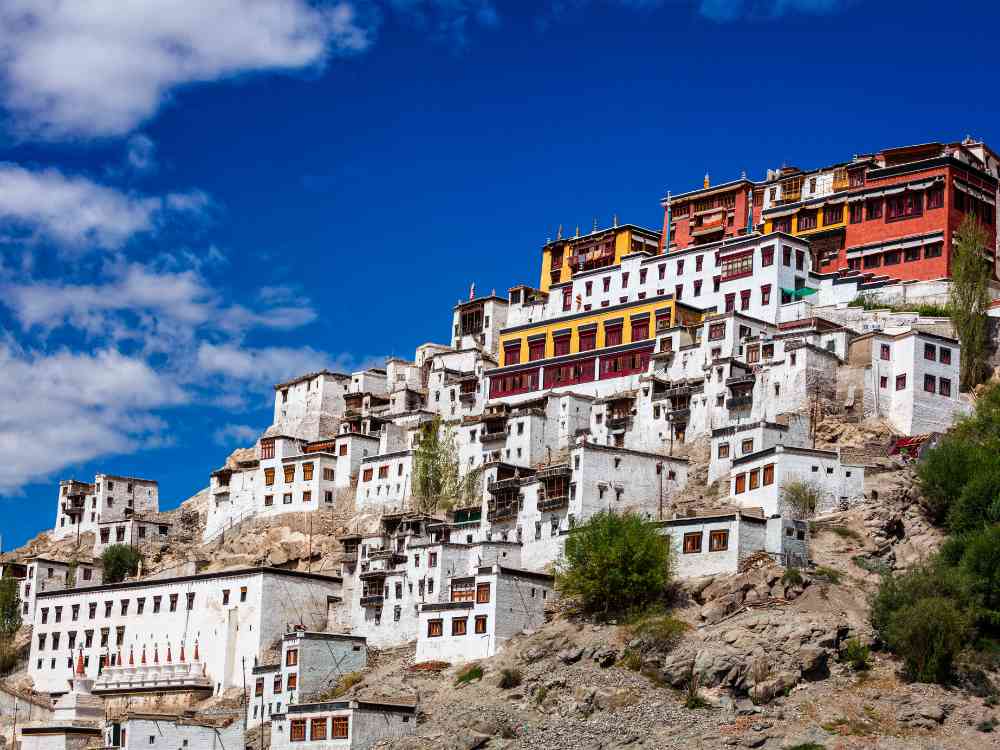 Perched on a hilltop around 19 kms from Leh, Thiksey Monastery is the largest, most prominent, and oldest gompas in Central Ladakh. This ancient monastery houses a rich collection of Buddhist art, including statues, thangkas, and ancient scriptures. The 12-story monastery complex consists of various temples, assembly halls, and residential quarters for the monks. Witnessing the morning prayer ceremony and just spending a few quiet moments in the monastery's spiritual surroundings will make you feel at peace. Not to forget, the spectacular 49 feet Maitreya Buddha statue that is the largest of its kind in Ladakh and overlooks the town, protecting it from all evils.
WANT KNOW ABOUT SOME INTERESTING FACTS ABOUT LADAKH – CLICK HERE TO KNOW
Hemis Monastery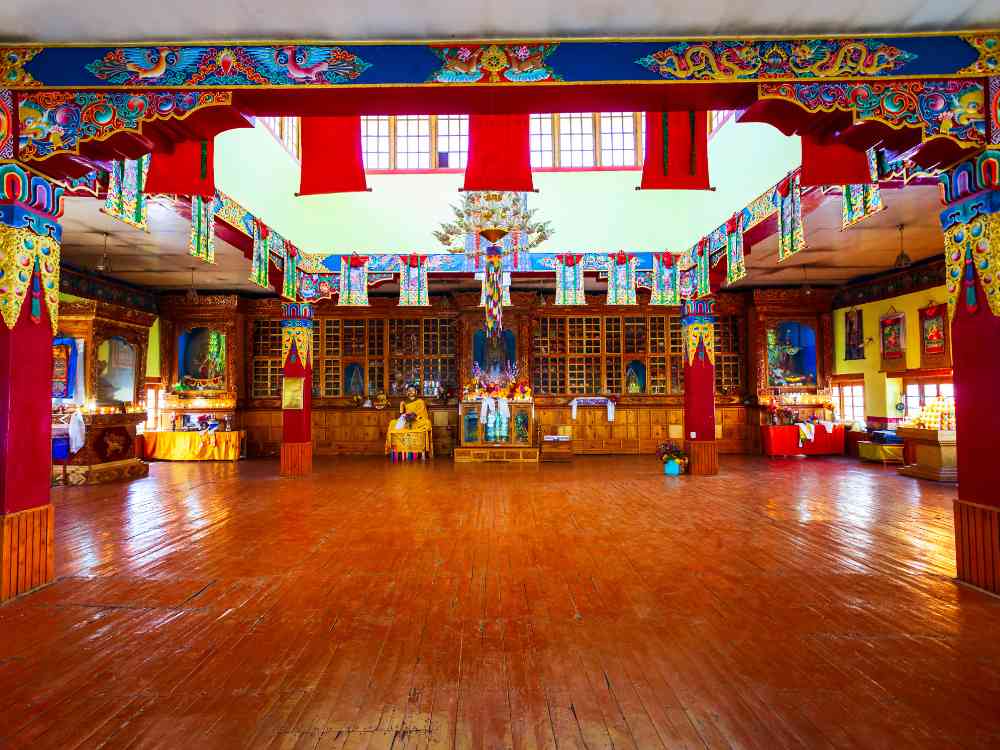 Hemis Monastery is undoubtedly one of the most vibrant and beautiful gompas situated approximately 45 kilometers from Leh. It is known for its lively Hemis Festival, held annually in honor of Guru Padmasambhava, the founder of Tibetan Buddhism. The monastery complex is home to numerous temples, prayer halls, and residential quarters. Inside the main temple, you can marvel at the ancient wall paintings, statues, and the striking copper statue of Lord Buddha. Hemis Monastery also houses a museum that showcases precious thangkas, relics, and ancient artifacts that gives you a deeper insight into Buddhism.
UNBELIEVABLE PLACES OF LADAKH
Ladakh is an amalgamation of the highest passes in the world, the oldest monasteries, undiscovered valleys, and villages that look otherworldly. From beguiling landscapes to a vibrant culture and the ever-winding roads, Ladakh waits to be discovered by the true traveler.
Hanle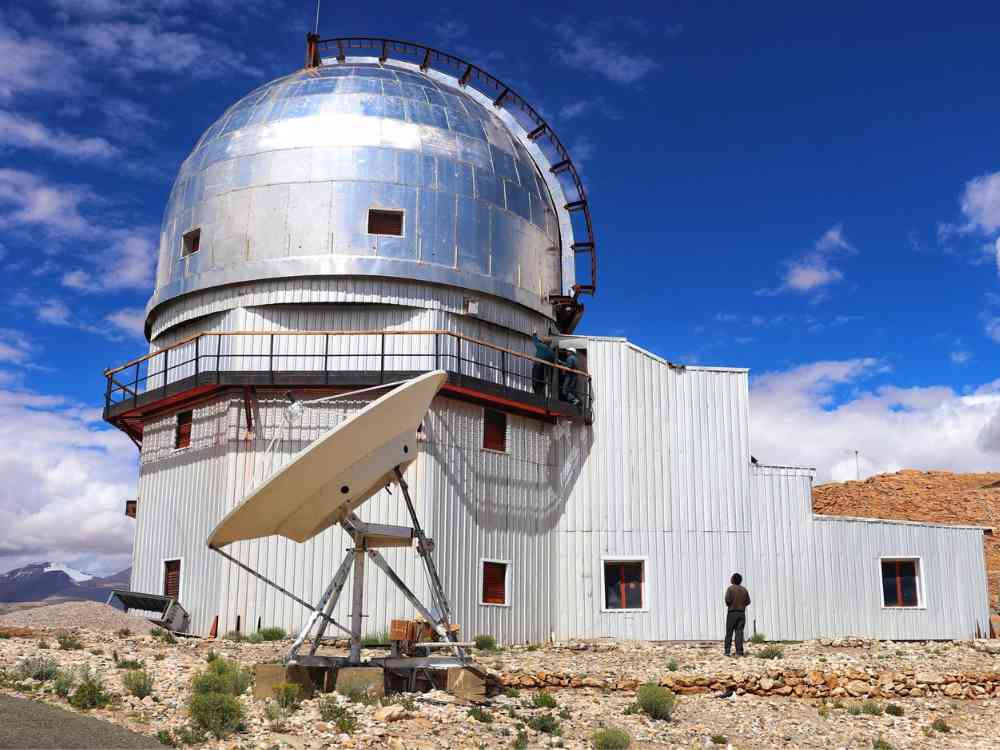 One place on Earth and not just India that is literally heaven for astrophiles! Hanle is one of the world's highest night sky observatories that is also home to the largest telescope and allows you to get a sneak peek of the Universe, quite literally! It has also recently been turned into India's first dark night reserve and makes for a completely deserted and dark region that boasts views of the sky so magical, it will leave a forever imprint on your heart and soul.
Changthang Valley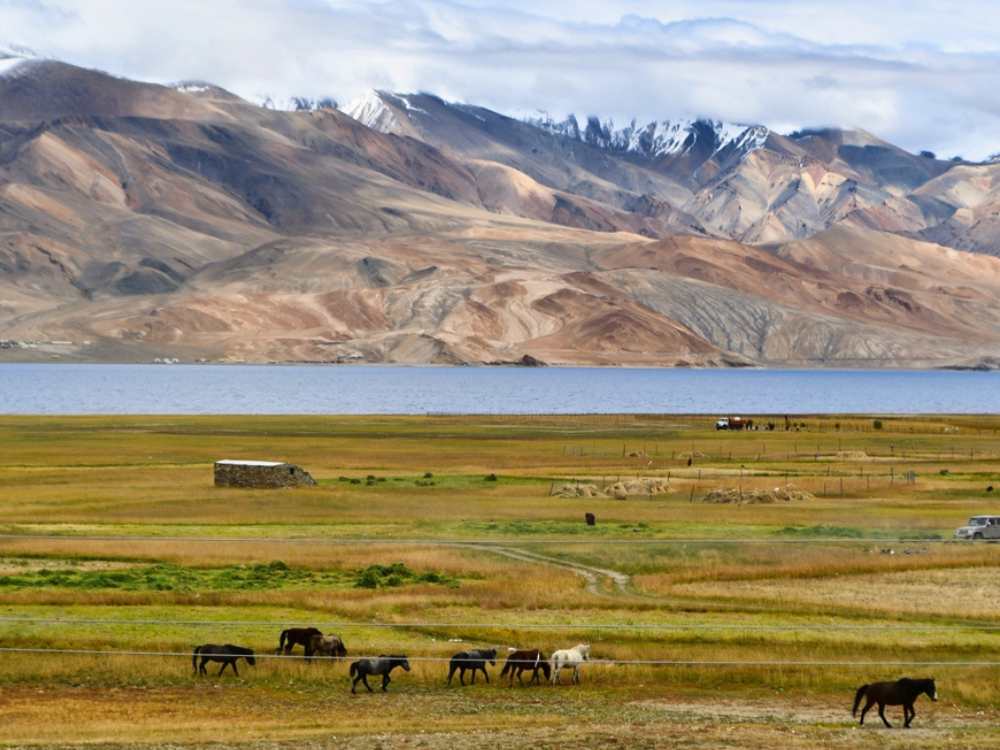 Nestled at an altitude of 14, 600ft within the sprawling Tibetan Plateau, east of Leh— lies a well-kept secret of Ladakh – the Changthang Wildlife Sanctuary. Here, the Changthangi nomads have coexisted harmoniously with the rarest and most endangered wildlife, creating a unique tapestry of life in this untamed wilderness.
Within its vast boundaries thrive elusive creatures like the Snow Leopard, whose stealth and beauty have captivated many hearts, the elusive Himalayan Red Fox, the elegant black-necked Cranes, and the spirited wild asses known as Kiang. To venture into this hidden sanctuary is to embrace the true essence of exploration—a journey that demands courage and resilience.
Lamayuru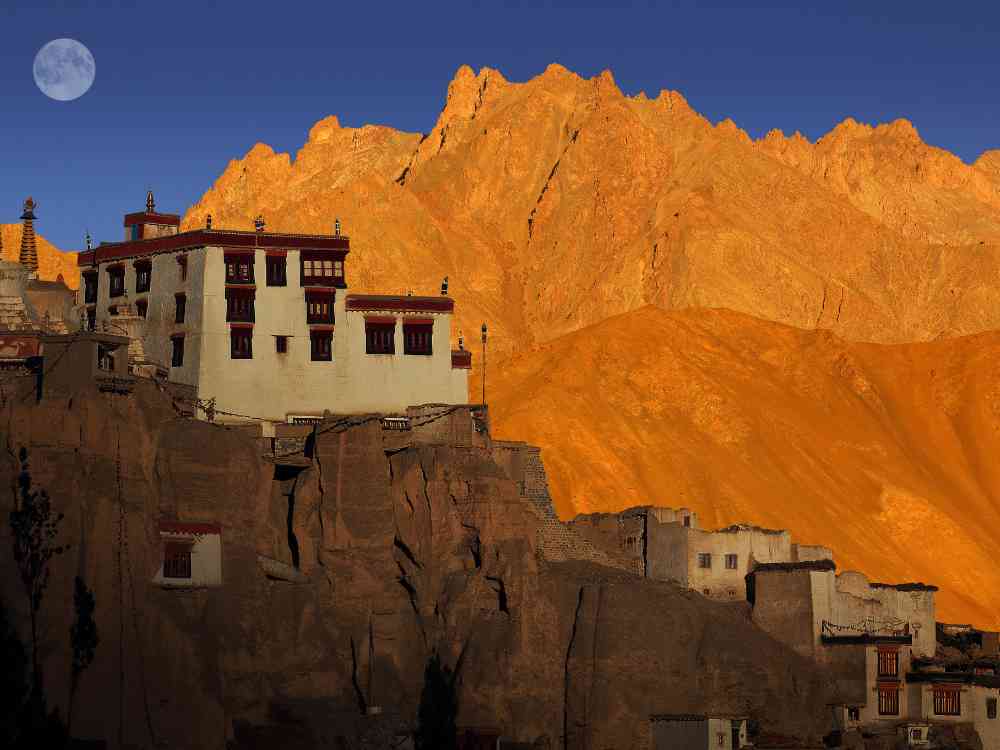 Ladakh remains to be one of the best destinations for travelers for its dazzling landscapes and Lamayuru proves exactly why it is irreplaceable! A part of the moon on Earth, Lamayuru in Ladakh is an astonishing region where the mountains resemble the craters of a moon. From weirdly shaped huge rocky mountains to ancient monasteries existing within them, it is truly a sight to behold.
Nubra Valley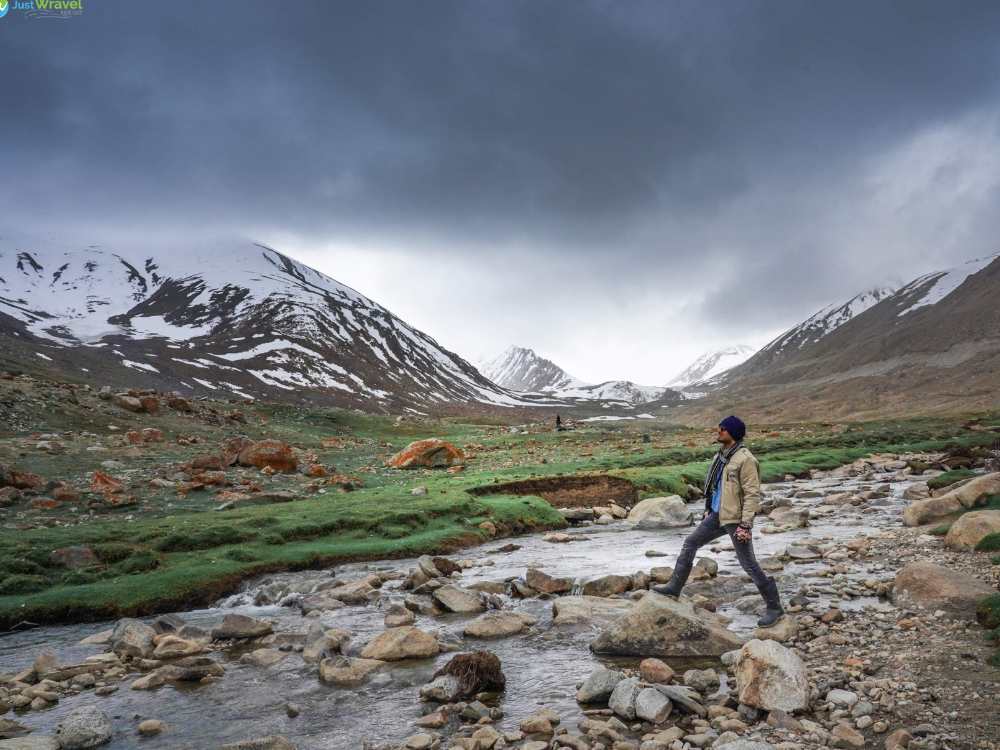 When we talk about reasons to Visit Ladakh, Nubra Valley undoubtedly tops the list. Of all Ladakh's best kept secrets, Nubra is a land of wonders that holds in its embrace some of the most undiscovered regions of Ladakh whose beauty cannot be explained in words and are also comparatively offbeat. This is a region of extraordinary beauty, offering a unique blend of stark landscapes, lush oases, and ancient monasteries.
Turtuk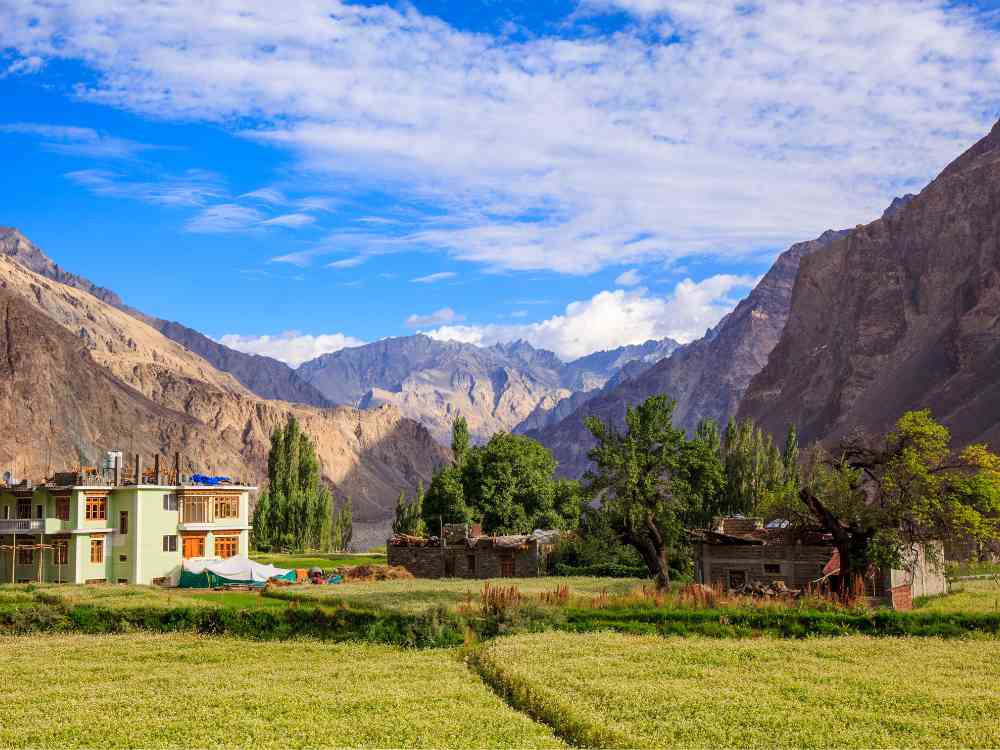 Also famously known as 'The Village Divided By a Border', Turtuk is the last village on the India-Pakistan border. It was previously a part of Gilgit Balistan in Pakistan and is also the entry point to the Siachen Glacier making it a region of utmost importance for the IndianArmy.
It is situated by the Shyok River in Nubra Valley and has lush landscapes compared to the other regions of Ladakh making it a sight for sore eyes. Turtuk is also revered for its apricot orchards that add in a splash of color to the rustic landscapes and the beaches formed by the river banks which is the perfect spot to spend a few moments of peace.
Hunder Sand Dunes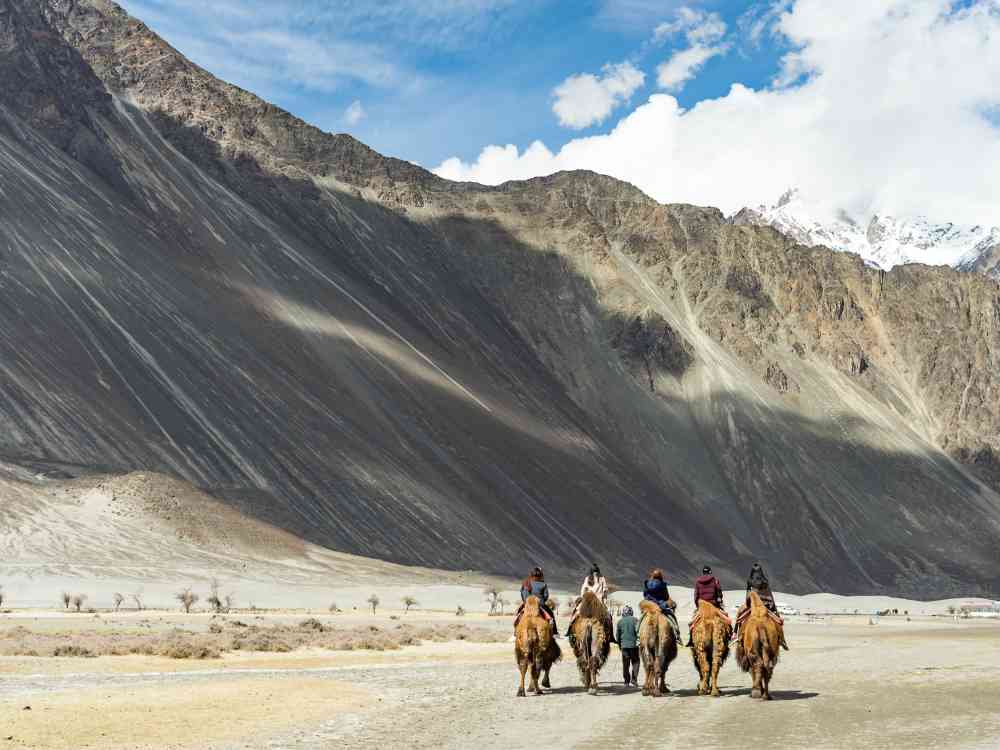 What comes to your mind when you first hear the word Desert? An endless panorama of sand dunes, scorching heat and camels walking upon them. However, Hunder Sand Dunes is exactly the opposite. It is an extremely cold desert of white sands and gigantic snow clad mountains in the background making the entire scenery look unreal. It is also home to the very rare Double Humped Bactrian Camels that can only be found here in all of India.
While compiling the top 10 reasons to Visit Ladakh, Hunder surely takes priority! It is where you add a tinge of thrill to your trip by riding ATV's on the sand dunes, camping and catching ethereal views of the night sky, or simply enjoying a camel ride as the skies turn crimson at sunset.
SUGGESTED READ: THE SCARY STORY OF LADAKH
Diskit Monastery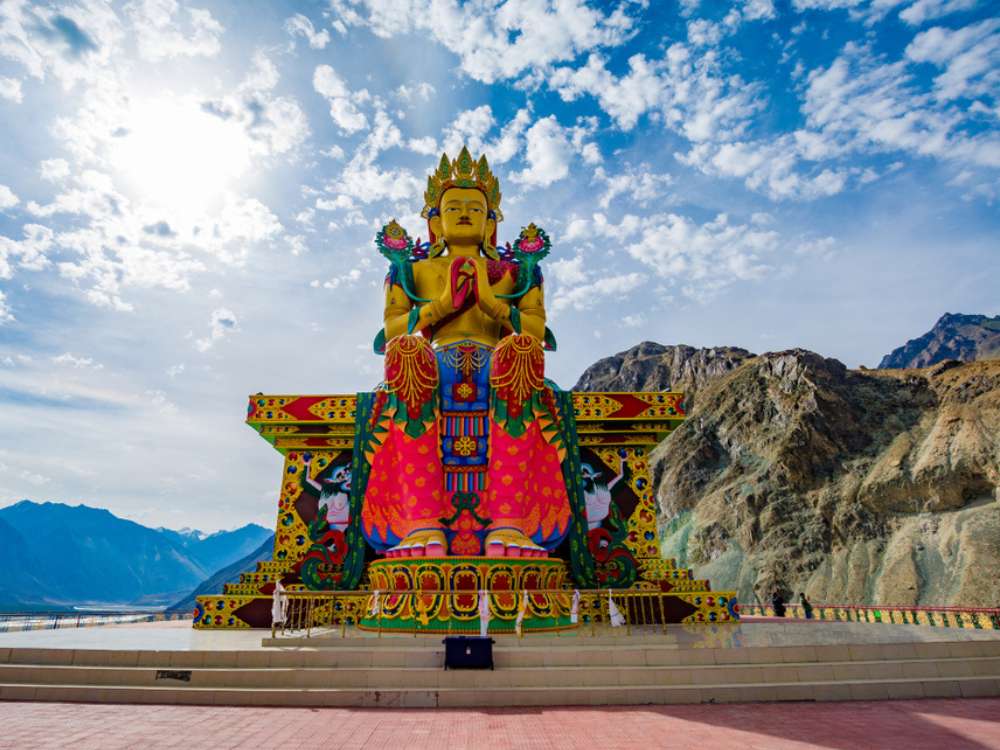 Diskit is an ancient and the largest monastery in Nubra Valley which is perched on a hilltop and offers breathtaking views of the surrounding landscapes. It is also home to a towering golden Maitreya Buddha statue and fascinating Buddhist artifacts.
Sumur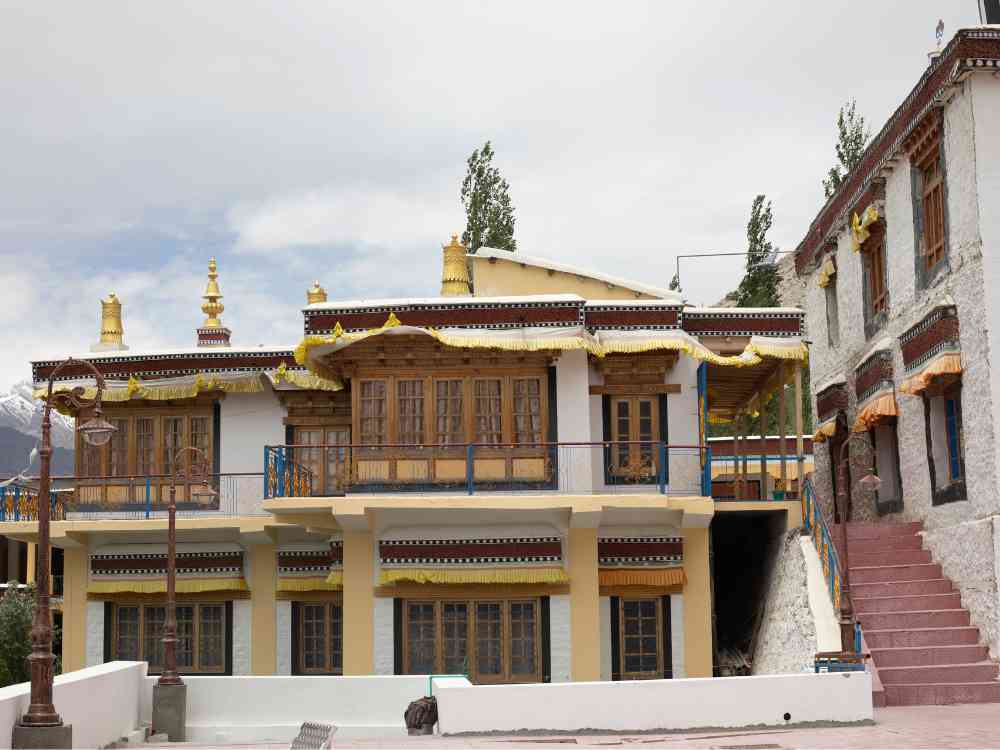 Sumur is a peaceful hamlet with verdant fields and the captivating Samstanling Monastery which is a true gem in this idyllic landscape. Within the monastery's hallowed walls, visitors are treated to a visual feast of intricate carvings and vibrant paintings depicting revered Buddhist deities and other significant elements of the faith.
SUGGESTED READ : TRAVEL TIPS TO LADAKH
Panamik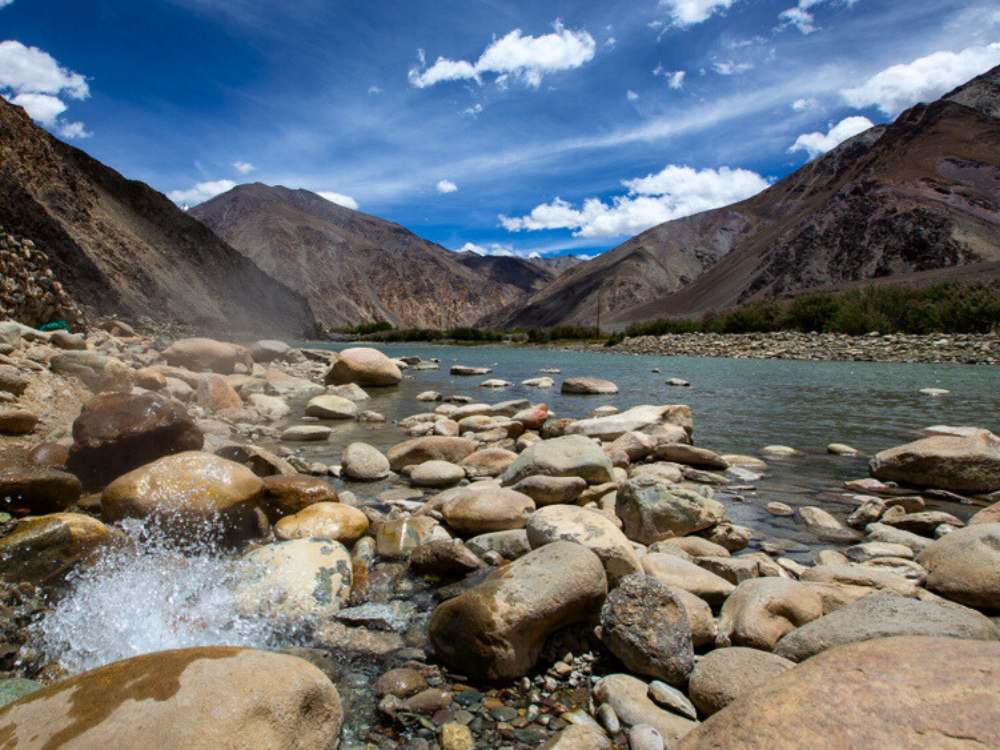 For the offbeat traveler who likes to go beyond the normal, this surely can be one of the top reasons to visit Ladakh. A place that has started to gain popularity recently amongst travelers but has long been a holy grail for healing for locals, Panamik is where the sacred Hot Springs of Ladakh are found. This place holds a mystical allure with its legendary Sulphur Hot Water Springs, known for their medicinal and healing properties.
Note : 
Travelers may marvel at the natural springs, though caution is advised, as the water that gushes forth from the earth is scorching and unfit for direct bathing. Thankfully, ingenious locals have constructed pools that offer a soothing experience.
FOODS OF LADAKH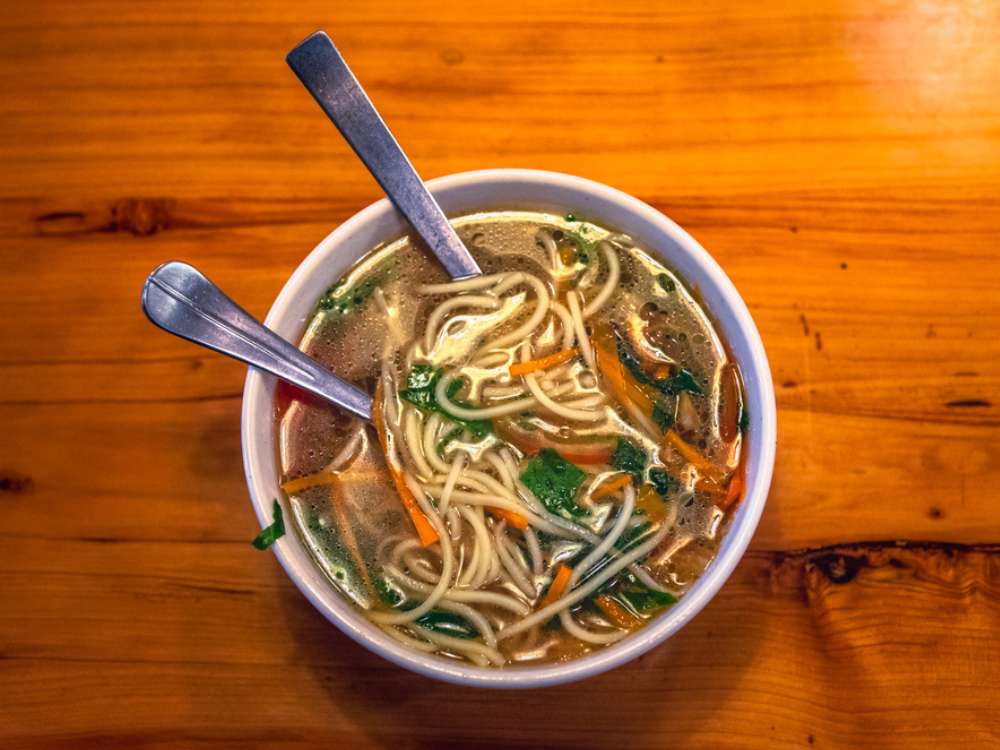 Tibet's influence on Ladakh's culture can be seen every step of the way, from their festivals to the prayers and even cuisine. Food holds a special place when it comes to understanding the history and overall culture of the region and Ladakh's delicacies are crafted in a way that gives you a soulful insight into the same.
Since Ladakh is mostly mountain deserts, the scope for vegetation is very less, and mostly all their foods are made of Barley Flour. However, during summers the banks by the rivers become fertile giving space for scarce yet fresh vegetation that is stored and used all throughout the year.
We believe that every traveler is also deep within a foodie, so here is a list of the local dishes that will surely add onto your pile of reasons to visit Ladakh.
Skyu: One of the staple dishes of Ladakh, Skyu is a thick soup made with thumb pressed wheat flour dough and vegetables like potatoes, carrots, and radishes. It is usually served with butter or ghee and is extremely nutritious and flavorsome.
Thukpa: A bowl of soul-soothing soup with noodles made with fresh veggies or meat, Thukpa promises to satiate all your taste buds! It is the most commonly available dish in Ladakh and is truly nourishing and fulfilling.
Momos: A favorite across the Indian subcontinent, momos are steamed dumplings filled with subtly flavored vegetables or minced meat. In Ladakh, yak meat momos are quite famous and offer a unique taste.
Chutagi: Chutagi is a type of pasta made from wheat flour and served with meat or vegetable stew and is packed with many nutritional benefits. The dish is similar to dumplings and is a favorite among the locals.
Butter Tea: Also known as "gur gur chai," butter tea is a traditional beverage of Ladakh. It is made by churning tea leaves, water, salt, and yak butter in a churn until it becomes frothy. The high-calorie content helps people stay warm in the harsh climate. No celebration in Ladakh is complete without a steaming cup of Gur Gur Chai!
Apricot Jam – Since Ladakh sees an abundance in the growth of Apricots also known as 'chulli' in Ladakhi, it has become an indispensable part of a Ladakhi Breakfast! Chulli Jam is usually eaten after spreading it on a fresh bread loaf or Khambir, Ladakh's traditional roti.
BIKER'S PARADISE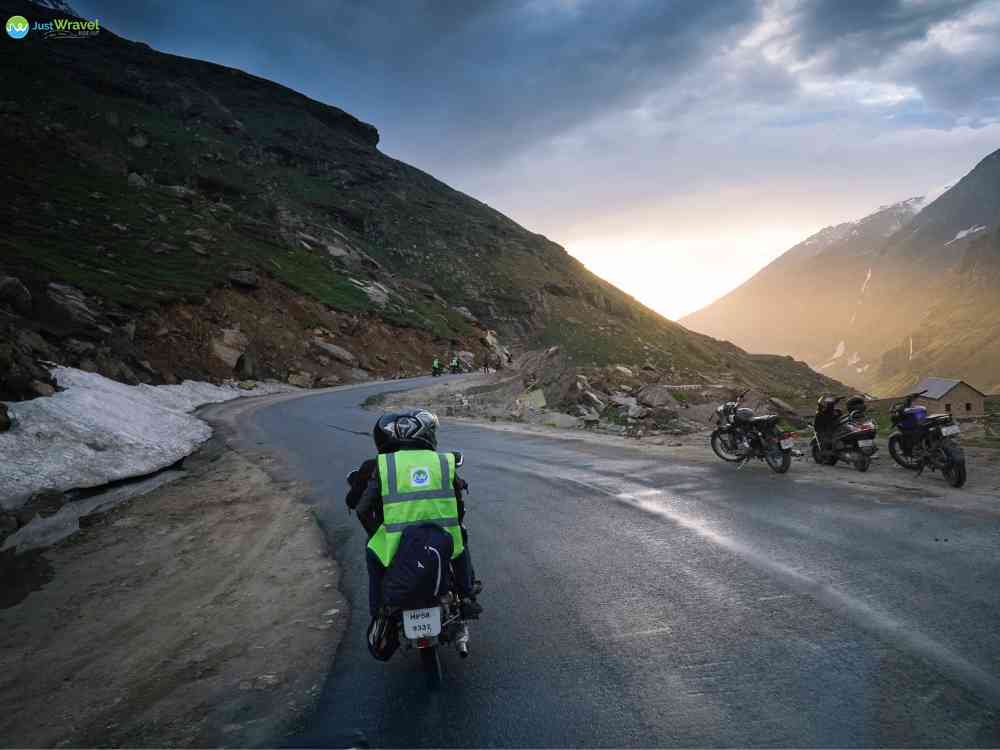 Every Biker has at least once dreamed of riding their motorcycles on the mighty terrains of Ladakh. From the striking landscapes of India that you can only experience to the fullest on a Ladakh Bike Trip to the adrenaline-fueled journey, here's a few more reasons to visit Ladakh and experience a journey of a lifetime.
Challenging Terrain: The exhilarating terrain of Ladakh, with the highest mountain passes and winding roads, provides a thrilling experience for bikers. Riding through steep mountain passes like Khardung La and Chang La presents you with the chance to overcome your fears and feel at the top of the world, quite literally!
Leh-Manali Highway: The beguiling beauty of the Leh-Manali Highway is incomparable and is the most favorite route for bikers. It offers a sensational ride through remote regions, quaint villages, and stunning landscapes, making it an unforgettable journey.
Scenic Landscapes: Ladakh boasts breathtaking and diverse landscapes, including rugged mountains, vast valleys, shimmering lakes, and high-altitude deserts. The picturesque beauty of the region makes it a dream destination for bikers seeking unparalleled views and memorable rides.
Remote and Off-the-Grid: Ladakh's remote and isolated nature adds to its allure for adventurous bikers. Riding through less explored regions allows for a sense of solitude and a connection with nature.
Motorcycle-Friendly Infrastructure: Over the years, Ladakh has developed a motorcycle-friendly infrastructure, with repair shops, guesthouses, and camping sites, making it easier for bikers to plan their trips.
Summer Weather: Ladakh's short summer season provides ideal weather conditions for biking, with clear skies and comfortable temperatures, making it the perfect time to explore the region on two wheels.
LADAKH'S FASCINATING CULTURE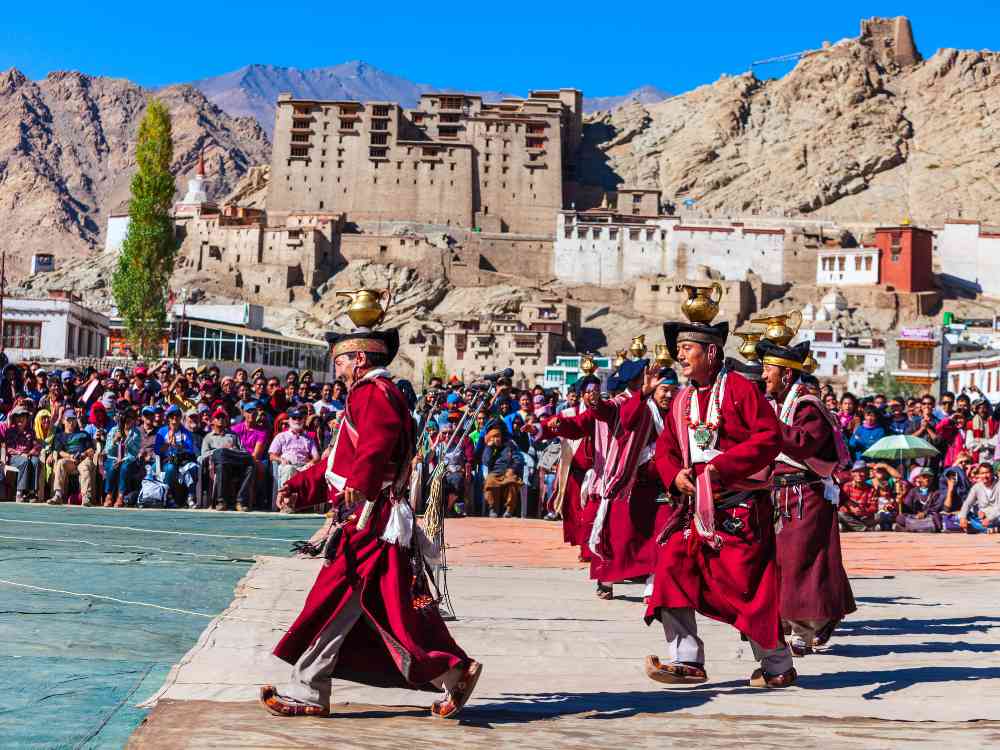 Ladakhi culture is deeply rooted in Buddhism and its demographics has played a vital role in shaping their beliefs and customs. Ladakh is known for its rather exceptional culture, which is a blend of Tibetan, Indian, and Central Asian influences. The Ladakhi people have a rich cultural heritage that effortlessly reflects in their festivals, religious practices, music, dance, and traditional way of life. If you are someone who loves places not just for their views but for the aura and history that surrounds them, then Ladakh will surely surprise you.
Throughout the year, there are various festivals and religious ceremonies that take place, each with its own unique customs and rituals, making the Festivals of Ladakh a fairly special experience.
Some of the most revered and grand festivals of Ladakh are –
Losar Festival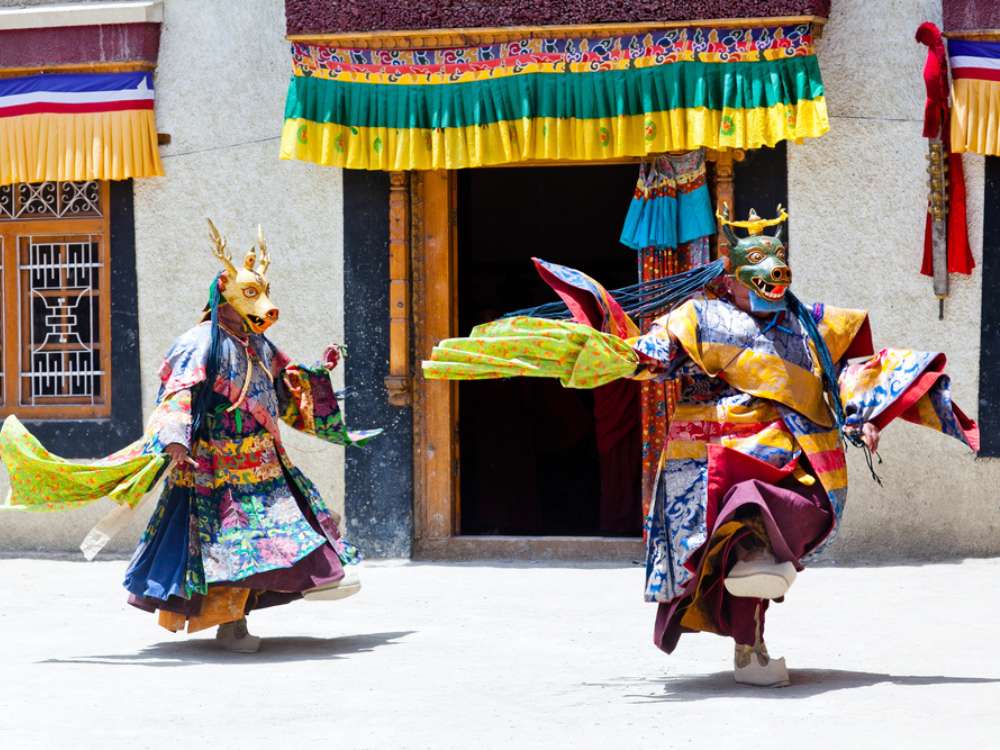 Losar marks the beginning of a new year in Ladakh and during this time, the entire region comes alive with joy and excitement. It is celebrated in the months of January-February and is not just an event on the calendar; but are moments of profound connection and joy, where ancient traditions blend with the present. Families, friends and communities gather together to decorate their houses, cook together and savor local delicacies. The beautiful bond that the people share and their unity is truly something to admire.
A significant aspect of the festival is 'Chham', it is a traditional masked dance performed by the monks who sing and dance in a rhythmic sync. The dance depicts various deities and legendary characters and signifies the victory of good over evil.
Hemis Festival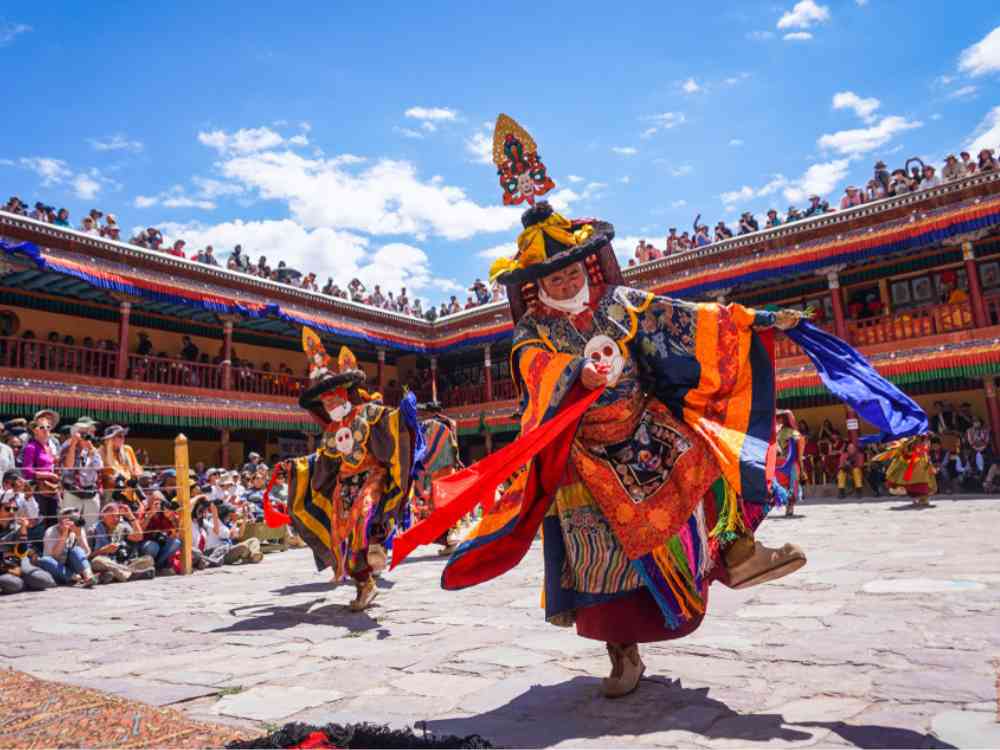 This is a spectacular display of Ladakh's cultural heritage and a celebration in honor of the sage Padmasambhava also known as Guru Rimpoche. He was known to be the reincarnation of Lord Buddha and the festival is a joyous celebration of his Birthday. It is celebrated in the sprawling corridor of Hemis Monastery that gets filled with travelers and tourists who come to capture a glimpse of this grand occasion.
During this period, the quaint grounds of Hemis light up in the carnival mood and people gather in their best attire to greet each other as a part of the ceremonies. The sacred Cham dance is a must and as it unfolds, you can see the passion and dedication of the performers. Their faces remain hidden behind the masks, yet their emotions are conveyed through graceful movements making it a sight to behold.
A BREAK FROM MONOTONY
A full circuit journey to Ladakh takes about 11 Days and takes you through some of the remotest regions of India, pulling you away from civilization and placing you in the lands of raw beauty. Traveling far from the cities to places which are far from reaching modernity and away from technological advancements gives you the chance to reconnect back to nature.
Traveling has always been about stepping out of your comfort zone and embracing the idea of new possibilities, to embrace the idea of change and explore the world's wonders for what it is. A trip to Ladakh not only lets one witness the undiscovered beauty of India but the absence of network and connectivity pushes you to be more in the present, dive into your thoughts and make peace with life.
Of all the top reasons to visit Ladakh, this is undeniably the most important one – the freedom from modernity and a chance to reconnect back to your roots.
Here's why we say traveling can be incredibly rejuvenating and life changing –
Disconnecting from Stress: Remote locations often lack modern amenities like constant internet access and busy urban environments. This disconnect allows you to escape the humdrums of daily life, relax, and recharge their minds.
Connecting with Nature: Ladakh's tranquil aura, pristine surroundings and natural splendor allows you to be closer to nature, calming the mind and soul.
Solitude and Reflection: Ladakh offers ample scope for solitude, giving you the opportunity for introspection and self-reflection. This quiet and peaceful environment can help people gain clarity and perspective on their lives.
Slowing Down: Life in Ladakh is usually slower-paced compared to bustling cities. You can embrace a simpler lifestyle, enjoy leisurely activities, and experience a sense of mindfulness in their day-to-day actions.
Adventure and Challenge: The ride to Ladakh would need you to overcome challenges, such as difficult terrains or limited resources. These experiences can build resilience and confidence in individuals, leading to a sense of accomplishment.
The Beauty of Community Travel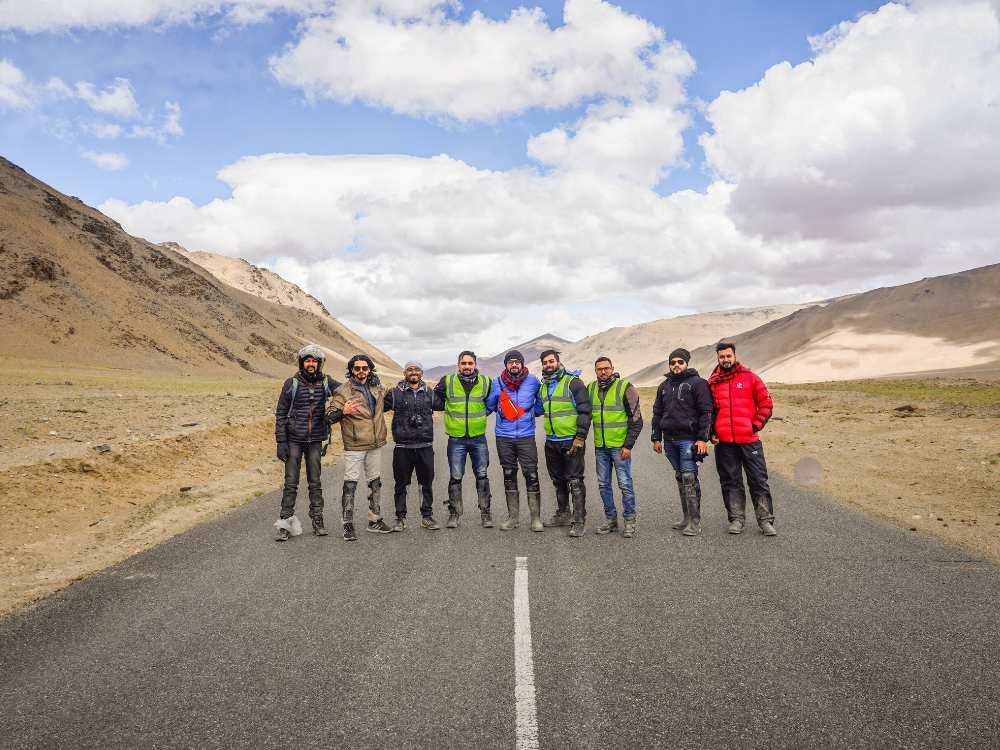 Alexander Supertramp was a famous explorer whose last words in the diary stated "Happiness is only real when shared." If you are a true traveler you must know that the places only seem all the more wonderful because of their people. Wherever you travel in the world, to actually dive into its culture and understand the place's aura..one needs to be close to the locals, understand their sentiments and treat the place as their home and not just a destination.
When you travel in a Community of like minded souls, you get the opportunity to interact with many people who change your overall worldview. Whether your ideas match or not, the love for travel and exploration is what helps create the bond. The entire idea of community travel is to pull you out of your comfort zone and let you explore the diversity this world and our minds hold.
Traveling with people who are just as enthusiastic as you and share the same hobbies and interests gives space for new friendships to be formed. As you go along the way, you realize how extraordinarily amazing it is that two people who never knew each other could meet and share that special connection that adds meaning to life.
And it goes without saying that solo travel is indeed the best way to rediscover yourself by truly accepting and appreciating who you are. It builds confidence, self-trust and a sense of happiness that you are just enough by yourself.
FAQ's
What is the Best Time to travel to Ladakh?
Ladakh opens its gates to tourists around Mid June when the cold has settled and the high passes are safe to traverse upon. The roads to Ladakh remain open for about 6 months a year from June – October and experience pleasant weather during this time. If you want to experience Ladakh at its best, early August to October is a great time to visit. During this time you mostly get clear skies perfect for stargazing, occasional snowfall and overall good weather.
What are the necessary precautions one should take while traveling to Ladakh?
A Ladakh Road Trip is an extraordinary yet an arduous one. From traversing its jagged terrains to experiencing high altitudes and cold temperatures, it is definitely a once in a lifetime experience but also a challenging one. For anyone traveling to Ladakh, these are the basic precautions one should take –
Check for any underlying medical symptoms that might get aggravated at high altitudes. Carry all your necessary medications and keep your health at top most priority.
Have a basic idea of the routes you will be traveling on, check for weather forecasts and always carry a physical map.
Keep plenty of warm clothes, windcheaters, socks, gloves, ear muffs etc to assure the cold doesn't get in and you stay warm and cozy.
Here's a list of all the necessary items to pack.
Connectivity is low in many areas, so make sure you are carrying an extra SIM. Jio and BSNL are recommended and also remember to inform your family or friends about the journey.
If you are going on a Bike Trip, make sure your bike is fully maintained, you are always carrying extra fuel and you have all the necessary riding gears for a safe ride.
Permits and valid ID's are extremely important as a Ladakh Trip needs you to traverse through many high passes and regions maintained by the Indian Army.
Here are some must visit tips you should know when traveling to Ladakh!
What are the best places to visit in Ladakh?
Ladakh is a land of wonders that is home to some of the highest motorable passes in the world, ancient monasteries, high-altitude lakes, and one of the highest astronomical observatories in the world.
A road trip to Ladakh is all about the journey you embark on, the rugged terrains, the curves of the roads, the landscapes you witness, and the feelings that take over you as you traverse through the Land Of High Passes.
There are a lot of offbeat locations that are yet to be discovered, however here is a list of all the epic places that adds onto your list of reasons to visit Ladakh –
1. Pangong Lake is the world's highest saltwater lake making it one of the most popular and best places to visit in Ladakh, it is also where some scenes in the movie 3 Idiots, Jab Tak hai Jaan, and many more were shot.
2. Turtuk in Nubra Valley is a postcard-worthy destination famous for its apricot-laden orchards and beautiful sceneries by Shyok River. It is also the last village on India-Pak Border and is the gateway to Siachen Glacier.
3. Gurudwara Pathar Sahib, a famous pilgrimage spot for Sikhs, Hindus, and Tibetans alike, was built in memory of Guru Nanak Ji's visit to Ladakh.
4. The Khardung La Pass is one of the highest motorable passes in the world which also acts as a gateway to the Nubra and Shyok Valleys in Ladakh, riding here you will come across magnificent views of the region.
5. Magnetic Hill, a scenic stretch of road that defies gravity and leaves tourists stunned. You can visit this place along with Sangam Site and Shanti Stupa.
6. Hall Of Fame, a museum constructed by the Indian Army in memory of our rave soldiers who attained martyrdom during the India-Pak Wars. Pay your respects to the Army and immerse yourself in India's victorious history.
7. Thiksey Monastery is home to the largest (15 meters) Maitreya Buddha statue in all of Ladakh overlooking the entire town of Leh. It is one of the oldest and most famous Monasteries of Ladakh.
8. Tso Moriri is a lesser-known paradise nestled amidst the high mountains of Ladakh, Tso Moriri is the largest lake in the region, about 26 km long and 8kms wide. Its blue pristine waters, grasslands, and snow-laden Himalayas make this lake look like a piece of paradise.
Rest assured, all the places you visit here will leave you mesmerized, all the same. Julley!
READ MORE : LADAKH'S FAQ'S
Which is the Best Season to travel to Ladakh on a Bike?
The best season to visit The Land Of High Passes is surely Summers! Ladakh witnesses extremely harsh winters as it is one of the highest regions in the country sandwiched between the Himalayan ranges in India and the Karakoram Range in China.
Due to heavy snowfall, the roads of Ladakh are closed for over 7 months and open for around 5 months from the month of May to October. This year, due to heavy snowfall the passes only opened up completely during Mid-May.
So, if you are planning a trip to Ladakh whether it is a Bike Trip or a Road Trip, we suggest you travel during the months of June-August, when you can find snow still persistent on peaks, summers making the days pleasant and clear skies that present you the perfect opportunity to stargaze.
Here's a perfect itinerary for a Ladakh Backpacking Trip!
Is Ladakh a safe destination for female travelers?
Ladakh has by far 0% crime rate and has been regarded as an extremely safe destination for female and solo travelers. A trip to Ladakh can only be done on Bike or Car and it goes without saying that if you choose a good tour operator, your safety shall be covered! Ladakhi people are the purest souls who treat travelers as their very own guests and often go beyond the regular to make sure you have a safe, comfortable and amusing time.
If you want to experience ultimate comfort away from the male gaze, many All Girls Trips are also available that lets you have the best time with your girl squad.
Why should we travel to Ladakh with JustWravel?
Here's all the reasons to visit Ladakh with us!
We have been taking hundreds of travelers to Ladakh every year since 2016 which has earned us a 5 star rating and 3 National Awards as the Best Travel Enterprise.
We boast to have the largest on ground operations team with 24 hour support and local support that assures we have all the necessary information.
Our vendors starting from transportation to stays have been working with us since many years and are our most trusted group of people.
Highly Experienced Bike Marshall with ample experience and mechanical support throughout the trip.
Handcrafted Itinerary covering all Locations
BS6 Himalayan RE, Unique Stays, Delicious and Nutritious Food.
All Girls Trip Option with female trip leads.
Strongest Convoy and a Community where you fit in!
IT'S TIME FOR SOME ADVENTURE!!! GO TO THE LINK AND BOOK YOUR TRIP RIGHT NOW!!!!