Are you an adventure enthusiast seeking the ultimate thrill? Look no further!
Friendship peak expedition promises to test your limits, push you out of your comfort zone, and reward you with breathtaking views and lifelong memories. Embarking on the Friendship Peak expedition is not just about conquering a mountain; it's about discovering your inner adventurer. As you navigate through rugged terrains, icy slopes, and cliffs, you will learn to push your limits, overcome obstacles, and embrace the spirit of perseverance. Reaching the summit of Friendship Peak is an accomplishment like no other. As you stand atop this majestic peak, surrounded by snow-capped peaks and vast valleys, a sense of triumph and fulfillment will wash over you. The panoramic views will take your breath away, leaving an indelible mark on your memory.
Are you ready to feel this by yourself?
WHAT IS FRIENDSHIP PEAK EXPEDITION?
Place: Himachal Pradesh
Altitude: 17,345 Ft.
Base Camp: Manali
Duration: 7 Days Trek
Difficulty: Difficult
Trek Length: 34 Km Inclusions:
Trail Type: Climbing Trails
If you are an adventure freak, who loves to conquer heights, then friendship peak expedition is just made for you!! In the snowy caps of the Himalayas, with giant mountains and unhidden peaks – friendship peak has everything to satisfy your needs.
Friendship Peak, situated in the Kullu region of Himachal Pradesh, at an impressive altitude of 5,289 meters. The peak is situated in the Pir Panjal range of the Himalayas neighboring Dhauladhar Range, and other peaks of the Himalayas. With its demanding nature, this trek offers an exhilarating experience for adventure enthusiasts and those with a passion for climbing. Designed for experienced trekkers, this trek rewards you with mesmerizing vistas of the Solang Valley and unfolds the captivating beauty of nature as you ascend to higher altitudes. Spanning over 7 days, this expedition takes you on a thrilling journey encompassing mythical tales, verdant alpine meadows, rocky terrain, and towering mountains. Apart from the visual treat that is the panoramic view of these mountains, it also offers a breathtaking view of the pristine Solang Valley.
FRIENDSHIP PEAK EXPEDITION ROUTE MAP
SHORT ITINERARY OF FRIENDSHIP PEAK EXPEDITION
Friendship Peak expedition is the ultimate 7-day journey that will take you through some of the most picturesque valleys in the Himalayas and offer breathtaking landscapes. As an experienced trekker, you will have the opportunity to create countless unforgettable memories during these 7 days. Get ready to enjoy every moment and create a journey of a lifetime!
Day 1: Manali Arrival – Our dream journey begins as you arrive in Manali, the gateway to the Himalayas. Spend the day lounging in cafes, admiring the stunning views, and preparing for the majestic beauty that awaits you on your upcoming Friendship Peak Trek. Our first day is spent on acclimatization, with an overnight stay at a picturesque village in Manali, where you can admire the mountains from the comfort of your tent.
Day 2: Drive from Manali to Dhundhi (21 Kms, 40 mins) | Trek to Bakarthatch (4 Kms, 3 Hrs) – From here, we start our journey to Dhundi, the base camp for the Friendship Peak Trek. The trek starts in the lush forests and gradually ascends with stunning views of the Dhauladhar ranges. You will experience the true beauty of friendship Peak as you explore the scenic valleys together.
Day 3: Bakarthatch to Lady Leg (3 Kms, 5 Hrs) – The third day is a challenge as you embark on your trek towards Lady Leg, an advanced base camp at an elevation of 3900 meters. This trek may be steep and arduous, but the stunning views of the Dhauladhar ranges will make it worth the effort. Rest and recuperation are crucial, as you prepare for your summit climb the next day. Hydrate well, sleep well, and rest your body and mind for what's to come.
Day 4: Lady Leg to Camp 1 (3 Kms, 2Hrs ) – The fourth day finds you on the move once more, ascending to your next campfire at 4800 meters. This gradual climb will help you adapt to the higher-elevation environment. As you gain elevation, you will see the rugged terrains replace the green canopies. You will be greeted by the peaks of Himachal Pradesh, Deo Tibba, and Hanuman Tibba, beckoning you to reach the summit. Remember to conserve your energy, drink plenty of water, and get plenty of rest before your midnight summit climb.
Day 5: Trek to Summit Camp (3 Kms, 2 Hrs) – The next morning, we will start our trek to the campsite once again with the rest of our necessary belongings. The final trek to the summit is a difficult one so your body should have as much rest as possible.
Day 6: Summit Day (14 Kms, 11 Hrs) – The final day is the day you've been waiting for. You will set out for your summit climb, with the first few hours on flat ground covered in snow. As the trail becomes more difficult, with steep inclines and rugged rocks lining the way, you will find yourself surrounded by breathtaking Himalayas. The majestic view upon reaching the summit will remind you of all your efforts and hard work. After spending some time at the top, you will begin your descent back to Lady Leg, which, despite its challenges, is relatively easier than the summit climb.
Day 7: Trek from Lady Leg to Dhundhi (7 Kms, 5 Hrs) | Drive from Dhundhi to Manali (21 Kms, 40 mins) – Finally, after days of adventure, you will start your journey back to Manali, reflecting on all the amazing experiences you shared with your friends. You will leave Manali. This time you are not going home as same, with a hand full of hard-earned memories that will reflect your hard work.
READ MORE ABOUT THE ITINERARY: HERE
WHO CAN PARTICIPATE IN FRIENDSHIP PEAK EXPEDITION?
The Friendship Peak expedition is a challenging and physically demanding trek that requires a certain level of experience. Here are some of the reasons why it is not considered an ideal trek for beginners.
The Friendship Peak trek is a challenging expedition that requires a high level of physical fitness and endurance. It involves crossing glaciers, steep ascents and descents, and negotiating rough terrain.
Friendship Peak is located at 17,345 feet, which can cause altitude sickness if proper precautions are not taken. Before undertaking this trek, it is important to assess one's physical fitness and prepare accordingly.
The trek also requires technical expertise and prior knowledge of treks, as trekkers need to use crampons, ice axes, and ropes to navigate the glaciers and steep slopes. Therefore, it is advisable to have some prior experience in using such equipment before embarking on the trek.
Moreover, weather conditions can be unpredictable, with sudden changes in temperature, strong winds, and heavy snowfall. Trekkers need to be prepared for these conditions.
It is essential to understand the difficulty level of the Friendship Peak trek to ensure a safe and memorable experience. While the trek may not be ideal for beginners, with proper planning and preparation, anyone can undertake the Friendship Peak trek. Therefore, it is recommended to consult with a guide or trek expert to ensure a successful and enjoyable journey.
SUGGESTED READ: KASHMIR GREAT LAKES TREK GUIDE
HOW TO REACH FRIENDSHIP PEAK?
The Friendship Peak Trek is started in Manali and ends in Manali. If you're planning on making your way to Manali for the Friendship Peak Trek, there are several ways to reach the popular tourist destination.
By Air:– The nearest Airport to Manali is Kullu Bhuntar Airport. The airport code is KUU. It is 50 kms away from Manali. From the airport, you can take a taxi to reach Manali.
By Rail – If you prefer the comfort of a train, Manali doesn't have a railway station. However, you can get off at Joginder Nagar Railway Station, which is located 162.6 km from Manali. From there, you can take a taxi to reach Manali. If you are choosing the train as your travel means, then it will be better to get down to Chandigarh and Ambala, then take a bus.
By Bus – The best and most cost-effective way to reach Manali is by road. Roads connect Manali to different places including Delhi (540km), Chandigarh (305km), Ambala (370km), and Dehradun (227km), and there are several private buses that connect Manali with different parts of the state.
Ultimately, the best way to get to Manali depends on your budget, time constraints, and personal preferences. Whether you choose to fly, take the bus, or train, you should plan your trip in advance to ensure a smooth and enjoyable journey to this stunning destination
THE BEST TIME TO VISIT FRIENDSHIP PEAK?
If you're planning to visit the Friendship Peak Trek, the ideal time to do it would be from June to October. The first few months of the year, from June to August, offer the opportunity to witness snow-capped peaks and experience the wonder of snow falling. For those seeking an extra thrill, the months of September and October, after the monsoon season, provide the best possible chance as the terrain transforms into a rocky landscape. You will enjoy consistently clear weather and a spectacular view of the stunning surroundings.
Due to the high altitude of this trek, it is not recommended to undertake the hike in extreme winter conditions because the region receives heavy snowfall and the terrain becomes harder to navigate. The monsoon season is also not ideal as the slopes become slippery and add to the difficulties one might face while on the Friendship Peak Trek. Talking about a specific month, October is the perfect time to do the Friendship Peak Trek as it falls in the post-monsoon season, which grants access to the very best of the Himalayan trails that lead to Friendship Peak.
RECOMMENED READ: VALLEY OF FLOWERS GUIDE
WHAT TO EXPECT IN FRIENDSHIP PEAK EXPEDITION?
The Friendship Peak Expedition is a journey that will make you feel like you're in heaven. It's incredible landscapes and challenging terrains offer trekkers a chance to witness the breathtaking beauty of the Dhauladhar and Pir Panjal ranges, adorned with their snow-capped peaks and rugged terrain. It is an ideal opportunity for experienced trekkers to push their limits and for beginners to indulge in the world of high-altitude trekking.
Everyday day, friendship peak will reward you with something unique.
New views, new challenges, and new you!
At the Friendship Peak Expedition, you will be rewarded with a mesmerizing panoramic view of the majestic Pir Panjal range, with Dhauldhar range, enchanting Himalayan range, and the magnificent peaks of Hanuman Tibba, Shitidhar, Indra Asan, and Deo Tibba.
Guaranteed satisfaction – You will transform into an adventure junkie by the end of the expedition, equipped with newfound skills and knowledge. Explore the unknown glaciers and discover the hidden gems that Friendship Peak has to offer at each stage.
You can find your own tranquility in the picturesque village of Dhundi, where nature unfolds its wonders as mighty glaciers give birth to dancing rivers.
Traverse through stunning alpine meadows, adorned with vibrant blossoms during the months, providing a refreshing break from the arduous path.
The expedition will never fail to amaze you, whether it's traversing picturesque villages, navigating across stunning alpine meadows, or navigating across a glacier situated at a lofty altitude.
However, the reward is beyond compare, as the summit offers a 360-degree view of the surrounding mountain ranges and valleys that is breathtaking and mesmerizing. Additionally, the trek provides an opportunity to connect with the local community and immerse yourself in their unique culture and way of life.
BOOK YOUR FRIENDSHIP PEAK ADVENTURE NOW!!
THINGS TO DO IN FRIENDSHIP PEAK
Friendship Peak Expedition offers a variety of activities to keep you on your toes- for an adrenaline-filled adventure. One of the most popular activities is, of course, the challenging trek to the summit. But the expedition also offers opportunities for trekking, camping, and even adventuring in the wild.
Adventure:- For those who enjoy exploring and trying new things, the expedition presents an endless list of adventures waiting for you to discover. The adventure doesn't end when you reach the top; it's an ongoing journey of exploring, learning, and growing.
Trekking:- The trek to the summit is the only way to reach the top and offers an unforgettable view of the majestic mountains and valleys surrounding you. Trekking is a popular activity for those who want to explore the surroundings and reconnect with nature.
Camping:- Imagine yourself waking up in the mountains, seeing the best view of your life. Camping in Friendship Peak is a once-in-a-lifetime opportunity to wake up to the breathtaking view of the mountains and immerse yourself in the stunning beauty of nature.
ALTITUDES OF FRIENDSHIP PEAK EXPEDITION
HOW DIFFICULT IS FRIENDSHIP PEAK EXPEDITION?
Friendship Peak Expedition is widely regarded as one of the most demanding treks in India. It is not impossible but requires specialized equipment, a high level of fitness, and a willingness to learn new skills, such as using an ice-axe, pitching a tent in the snow, roping up, and working as a team. The trek's challenging terrain, including steep gradients and heavy snow boots, can be overwhelming. However, with proper preparation, guidance, and determination, anyone can tackle the task at hand and achieve success. The sense of accomplishment and the breathtaking beauty of the Dhauladhar and Pir Panjal ranges make the effort worth it.
HOW TO PREPARE FOR FRIENDSHIP PEAK EXPEDITION?
Friendship Peak Expedition is a challenging trek. To prepare for the journey, one must assess their own physical fitness level and consider a fitness training program. Regular cardio exercises like cycling, running, and swimming can assist in building stamina. Conducting proper research on routes, terrains, and weather patterns is another essential aspect of preparing for the trek.
Technical knowledge of tents, camping, and backpacking is crucial, and a trip leader or guide can help with navigating potential challenges. Mentally preparing by having a positive attitude and willingness to push oneself is also important to ensure a safe and enjoyable experience. Precautions and following safety guidelines should be taken to protect trekkers and ensure a successful climb. Remember, with the right mindset and adequate preparation, even a beginner can attempt and complete the Friendship Peak trek.
THINGS TO PACK FOR FRIENDSHIP PEAK EXPEDITION – TAKE A LOOK
IS FRIENDSHIP PEAK EXPEDITION SAFE?
It is completely safe to travel with JustWravel. Our AMC-certified Trip Leads give utmost priority to safety and sustainability. They do not just know every nook and crevice of the trails but also have profound knowledge of the same. We are dedicated to educating you about the place's significance which makes your overall experience more enriching and fascinating. The trip leaders are also well-equipped with Oxygen Cylinders, First Aid Kits and our trip captains are SOS Trained and have ample medical knowledge to handle any adversity with utmost care. JustWravel is known for making our female travelers feel secure so that they can have the trip of their life without any worries.
TRAVEL WITH SAFE HANDS – BOOK YOUR EXPEDITION NOW!!!
HOW CHALLENGING THE WEATHER CAN BE?
The weather conditions on the Friendship Peak trek can vary depending on the time of year and the elevation of the route. Typically, from June to October, the weather is quite pleasant with clear skies and moderate temperatures. However, there may be occasional showers, so it is advisable for trekkers to bring suitable rain gear. As you ascend to higher altitudes, the temperatures can drop significantly, so it is important to have appropriate cold-weather gear. During the winter months, the trekking route becomes unsafe due to heavy snowfall and low temperatures, and it is strongly advised not to attempt the trek during this period.
READ MORE: TRAVEL ESSENTIALS
BEST FRIEND EXPEDITION?
Have you ever had a friend who believed in you so much that they pushed you to be your best self? The kind of friend who cheered you on, even when you doubted your own abilities. The friend who stood by you no matter what, inspiring you to achieve your goals. If you miss someone like that, it's time to build new, amazing friendships!
The Friendship Peak expedition is the perfect place to do just that. As you trek, you'll meet fellow enthusiasts who share your passions. As you journey together, you'll form bonds that will last a lifetime. The sense of camaraderie that emerges from such an expedition is truly unparalleled. The Friendship Peak expedition gives you the opportunity to form deep connections with fellow adventurers, and you'll share stories around the campfire. You'll support each other through the challenges, and the sense of community and friendship that emerges from the experience is truly one-of-a-kind. The Friendship Peak expedition is an exhilarating and adventurous experience, taking you to a place of unparalleled beauty. The instant you catch a glimpse of it, you'll feel an instant love for this unique location. It is the kind of adventure that will create memories you'll never forget!
LEARN WITH JW!!!!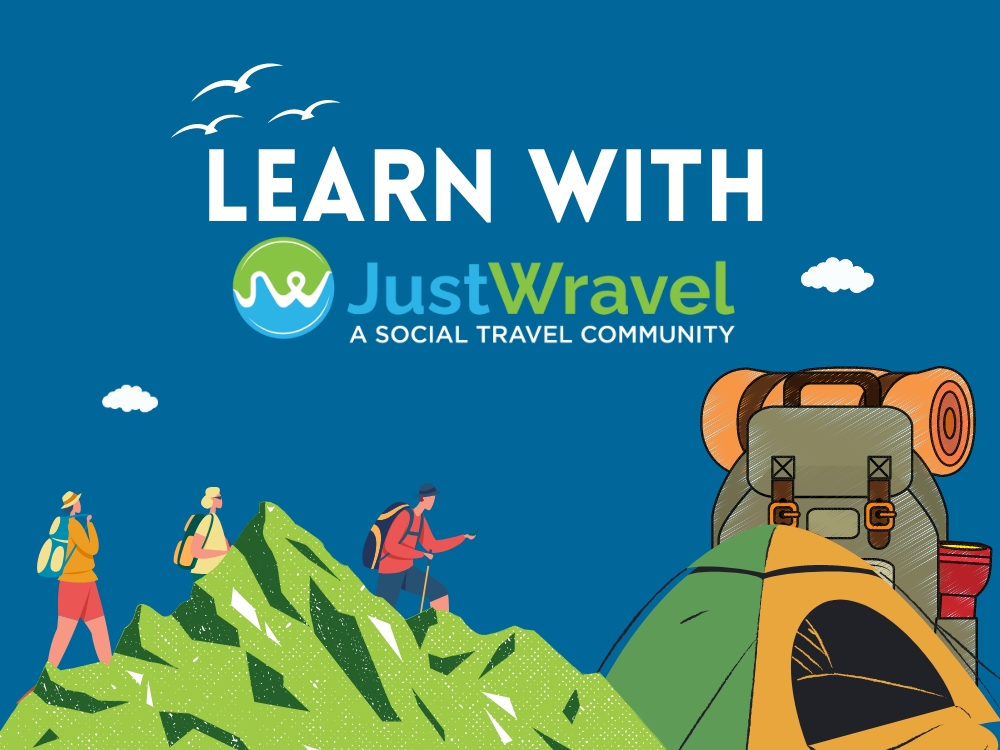 Hello dear readers/adventurers/future explorers,
Welcome to our new session called "Learn with JW", where we're not here to explain complicated topics, but to offer you tips and reminders on concepts you may already be familiar with! This session is designed to help you remember important information, just like your old school friend who explained the entire syllabus to you before an exam. Whether it's an old friend or a new one, JustWravel is here to serve as your study buddy and help you brush up on your knowledge. With this session, you can be sure to have all the information you need to succeed in your studies!
Let's start with some basics:-
DIFFERENCE BETWEEN TREKS AND EXPEDITIONS
The expedition is a style of mountaineering that usually involves summit climbs and glacier crossings on high-altitude mountains. An expedition is often planned in advance, with a specific mission or goal in mind, and may involve a specialized team or team leader. It spans multiple weeks and includes the use of technical mountaineering gear. It requires prior training and a high level of physical fitness.
On the other hand, Trek does not require prior technical training but could be physically challenging. It often involves camping along the way and can last for a few days to several weeks. A trek can be a self-guided or guided adventure. These treks High altitude treks require the use of basic mountaineering gear.
NEARBY PLACES TO EXPLORE – MANALI
Manali is one of the most witnessed places in India. Situated at an altitude of 2,050M, Manali attracts tourists with its breathtaking scenery and convenient accessibility. Moreover, it serves as a haven for adventure enthusiasts of all skill levels. Apart from trekking,
Manali offers a plethora of thrilling sports such as Paragliding, Ziplining, River Rafting, Biking, Cycling, and much more. Additionally, the town boasts a range of tourist attractions including temples, valleys, and waterfalls, with Hidimba Temple, Jogini Falls, and Naggar Castle being some of the most popular ones. In a nutshell, Manali ensures that you are never short of activities to keep yourself occupied. While the town itself offers plenty, you can also explore various trekking trails that originate from here. Some of the shorter ones worth mentioning are Beas Kund and Bhrigu Lake.
READ MORE: BEST POST MONSOON TREKS
LOVED FRIENDSHIP PEAK EXPEDITION? WHAT TO DO NEXT?
If you are someone who loved friendship peak expedition, the best alternate trek to do is Gaumukh Tapovan Trek.
The Gaumukh Tapovan Trek, which leads to the origin of the sacred River Ganga in the Himalayas, should be highly sought after. However, it remains severely underrated.
The name "Gaumukh" refers to the resemblance of the glacier's shape to the mouth of a cow. This glacier holds immense religious significance as a Hindu pilgrimage site, attracting many devotees who also visit Gangotri. Situated at an elevation of 14,600ft in the Uttarkashi district of Uttarakhand, the Gaumukh Tapovan Trek offers a breathtaking panoramic view of the Garwhal Himalayas. The prominent peaks of Mt. Shivling and the majestic Bhagirathi massif add to the awe-inspiring scenery.
VISIT GAUMUKH TAPOVAN TO SEE THE PEFERCT BLEND OF SPIRITUALITY AND ADVENTURE!!
QUESTION OF THE DAY? 

Remember reading about the difference between Treks and Expeditions. Following are some of the most popular treks and expeditions, arrange them into treks and expeditions in the comments:- 

[ Friendship Peak, Deo Tibba, Black Peak, Mount Gangotri, Mt. Kedar Dome, Rupin Pass, Buran Ghati, Hampta Pass, Kedarkantha, Valley of Flowers, and Kashmir Great Lakes ]
FREQUENTLY ASKED QUESTIONS
1. Is it possible to go on a solo expedition to Friendship Peak?
While Friendship Peak Expedition is a difficult trek that requires technical expertise, solo trekking can be challenging for you. It is highly recommended to do the expedition in a group. Make sure you have the necessary skills and equipment for the terrain and conditions you will encounter during this demanding expedition. And always be prepared for unpredictable weather changes. It's always advisable to have a group, but if you choose to do it alone, be careful and plan everything strategically.
2. Can we get mobile connectivity while completing the Friendship Peak Expedition?
Phone connectivity is available up to Manali. Make sure to make all necessary calls in Manali, as you will lose connectivity as soon as you start the trek from Dhundi. It's best to keep your phone in flight mode during the trek to preserve battery life and avoid accidental misdialing. If you need to make an emergency call, make sure you are in an area with better reception. Remember that mobile connectivity will be available again at the end of the trek.
4. What is the nearest ATM to the Friendship Peak Expedition trail?
The last available ATM can be found in Manali, so it's recommended to withdraw some cash before starting the trek.
5. Is travel insurance needed for this expedition?
While it's not strictly necessary, it's advisable to have travel insurance for such a challenging trek. However, JustWravel's new travel insurance program covers up to 4 lakh rupees in case of an emergency.
READ MORE ABOUT THE FREE TRAVEL INSURANCE HERE..
6. Is the Friendship Peak Expedition safe for women?
Yes, the Friendship Peak Expedition is suitable for all genders, but if you're a woman, be sure to check our period hacks blog before embarking on the trek.
KNOW MORE: PERIOD TRAVEL HACKS
7. What is the cost of the Friendship Peak Expedition?
The base price for the Friendship Peak Expedition is 30,000 rupees, although additional costs such as transportation and hotel expenses may apply. It's always best to consult a professional travel agency for up-to-date pricing information.
CHECK THE PRICE OF FRIENDSHIP PEAK EXPEDITION HERE
8. What's the best package for the Friendship Peak Expedition?
The best package for the Friendship Peak Expedition is the 7-day expedition that begins and ends in Manali. You can find the itinerary for this package by clicking here.
9. What fitness level is required for this trek?
The trek requires a high level of fitness, which can be achieved through proper training. It's essential to prepare mentally and physically for this expedition, as it can be both challenging and physically demanding. However, if you're up for the challenge and have trained adequately, the trek can be both rewarding and exhilarating. It's essential to listen to your body and get adequate rest before, during, and after the trek to avoid exhaustion or injuries.
So, what are you waiting for? Unleash the adventurer within you and conquer the heights of the Himalayas like never before! If you can't do this then no one can!!!