Trekking is all about an outdoor recreational activity of hiking or walking in high altitude trails that has gained massive popularity over the past few years and corporate trekking tours are gradually making its way in the corporate world as an essential part of Team Building process.
Trekking isn't just for the adventure enthusiasts it is an activity which requires understanding and coordination with the zeal to overcome the hurdles. Almost every corporate aims at increasing team coordination and team strategy while taking the team members on corporate tours and organizing various team building activities lately there has been an increase in the number of corporate trekking tours in which Team Leaders or HR's have started taking their team on trekking expeditions as a practical learning experience.
Similar to a corporate setting where the team strives to achieve a common goal & then enjoy the fruits of it at the end; a corporate tour on the trekking trail have a common objective to reach till the summit and enjoy the splendid view, during the process of hiking, panting, resting on the trail the team converses, supports & motivates each other in a manner that keeps up the enthusiasm and vacation vibes.
THERE ARE MANY WAYS IN WHICH CORPORATE TREKKING TOUR WILL BE HIGHLY EFFECTIVE  IN TEAM BUILDING:
1. HELPS IN KNOWING ABOUT THE TEAM MEMBERS:
While on a Corporate trekking tour the team members undergo various challenges where they learn about the fears and strengths of each other as trekking requires coordinated efforts of each member.
The team members in an office are only aware of the roles & responsibilities of each other, but while on a trek they interact more, motivate each other to push their limits, and understand each other value in the team.
Corporate Trekking tours are not just a learning experience but it is a fun activity to do too and acts as a great opportunity to stay away from the digital and comfortable world and know about each other in a better way and to actually interact with each other over a cup of coffee while observing the majestic sunset.
2. ENHANCES TEAMWORK :
Trekking isn't about who finishes it first but about taking your teammates together and constantly motivating each other to do their best so that altogether experience the final view.
Trekking takes more than just physical fitness it tests the mind as well and the ability to cope up with different people under unexpected situations and making it through till the end with your team on time. As a corporate tour on the trek, you learn to strategize, distribute responsibility, work together, motivate each other, and keep peace and balance with each other.
Trekking helps you achieve a leap of faith for your teammates. Working together to set up tents or light up a bonfire everything you do on a trekking expedition helps you form a better and more coordinated team.
3. SHARED INNER PEACE :
While trekking through the beautiful trails and reaching the final destination you get a feeling of positivity and harmony within yourself, you feel more confident and proud of yourself to have achieved the great height.
Laying down on the lush green meadow with your team after the joint efforts of reaching the top, looking back at the funny or challenging incidences that you faced while making your way to the top.
Corporate trekking tours are a life-changing experience both on the professional and personal ground, it helps you achieve the feeling of shared positivity and responsibility.
4. MOTIVATING EACH OTHER:
While you set your foot on a corporate trekking tour your goal lies in front of you and your team. The endpoint or peak is a constant motivation factor that pushing the entire team to strive for it.
Many challenges and uncertainties may fall in your way but the team keeps motivating each other and find a way to top together. The team experiences joy and fears together and are more in tune with each other.
5. PROBLEM-SOLVING AND DECISION MAKING:
Trekking to the top of a peak or a remote scenic beauty sure tests you in certain ways and throws various challenges but on a corporate tour, every team member knows the importance of strategy building and teamwork and the ability to make quick decisions which the whole team agrees on. 
The team together takes risks and experiences the joy of overcoming them.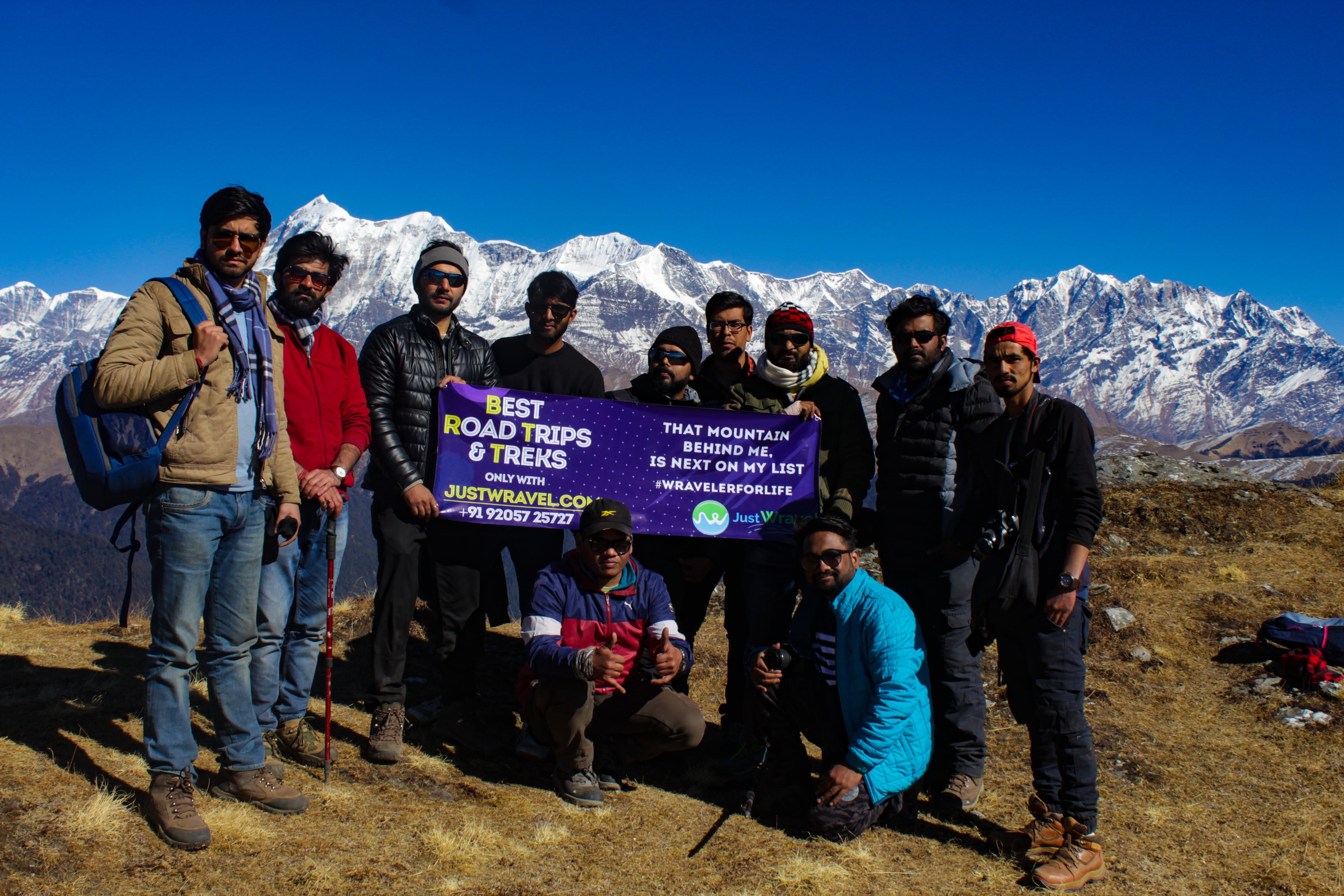 The team at the summit.
If these aren't valid enough reasons to convince you for a corporate trekking tour you can talk to our expert: Rohan @ 9205725727 or drop your query at justwravel .
You should also read :