Lying in the Northeastern part of India, the state of Meghalaya is also known as the Land of the Clouds. This state is also of valid archaeological interest since traces of ancient people living here have been found. Meghalaya is mostly covered by high-end plateaus, lush forests, and valleys. And also, with the amount of rainfall that it receives every year, it is believed to be the wettest place on earth. With monsoon experiencing very heavy rainfall here, summer is perhaps the best time to visit Meghalaya.
Rich in flora and fauna, Meghalaya is home to a number of species of mammals, birds, and reptiles. It has two national parks and three wildlife sanctuaries that are home to these animals and provide protection to them. The variety of wildlife, highlands, and scenery is without a doubt the main reason to visit Meghalaya. This state also provides multiple other options like adventure sports, trekking, and camping options.
So, if you were long planning about traveling to Meghalaya, here are 9 reasons in detail to help you understand that why should you visit Meghalaya –
1.

      

Mawsynram
This place is basically a village located in the East Khasi Hills district of Meghalaya but is one of the places to see in Meghalaya and you would not want to miss a chance to visit here. Bus services are available from Shillong to Mawsynram at cheap rates.
It is the wettest place in the entire world and should be in the list of reasons to visit Meghalaya. There is a famous cave in this village which has wonderful displays of stalagmite. The mountain roads are covered on sides with lushes of greenery, blooming orchids, and mesmerizing waterfalls. 
2.

     

Seven Sister Falls
Seven different waterfalls falling near to each other have provided it such a name. Falling across the cliffs and the water reflecting the sunlight for vibrant colors will show you one of the most breathtaking views you have ever seen. This waterfall is also known as the Nohkalikal Falls.
The waterfalls from a height of near about thousand feet, making it one of the tallest waterfalls in India. A peek at the pictures of this place will surely impress you and you will find yourself traveling to Meghalaya soon.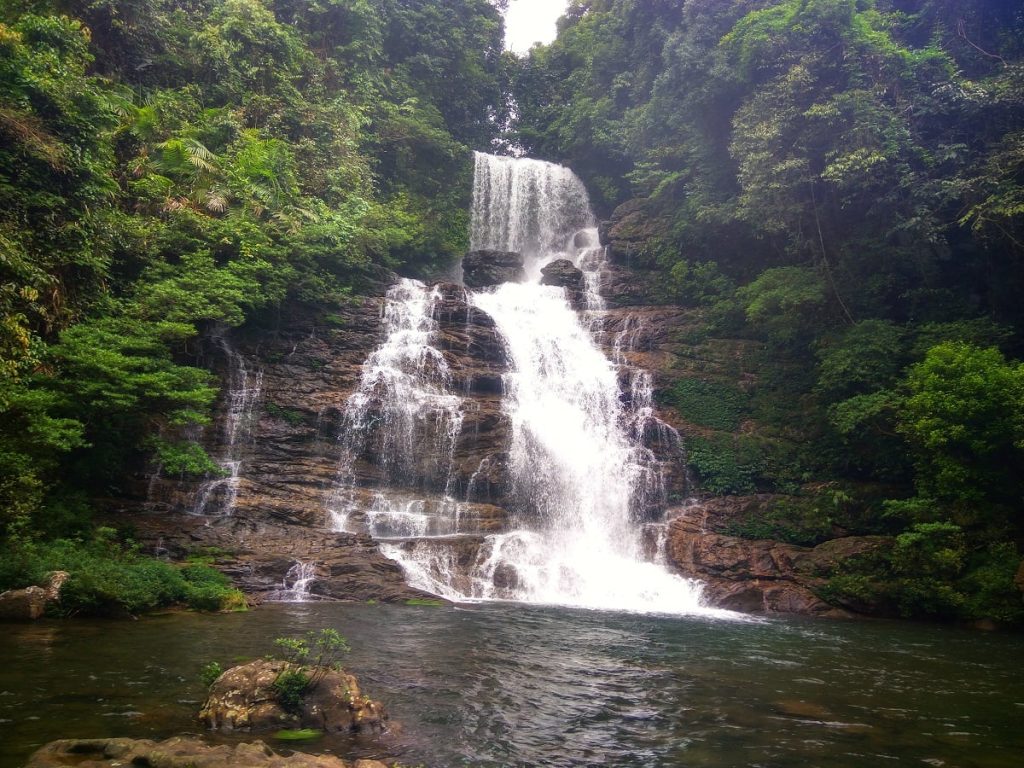 3.

    

The Sacred Forest
Mawphlang forest is considered to be sacred because it is believed that the local deity, Labasa resides here. The harmony and naturalness in this forest are being preserved by the local Khasi tribes for thousands of years.
The forest has collections of old trees, medicinal herbs, and even monoliths. According to the local beliefs, Labasa never allows anyone to take anything out of this place, not even a flower or a stone, and if anyone does, he or she is punished by death.
4.

    

Double-decker Bridges
Nongriat is one of the places to see in Meghalaya that you should not miss at any cost. It is famous for its double-decker bridges which were built from the roots of large trees by the local Khasi tribes. You have to climb down a thousand steps in the mountain and then visit this place.
The picturesque surrounding will amaze you to the peak. Make sure to wear the best trekking shoes and the journey may be tiresome, but it is totally worthy. You can also stop along the waterfalls that will fall in the way to refresh yourself with a splash of cool water.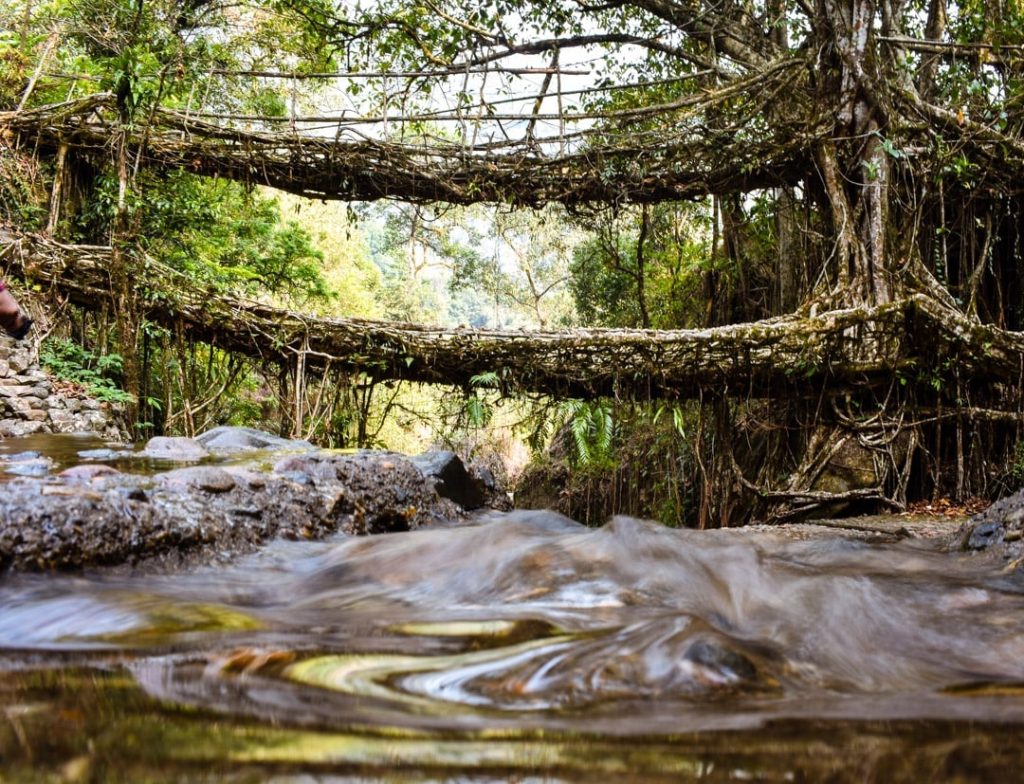 5.

    

Dawki
This place is at a distance of 95 km from Shillong and very near to the Bangladesh border. One of the main attractions of this place is the Umngot River.
The water is crystal clear, and you will be able to see the riverbed if you look into it. Boat rides are available on the river and if you are interested in fishing, then that option is also available here.
6.

    

The Laitlum Canyon
Located at a distance of 22 km from the capital, this is another of the place for an adventure trip and trek lovers. Transport facilities are also available to the top of the hill, but the place could be best explored by yourself.
The view of the valley underneath is quite something to boggle up your mind. You will also find colorful orchids on your way and is one of the reasons to visit Meghalaya.
7.

    

David Scott Trail
A muddy trail with a few rocky sections and spectacular scenery that leads to the Mawphlang forest is a good hiking option. Trek lovers traveling to Meghalaya will definitely include this place on their list. The total length of the track is seventeen kilometers.
It was named after the British administrator who operated at this place. This track was, and also currently, is frequented by horse carts
8.

    

Umiam Lake
This place is where Mother Nature is at peak form of her beauty. An ideal spot for boating and kayaking, this place seriously justifies reasons to visit Meghalaya. It is located at a distance of fifteen kilometers from Shillong.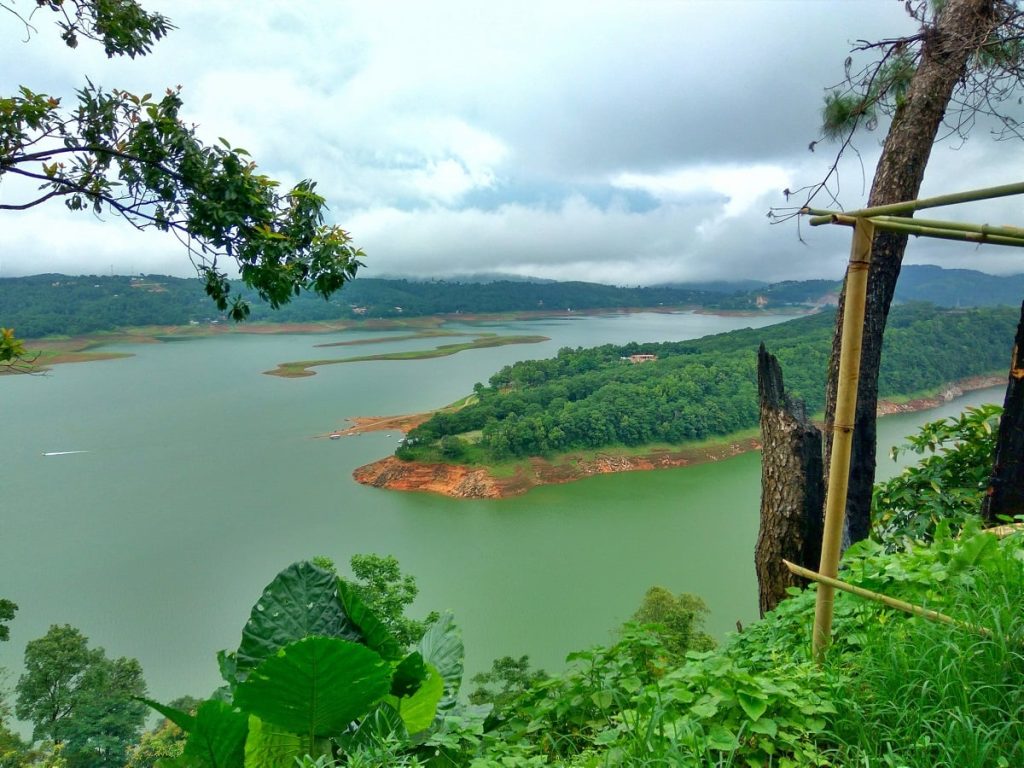 9.

    

Shillong
The name of Shillong arises whenever people talk about taking a trip to the north-eastern part of India. Places to see in Meghalaya will surely start from this capital place of Meghalaya. It is one of the most famous hill stations in India.
Located at a height of fifteen hundred meters, this place is a combination of manicured gardens, waterfalls, and forests. The Don Bosco Centre for indigenous culture also depicts the cultural richness of the native people of the place. The famous elephant falls is located in the southwestern part of the city. A journey to this place will surely make you think that how rightfully the Britishers named this place as "Scotland of the East".
If you are a sports lover, you can also hp out to check out the local teams Shillong Lajong FC and Royal Wahingdoh during their I-League matches that take place at the local stadium. 
Don't you think that these reasons to visit Meghalaya are not enough to convince you, then you must be there to explore the length and breadth of the state.
You should also read :