If one is looking for some adventure in life, then Spiti Valley in Himachal Pradesh will give you enough reasons for your escape from civilization to the pure bliss of nature in the solitude of mountains. Spiti Valley is a snow desert with huge diversity and beauty in the Himalayas which lies between India and Tibet.
With rough terrains, decent roads, waterfalls, rivers, monasteries, hamlets, and a non-polar glacier, Spiti Valley is an offbeat destination for adventure, photography, and meditation. Known as "Little Tibet" and "The Snow Desert", this Himalayan valley is a destination that portrays calmness and beauty together. The friendly people, the red robes of monks, the lush green agricultural land, and the white patches of clouds add a splash of color to Spiti. It is a fantastic photographic destination amidst the beauty of hills and vast lakes.
Secluded away from the busy city life it is believed that years ago Spiti Valley was an isolated area as it was banned for 30 years for visitors. As compared to other Himalayan regions, Spiti is completely different in terms of landscape, food, and lifestyle. Spiti Road Trip will be a great experience if you are planning to head out to this valley with a bunch of friends or even a travel group. This Himachal valley is a small world of different geographical formations including canyons, mountains, glaciers, rivers, and waterfalls.
If you are looking for reasons to visit Spiti Valley, here are 7 reasons why you must visit the Spiti Valley –
1. Monasteries of Spiti:
Nestled in the lap of Himalayas, Spiti Valley is adorned with colorful Buddhist monasteries where one can practice for inner peace. There is a total of five major monasteries in this region such as Key Monastery, Dhankar Monastery, Tangyud Monastery, Tabo, and Kungri Monastery. Tabo is over 1000 years old and consists of a number of small temples. All structures of this monastery are made of mud and they look beautiful against the barren brown landscape of Spiti.
Frescoes adorn the walls of the monastery and we recommend that you carry a small torch inside to see the intricate artwork here. Amongst these, Key Gompa which lies close to the Spiti River is widely popular and dates back to 996 AD. This should be one of the reasons to visit Spiti Valley and next to your traveller's destination list.
2. Beautiful Lakes:
Spiti Valley is adorned with beautiful lakes neatly tucked away in the valley for you to discover. A must stop is Chandrataal lake. While traveling from Kaza (Spiti) to Manali, one can take a diversion from Batal to reach this lake. Camping by this lake under starry skies is exactly the kind of life-changing experience you are looking for.
Dhankar Lake is another lake that you can visit. Dhankar lake is accessible from Dhankar village but is a steep trek of a few km from the village.
While on your road trip to Spiti do visit these exquisite lakes to be in the midst of nature and acquiring calmness. The atmosphere is quite calm and filled with tranquillity.
3. Kunzum Pass:
Kunzum Pass remains snow-covered for most of the year and is considered one of the most visited places by the travelers. The pass is almost revered in Spiti Valley and there are lots of colorful prayer flags fluttering in the wind at the pass.
A stopover at Kunzum is a must while driving to or from Spiti. The landscapes and the beauty of the snow-covered pass will win any travellers hearts and therefore a reason to visit Spiti Valley. 
4. Safari in the Valley:
Yaks are found in abundance in the valley and rearing yaks is a means of sustenance for the villagers. If you take the yak safari one can travel through the beautiful landscapes and experience the picturesque view the valley will provide. One can also opt for horses if yak safari is not your thing.
One should not miss out on the amazing safari while on your Spiti trip. 
5. Valley Home-stays:
If you opt for a guesthouse or home-stay it would give you a wonderful opportunity to know the locals and their unique culture. The villages situated in the Spiti Valley are attractive and you will love to see the life of people living in these villages. Living in these quaint home-stays will make your trip to Spiti memorable.
Most of these home-stays are in villages that are at a higher altitude from where the visitors can get a gorgeous view of the entire valley. Home-stays are the best way to learn the culture of the place and the natives. Also, they serve you with some authentic local food and one should not miss out on the local delicacies of Spiti Valley.
In Spiti, you must try thupka, stir-fried noodles, memos, and the Tsering tea made with the local fruits. The homely warm feeling and delicious food served at the homestays are also one of the reasons for visiting Spiti Valley.
6. Fossil Park at Langza:
Wildlife abounds in the cold desert terrains of the Spiti Valley. A certain percentage of the bleak landscape is dotted with wildlife in proximity to the villages. Fossils can be seen at a few places across the valley. The Himalayas have risen from the sea, and this is proved by the fact that several marine life fossils have been found in and around Langza village.
The fossil museum at Langza is a must-visit. And even if natural history does not interest you, you will love the environs of Langza with its lush green fields and its landscape. Spiti Valley trip can be a great experience for you and an escape from the busy life of the city.
7. Spectacular High Mountains:
The stunningly beautiful high mountains of Spiti is a sight not to miss out on. The mountain is covered with melting snow and is beautifully carved on the mountains of this valley. These giant mountains are indeed magnificent and also one can opt for trekking.
These mountains have become an ideal spot for trekking for adventure lovers. This should be one of the reasons to visit Spiti Valley and witness this magnificent beauty.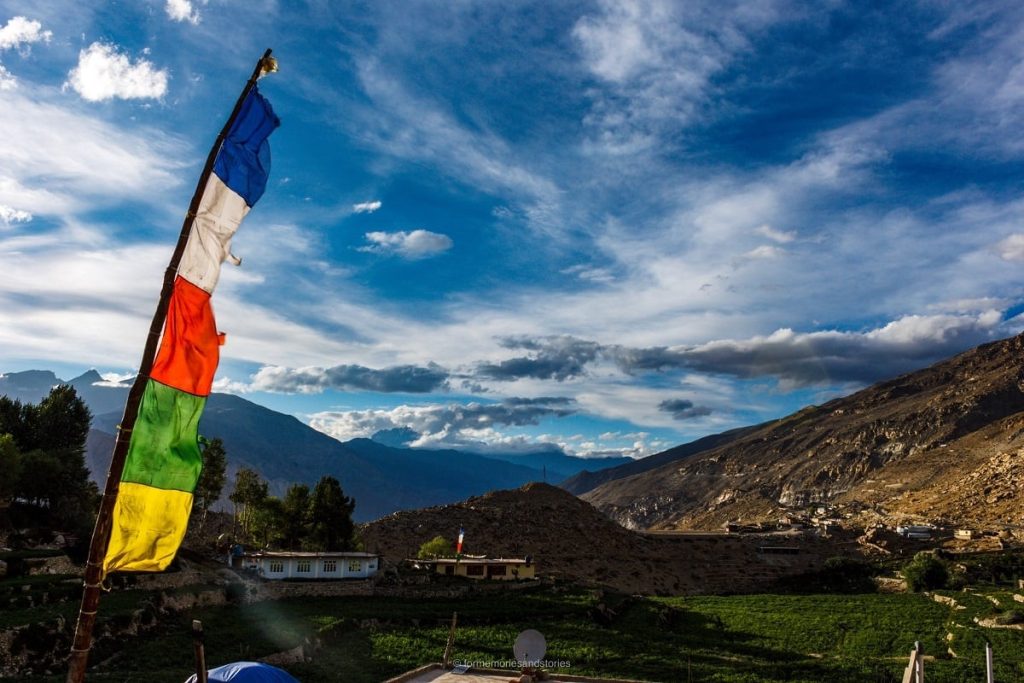 Spiti is not like any other travel destination in India. It will truly be a life-changing experience for you. It is a paradise on earth and a Spiti Trip will energize your mind and cleanse your soul.