Each trek has its own features and attractions and if it is a snow trek then its beauty can amuse trekkers coz of a white blanket of snow. Snowfall while trekking is like icing on the cake. In India, there are very few treks that remain accessible throughout the year. Almost all the winter treks are done in Uttarakhand.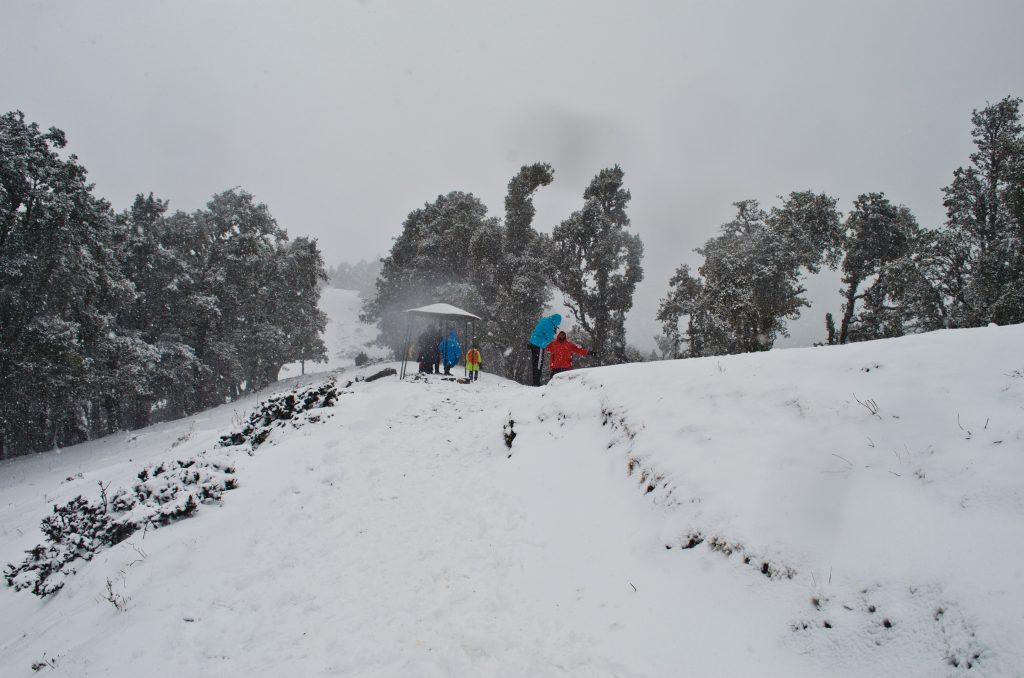 These treks are Dayara Bugyal, Kedarkantha, Panwali Kantha, Dodital, Deoriatal-Chandrashila & Nag Tibba. Out of all, Nag Tibba is considered one of the best winter treks in India that can give an amazing experience of snow, also it is considered the best-suited trek for novice trekkers/hikers and is nearest trek to Delhi.
Alike other trekkers, I am also fond of snow trek. So I planned for Nag Tibba trek this winter in the month of January during Republic day long weekend. Since I made the plan, I was continuously checking the weather at Nag Tibba.
I was already excited about this trek and the weather forecast gave me a big surprise. It was showing 95% chances of snowfall during that weekend. So I planned and prepared accordingly.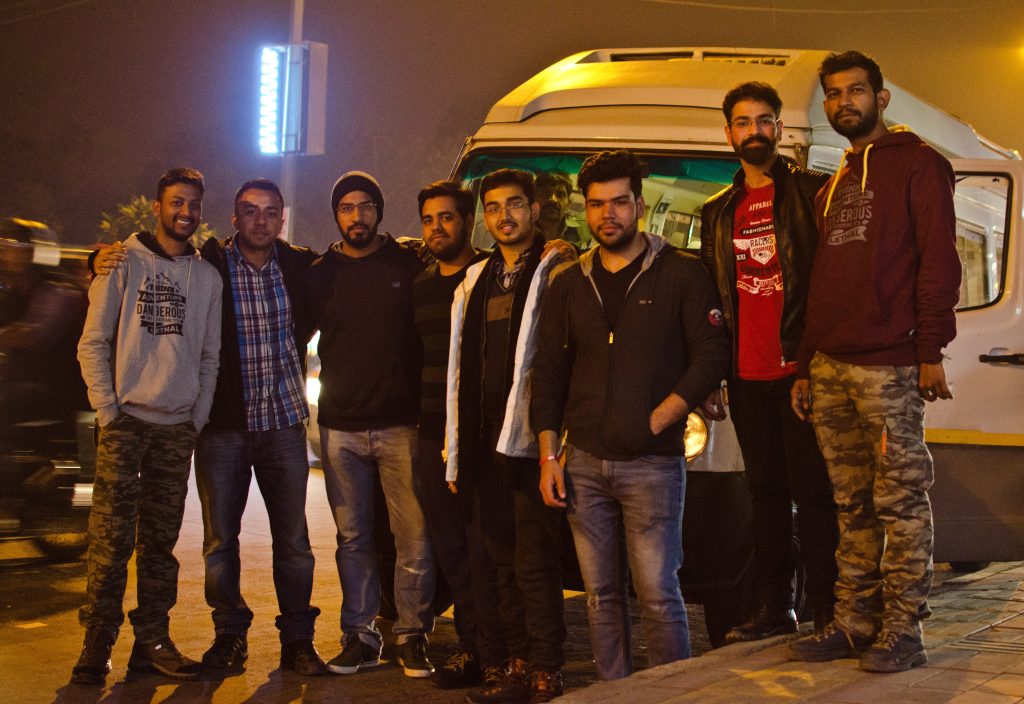 Day 1:
Then the D-day arrived. I reported at Akshardham metro station as per the schedule and there I met my trek mates. We were a group of 9 including Me, Rohan, Raj, Manish, Karan, Anmol, Akash, Saurav, and Anchit. We departed at 2130 hrs with our pre-booked tempo traveler.
Amidst the way, we had our dinner at a Dhaba and then continued our journey. While we were traveling, it started raining like cats and dogs. The driver could hardly see the road. Due to heavy rain, even the wipers were not working properly, so we decided to pause and wait for the rain to stop or slow.
After some time, we resumed our journey to Pantwari as it wasn't raining anymore, but there were lightning and thunderstorm. We could hear the sound of cloud burst and thundering and giving us a real thrill. I was awake throughout the journey and was playing songs so that the driver doesn't feel sleepy.
Day 2:
We reached Mussoorie at 5 AM, did a small photo session at Library Chowk, and then continued our journey to Pantwari. The road to Pantwari passes through Kempty falls, Yamuna bridge, and Nainbagh.
There was only our vehicle on that road at that time. We reached Pantwari at around 7 AM,  freshened up, and did our breakfast of Poori Sabji. The breakfast was yummy and post that, we started our trek to Nag Tibba base camp.
The basecamp is about 5.5 km from the starting point. As I was the most experienced trekker in the whole group so I gave a small learning session to all about how to ascend and descend on a trek. It took us around 4 hours to reach the base camp. The trail throughout the trek was easy except the last two stretches that I found it tiring.
After reaching the basecamp, we took a rest for a couple of minutes and then ate piping hot Maggi cooked by pahadi folks. Later in the evening, we enjoyed the bonfire with our fun-filled discussion. The weather was chilling and we could see snow on the top of mountains from the basecamp. We all were wishing for snowfall and a good amount of snow on the trail further to Nag Tibba Mandir and Summit.
After having dinner, we played a game called "Bluff" with playing cards and then we all went for sleep. In the night, the weather turned bad and with storm rain started. We were scared and thrilled at the same time and somehow managed to sleep.
Day 3:
We woke up at around 0600 hrs and found what we were wishing for. Yes, the weather gifted us with a fresh morning snowfall. We started shouting and waking up everyone. Everyone at basecamp got surprised by the weather. Then we quickly had breakfast of Aloo Parantha and got ready to trek further.
We put on our Ponchos (some calling it Penchos :p)  and started our trek. Now we were trekking in snowfall with snow all around. Initially, the trail was looking like that it had white showers, and then soon it became all white. Everything turned white except us be it trail, trees, etc.
The trees and bushes were looking beautiful with the white blanket of snow on them. It took around 2 hours and we reached Nag Tibba temple. The view there was way better than what we had expected. We spent around 2 hours there.
We did a long photo session, made a snowman, did a snow fight, and whatnot.
Then we started getting ready for the trek to the summit and unfortunately we had to drop this idea due to heavy snow. But we all were satisfied with this decision.
Later we started descending back to Nag Tibba base camp. While coming back from the Nag Mandir, the trail got too slippery due to the melting of snow and wet mud. Some of us got slipped several times but it was also the part of the fun.
We reached Nag Tibba base camp at around 1400 hrs and had lunch. After having lunch, we started our downhill trek to Pantwari and reached there at around 1700 hrs in the evening, had our dinner in the night, and then went for sleep.
Day 4:
I woke up to a sunny morning at around 0800 hrs, got ready, and had our breakfast. After having breakfast, we departed for Delhi. Reached Delhi at 2000 hrs.
Overall the trip was amazing, as it was a combination of amazing weather and like-minded group. We had great fun throughout the trip and made it a memorable one for all the Wravelers.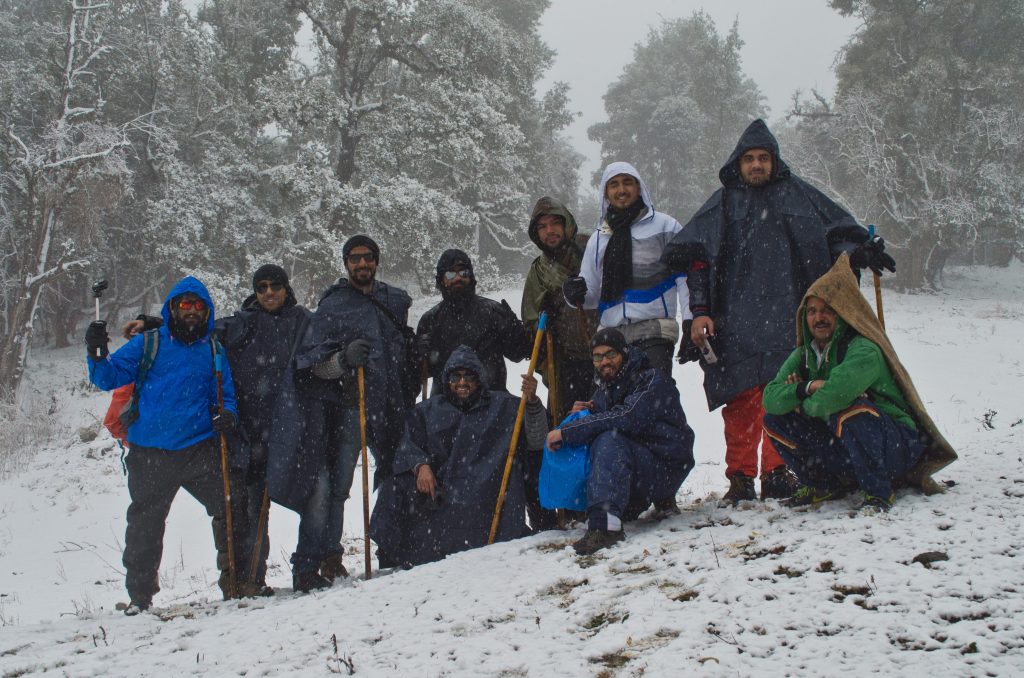 Contributed By: Manu Khandelwal
For travel related queries,outstation cab booking,bike rentals, Hotel bookings or Group Tours ; Kindly contact us at https://justwravel.com/contact or  call +91-9205725727