Some mornings are well spent doing nothing. Sipping hot tea, having a delicious breakfast and taking in the beautiful panoramic view of the Jaisalmer fort; that to me is definitely a morning well spent.
I had already booked a camel safari from the hostel itself (for 1600 INR, it can get cheaper too I think) and was joined by Ajey from Chennai and Lena from Berlin. The camel safaris usually start in the afternoon around 3 O' Clock, so we definitely had a lot of time to kill. But it zoomed right by, talking to fellow travellers, contemplating sightseeing in the 'harsh' sun and finally heading out for lunch.
The base camp for heading out to the sand dunes is a tiny village about 40 Kms from Jaisalmer called Sam (pronounced as 'sum'). Various camps have sprouted every few metres along the highway and we could see a plethora of tourists mounted on camels, armed with selfie sticks one behind the other like a modern caravan about to attack the desert with their cameras and cellphones. I sighed with relief when we drove past that procession, away from the camps, the people, the selfie sticks, the 10-minute safaris and a life of chaos. After about an hour of drive, our car stopped at a nondescript location on a narrow road leading to a village.
There we met Kaalu, our guide/manager/cook/caretaker/everything-in-between, three magnificent camels doomed to be our rides, and the ubiquitous group of children asking for something, anything; children who do not live in the India of decorated camels, safaris, selfie sticks and cameras, in fact  not even in the India of education, livelihood and survival. The camels, stripped of their freedom and yet being provided for by their masters, much like modern communism. After an hour long camel ride which quickly progressed from "Wow! This is awesome" to " I never knew riding a camel was this painful", we reached our camping point which actually in a way marked the beginning of the unspoilt, unlively, harsh and serene part of the Thar desert. There was no civilisation as far as eyes could see, no trees, no animals, only a few scattered shrubs holding onto their roots in that harsh environment, trying to survive, much like the folk who inhabit the adjacent villages.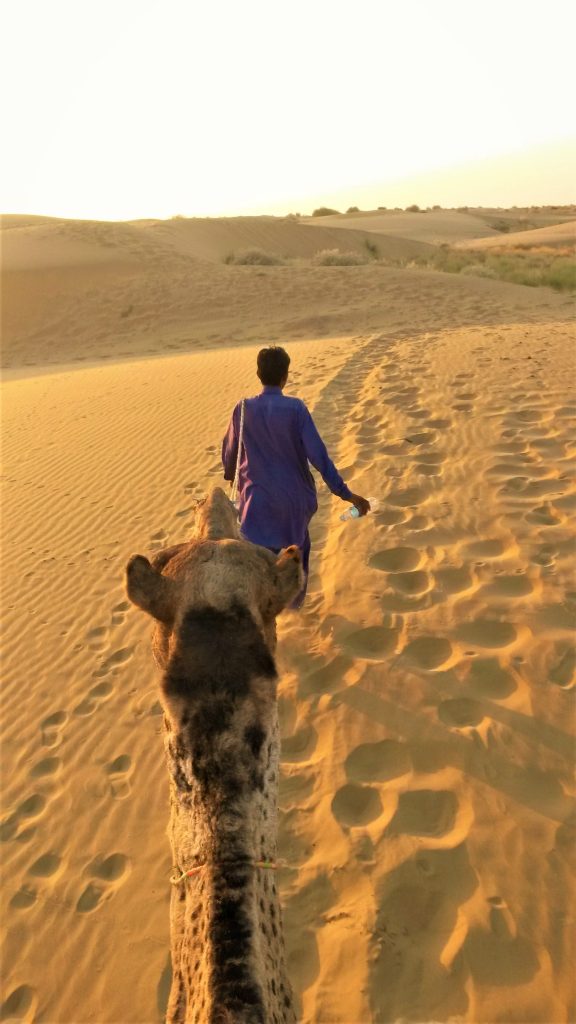 We spent the evening walking barefoot on the warm sand in the wilderness, enjoying that small pleasure of life which could quickly turn into a burden if we had to do it every day. After an hour of childish play and walking back and forth to nowhere, we climbed up to a vantage point to watch the setting sun (which started to seem like a ritual now). The same sun in a different setting, unconscious of its power and beauty, like the woman.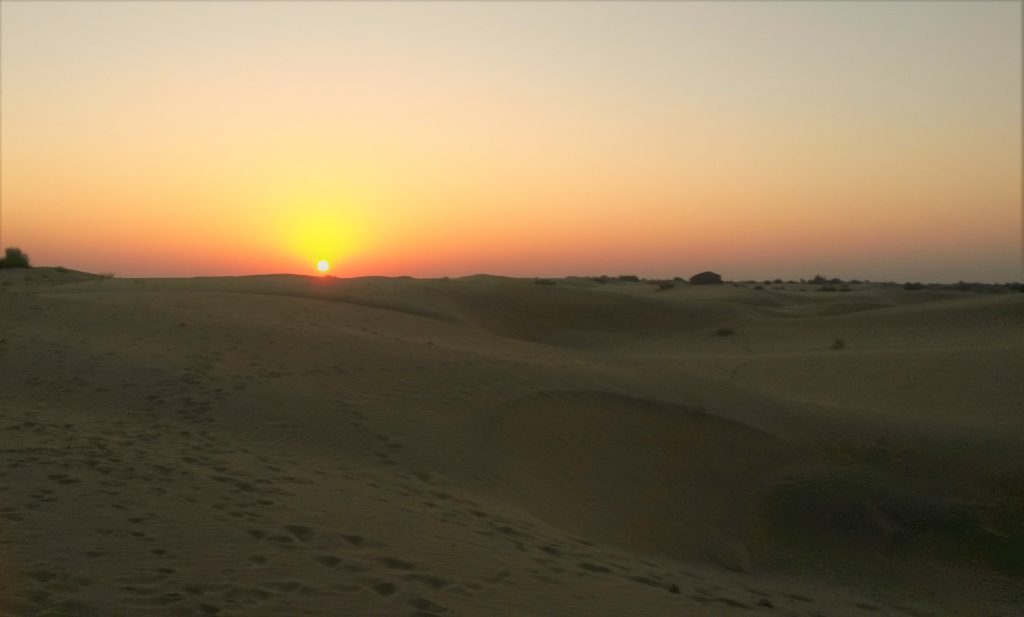 By the time we navigated back to our camp, Kaalu had already lit up a fire and was making tea on it and was soon joined by Anwar, a 12-year-old boy who rides a motorcycle from his village to the nearest road, and then walks to the campsite every evening to deliver cold beer to the people who come for safari. That particular evening he couldn't control his motorcycle and fell down on the road, injuring himself and destroying a few bottles of beer which would never be compensated for. His quota of illiteracy was apparently sponsored by the unavailability of teachers in the government school and humongous fees of the private schools in the nearby city.
Warming myself in front of the fire while the mercury dipped ferociously in the brazen desert trying to be as cold as Anwar's life, I gathered that Kaalu, who also held the revolutionary thought that marriage is futile, was being paid a grand salary of 4000 INR per month by the camel owners  for the treacherous job that did not allow him any free time to work somewhere else. Soon tea was poured in the glasses and it seemed, the bitterness of life, here in India, is compensated by sweetness of the tea.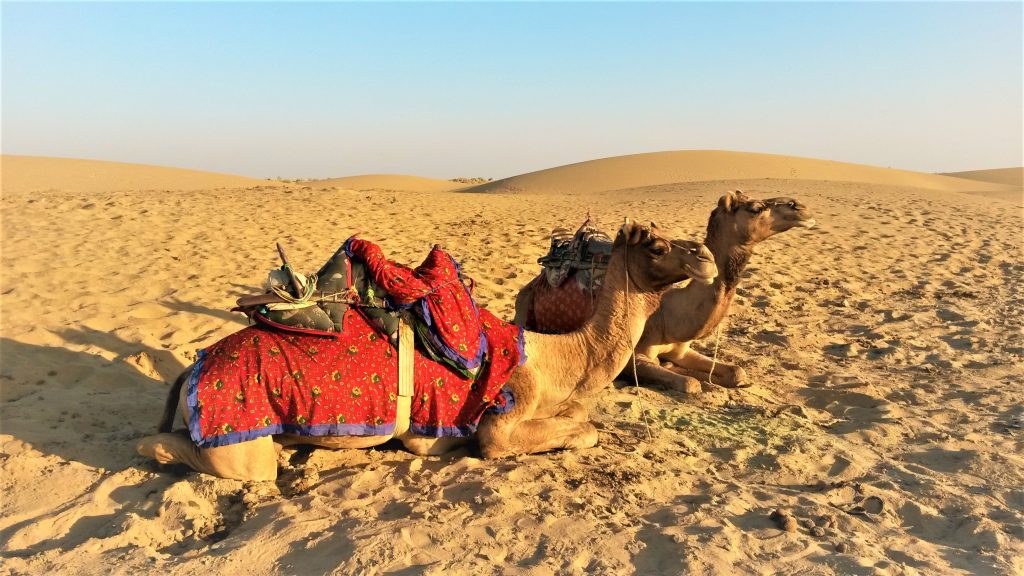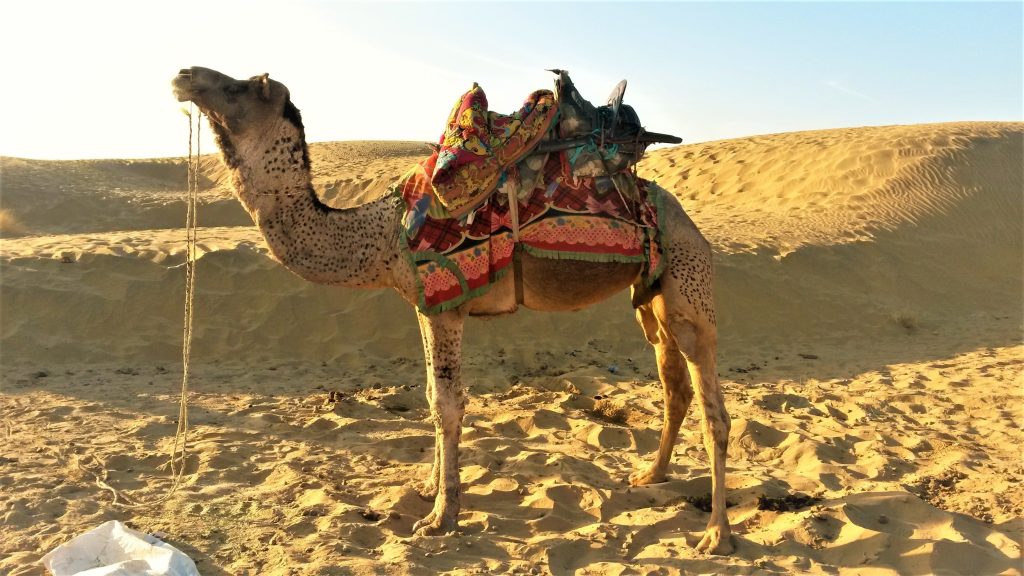 After dinner, gazing into the sky, lying down in the open desert I thought of the tale of the stars in the distance and a dozen that shoot away. A tale that led us to this day, a tale of creation, a tale of time. The experience of gazing out into the universe in the cold open desert cannot be bound in words. It makes us realise our minuscule existence and puts into perspective the scale of various problems of our life. It questions our apathy for other beings and asks us the reason of our inflated egos.
It tells the tale that has enabled me to write this while Kaalu and Anwar sleep in a blanket of illiteracy and ignorance.
Contributed by : Siddharth
For travel related queries,outstation cab booking,bike rentals, Hotel bookings or Group Tours ; Kindly contact us at http://justwravel.com/contact or  call +91-9205725727