Jibhi is a small little quaint hamlet located in Tirthan Valley in the Great Himalayan National Park close to Banjar. The main attraction near Jibhi is Jalori Pass and the Chaini Kothi. JustWravel planned a New Year getaway to Jibhi from 28th Dec – 1st Jan 2017 which included Wravelers from all walks of life, some were students while the others were working professionals. JustWravel also conducted a Travel Photo Contest in the month of December and 3 out of the top 5 winners joined us for the trip.
Day 0
We assembled at Akshardham Metro Station at around 8:30 PM on the 28th Dec 2016 but were delayed as our Tempo Traveler was stuck in a major traffic snarl and only managed to reach by 10 PM. Luckily there was Haldirams in the Akshardham metro station building which acted as our basecamp for 2 hours with a huge pile of rucksacks stacked just near the entrance. While we waited for our Tempo Traveler (bus) all wravelers got to introduce themselves to other fellow wravelers while sitting in Haldirams.
Once our bus reached, we loaded our luggage and without causing any more delay, started our journey out of Delhi.
We were lucky as we sailed through Delhi at a good pace and managed to reach Murthal in an hour and a half by 11:30 PM. Instead of stopping at the all-time crowded Amrik Sukhdev Dhaba, we stopped at Panchkuti Dhaba, a secluded one right adjacent to Sukhdev Dhaba. It felt good as our big group of 23 were the only people at that time and got a big joint table to eat together wraveler style.
Postorder, in a matter of 15-20 minutes we were served with hot paranthas with a spoonful of white butter on top of them accompanied with some onions and mint sauce. Some wravelers when went forward and ordered tea/lassi/buttermilk to accompany the big parathas. Post dinner, this was where we got our first ever group photo with all wravelers in it.
Day 1
The yummy parathas induced some deep sleep for all wravelers which was broken early morning at 6 AM when the driver informed us of the punctured tire. Thanks to this every wraveler was out of the bus and enjoyed witnessing the sunrise along with a cup of hot tea.
As this unexpected puncture delayed our schedule we took a pit stop near Bilaspur where everyone freshened up and had a cup of hot tea. There was a primary school assembly prayer going on in the backyard of the hotel, which got all the wravelers in a nostalgic mode as everyone started remembering their school prayers.
We managed to reach our hotel in Jibhi – Hotel Cedar View by 1 PM and were delighted to see the big spacious rooms where we were to stay for the next 3 days. The table was set with hot food by 2:30 PM which was ransacked by our hungry wravelers, and in a matter of minutes, all the food had vanished. Am sure Govind Ji and other hotel people might not have expected such a hungry crowd as there were a lot of reserving's of the delicious food for lunch. After seeing the quantity of food consumed by our wravelers, Govind ji got a good idea about the quantity and managed top-notch service for the rest of our meals in the course of 3 days.
By 4 PM we headed down to the river flowing in the valley which was just 5 minutes walk from our hotel. Our wravelers sure knew how to break the ice and have some fun in the beautiful setup which is pretty evident by seeing the photos below.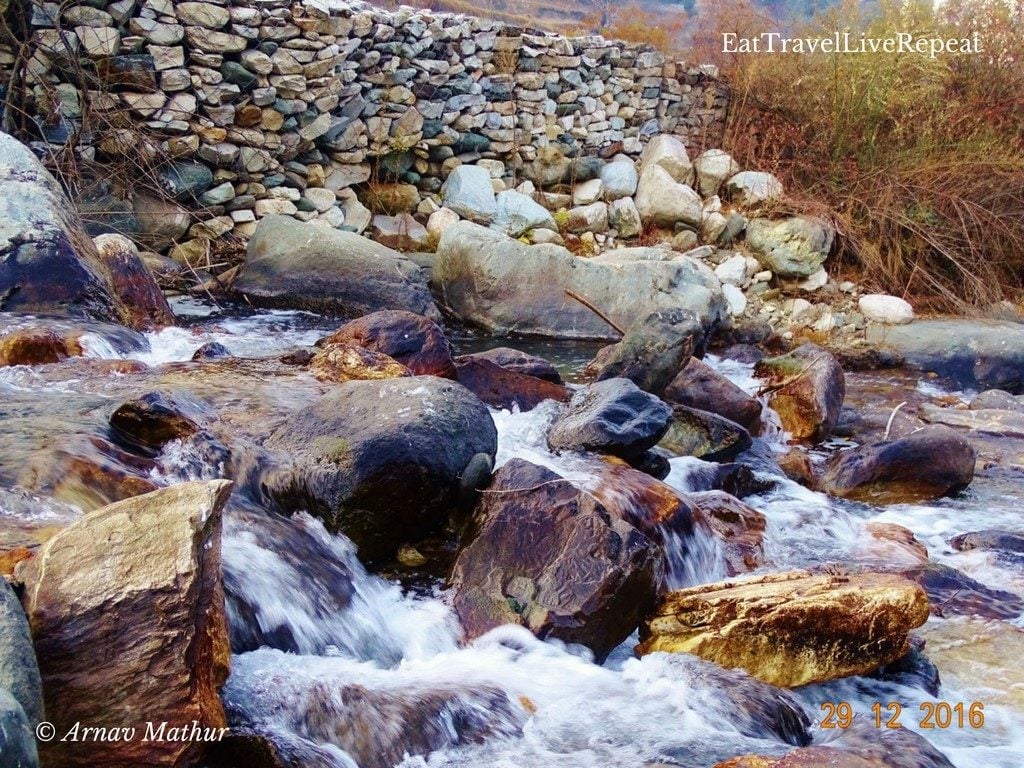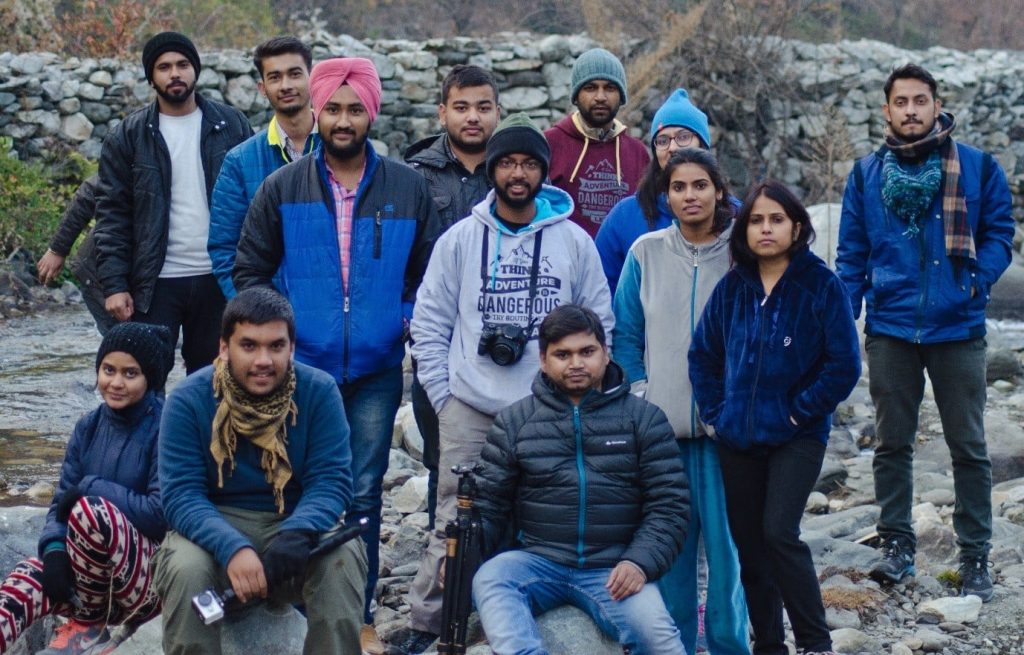 Our first night was spent playing antakshari sitting around the bonfire which saw songs in Hindi, Punjabi and even Bhojpuri. It was definitely one of the things which saw wraverlers relax and come out of their shell and strengthen the bond with others. We called it an early night after feasting on some yummy daal, sabzi, chawal, and chicken, as we had to head out to Jalori pass the next day.
Day 2
Day 2 began with a hot cup of tea and some yummy paratha subzi which energized all wravelers for the upcoming trek. Govind Ji ensured that all wravelers get some tasty parathas as packed lunch which proved out to be a very good decision.
We managed to reach Jalori pass by 11:20 PM and in another 15 minutes, we started trekking towards our destination – Serlosar Lake. The 5 Km trail took us through forests with oak, pine, and cedar trees. At places, we walked through a meadow where it was sunny and as soon as we resumed the trail into the forests, it again became a bit cold.
The trail is well marked and is a mixture of both mud path and rocky steps and at places progresses as a sine wave but for most of the part is at a single level only.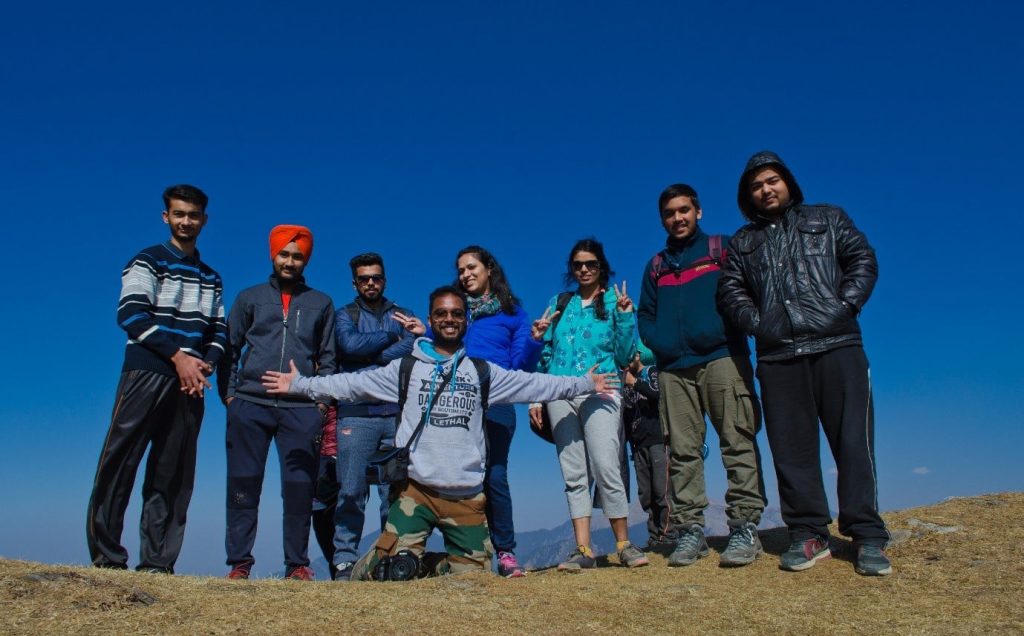 2 hours of trekking and we reached our destination – Serlosar Lake. But before even anyone could catch a glimpse by going a few steps ahead, we all ordered some Maggi and Tea from one of the two stalls as nothing can beat the joy of having a bowlful of hot Maggi, especially on the mountains.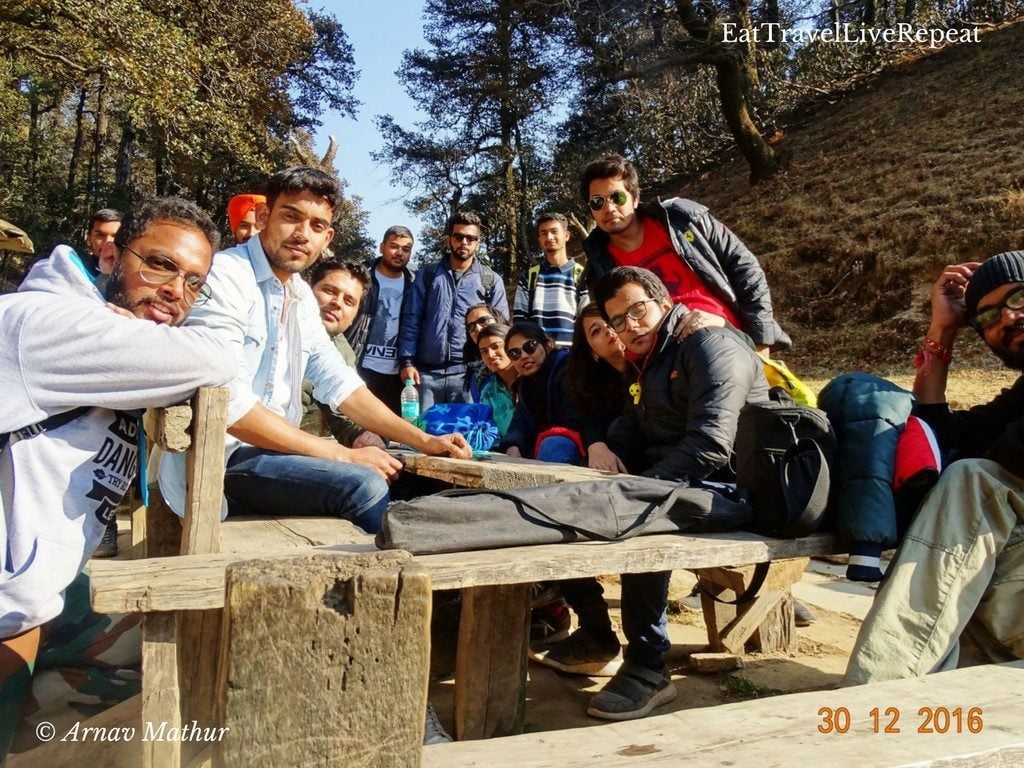 My first glance at the lake made me stand there frozen for a moment as it was the first time I saw a lake half frozen. On one end, I could see the reflections of the mountains and on the other, it was a thick sheet of ice.
We relaxed for some time enjoying the calmness of the place atop a cliff before heading out to even a bigger one where some of our wravelers had already started playing a game of Bluff. It always feels so nice at the bottom of the heart when you see someone enjoying a trip partially planned by you.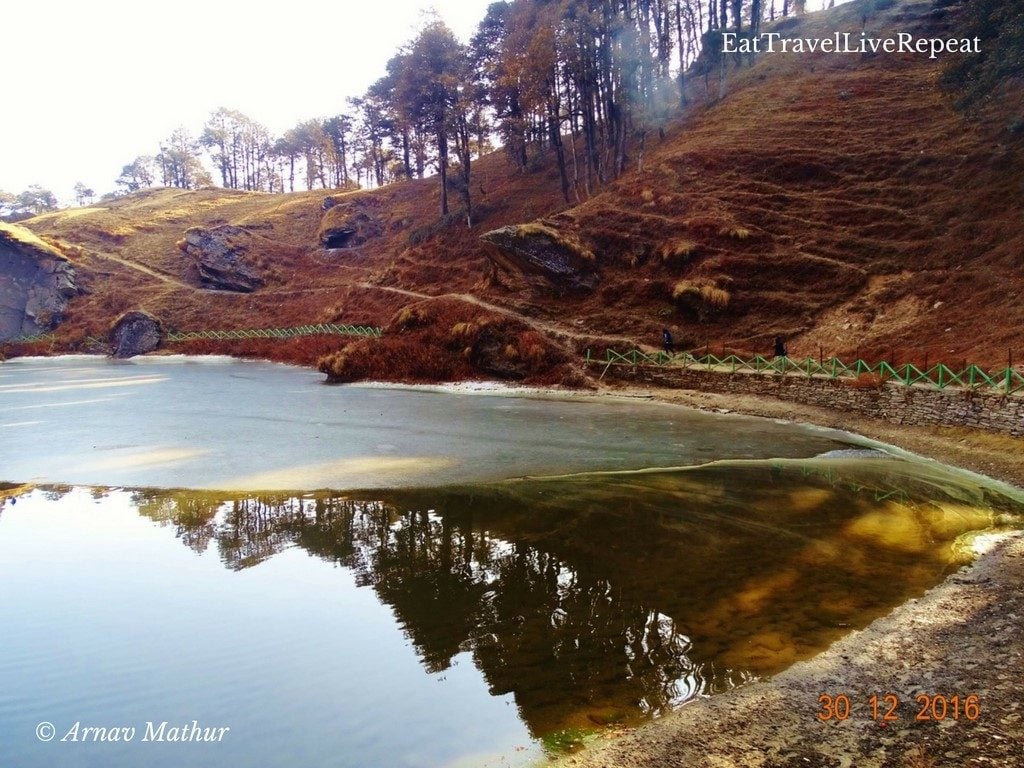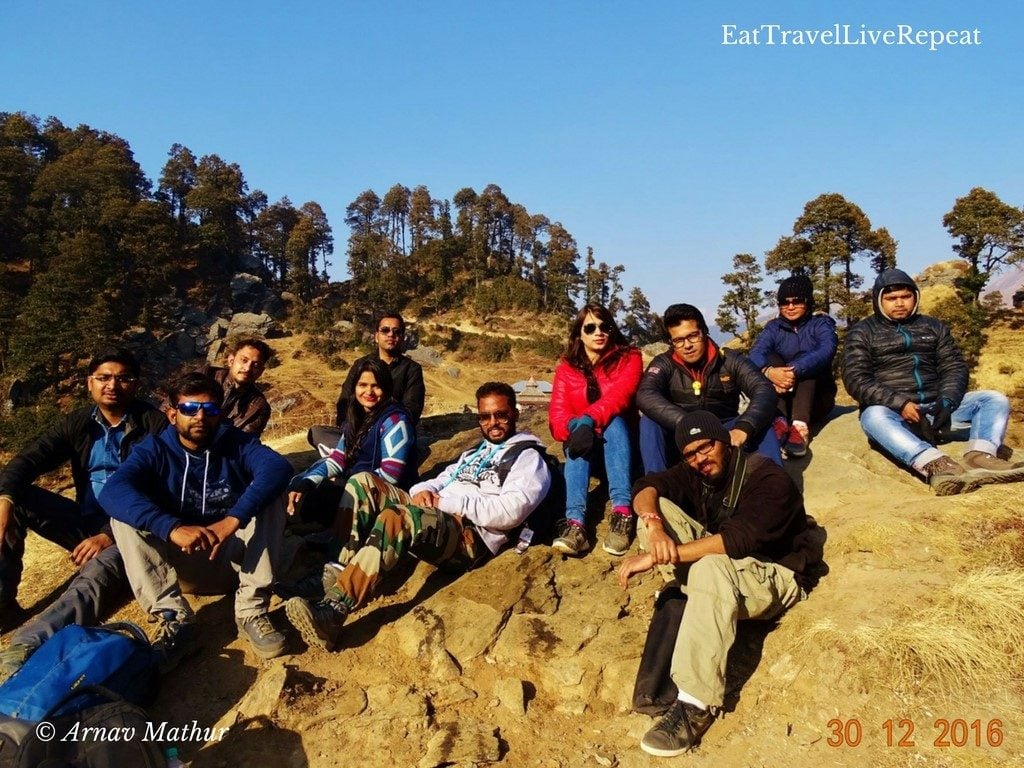 It was here where everyone filled up their tummies with the packed lunch of parathas and mixed pickle. We spent a good hour and a half by the lake before we decided to head back to reach back to Jalori Pass before it became dark.
Out of the group of 23, 10 of us wravelers, who wanted to walk fast, led by me paced by and reached back in sharp 1 hour and got to witness one of the most serene looking sunsets.
In another half, an hour all remaining wravelers also reached our finishing point and boarded the bus to head back to our hotel which was a good 15 KM away from Jalori Pass.
The 10 KM trek turned out to be a bit hard for some of our wravelers who decided to relax in the rooms before dinner whereas the rest of us got cozy encircling the bonfire and the night even got better when one by one, everyone started sharing some ghost stories which they had heard previously. The whole session was so intriguing that did not even realize that it was already 10:30 PM and the dinner was getting cold.
Post dinner we all gathered up in the reception area and continued with our ghost story session and this time we're joined all the wravelers. We managed to wind up our session way past midnight before calling it a night for good, as everyone needed some well-deserved sleep.
***** End of Part 1*****
You can also read :
Contributed By: Arnav Mathur
For travel related queries, outstation cab booking, bike rentals, Hotel bookings or Group Tours; Kindly contact us at http://justwravel.com/contact or  call +91-9205725727
Read more about his travel escapades at Eat, Travel, Live, and REPEAT.