Have you ever walked on the path which leads to heaven? Have you ever felt the bone-chilling cold and still were motivated to move on and on? Have you trekked to one of the highest lakes in India whose altitude stands tall at 4600 meters? Well, I can proudly say, "Yes, I have." Come on let me take you on a trek to Satopanth Lake and I will bust up some myths about the lake on the way up. So are you ready? Let's go with the Satopanth Lake Trek Itinerary.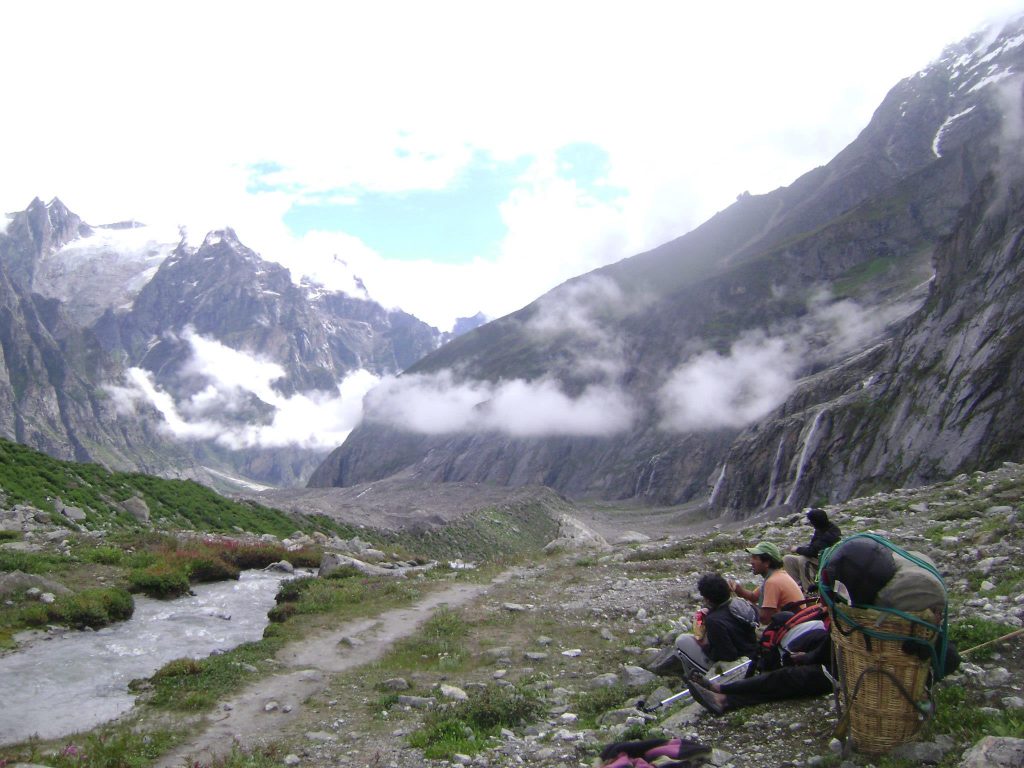 When I first came to know about this beautiful lake called Satopanth, I googled everything about it I could. But to my surprise, there was still a feeling of unknown and something that said to me that I need to visit this beautiful lake which has the elixir of heaven. And thanks to the good fortune, I found these amazing people at JustWravel and they helped me complete my wish of trekking to Satopanth. And believe me, it was worth the hype.
Day 1
On the very first day after scheduling everything with JustWravel, I was all set to become a Wraveler and go on the very first trek of my life and that too on this mystic location called Satopanth Lake. On the first day our Satopanth Lake Trek Itinerary, I reached Rishikesh and then met my organizer and trip guide, a very frolic and joyful person indeed. I was all set to be the part of a car journey from Rishikesh to Joshimath en route Devprayag and Rudraprayag.
The car had a quick halt at Joshimath, and I witnessed the holy waters of the Gods – the world-famous Devprayag, where two glacial rivers Alaknanda and Bhagirathi gives birth to the mother of all rivers – river Ganga or Ganges. The feels were amazing and incredible, a hot cup of ginger and masala tea in the mild weather and witnessing the unique confluence of these glacial rivers.
After a quick halt, the group proceeded towards Badrinath and after about an hour and a half. As soon as we had our dinner, I went straight into my bedroom to relax in my guestroom's comfy and cozy bed. Believe me, after a drive of 245 kilometers which took almost 8 hours, it seems that the bed is calling you to sleep like a baby. Good Night…!!
Day 2
Morning Wravelers…!!! After sleeping like a baby and having steaming hot Paranthas for breakfast I was all set to take my last ride for the day to Mana village which was roughly around 3 kilometers from my guesthouse in Badrinath. It took 20 minutes to reach this incredible and peaceful village.
According to my guide, the village is the terminal village over Indo-Tibetan Border which was once populated by Mongolian ethnicity people. From here I started on my feet toward the formerly introduced Vasudhara Falls. Finally, my first-ever trek began on Day 2 Satopanth lake trek itinerary. To my surprise, I had not even completed 1 kilometer of my trek and I witnessed the first wonder of trek journey, The Bheem Bridge.
The name must-have clarified who build the bridge. The bridge is set up on Saraswati River and the restless hustle rustle of the river and the calm nature around soothed me and it was a unique experience. After a walk of 4.8 kilometers, I reached the Vasudhara Waterfall, which I named the Vertical Ganges, the waterfall is so authentic and the waterfalls from such a height that it changes from its natural liquid state and millions of small drops of water seem like mother Ganga is flowing vertically.
The view was really astounding, enticing, and worth the walk of 3 hours. I spent the night in the camp which to my surprise was quite comfortable.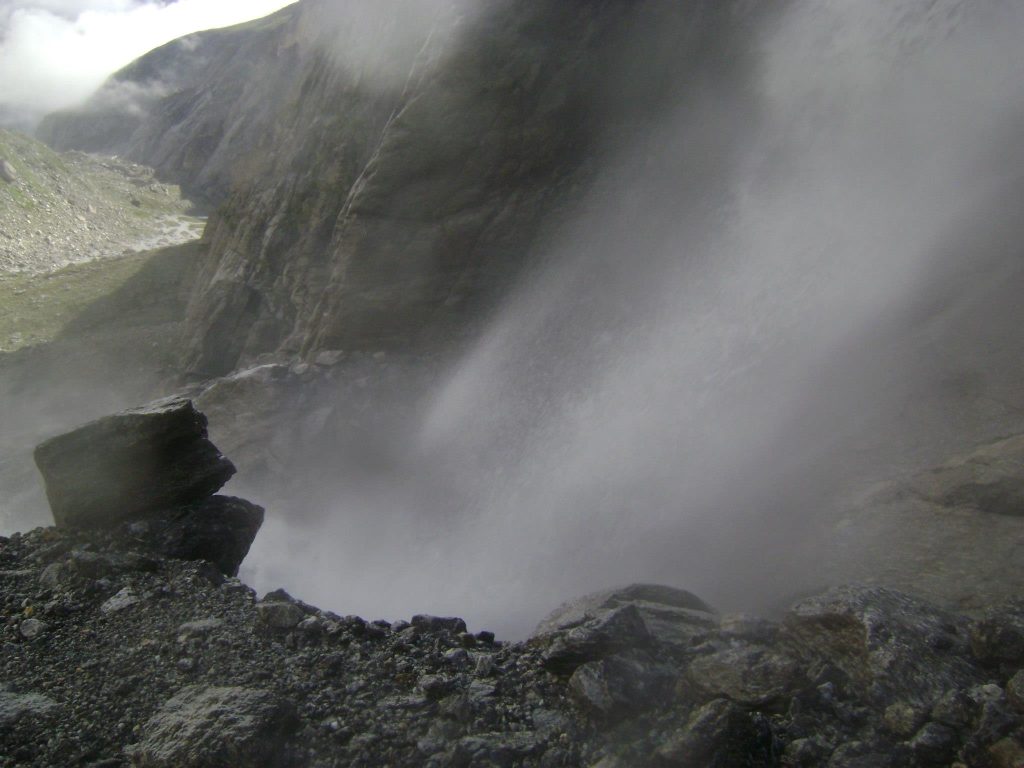 Day 3
I woke up to a beautiful view. A light mist covered the place and the sound of the waterfall was so soothing I wish I could sleep again with this melodious and restless sound of Vasudhara Waterfall.
But the schedule was something else. I was told that a trek to Lakshmi Van was scheduled. I heard folklore that five holy places or Tirthas came here to meditate. The five Tirthas were Pushkar, Bodh Gaya, Prakash, Naimish, and Kurukshetra.
The amazing grassland of Lakshmi Van inhibits the local tribe which maintains the ecosystem by letting their cattle gaze here at Lakshmi Van. After a short break to eat my packed lunch provided by JustWravel, which to my surprise was utterly delicious and lip-smacking I started walking again towards the Chakrateerth Meadow.
The Chakrateerth Meadow or Chakrateerth Grasslands are green fields surrounded by mountains and hills on the sides. The plan was to camp at Chakrateerth for the night. I had a mystic and amazing experience sitting around the bonfire with the trekking group singing songs and sharing some horror stories and our experiences.
Suddenly a thunderous sound made me jump and then to my comfort I was told that this sound is of the Sahastra Dhara's glacial ice breaking. I spent the night at Chakrateerth, although it was a bit cold, it seemed worth tolerating a bit cold for this million-dollar experience.
Day 4
After a cold night, I woke up to steaming hot tea and breakfast which best suited the chilly morning. The view at 6:00 A.M. left me awestruck and astonished, the high peaks immersed in the mist was fascinating.
After having breakfast, the group started trekking again. Today was the day that I was the most excited about because today I would witness the magical and charming Satopanth Lake. We started trekking at 8:00 hours in the morning and walked almost 13 kilometers.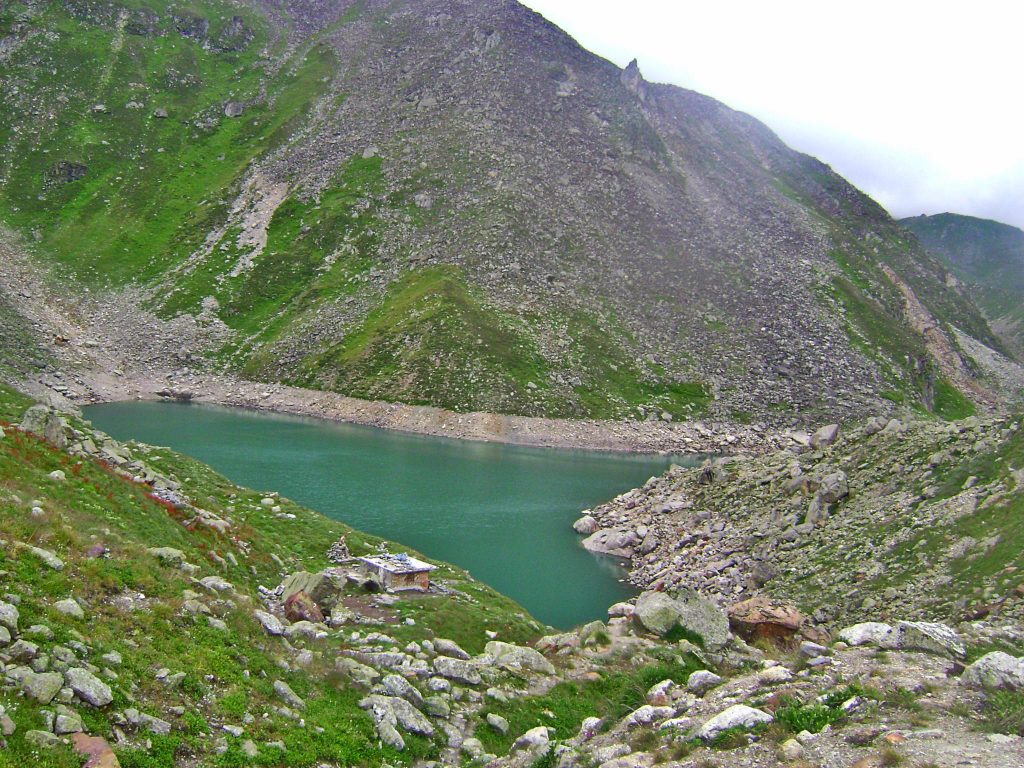 After harsh and tough thirteen kilometers my feet felt utmost tired but when I saw the Satopanth Lake at first glance, I felt like, "this magnificent view is worth the 6 hours long walk." I was cherished and frolic, all my tiredness was far gone now. My guide told me that, this Lake carries some religious attachment to it.
According to the local blokes here, they throw the cremation ashes of their departed ones here, and hence they find peace, and why won't they find peace? Satopanth is a calm and peaceful lake. "The silence here is hallucinating, at an arm's distance from mother nature", I said to myself.
The length of this nature's marvel is 427 meters, and it engulfs peaceful Tridevs (a group of Hindu mythological Gods – Brahma the creator, Vishnu the Preserver, and Mahesh the destroyer). Another local I met by the lake told me that Gandharvas or husbands of the Apsaras (Dancers which performed in the heaven) preserve this lake from adulteration and infiltration.
After having my delicious and steaming hot stuffed paranthas and savoring puri sabzi, I descended from the lake towards the Lakshmi Van and spent the night there.
Day 5
After a good and sound night's sleep at the Lakshmi Van, my morning felt very spiritual and positivity flowed through my body. Truly speaking, this trek helped me uplift my spiritual self and made me happy on the inside.
Now I was ready to trek my way back down to the Mana village – the village made by Indo-Mongolian tribe centuries ago. From Mana, the vehicle picked us and dropped back to Badrinath, and then I paid my respects to the Badrinath Dham or Lord Shiva's Temple. After a tiring day of trekking and a not so smooth drive, I was tired and slept early.
Day 6
The next morning, I woke up and felt like a sweet dream was about to end. Yes, the time was to go back to Rishikesh and then to Delhi and get stuck up in the corporate life forever. By 17:00 hours, I reached Rishikesh on the last day of Satopanth Lake trek Itinerary, and right now at 23:00 hours, I am signing off my Journal. What a wonderful trip it was, worth the money spent, worth the kilometers walked, worth the cold, worth the runny nose.
I will definitely tell my friends to give this beautiful place a visit, The Satopanth Lake and do so with the people at JustWravel, their love and support for their clients is unconditional and will leave you speechless.
You can also read :