Are you an adventure enthusiast seeking a thrilling escapade amidst nature's bountiful beauty? Look no further than the mesmerizing Valley of Flowers Trek! Nestled in the heart of the Garhwal Himalayas, this enchanting valley is a paradise for nature lovers and avid trekkers alike.
Be ready to embark on an adventure! – Valley of Flowers, the Paradise, is waiting for you!!!
WHAT IS VALLEY OF FLOWERS TREK?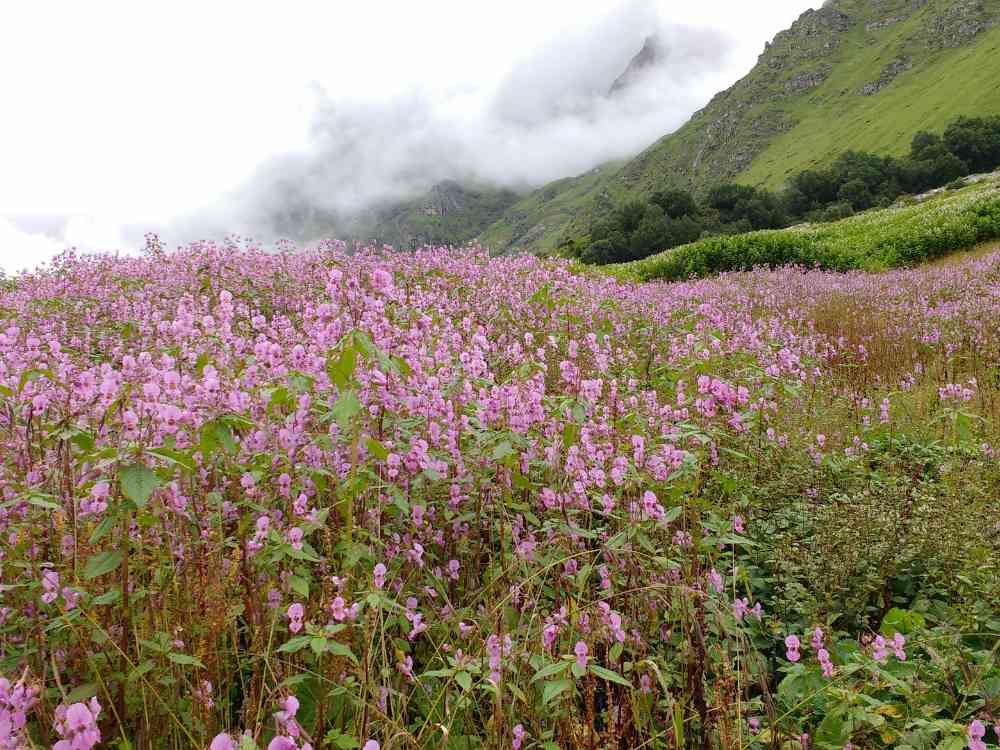 Place: Uttarakhand
Altitude: 14,107Ft.
Base Camp: Joshimath
Duration: 6 Days
Trek Difficulty: Moderate
Trek Length: 42km
Trek Trail: Blooming meadows with fairyland-like valleys.
Close your eyes for a while and take a deep breath…
Imagine walking into a trail, a sweet aroma fills your nostrils now…The newly bloomed fragrant flowers get inside you through the air. …. You can almost taste the fragrant blossoms in the air, Right?
Slowly, a picture square meadow will appear – An endless sea of blooms stretches out in every direction, as far as the eye can see. The flowers dance in the gentle breeze, and you can almost hear them humming a welcome tune just for you.
First through the nose with its intriguing scent now with its eye-popping view, Valley of Flowers just entered your heart!!!!! As you open your eyes, you see a stunning landscape unfold before you.
The Valley of Flowers trek is one of India's oldest and most beautiful treks. The above description is just a glimpse of what you will experience. The sights, sounds, and smells will become a part of you, and you'll find yourself remembering it again and again long after the trek is over. The Valley of Flowers is one of India's oldest and most beautiful treks, and it's no surprise why. The Valley of Flowers is waiting for you, and it's a journey you won't forget.
VALLEY OF FLOWERS MAP
DISCOVERING VALLEY OF FLOWERS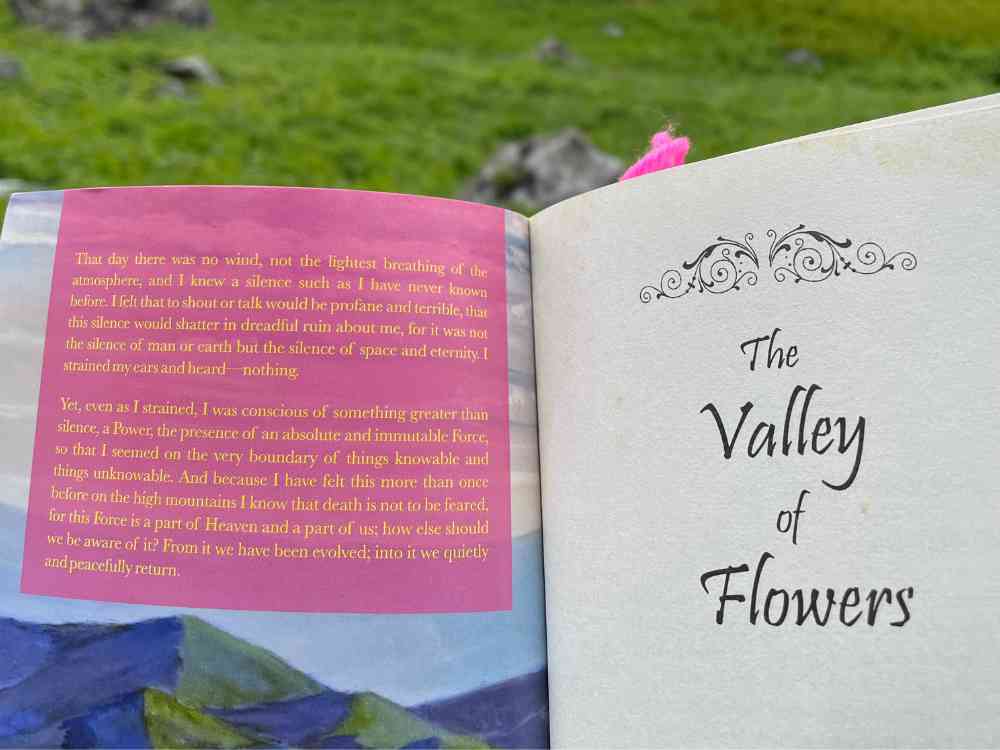 Can you believe that Valley of Flowers was an accidental Discovery?
Valley of Flowers is one of the most known and oldest trekking trails in India. The breathtaking valley has its own story to tell. Located at the scenic Nanda Devi Biosphere, Valley of Flowers and the adjacent Hemkund Sahib are two beautiful treks positioned between the regions of Joshimath and Badrinath.
Valley of Flowers has a rich history that started long before anyone knew it existed. Back in 1931, three British mountaineers named Frank S Smythe, Eric Shipton, and R.L Holdsworth were returning from an expedition on Mt. Kamet, they accidentally stumbled upon what would come to be known as the Valley of Flowers. The sight took their breath away, and they found themselves drawn in by the valley's countless vibrant flowers that danced gracefully in the gentle breeze. Later, Frank S Smythe wrote a book named VALLEY OF FLOWERS, sharing the valley's beauty with the world for the first time. Valley of Flowers' journey from an unknown gem to a tourist destination spans decades and generations.
The Valley of Flowers National Park was established by the Indian government in 1980, and subsequently, in 2005, it achieved the prestigious status of being recognised as a UNESCO World Heritage Site.
Timeline:-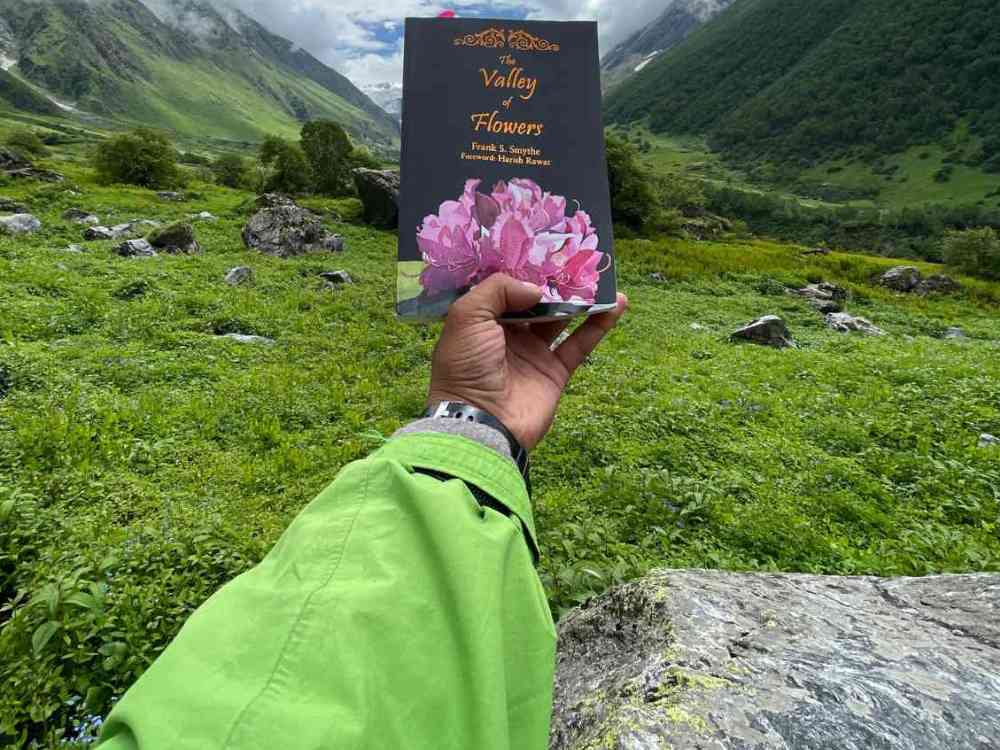 1931: The valley was discovered by Frank S Smythe, Eric Shipton, and R.L Holdsworth.
1939: Under the government order, a basin was established as the Nanda Devi Game
Sanctuary.
1974–82: The sanctuary was opened to visitors, but due to environmental degradation, it closed.
1980: The Valley of Flowers was declared a National Park
1982: The park was renamed Nanda Devi National Park;
1988: The Nanda Devi National Biosphere Reserve was established with the national park as a core zone.
2000: The Biosphere Reserve was extended by the government to 586,069 ha and the
Valley of Flowers National Park was added as the second core zone.
WANT TO VISIT VALLEY OF FLOWERS ? CLICK HERE TO BOOK YOUR JOURENY
HOW TO REACH VALLEY OF FLOWERS?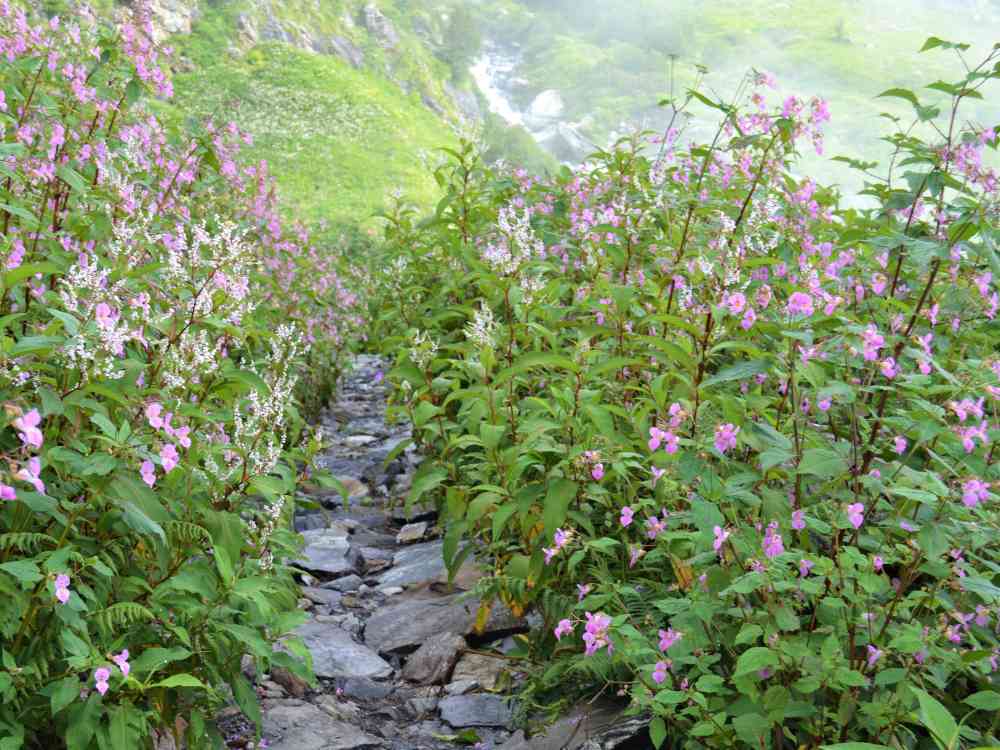 The Valley of Flowers Trek, in India, is a spectacular expedition that takes you through some of the most beautiful scenery the country has to offer. There are several ways to reach the Valley of Flowers Trek, depending on your preferences and budget.
By air – You can fly into Jolly Grant commercial airport in Dehradun, which is the nearest airport to the trek. From there, you can hire a cab to reach Rishikesh and join your team for the trek.
By Train: The nearest railway station is Haridwar, located approximately 290 kilometers from the valley.
By Road – If you prefer to travel by road, you can take an AC bus from Delhi to Rishikesh, or use your private vehicle
Regardless of how you travel, the Valley of Flowers Trek is a one-of-a-kind adventure that should not be missed.
REASONS TO VISIT VALLEY OF FLOWERS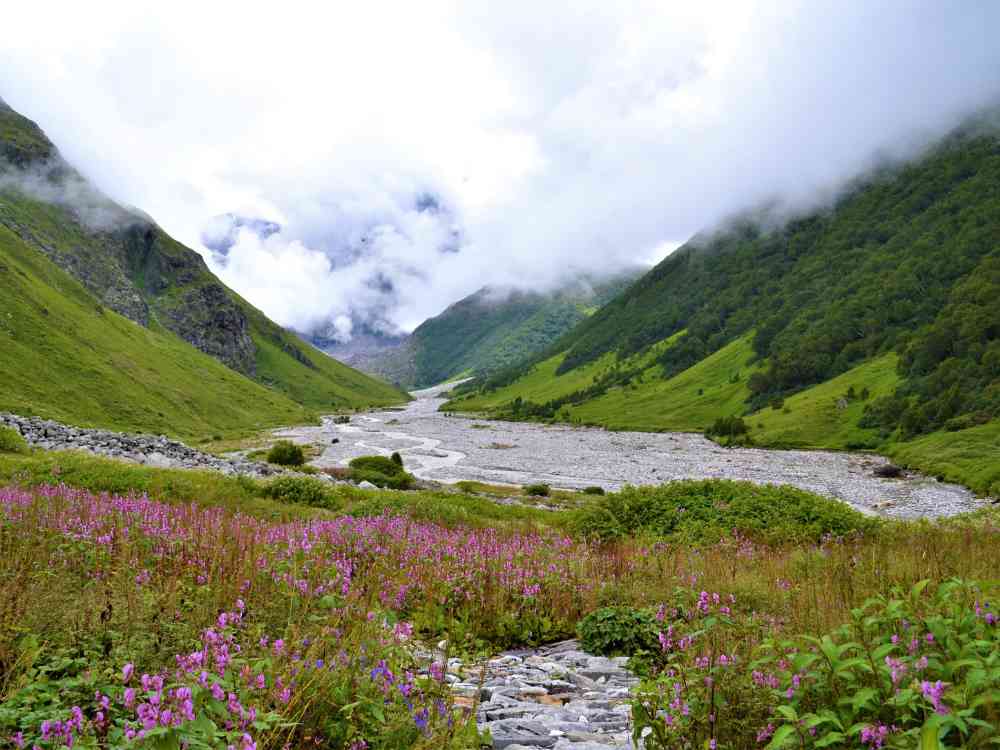 The Valley of Flowers in India is a must-include destination on your travel itinerary. It is the perfect blend of spirituality and adventure, offering a unique experience that will stay with you forever. Here are some of the reasons why you should visit Valley of Flowers:-
This beautiful and pristine ecosystem is a UNESCO World Heritage Site, making it a must-visit for nature lovers all around the world.
Another great advantage of this trek is that it is perfect for both beginners and solo travelers.
The valley houses over 300 exotic flowers, including the rare Brahma Kamal, the mythological flower.
This trek also offers panoramic views of the mighty Himalayas, making it a photographer's paradise.
In addition to the stunning natural beauty of the valley, this trek provides a unique opportunity for spiritual awakening. The Hemkund Sahib Gurudwara, located near the valley, is a sacred site that offers peace and tranquility to its visitors.
This trek is a budget-friendly option, making it accessible to everyone.
READ MOE : REASONS TO VISIT VALLEY OF FLOWERS
BEST TIME TO VISIT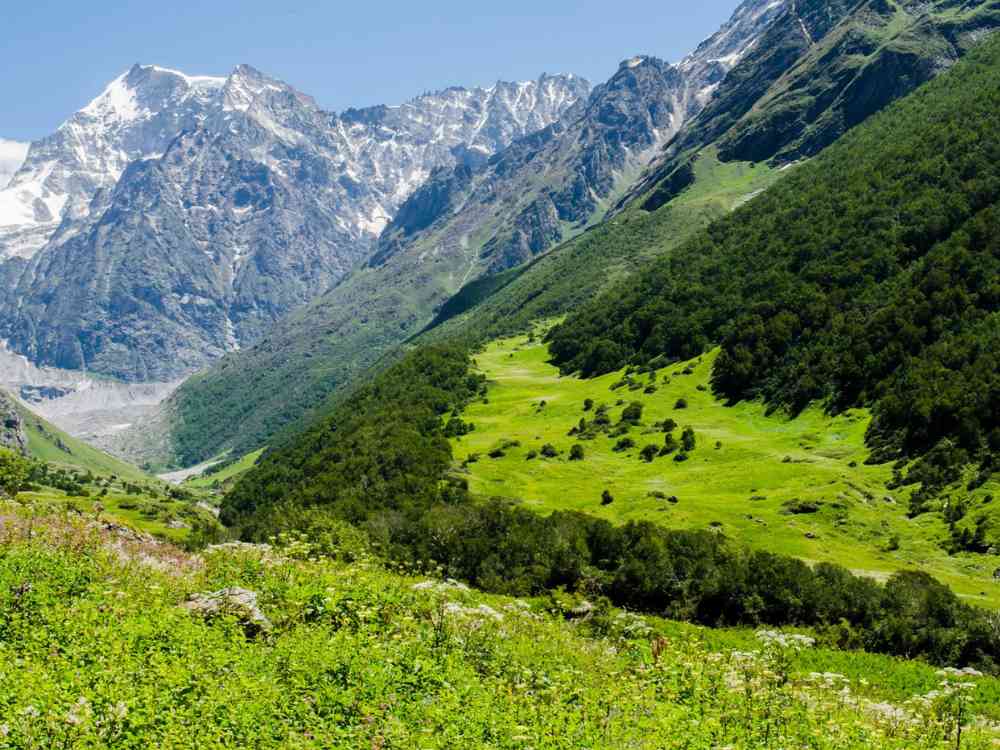 The Valley of Flowers welcomes visitors from June 1st until October. To witness the valley in its full splendor, the ideal time to visit is between July and September when the entire valley is adorned with a vibrant array of blooming flowers. So, the best time to visit the Valley of Flowers is during the monsoon season, as it offers breathtaking views that will captivate you with the beauty of the surroundings. As winter arrives, the place loses its vibrant colors and transforms into a snowy landscape. Additionally, the region becomes difficult to reach, leaving visitors eagerly waiting for the next monsoon season to explore the untamed wilderness of this area.
BEST TIME OF THE DAY
Please note that access to the Valley is limited to daylight hours. You are only allowed to enter between 7:00 AM and 2:00 PM, and you must depart before 5:00 PM. Camping overnight is not permitted.
SHORT ITINERARY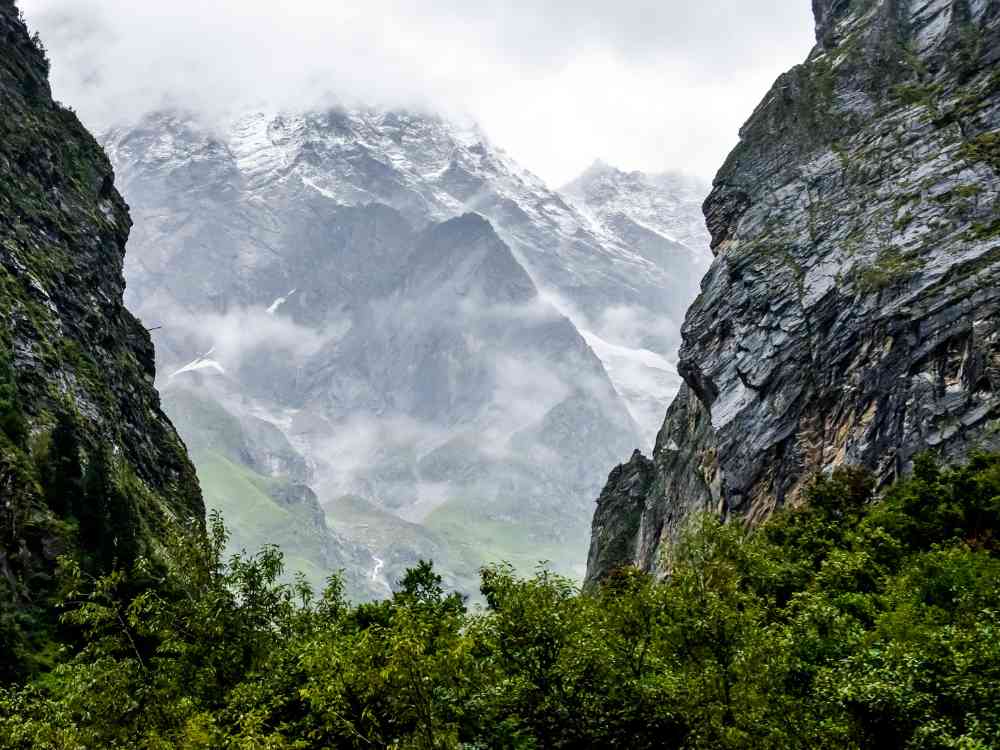 Day 1 – Rishikesh to Joshimath (253 Kms, 8 Hrs Drive) -Our journey starts in Rishikesh, the Gateway to the Himalayas, where you'll be able to take in the stunning view of the Alaknanda River. As we make our way to Joshimath, you'll get to enjoy the breathtaking views of the four confluence of the Ganga river, which includes Devprayag, Rudraprayag, Karnaprayag, and Nand Prayag.
Day 2: Joshimath to Pulna (22 Kms, 1 hour Drive) | Trek to Ghangaria (9 Kms, 5 Hrs trek) – Today, it's time to get your hiking shoes ready! We'll trek from Joshimath to Pulna, where we'll get to experience the peace and tranquility of the mountains. Along the way, we'll be treated to stunning views of the Ganga River. You'll also get to enjoy the warmth of the Ghangaria village, which is nestled at an altitude of 9,800ft.
Day 3 – Ghangaria to Valley of Flowers | Back to Ghangaria (10 Kms, 7 Hrs trek) –
We know you're a nature lover, so we've got something extra special in store for you. We'll embark on a trek to the Valley of Flowers National Park, which is filled with over 300 species of colorful flowers. You'll be able to experience the peace and tranquility of the mountains and open your eyes to witness the beauty of the flowers dancing around you.
Day 4 : Ghangaria to Hemkund Sahib (14 Kms, 9 Hrs) | Back to Ghangaria –
Today, we're going to do one of the most challenging yet rewarding treks of your life. We'll trek to the world's highest Gurudwara, Hemkund Sahib, at an altitude of 4350 mts. The trail is steep and has stone-paved uphill routes, but the breathtaking views at the end make it worth it. We guarantee you'll leave this site with a renewed sense of spirituality.
Day 5: Ghangaria to Pulna (9 Kms, 5 Hrs) | Drive to Joshimath(22 Kms, 1 hour Drive)– This day we will descend to Pulna. The descent is the easiest part of the trek and soon you will reach the base. From here on, we will drive back to Joshimath/Pipalkoti.
Day 6: Joshimath/Pipalkoti to Rishikesh (253 Kms, 8 Hrs drive) – Return to Rishikesh, and hold tight to your hard-earned memories.
A TREK FOR EVERYONE: VALLEY OF FLOWERS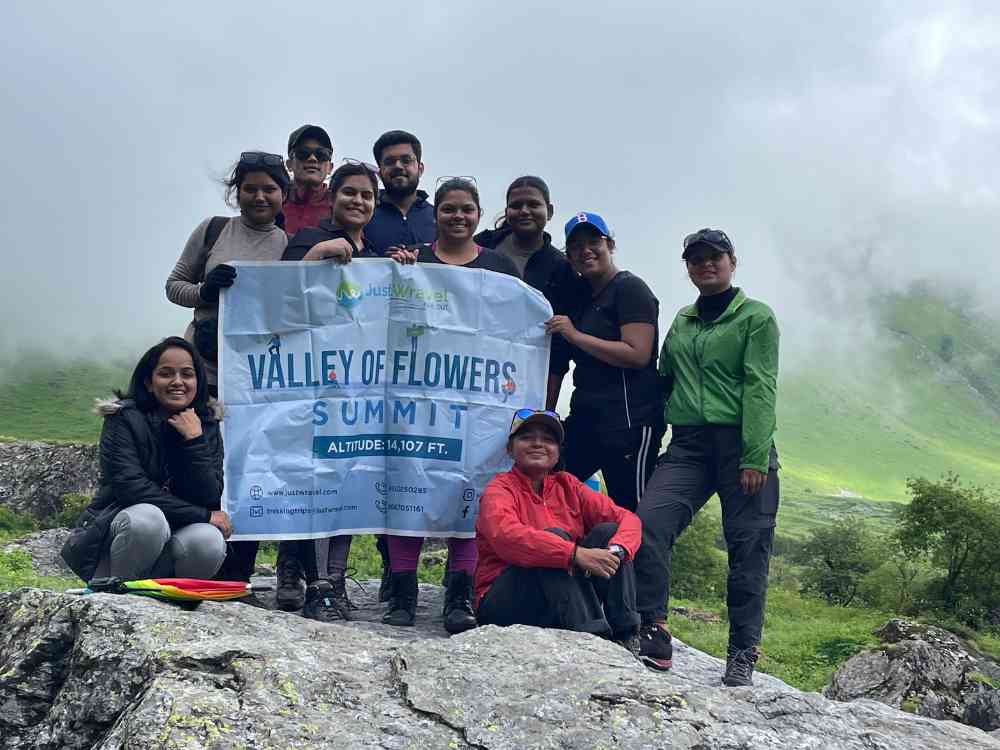 The Valley of Flowers Trek in India is a perfect destination for everyone, from nature photographers to spiritual seekers and family groups seeking a quick getaway. With its combination of gradual ascents and stunning views, it offers an enjoyable experience for all. The trek is also safe, with well-marked terrain and frequent pilgrims ensuring a safe journey.
One of the benefits of the trek is that it is easy to navigate, with campsites placed at comfortable distances and altitudes. Caution must be exercised by trekkers, as the slopes can become slippery during rainfall, necessitating secure footing. Regardless of experience level, the trek offers ample resources and assistance for those in need. The Valley of Flowers is an essential destination for anyone in search of an unforgettable adventure, boasting breathtaking landscapes, serenity, and tranquility.
READ MORE : VALLEY OF FLOWERS TREK GUIDE
THINGS TO SEE
Hemkund Sahib – 4350 m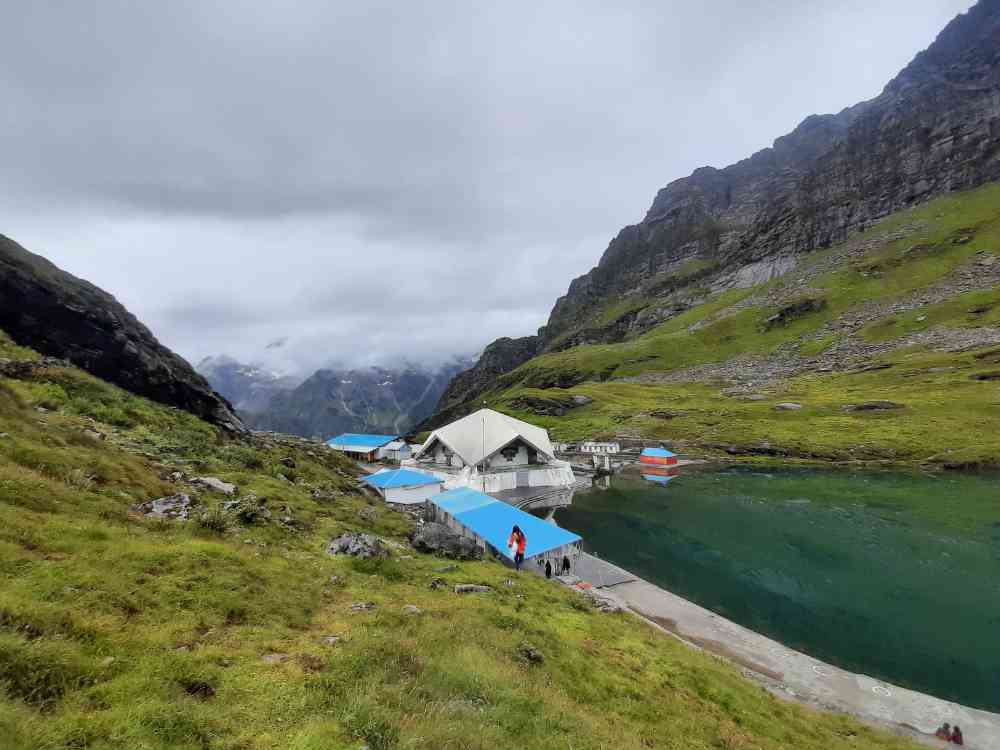 While embarking on your trek, you will have the opportunity to explore the remarkable Hemkund Sahib Ji, the highest Gurudwara in the world, situated at an impressive altitude of 4350 meters. Adding to its allure, just behind the Gurudwara lies a captivating frozen lake that remains in its icy state for a remarkable six months. This very lake served as a place of meditation for Govind Singh Ji, the 10th Guru of the Sikh faith, during ancient times.
Dedicated to the revered tenth Sikh Guru, Guru Gobind Singh (1666–1708), this Gurdwara holds great significance as it is mentioned in the Dasam Granth, a sacred scripture directed by Guruji himself, where mythical elements are intricately woven into the text.
According to the Survey of India, this enchanting location is nestled in the Himalayas at an altitude of 4,160 meters, surrounded by a picturesque glacial lake and seven majestic Himalayan peaks, each adorned with a Nishan Sahib on its rocky surface. To reach this awe-inspiring destination, one must embark on the Badrinath Highway from Govindghat, which is approximately 19 kilometers away. The nearest main town, Joshimath, serves as a gateway to this ethereal lake, with its elevation at Hemkund reaching an impressive 4,350 meters.
Rivers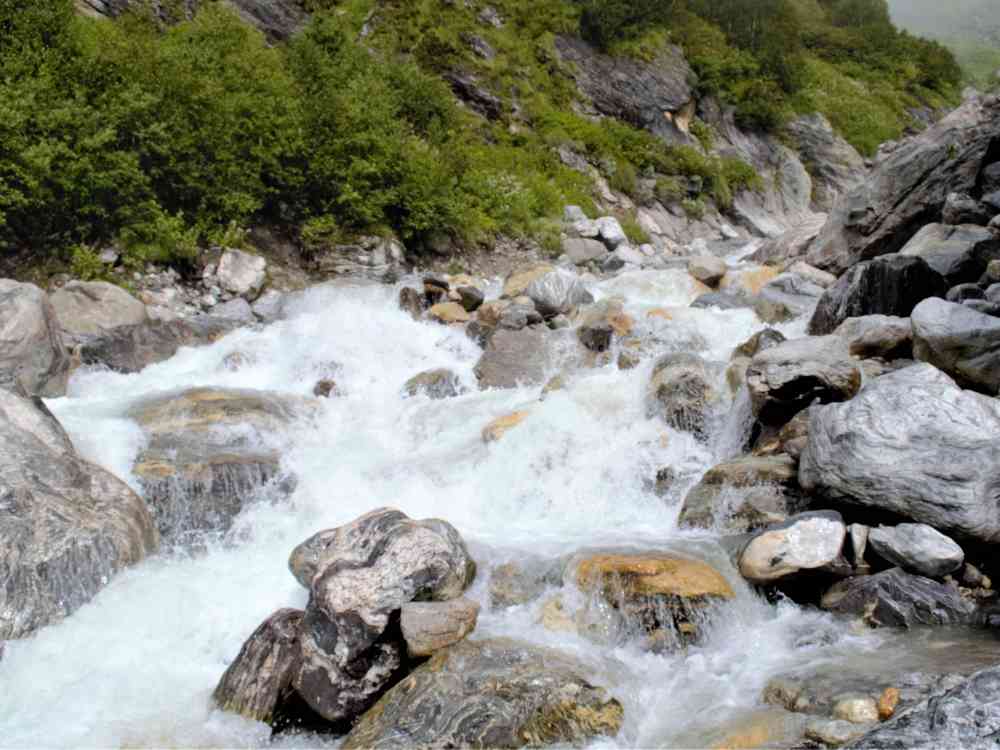 On the journey from Rishikesh to Joshimath, you will have the pleasure of getting a glimpse of the Panch Prayag, five holy sites at the confluence of the river Ganga like Devprayag, Rudraprayag, Karnaprayag, and Nand Prayag. The River Ganga is considered sacred by Hindus, and the beauty of these sites will certainly leave you in awe. Gangaria Village is also a must-see, offering a seamless flow of the Pushpawati River and a breathtaking view of the mighty Himalayan peaks.
Peaks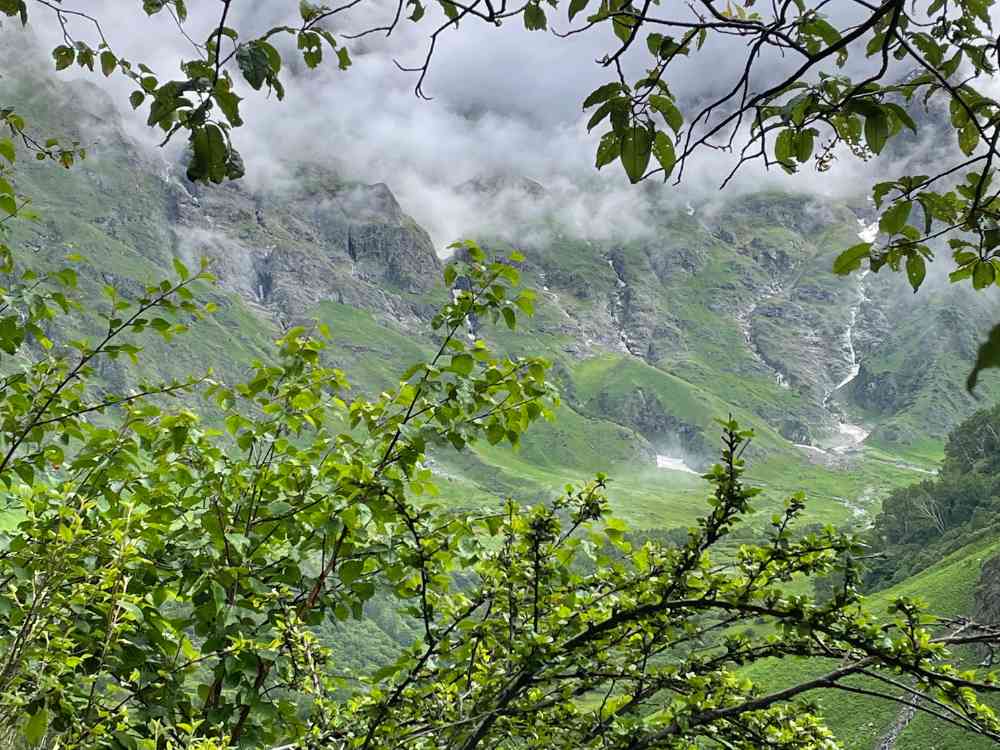 For flower lovers, this trek is a treat, with different hues of flowers adorning the Himalayan peaks. The journey takes you through a 5-kilometer stretch at a glacier, after which the flowery carpet ends. However, the sight of the majestic Himalayan peaks of Nilgiri Parvat, Bhyundar Khal, Rattan, Gauri Parvat, etc, is still picture-worthy, as is the cold stream of water flowing throughout. Near Hemkund Sahib Gurudwara, you can also see Himalayan peaks like Hathi Parvat and Saptarishi peaks.
Temple
You will also love the Temple dedicated to Laxman, Lord Rama's brother, located near the lake. The temple offers an opportunity to pay your respects, and you can also visit the Laxman Mandir near Hemkund Sahib Gurudwara.
ACTIVITIES TO DO IN VALLEY OF FLOWERS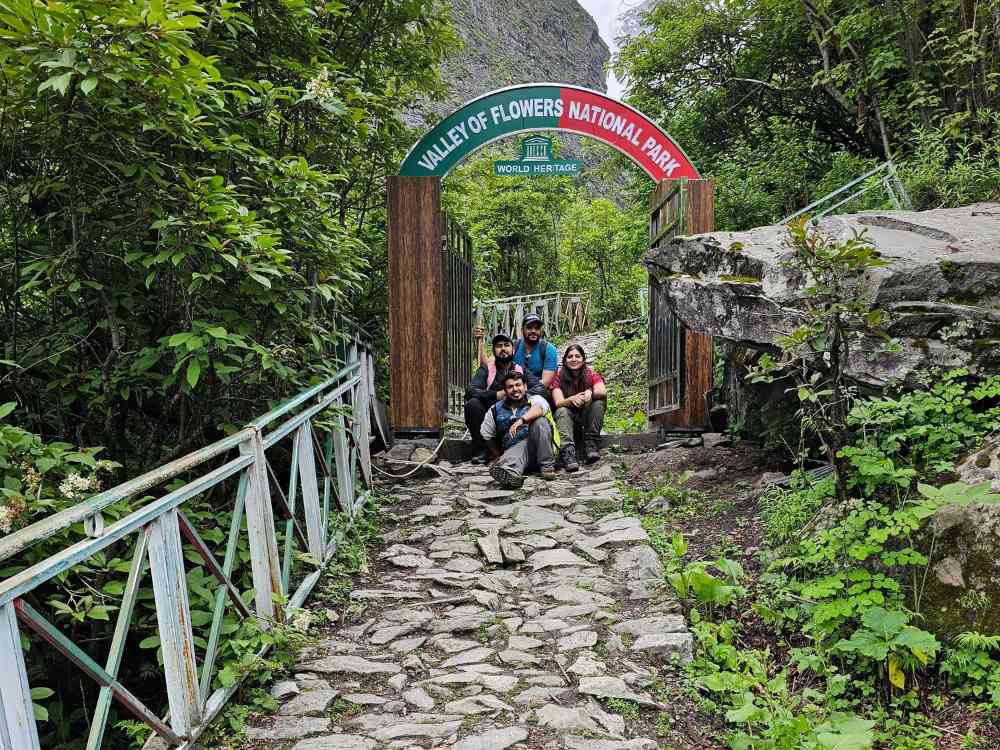 Worried about what to do in the Valley of Flowers, other than visiting the flower valley?
The Valley of Flowers, a UNESCO World Heritage Site, is situated at a breathtaking junction where the Zanskar and Himalayan ranges converge, spanning an impressive 87 square kilometers of meadow. Here are some activities you can do in Valley of Flowers:-
Sight Seeing – You can spend the day visiting Valley of Flowers National Park, Nanda Devi National Park, Hemkund Sahib, Bheem Pul ( Bheem Pul, a remarkable stone bridge, can be found in Mana Village, the second-to-last settlement on the Tibetan border. Situated just 3 km from Badrinath, this bridge stands proudly over the flowing Saraswati River ), Saraswati River, and Hemkund Lake.
Nature walks and Trekking – Covering an extensive area of 87.5 square kilometers, this park offers abundant chances to appreciate the untamed plant and animal life, as well as partake in truly unforgettable strolls amidst nature's wonders.
Village Tour at Gangaria – Located on the route to Hemkund Sahib, this quaint village attracts a large number of Sikh pilgrims. It is situated approximately 6 km away from here. Additionally, the renowned Valley of Flowers, a national park of great acclaim, is just about 3 km from this village. Nestled in the Northern Himalayas at an elevation of 3049 meters, this place remains accessible to visitors from May until September.
MYTHOLOGICAL SIGNIFICANCE OF VALLEY OF FLOWERS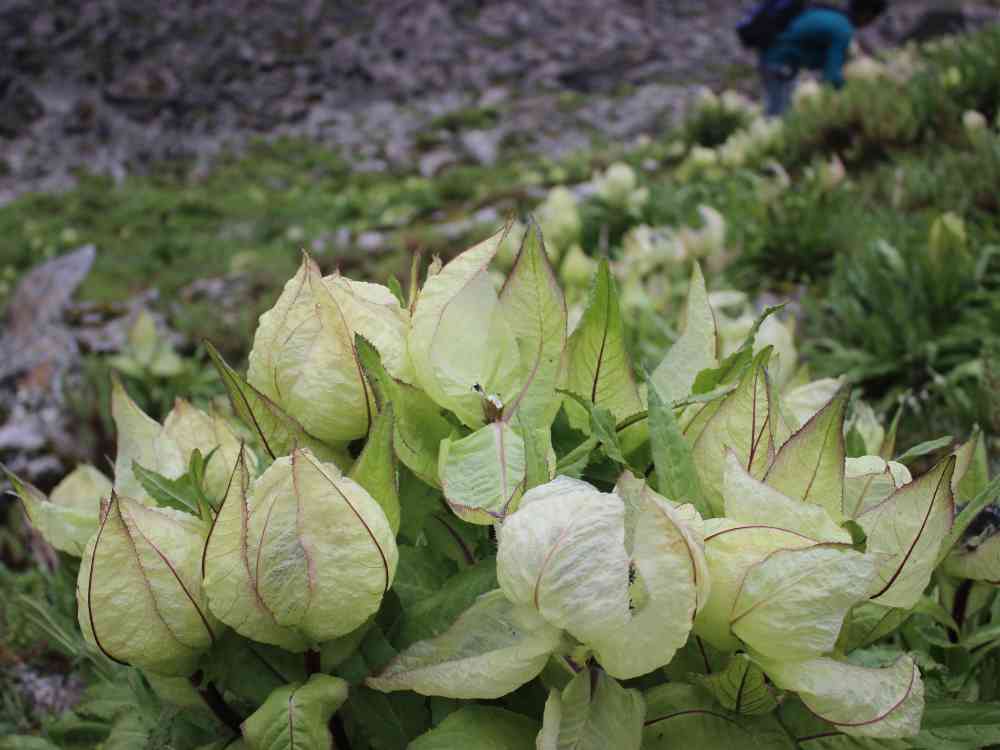 The Valley of Flowers, nestled in the Garhwal Himalayas, is steeped in mythological tales and legends. The ancient Ramayana and Mahabharata, two of India's most revered epics, mention the Valley of Flowers, emphasizing its importance in the country's rich cultural heritage.
One of the stories associated with the Valley of Flowers involves the epic Ramayana. When Lord Hanuman brought the magical herb to save the life of Lord Laxman, it is said that he collected it from the Valley of Flowers. The valley is home to some of the rarest flowers and herbs in India.
Another tale that revolves around the Valley of Flowers is related to Draupadi, the wife of the Pandavas, and the Brahma Kamal. Legend has it that Draupadi used to offer these flowers to Lord Krishna during Nanda Ashtami. Another story says these flowers are offered to Goddess Nanda Devi (who was reincarnated as Parvati – the consort of Lord Shiva) during Nanda Ashtami.
PERMIT TO VALLEY OF FLOWERS TREK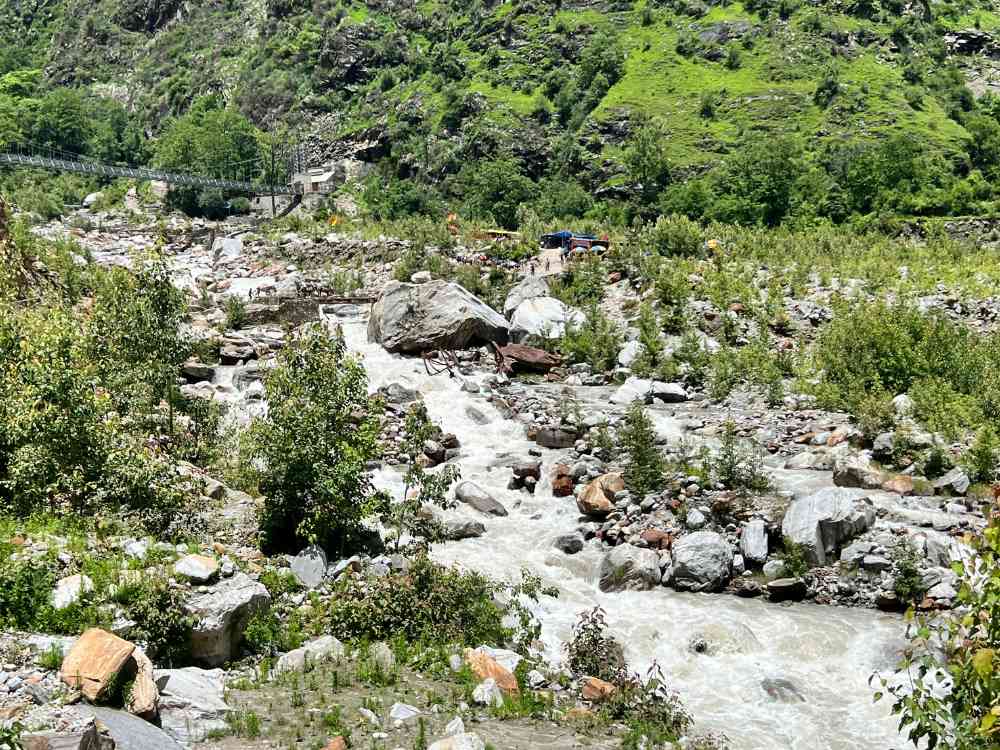 Upon arrival at the Valley of Flowers, the initial step is to obtain a permit from the Forest Department. The permit fee is 150 INR for Indian citizens and 600 INR for foreign nationals. This permit remains valid for a duration of three days and must be presented consistently throughout the trek. The permit can be conveniently purchased at a designated ticket counter located at the park's entrance. It is crucial to always carry the permit as authorities frequently conduct inspections to ensure compliance.
EVER WONDERED ABOUT THE PERSONAL EXPERIENCE DURING TREK ? CLICK HERE TO KNOW ?
TREK DIFFICULTY: VALLEY OF FLOWERS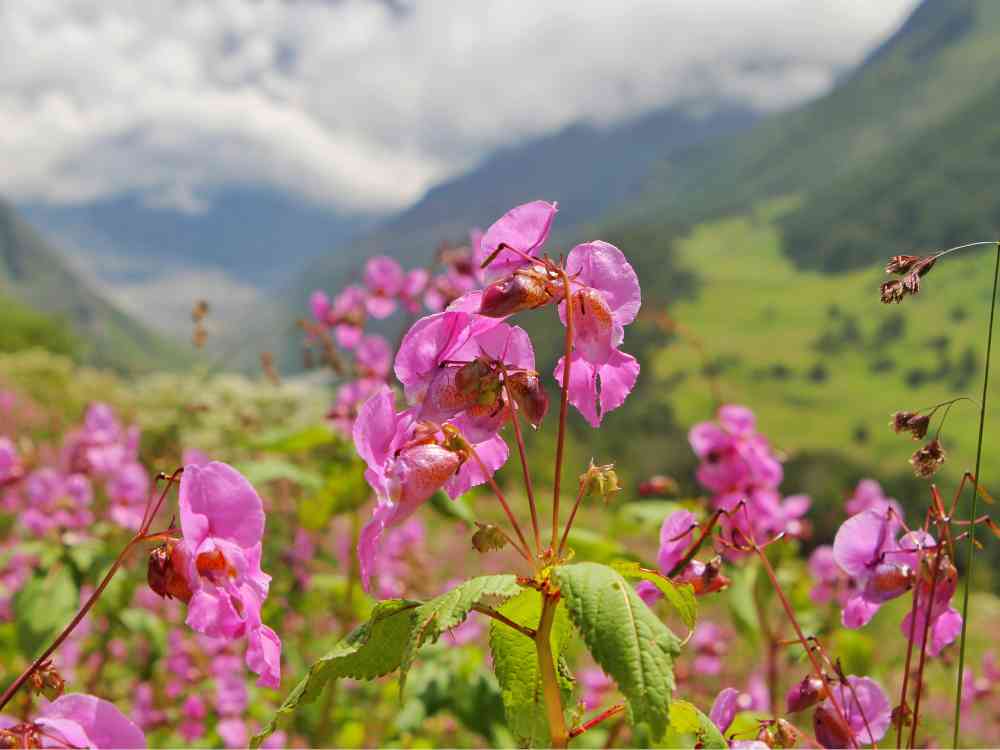 The Valley of Flowers Trek is a perfect option for individuals with different levels of experience, ranging from easy to moderate. Even beginners can complete the trek, which is suitable for almost everyone. The most challenging day for trekkers is Day 4. On this day, trekkers climb up to the Hemkund Sahib Gurudwara from Ghangria, covering a distance of 4500 feet in six hours. From Poolna to Ghangria, the trail is well laid and made up of stones, which makes the trek easy to navigate. Similarly, the trail from Ghangria to Hemkund Sahib and from Ghangria to the valley is clearly marked, ensuring trekkers don't get lost.
HOW SAFE IS VALLEY OF FLOWERS?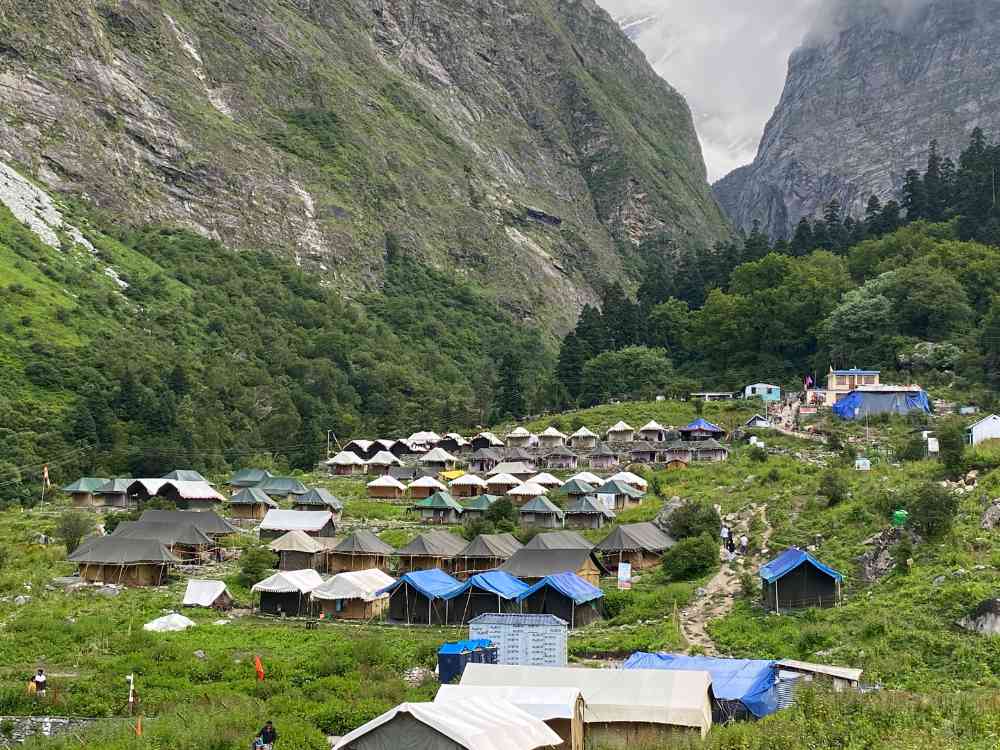 Of course, traveling to Uttarakhand, particularly to the Valley of Flowers, is absolutely secure due to the humble and polite nature of the locals in the surrounding areas. However, it is important to note that the trek to the Valley of Flowers requires excellent physical and mental health, so it is crucial to make thorough preparations for the journey. The Valley of Flowers in India is known for being a trek that is both safe and accessible. The trail is conveniently paved with stones, making it a breeze for trekkers to navigate. Along the way, you'll come across numerous vendors, adding an element of entertainment and ensuring you never feel isolated. The lively atmosphere surrounding you will keep you engaged throughout your journey.
EXPERT OPINION
As a trek leader, I believe that finding your rhythm is one of the most crucial aspects of any trek, so for the Valley of Flowers, It's not a race or a competition, but a journey of self-discovery. By identifying your pace of walking and following it, you can easily tackle the challenges of the trail and avoid getting fatigued. As a leader, I always encourage my group members to stop and take a break when needed, and to push themselves if they feel they can handle more.

It's important to remember that everyone's experience and pace are different, and it's crucial to respect and encourage everyone in the group to find their own rhythm and pace. This creates a safe and enjoyable environment for everyone, whether they are beginners or experienced trekkers.

-SANDEEP RAWAT –

TRIP LEADER
WHY AUGUST?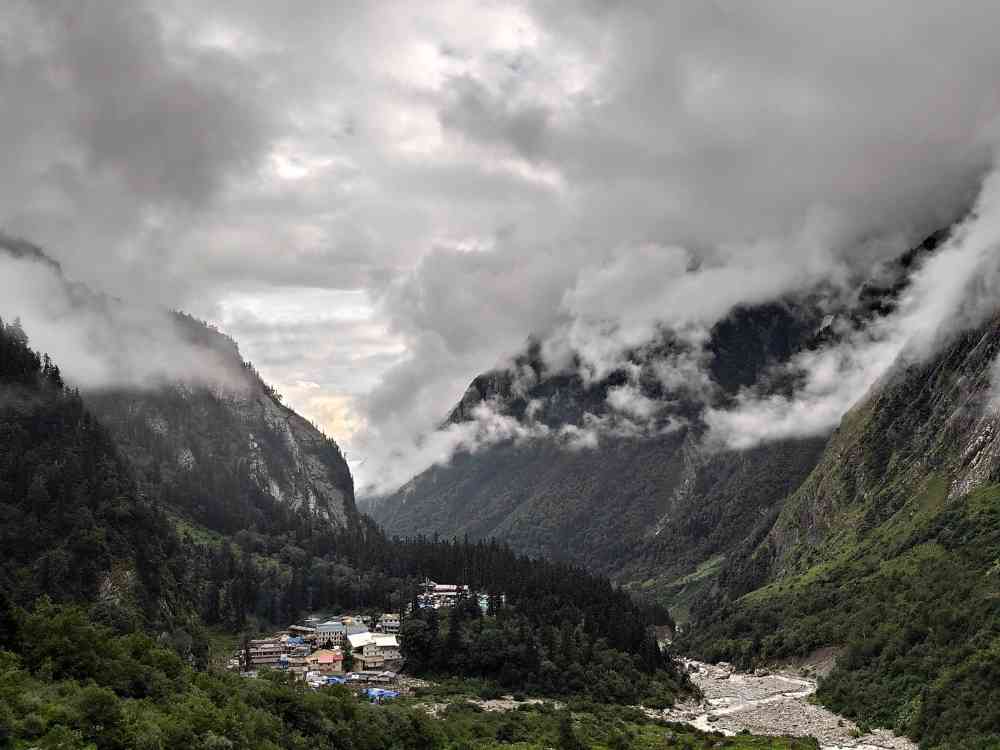 August is the ideal month to witness the blooming of a multitude of flowers in the valley. The first half of the month is particularly enchanting, as the field becomes a vibrant display of colors, transitioning from lush green to yellow and peach. However, as the month progresses, the flowers begin to wither and lose their petals. Nonetheless, even towards the end of August, trekkers can still enjoy the sight of numerous flowers in the valley.
In terms of weather, August brings a decent amount of rainfall to the Valley of flowers. While higher altitudes may experience a light drizzle, it does not pose a hindrance to hiking. However, the small town of Govindghat in Chamoli District, which serves as the starting point for the trek, receives a fair share of precipitation during this month.
As for crowds, the first few weeks of August are relatively quiet, with fewer visitors exploring the valley. It is advisable to plan your visit on a weekday to avoid the weekend rush. Nevertheless, the beauty of the Valley of Flowers in August attracts a considerable number of tourists during this time.
FLORA AND FAUNA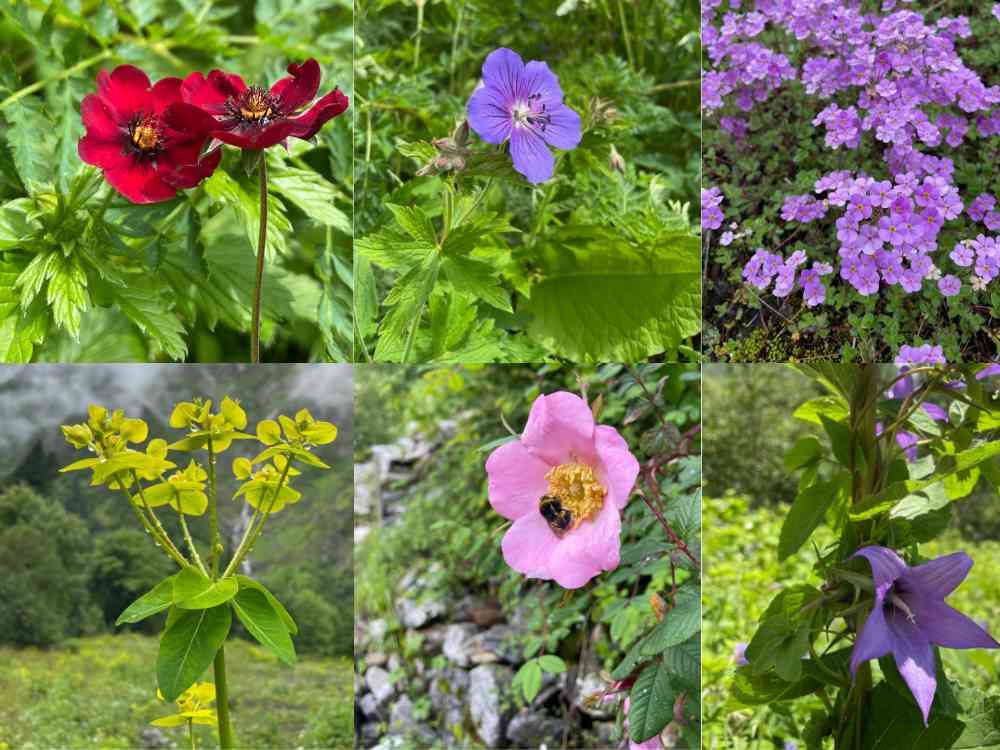 The valley is home to approximately 520 plant and flower species that are native to this area and have been officially recorded and acknowledged. Here are a few notable examples:
The valley boasts the mesmerizing Himalayan Blue Poppy, renowned for its vibrant deep blue petals and golden stamens.
Adding a delightful touch to the landscape, the valley is adorned with the enchanting Himalayan Bellflower, characterized by its bell-shaped blooms in shades of blue and purple.
A rare and exquisite flower known as the "King of Himalayan Flowers," the Brahma Kamal, stands out with its pure white color and unique shape, captivating all who encounter it.
The valley also showcases the charming Himalayan Cimicifuga, featuring petite yet captivating pink flowers that possess an alluring shape and fragrance, making them a favorite among visitors.
Enhancing the valley's delicate beauty, the Himalayan Primrose graces the surroundings with its dainty blooms in shades of pink, purple, and white.
Abundantly growing in the valley, the vibrant Himalayan Balsam adds a burst of color ranging from pink to deep red, making it a popular choice among visitors.
Cobra Lily Anemone
Geranium
Marsh Marigold
Primula
Himalayan Thyme
Woolly Pearly Everlasting
Himalayan Rhodiola
Whorled Solomon's Seal
Devendra's Balsam
Purple Stalked Gentian
Showy Inula
Jacquemont's Cobra Lily
Large Bellflower
Himalayan Milk Vetch
Himalayan Monkshood
Purple Stalked Gentian
Creeping Aster
Himalayan Typhonium
Himalayan Thimbleweed
FAUNA
The Valley Of Flowers is home to a diverse range of fauna, making it one of the most biodiverse areas in the Himalayas when combined with Nanda Devi National Park. Various animals such as the Leopard, Asiatic black bear, Snow leopard, Civet cat, Musk deer, Brown bear, Blue sheep, Serow, and others inhabit this region. Additionally, a variety of bird species including Partridge, Snowcock, Monal, Pheasant, Eagles, Laughing-thrushes, Vultures, Warblers, Yuhina, Honeyguide, Nuthatch, and Woodpeckers.
WHAT TO PACK FOR VALLEY OF FLOWERS?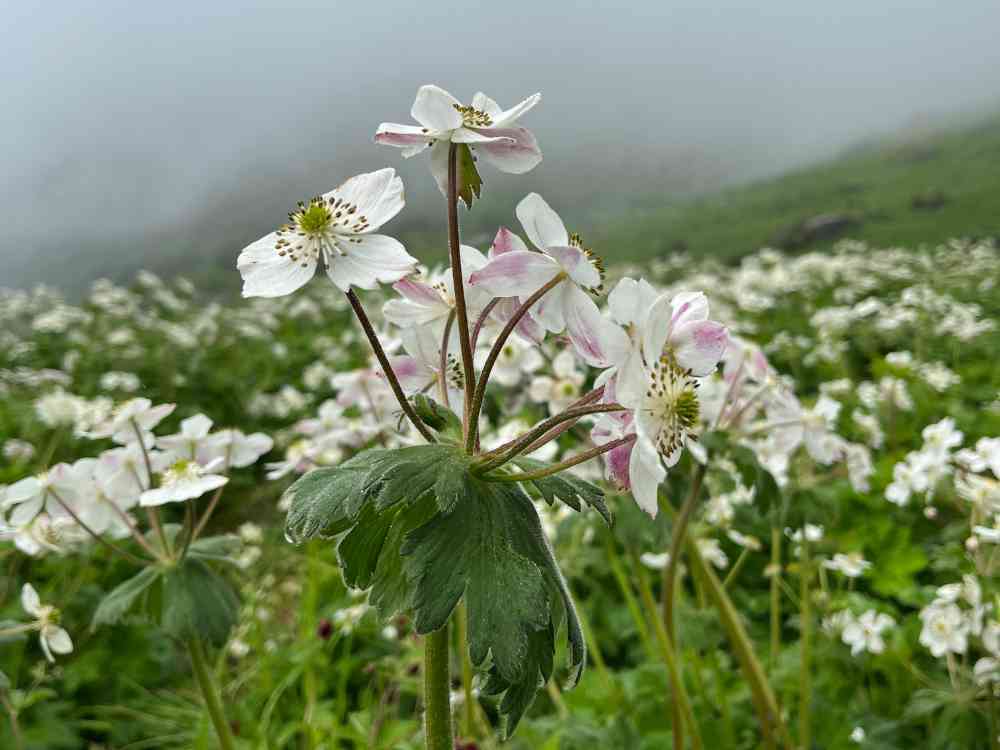 The following is your packing checklist:-
Backpack – It is essential to carry a good backpack along with a day backpack for essentials. Inside the backpack, you should carry a reusable water bottle, raincoats, polythene covers to carry waste, lip balm, Cold Cream, and sunscreens (SPF 50+) to avoid sunburns and chafing.
Footwear – Trekking shoes of good quality that are water resistant come with ankle support and scandals for the campsite.
Trekking Gears – Head Lamp or torch with fresh batteries and trekking pole for stability.
Electronics – Be prepared with your camera anytime. You can't know when you are going to use them. Keep your Charger, headphones, and power bank with you.
Medical Kit – Don't forget to carry a personal medical kit including Bandages for cuts and bruises, Anti-bacterial powder, Dettol, Pain relief spray, Diamox for AMS (Acute Mountain Sickness), Roll-ons for menstrual cramps, Basic medicines for vomiting, headache, and nausea, and ORS to deal with dehydration.
Toiletries – Prepare a bag for toiletries including hand sanitizer, toothbrush, napkins, toilet papers, and menstrual products.
Documents – Make all your documents such as ID proof like a passport, Aadhar card, Pan Card, or Driving License in hand with two photocopies. You might need them when the time Permit.
CLICK HERE TO VIEW THE COMPLETE PACKING LIST FOR THE TREK
CLOTHING
Your clothing is an integral part of your trek. Dressing appropriately, considering all upcoming weather variations is necessary. The essential pairs include 3 Quick Dry Tees for proper hygiene, 2 Track Pants made of polyester, a Wind Proof Jacket to resist chilly winds at high altitudes, and 1 Heavy Jacket to avoid getting cold.
Along with these, it is advisable to carry extras such as a pair of Cotton Socks, a pair of Woolen Socks, 1 Poncho to keep you and your Backpack dry in the rain, a Woolen Cap to keep you warm, a Sun cap to avoid heat strokes, Gloves, 1 Scarf or Balaclava to cover your face when needed.
HOW TO PREPARE FOR VALLEY OF FLOWERS
Practice the cardio exercises like jogging, stretching, and uphill walking with a weighted backpack.
Start strength training exercises like squats, lunges, and step-ups in beforehand.
Engage in yoga to develop flexibility and peace of mind
Increase your water intake and include foods that are high in complex carbohydrates to provide energy for the trek.
Stop using elevators and start climbing stairs to get used to an uphill climb daily.
READ MORE: How to prepare your body and mind before going on a trek?
ALL GIRLS VALLEY OF FLOWERS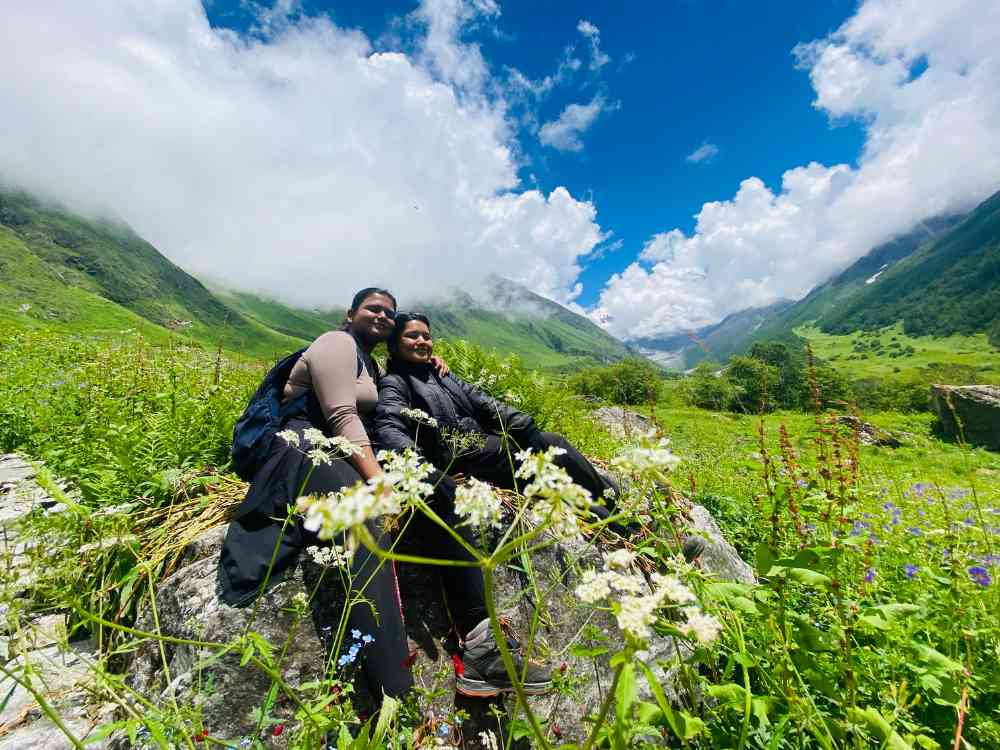 There's nothing better than going on a fun-filled adventure with your girlfriends. A trip to the Valley of Flowers is the perfect trek to do for that. Not only will you bond over breathtaking landscapes and thrilling activities, but you'll also feel a renewed sense of purpose and empowerment from tackling a challenging excursion with like-minded women. Plus, with a female trip leader and a safe and secure journey, you can rest assured that this experience will be one to remember for a lifetime. We welcome both solo girls and groups of friends looking to take a step outside of their comfort zone and explore new frontiers together. It's time for an epic All Girl's trek to Valley of Flowers.
The wildflowers of VOF are waiting to see your wilderness…CLICK HERE TO BOOK YOU ALL GIRLS ADVENTURE NOW
Question of the Day : 

Have you ever stopped to think about leaving your mountain home in a better state than you found it? What are some ways you, as a mountain lover, can think of?  Comment your suggestions to keep our mountains safe.
ALTITUDES WE ARE COVERING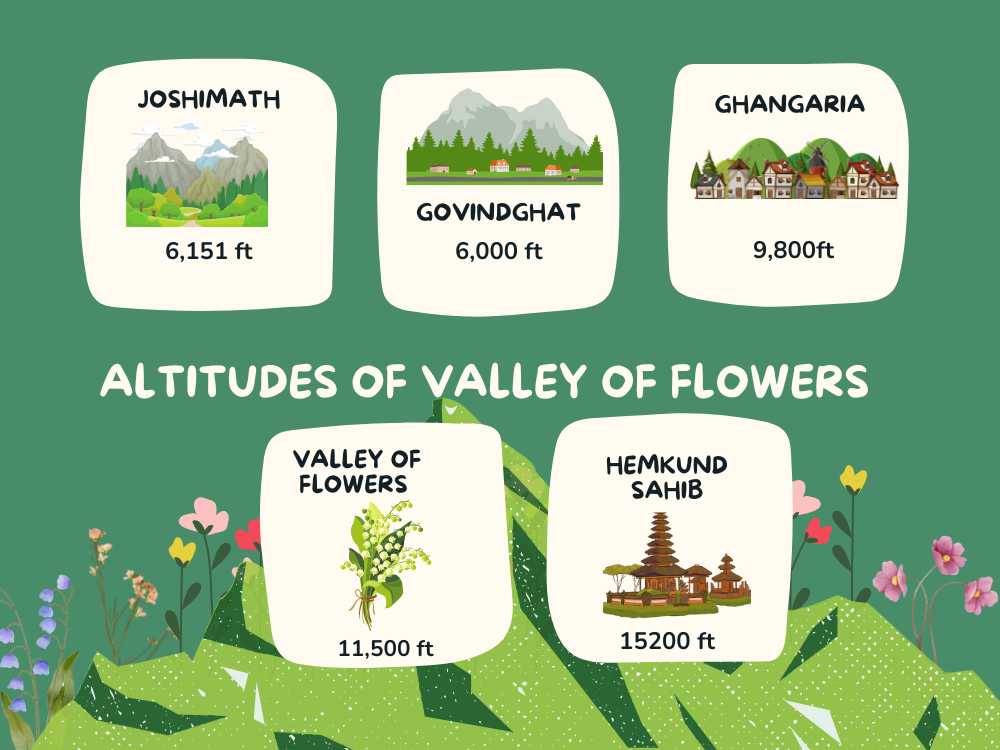 LOVED VALLEY OF FLOWERS: WHAT TO DO NEXT?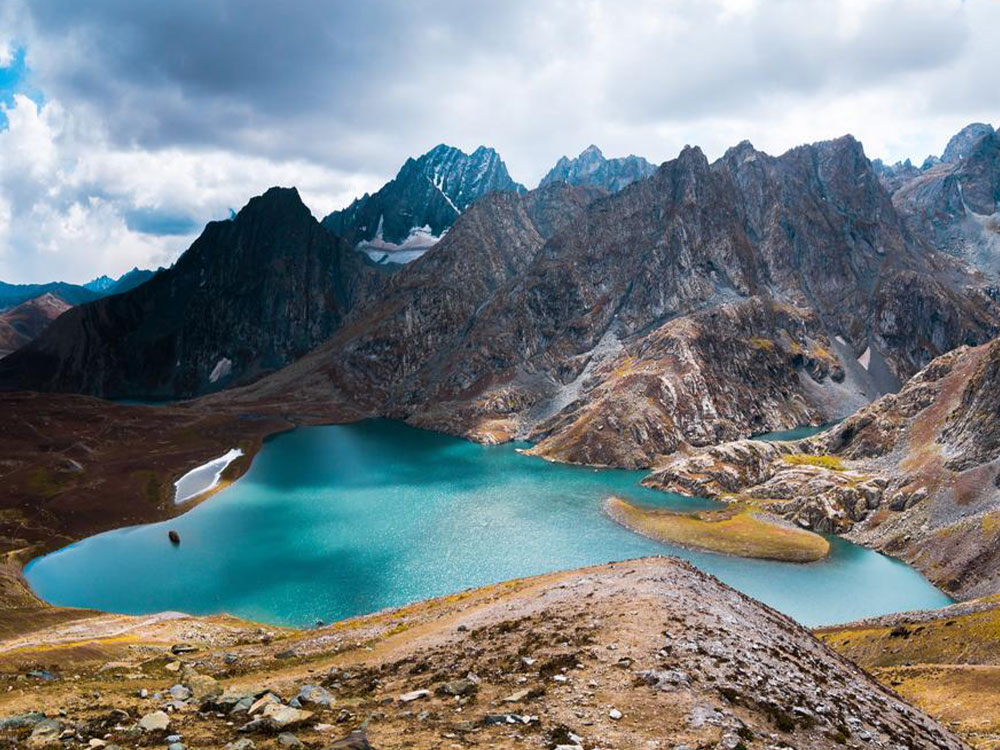 Kashmir Great Lakes Trek – Kashmir Great Lakes Trek is a week-long trek starting from Picture Square Sonamarg and ending in Ancient village Naranag covering 74 kms. The trek falls under the category of moderate to difficult, suitable for a person with a trekking background.
CLICK HERE TO PLAN YOUR KGL ADVENTURE.
Har Ki Dun Trek – Har Ki Dun is a 7-day moderate trek in Uttarakhand. This trek is one of the oldest Himalayan trails with imprints of gods. The best time to do Har Ki Dun Trek is April to June and September to December.
PLAN YOUR HAR KI DUN TREK HERE.
Hamta Pass – Hamta Pass is a 5-day moderate trek highlighting the shades of Himachal. The incredible Hamta Pass acts as a vantage point, from where you can witness two equally beautiful parts of Himachal's topography. The best time to do the Hamta Pass trek is from June to October.
PLAN YOUR HAMPTA PASS TREK HERE.
Bhrigu Lake Trek – The Bhrigu Lake trek is a moderate 3-day trek to the Scared Lake. It has a high-altitude glacial lake and a height of 14,100 ft. The best time to do the Bhrigu Lake trek is between June to September.
PLAN YOUR BHIRGU LAKE TREK HERE.
FAQ's
Q1. Is valley of flowers worth visiting?
Absolutely Yes!! The Valley of Flowers is not just about the flowers. The Valley of Flowers is an enchanted destination that offers a unique experience. With its breathtaking mountains, pristine rivers, and captivating flora, it is no wonder that it is a must-visit destination
Q2. How to mentally prepare for the Valley of Trek ?
Since the trek falls under the category of Easy to Moderate, you don't have to worry much. You don't have to worry much about the difficulty level of the trek, but it is always a good idea to practice yoga and physical preparation, along with a nutritious diet, to prevent anxiety to a certain level.
Q3. What is the cost of Valley of flowers Trek ?
The starting price of Valley of Flowers Trek is INR 10,500.
CLICK HERE TO SEE THE PRICING – LINK
Q4. Is it possible to reach the Valley of Flowers without trekking?
Yes, there is a Helicopter service available to reach the Valley of Flowers. This can be a good choice for those who do not want to trek.
Q5. What documents do you need to carry to the Valley of Flowers Trek?
It is advised to carry Aadhar or other government-issued IDs to prove your identity. Additionally, you will need to get your permits for the trek.
Q6. What is the best season to visit the Valley of Flowers?
Spring is the ideal season to visit the Valley of Flowers because it is the time when the valley is blooming, and the air is fragrant.
Q7. How long is Valley of Flowers Trek?
The Valley of Flowers is 42 km long and takes 6 days to complete. It is a moderate trek that offers stunning views of the Himalayan landscape. Do not forget to carry extra layers of clothing and a water filter with you for a comfortable trek.
The valley of flowers is one of India's most popular trekking destinations, offering breathtaking views and a chance to escape from the busy city life. It is also an excellent destination to experience the natural beauty of the Himalayas and the unique flora and fauna that makes it such a captivating destination. If you are looking for an unforgettable trekking experience, the Valley of Flowers is a must-visit.
Are you ready for the Trek?