Do challenging terrains evoke interest in you? Is that a wake-up call for the adventure junkie inside you ? Then this post is made for you! Imagine waking up seeing – sky touching mountains and the soothing sound of waters that are untouched and unadulterated. This is the surreal landscape of Kashmir, where the magic of nature is alive and thriving. The Kashmir great lakes trek is undoubtedly the most beautiful trek in India.
The trek will take you on a journey of awe, wonder, and beauty that you just can't put into words. The Kashmir Great Lakes are a true treasure trove for travelers who want to experience something truly special. With its steep mountains, beautiful meadows blooming with springtime hues, and lakes that resemble melted turquoise gems, Kashmir great lakes trek allows you to see what fairyland looks like.
Put your trekking shoes on, the dream journey is about to begin…
WHAT IS KASHMIR GREAT LAKES TREK?
Place: Sonmarg, Jammu and Kashmir
Altitude: 13750Ft.
Base Camp: Sitkari
Duration: 8 Days
Trek Difficulty: Difficult
Trek Length: 74 KM
Trail type – A scenic trail through picturesque passes in search of hidden lakes.
Kashmir's northernmost tip of India is a veritable paradise on earth. It is impossible to put Kashmir's beautiful ambiance into canvas. Kashmir is incredibly gorgeous, with its snow-capped glaciers, pristine clear lakes, appealing mountains, prosperous forests, verdant meadows, and rushing rivers. In the heart of Kashmir, absorbing all its beauty and elegance, you could find a trek that is going to embark deep roots in your memory lines.
You guessed it right!
KASHMIR GREAT LAKES TREK is a week-long trek starting from Picture Square Sonamarg and ending in Ancient village Naranag covering 74 kms. The trek falls under the category of moderate to difficult, suitable for a person with a trekking background. The Kashmir great lakes trek is becoming more and more well-known among trekkers from all over the world due to its breathtaking vistas, steep mountain passes, and the opportunity to camp amidst nature.
Kashmir has always been more than a mere place. It has the quality of an experience, or a state of mind, or perhaps an ideal.

JAN MORRIS
HOW TO REACH
By Flight – The nearest airport is Sheikh ul-Alam International Airport or Srinagar Airport. The airport code is SXR.
By Train – There are no operational rail trails inside the scenic valley of Srinagar. The nearest railway station is Jammu Tawi Railway Station which takes 6 and a half hours to reach Srinagar.
By Road – Srinagar is easily reachable by cab, vehicle, or bus. Although the roads are good, there are mountainous areas and rough parts that require you to travel in a slow phase.
WHAT TO EXPECT IN KASHMIR GREAT LAKES TREK
Do you ever had this dream of getting lost in the woods, completely detached from the outer world, with a group of like-minded people, conquering the heights every day…If yes, the Kashmir Great Lakes trek is made for you!
In your Kashmir great lakes trek you can expect crossing high-altitude mountain passes like Nichnai pass, Camping in the lap of mother nature and experience wildness from a hand distance, Get charged with the clear lakes waters of Kashmir, and everyday cultural incubation with Kashmiri cultural. The highlight of the KGL trek is the following:
Perfectly arranged canvas of blue lakes and white glacier lakes
Aromatic Pine forests
World's highest mountain face: Nanga Parbat
Every day experience a new lake, a new pass, and a new you
The sight of seeing five perfect lakes from Gadsar Pass
KASHMIR GREAT LAKES TREK – MAP
SHORT ITINERARY FOR KASHMIR GREAT LAKES TREK
Day 1: Arrive at Srinagar and drive to Sonamarg to start your trek. On the first day, you will arrive in Srinagar and then drive to Sonamarg, the trek's starting point. Sonamarg is a picturesque town located at an altitude of 2,730 meters above sea level.
Day 2: Trek to Nichnai via Shekdur which takes 8 hrs to cover 11 kms. The second day of the trek involves an 11-kilometer trek from Sonamarg to Nichnai. The trek takes you through dense forests of pine and fir trees and offers stunning views of the surrounding mountains.
Day 3: From Nichnai to Vishansar Lake via Nachnai Pass, which takes 7 hrs to cover 12 kms .On the third day, you will trek from Nichnai to Vishansar Lake, located at an altitude of 3,710 meters above sea level. The trek takes you through a high-altitude mountain pass called the Nichnai Pass.
Day 4: Buffer Day
Day 5: The day starts from Vishansar Lake to Gadsar via Gadsar Pass, which takes 8 hrs to cover 14 kms. The fourth day of the trek involves a 12-kilometer trek from Vishansar Lake to Gadsar Lake. Gadsar Lake is located at an altitude of 3,600 meters above sea level and is known for its crystal-clear waters.
Day 6: From Gadsar to Satsar covering 12 kms in 6 hrs. On the fifth day, you will trek from Gadsar Lake to Satsar Lake. Satsar Lake is a group of seven lakes located at an altitude of 3,610 meters above sea level.
Day 7: Starts from Satsar to Gangabal twin lakes via Zaj Pass covering 11 Kms within 6 hrs. On the sixth day, you will trek from Satsar Lake to Gangbal Lake, which is located at an altitude of 3,650 meters above sea level. Gangbal Lake is known for its stunning beauty and is surrounded by snow-capped mountains.
Day 8: The last day of your Trek from Gangabal to Naranag which takes 6 hrs to cover 11 Kms. From there, Drive to Srinagar. On the last day of the trek, you will trek from Gangbal Lake to Naranag, which is the endpoint of the trek. From Naranag, you will be driven back to Srinagar.
Additional Tip: Take a deep dip in the mystical waters of Kashmir Lakes and come back with a fresh mind. 
WHO CAN PARTICIPATE IN KASHMIR GREAT LAKES TREK ?
The Kashmir great lakes trek is a popular trek route in the paradise of Kashmir. Since this trek falls under the category of moderate to difficult, and the Great Lakes Trek is a challenging route involving long distances, high altitudes, and rugged terrain, it is essential to have some prior trekking experience.
You can consult a doctor before starting the trek. Children aged 15 and older can participate in the Kashmir Great Lakes trek. Experience in any high-altitude treks before is preferred. Prior preparation with basic exercises, such as running, walking, and hiking, will help you easily tackle the passes.
Don't worry by reading about the challenges. We assure you that the breathtaking views of Kashmir are going to gift you memories for a lifetime. All your efforts are worth for Kashmir Great Lakes Trek.
BEST TIME TO DO KASHMIR GREAT LAKES TREK
The months between June To September are the best time of the year to do the Kashmir Great Lakes Trek. The valley is at its most beautiful during these months of the year, with blooming flowers and breathtaking green lush scenery accompanied by soft meadows which all will leave you in awe.
Kashmir Great Lakes Trek is a monsoon trek, tailor-made by nature for adventure seekers and those who search for a reason to rejuvenate with panoramic sights. The trek offers a unique opportunity to experience and explore the rich bushes of Kashmir completely different way. Considering safety as the primary concern; it is advisable to check the weather forecast before deciding your date of journey.
THINGS TO LOOK OUT DURING KASHMIR GREAT LAKES TREK
The Kashmir Great Lakes Trek is one of the most beautiful treks in the Himalayas. The trek takes you through some of the most beautiful and pristine landscapes of the Kashmir Valley, allowing you to predispose yourself to the wilds. On your trekking trails, you will see some of the best lakes and passes in India, like:
LAKES
Gangabal Lake: The alluring Gangabal Lake is a lake located at the heart of Kashmir, in the foothills of Mount Haramukh, the highest mountain peak of Kashmir. It is a stunning mountain lake at a high altitude that is home to many fish species, including brown trout. The Gangabal lakes play a vital role in the Kashmiri culture. Anyone who likes natural beauty should visit this lovely lake encircled by breathtaking mountain ranges. One side of the lake stretches out to lush meadows, and mountains covered with playful clouds overlook the other.
Nundkol Lake: Another lake from the foothills of Mount Harmukh is Nundkol Lake. Nundkol Lake, a high-altitude freshwater alpine lake, provides visitors with a scenic and tranquil setting. The lake is the perfect location for anyone seeking a peaceful getaway or a revitalizing stroll because rough mountains and deep forests surround it. During winter, this pristine lake freeze by going to lower temperatures, and is accessible to visitors during summer.
Satsar Lake : The lake will make you realize that you are overlooking the treeline with the river valley below you. Once you attain an altitude of 11,500ft, the trail becomes flat with mountains surrounding the lush green meadows. This region is called Maengandob and has a stunning landscape of streams running across the green bed. One of our camping area is near the Satsar lake which is actually a collection of 7 lakes.
Vishansar Lake & Krishansar Lake :The lake of Vishansar, which you will cross on the third day of your trek, adds a golden feature to the whole Kashmir great lakes trek. The name Vishansar means – the lake of the Vishnu. The lake is unique because it freezes over in the winter, providing travelers with a breathtaking sight. The lake's greenish-blue water is surrounded by spectacular flora and enormous mountain ranges that reach the sun in the summer.
PASSES
Nichnai Pass : Nichmai Pass is located at an elevation of 4139m above sea level. This pass serves as a gateway to the great lakes of Kashmir. Since the Nichnai pass may be a minor challenge to you, take it at a slow pace.
Gadsar Pass : On the third day of your trek, you will discover the Gadsar pass, the highest pass in Kashmir great lakes trek(4200m). During the climb, you are going to witness a plethora of streams on your left side formed by snow-melting pristine waters. On the other side, rocky mountains coated with snow. In between the rugged alp, there will be meadows bloomed with vibrant colorful flowers, only if you are lucky enough to spot them.
DEATH LAKE OR GADSAR LAKE
The frozen waters of Gadsar Lake hold a mythical story that is hard to uncover.
A living lake monster?
A lake octopus that attacks flocks?
The Gadsar Lake in Kashmir holds a fascinating mystery that many visitors are drawn to. With its sparkling cobalt-green waters and the surrounding snow-capped mountains, it looks like a painting come to life. But this lake has a dark legend. Gadsar Lake is also known as Yemsar, which translates to "the lake of demons" and "the lake of death." It is said to be an octopus-like creature that drags anyone who comes too close to the shore. Despite its ominous appearance, the Gadsar Lake is still a breathtaking destination, and visitors can enjoy a variety of activities, including camping, trekking, and exploring the local villages..
HOW CHALLENGING THE WEATHER CAN BE?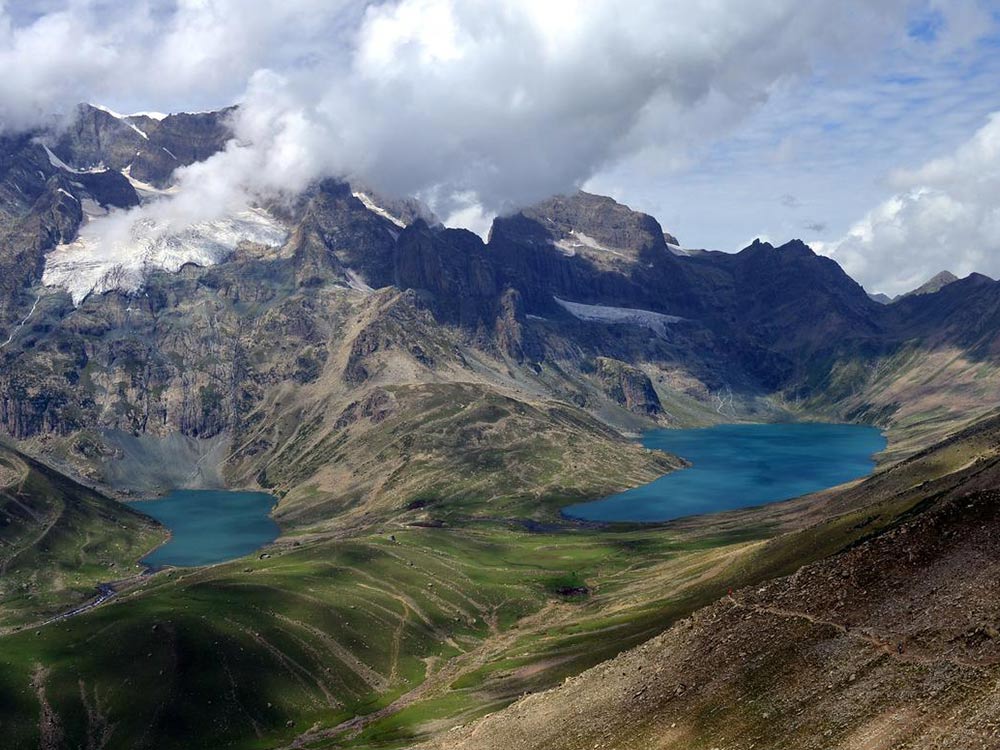 The best time to do Kashmir great lakes trek is between the months of June to September because of its clear and comfortable weather. During these summer months, the days are warm and nights are cooler. Even during these stable months, you may encounter high or low temperatures, rain, or fog.
Dressing properly and carrying rain gear will make your journey easy. In the month of July, the average low temperature at night is 5° C, and the high temperature during the day is 20° C. The weather in the Kashmir Valley will cool off as you travel towards the end of August. September experiences a sharp drop in temperature of at least 3–4° C weekly.
As you ascend, the nighttime temperature can get over -3° C and occasionally up to -5° C. It is highly advisable to check the weather updates before going on a trek. Since Kashmir great lakes is a monsoon trek, be prepared to face a Drizzle anytime.
THINGS TO PACK FOR KASHMIR GREAT LAKES TREK
The following is your packing checklist:-
Backpack – It is essential to carry a good backpack along with a day backpack for essentials. Inside the backpack, you should carry a reusable water bottle, raincoats, polythene covers to carry waste, lip balm, Cold Cream, and sunscreens (SPF 50+) to avoid sunburns and chafing.
Footwear – Trekking shoes of good quality that are water resistant come with ankle support and scandals for the campsite.
Trekking Gears – Head Lamp or torch with fresh batteries and trekking pole for stability.
Electronics – Be prepared with your camera anytime. You can't know when you are going to use them. Keep your Charger, headphones, and power bank with you.
Medical Kit – Don't forget to carry a personal medical kit including Bandages for cuts and bruises, Anti-bacterial powder, Dettol, Pain relief spray, Diamox for AMS (Acute Mountain Sickness), Roll-ons for menstrual cramps, Basic medicines for vomiting, headache, and nausea, and ORS to deal with dehydration.
Toiletries – Prepare a bag for toiletries including hand sanitizer, toothbrush, napkins, toilet papers, and menstrual products.
Documents – Make all your documents such as ID proof like a passport, Aadhar card, Pan Card, or Driving License in hand with two photocopies. You need to submit these at the army check post.
CLICK HERE TO VIEW THE COMPLETE PACKING LIST FOR THE TREK
CLOTHING
Your clothing is an integral part of your trek. Dressing appropriately, considering all upcoming weather variations is necessary. The essential pairs include 3 Quick Dry Tees for proper hygiene, 2 Track Pants made of polyester, a Wind Proof Jacket to resist chilly winds at high altitudes, and 1 Heavy Jacket to avoid getting cold.
Along with these, it is advisable to carry extras such as a pair of Cotton Socks, a pair of Woolen Socks, 1 Poncho to keep you and your Backpack dry in the rain, a Woolen Cap to keep you warm, a Sun cap to avoid heat strokes, Gloves, 1 Scarf or Balaclava to cover your face when needed.
HOW TO PREPARE FOR KASHMIR GREAT LAKES TREK
Kashmir Great Lakes Trek can be a challenging one. So it's essential to physically prepare for the experience. The trek falls under the category of moderate to difficult and involves high-altitude hikes, difficult terrains, and a considerable amount of elevation gain. It's crucial to perform a variety of exercises that concentrate on enhancing balance, developing strength, and increasing endurance to prepare your body.
Practice the cardio exercises like jogging, stretching, and uphill walking with a weighted backpack.
Start strength training exercises like squats, lunges, and step-ups in beforehand.
Engage in yoga to develop flexibility and peace of mind
Increase your water intake and include foods that are high in complex carbohydrates to provide energy for the trek.
Stop using elevators and start climbing stairs to get used to an uphill climb daily.
READ MORE : How to prepare your body and mind before going on a trek?
MISTAKES YOU SHOULD AVOID DURING KASHMIR GREAT LAKES TREK
The Kashmir Great Lakes Trek is a challenging and rewarding experience at the same time. Experiencing the scenic beauty and enjoying the journey is undoubtedly important, but it is equally crucial to keep an eye out for some common mistakes during the trek, that can spoil the experience. Here are some mistakes to avoid during the Kashmir Great Lakes Trek:
Not Understanding the Trek: The Kashmir Great Lakes Trek involves long distances and challenging terrains. Understanding the trek and preparing beforehand plays an important role.
Improper Packing: During the trek, you are expected to climb landscapes that are different and testing for trekkers. Carrying a heavy backpack and climbing straight for half an hour is not possible. Pack your bag with tricks and tips by keeping the motto minimal is sufficient. Give utmost priority to water and energy snacks in your packing.
No consideration of the weather: In the Himalayas, the weather can change suddenly. Ensure you have the necessary clothing gear for rain, cold, temperature, and snow. It's also important to check the weather forecast before the trek and to be prepared for sudden changes.
Not following Trip Captain's instructions: The trip captains of Justwravel are experienced and certified. They are here to help you out. It's essential to follow the trip captain's instructions and to stick to the planned itinerary.
ACTIVITIES TO DO IN KASHMIR GREAT LAKES TREK
The Kashmir Great Lakes Trek is a must-do trek for adventure enthusiasts and nature lovers. During the 7-day trek, you could engage in a lot of activities that make you closer to the environment. Some of them are:-
Fishing – One of the most important activities you could do at Vishansar Lake is fishing. This lake has a large population of brown trout fish, making it the ideal spot for fishing and angling.
Exploring and finding lakes of Kashmir – The prime purpose of doing the Kashmir great lakes trek is to uncover the hidden gems of Kashmir – Lakes. The trek gifts you with a new lake every day. Discovering each of these alpine waters and taking a slow dip in their glacier waters may sound like a one-time life opportunity.
Playing in the meadows – The climb to find the unexplored lakes of Kashmir will eventually result in a wake-up call for your inner child. The soft meadows, gazing bushes, and surrounding greenery tempt you to be that 10-year-old. Embrace that childlike you and play games like cricket.
Exploring the flora and fauna – The trekking trail of KGL is famous for its incredible and rare flora and fauna, which will give you a visual retreat. More than 50 types of alpine wildflowers may be seen on your way like lilies, marigolds, Kashmir iris, hyacinths, rhododendrons, jasmines, etc. Some of the common genres of birds you could see are gold and rose finches, Himalayan marmots, wagtails, and pipits.
LOVED KASHMIR GREAT LAKES TREK : WHAT TO DO NEXT
If you are someone who loved the Kashmir great lakes trek, here are some alternative treks to do.
Valley of Flowers – Valley of Flowers is a 6-day moderate trek in Uttarakhand. The trek let you feel more than 3000 exotic flowers and explore them by yourself. The best time to do the Valley of Flowers trek is between June to September.
PLAN YOUR VALLEY OF FLOWERS TREK HERE.
Har Ki Dun Trek – Har Ki Dun is a 7-day moderate trek in Uttarakhand. This trek is one of the oldest Himalayan trails with imprints of gods. The best time to do Har Ki Dun Trek is April to June and September to December.
PLAN YOUR HAR KI DUN TREK HERE.
Hamta Pass – Hamta Pass is a 5-day moderate trek highlighting the shades of Himachal. The incredible Hamta Pass acts as a vantage point, from where you can witness two equally beautiful parts of Himachal's topography. The best time to do the Hamta Pass trek is from June to October.
PLAN YOUR HAMPTA PASS TREK HERE.
Bhrigu Lake Trek – The Bhrigu Lake trek is a moderate 3-day trek to the Scared Lake. It has a high-altitude glacial lake and a height of 14,100 ft. The best time to do the Bhrigu Lake trek is between June to September.
PLAN YOUR BHIRGU LAKE TREK HERE.
FAQS – KASHMIR GREAT LAKES TREK (FREQUENTLY ASKED QUESTIONS)
Q1. Will I get mobile connectivity during Kashmir Great Lakes Trek?
Mobile connectivity during the Kashmir great lakes trek is a win-win situation. The last place you et proper connectivity is Srinagar, which is for BSNL and Airtel postpaid. The best way to deal with this is to make all of your important calls before starting the trek and inform your loved ones of the poor connectivity. In Srinagar, prepaid connections won't work, and on your trek, there are no recharge stations.
Q2. Suggest some tips to pack my trekking bag?
It is important to make sure that you are packing properly. Packing tips to save space: Roll clothes, pack heavy stuff in the middle, keep frequently used items on top, essentials like snacks and water on top, blankets, and extra clothes at the bottom. Stay organized to make it easier in the hills! *
Read more about : How to pack your Trekking Bag
Q3. Which is the best package for Kashmir Great Lakes Trek? And what's the cost?
The best package for Kashmir Great Lakes Trek is by JustWravel. The package includes 7-day accommodation, meals, snacks, Camping logistics, and an experienced trek leader. The cost of Kashmir great lakes trek is starting from 15,500.
Q4. Is Kashmir Great Lakes Trek safe to do?
Absolutely!
Kashmir and KGL Trek are completely safe, with army camps on the trail and far away from the border. Our trip leaders are trained to deal with extraordinary situations like landslides or rain to ensure ensuring a peaceful and enjoyable experience for everyone.
Q5. How to plan my Kashmir Great Lakes Trek hustle free ?
Trekking requires preparation, both mentally and physically. Make sure you research thoroughly before embarking on any journey. Your trip captain will provide the best guidance, so it's essential to stay tuned to their instructions. Prepare in advance by carrying important documents and medical kits. It is also important to stay hydrated especially in low temperatures. Start preparations a couple of weeks early by practicing exercises and preparing your body for high altitude sickness. Remember that the trek takes you to high altitudes, so take this into consideration while getting prepared for your trip. By being well-prepared, you'll be able to make the best out of this trip.
Q6. What are the options for food and accommodation?T
he accommodation option is provided by Justwravel 7 Nights of Tented Accommodation on a triple-sharing basis. The meals will be vegetarian from day one Dinner to day eight Breakfast. In addition to the given meals, you will get snacks served with tea in the morning and evening.
Q7. Can beginners do KGL trek?

The Kashmir Great Lakes Trek is one of the most popular treks for beginners looking for an unforgettable experience. Whether you are an experienced trekker or a total novice, you can participate in the trek. Make sure to prepare well and follow your trip captain's instructions to ensure that your adventure is as comfortable and enjoyable as possible! Start your preparation early by researching the necessary precautions and practicing your exercises. This way, you'll be able to make the most out of Kashmiri lakes.
The unexplored landscapes of Kashmir is waiting for your call…
Click here to book your dream trek – THE KASHMIR GREAT LAKES TREK