The Chadar Trek is the most well-known and arduous winter trek in India. This is exactly what makes the experience exciting. This Chadar trek guide will walk you through all that awaits you here in Ladakh.
Chadar means 'Blanket,' and this trek is named so because the trail consists of trekking on the frozen Zanskar river, which gets covered in a thick blanket of ice. As exciting and interesting name this trek has, the experience is indeed the same and additionally, gives you the feeling of being invincible.
This 9 days-long trek will have you experience the strongest you have been – both mentally and physically. It is indeed a rewarding trek, with a better you that will flourish more in life additionally, with the best adventurous memories from here.
Chadar Trek Guide – All that you need to know:
About Chadar Trek
At an elevation of 11,100 feet, the Chadar trek in Leh Ladakh allows you to see the frozen waterfall known as Nerak Waterfall, which is a breathtaking experience. This trek offers the best scenic views and experiences like no other.
The frozen river's thick glass-like structure acts like a mirror, reflecting the sky and the majestic mountains on either side, providing a dramatic view to the impartial observer. Along with the adventure and thrill of trekking on this one-way, you will learn about and experience the Zanskari and Ladakhi cultures.
The experience is worth all of the hardships that come with this journey. In our Chadar trek guide, we would like to share that there is also a good chance of seeing rare animals like snow leopards, blue sheep, and Ibex.
Quick Facts about Chadar Trek
The altitude of the Chadar Trek: 11,100 Feet.
Base Camp of Chadar Trek: Leh
Duration of the Chadar Trek: 9 Days
Chadar Trek Difficulty: Difficult
Chadar Trek Length: 65 Kilometers
Best Time to do the Chadar Trek: January and February
Recommended Read: Best Winter Treks To Do In the Himalayas
Best Itinerary for the Chadar Trek:
Day 1: Arrival in Leh
The Chadar Trek starts from your arrival at the base camp which is Leh. It is mandatory to spend some time acclimatizing in Leh before heading to higher altitudes which is why the ideal approach would be to check into the designated accommodations and get some rest.
We highly recommend exploring the beautiful Leh and getting to experience the local culture here. Moving around and sightseeing would additionally help in the acclimatization process which is essential for the trek.
In addition, cafe hopping is a must when in Leh. 3 Wise Monkeys' Cafe, Lehvenda Cafe, Open Hand Cafe & Shop, etc are some of the options available. Cafes in Leh are a perfect combination of the culture here and the modern touch.
Next Read: Ladakh Travel Tips – Things to keep in mind before visiting Ladakh
Day 2: Acclimatization Day
Your day 2 of the Chadar trek begins with a tasty cozy breakfast followed by local sightseeing. It is necessary to stay at least two days in Leh to acclimate your body so that you can go on the trek in the best state, both physically as well as mentally.
Visiting Shanti Stupa which is a Buddhist white-domed stupa built to promote peace and prosperity is one thing you can tick off your bucket list. It is one of the major attractions in Leh Ladakh that you must go to. In addition, you can head towards the Leh market in the evening.
Spending these two days in Leh will walk you through the culture and how beautiful this unfiltered and raw life is. Indulging in the local sightseeing and interacting with the people of Ladakh will indeed be a great kick-start to this adventurous trek.
Suggested Read: Ladakh FAQs answered
Day 3: Medical Check-up
After spending two days in Leh to help with proper acclimatization, you'll head toward the SNM hospital to get a proper medical check-up. Owing to the bewildering nature of this distinctive trek, trekkers must obtain medical certification before embarking on the Chadar trek, according to the government.
Following a medical examination, a clearance certificate will be issued, and trekkers will be allowed to venture on the Chadar Trek only if they are considered to be fit and effectively acclimatized.
Once you get done with this essential process for Chadar Trek, this thrilling experience will begin shortly.
Top read: What is AMS? – A guide to Acute Mountain Sickness
Day 4: Drive from Leh to Shingra Koma and Trek to Tsomo Paldar
Shortly after feasting delicious breakfast and morning tea, you'll head towards Shingra Koma. It takes about four hours to cover the distance of 65 Kilometers between Leh and Shingra Koma.
The road leading to the place is as tricky as it could, with twisty harsh turns, it is indeed not an easy ride to go on. However, this thrilling experience of driving on those roads is what makes it such an adventurous start.
Once you reach Shingra Koma, you will begin your trek to the Tsomo Paldar which is about 2 hours of trekking for a distance of approx 3 kilometers. It begins from the starting point of the frozen Zanskar river which in itself is a grand opening.
Additionally, it would be confusing to figure out how to walk on the multitudes of icy surfaces but after a little while, you will be able to understand the pattern. Upon completing this trek, you will reach the Tsomo Paldar campsite where you can stay overnight after having dinner.
Day 5: Trek from Tsomo Paldar to Tibb Cave
On day 5 of your Chadar trek, you trek towards the Tibb Cave. You embark on this 7-hour of trek shortly after having your morning tea and nutritious breakfast.
While trekking on this frozen river, you will get to witness the most stunning waterfalls which are frozen and gives you the most dramatic scenery. In addition, you will be able to have a glance at interesting rock patterns and sedimentations.
Once you are at Tibb Cave, you'll set up tents and spend the remainder of the day unwinding. At night, you can spend your hours looking at the millions of stars that adorn the velvet skies.
Day 6: Trek from Tibb to Nerak Camp
Nerak camp is the most exciting as well as the last campsite for the Chadar Trek. It takes about 6 hours of Trek from Tibb Cave to reach Nerak Waterfall. The beautiful trail navigates to the most notable landmark of the trek which is the frozen waterfall that looks like it came straight out of the movie Narnia.
The trail gives you the frozen wonderland feels, and the most dramatic one as well. It is highly recommended to wear enough layers to protect oneself from the temperature-dropping cold. Additionally, taking the time into consideration there is a possibility of being able to explore the Nerak Village.
You can set up your camps about 15-20 minutes away from the waterfall for safety concerns. After having dinner, the overnight stay at the campsite begins with the feeling of accomplishing one of the most difficult treks to do.
To add, the feeling is indeed unmatchable and with the surroundings that you get to witness on this trek, is surely nothing short of a dream come true.
Recommended Read: Ladakh Travel Essentials – Things to carry
Day 7: Trek from Nerak to Tibb
We trek back to Tibb from Nerak while appreciating the surreal splendor of frozen Zanskar. Tracing back your steps in the trek is an excellent thing as it helps us to re-witness the beauty of the place whilst noticing the way back.
It would take approximately 6 hours for this 13 Kilometers long trek as you retrace your steps. You will devote the remainder of the day at your leisure once you arrive at Tibb. Dinner, then an overnight stay in Tibb to rejuvenate.
Day 8: Tibb to Shingra Koma | Drive from Shingra Koma to Leh
Shortly after having breakfast at Tibb, you will head towards Shingra Koma. Taking about 5 hours of drive, wherein you will traverse Gyalpo. In addition, you could also notice paw prints of wild animals like snow leopards, ibex, and foxes.
Upon reaching Shingra Koma, you will spend the time till evening at rest and recollecting the memories created on this trek. You head back to Leh and cover about 65 kilometers in approximately 4 hours of driving. Then spend the night at your designated accommodation.
Day 9: Departure from Leh
After having an early morning breakfast and spending some time with the people you had one of the most adventurous trekking experiences, you can all part ways.
You will get to unpack a bag full of memories that you will cherish for life and the thrilling experience that will stay with you. The feeling of having conquered the most epic Trek in India will surely stay with you.
Best Time To Do the Chadar Trek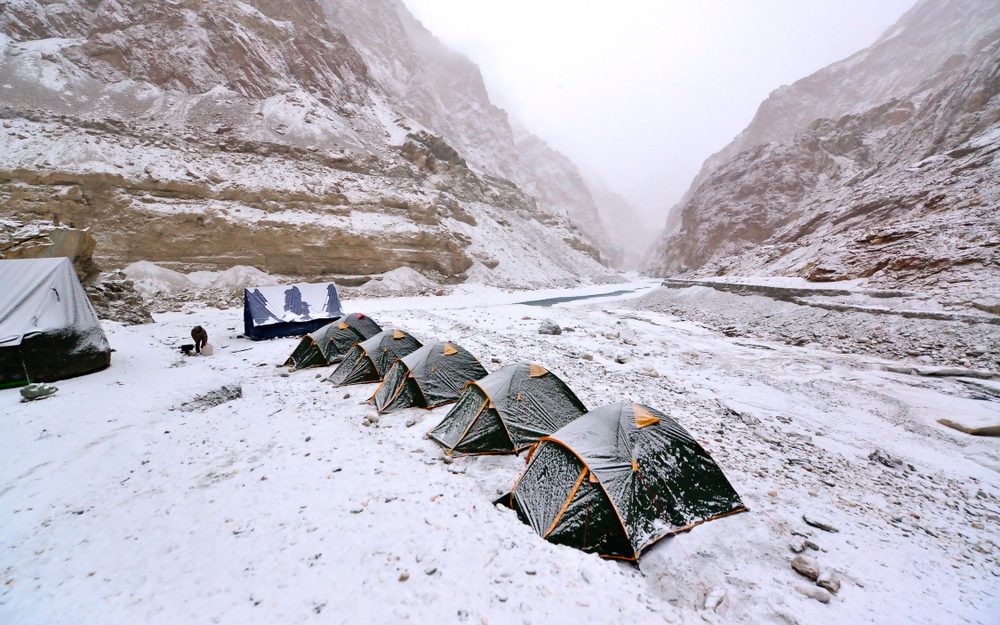 Winter is unquestionably the best season for Chadar Trek. With temperatures reaching -25 degrees Celsius, this freezing weather is ideal as the blanket of ice becomes walkable. The best time for the Chadar Trek is January and February.
This adventurous trek draws trekkers from all over the world. Because of the harsh winter, the Chadar trek is the most difficult winter trek in India. Additionally, one of the best winter treks in the Himalayas, this Chadar trek guide will help you navigate through it.
How to reach the base camp of Chadar Trek?
The base camp of the Chadar trek is in Leh and it is indeed a beautiful start to this adventurous and thrilling trekking experience. Reaching the base camp of Chadar Trek from Delhi, Mumbai, Bangalore, etc is quite convenient and easily accessible as well.
By Air: To reach the Chadar Trek basecamp by air, you will have to book your flights for Kushok Bakula Rimpochee Airport (IXL) in Leh which is the closest airport.
By Train: To reach the Chadar Trek Basecamp, The nearest railway stations to Leh are the ones in Pathankot, Chandigarh, and Kalka. You may take a train to either of the stations and then book yourself a cab to Leh.
By Bus: To go to Leh by bus, you may board one in your state to the bus stands near Leh such as Bus Stand LBOC Ltd Leh, Leh Bus Union, and Bus Stop, etc.
Chadar Trek Difficulty Level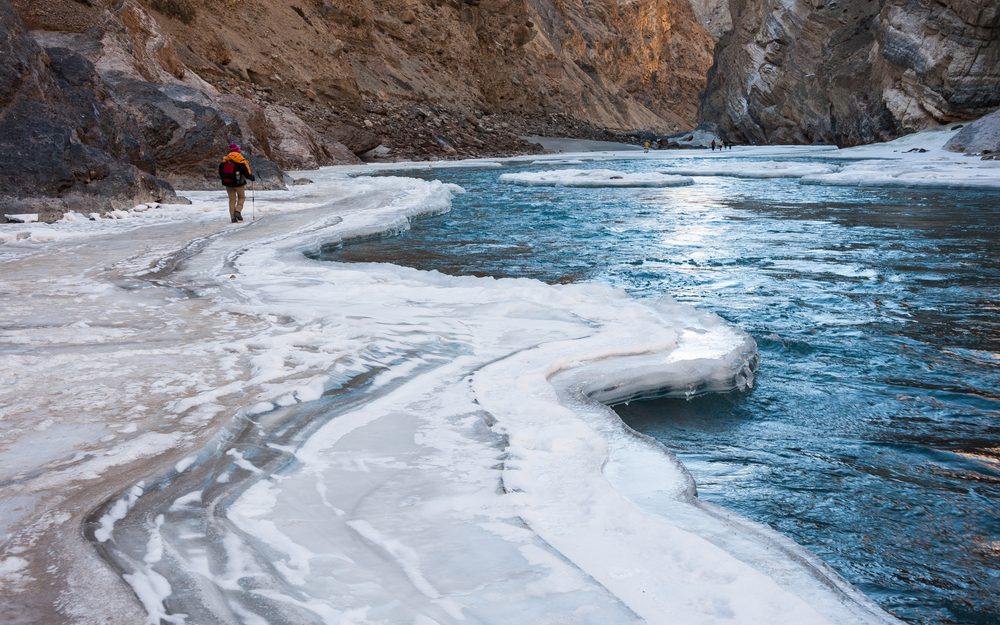 The infamous Chadar Trek is among the most difficult treks in India. Chadar trek falls under the difficult category when it comes to treks in India. With the temperature dropping to -25 and the harsh climate conditions it makes it a difficult yet adventurous trek to embark.
The length of the Chadar Trek is about 65 kms, with an altitude of 13,000 feet above sea level. These factors along with the climate make up for challenging trek conditions that trekkers surpass and adventure seekers love. In our Chadar trek guide, we wanted to prepare you for all that awaits.
Additionally, acclimatization to these conditions acts as a major difficulty and barrier in Chadar Trek. However, our Chadar Trek Itinerary includes the first two days of this process which helps you to successfully acclimatize. The journey is strenuous and there would be times when you would like to give up, but all of this is worth it when you complete the trek.
Mobile connectivity in the Chadar trek – Will I get networks in Chadar Trek?
Only postpaid SIMs work in Ladakh. As far as mobile networks are concerned, Airtel and Jio get a decent network in most regions. To add, BSNL gets a good network throughout.
Additionally, you can also get a SIM in Leh which you can buy by showing your passport or voter ID card. Although do note that the SIM you buy here will only work in Ladakh.
However, on the trek, you won't be able to get any network. So do remember to drop in texts and make calls before you start your trek.
Can a beginner do the Chadar trek?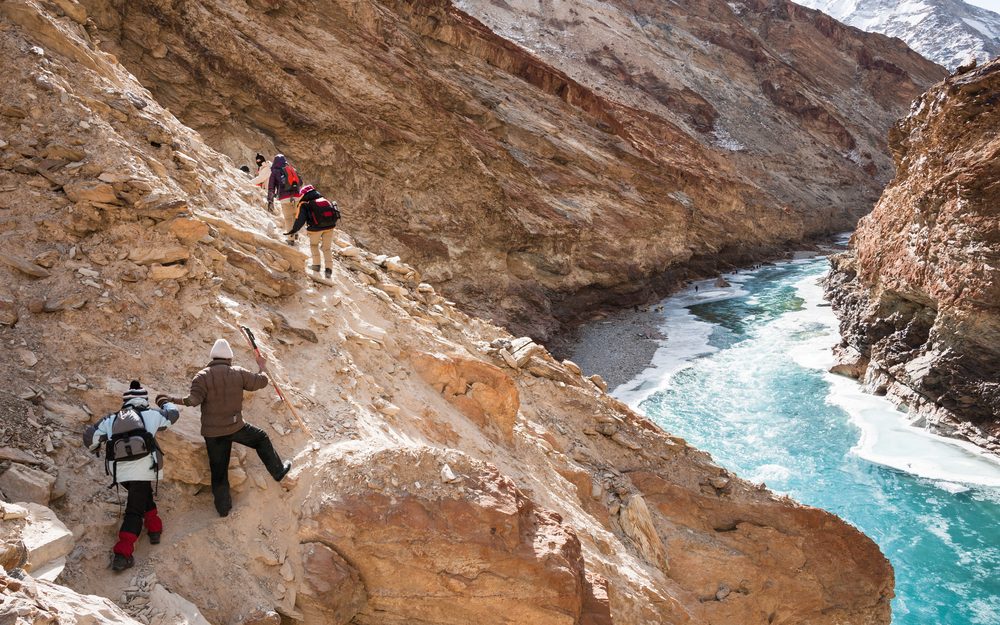 The Chadar Trek is considered to be difficult. Beginners who are new to the trekking community and have found their interest in trekking are not advised to do the Chadar Trek.
Beginners will have to prepare themselves physically and mentally for the trek to make sure they succeed. Reading about the trek, looking at itineraries, watching vlogs, and building a positive mindset will have you prepared mentally for this adventurous trek. But you'll still have to go on a few treks and get used to walking on jagged paths.
Make sure that your fitness level is up to the mark, and that you build your endurance and stamina. Additionally, starting to prepare physically by doing high-intensity workouts, managing your diet, and building your stamina would have great benefits for you.
Trek Essentials – What to pack for Chadar Trek?
In our Chadar Trek guide, we would recommend you the necessary items that you should pack. Being fully prepared with the items helps you to ensure that you are prepared for everything that you may come across.
Some of the trekking essentials for Chadar Trek include:
A trekking pole
Gumboots
Trekking shoes
Poncho
Water-resistant pants
To add, Pack all of these in a backpack of at least 60-70 liters. Don't forget to keep an insulated water bottle, a sleeping bag, and a box full of medicines.
Next Read: Winter Trek Essentials
That's a wrap for the Chadar trek guide, as we have unfolded all the essential information about Chadar Trek along with an ideal trek itinerary. Join us to experience the ultimate do-or-die trek.