Gaumukh Tapovan is not just a trek, it is a journey of belief, perseverance and dedication. It is a place where spirituality, adventure and peace entwine together to form the trails that lead to the origin of the Ganges.
Perched at 14, 600 ft in the Garhwal Region of Uttarkashi, Gaumukh Tapovan is considered to be the holy grail for trekking enthusiasts and a revered pilgrimage site for those who dare to embark on this arduous yet gifting adventure.
For hundreds of years, millions of devotees have embarked on a day's journey to Gangotri which is considered as the starting point of the river Ganga, however the actual origin lies at the base of the Gangotri Glacier.
In this travel guide, we have listed down all about why this trek takes you one step closer to divinity and how you can conquer it easily. Read Away!!
The Ganga is not just a River, it is the Soul of India.
The Ancient Story of Gaumukh Tapovan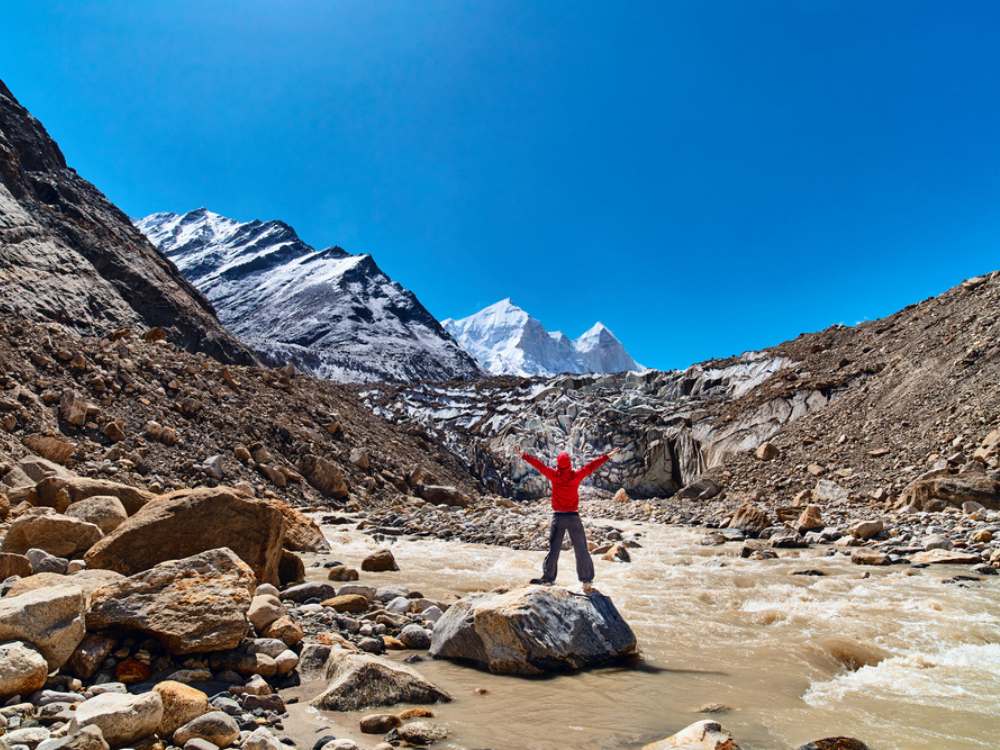 Thousands of years ago the land of Kosala faced the wrath of Sage Kapila whose curse brought upon severe drought and famine, killing thousands. In an attempt to save his kingdom and bring salvation to his ancestors, King Bhagirath, descendent of King Sagara embarked on a quest to bring the celestial Goddess Ganga from heaven to Earth.
He knew that the sacred flow of River Ganges would restore back his kingdom and wash its people of all humanly sins. For years, he prayed to Lord Brahma, the creator of the Universe who directed him to seek guidance from Lord Shiva. Lord Shiva who is known for his benevolence, upon seeing Bhagiratha's unwavering devotion and dedication agreed to help him by locking the Ganga in his matted locks.
However, it was known that Ganga's ferocious power could not be contained and would bring massive destruction on Earth, so Bhagiratha prayed wholeheartedly to the Goddess to descend gently.
Pleased with his devotion, the Goddess descended from the heavens and landed on the mortal land at Gaumukh, the glacier-shaped like a cow's mouth, which is the origin of the Bhagirathi River.
From here, she flowed through the rugged terrains of the Himalayas, blessing people for thousands of years. Till today, it continues to be a symbol of purity, divinity, and a source of life for countless people across the country.
Let this guide give you a virtual tour of what awaits you. Keep Reading!
What is the Gaumukh Tapovan Trek?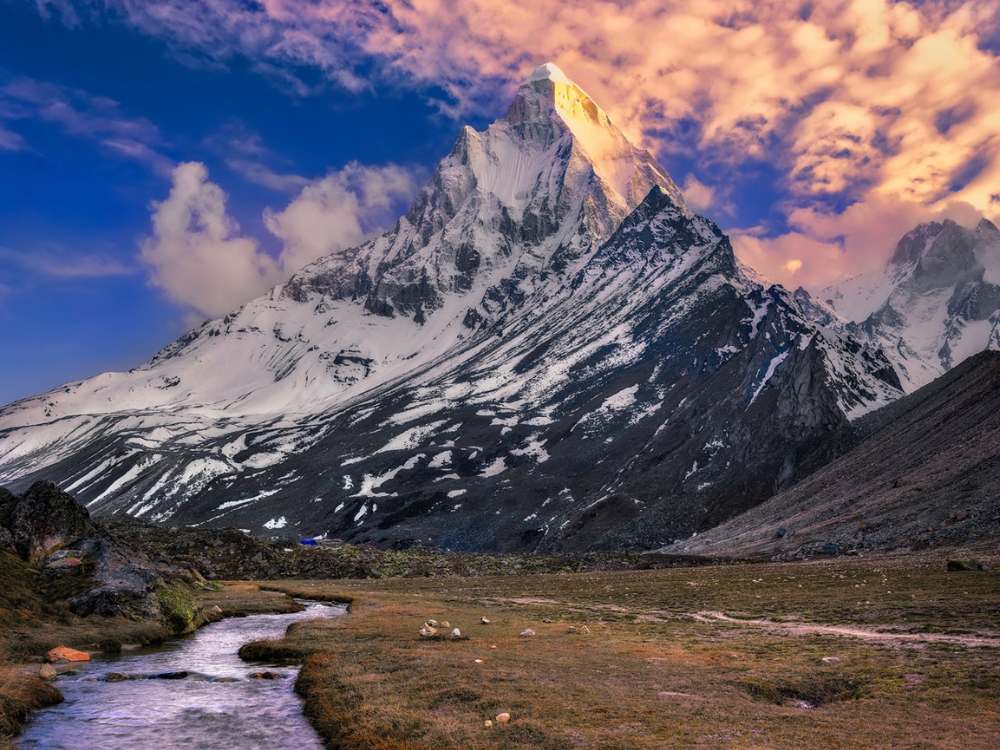 The Gaumukh Tapovan Trek is an all encompassing voyage set in the Gangotri National Park with Mt. Shivling and Bhagirathi Peaks being the most prominent mountains that keep you company throughout. The trail snakes through lush green valleys, stunning landscapes, steep ascents and finally lands you at the terminus of The Gangotri Glacier – Gaumukh.
It is where the Bhagirathi River comes to life which is the primary source of River Ganga that bestows life upon the entire nation with its sacred energy and unwavering raw power.
This is a trek for the brave hearts, nature enthusiasts and spiritual seekers who seek the extraordinary in life. The trails are a mix of steep ascents, long meadow walks, boulder crossing and tough climbs that reward you with not just beguiling views all along the way but also a sense of satisfaction and achievement.
Difficulty Level : Moderate
Altitude :14,600ft
Trek Length : 46 km
Duration : 8 Days
READ MORE ABOUT THE ITINERARY : HERE
Gaumukh Tapovan Trek Route Map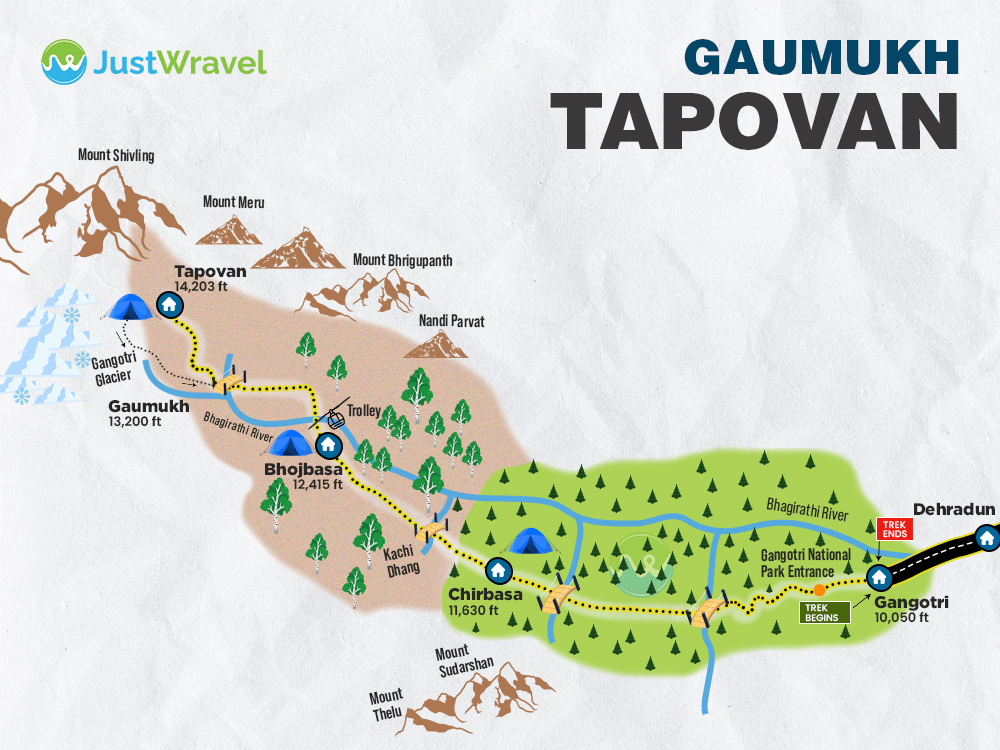 Short Itinerary of Gaumukh Tapovan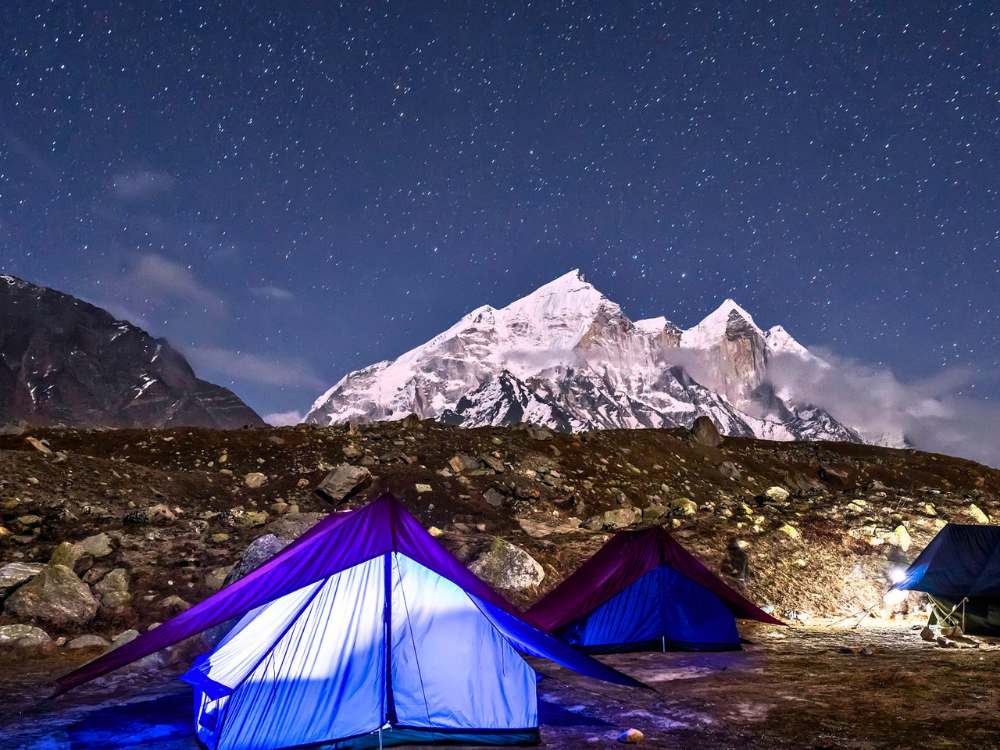 Gaumukh Tapovan is a 8 Day trek that starts from Gangotri Village and takes you through a cluster of quaint villages, dense jungles and slowly rocky terrains around the Gangotri Glacier.
The trek is an amalgamation of easy walks and climbs gradually ascending up with parts where you would need to climb boulders, cross rivulets and finally reach at the base of Mt. Shivling and Bhagirathi Peaks. For a long stretch, the Bhagirathi River flowing ferociously keeps you company, the sound of gurgling water and each step beckoning you closer to the Great Himalayan Peaks motivates you to keep going.
When you reach, you are bestowed with an ultimate level of bliss and satisfaction as in a place as sacred as Gaumukh, tranquility is bound to prevail.
Here is a brief Itinerary of the Gaumukh Tapovan Trek –
Day 1 : Dehradun to Gangotri Village (241 kms, 8 hours)
The journey begins from Dehradun Railway Station where the group assembles early in the morning and takes their time getting to know each other. At around 8am we set out on a road journey to Gangotri traversing the surreal sceneries Garhwal Uttarakhand has to offer.
On the way we will be crossing many known towns of Uttarakhand like Mussoorie, Tehri and the gorgeous Harsil Valley. The 8 hour drive is soul satisfying and mingles up your excitement for the upcoming days of adventure.
Day 2 : Acclimatization Day in Gangotri
Gangotri is one of the char dhams and has been a popular Hindu pilgrimage site for hundreds of years. It is a town settled by the Banks of Bhagirathi river that meets Alaknanda in Dev Prayag to form the Ganges. Perched at an altitude of 11000 ft and cradled by snow clad Himalayas, glaciers and lush forests, the place's divinity can be felt as soon as you set feet here.
Today, you take some time to wander around this sacred place, visit the Ganga Mata Temple right in the heart of the town and other significant places like Bhagirath Shila and Pandava Gufa. Atleast 20+ hours is needed to get acclimatize to the weather for a safe and comfortable trekking experience.
Day 3 : Gangotri to Chirbasa Trek ( 9kms, 6 hours)
Today you start your first day of trek from Gangotri and head towards Chirbasa, the first and most bewitching campsite. The walk is easy at first with slight inclines and takes you through the Gangotri National Park, unraveling an abundance of rare flora and fauna that adds a splash of color to your trip.
As you keep walking, the Sudarshan Peak comes into full view and tiny streams and the sound of water keep you company throughout.
Day 4 : Chirbasa to Bojhbasa Trek ( 5kms, 3 hours )
The next morning we start our trek to the 2nd campsite, Bhojbasa. Today's trek is comparatively easier as the valley opens up and there's wide stretch of land to walk upon, run and just overall enjoy the trekking experience. The scenery now looks absolutely stunning as you can see the canopies fading in the background and the Snow Clad peaks becoming clearer as you keep walking.
The silver birch trees, glimmering river and clear blue skies make the entire scenery look like a carefully stroked painting. Upon reaching, you get to witness a truly beautiful sunset and spend the night resting and preparing for the next day.
Day 5 : Bojhbasa to Tapovan ( 9kms, 7 hours )
Today you trek to Tapovan – a wide stretched almost barren meadow that holds a great significance in the Hindu Mythology.
The trek to Tapovan is slightly more difficult than the last day but the views of the peaks and the very aura of the place makes you forget about the arduous journey as your mind gets calmer with every passing step.
Tapovan allows you to capture panoramic views of vast stretches of land, rivers flowing right through them and Mt. Shivling hanging in the backdrop as every step gets you a little closer to divinity.
Day 6 : Trek to Gaumukh ( 9kms, 6 hours )
Waking up to azure sunrises with Mt. Shivling glowing in bright golden is a moment that will be etched in your heart forever. As we begin the trek to the Glacier, the trails become harder to climb as there are huge boulders and rocks that need to be crossed to reach the origin of the river.
After a few hours of arduous climb you can feel the freezing cold wind hit your face, giant peaks visible from toe to head and a sense of nirvana taking over you. The glacier walk is slightly tricky and difficult, however, with teamwork and dedication, you can easily cross it.
As you approach Gaumukh, you can actually see the gigantic Glacier shaped like a cow's snout from under which the river gurgles its way to the lands. Witnessing this miracle with your naked eyes and just soaking in the entire scenery is undeniably the greatest feeling.
You can sit and meditate here for a few minutes but it is recommended that you do not stay for too long to avoid health issues. This day, you experience the true power of the Himalayas and how sacred some places are, the energy here is bound to heal parts of you and make you feel just so invincible.
Day 7 : Bojhbasa to Gangotri Trek
After spending a glorious night under a starry sky and to have witnessed the origin of Ganges is an incredible feeling. With that feeling in our hearts, we begin our descent down to Gangotri trekking through similar routes and stopping every now and then for a few minutes to look around and feel truly humbled to have experienced the extraordinary.
The trek can get tricky at many points as you have to climb down boulders and cross narrow paths, but having felt what you did at Gaumukh, you know it is all worth it in the end.
The river keeps you company throughout the 8 hours of trek down, find some time to dip your face in the holy water and just sit and meditate for a few minutes. Later at night once you have reached, treat yourself to a soulful dinner and take rest.
Day 8 – Gangotri to Dehradun
Today marks the end of a beautiful journey. Waking up in the bustling town of Gangotri you reminiscence about the moments spent trekking in wilderness and with a heavy heart yet loads of memories start your drive back to Dehradun.
The drive is without a doubt a scenic one, watching rivers flow through valleys, countless small waterfalls, quaint villages and the holy confluence of Alaknanda and Bhagirathi at DevPrayag.
SUGGESTED RAED : BEST POST-MONSOON TREKS
WHO CAN DO THE GAUMUKH TAPOVAN TREK?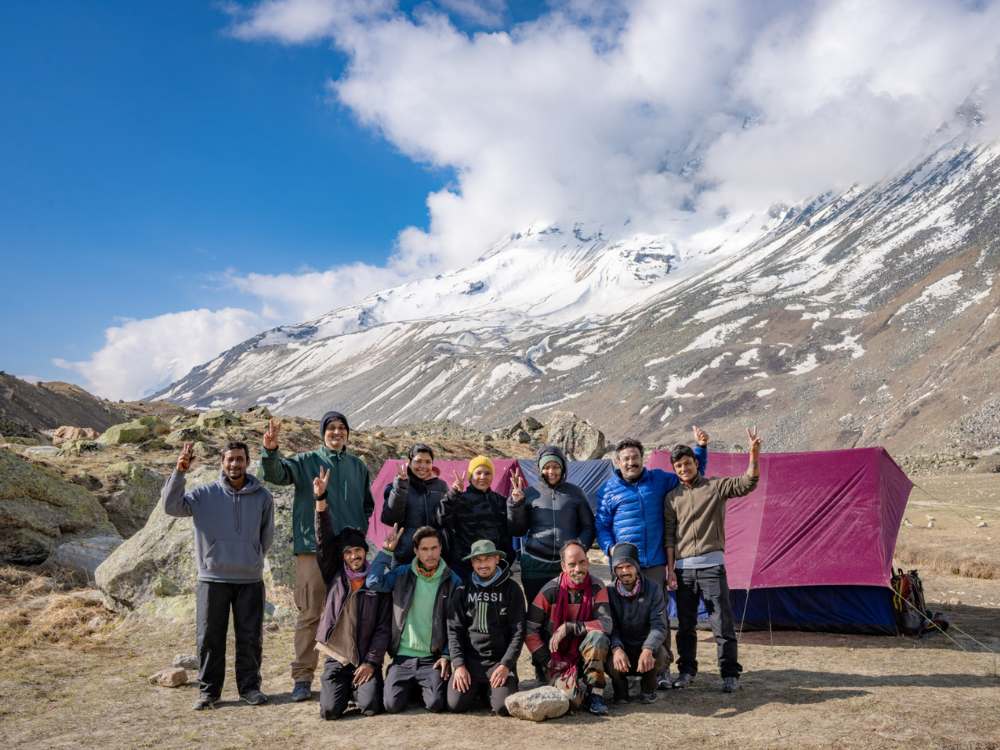 The Gaumukh Tapovan Trek is of Moderate – Difficult level because of the altitude, long climbs and tricky glacier walk as you approach Gaumukh. One must have prior experience in Trekking to do this trek with ease. However, if you are a novice trekker, you can still complete this trek with dedication, motivation and under the guidance of an experienced trek lead. There are hundreds of people who experience the Ganges at its source and these people are not travelers but rather devotees. It is the zeal that burns inside them that keeps them going regardless of the difficulty.
The trek is at an elevation of 14,600 ft and the temperatures drop to 1-2 degrees at night. If you have trekked at similar altitudes before, the weather will not be too uncomfortable for you.
For beginners, it is recommended that you train for at least 3 months to conquer this trail with ease and comfort. Some of the very basic preparations you can do is –
Stamina Training
Running around 4 kms per day
Long Walks
Building Strength Core
This trek also requires you to carry a backpack that consists of all your necessary items and thus, you need to be physically fit to complete this trek.
It is essential that you understand the trails that you are going to walk upon for a safe and rewarding trekking experience. Places as sacred as this one requires one to be aware of the fact that this is not just a trek you do for fun but one that elevates your overall perspective on life. One shall be physically fit enough to not just have a surreal experience but also help other members of the team to have the same.
HOW TO REACH GAUMUKH TAPOVAN?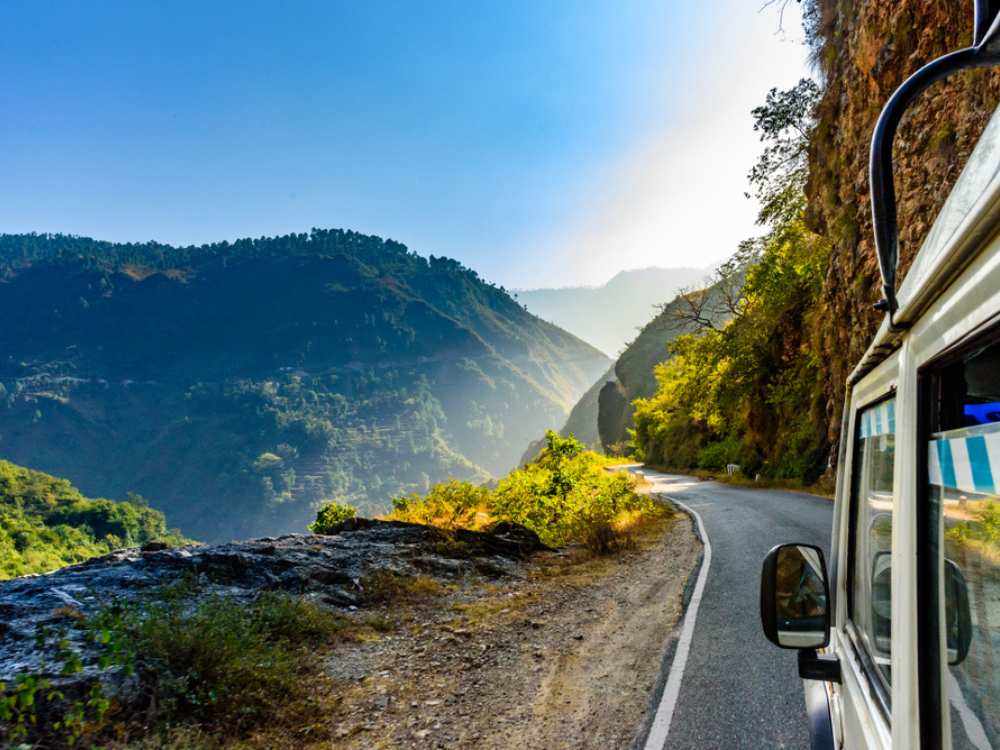 The Gaumukh Tapovan trek starts from Gangotri, a small town in the heart of Garhwal Uttarakhand and is easily accessible via road. If you are traveling from North India, you can reach here by road and if you are traveling from other states of India you'll need to take a train or flight to Delhi / Dehradun first.
By Road – Dehradun is around 250 kms from Delhi and can easily be reached within 6 hours. Best way is to travel overnight via Car or Bus and reach Dehradun early in the morning from where you can take yet another bus or taxi to Gangotri.
Delhi – Dehradun – 241 kms, 6 hours
Dehradun to Gangotri – 236 kms, 8-9 hours
By Flight – The nearest airport to Gangotri is the Jolly Grant Airport in Dehradun. One can find consecutive flights flying from Delhi – Dehradun. Further which, you can take a bus or cab to Gangotri.
By Train – The nearest railway station is again the Dehradun railway station. There are a handful of trains that run from all over India and drop you here from where you can easily find local buses and taxis for Gangotri.
To have a hassle free trip, it is recommended that you plan at least 2 months ahead and book all the necessary tickets to avoid any last minute worry and have an amazing trip.
THE BEST TIME TO DO THE GAUMUKH TAPOVAN TREK?
August – October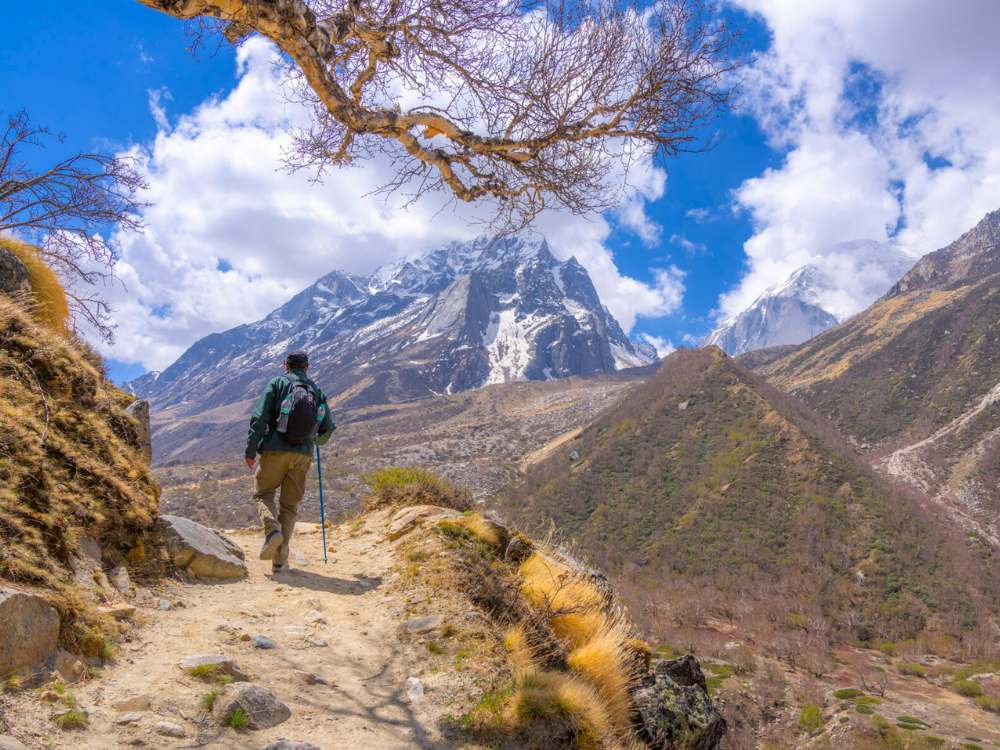 The Gaumukh Tapovan Trek looks the most colorful during the post-monsoon months, making it the best time to visit. Once the rain has settled and the roads are safe to travel, you can witness a mix of greenery and amber shades that paints the valley in a cascade of colors.
During these months, the skies are mostly clear, giving you the chance to stargaze almost every night from the camps. The best part is not just that but also the fact that the Bhagirathi River looks clear blue during these months making the overall scenery look stunning!
The temperature during this time stays around 12-15 degrees in the afternoon and falls as low as 0 degree at night which is pretty normal for such a high altitude trek.
Note : The Post-Monsoon Season for this trek lasts barely 4-6 weeks and by mid October, the first snow falls covering the region in a blanket of snow.
April – June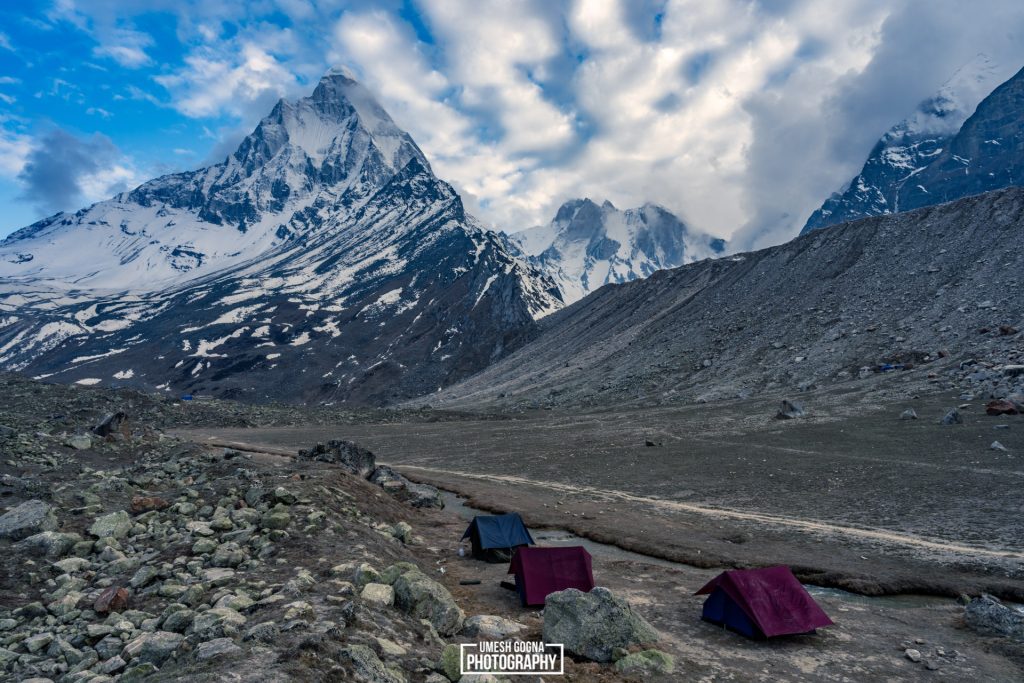 For those who are drawn to snow, Summer is a good time to do the Trek when the entire valley is blanketed in a thick layer of snow making it look nothing short of a winter paradise! There are also patches of the river and streams that stay entirely frozen and you get to cross over them.
This is also a popular time for devotees to embark on this trek as a part of the Char Dham Yatra. As July approaches, the trails become rather difficult to traverse upon and even risky as the melting snow adds huge force to the flow of Bhagirathi River.
Overall, it is recommended that you do this trek right at the onset of Summers or the best, in Autumn when it's the safest and the weather is pleasant.
RECOMMENDED : Valley of Flowers Trek Guide
HIGHLIGHTS OF THE GAUMUKH TAPOVAN TREK
Bhagirathi River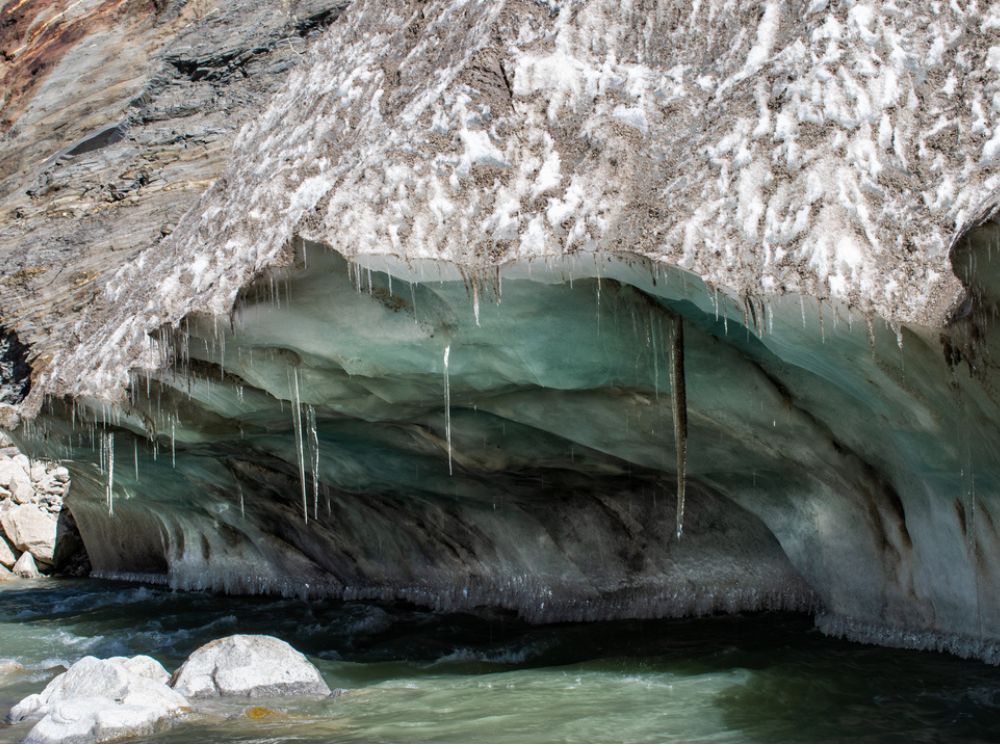 The origin of this River from Gaumukh, the terminus of Gangotri Glacier is considered to be one of the holiest spots for Hindus. It holds a massive significance in the Hindu Mythology as it is believed Shiva unlocked the Ganges from his hair and she landed on Earth at this very spot.
A dip in Ganga is considered to be sacred and it is believed one's sins are washed away in its waters and to take that dip right where the river originates, is nothing short of an extraordinary experience.
Tapovan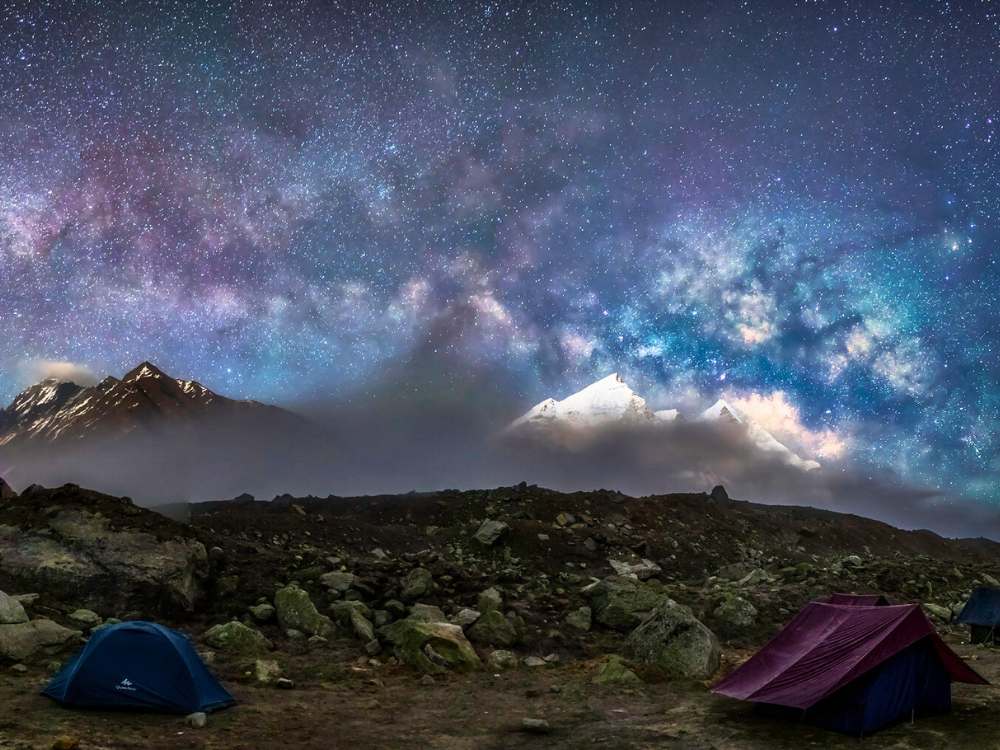 When translated, Tapovan means ' Forest of Mediation' as tapas means 'meditation' and van means 'forest.'.The Gaumukh Tapovan holds a major significance in Hindu mythology and exudes a magic of its own. Perched at the base of Mt. Shivling Tapovan's vast and barren lands till today remain a sacred place for meditation, penance and spiritual awakening for many sages and yogis.
When wandering around Tapovan, you will sense a different kind of calm that seeps into your mind and soul. Tapovan is a place of timeless beauty, where spirituality flows with the wind and mountains like the Shivling, Bhagirathi Massif, Mt. Meru protects this magical land.
Mt. Shivling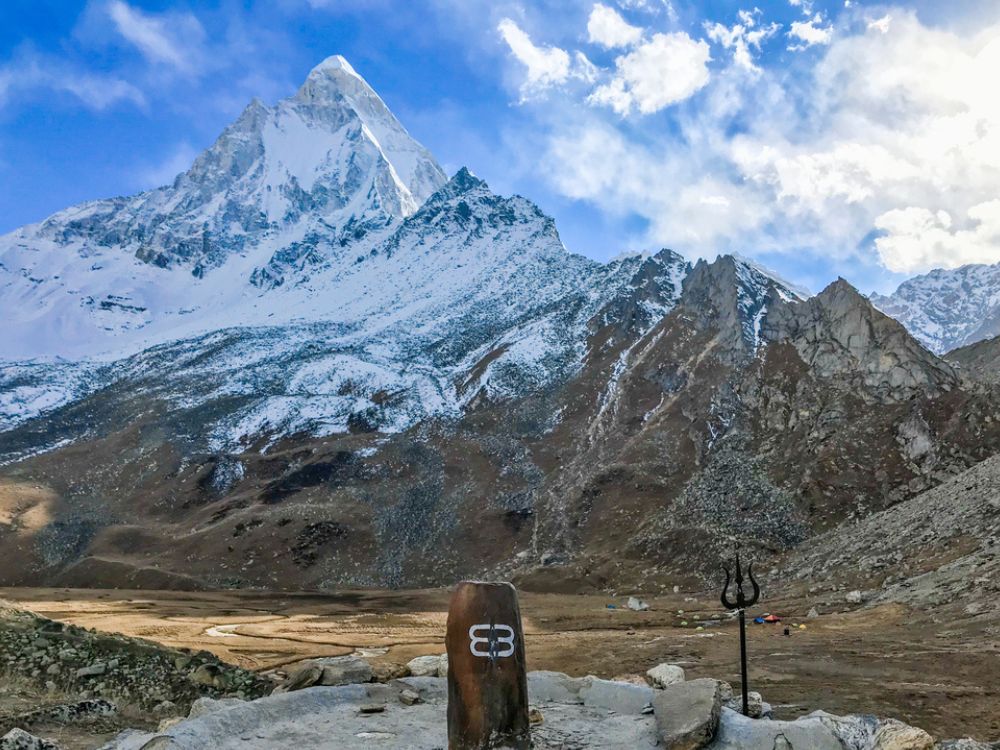 The Great Himalayas are indeed a blessing to this earth and Mt. Shivling is a living example that the beauty of the Himlayas are truly unmatched. Considered to be one of the most beautiful mountains in India, the might of Mt. Shivling is best witnessed from the Gaumukh Tapovan trek.
On this trek, you do not just catch glimpses of the summit but watch it rise right in front of your eyes from toe to head, looking absolutely magical to say the least. As you gaze up, eyes beaming with what is laid in front of you, you feel like a tiny speck in the universe yet your heart is filled with so much fulfillment and gratitude.
Bhagirathi Peaks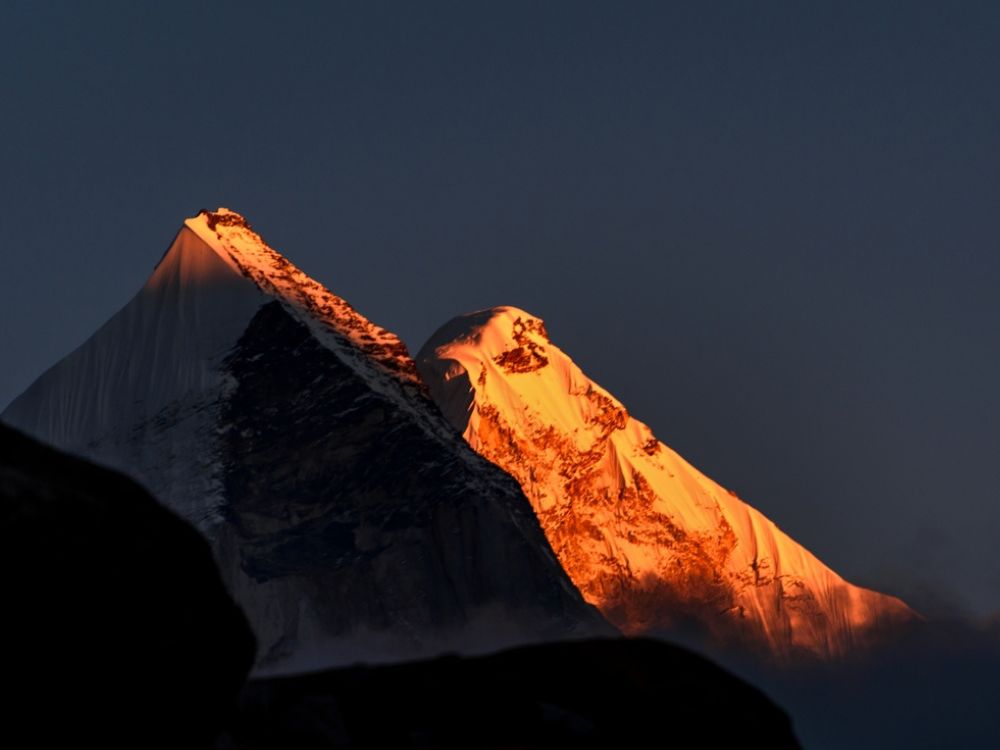 You cannot compare the beauty of one mountain to another, they are unique and hold their very own special significance. Three gigantic peaks together forming a massif, risen right in front of you with the snow laden peaks shining like diamonds, you will be left absolutely awe-struck as every step brings you closer to this massive mountain peak.
Gangotri National Park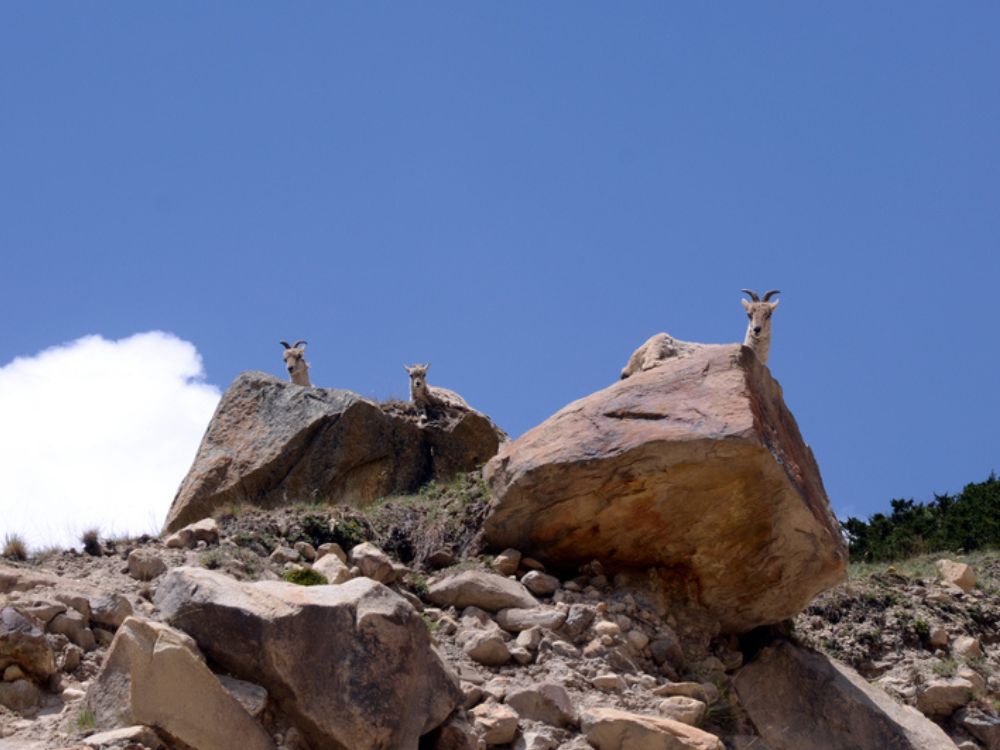 The trail is enclosed by the Gangotri National Park which is one of the highest Wildlife Sanctuaries spread lavishly over 2390 square kms in the Uttarkashi district of Uttarakhand. When walking through the park, you can feel every inch teeming with life as sounds of birds, insects and gurgling water keep you company throughout.
The landscape is speckled with coniferous, deodar, pine and oak trees and snow laden Himalayan Peaks hang high above in the background throughout. It is also home to the rarest species of Wildlife like the elusive Snow Leopard, Bharal, Black Bear, Musk Deers and around 150 species of Birds.
The entire trail that snakes through the National Park lets you witness an abundance of flora and fauna, refreshing and reviving your senses as you go along.
EXPLORE NOW : BEST HIMALAYAN TREKS
LEARN WITH JW!!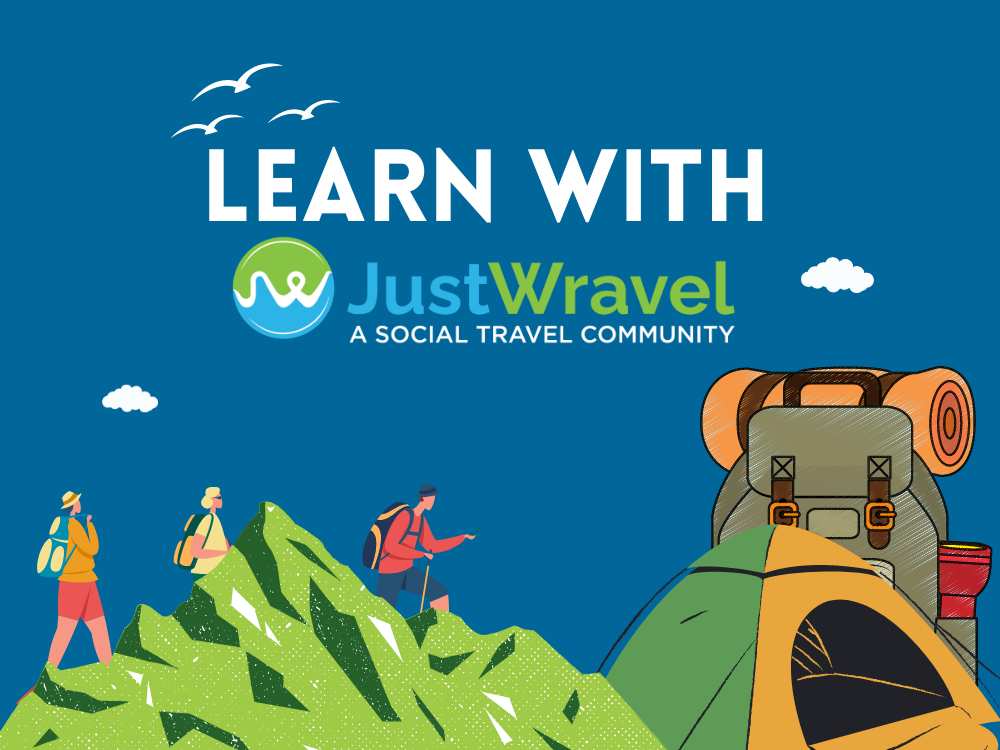 Hello dear readers/adventurers/future explorers,
Remember we started a session called Learn with JW in the previous blog! This is the 2nd episode of the same and we are here to tell you all about how to conquer a trail with ease and confidence! Our aim here is not explaining something complicated or difficult but reminding you of some of the stuff you already knew.
This session is to remember your old school friend who explained to you the whole syllabus just before the exam day. We all remember that information till day. Let JustWravel be that friend…
A lot of people have this misconception that walking faster and taking long steps would help them finish the trek sooner. However, the real trick is taking micro-steps that helps one tremendously in conquering an uphill climb without getting completely exhausted.
Here's how it works –
Control and Stability: When climbing uphill, the terrain can be uneven, and the slope may vary. Taking shorter, controlled steps allows you to have better stability and balance. It helps you find secure footholds and maintain your center of gravity over your feet, reducing the risk of slipping or stumbling.
Conserves Energy: Uphill climbs require more effort and can be exhausting. By taking small steps you reduce the amount of energy required for each step, which helps you conserve energy over the course of a long ascent. This energy conservation is especially crucial for multi-day treks or hikes with significant elevation gain.
Reduces Strain: Larger steps or strides during uphill climbing can put excessive stress on your knees and leg muscles. Micro steps distribute the workload more evenly across your muscles, reducing strain and the risk of injuries such as knee pain or muscle cramps.
Better Breathing: Smaller steps can help you regulate your breathing more effectively. By coordinating each breath with the step, inhaling and exhaling in sync with the movement, you can improve your stamina and endurance during the uphill climb.
Mental Advantage: Taking micro steps allows you to focus on small, achievable goals rather than the overwhelming challenge of a steep incline. Mentally breaking the ascent into smaller steps can make the climb feel more manageable and less daunting.
Safer Descent: Additionally, when climbing uphill, you have to consider the descent later on. Taking smaller steps helps condition your muscles and joints for the downhill journey, reducing the risk of impact-related injuries on the way back.
In the end, just remember that Trekking is not a task but a fun experience..so come what may, enjoy every bit of the trek because it is the journey that matters, not the destination. Happy Trekking!
SHARE YOUR TREKKING TIPS! 

Every traveler has their own style and a few tricks and tips up their sleeves that helps them trek in comfort! Apart from taking Micro-Steps to conquer a trail with ease, what are the other Trekking Tips that you would like to share with your fellow travelers! 

Let us know about your Trekking Experience in the Comment Section below! 
WHICH IS ANOTHER POST-MONSOON TREK THAT YOU CAN DO?
If you are a trekking enthusiast and love the idea of conquering difficult peaks and summits, then Friendship Peak Trek in Himachal is an ideal trek for you!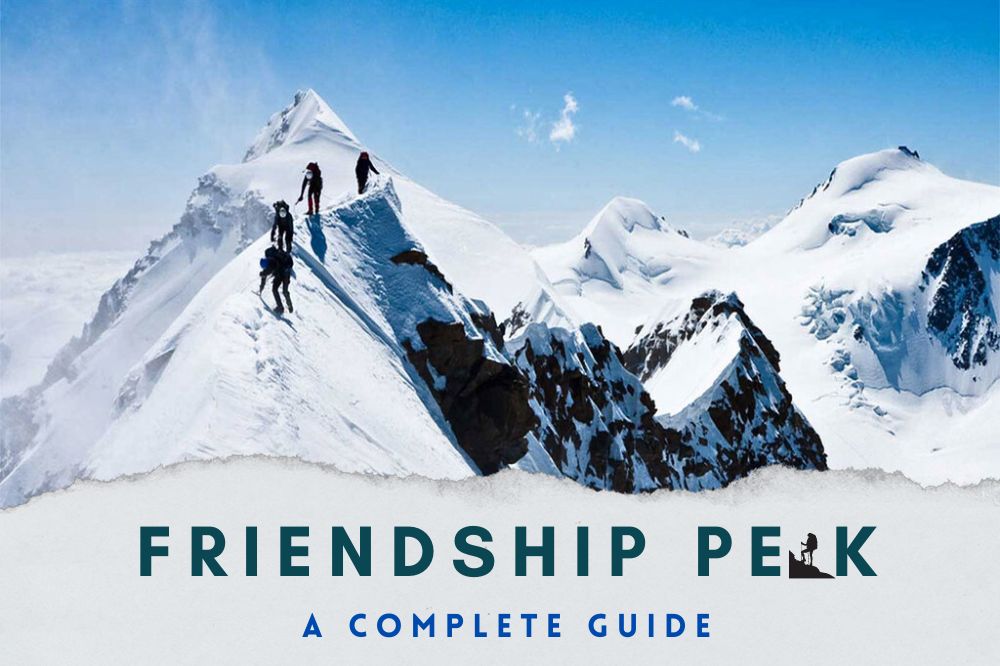 Post-Monsoon landscapes of Himalayas are truly a blessing as nature's thriving and skies are clear. The Friendship Peak Expedition is a difficult yet rewarding summit trek in the Pir Panjal Range that challenges your endurance and stamina. But when you finally go ahead to reach the top, you see the entire world unravel below you and that is a feeling that leaves an indelible mark on your soul.
Here's ALL you need to know about The Friendship Peak Expedition.
FAQ'S for Gaumukh Tapovan
Q1. I have done easy treks before, will I be able to do the Gaumukh Tapovan trek?
The Gaumukh Tapovan trek is a Moderate level 5 Day Trek that takes you through the Gangotri National Park and lands you at the origin of the Ganga River, at Gaumukh. The trek includes long steep climbs, boulder crossing and at points just hiking on steep ascents. So if you have done other treks before, you can easily do this trek with some practice and prior training as it requires one to be physically fit. Remember, that every difficult journey is possible with dedication and if you truly want to embark on this trek, you'd be able to do it!
Q2. How do I pack for Gaumukh Tapovan Trek?
The Gaumukh Tapovan Trek is perched at an altitude of 14, 600 ft which makes it a high-altitude trek. So one is required to carry enough warm clothes along with other necessary items of daily use as you will not be finding any shops once you have started on the trek. Every trekker will be carrying their backpacks that consist of clothes, medicines, toiletries and other basic necessities. Here's a list of all the things you need to pack!
Q3. Can I do the Gaumukh Tapovan Trek with my parents?
Devotees of all age from around the world consider Gaumukh Tapovan as pilgrimage and not just trek and venture into this journey to witness the source of Ganga. So if your parents are physically fit, can train for a few months before the trek and do not have any major underlying health conditions, they can surely do this trek with proper guidance. The best way is to choose a trustable trekking community with a guide who can help them each step of the way and make sure you have a good trekking experience without any hassles.
Q4. Is Gaumukh Tapovan Trek safe?
The Gaumukh Trek is an absolutely safe one whose trails have existed for decades. Earlier, people only used to visit Gangotri but with an increase of trekking enthusiasts in India, many people now visit Gaumukh. The only recommendation here would be to trek with an expert travel guide who is well aware of the region and to travel during Summers or Autumn. It is also necessary that you acclimatize yourself for a day to avoid any symptoms of AMS. One must be fully aware of what AMS is and how can you avoid it. Read about it here.
Being here, feeling the divine presence of the Creator, watching the Highest Mountain Peaks beckon you closer and dipping in the freezing cold water..is the only way to know the true meaning of Peace.