When planning to go on a trip to northeastern's most loved state, a Meghalaya travel guide would help you to make the most out of your trip. Uncovering the terrains of the Abode of clouds will make you fall in love with this place.
Meghalaya is known for its scenic beauty, majestic waterfalls, clear water rivers, local life, and trekking opportunities. In addition, it offers undisturbed beauty owing to the tribal existence here.
From getting to experience being in the wettest place in the world to making a visit to the cleanest village in Asia, Meghalaya will help you tick off some of the best human experiences.
Let's hop onto the things to keep in mind before heading to Meghalaya and making your tropical getaway the best overall experience.
Meghalaya Travel Guide: All that you need to know
Routes: How to reach Meghalaya?
Meghalaya is slowly and steadily opening up for the rest of India. It yet might not be as well-versed as its other seven sisters. Additionally, since it is lately been renowned and people are getting to know about it. People are coming their way to explore the unexplored Meghalaya and witness its beauty.
How to reach Meghalaya by Air: The only airport is in Umroi which is around 35km from Shillong. In addition, there is one in Guwahati that is Gopinath Bordoloi Airport which is 128kms from Shillong.
How to reach Meghalaya by Train: Currently, there are no railway lines within Meghalaya. The nearest one is in Guwahati which is approximately 100 kms away from Shillong.
How to reach Meghalaya by Road: It is one of the most economical ways to reach Meghalaya, and there are various tourist buses available here. In addition, you can find deluxe and regular options.
You can reach your desired destination in Meghalaya from all these spots. A cab can be easily hired from here, and sharing ones are also available.
Recommend Read: All Girls Trip to Meghalaya – Here's what you get to see

Connectivity: Mobile Networks in Meghalaya
Meghalaya is well-versed in terms of its connectivity. With the growing tourism, the government of Meghalaya has aimed to look after connectivity on a priority basis.
As the hill station attracts an enormous amount of tourists its way. You can be carefree about the networks being an issue. So say hello to timely updates on the gram!
BSNL, Jio, Airtel, and Vodafone all of them work quite well. However, there might be on/off in the rural and less developed areas.
Short Itinerary for Meghalaya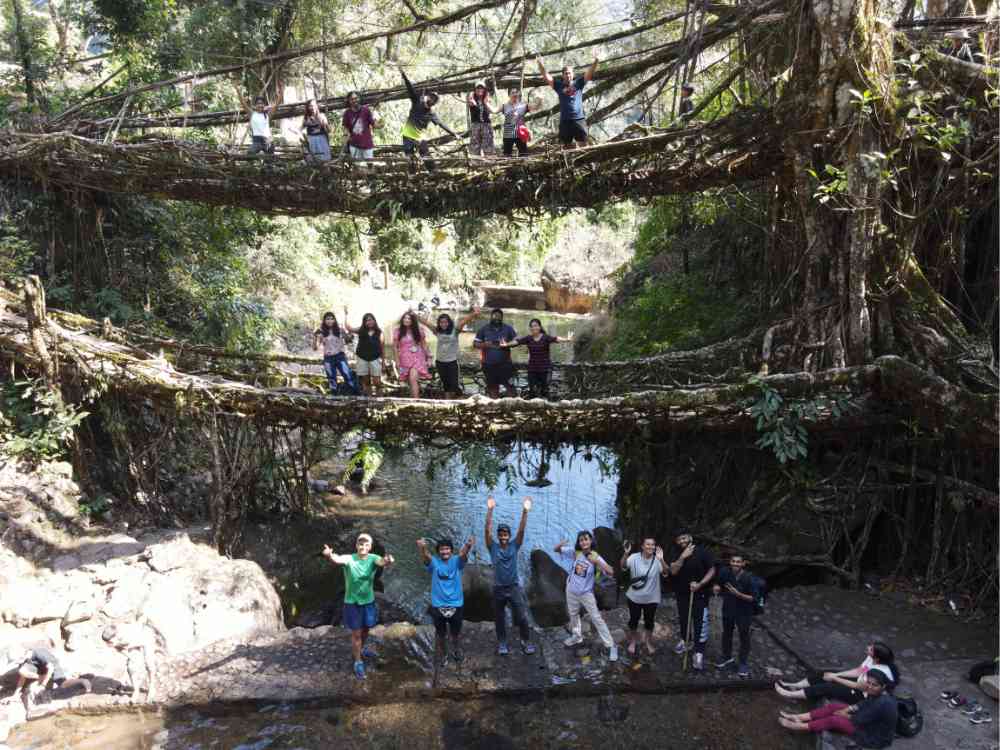 Day 1: Guwahati Arrival | Drive to Shillong (98 Kilometers, 4 Hours)
Day 2: Drive from Shillong to Shnongpdeng via Laitlum (88 Kilometers, 3 Hours)
Day 3: Adventure Activities | Drive towards Cherrapunji (90 Kilometers, 3 Hours)
Day 4: Trek to Double Decker Bridge | Overnight stay in Cherrapunji
Day 5: Drive from Cherrapunji to Shillong (54 Kilometers, 1 Hour)
Day 6: Drive from Shillong to Guwahati via Umiam (98 Kilometers, 4 Hours) | Trip Ends
WANT TO KNOW THE DETAILED ITINERARY FOR MEGHALAYA: CLICK HERE TO READ
Best time to visit Meghalaya
Next in our Meghalaya travel guide, we have the details about the best time to visit this abode of clouds. The best time to visit Meghalaya is November to February. These are the months with the most pleasant weather, with neither harsh winters nor excessive rainfall. You will be able to engage in all activities and adventures to the utmost.
However, if you want to explore the unexplored hidden places in Meghalaya, summer is a preferred idea. The months of April to June are available. Despite the fact that afternoons can be toasty, travelers can still enjoy some vibrant festivals during the summertime.
Next Read: Meghalaya FAQs Answered
Culture: Festivals of Meghalaya
The diverse culture of Meghalaya is always the talk of the town. It has the most colorful and vibrant festivals that one has to be a part of. Each has its own significance and is celebrated in the best way possible. Following are the festivals of Meghalaya:
Wangala Festival: Harvest festival of the Garo community that is celebrated in the months of September to December. It is also known as the 100 drums festivals of Meghalaya
Strawberry Festival: The modern and interesting festival of Meghalaya that is a huge extravaganza in the month of February. Additionally, it promotes the growth of strawberries
Nongkrem Festival: It is the most famous dance festival which happens annually in the month of November. In addition, the major events of this festival involve the sacrifice of a goat by the priest.
Cherry Blossom Festival: Witness Meghalaya in pink at the cherry blossom festivals from mid of November. It can be experienced in the capital and most loved hill station that is Shillong.
Next Read: Festivals of Meghalaya – That you must experience
Souvenirs: What to shop from Meghalaya
Undoubtedly going on a shopping spree has to be the best therapeutic experience. Doing this at a completely new place is a great add-on. In our Meghalaya travel guide we present you our best picks for your shopping list in Meghalaya:
Traditional Khasi items: Khasi community is an ethnic group and one of the oldest tribes. You can get 'Paila' which are traditional necklaces. Additionally, the tools such as 'Wait', 'Tari', 'Sdie', and instruments 'Duitara', 'Ksing', and 'Bom'
Crafts: Locally made crafts make for the best showpieces at your house. Getting your hands on tree house replicas, different crafts made out of Bamboo, Wood Etc. Additionally, paintings and hangings can be found.
Singing bowls: The singing bowls generate radiant energy through the sounds. It can be included in meditation practice as well.
Travel essentials: Things to pack for Meghalaya
Yet another absolutely vital thing to make a note of when planning your trip to Meghalaya is the travel essentials. One needs to make sure that you are prepared for everything, be it the best or the absolute worst of events. Additionally, minimal packing is the way to go.
A handful of quick-dry tees, as well as track pants and joggers, are must-haves. Appropriate clothing protects you from weather changes and keeps you from becoming ill while traveling.
A day rucksack as well as a larger bag containing all of your essential items. When going on a local sightseeing trip, the smaller backpack is ideal because you want to carry the fewest items possible.
Footwear such as floaters or sandals, as well as outdoor shoes. Make sure to pick convenient footwear and carry only the most durable pairs.
Finally, prepare a box with all of the required medications. These consist of the one prescribed by your family doctor, as well as band-aids, Dettol, and medicines for headaches, drowsiness, and so on.
Next Read: Reasons to Visit Meghalaya at least once in your life
Places to visit in Meghalaya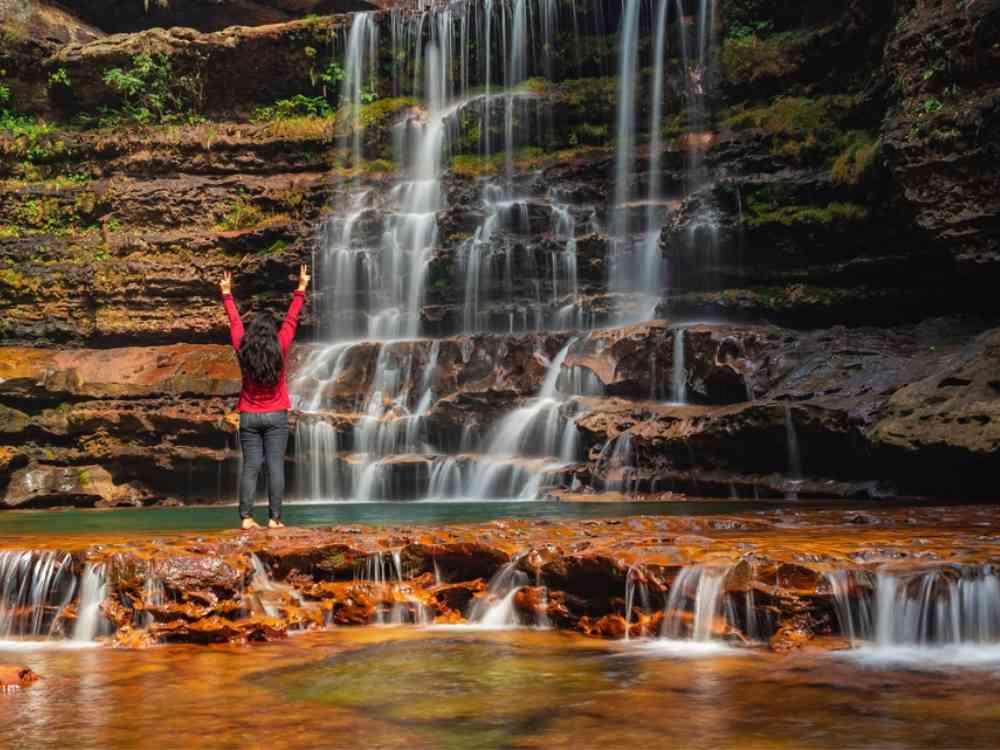 Meghalaya indeed has the best tourist places, and you need to make sure that you don't miss out on them. It is like an exciting package, waiting to be unopened and explored. Let's see the best places to visit in Meghalaya:
Mawlynnong Village: Witness the cleanest village in Asia which is in Meghalaya. Additionally, it is also known as God's Garden because of the flora and fauna.
Nartiang Monoliths: Visit this place right in the west Jaintia Hills district that has significant cultural and historical significance. You can take a peek at Tyrshi Falls as well.
Shillong: The most visited hill station that is also the capital of Meghalaya. Additionally, it is also known as the Scotland of the East because of the remarkable resemblance.
Mawsynram: The place that has earned the title of "wettest place in the world" due to the 11802.4 mm of rainfall that it receives per year.
Recommended Read: Best Places To Visit In Meghalaya – Meghalaya Tourism
Authentic Delicacies: Must-have food in Meghalaya
Feasting on the local food has to be one of the best parts of traveling. When different and unique flavors hit your tastebuds you would have yet another reason to be grateful. Meghalaya has the best of local life, and it continues to preserve its culture.
Doh-Khlieh: It is traditionally prepared pork, that is cooked in curry. Often served as a salad that is seasoned with flavors.
Sakin Gata: A staple snack item that is streamed rice cake. It can be often found in celebrations such as the Wangala festival, Christmas, etc.
Tungrymbai: Prepared by the Khasi and Jaintia people. This is fermented soybeans and has numerous nutritional benefits as well.
Bamboo Shoots: Also known as Bamboo sprouts, these are edible shoots of bamboo. They can be found easily in Meghalaya.
Safety: How safe is it to visit Meghalaya?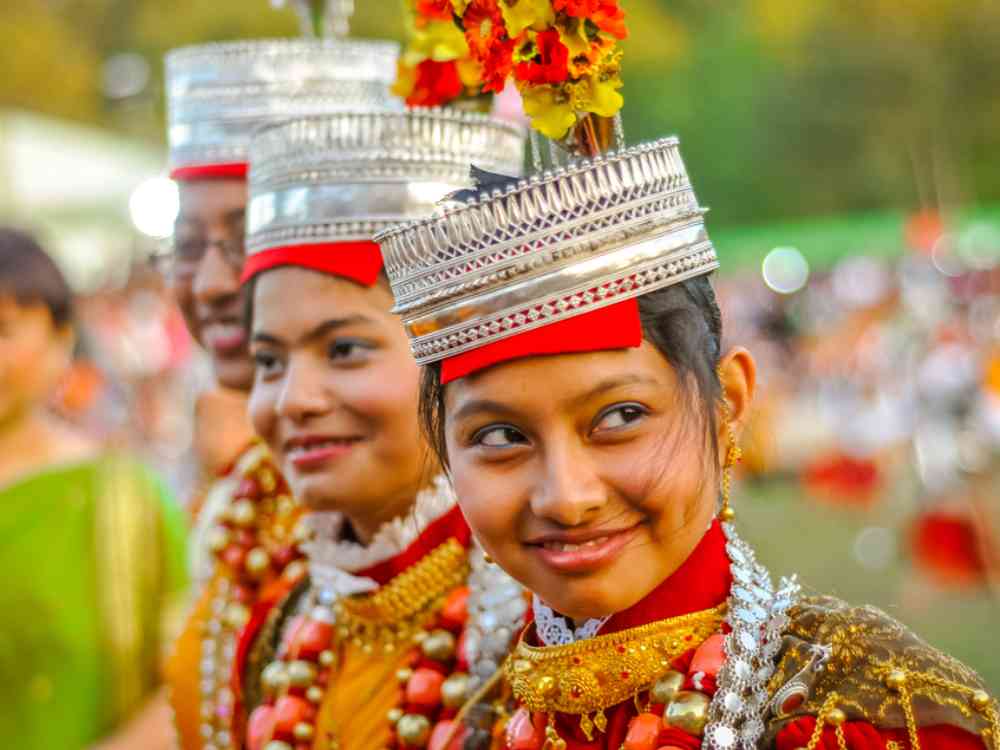 This is one of the most common concerns that need to be addressed in our Meghalaya travel guide. It is one of the safest places to visit in India. Undoubtedly, the people of Meghalaya are very attentive and are willing to help in any way they can. Travelers who identify as Women can also feel secure about their safety.
According to other female travelers, it is a modern, non-judgmental environment that values and respects women. Additionally, women in Meghalaya are culturally and economically empowered, as they have a large stake in family affairs.
Nevertheless, one has to be careful not to get into trouble by messing with the tribal community, disgracing the local culture, and being cautious when speaking with taxi drivers. Because taxi drivers have a strong union, it is likely that others will refuse you a taxi if you get into an argument with someone who disrespects you.
Suggestive Read: Tawang Travel Guide
FAQs
Q1. What is the official language of Meghalaya?
This might surprise you, but English is the official language of Meghalaya, and it is widely spoken and understood throughout the state. However, knowledge of the local language, Khasi, and Garo, is also recommended to have a deeper understanding and enjoy more of the local culture.
Q2. Is Meghalaya a safe place to travel?
Absolutely, Meghalaya is considered one of the safest places to travel. Meghalaya is generally safe for travelers, but it is important to take normal precautions, such as wearing comfortable shoes, carrying extra water and snacks, and watching out for potential safety hazards.
Q3. Are there any special customs or etiquette that tourists should be aware of in Meghalaya?
Yes, there are some cultural and etiquette norms that tourists should be aware of while visiting Meghalaya. It is important to be respectful of local customs and traditions, such as refraining from touching the head of a local, removing your shoes when entering a local's home, and avoiding taking pictures of people without their consent.
Q4. Q: Are there any adventure activities available in Meghalaya?

Yes, Meghalaya offers a range of adventure activities for thrill-seekers. You can indulge in trekking to explore the stunning trails and waterfalls, caving to explore the intricate cave systems, river rafting in the crystal-clear rivers, and even camping amidst the serene forests. Meghalaya is also popular for its unique living root bridge trekking experiences.
Q5. What is the best package for Meghalaya?
The best package for Meghalaya is Meghalaya backpacking. The 6-day long journey starts and ends at Guwahati Airport.
Q6. What is the cost of Meghalaya Backpacking?
The package for 6 mesmerizing days is starting from 21,500.
This brings us to the end of our Meghalaya travel guide. Hop on to experience the best Meghalaya trip and unbox all the goodness it has in store for you!