The last bit of winter season and the frosty winter weather is going to end soon. While winter treks in the Himalayas hold its own charm, spring treks are something to look forward to too.
The thawing of snow on the trekking trails and the rise in temperature results in blossoming of wildflowers and meadows. There's so much breathtaking beauty to take in that you would fall short of words to describe it.
India, especially its northern region has some epic spring treks that you can enjoy. We have tried to list the best Himalayan spring treks that you can go for, but better believe us that this list is not exhaustive.
So here are the "Best Himalayan Spring Treks to do"
We start off the Best Himalayan Spring Treks to do from Uttarakhand's Ali Bedni Bugyal Trek. The highlight of this trek probably is that the trekking route leads to "Asia's Largest High Altitude Meadows". If that doesn't get you excited for spring, we don't know what will.
Situated at an altitude of over 11,000 fts in the Chamoli district of Uttarakhand, this trek offers splendid views of Himalayan peaks such as Mt. Trishul and Nanda Ghunti.
Ali Bedni Bugyal trek is a perfect trek for beginners who like a bit of challenge along with the stunning views that come with a Himalayan Trek. The altitude change is not swift which makes it an ideal Himalayan trek for beginners to try.
The best time to go for Ali-Bedni Bugyal Trek would be in summers (April-May-June) when the meadows are in full greenery and this is the time when wildflowers grow.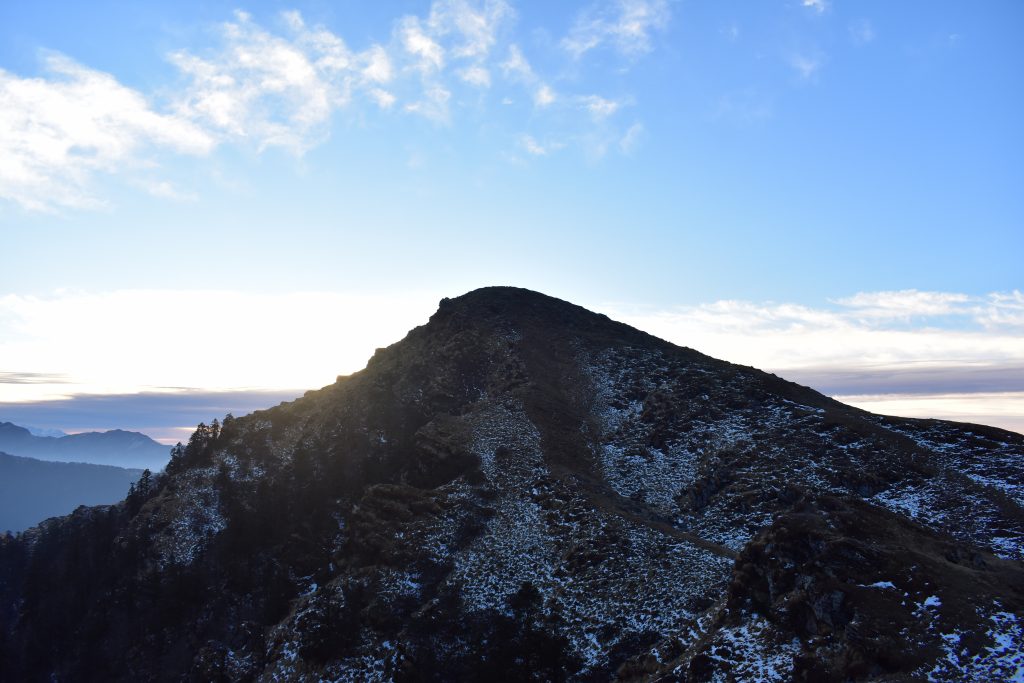 A majestic Himalayan Trek, Brahmatal Trek is best experienced during winter. The frozen lakes and the snow filled landscapes provide an epic visual treat amidst the Himalayas.
What if we tell you that going to Brahmatal Trek in spring is an enchanting experience just waiting to happen?
Following the trekking trail through the Nanda Devi Biosphere Reserve, you unravel beautiful meadows filled with rhododendrons and lush green meadows.
As you move up further during the course of the trek, you will get to see the vast open landscapes and clear blue skies. Once you reach the summit of Brahmatal Lake Trek, you will get a clear view of the majestic Mt. Trishul and Nanda Ghunti.
On your left, in a faraway distance you will see Mt. Hathi Goda and Mt. Neelkanth. All these peaks in close proximity to each other is a sight that you wouldn't want to miss out on.
So if you want to catch some amazing spring laden landscapes at Brahmatal Trek, go during the months of March to early April, as it is one of the Best Himalayan Spring treks to do.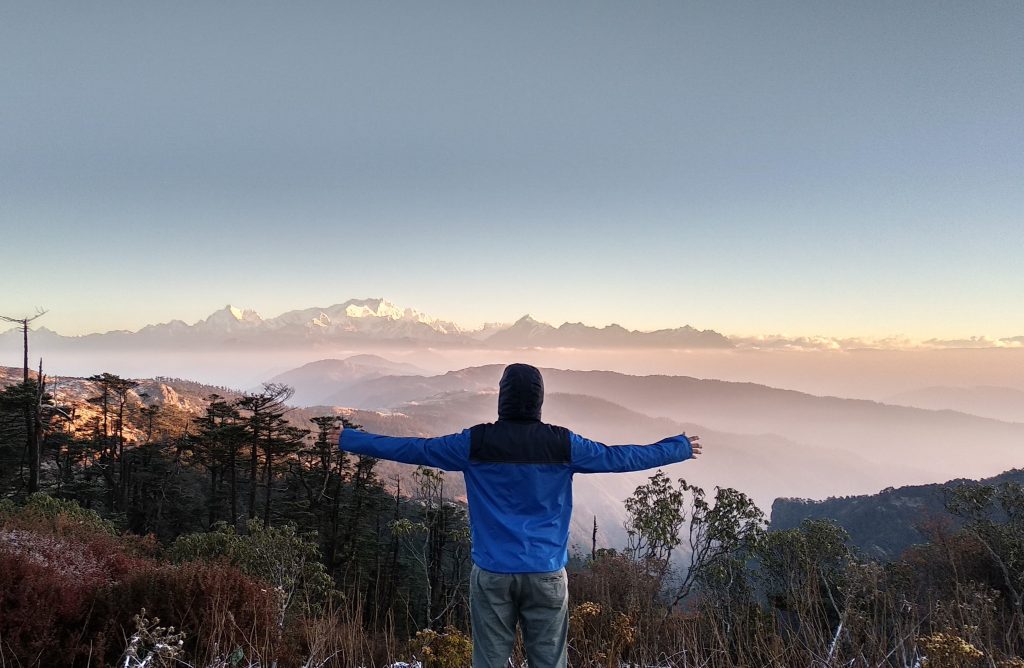 What if we tell you that we'll take you closer to the four of the world's tallest mountain peaks? Would you tag along with us on our Best Himalayan Spring treks to do ?
We hope that you probably would, so let us tell you something more about "Sandakphu Trek".
The northern part of West Bengal is blessed with Singalila Ridge that makes up for some epic trekking trails. If you are going for Sandakphu Trek, you are in for a treat as you would be able to see the four highest peaks of the world here such as Mt. Lhotse, Mt. Makalu, Mt. Kanchenjunga and then the all conquering Mt. Everest.
Apart from the majestic views of these giants, you also are in constant proximity with the Indo-Nepal border which adds a certain thrill to your trekking experience.
As you hike through the Singalila National Park, you would be enamoured with the diversity of wildlife at show, be it the alpine birds, flora or fauna, the inner wildlife enthusiast won't be resting soon enough.
Why are we recommending you to go for this Sandakphu trek in spring? The reasons are many and are hard to ignore. You will be getting clear weather where you can enjoy the views of blue skies and four of the world's tallest peaks.
The trekking trail is lined up with rhododendrons, wild flowers and occasional meadows which provides an interesting foreground to the surreal Himlayan ranges.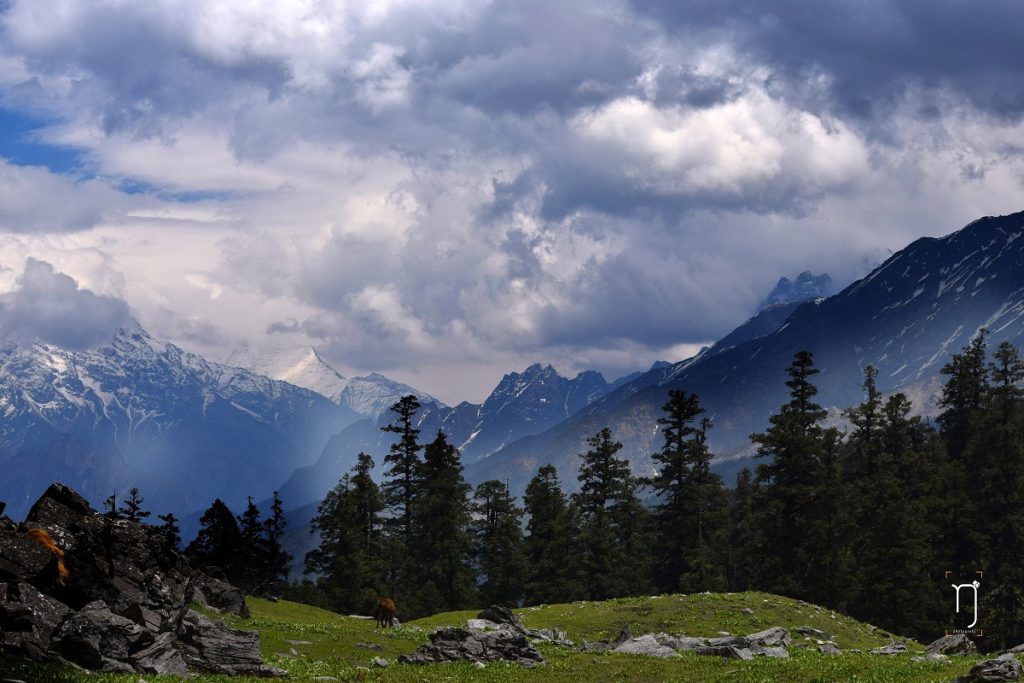 Kuari Pass Trek for the most part is known as a "Winter Trek". A famous trek of Uttarakhand, Kuari Pass Trek must be done if you have some experience of Himlayan Treks and looking to up your game.
Kuari Pass trek starts from the holy city Rishikesh and will take you to Karnprayag and to the villages Dhak, Guling and Khullara.
We would recommend you going for this trek in spring as it will lead you to the unmatched views of Mt. Nanda Devi, which is a 7,816mts peak which is not easily seen from other beginner treks in Uttarakhand.
Other mountain peaks that you will be getting to see are Chaukhamba, Neelkanth, Mana, Kamet, Hathi, Ghodi, Trishul, Nandaghunti and Dunagiri.
During spring season, the oak forests that you walk through on your trekking trail come alive during spring season, rich with a variety of flora and fauna.
The Kuari Pass trek can be done all year round except for the months of July and August, due to the prevalence of monsoon season.
The Lord Curzon's trail in spring can be covered from March to April if you want to experience some beautiful lush green meadows and equally surreal forest trails. These things are what makes Kuari Pass one of the Best Himalayan Spring treks to do.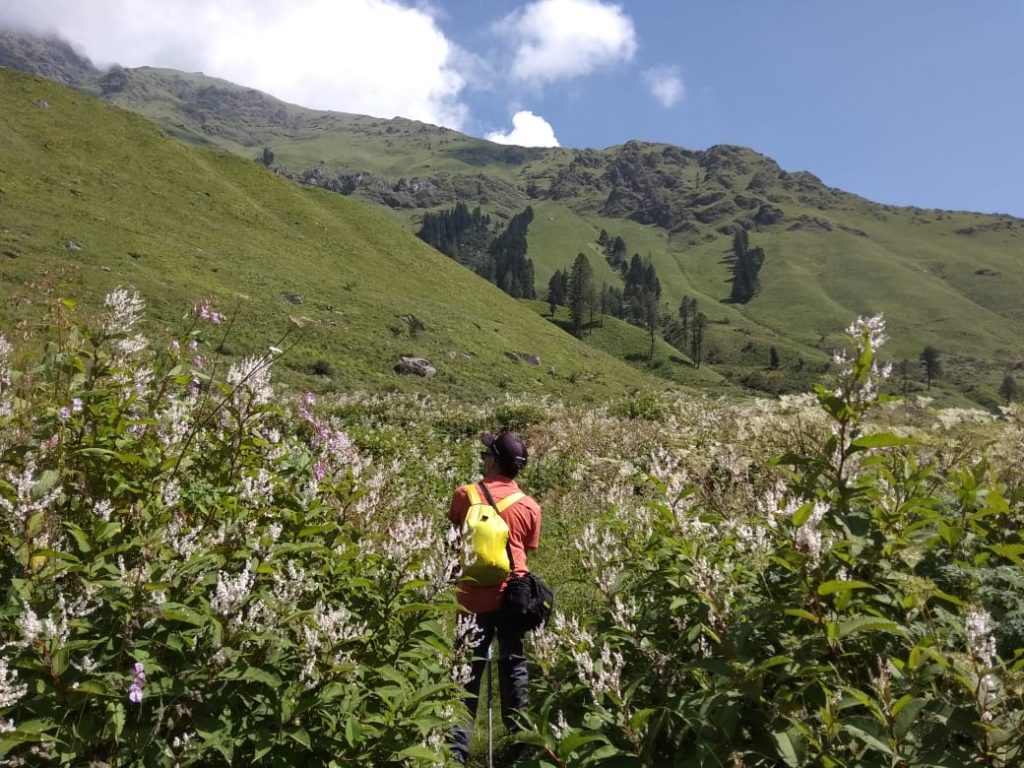 A somewhat overlooked trek in Uttarakhand by the trekkers and travel enthusiasts, Har ki Dun and Ruinsara Tal is slowly coming into the limelight.
For ages, trekkers have been choosing the more popular option, but going on a trek to Har ki Dun and Ruinsara Tal will open up a world of unique experiences for them.
When you go for this trek in spring, you will be experiencing everything that you won't be getting anywhere else. The views include lush green meadows, rhododendrons, wildflowers, streams and the mountain views accompany you throughout the trek.
What makes Har ki Dun and Ruinsara Tal one of the best Himalayan spring treks to do is that during the spring season, the weather remains pretty pleasant which  makes up for an uninterrupted Himalayan trek. The night temperature doesn't drop to sub zeroes, thus making it ideal for beginners to go for this one, looking to escape from harsh temperatures.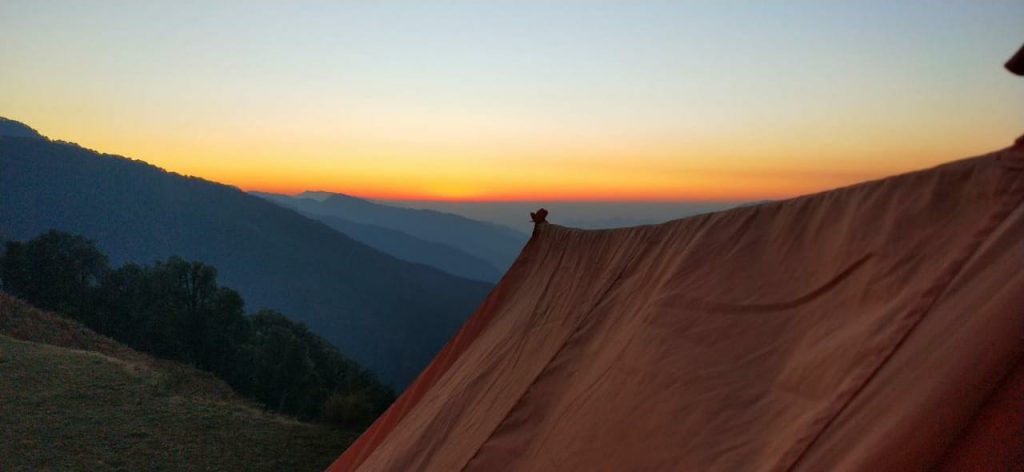 A popular trek in Uttarakhand, Nag Tibba Trek is based out of Pantwari region.
The summit of Nag Tibba's trek is the highest in the Garhwal Himalayas at around 9,915fts. The views from the summit of this trek are immaculate, and you can easily spot mountain peaks such as Swargrohini, Bandarpoonch, Black Peak and in a faraway distance, the magical Changabang.
According to the people and old legends of the place there is a "Nag Devta" or a snake god/deity which resides on the top of the Nag Tibba.
This deity is worshipped by the locals of the place so that Nag Devta can protect their cattle from the attacks of the snakes that reside in the hills.
While trailing on the trekking route, you would come across the "Goat Village".
Goat Village is named so because that village has around 15 houses, which all have goats as their animal which gives them milk and all the animal products necessary for their survival.
The goats there are revered by the locals because of this fact.
We do hope you liked the story behind this famous Himalayan trek. So now when you go for this amazing trek, you have some stories to share with your friends.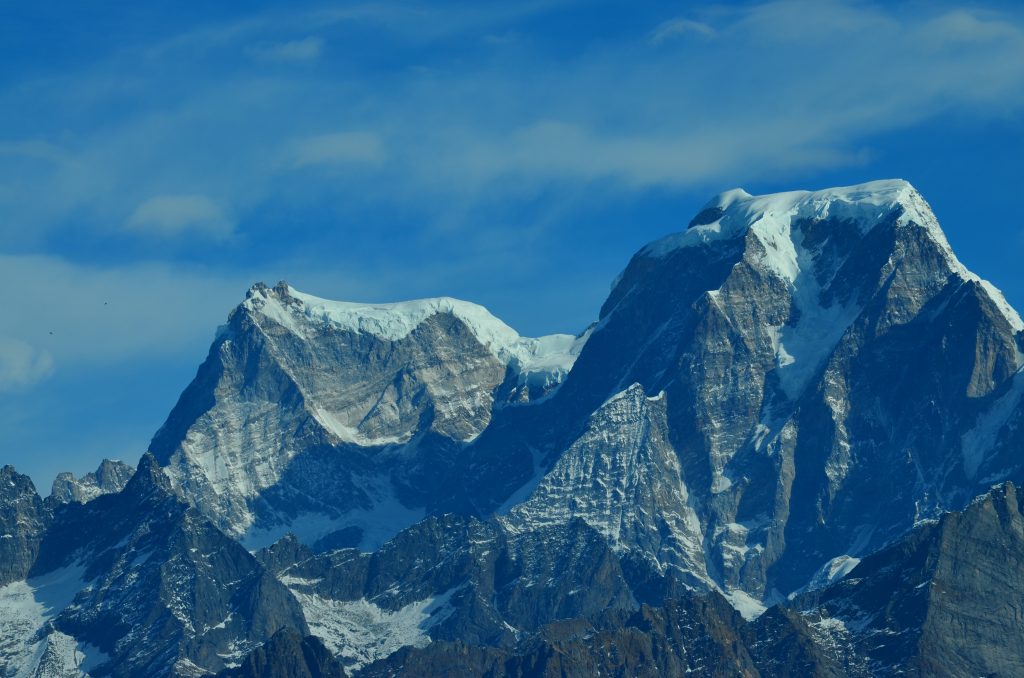 Have you ever dreamt of experiencing a summit climb which is action packed in nature?
If yes, then Pangarchulla Peak Trek is the one for you!
The trek starts from the holy city of Uttarakhand, Rishikesh and on to Dhak and various other villages on the route. This trekking trail follows the trail of Kuari Pass Trek/Lord Curzon's Trail apart from the summit climb, which is the highlight of this trek.
This trek is one of the most challenging treks that you can take as it has all the elements of a challenging Himalayan trekking experiences such as boulders, steep alpine slopes and rough terrains.
The best time to go for Pangarchulla Peak Trek is in the month of April only. The rest of the months, the peak is inaccessible due to the accumulation of heavy snow, making it impossible to summit.
If you go for this trek in March and April window, you will find the trek blooming with rhododendrons and green meadows everywhere, which makes it one of the best Himalayan spring treks to do.
So readers? What do you make of our "Best Himalayan Spring Treks to do " ? Which trek are you looking forward to the most ? Do let us know down in the comments!
Planning for a "Spring Trek " ? Call or Whatsapp us at 88877 80463.
Read our blog on "7 Treks to do this year" to better plan out your "Trek Targets".
For more information related to treks and travel scenarios, trip updates, and the latest developments of India, you can join our Whatsapp group.