Spiti – A Pristine Dream. Where words fail you, musical winds influence you and beauty beguiles you.
Ever wondered how it is to wake up, feel the chill go down your spine and cold in the air envelop you! Spiti Valley is a budding destination for travelers from across the globe. Reasons why you need to visit Spiti Valley? Nestled in the gorgeous mountains of Himachal Pradesh, it is a sight to behold.
What makes Spiti stand out is the enriching magnifique journey that one needs to ensue to get there. Through spell bounding and culturally rich villages, you make your way to the valley.
The Picturesque Route
You have a multitude of access routes & itineraries to reach to Spiti Valley. A picturesque route is from Shimla to Chitkul. En route you get to witness beautiful landscapes along the way.
A mere distance of 50 km from Chitkul, you enter Kalpa. Located slightly above Reckong Peo, a humble abode to the inhabitants of Kinnaur district. Here, you witness the Jorkanden peak and find yourself surrounded by apple orchards.
You can trek your way through Chakka here. A popular hiking trail with views of the valley and the mesmerizing lake.
While Kalpa retains your heart with its solace, Nako will render you speechless. Just at a five hours drive, the landscape enhances to another level. The Nako Lake, which allows you views of the snow-clad mountains is right in the middle of the village.
The Nako Monastery, is well known for its architectural beauty and contrasting interiors. A pilgrimage site for Buddhists, it has a revered history dating back to the 11th century.
You can easily spend a couple days here to explore the offerings of this village. The Chango Gompa is another must visit when you're in Nako.
Five hours from Nako and a mere 5.5 kilometers from Spiti Valley, you reach Kaza. It makes the definition of beauty seem frugal in front of what it has to offer.
Kinnaur Valley is another main access point to reach this tranquil destination. Offering views of water bodies falling prey to the mountains as the backdrop! Kaza is engulfed by mountains and a spread of barren hills or snow-covered paths.
The Monasteries Succumb
Spiti– A Pristine Dream. Where words fail you, musical winds influence you and beauty beguiles you.
Enraptured by the panoramic landscape of Spiti Valley, Buddhist cultures' prominence is abundant. Be it the Buddhist prayer flags, 'mani' stones, the Tibetan monasteries, or the red robes!
The air you breathe is so pure and the sounds that surround you are of the numbness of the valley and the chants in the air. If there is undeniable peace that you seek for, it is here – in Spiti.
Still wondering as to why visit Spiti Valley? Spiti is a hamlet which can only be etched as a memory of a lifetime.
Some of the lesser known, yet most stunning monasteries are all located in this region. Tabo Monastery, located at Tabo is a captivating royal complex. Trekking up the mountains, you witness an astounding overview of the entire monastery.
Another famous Monastery located along the Spiti River is the Key Monastery. Not only does it have significant history, it is also a training ground for Buddhists.
The Dhankar Monastery is constructed at a height of 12,774 feet. Close to Dhankar Lake, it provides you with an incredible view of the Spiti Valley itself. One of the oldest monasteries in the world, the statue of Dhyana Buddha is present in this monument.
The Commute
The opening of the world's longest highway tunnel above 10,000 feet; Atal Tunnel has been a boon. It has made the commute to Spiti more viable when the weather conditions allow the tunnel to remain open.
While public transport from Manali or Shimla is an option for you to reach Spiti Valley. Many travelers choose the thrill of riding a bike and even a bicycle, through the entire stretch.
With the transgression of landscapes that you witness throughout your travel. Having your personal mode of transport will allow you to stop as and when you please. Since the route is scenic, the stark beauty will make you halt every few kilometers.
The Weather Gods
It is known for its extreme weather conditions throughout the year. Yet, the ideal visitation time for a complete winter experience is from October – February. Otherwise, the summer months from April to July are for you to embrace the best of what Spiti has to offer.
Each season is a different sight, however, you need to be mindful of harsh weather conditions. They may sometimes confine your travel plans to halt in the valley itself. Nonetheless, the beauty you witness here, you cannot come across it in your travels elsewhere.
Why Spiti?
Many a time, travelers contemplate between the mountain regions of Leh and Spiti. What one needs to remember is that each has a unique offering that awaits any traveler. Both of them have a magical aura they extend, a more warm vibe due to smaller villages is what Spiti has in store.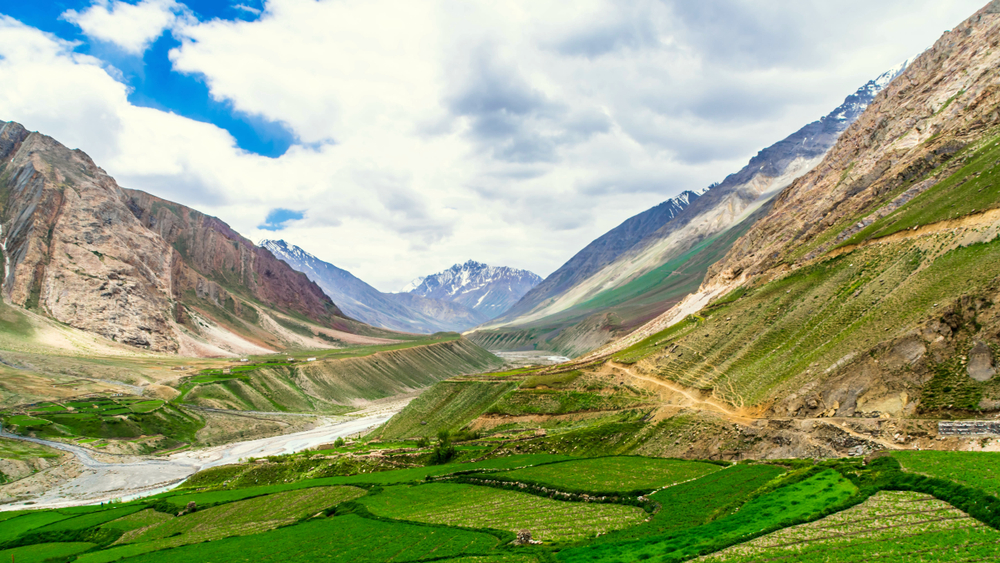 If you thought Spiti only had landscapes and villages, the list of places around it is endless! If you're a nature enthusiast and lover, the Pin Valley National Park is one that you need to bookmark on your list. An abundance of the wildlife ecosystem will keep you engaged through your time here.
There are many treks around here as well, if you wish to bring out the hiking buff in you. Chandratal Lake, at 4300 meters is a wondrous camping spot and hiking trail for you.
You can read all about why do you need to visit Spiti, but you need to experience it to do justice to it.
Dissociate yourself from the hustle-bustle of city life! Rekindle with nature and the mountains to rediscover yourself.