Are you an adventure enthusiast? Do you like trekking? Do you like the exclusive scenic views of hills? Then this post is for you. I mean obviously that is why you are here too. Doesn't mean that if you are not an adventure enthusiast so you leave! Nope, do read the post because by the end of it I am pretty sure you will feel motivated to try some of the must-do treks in Himachal Pradesh.
Trekking is nowadays a trending adventure activity amongst the youth especially. It gives you the thrill, the adrenaline rush and obviously sometimes it is challenging too. Some treks are easy to do, like where u don't have to prepare a lot for but on the other hand some treks are challenging as hell too which basically challenges your mind and strength. But overall trekking is one fun experience. As already said above, the exclusive beautiful scenic view of hills adds to the perks of trekking.
When you trek upward on the mountains the beautiful and mesmerizing view you get, you cannot experience that normally. Trekking also brings you closer to Mother Nature. How? Trekking routes are raw, which gives you the best experience of nature and keeps you attached to it. You will love every part of it.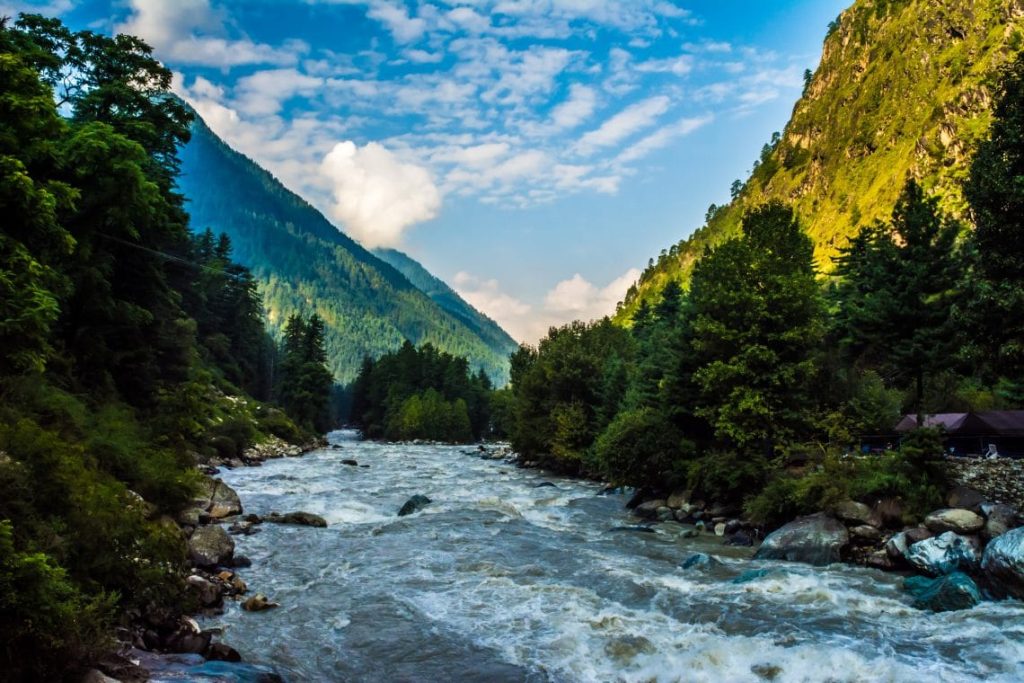 Trekking also is much unexpected. You never know what is next which makes trekking more interesting. The routes are not the same for the whole trek, some parts are easy and then some parts of it are difficult and challenging hence making trekking a very interesting and mysterious adventure activity.
Now we all know trekking is cool and an interesting adventure activity but where are we going to do it. Yes you have already read it in the title, the land of apples, Himachal Pradesh. The state offers some of the most unique and beautiful trekking routes for you to experience. The Himalayas, also called as the home of gods are a part of Himachal Pradesh too yet making it more exciting for trekkers because of scenic beauty it has to offer. It is a beautiful treat to your eyes.
Now Himachal Pradesh is the land of hills which basically means there are unlimited number of trekking routes so which one is the best to go for? To be honest every trek route is unique on its own and also every trekking route gives you those mesmerizing scenic views but then there are some trek routes that you have to experience. Therefore today we will be talking about 15 must-do treks in Himachal Pradesh.
1) Kheerganga Trek:
Kheerganga Trek is one of the most popular trekking routes in India. The beautiful trek route is in the Kasol region of Himachal Pradesh. It is an easy trek so basically even if you have no experience of trekking still you can try this beautiful trek. It is roughly 10-12 km of the route which can be completed in a day depending upon your speed.
Maximum Altitude: 3000 metres
2) Malana Village Trek:
Malana is a small, old and beautiful village which is worth the walk. Walk? Yes! Basically the trekking you have to do to reach to the village. You have to start the trek from Jari, another small yet beautiful village in Himachal Pradesh. The distance from there is almost 5-6 km until you reach Malana. The beautiful mountains and foggy weather will give your eyes a great treat.
Maximum Altitude: 2700 metres
3) Beas Kund Trek:
Beas Kund is a beautiful and a mesmerizing place in Dhauladhar range. One has to trek for around 17 km to reach Beas Kund. It is worth the time and energy because Beas Kund is worth experiencing at least once in your lifetime. The difficulty level of Beas Kund trek is low; basically it is an easy trek and does not have to be a professional for the trek.
Maximum Altitude: 3700 metres
4) Chandrakhani Pass Trek:
This one beautiful trek will give you many beautiful scenic views. Remember to carry your camera as a must for the trek since you will experience a lot of scenic views that you just cannot miss capturing. The trek covers the mesmerising view of Deo Tibba and Pir Panjal ranges. It is not only a very high altitude trek therefore it is kind of easy then other trek routes and hence it is a comfortable trek even for the beginners.
Maximum Altitude: 3660 metres
5) Jakhu Temple Trek:
This one trek calls for many devotees every year. Since the Jakhu temple is dedicated to Lord Hanuman and many cute and joyful monkeys resides by the temple. There is a 108 ft high statue of Lord Hanuman made for attraction and many tourists/devotees come over by the statue for pictures. The trek is a beautiful one and it is worth to see the huge statue and adorable monkeys which are more than 100 in number.
Maximum Altitude: 2500 metres
6) Prashar Lake Trek:
Prashar lake trek is again a very popular trek of India. It can be both challenging and moderate depending upon how you want to try. Confused? Well there are two ways to reach Prashar Lake, one from Baggi Village and other from Jwalapur Village.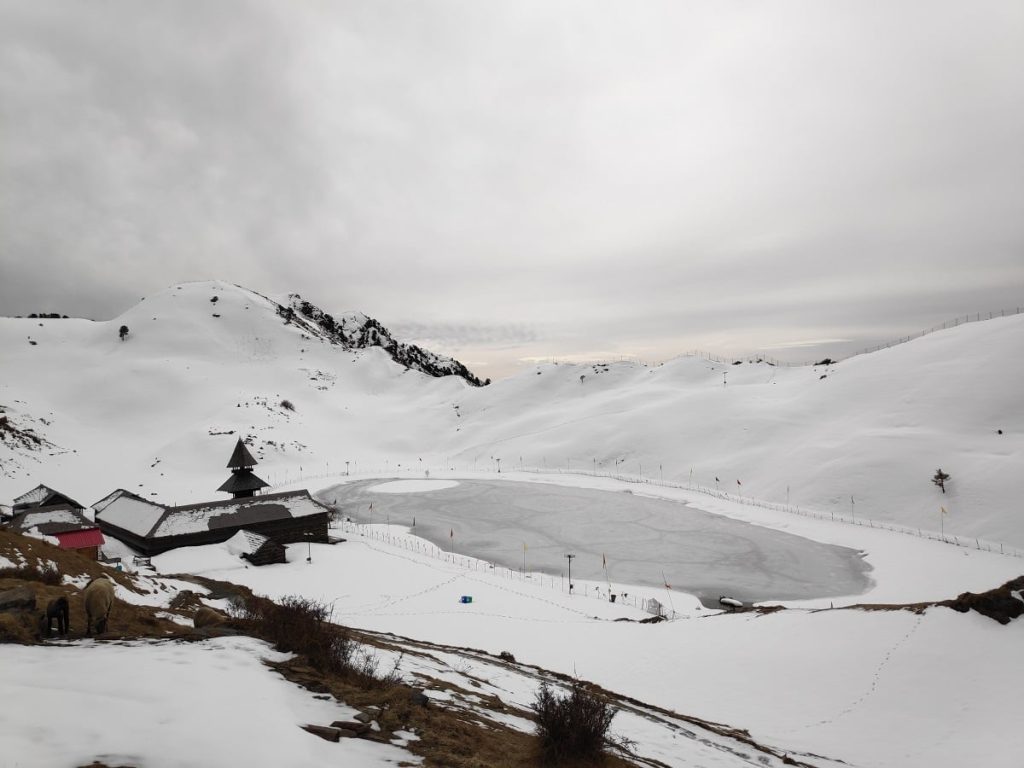 Therefore if you want to go the difficult route you can go from Baggi village. The trek gives you a beautiful view of Dhauladhar, Pir Panjal, and Kinnaur ranges which is any day a treat to your vision.
Maximum Altitude: 2800 metres
7) Hampta Pass Trek:
Hampta Pass trek is one of the most popular and moderate treks in Himachal Pradesh. It is not recommended for beginners generally and even for professionals, one should not try it without having a deep knowledge, local guides, or access to the Himachal Pradesh trekking map.
The trek is therefore generally not so crowded one and generally you will see shepherds here. The Hampta Pass trek is based in the Pir Panjal region and is surrounded by snow-capped mountains which gives you a refreshing view.
Maximum Altitude: 4300 metres
You can read more about Hampta Pass here.
8) Triund Trek:
Triund trek again a very popular trek in India. It is one of the easiest treks of Himachal Pradesh. Highly recommended trek for beginners. It is a one day trek from Dharamkot which is on higher with Mcleodganj. Once you reach Triund you must try out camping there and enjoy the blanket of the beautiful stars all over the sky.
Maximum Altitude: 2900 metres
9) Bhrigu Lake Trek:
Bhrigu trek is a very high altitude trek therefore for the beginners it is not really a recommended one. But also Bhrigu is one of the most beautiful treks of Himachal Pradesh. The more higher you go, more beautiful the hills get. It is a beautiful campsite as well.
Maximum Altitude: 4300 metres
10) Pin Parvati Pass Trek:
It is hands down the most difficult trek of Himachal Pradesh. It is a 9 long day trek basically not just physically difficult but also mentally it is very challenging. One has to be mentally ready for this trek. It is a very high altitude trek with snowy mountains all around. It is obvious that it is not at all recommended for the beginners. This is a difficult and a challenging trek but then the fruit is worth the walk and hard work too because the beautiful views you are going to get and those once in a lifetime experiences this trek will give you. You just cannot value it in numbers, it is unreal.
Maximum Altitude: 5319 metres
11) Deo Tibba Base Camp:
Deo Tibba is again a difficult and a challenging trek to go for. Not recommended for beginners as it has some physically challenging steeps which can be difficult for beginners. The trek lies on the Deo Tibba Mountain which has one of the most beautiful scenic views and is worth experiencing it while you trek forward.
Maximum Altitude: 4500 metres
12) Sar Pass Trek:
This one beautiful trek is not so easy yet not so difficult either. Therefore this trek route can be said as a moderate trek route. Although the beautiful views it has to offer of the Legendary Himalayas is just an experience of a lifetime. The trek route has thousands of pine and deodar trees which increases the beauty of the hills and keeps your mood light when you trek forward.
Maximum Altitude: 4220 metres
13) Tirthan Valley:
Tirthan Valley is a beautiful and a recently explored hill and trek spot. The beauty of the trek here is so mesmerising that you will feel like losing your soul in its beauty. It is a moderate trek and beginners can try this trek too. The valley has a great dense jungle which pulls you closer to Mother Nature.
Maximum Altitude: 1600 metres
14) Kareri Lake Trek:
Kareri lake trek is based in the Kangra district and is a great escape from the city life. The beautiful nature stands their waiting for you to hug it and refresh and recharge your mind. The trek is of moderate difficulty and beginners can also go for this beautiful trek.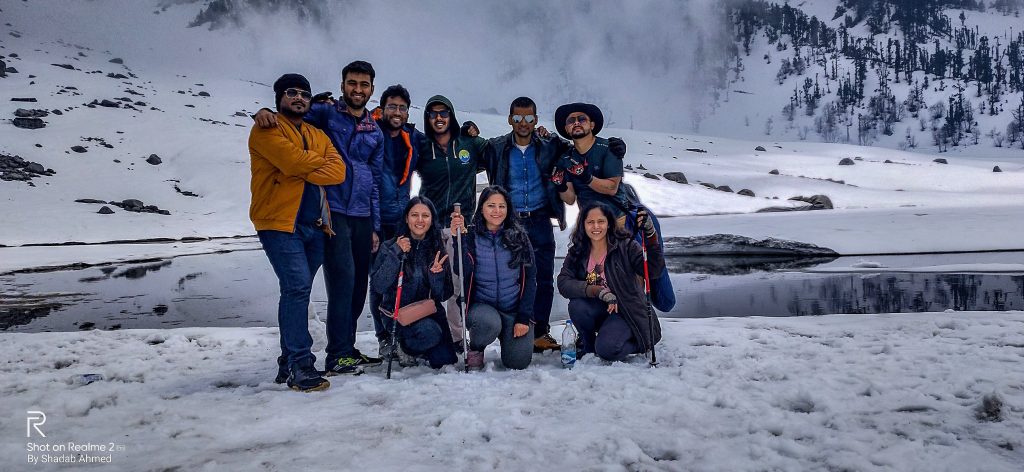 The trek has many pine trees on its way and is surrounded with greenery everywhere, although with snow in the winters. In winters after the snow, the trek gets little more tough and challenging but still you can hire a trek guide there only and he/she will guide you forward.
Maximum Altitude: 3300 metres
15) Chandratal Lake Trek:
Chandratal basically means the lake of the moon. Therefore it is named after the shape of the lake. The trek is moderate level of difficulty and beginners can also try out this trek. The beautiful and mesmerising nature here is just a great and memorable experience to have specially the Chandratal Lake.
Maximum Altitude: 4300 metres
If you are planning a Trek in the majestic Himalayas anytime soon, gear up yourselves because SALE OF THE SEASON is now Live and Loud with up to ₹2000/- OFF on all our Trek Packages!
You can also read