One good thing about planning trips with a lesser number of people is that you have a high chance of making it happen. Keeping this in mind throughout the time I planned for my trek to Hampta Pass, I started contacting people I knew who would not bail out at the last moment because I had been sitting frustrated in my office chair in the hot June afternoons and I just wasn't prepared to take a no as an answer.
The chaotic Delhi evening traffic and the extremely hot weather had taken its toll on me and I just had to get out of Delhi in any way possible, and Hampta Pass was my escape at least for the few coming days.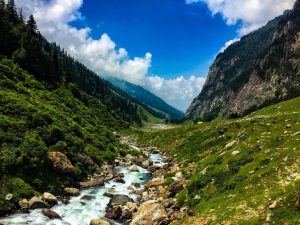 I reached Manali around 10 in the morning and drove towards Jobra from there. I got off the transport at Jobra and I was just awestruck at the sheer beauty that was in front of me. The thing about mountains that fascinates me the most is that no matter how much you try to sink in the beauty of them, you'll never have an ample amount of time for it.
The huge structures covered with trees and a river with water cold enough for you to freeze the squeezy chocolates, clouds like soft cotton surrounding the peaks as if protecting them from the Sun and a cold breeze that carries the aroma of a hundred thousand of flowers blowing through the entire valley as if welcoming you in the most decorated ways.
This trip could not have started any better. I felt the magic the moment I stepped in Jobra.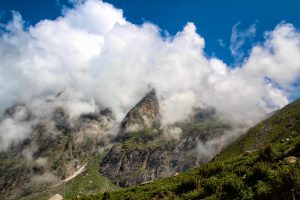 From Jobra began the journey to Chika. Though I was carrying a heavy backpack, I still managed to be far ahead of everyone else the whole time. The Sun was still not out and that made the atmosphere a bit colder though it was only around 1 PM.
The bright Sunlight finally came out. And with it came a warm breeze that called out to the birds who began chirping in unison and the valley felt like a screening of a Mozart concert the only difference being there were no musical instruments, just the melodious voices of an uncountable number of birds.
I had a dream, of gazing at the mountains from the path of the river stream and feel the love that these enormous mountains are giving away to those who dare to stand in front of them and thank them for being the example of resilience in desperate time to all those who come to see them standing firm in the most difficult times. This time, I got to fulfill my dream and it felt like my heart will burst with so many emotions overflowing together.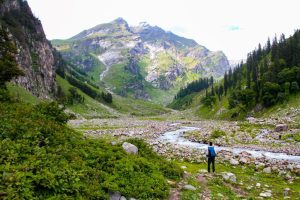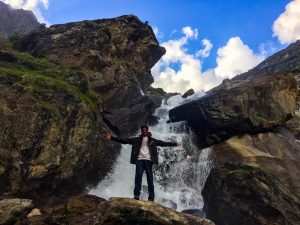 At Chika, I called it in and stayed there. It was around 4 PM when I reached there, and I saw a beautiful waterfall. It was beautiful, and it spoke to me. The waterfall gave me the idea of what was to come in the next part of the journey. It was going to be beautiful of course, but, it was going to be a difficult path to walk on.
I saw the rock broken at so many places by the impact it must have had over the millennia from the water and I felt it's going to be a tough task reaching Hampta because there's going to be water bodies at so many places obstructing my path that I'll need to overcome. And I took that thought with me to bed.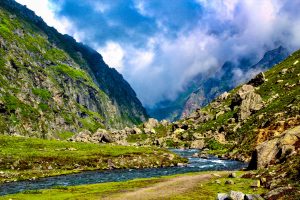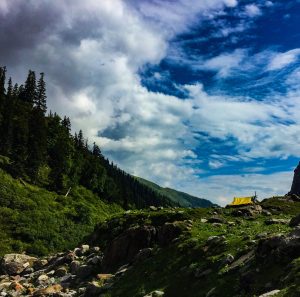 Balu Ka Gera was the next stoppage for me. In between came a fast stream of the river that was so difficult to cross because the knee-high water and slippery rocks beneath posed as obstacles. I managed to cross that with a smile on my face and moved ahead when I saw a flock of sheep.
Behind them were two beautiful dogs. I could not resist but pet them for they were so irresistibly shiny and friendly. They were helping two shepherds keep an eye on the flock. From a distance, I could see tents of people set up around a beautiful picturesque valley point that looked something similar I used to draw as a child in my drawing book.
A river flowing from the foothills and clouds all around with little houses on one side there was greenery all around the place. I saw my childhood come back to me at this point.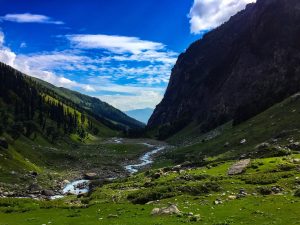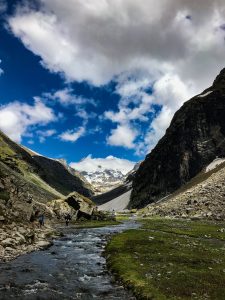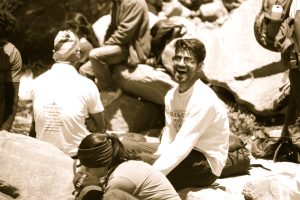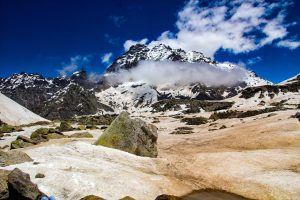 I reached Hampta Pass the next morning, starting early as I had to take a lot of pictures and I had very little time. Hampta Pass was something that I'd never imagined to be so beautiful. Hampta Pass is a place that acts as a contact point of two valleys of the Himachal region: Kullu and Spiti.
I had never seen but only heard of Spiti Valley is an epitome of beauty no matter what season it was. I had an urge of being able to see it with my own eyes. I finally saw it all. Kullu Valley staring on my back as I stood right at the edge of it, over Hampta Pass, with my hands wide open and screaming in joy looking Spiti Valley in front of me.
I could not sink in the beauty of that moment. I was overwhelmed with everything turning out to be so perfectly falling into place for me.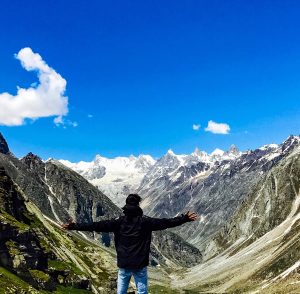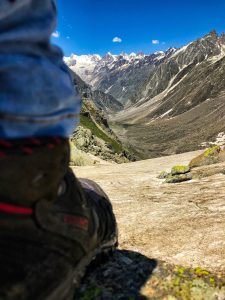 People say all's well if it ends well. And frankly speaking, my trip couldn't have had a better end than it did. I witnessed my life's most amazing Sunset. I sat beside the river watching the sun go down behind the mountains as the entire valley turned dark within minutes.
I could do nothing but admire the sheer beauty of this valley. And capture it with my camera and keep it as a memory for many years to come.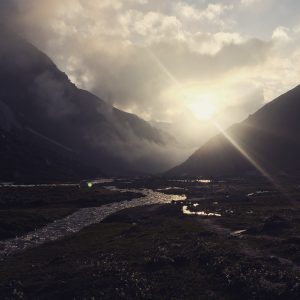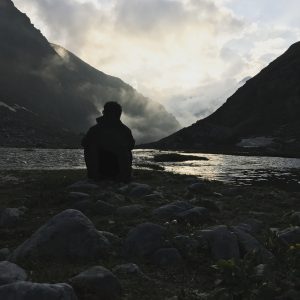 Perhaps the most important moment of this and my life came when I was just about to get into my taxi back to Delhi when I saw a certain individual standing on the other side of the road, leaning against a car. This individual had always been a driving force for me to go travel to different places and keep the hunger alive in me to explore even more.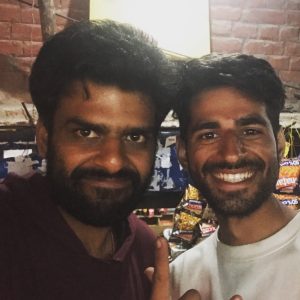 I got to meet my long-time favourite storyteller, photographer, traveler Abhinav Chandel for the very first time. For a guy with over fifty thousand followers on Instagram, Abhinav showed great humility towards me and remembered me as the guy who once tagged him in a post on Facebook. I was so happy at that moment. Finally, my trip had ended but my adventure was just beginning…….
You can also read :