It is often said that good ideas strike your mind while you're under the shower or you're lying on your bed.
It was one of those Sunday afternoons when I was on my bed and was thinking how to celebrate the birthday of fellow wraveler Harman. And then I was enlightened by this idea of why not do something which is loved the most by us? TRAVEL AND EXPLORE!
So I discussed the same with him, and he was more than happy to hear it.
He had his birthday on 18th of April. So, I and seven other wravelers left for a road trip to Bir-Billing on 16th April. We had planned to do paragliding in Bir-Billing which is paragliding capital of India and then visit a remote village called Lohardi in Barot Valley
Day 1:
We hired a taxi and started our road trip to Bir-Billing. Bir is around 200 km from Jalandhar. We headed towards Hoshiarpur and then towards Mata Chintapurni. In between, we had our first stop on a very famous place called Bombay Picnic Spot, had our breakfast and got refreshed for the journey ahead. Few of the wravelers including me utilized this time to have some fun rides and swings.
We resumed our journey towards Kangra district, and the beautiful Dhauladhar ranges followed us everywhere. When we reached Kangra, we could see those beautiful snow-capped mountains of Dhauladhar ranges right in front of us. Few of the wravelers were trying to locate the Triund Hill. Mesmerized by the beauty of nature everyone got into a good mood that soon everyone started murmuring the song that was being played on the stereo. And later everyone started singing loudly, enjoying the lovely view that kept following us.
We reached Baijnath, a small town in Kangra district and is home to world famous Shiv temple. It was built 5000 years ago in a single night, as told by the locals. Interestingly,  a day lasted for six months and so did the night, when it was built.
We continued our road trip to Bir-Billing and took a left turn to reach Bir; it is around 14 km from Baijnath. While we were on this road, we could see many gliders in the sky, and it gave that amazing and a little anxious feeling to everyone. On reaching our destination, we had lunch, and everyone went to relax in the rooms and freshened up for the trek. After around 40 minutes, everyone was geared up for the trek. We had taken the important things required for trek such as torches, water bottles. We were running out of time to complete 10 km trek from Bir to Billing, so the guide asked us to cover a little distance by car and then hike so that we could reach Billing by sunset.
Distance from Bir to Billing by road is around 16 km. But if you trek from Bir to Billing it is cut short to 10 km. As advised by the guide we covered the initial few km by car and then we got down near a small gate, which marked the beginning of our trek. Trekking distance from there was around 3-4 km. It was already 5:30 pm, everyone clicked photos and started their trek towards Billing.
The initial path of the trek was all covered with dry leaves which made the way look breath-taking. The trail was steep and rocky. Wravelers kept relaxing after every 20-30 mins and never missed a chance of clicking photographs at every beautiful view. According to me, the more altitude you are at more is the probability of finding those breath-taking views.  It was already dusk, and we still had to cover a lot of distance to reach Billing. Many gliders were seen paragliding from Billing to Bir around sunset time. I am sure that is time best time to take the flight. Soon we had to use our torches to keep walking as the sunlight slowly faded away. Everyone was trying to capture the terrific scenes in their cameras, but I preferred capturing the same in my memory.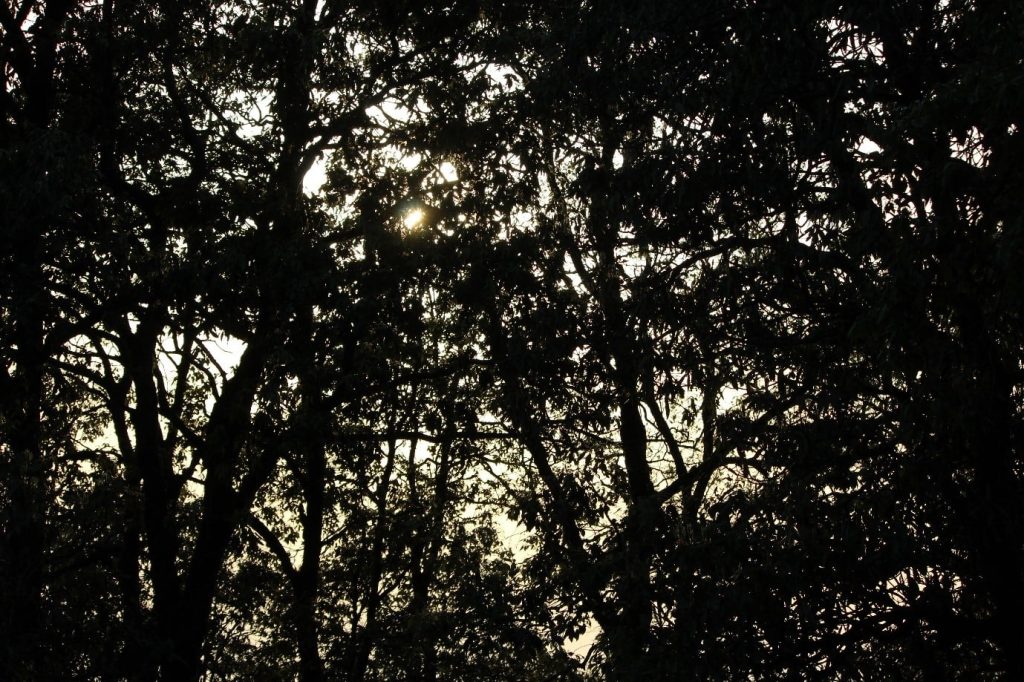 It was completely dark by then. We kept walking ahead slowly. I could hear those melodious voices which were a feast for our ears. It started getting cold there. It was then I realized that this is the place I belong. I like everything about that environment. I was very thankful to God who gave me a chance to be here and somehow saved me from scorching conditions down there in Punjab.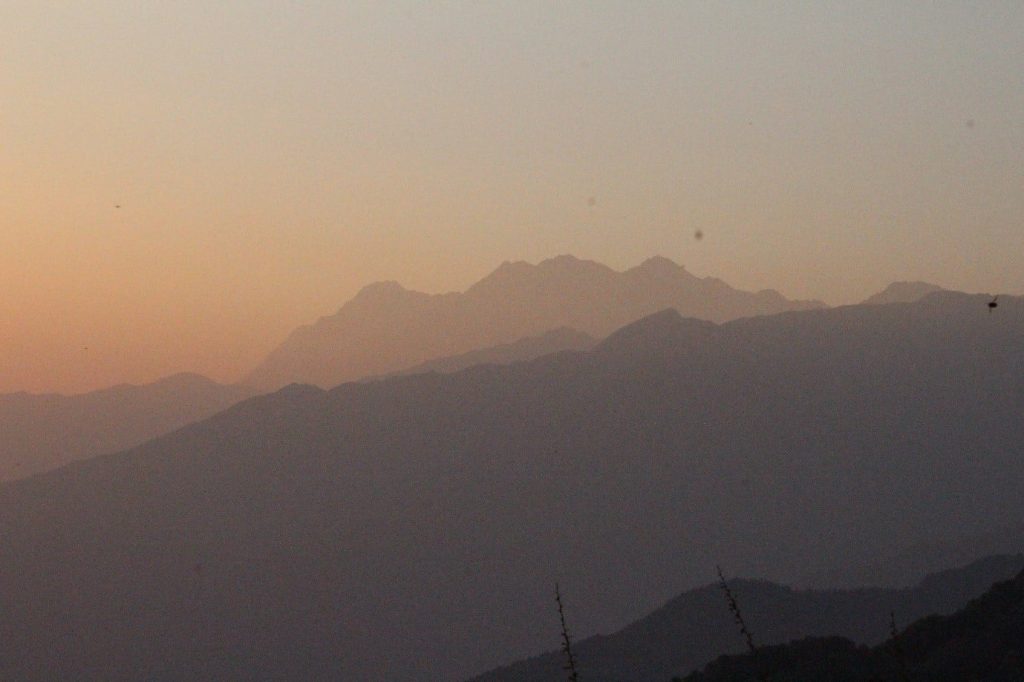 Soon we reached Billing. To fill our hungry stomach, we found a small tea shop which also served Maggi, omelet and other necessary items. Everyone ordered for Maggi and omelet. While Maggi was getting prepared, all the wravelers wore their warmers. I started staring at the galaxy of stars which looked way too beautiful. I was kind of jealous of the locals who saw it daily. Soon the Maggi and omelet were served to everyone, and without a doubt, it was delicious.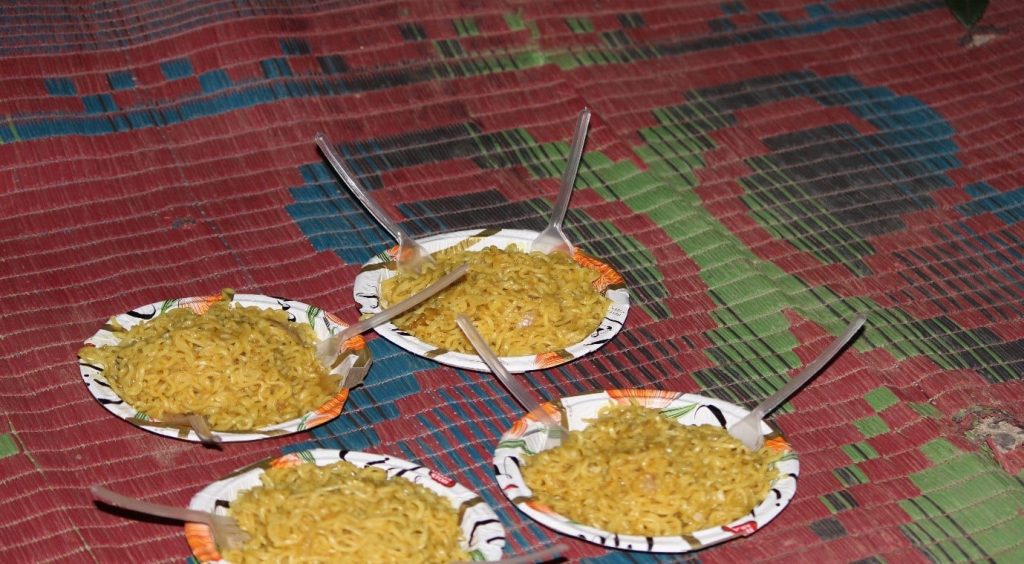 We all headed towards our tents. We put our bags in the tents and then came out to sit around the bonfire arranged by the guides. Every wraveler had a great time during the bonfire. We met with another group from Delhi. Everyone introduced themselves and then had some good laugh together. As few of them were also Punjabi, we couldn't have missed this opportunity, and soon everyone started doing Bhangra.
There was no light, no water there in Billing. It was that kind of evening which I have always dreamt of. There were hardly any networks there, so I switched off my phone so that I could enjoy this evening to the fullest. After some time we were called for dinner. Well, I never expected to be served with chicken at an altitude of around 8000 ft. We were served with rajma chawal and dal. The food was delicious, and then we walked around the area for a while. We called the night early as we had long schedule the following day. Everyone went into their dome tents and had some good sleep dreaming about their first paragliding experience the next day.
Day 2:
Billing is the take-off site and is located at an altitude of 2430 m (almost 8000 ft). There is only one village ahead of Billing. Locals also told us that many treks start from that village.
We all woke up early and had a little walk around the hill. All the wravelers got freshened up and sat together for tea. Having meals in hills is always fun when you're on such location. An average food also tastes so good. Well, that was the best tea I ever had. How would it feel sipping the hot tea with spectacular views of Himalayas right in front of you, with your favorite music playing in your ears?
We were served with Maggi. Guide over there told that light food is necessary before taking the flight. After having Maggi, me and few other wravelers saw guides packing the dome tents. We were keen to know as to how to pack and set those tents. So we spent next half an hour doing the same. All the people were polite and helpful.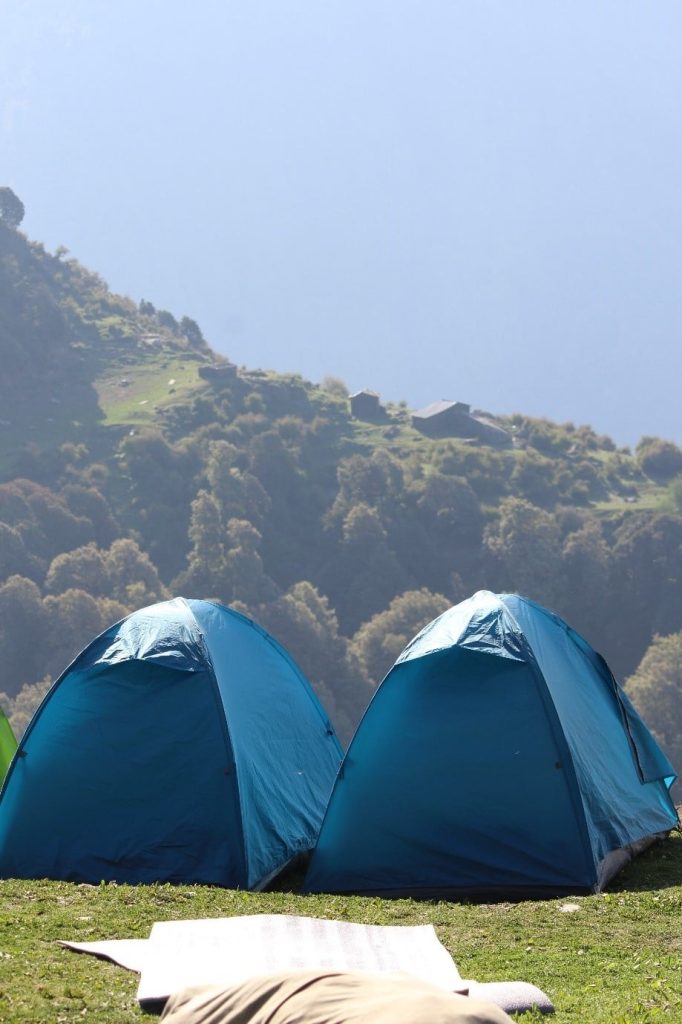 Wravelers then started walking towards the take-off site in Bir-Billing from the camping site. We took few photographs on the way. After we were there, we keenly watched the gliders. I was a bit nervous initially, but I knew I could do it because everyone else was already doing it. Well, that was just a way to console me. But it takes a lot of guts to jump from 8000 ft, although it's quite safe. Soon the pilots arrived, and all the wravelers got ready for paragliding at Billing, but we all were a little nervous.
I then met Rajiv bhaiya, the one who was to accompany me as a pilot during my paragliding flight. He assured me that I would do well so I should stop worrying. He guided me with the necessary information and soon there I was positioned to take off. The glider caught the right winds, and I could feel it over my head, and then Rajiv asked me to run. I tried hard and took two steps and jumped. I had put my feet in the air and then had no idea as to what happened for next two minutes.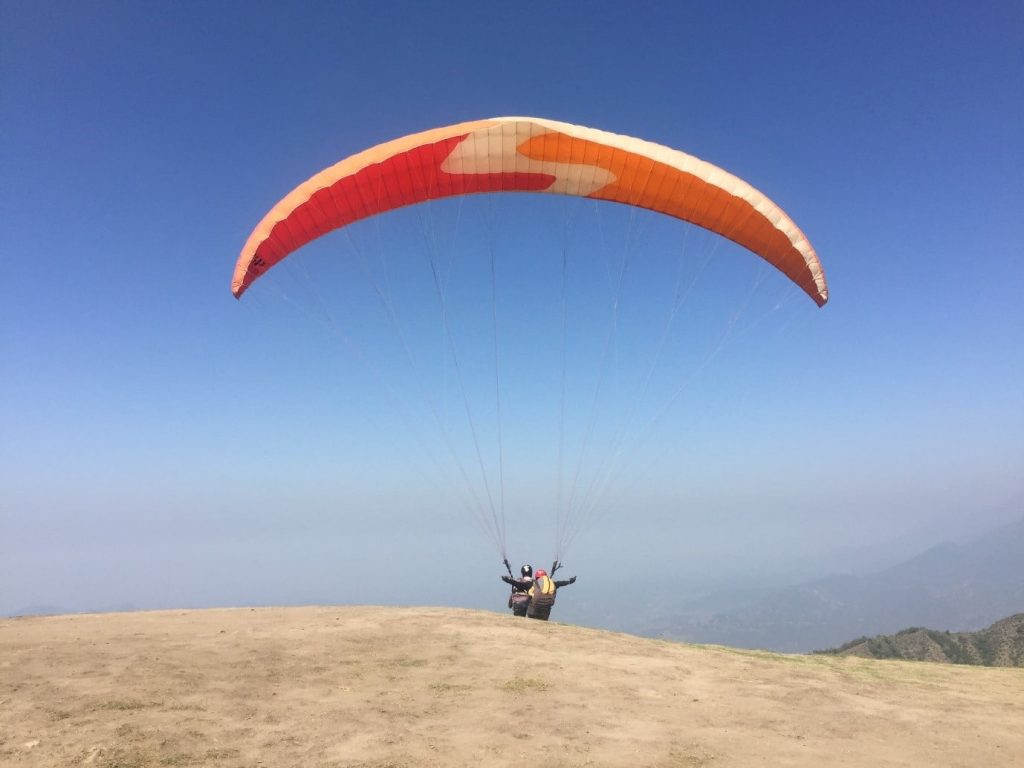 The next moment I found myself flying around the mountains like a bird. I was flying around the Dhauladhar ranges, and I could see those snow-capped mountains so close to me. Rajiv then asked me if I was okay? Although I had a fast heart beat and was bit nervous but I didn't want him to know that because as I wanted to fly anyhow. I didn't want him to reduce the time of my flight. He then performed a stunt called 'Acrobatic,' in which the landing time is reduced rapidly. In this act, the glider gets tilted and starts rotating in a circular motion in a downward direction. While all this I wanted to speak, but I couldn't. I could only feel my heart rate increasing.
Finally, we landed safely. I felt so relieved when I was on the ground. I spent next 15 minutes wondering as to what exactly I witnessed. It was one hell of an experience.
Contributed by: Guneet Singh Manktala
For travel related queries, group tours, road trips, trekking tours, outstation cab booking, bike rentals, Hotel reservations; Kindly contact us at https://justwravel.com/contact or  call +91-92057 25727