Sometimes the decisions you make leads to the weirdest and memorable moments. So I had made the plans to go on trekking to Dalhousie but never knew there will be such twist and turns in this journey. It starts with me getting grumpy not feeling like going anywhere but ended up boarding the train at Bombay central without the tickets. That's right I didn't have the confirm tickets so I decided to board the train on general tickets. Seriously!!!
You can imagine the kind of things I have to put up with but that's not true !!! I After TC arrivals and all that ruckus I got half seat with another playgroup that's going to Pathankot: the nearest railway station to Dalhousie. Can you believe that!! This journey gave me the best feel for humanity ever.  I reached Chakki bank, a small station just outside Pathankot, surviving the chilly winter nights of Punjab.   Here on I had no clue from where will I find the bus to Dalhousie, how will I reach there, how long will it take? Luckily I met one family which drove me to the bus stop from where I can board the bus.
After waiting a while and going through mixed emotions like kid steps out of the house for the first time, the bus came. Punjab road transport, I could never have been happier in my life when I actually saw Punjab written all over it. It was one of my many dreams to be in Punjab, all thanks to Bollywood movies !! :p The bus took almost 3hrs to reach Dalhousie its approx 80km from Pathankot. It was almost dark outside by the time I reached my base camp. After spending crazy two days travelling I was all drained out, only to be woken up at 5 am the next morning to be welcomed by the mighty Dhauladhar range sparkling in the first ray of sunrise. That moment you realize how beautiful is this planet earth and how small your life is.
I had reached one day before my scheduled departure of trekking that gave me one full day to explore Dalhousie town, a small beautiful town Located on the western edge of the Dhauladhar mountain range of the Himalayas, it is surrounded by snow-capped peaks. Dalhousie is situated between 6,000 and 9,000 feet (2,700 m) above sea level. This day went by acclimatizing in this altitude, seeing around town and buying few winter clothes which I realised are very necessity of my survival in this blistering cold weather.
Day 2: Trek to Kalatop
We started our ascent for Kalatop this day. The trail was amidst nice deodar forests and narrow trails. The last few km route was very beautiful with big deodar trees and snow all around. Kalatop is the highest point of this trek and it was quite cold. Kalatop is one of the most pristine destinations in Dalhousie, Himachal Pradesh, and is known for the lush green surroundings and snow-capped Himalayan peaks.
Enroute to Kalatop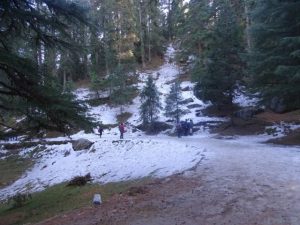 Our stay at Forest rest house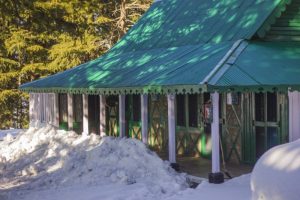 Sunrise at Kalatop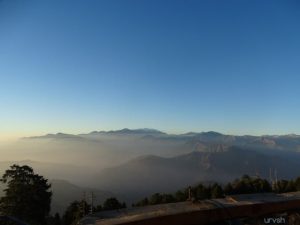 Day 3:  Trek to Khajjiar
The trek was pretty and scenic with a lunch break at a cold mountain stream. We had locals preparing Maggi for us and some local delicacies.  Except for last 1 km, the route was all through the forest. Khajjiar is called the Switzerland of India, along with Kashmir. Before reaching the hotel which serves as the camp we passed the Khajjiar park which is exceedingly pretty covered with snow all over surrounded by lush green conifers. The thing that made Khajjiar so special to me was its new years eve. I had spent my new year's eve watching stars glowing to their full glory on the moonless frizzing night. That night spent counting so many constellations just aren't visible in our polluted cities.
Forest Trail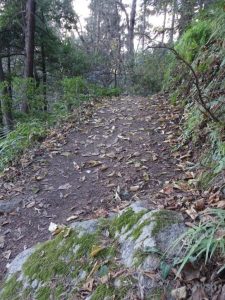 Crazy people at Khajjar lake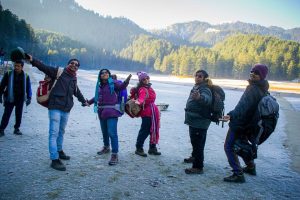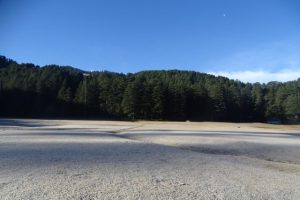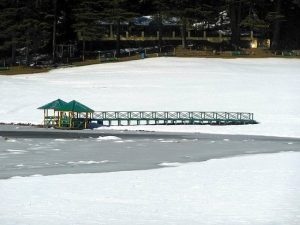 Sunset at Khajjar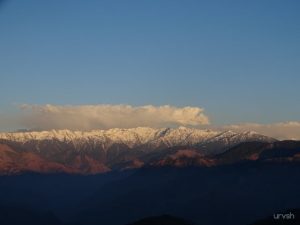 Sunrise at Khajjar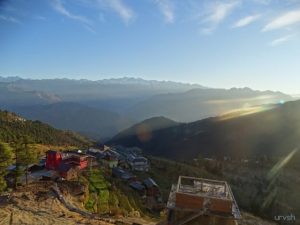 Day 4: Trek to Mangla
This day was * supposed * to be the easiest part of the trek. Light. A cake walk if you will was the way it was sold to us. And naively enough I believed it.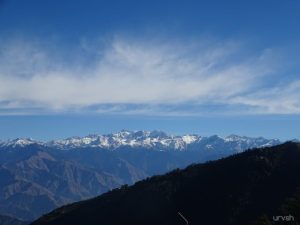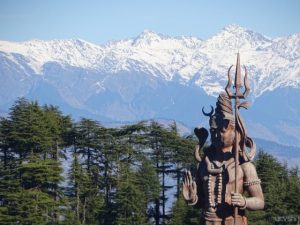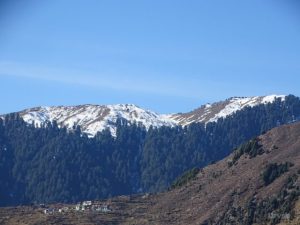 Just when I thought that I had started to get the hang of trekking, we met Mangla.

I'd thought that there could be nothing more difficult in this universe than climbing uphill, but I was in for a rude shock! Trekking downhill sucks! With your entire body weight (inclusive of the 7kg back pack) falling on your knees, it sure is not a walk in the park. The highlight of the trek was the lunch break! We had reached the top of a hill and man, what a breathtaking view it was! The snow clad Himalayas in all their glory, almost a stone's throw away. A lot of us wolfed down our packed lunches and crashed for an hour. It was nice and warm here, a huge relief from all that cold! Before we knew it, our little nap was over and onward we marched, desperate to finish this last lap and finally relax. And it's all downhill again! Perfect. The other upside to the trek were the lush green hills where the locals had done step farming which made it look so neat and beautiful at the same time. It was like watching Natgeo channel but more feeling it !! 😉 We passed a lot of small houses with little kids waving and smiling at us excitedly and in a way, gave us a little more strength and distracted us temporarily from the painful downhill trek.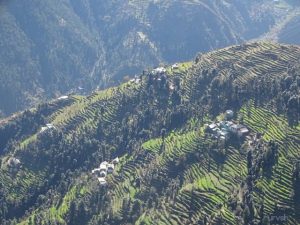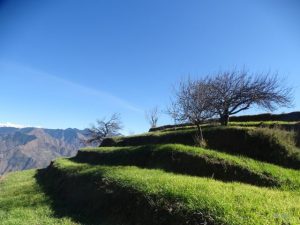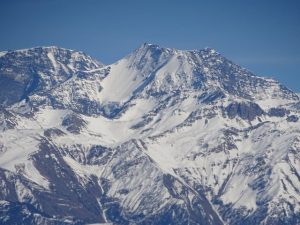 If my legs could talk, they'd probably be screaming bloody murder right now. I kept asking the local kids we passed by, about the remaining distance to Mangla, every time receiving the same scripted answer, bas thoda door aur. I had been here long enough to know how true that was! It now dawned on me, that we were in a different universe altogether. The route was pretty with mustard and onion cropped along step farms. But the incessant downhill track was way toooo long :p. Time moved slower for us! Anyway, after a lot of mental cursing and cribbing, I made it! I reached our final destination, if I may. Oh nothing had ever looked more glorious than the Mangla base camp. Mangla was a great camp to celebrate the New Year in a relaxed manner. And the dinner that day was especially good with lots of gulab jamuns . 🙂
Day 5: Back to Dalhousie Base Camp and no further return tickets again 😛
The bus transfer back to Dalhousie is a very pretty rife and through most of the
route you see the pretty Jhelum accompany you. At the base camp we were given
lunch and got our luggage back. On this trip made some great friends which were delighted to have me on board their further trip. So I headed to a new destination with new friends with no plans whatsoever.