It's a new day. Yesterday's failure is redeemed at sunrise.

Todd Stocker
What's more beautiful than commencing your day with a sunrise and concluding it with a sunset? Exploring both of these celestial moments while relishing the awe-inspiring vistas of the Himalayas is nothing short of a dream – Nag Tibba Trek!
Nag Tibba, the highest peak in the lower Himalayas, offers a rewarding summit trek experience, providing you with the most breathtaking panoramic views. Known for its beginner-friendly and exceptional winter trek, Nag Tibba's unique charm lies in its accessibility for a weekend escape from Delhi.
Perched above 9000ft in the Garhwal region of Uttarakhand, Nag Tibba Trek offers a 360-degree spectacle of snow-caped Himalayan peaks, including Swargrohini, Bandarpoonch, Srikantha, Kala Nag, Srikanth, Black Peak, and Gangotri. The place carries mythological significance, as 'Nag Tibba' translates to 'Serpent's Peak,' making it sacred to locals who worship the Serpent god, particularly when seeking prosperity for their cattle.
Altitude: 9915Ft.
Base Camp: Pantwari
Duration: 3 Days
Trek Difficulty: Easy
Trek Length: 16km
Best Time To Visit: October To May
How to Reach Nag Tibba
Nag Tibba Trek is located 16 kms from the base of Pantwari, located at 112 km away from Dehradun.
By Air: The nearest airport to Nag Tibba Trek base camp is Jolly Grant. It will cost you 5 hours to reach.
By Rail: If you are coming through rail, the nearest railway station is Dehradun. It will also cost you the same amount of distance.
By Bus: You will get buses directly from Delhi to Dehradun. From there, you can take a cab to reach Pantwari. 
How To Reach From DELHI/NCR
Nag Tibba Trek from Noida:
To begin your journey to Nag Tibba from Noida, head to the Akshardham metro station. You can take the blue line from Noida, and it will lead you directly to the station.
Nag Tibba Trek from Gurugram:
Gurugram, a thriving industrial city in Haryana, is well-connected to Delhi via the yellow metro line. You can change trains at Rajiv Chowk and reach Akshardham metro station smoothly.
Nag Tibba Trek from Ghaziabad:
The route to Nag Tibba trek from Ghaziabad offers two options: one via the red line and the other through the blue line. Your choice will depend on the route you prefer, and you can refer to the Delhi Metro route map for a clearer understanding.
Nag Tibba Trek from Faridabad:
If you're starting your journey from Faridabad to Nag Tibba, your first destination is Akshardham, just like the other locations mentioned above. To reach the Akshardham metro station from Faridabad, you can take the violet line and make a transfer at Central Secretariat for the blue line.
READ MORE: Weekend Trip to Chopta Chandrashila
Best Time to Visit Nag Tibba
Nag Tibba, a weekend getaway, offers a unique experience throughout the year, with each season presenting a different perspective. Let's explore the main seasons to visit Nag Tibba for a truly diverse adventure.
During the summer months, Nag Tibba boasts a pleasant and refreshing ambiance. From a distance, you can catch a glimpse of the majestic Himalayas, while a gentle breeze adds to the overall comfort. It is advisable to pack light woolens to stay cozy in case the nights turn colder.
In the monsoon season, Nag Tibba transforms into a lush green paradise that is simply irresistible. Picture yourself savoring a cup of tea, mesmerized by the snow-capped peaks of Nag Tibba, as raindrops gracefully dance around you. Although landslides may occasionally block the roads, the scenic beauty of Nag Tibba is worth the effort. Don't forget to bring your raincoats to stay dry!
For those seeking tranquility and solitude, the winter season is perfect for embarking on the Nag Tibba trek. Despite the snowfall, the breathtaking vistas of Nag Tibba during winter are unparalleled. It feels like stepping into a heavenly realm on earth. However, be prepared for freezing temperatures by carrying heavy woolens to keep warm.
Regardless of the season, Nag Tibba promises an unforgettable experience, each with its own charm and allure.
Don't wait for another moment! – CLICK HERE FOR YOUR PERSONALIZED ITINERARY
Reasons to visit Nag Tibba
If you're planning a trip to Nag Tibba, you should be well aware of the compelling reasons that make it a must-visit destination. From its awe-inspiring views to the camping experience, Nag Tibba has it all. Here are the top reasons to embark on the Nag Tibba Trek this weekend.
Breathtaking Views
Nestled at the base of Tehri, Nag Tibba is perched on a saddle, offering a mesmerizing spectacle of the majestic Himalayan range at sunrise. With its vantage point, Nag Tibba Trek offers unrivaled vistas of the glistening, snow-covered peaks of Garhwal and Kumaon. From Nag Tibba, you can behold a variety of Himalayan Peaks, including Nanda Devi, Trishul, Gangotri, Jaonli, Draupadi ka Danda, Bandarpunch, Chaukhamba, Mt. Kalanag or Black Peak, and the majestic Swaragrohini.
Short and Complete Trek
The Nag Tibba trek is a short journey that can be completed in just two days. Covering a total trekking distance of Nag Tibba is 8 km each way, it's considered a complete trek due to its camping experience and exhilarating summit climb.
Just a Weekend Away – All-Year-Round Trek
Nag Tibba Trek is an all-year-round adventure. You can explore this trek at any time of the year, and each season offers a different experience. In summer, you'll find the coolness and clear Himalayan views you've been longing for, while winter unveils snow-capped mountain vistas, creating a picturesque white landscape.
Safety and Comfort of the Trek
Nag Tibba Trek provides a safe and comfortable trekking experience, where you'll encounter a range of experiences, from Rhododendron forests to ankle-deep snow and breathtaking views of the highest Himalayan peaks.
Beginner-Friendly Trek
Nag Tibba Trek is renowned as one of the most beginner-friendly treks. Its proximity to Delhi makes it easily accessible for people from Noida, Ghaziabad, Faridabad, Gurugram, as well as other cities like Mumbai, Kolkata, Chennai, or Bangalore. The short duration and sweeping views add to its beginner-friendly appeal.
Read More: A Weekend Trek to Nag tibba
Exclusive Camping Experience
The Nag Tibba trek promises an exclusive camping experience, allowing you to wake up and rest amidst the Himalayas, connecting with like-minded individuals in a priceless camping adventure.
Cultural Experience and Adventure
While traversing scenic landscapes, you'll immerse yourself in the local culture and village life, enhancing your trek experience. Starting from Pantwari, a picturesque village, you'll gain direct insights into the Pahadi way of life.
Absence of Steep Terrains
Nag Tibba Trek stands out as one of India's most accessible treks year-round, offering a gentle terrain without strenuous uphill stretches, making it ideal for those with limited or no prior trekking experience.
READ MORE: Weekend Trip to Kasol
Route for Nag Tibba
Day 0: Departure from Delhi to Pantwari Village (300 Kilometers, 8 Hours) – The group will gather at Akshardham Metro Station, preparing for an overnight journey to Pantwari Village.
Day 1: Upon arrival in Pantwari, the group will have some time to freshen up before commencing the trek to the Nag Tibba Base Camp. The trail winds through lush green forests with a backdrop of picturesque Himalayan vistas. At the camp, take in the fresh mountain air and savor the scenic beauty.
Day 2: This is the day of our summit climb. In the early morning, the team will set out for the Nag Tibba summit, where you'll be treated to panoramic views of Himalayan peaks like Trishul, Swargrohini, Bandarpoonch, and more. After ample time to soak in the breathtaking views, the team will descend back to Pantwari Village and later return to Delhi.
Day 3: Early in the morning, the team will arrive back in Delhi, carrying with them a treasure trove of beautiful memories from the stunning Nag Tibba peak.
Highlights of Nag Tibba Trek
Scenic Drive to Pantwari from Dehradun
The drive from Dehradun to Nag Tibba is very beautiful and scenic. Pantwari, situated in the Tehri Garhwal District of Uttarakhand, is a charming village nestled at an elevation of 4,640 feet in the Dhanaulti tehsil. This idyllic destination offers easy accessibility from various major cities and towns within the state, and is conveniently located just 90 kilometers away from Dehradun, the nearest city.
Temple dedicated to Nag Devta
Nag Tibba Temple, devoted to the Snake God or Nag Devta, stands out as the main highlight of the Trek. Positioned just one kilometer prior to reaching the Nag Tibba Summit, the temple is encompassed by a beautiful rhododendron forest on one side and a majestic Deodar forest on the other.
As you reach the summit, prepare to be captivated by the breathtaking panoramic views of the Lower Himalayan Ranges and the evergreen Bandar Poonch, Gangotri, Swarg Rohini, Chanabang, Kedarnath, and Kala Nag Ranges. These enthralling 180-degree vistas are guaranteed to leave you in awe.
Story of Nag Tibba
The Nag Tibba Trek under its panoramic views covers an incredible story. In Hindi Nag means snake and Tibba means Peak. According to the folktales and local belief Nag Tibba is the resident of Hindu mythological character Nag Devta. Nag Devta is worshiped and celebrated in this region. The local people here believe that Nag Devta is the protector of them and is considered as a guardian deity. The local people come here and offer their prayers hoping for the protection of their cattles. The region surrounding Nag Tibba holds religious importance for the local Garhwali people. It is believed that the area is blessed by the Nag Devta and is associated with the worship of snakes. Devotees often visit the Nag Tibba temple, located at the base of the trek, to offer prayers and seek blessings.
Read More: Tale of Nag Tibba
Nearby Places to Explore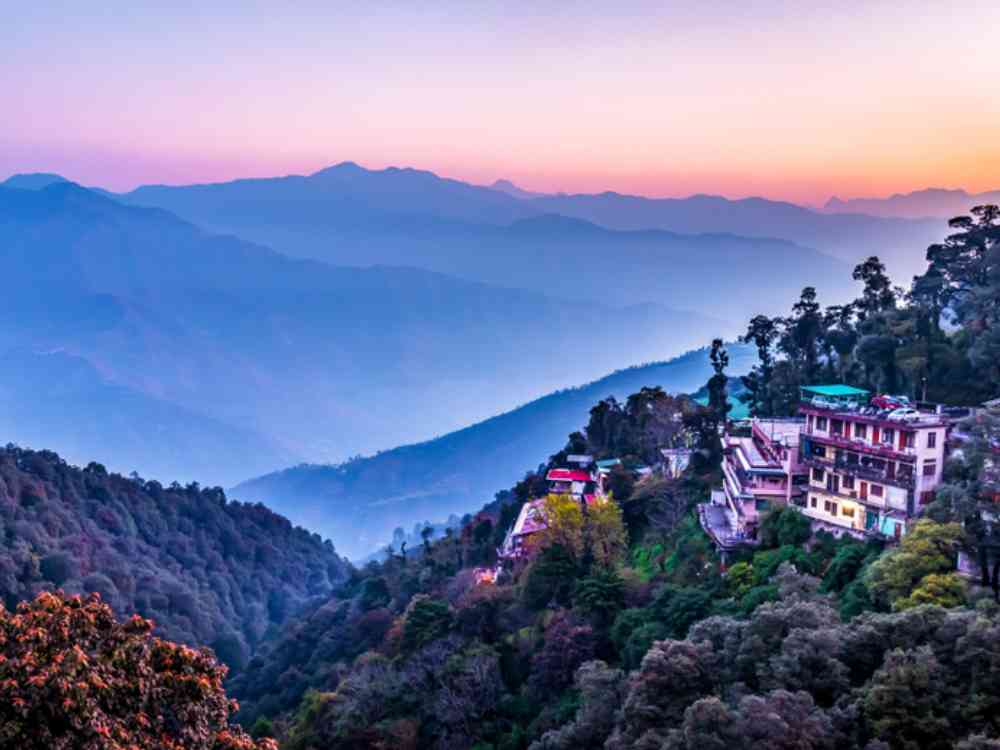 If you are deciding to embark on this incredible trek, then you should also try exploring the nearby places. Some of the must visit nearby places to Nag Tibba are:
Mussoorie – Mussoorie is one of the most beautiful and just a hand away kind of place to Nag Tibba. The distance to Nag Tibba and Mussoorie is around 75 kms. And if you are visiting Mussoorie don't miss out to explore places like Kempty Falls, Lal Tibba, Gun Hill Point, Company Garden, Cloud's End, Jharipani Falls, Mussoorie Lake, and Robber's Cave.
Kanatal – Nestled amidst the breathtaking landscapes of the Garhwal Himalayas, the enchanting hill station of Kanatal offers an idyllic escape for those seeking respite from their daily grind. Surrounded by majestic sun-drenched peaks and lush coniferous forests, Kanatal continues to retain its uncharted allure.
Dehradun – Dehradun's scenery is vibrant and vivid, lending the city an enchanting allure that perfectly complements its exquisite temples and architectural wonders. Situated in close proximity to renowned pilgrimage destinations like Haridwar and Rishikesh, Dehradun offers a captivating blend of natural beauty and spiritual significance.
What to Pack ?
Day backpack (20 – 30 Ltrs)
Comfortable floaters or sandals
1 Down Jacket / Main Jacket
1 Pair of Thermal Wear
Sturdy Outdoor Shoes
3 Quick-Dry Tees
3 Pairs of Cotton Socks
1 Pair of Woolen Socks
Rain Poncho
Quick-dry towel
Protective Gloves
Sun Cap
Lip Balm
Cold Cream & Sunscreen (SPF 40+)
1-Liter Water Bottle
Toiletries Bag
Basic Personal Medical Kit
Mobile charger / Power bank
Essential Documents
Camera
FAQs
Q1. Is Nag Tibba Trek Difficult?
Nag Tibba Trek falls under the category of easy trek. And the trek is famous for being one of the beginner's friendly treks.
Q2. What kind of Accommodation can I expect on Nag Tibba Trek?
You can experience the beautiful camping in nag tibba, which will be amusing and offer a different and unique experience at the same time.
Q3. What is the temperature in Nag Tibba?
During the winter months, which span from December to March, the temperature fluctuates between a bone-chilling -5 degrees minimum and a relatively mild 13 degrees maximum. To combat the freezing cold, it is essential to bundle up in thick woolens to ensure warmth and comfort. Moving on to the summer months, which encompass April to June, the temperature ranges from a cool 2 degrees minimum to a more pleasant 20 degrees maximum.
The delightful weather during this time makes the Nag Tibba trek feel easier and even more enjoyable. As for the monsoon months, July and August bring temperatures ranging from 8 degrees minimum to 16 degrees maximum. Transitioning into the fall months, which span from September to November, the temperatures vary between a chilly -4 degrees minimum and a comfortable +15 degrees maximum.
Q4. Does Nag Tibba experience snow?
From November to March, Nag Tibba is covered in heavy snowfall. The temperature in this region remains consistently between -2 to 5 degrees.
Q5. Can I do Nag Tibba Trek without a guide?
It is always recommended to trek with a guide or a local who possesses extensive knowledge of the terrain.
Q6. Is Nag Tibba Trek safe for women and solo travelers?
Absolutely! In fact, all Himalayan trails that commence from small villages such as Pantwari or Sankri are incredibly safe for women and solo travelers. The people of the region are known for their warmth, care, and hospitable nature.
Q7. Are permits necessary for the Nag Tibba Trek?
Currently, there are no specific permits required for the Nag Tibba Trek. However, it is advisable to verify with local authorities or trek organizers for any updated information or permits, if applicable.
Q8. What activities can be enjoyed during the Nag Tibba Trek?
There are a plethora of activities to indulge in during the Nag Tibba Trek, including bird watching, nature walks, exploring Himalayan peaks, photography, visiting local villages, and immersing oneself in the diverse flora and fauna of the region. The trekking route of Nag Tibba showcases dense forest covers in Uttarakhand, adorned with the vibrant rhododendron flowers, locally known as buransh.
Towering pine trees and majestic oaks stand guard along the trails, while the terrain is enriched with valuable herbs like Ashwagandha and Vajradanti. Moreover, the trek offers glimpses of exotic Himalayan animals and the melodious chirping of mountain birds, adding an extra touch of magic to the experience.
No thinking Twice this time, plan your weekend gateway to the mind-blowing Nag Tibba right away!!