Out of all the magnificent treks in Dev Bhoomi Uttarakhand, the Deoriatal-Chandrashila Trek undoubtedly unravels the Best Summit Views. From soul stirring views of the highest mountain peaks in India to the colorful trails and spiritual bliss, this trek never fails to etch a special place in your mind and soul.
The Moon Rock – Chandrashila is the summit of Chandranath Parvat on which Tungnath is situated. Soaring high above the clouds at 13000 ft, Tungnath – The Highest Shiva temple in the World and the 3rd Panch Kedar is the holy shrine of Lord Shiva making it a revered pilgrimage site. But apart from the religious significance, it is the natural splendor of the place that takes your breath away. The views of Mt. Chaukhamba from the shores of Deoriatal with fresh blooms of rhododendrons adding a splash of color to the entire scenery is truly a sight to behold.
So whether you are trekking up the mighty trails in search of tranquility or to seek blessings at Tungnath, know that here, peace comes easy.
How to reach Deoriatal-Chandrashila?
Both Deoria Tal and Chandrashila are one day treks that you can embark on from their respective Base Camps that are Sari Gaon and Chopta. They are both situated in Garhwal Region of Uttarakhand and can be done together on a 3 Day trip from Delhi. 
Since there is no direct access via rail or airways, one has to first reach Rishikesh / Dehradun and then take a bus or cab to Chopta from where the journey begins. 
READY FOR THIS ADVENTURE ? CLICK HERE TO KNOW MORE
By Road – Delhi – Chopta : 10 Hours, 384 kms
There are not many direct buses to Chopta so one can take a bus till Rishikesh and then catch another bus or taxi to Chopta.
Delhi – Rishikesh : 5 Hours ,228 kms
Rishikesh to Chopta : 5 hours, 160 kms
After finishing up the trek to Chandrashila, you can head to Sari Gaon from Chopta and begin your trek to Deoriatal.
Chopta – Sari Gaon : 2 Hours, 56 kms
The overall drive lets you witness the scenic vistas of Uttarakhand, allowing you to get a sneak peek of the magical journey that awaits.
What is the Best Time to do the Deoriatal-Chandrashila Trek?
The Deoriatal-Chandrashila Trek is pleasant all year round. Each season drapes the region in its own mystical charm making it look beautiful whenever you choose to visit. However, it goes without saying there are those special times in the year when the allure of the region is unparalleled making it the Best Time to visit. 
March – June
Another highlight of the Deoriatal-Chandrashila trek is the trail itself that snakes through lush Oak and Rhododendron Forest. During Spring, the flowers are in full bloom draping the entire region in pink hues, mist and a tranquil aura. With patches of snow still to be found and glimmering peaks, this is the greatest time to embark on this trek. By the onset of Summer, the weather is also pleasant and the clear skies give way to capture stunning views of the major himalayan peaks.
September – December
The monsoon months are quite dangerous as it is a landslide prone area. However, September can be pretty nice as the afterglow of Monsoons makes the entire place look lush green. During Autumn, November onwards, the place looks rather brown with chilly winds starting to set in. By the end of December, there is heavy snowfall and the entire region is blanketed in a thick tapestry of snow. While it is advisable not to trek in heavy snow, trekking enthusiasts may still want to experience this snow laden paradise. 
READ MORE: Story of Chandrashila
What makes this Trek a Must-Do Experience?
Deoriatal
Elevated at about 12000 ft in the Kedarnath Wildlife Sanctuary, Deoriatal is a sacred lake that offers beguiling views of the Chaukhamba Massif. It is surrounded by vast stretches of grassland, deep jungles, exotic flora and fauna with the snow-clad Himalayan Peaks looking absolutely magnificent.
The trek to Deoriatal starts from a tiny village named Sari, a peaceful little hamlet where the locals have managed to peacefully coexist with the mountains. While trekking up from Sari Gaon, you can find the trails lined with Keanu trees, wild berries and dense forests that makes the trek soothing and fulfilling. Upon reaching, you land amidst verdant meadows with sun rays flickering through the leaves, the mountains shining in a golden glow and its reflection on the lake that will take your breath away at first glance!
Occasionally, you can also spot Musk Deers peeping at you from behind tree barks, birds sing a sweet symphony throughout the day and at nights, the entire sky looks diamond studded. Many photographers and astrophiles also camp here for days to capture celestial events and gorgeous views of the Milky Way. A key highlight of the trek is watching the sunrise from the View Point in Deoria Tal which brings you face to face with the Chaukhamba Massif and allows you to capture the first rays of sunlight falling upon the Himalayas.
Chopta
A hushed little hamlet encircled by dwindling pines, deodar, rhododendron and oak trees makes the stay in Chopta absolutely rejuvenating. Chopta is known to be the gateway to many treks, the closest one being the trek to Chandrishla that is quite popular in Uttarakhand. Chopta acts as the basecamp for the Tungnath-Chandrashila Trek and allows one to conquer the trail within a day.
Be it Summers when the entire region looks colorful because of the abundance in flora and fauna or Winters when a tapestry of snow makes this place look like a piece of Narnia, Chopta is glorious all throughout the year. The numerous camping and glamping options makes it a comforting stay, letting you unwind in the lap of nature and spend some time in solitude away from the hustle and bustle of the city.
It is a perfect spot for weekend getaways with your families and friends, where you can spend your days sun basking and hiking up to different view-points to capture sunsets and sunrises. The moment the sun starts to set, Chopta is completely draped in azure and looks absolutely fabulous to say the least! 
SUGGESTED READ : Tale of Deoria Tal and Chandrashila Trek
Tungnath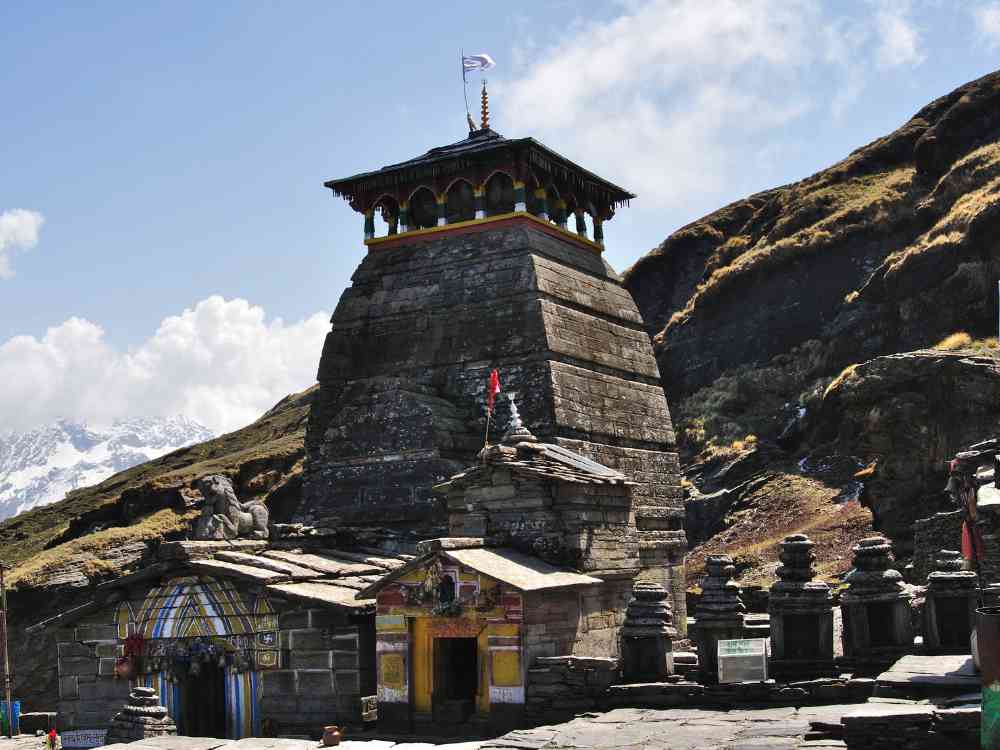 The Highest Shiva Temple in the world and 3rd of the Panch Kedars, a journey to Tungnath awakens your senses and lets you experience a perfect blend of spirituality and adventure. The trek is just perfect for first-time trekkers and is in fact, a great start as every turn unravels a better view of the snow clad mountain peaks.
Creation and Destruction are the two ends of the same moment, and everything that exists in between is the journey of life. As I trekked upto Tungnath in Peak Winters, a sense of serenity embraced me in its warm embrace. Watching the grandest Himalayan Peaks at sunset and praying at the Highest Shiva Temple in the World filled me with joy that lingered along for quite a while. Here, you really do come one step closer to Divinity.

Raima Raj
Since the temple is a part of the panch Kedar yatra on which people of all ages embark on, a stone paved path has been constructed that leads you there making the trekking experience a rather easy one. Tungnath is believed to have been built by the Pandavas and dates more than 500 years old. The temple houses a Shiva Linga along with other idols of Parvati, Ganesh and other gods. During winters, the idols are shifted to Makkumath which is the winter home for Tungnath ji and are brought back to Tungnath with a grand celebration around April.
Once you reach, you can see numerous bells hung right at the entry of the temple that keep ringing as the wind flows making the overall aura serene and pure. Sitting here with your eyes closed, just listening to the chants and prayers and feeling the cool breeze in your hair is a feeling of Nirvana.
Chandrashila
Gazing at mountains is a common delight, but experiencing truly breathtaking vistas is a rarity. Chandrashila guarantees an awe-inspiring adventure, offering unparalleled views of majestic peaks such as Nanda Devi, Kedar Peak, Bandarpoonch, and Mount Trishul. Renowned for its panoramic 360-degree panoramas, Chandrashila ensures that the vistas you encounter are nothing short of extraordinary.
Things to Do
If you are someone who likes treks and the breathtaking views of mountains, then Chopta Chandrashila trek is made for you only.
Trekking – The trekking route to Chandrashila begins at Chopta and offers a moderate level of difficulty. This captivating journey takes you through picturesque meadows, peaceful villages, and lush conifer and oak forests. During the winter months, the trail is transformed into a snowy wonderland. Additionally, you can also explore Devariyatal, Bisurital, or embark on a 4-5 day trekking expedition in Chopta.
Photography – Capturing the breathtaking beauty of Chopta is a photographer's delight. The mesmerizing views of rolling valleys and the majestic snow-covered peak are irresistible subjects to capture. The panoramic vista from the Chandrashila summit provides a 360-degree spectacle of snow-capped mountains, making it one of the best locations for photography.
Camping – Chopta is an ideal destination for camping, especially as it lies on the way to Tungnath. It offers a wonderful opportunity to immerse yourself in the beauty of nature while camping with your loved ones.
Flora and Fauna – The Kanchula Korak Musk Deer Sanctuary, located on the Chopta-Gopeshwar road, spans across 5 sq. km. This dense forest is home to a variety of exclusive Himalayan birds and animals, with the musk deer being the most prominent. Wildlife enthusiasts will find this sanctuary to be a haven, as it provides a chance to spot rare Himalayan species. Don't forget to bring your binoculars to observe the distant wildlife and birds.
READ MORE : Best Weekend Getaways From Delhi
Preferred Itinerary
Day 0: Departure from Delhi to Chopta via Rishikesh (427 Kilometers, 10 Hours)
Our Chandrashila adventure commences with a journey from Delhi to Rishikesh. Along the way, we'll pass through the captivating confluence of the Ganga River, offering breathtaking views of Devprayag and Rudraprayag.
Day 1: Arrival in Chopta | Leisure Day
Upon reaching Chopta, we'll check into our campsite and immerse ourselves in the tranquility of nature. This day provides an opportunity to fully absorb the natural beauty of Chopta and connect with fellow group members.
Day 2: Trek to Tungnath Chandrashila (4 Kilometers, 4 Hours)
After an early morning breakfast, our trek commences from Chopta towards the Chandrashila summit. En route, we'll pass through Tungnath, situated at an impressive elevation of 12,106 ft and renowned as the Highest Shiva Temple in the World. During the trek, we'll enjoy a packed lunch. At an altitude of 13,050 ft, Chandrashila offers awe-inspiring vistas of Nandadevi, Trisul, Kedar Peak, Bandarpunch, and Chaukhamba peaks. After spending quality time at the summit, reveling in the Himalayan beauty, we'll return to Chopta.
Day 3: Visit to Deoria Tal | Departure
The day's highlight is a trek to Deoria Tal, a pristine lake renowned for its exquisite reflections of the Chaukhamba peaks on its mirror-like surface.
Day 4: Arrival in Delhi | Conclusion of the Trip
We'll arrive in Delhi early in the morning, and it's time to bid farewell, cherishing the wonderful memories created during the trip. This marks the end of our adventure.
READ DETAILED ITINERARY HERE
FAQs
Q1. How challenging is the Chandrashila Trek?
The Chandrashila Trek is generally classified as an easy to moderate trek, making it one of the safest options for beginners. With a gradual increase in altitude, it provides ample opportunities for acclimatization. Whether you're a novice or an experienced trekker, the Deoriatal Chandrashila trek is a must-try.
Q2. What items should be on my packing list for the Chandrashila Trek?
Pack Smart for Chandrashila Trek:
Day backpack (20 – 30 Ltrs)
Comfortable floaters or sandals
1 Down Jacket / Main Jacket
1 Pair of Thermal Wear
Sturdy Outdoor Shoes
3 Quick-Dry Tees
3 Pairs of Cotton Socks
1 Pair of Woolen Socks
Rain Poncho
Quick-dry towel
Protective Gloves
Sun Cap
Lip Balm
Cold Cream & Sunscreen (SPF 40+)
1-Liter Water Bottle
Toiletries Bag
Basic Personal Medical Kit
Mobile charger / Power bank
Essential Documents
Camera
Q3. What is the length of the Chandrashila Trek?
The Chandrashila Trek spans approximately 10 kilometers, taking you through breathtaking landscapes and offering mesmerizing views of the Himalayan mountain range.
Q4. When can I experience snow on the Chandrashila Trek?
For snow enthusiasts, Chandrashila Trek is a must-visit destination. Snowfall is typically observed from December to March. However, in January and February, the trail may be more challenging to access due to heavy snowfall.
Q5. Will I have network connectivity during the Chandrashila Trek?
Yes, you can expect good network connectivity throughout the trek, including at the summit.
Q6. What are the temperature conditions in Deoriatal Chandrashila?
In winter, temperatures range from -5 to 10 degrees Celsius, with cold nights. From August to the end of October, temperatures vary between 4 to 23 degrees Celsius.
Q7. Is the Deoriatal Chandrashila trek safe?
Absolutely, it's a safe trek. However, we recommend trekking with an experienced team. Our trek captains are certified with AMC and BMC qualifications, ensuring a safe and guided adventure.
Q8. Which trek should I consider after Chandrashila?
If you've conquered Chandrashila and are hungry for more adventure, consider these thrilling treks:
Har Ki Dun
Kedarkantha
Brahmatal
Dayara Bugyal
Each offers its own unique charm and challenges for trekking enthusiasts like you.
Happy trekking!