Pune is one of the youngest cities in the country, meaning that the majority of the population in Pune consists of youngsters and has also been ranked as one of the best cities on the living index. Having said that, Pune is also known as a cultural capital of Maharashtra due to its contribution to literature, folklore, theatre, etc. The historical monuments, especially the forts around Pune defines the rich history of the city. The city itself has a lot of places to explore the number of food joints, festivals, museums, temples, gardens, etc. Geographically observed Pune is mostly surrounded by mountains; i.e the western ghats, that houses a number of weekend getaways and natural marvels from Pune to soothe your mind.
One can enjoy Pune all around the year (except May), but if you want to see what best can Pune offer, then visit during monsoon. Monsoon changes the surroundings of Pune with mountains covered with a lush green sheet, clouds lowered, cascading waterfalls being born, along with the combination of hot and spicy Vada Pav, Onion Pakoda, and Irani tea.
Here are a few best weekend getaways from Pune :
1. Astavinayak
Distance from Pune:- around 150 kms
Type:- Religious
Astavinayak means eight Ganeshas (asta-eight, Vinayak-one of the name of Lord Ganesha). Astavinayak yatra refers to pilgrimage to eight Ganesha temples in Maharshtra (around Pune), in a predecided order and the visiting back to the 1st temple to complete the yatra. These Ganesha temples are located in 150 kms radius of Pune.
The order of visiting the eight temples are- Mayureshwar, Siddhivinayak, Ballaleshwar, Shri Dhundhi Vinayak, Varadvinayak, Chintamani, Girijatmaj, Vighneshwar, and Mahaganapati. Each temple has a unique idol of Lord Ganesha and unique legends.
Another significance of these idols is that it is believed that these idols are Swayambu (self-existent), i.e naturally formed in nature and not sculpted.
2. Baramati (Bhigwan Bird Sanctuary)
Distance from Pune:- 127 kms
Type:- Wildlife, Religious.
Baramati is a small town in Pune district, which is famous for Shri Siddheshwar and Kashivishveshwar temple that are constructed in 750 A.D, known for their architecture. It is also known for the Mayureshwar temple (1st one in the Astavinayak pilgrimage circuit). The very popular temple of Jejuri, decicated to Lord Khandoba (one of the manifestation of Lord Shiva) is also located near Baramati.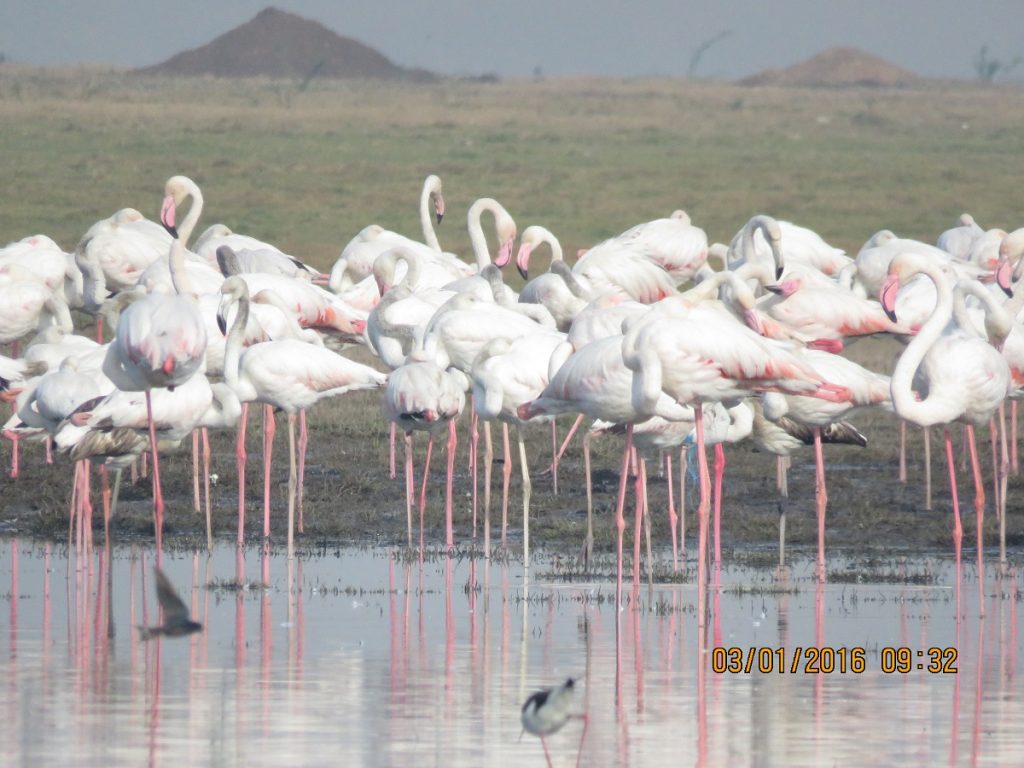 The villages around Baramati are good for agro-tourism. Bhigwan bird sanctuary is located in the catchment area of the Ujani dam near Baramati. This place is a paradise and perfect weekend getaway from Pune for bird lovers/ photographers, which is practiced by using a boat ride through the lake. More than 200 species of migratory birds flock this place during the months of November to March.
The major attraction here are the flamingos, storks, falcons, etc.
3. Bhimashankar
Distance from Pune:- 111 kms
Type:- Religious, wildlife, adventure
Bhimashankar is one of the twelve jyotirlingas and also the origin of Bhima river. The temple has scripts dating back to the 13th century. The of the temple is combination of old and new Nagara styled architecture. There is also a unique Roman styled bell in the temple with the idol of mother Mary with Jesus. Located in the Bhorgiri ghat region, the temple is surrounded by Bhimashankar wildlife sanctuary.
The sanctuary was formed to protect the state animal of Maharashtra– the giant squirrel. There are numerous trekking routes from Khandas to reach the temple. The Ganesh ghat route is the easier one and ideal for beginners. The other one is the shidhi ghat route (ladder route), which is ideal for experienced trekkers.
There is also a range trek to Bhimashankar that starts from the forest surrounding the Dhak Bhairi fort.
4. Buddhist cave circuit
Distance from Pune:- around 60 kms
Type:- Adventure, religious
The Buddhist cave circuit near Pune includes 4 caves – Karla, Bhaja, Bedse, and Patan Buddhist cave. They are located within 60 km radius of Pune before Lonavala. One will have to hike a bit to reach these caves. The caves are said to be built from the 1st to 5th centuries. They were very popular in the Satvahana reign.
The significance of these caves is that they are the well built, most preserved caves that depict the architecture of that period. The carvings and sculptures in these caves are something not to be missed, due to their intricacy.
The Karla caves have the largest and completely preserved and perfectly built Chaitya vihara (prayer hall) of that period.
5. Diveagar
Distance from Pune:- 160 kms
Type:- Beach, Religious.
Diveagar is a small beach village located in the Raigad district. The beach is known for it's cleanliness and pristine beauty. The place is also popular for beetle nuts and various products manufactured out of it. One can practice various water sports and horse-cart ride at the beach.
The Swarna Ganesh temple is a popular religious center in this region. The Laxmi Narayan temple is a prime attraction as this temple is constructed in Hoysala style architecture. Other popular attractions in this region are Peshwa memorial, Ganesh gully, Shankara temple, and Sundernarayan temple.
Also, the trip to Diveagar is incomplete without trying the delicious Konkani food, which mainly comprises of coconut, rice, and fish.
6. Kashid
Distance from Pune:- 125 kms
Type:- Beach
Kashid is one of the beautiful coastal villages in Maharashtra. Kashid is a preferred weekend getaway from Pune for couples and those who want to spend some time on quaint private beaches with bonfire and some stargazing If you are lucky enough, you can see dolphins early morning in winters.
There are a number of activities one can do in Kashid like relaxing at the hammocks along the beach, horse riding, swimming, practicing various water sports (parasailing, snorkeling, banana ride), etc. The Phansad wildlife sanctuary near Kashid is home to a number of species like Leopard, hyena, giant squirrel, etc. The Portuguese styled Revdanda and Korlai fort are also a must-visit.
One can also enjoy the delicious Konkani food here which comprises mainly of coconut, rice and fish.
7. Kolad
Distance from Pune:- 113 kms
Type:- Adventure
Kolad is a tiny town in Raigad district that blooms up for tourist during the monsoon and post monsoon season (June to April). The green pasture lands, cascading waterfalls and the lush mountains, makes this place a must visit for nature lovers and hikers.
The most famous activity in Kolad is white water rafting in the Kundalika river and due to this Kolad is also called Rishikesh of Maharashtra. The rugged topography of the surrounding mountains offers a number of hiking destinations to choose from according to the difficulty level.
There are a number of adventure activities practiced here like waterfall rappelling, river crossing, kayaking, canoeing, ATV riding, etc. Kolad has a number of resorts, cottages, nature camps, etc to stay.
Other tourist attractions around Kolad are Ghosala fort, Tala fort, Bhira dam, Dholwal dam, Kolad museum, Sutarwadi lake, Kuda caves, Plus valley trek, etc.
8. Lonavala – Khandala
Distance from Pune:- 64 kms
Type:- hillstation, adventure
Lots of people from Mumbai and Pune flock these twin hillstation, especially during monsoon to enjoy the showers. These hill stations houses a number of beautiful waterfalls, forts, resorts, adventure camps, view points, gardens, etc.
The most popular attractions are Duke's nose, Bhushi dam, Della adventure camp, Kune waterfall, Rajmachi fort, Tungarli dam, Ryewood Park, Khandala ghat viewpoint, etc. Trekking around the hill station is also one of the most popular activities. The route to Lonavala by rail or road is something worth the time and is there one of the famous weekend getaway from Pune.
Also, don't forget to try the delicious chikki with a lot of varieties and chocolate fudge at the hill station.
9. Mahabaleshwar – Panchgani
Distance from Pune:- 123 kms
Type:- Hillstation
Another twin hill station serves as a preferred outing especially during the strawberry season. These twin hillstations are known for their cultivation of seasonal fruits like strawberry, blackberry and mulberry. They are best served with freshly whipped cream at the hill station.
One can indulge in adventure activities like hiking to the table mountains, paragliding, horse riding, etc or just choose to relax into beautiful resorts and hotels with amazing valley views.
The popular spots are Venna lake, needle hole point, Dhom dam, Moraraji castle, devil's kitchen, Arthur's point, etc.
10. Maval
Distance from Pune:- 100 kms
Type:- Monsoon getaway
The word Maval means the direction in which the sun sets. Maval is located in the west of Pune district. This place will enchant you with it's charm during monsoon. A hidden gem in Pune district, this place is still unexplored by the urban population. Once you enter the Andar Maval region after crossing the railway line near Kanhe railway station, the panoramic view of lush green mountains and numerous waterfalls will take you into a complete another world.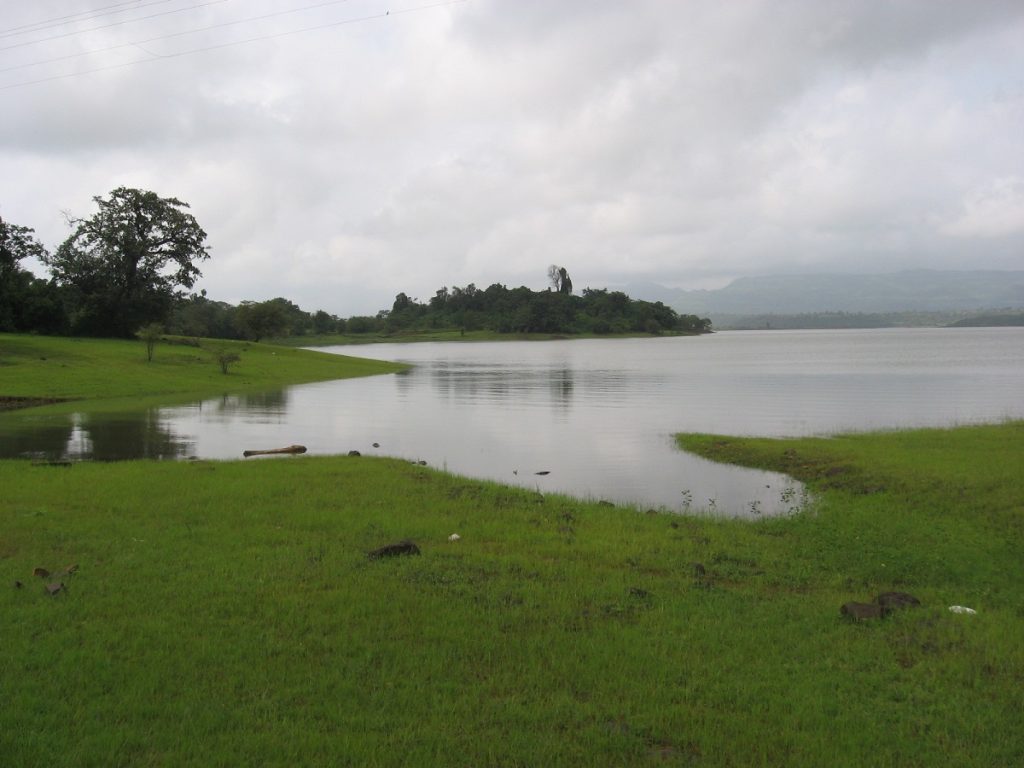 One can see the best of monsoon here. Some of the waterfalls in this region are Jagtap waterfalls, Bendewadi waterfalls, Laalwadi waterfalls, etc. Other than these there are numerous other waterfalls in sequence to stop by. The Takwe and Thokarwadi lake are ideal places for camping in this region and a famous location for weekend getaway from Pune.
There are a few cottages and farmhouses to stay, in this region that will also serve the local delicacy.
11. Mumbai
Distance from Pune:- 130
Type:- UNESCO site, city, religious.
Known by multiple names like – city of dreams, the commercial capital of India, Bollywood gateway of India, etc. This city offers 3 UNESCO sites, along with some historical monuments, beautiful promenades by the sea, temples, shopping hubs, libraries, the film city, residence of the Bollywood stars, etc.
Also being a cosmopolitan town, the city hosts a number of art and culture festivals with great pomp and offers the delicious food from different cuisines. Head on to this 24*7 city to enjoy the amazing nightlife, overlooking the skyline, the sea, the street food at the Chowpatty, and traveling through the suburban railway network.
Elephanta caves, Gateway of India, Kalaghoda art festival, Asiatic society library, Siddhivinyak temple, Haji Ali Dargah, Madh fort, Bandra-Worli sea link, Bandstand, Colaba causeway, Juhu Chowpatty, Marine drive, etc.
12. Pawana Lake
Distance from Pune:- 55 kms
Type:- Adventure
Pawana Lake is an artificial lake formed due to the backwaters of the Pawana dam formed on the Pawana river. This place has become is a very popular picnic spot and camping site due to its proximity to the city. There are various water sports that are practiced in the lake area.
There are a number of hotels and resorts built around the reservoir for the incoming tourist. The lake is also surrounded by the hill forts of Tikona, Tung, Lohagad and Visapur that over creates a postcard view, making the place ideal for camping. Due to less pollution and quite a distance from the city, stargazing can also be practiced here.
There are a number of commercial organizations that offer camping packages along with food, music, barbeque, etc.
13. Satara (Kass plateau)
Distance from Pune:- 145 kms
Type:- UNESCO site, Adventure
Satara is a small town situated between the seven hills. The town is very popular due to the Kaas plateau formed of basalt rock and is ideal for more than 850 different types of plants during monsoon. The whole plateau is covered by different types of flowering plants, that looks no less than heaven.
Also, the biodiversity of this place is very unique and limited to a specific area. The plateau blooms with a colorful bed of flowers from late August to September.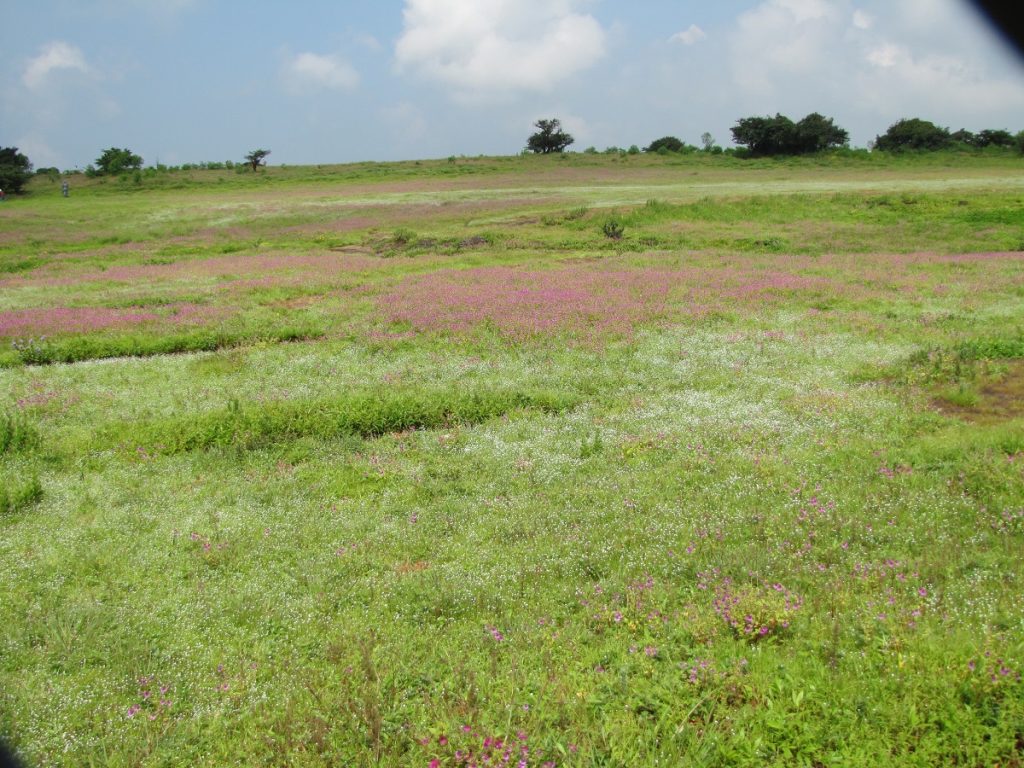 Other attractions nearby are Kaas lake, Thoseghar waterfalls, Vajrai waterfalls, etc. Hiking can also be practiced at Vasota fort, Ajinkyatra, Sajjangad, Chandan-Vandan, etc. There are also some temples and palaces in the city to visit.
Also, don't forget to try the famous local food item called – Kandi Pedha.
14. Tamhini ghat
Distance from Pune:- 46 kms
Type:- Monsoon adventure
Amongst the many beautiful places around Pune, Tamhini ghat is not the one to be missed. It is one of the best weekend getaway from Pune for travel junkies, especially in monsoon. The whole ghat route becomes scenic due to low stooping clouds, impromptu waterfalls, lakes, and the green velvety mountains.
The Mulshi dam backwaters, Tata lake, Tamhini waterfalls, Sutarwadi lake, Bhira dam, Kuda caves, Palse waterfalls, etc are some of the major tourist attractions. Other than these, Tamhini ghat leads to the starting point of a number of beautiful monsoon treks like Andharban, Devkund, Ghangad, Plus valley, etc.
You should also read :
Contributed By : Prajakta