Mumbai being a metropolitan city and the commercial capital of the country, the life here is full of hustle and bustle. Everyone is also very familiar with the saying that it is a city that never sleeps. Thus, living in this city is quite hectic. However, the geographic location of this city is quite remarkable as the areas surrounding this busy city offers a number of places to relax and take a break from the daily city life. With the western ghats on the east and the Arabian Sea on the west, there a number of weekend getaways and trips from Mumbai.
Also, the city itself houses some UNESCO sites, historical monuments, fairs and festivals, religious places, beaches, etc to explore on the weekends. The places around Mumbai are quite known for their pristine beaches and natural beauty and are also well connected to the city.
Here are some weekend getaways and trips from Mumbai that will calm your soul from the maddening city life:-
1. Alibaugh
Distance from Mumbai:- 94 kms
Type:- Beach
Alibaugh is a beautiful coastal town in Raigad district, often referred to as 'Goa' of Maharashtra. The city was a naval base during the reign of Shivaji Maharaj. The city is closely associated with the Bene-Israeli Jew's culture and is home to a number of Jewish families. It also has a Jewish synagogue called "Israeli Ali". The town is known for the beautiful beaches, the Konkani food and water sports.
Some of the popular beaches are – Alibaugh, Kihim, Akshi, Nagaon, Kashid, Mandawa, and Varsoli beaches. The historical monuments include the forts of Khanderi, Kolaba, Hirakot, and the Korlai fort. Other tourist attractions are Vikram Vinayak Temple or Birla Temple, Magnetic Observatory, Kankeshwar temple.
2. Bhandardara
Distance from Mumbai:- 164 km
Type:- Hillstation, Adventure
This tiny hill station is located on the banks of river Pravara and is very popular for housing a number of places with undisturbed natural beauty. Bhandardara is a perfect weekend getaway and a trip for adventurers and campers from Mumbai, who wish to spend some quality time in the lap of nature. The famous treks in Maharashtra like the Alang Madan Kulang (AMK), Harishchandragad, Ratangad, Kalsubai, and Sandhan valley are all located in this region.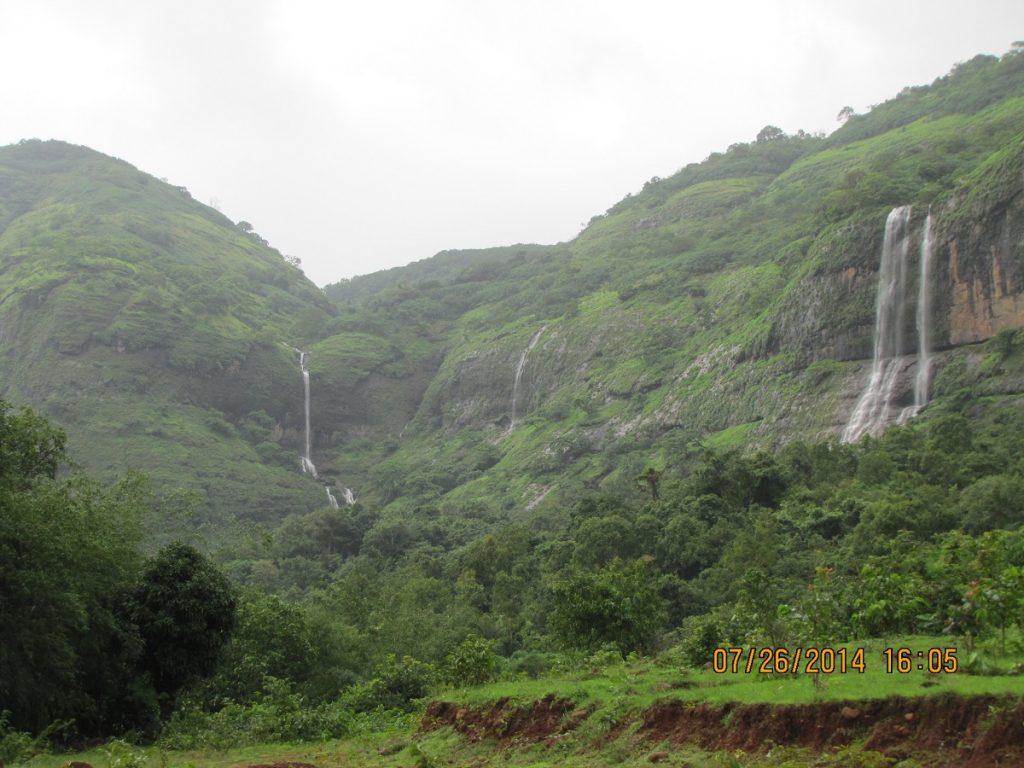 Along with these, This region houses a number of waterfalls like Radha fall, Necklace falls, Nhani falls, Reverse falls, Umbrella falls, etc. The best place to camp is along the side pf Wilson dam and Arthur lake. Other places of interest are Agastya Rishi Ashram and Amruteshwar temples, a 1200 yr old carved stone temple.
3. Daman
Distance from Mumbai:- 172 km
Type:- beach, food
Daman is a part of the Union territory on the west coast of India, next to the state of Gujarat. Formerly a Portuguese colony, Daman is crowded with people from both Gujarat and Maharashtra on weekends. The early mornings at the beaches of Daman can provide a view of baby turtle, Lobsters, and some fishermen hunting down some fresh fish for the meals.
Daman is divided into two parts by the Damanganga river called Nani Daman (small) and Moti Daman (big). Some popular structures in Daman are the Chapel or our lady Rosary, church of Bom Jesus, Our Lady of the sea, Daman lighthouse, fort Jerome, Fort of Moti Daman, freedom Memorial, etc. The famous beaches are the Devka and Jampore beach. Pargol garden and Mirasol lake are other tourist attractions in this region.
The food in Daman is a combination of Goan and Gujarati cuisine. Damanese specialty is the beetroot wine, chicken xacuti, Dhara fish fry, butter-garlic tiger prawns, and fried squid.
4. Igatpuri
Distance from Mumbai:- 121 km
Type:- Hill station
Igatpuri is a small hill station in Nashik district, which is famous for the International Centre for Vipassana meditation called Dhammagiri. This hill station is surrounded by the highest peaks of Sahyadris and the forts built during the Satvahana dynasty and therefore serves as a paradise for trekkers. It is also one of the most sought after weekend trip from Mumbai.
This place is heaven for nature lovers and adventure lovers who can indulge in activities like camping, Rock climbing, rappelling, trekking, etc. Some popular tourist attractions are Vaitarna dam, Darna dam, Bhatsa river valley, Camel valley, Avandha fort, Tringalwadi fort, Kalsubai peak, Karoli ghat, etc.
Other places include Amruteshwar temple, Tringalwadi lake, Talegaon lake, Ghantadevi mandir, Girisagar waterfall, the five waterfalls, and the Igatpuri cemetery.
5. Jawhar
Distance from Mumbai:- 165 kms
Type:- Heritage, natural.
Jawhar is a tiny hill station in the Palghar district. This all year round destination houses both manmade and natural tourist places. It is fondly referred as 'Mahabaleshwar of Thane'. The hillstation is home to Warli, Kolcha and Kukana tribes and these tribes have taken many efforts to maintain this place to it's best and are fairly successful.
Warli art is a tribal art that can be seen to be traditionally done on this hill station. The Jaivilas palace in this region was home to Munke kings and is a classic blend of western and Indian architecture. The Dabdaba and Kal-Mandvi waterfalls are very popular tourist attractions.
Other tourist places include Shirpamal, Khad-Khad dam, Divya-Vidyalaya, Sunset point, etc. Also, don't forget to buy handicrafts based on Warli paintings, made by the tribal people.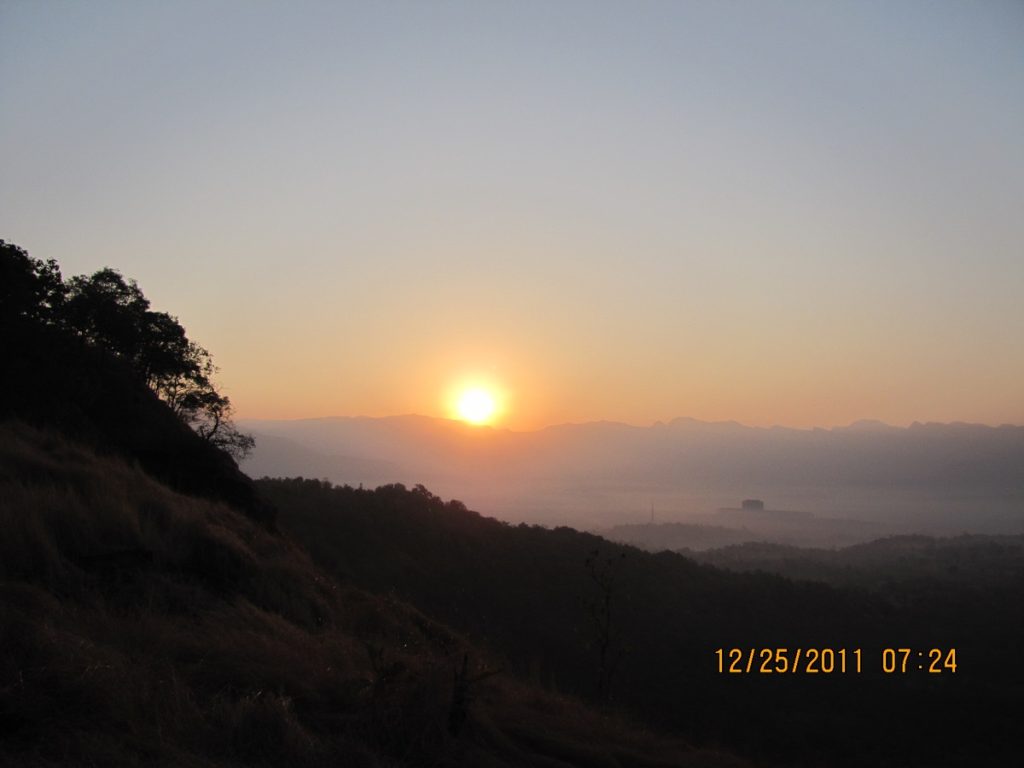 6. Karjat
Distance from Mumbai:- 63 kms
Type:- Adventure, Nature
Karjat is a small town located on the banks of Ulhas river located in Raigad district, but very close to the borders of Mumbai. It is a popular spot amongst the adventure lovers as it offers a number of scenic vistas, waterfalls, rock-cut cave temples, forts, etc. Karjat gains it's maximum beauty during monsoon.
The most popular trekking places in Karjat are Kothaligad (Peth fort), Chanderi fort trek, Matheran trek, etc. Waterfall rappelling is also sone here. Water rafting is practiced in the upper part of the Ulhas river. The first-century Buddhist rock-cut caves called the Kondhana caves are also a must-visit. The road journey through Bhor ghat is something worth your time.
Other popular tourist attractions are Kondeshwar temple, Jain temple, Ulhas valley, Bhairi caves, backwaters of Pali Bhutavali dam, Bhivpuri waterfalls, etc. Also the Vada-Pav of Karjat is loved by many people.
7. Lonavala-Khandala
Distance from Mumbai:- 83 kms
Type:- Hill station, adventure
The twin hill-stations of Lonavala and Khandala are located between the two metropolitan cities of Mumbai and Pune, making it a famous weekend trip hotspot for the tourists from both Mumbai and Pune. The reason for these places to be popular amongst tourists is the natural beauty of this place, especially in monsoon. One can choose to just go and relax in some beautiful valley view resort or also can practice some adventure here.
Some popular tourist attractions here are the Bhusi dam, Kune waterfall, Tungarli dam, Khandala ghat viewpoint, Ryewood Park, Wax museum, etc. The Della adventure camp is a very popular place to practice a number of adventure sports. Along with these trekking can also be practiced to nearby forts like Rajmachi, Korigad, Duke's nose, etc.
There are two popular theme parks of Imagica and Magic mountains located near Lonavala. Also, do not forget to try the specialty of this hill station – chikki and the chocolate fudge.
8. Malshej Ghat
Distance from Mumbai:- 130 kms
Type:- Monsoon getaway.
Malshej ghat is a popular hill pass in the western ghats, located between Thane and Ahmednagar district. The ghat itself is a popular tourist attraction during monsoon, as it houses a number of milky waterfalls with the lush greens and spectacular views of the valley. The route itself becomes very soothing for nature lovers.
The Pimpalgaon Jog dam is a paradise for bird watchers as a number of migratory birds, especially the flamingos flock here. The ghat provides spectacular views of Taramati peak (on Harishchandragad), the Naneghat range, Murbad fort, and the Ajoba hill fort (one of the toughest treks in Sahyadris), Shivneri, etc.
Other famous tourist hotspots are Kalu river waterfall and Malshej waterfalls.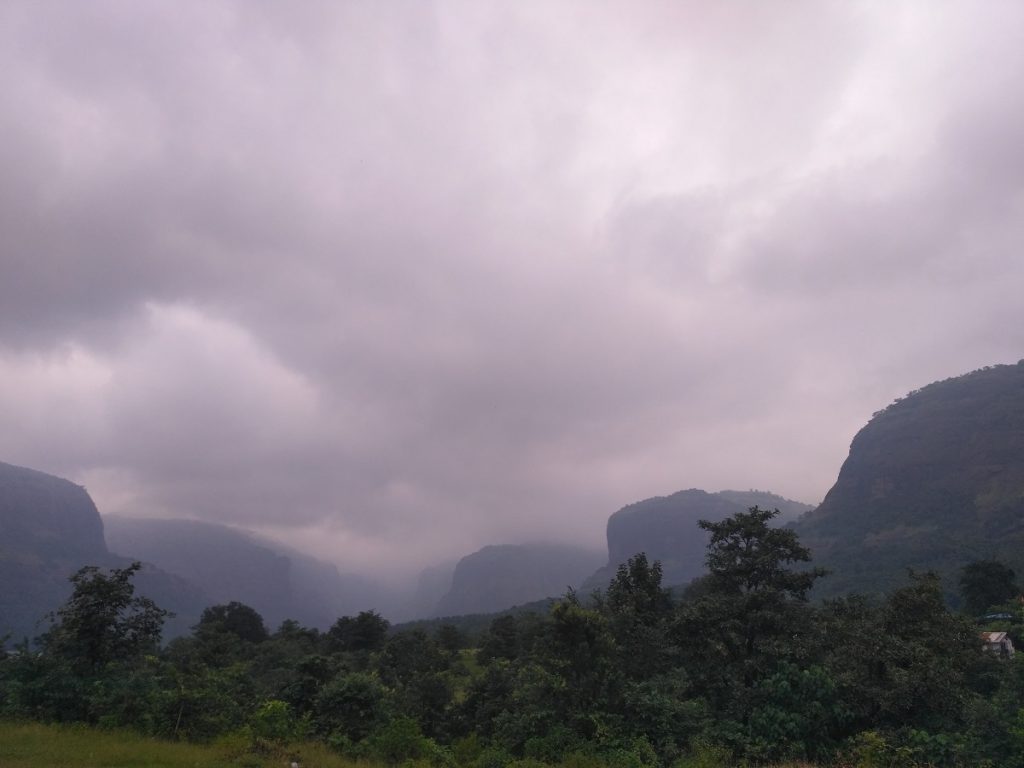 9. Matheran
Distance from Mumbai:- 81 kms
Type:- Hillstation, adventure.
Matheran lies in the eco-sensitive zone of the Raigad district. This hill station is popular for its toy train and is also regarded as Asia's only automobile free hill station. Horseback ride and cycle/man pulled rickshaw are the nodes of transportation on this hill station. Due to this the natural beauty of this place is maintained and is less affected by the incoming tourists.
The forest surrounding the hill station is home to a number of indigenous species like -langurs, barking deers, Malabar giant squirrels, etc. Amongst the 38 viewpoints, the popular ones are the Echo point, Panorama point, heart point, chowk point, etc. Trekking can also be practiced to reach the Peb fort and the Garbett plateau.
The hill station provides a spectacular view of Ulhas river, Kalavantin, and Prabalgad fort.
10. Murud
Distance from Mumbai:- 141 kms
Type:- Beach, Heritage.
The beach town of Murud is popular for it's golden sandy beaches and the sturdy water fort called as "Murud-Janjira" in the Arabian sea. This fort had a surprising element of having a fresh water lake right in the middle. This fort also has a reputation of being unconquerable.
The town is also famous for various fish dishes, production of spices, betel nuts, cashew nuts, kokum, mango, coconut and it's products, jackfruits, etc. The Murud beach is quite popular amongst the tourist, due to its calm and serene view.
Other attractions in this region include Padamdurg fort, Khokari tombs, Garambi waterfalls, Eidgah open mosque, Kude Buddhist caves, Sawat Kada waterfalls, Sidhi Ahmad Khan palace, Khar Amboli dam, etc.
11. Nashik
Distance from Mumbai:- 167 kms
Type:- Religious, food, adventure.
The city of Nashik is popular for its wine production, one of the cities to host the Kumbh Mela and most importantly as an important part of the epic of Ramayana. This is the place where Laxmana had cut Surphankha's nose and from where Sita was abducted.
People mostly come here to visit the religious places like – the banks of river Godavari, Kala Ram Temple, Tapovan, Saptashringi temple, Bhaktidham, Muktidham, Triambakeshwar (one of the 12 jyotirlingas), Anjaneri hill (birth of Lord Hanuman), etc. Other popular places in Nashik are the Pandavleni, Sita gufa, Chambhar Leni, Someshwar temple and waterfall, Coin museum, Artillery museum, Nandur Madhmeshwar bird sanctuary, Gangapur dam, etc.
Several foreign tourists are also attracted to this place during the Sula Wine festival and a famous weekend trip from Mumbai and Pune.
Along with this Nashik is also surrounded by some of the best trekking places in Maharashtra like Harihar fort, Mangi-Tungi, Ramshej fort, Salher-Mulher, Bramhagiri (origin of river Godavari), etc.
12. Silvassa
Distance from Mumbai:- 168 kms
Type:- Wildlife, adventure, leisure
Silvassa is the capital of Dadra and Nagar Haveli and a former Portuguese colony. This is a cosmopolitan town majorly famous for its colonial charm, exotic surroundings, Roman catholic churches, factories, handmade products, and tax-free alcohol. Being a cosmopolitan town, one will find restaurants from all cuisines. Silvassa is also considered to be the home for Warli Culture.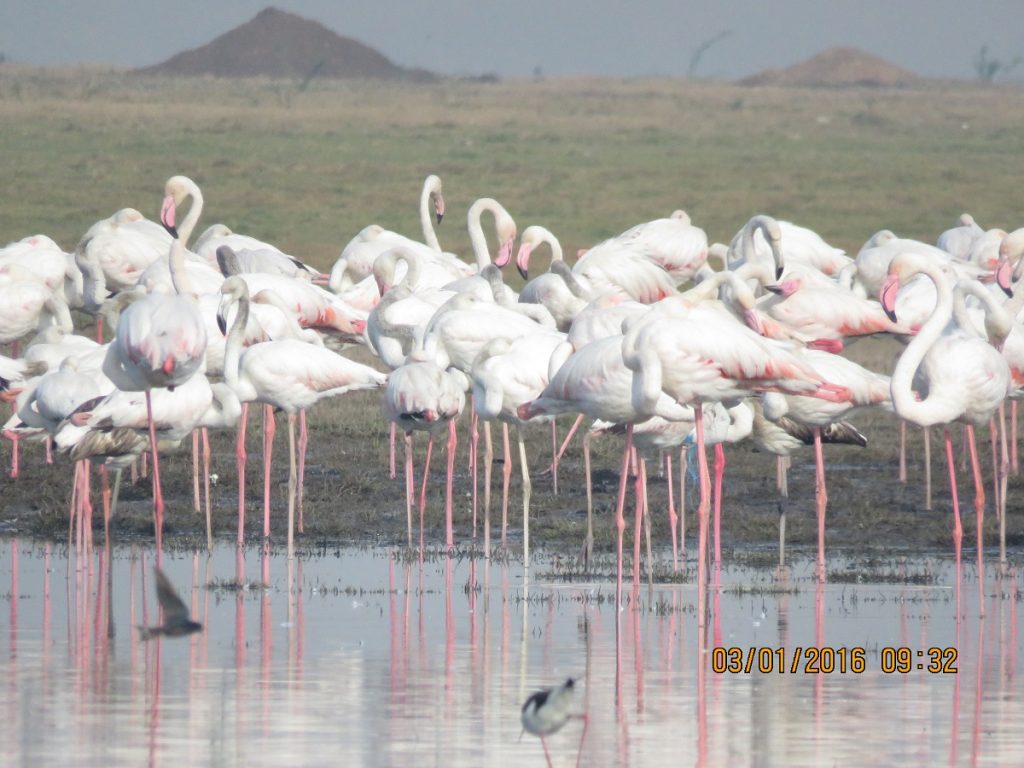 There are a number of water and land-based adventure activities that can be carried out here. Silvassa offers wildlife safari in Vasona Lion park and Satmaliya deer park. Water sports can be practiced at Dudhani lake. Other tourist attractions include – Silvassa tribal museum, Khanvel, Sanjan, Church of our lady Piety, Vanganga lake and garden, Dharampur, Hirwa Van garden, Bindrabin temple, etc.
Shopping of locally made handicrafts, warli arts, bamboo crafts, palm leaf mats, and caved smoking pipes is popular here.
You can also read :
Contributed By : Prajakta