The Himalayas are more than just formidable mountain ranges. The experiences and breathtaking views you get in these mighty mountains are unforgettable. The Indian state of Uttarakhand is truly blessed by nature's bounty. Surrounded with the mighty Himalayas, lies a heavenly abode of nature known as 'Valley of Flowers'.
Discovered by Mountaineer Frank S Smith in 1931, this stunning valley is popular for its exotic varieties of medicinal herbs and wild untamed blooms. Valley of Flowers has been declared as World Heritage Site. It is a perfect destination for adventure enthusiasts, backpackers, and photography lovers.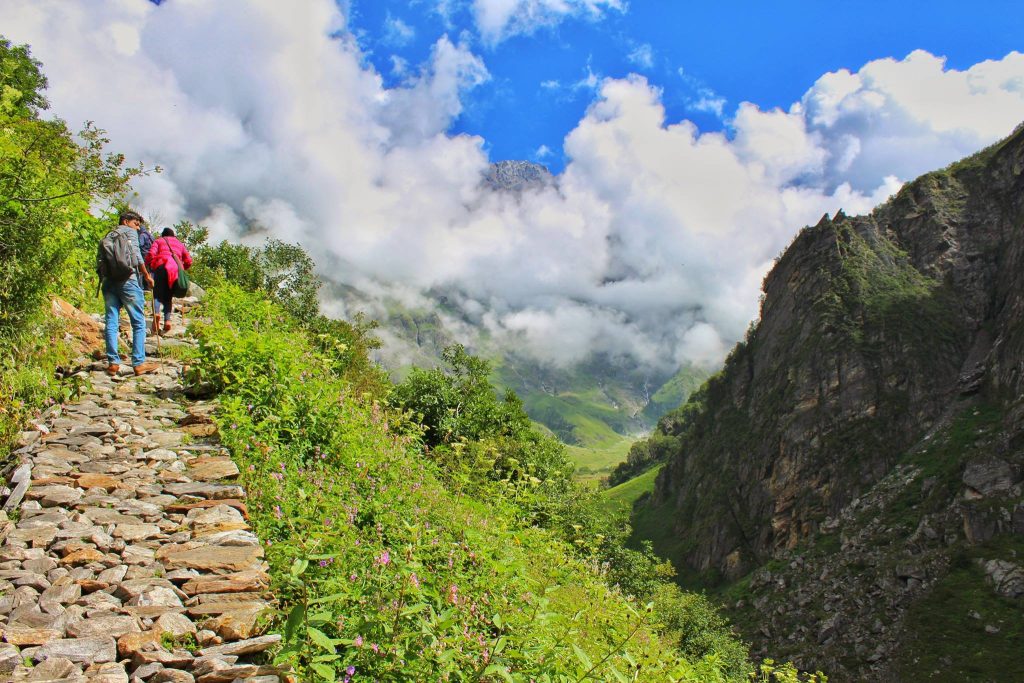 Located in the Chamoli district of Uttarakhand, this natural wonder offers some amazing reasons to explore it. Here're some Interesting Facts About Valley of Flowers that will force you to plan a trip to this paradise.
For Groundbreaking Photography –
Want to showcase your passion and enthusiast about photography? Then head towards Valley of Flowers and capture some stunning vistas of the snow-clad Himalayas, wide variety of flowers, lush green valleys, and pristine streams.
This heavenly beautiful place will definitely impress you such that you will feel like visiting again and again here.
Excellent Offbeat Destination –
Unlike popular hill retreats of Uttarakhand like Mussoorie, Nainital, etc; this Himalayan paradise is completely an offbeat location. It takes almost two days to do trek due to its great height. So give a break to those chic hotels & cafes and experience the place just like a local.
Mere words cannot do justice, that is why you should see it for yourself, at least once!
Unforgettable Trekking Experience –
The trek to this National Park is easy, in comparison to other popular treks situated at the same heights. The journey begins from Govindghat. The trek from Ghangaria towards Valley of Flowers is lined with perfumed wild flowers, wild rose bushes, and wild strawberries.
And not to mention the panorama of mountains and serene waterfalls surrounding you. Sounds amazing! Isn't it?
Unwind Amidst Mighty Himalayas –
Located at the meeting point of two Himalayan ranges, Valley of Flowers is surrounded by Zanskar range and Great Himalayas from all sides. The landscape of this verdant valley is so captivating that you would go into some other state the moment you reach here.
One can also see the majestic Nanda Devi, the second highest mountain peak in India; from this National Park. So enjoy the natural beauty along with divine surrounding of Nanda Devi.
Connection With Hindu Mythology –
This offbeat destination of Uttarakhand is also linked with a famous episode from the epic Ramayana. It is believed that Hanuman brought Sanjivani to the ailing Lakshmana from the Valley of Flowers during Ram-Ravan war.
Divine Surroundings –
A trip to this National Park usually takes you through religious and cultural centers like Haridwar, Rishikesh, Kedarnath, and Badrinath. You can also visit the famous Hemkund Sahib Gurudwara en route Valley of Flowers (the trail divides from Ghangaria).
Relish hot khichdi and get mesmerized by the lovely Hemkund lake, situated at an elevation of 4,633 m above sea level.
Explore Untouched Biodiversity –
Being a UNESCO World Heritage Site, this biosphere reserve has three sub-alpine forests leveled at different heights protecting around 500 species of wild flowers.
If you're lucky then you might even spot few endangered animals like Asiatic black bear, blue sheep, and brown bear, walking close to the trekking trail. So, always keep your camera ready to capture them!
Travel On Budget –
Valley of Flowers National Park is one of the appropriate places for travelers traveling solo or on a shoe-string budget. Apart from the mare, transportation facilities are also available from starting till the end of the destination, that too at cheap prices.
You will mostly find small homestays and eateries here which are not expensive.
[package title="Valley of Flower Trek" ]
Trek with joy, feel the charm of nature and rejuvenate your soul in India's most breathtaking national park Valley of Flowers.
Planning to visit? Check out the trip itinerary for Valley Of Flowers here.
Contributed by : Sahil Singh