Mandu, popularly known as Mandavgad is a beautiful city located amidst the Dhar district in the region Malwa based in the Western area of the state of Madhya Pradesh. Famous for its beautifully carved forts, Mandu is a perfect weekend getaway if you love everything made up of exquisite, fine architecture. Mandu lies at a distance of 100 km from Indore and has significant historical importance in its credit. It was known to be a very important military outpost because of its great strategic positioning along with strong natural defences. Mandu is encompassed with around 12 gateways and is home to a number of palaces, forts, mosques, Jain temples accompanied with other intricately carved buildings. One of its earliest mosques finds its existence in that of the year 1405. Also, the Jami Masjid is famous for its beautiful Pashtun architecture and tomb carved out of marble is also a mesmerizing architectural art to see.
So, if you wish to explore a place with the finest of architecture, nothing could be better than visiting Mandu and making memories of a lifetime. Visit Mandu, unwind yourself and get awe-struck midst the magnificent Mandu.
Places to explore in Mandu.
There are plenty of interesting places in Mandu where one can experience this fortress town at its best. Let's have a look at few of them.
The Gates: As mentioned earlier, Mandu has 12 major gateways out of which a few can be witnessed standing tall while crossing the roads that take you to the Mandu. Apart from this, few smaller gateways can also be seen which were apparently meant to protect the larger ones. It's a beautiful scene to witness the grandeur of these gateways midst your journey to Mandu.
Jahaz Mahal: Also known as Ship Palace, this Mahal is one of the most important tourist attractions here. The exquisitely carved palace lies amidst the serene artificial lakes and gives one the illusion of a ship floating in beautiful water because of its awe-inspiring architecture. This two storied palace is a treat for eyes because of its scenic views. These beautiful views also give all the photography buffs major photography opportunities.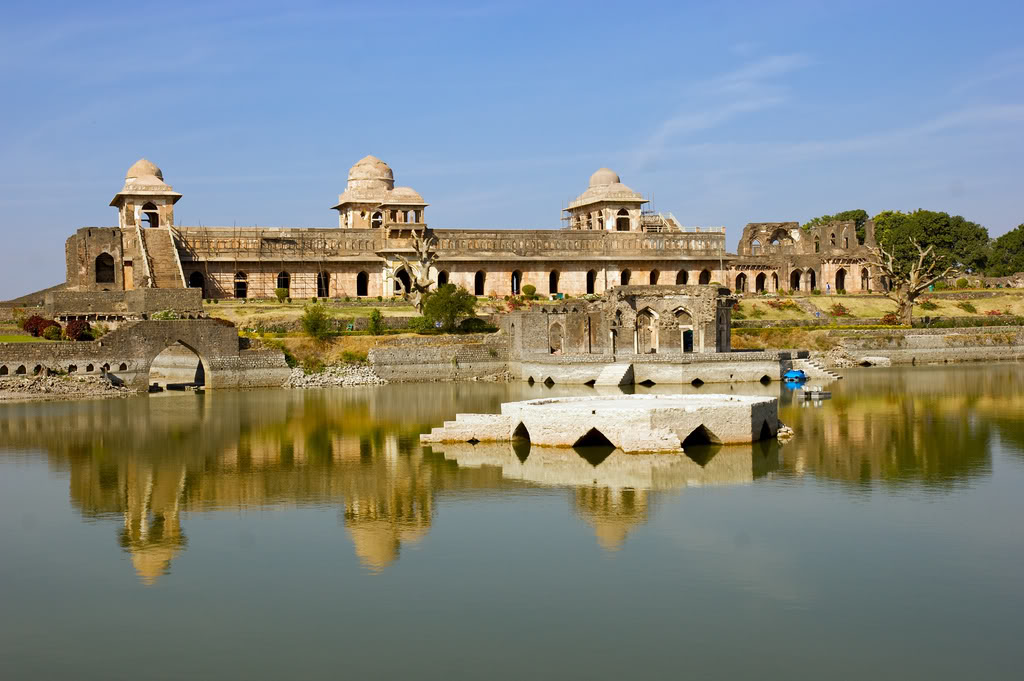 Hindola Mahal: Hindola Mahal as the name suggests is a swinging palace because of its sloping side walls. It makes a beautiful set of royal palace building constituting of Jahaz Mahal, Hindola Mahal, Nahar Jharokha and Tawili Mahal. The Hindola Mahal is believed to be used as an audience chamber in the historic era. Apart from this beautiful palace, there are plenty of other monumental structures that depict the rich heritage of Mandu.
Hoshang Shah's Tomb: This marble architecture depicts the beauty of Afghan architecture at its best. This is one of those rare tombs whose architecture inspired the construction of Taj Mahal. The mesmerising beauty of the tomb can be witnessed midst its intricately constructed dome accompanied with the work of awe inspiring marble lattice and magnificent courts and tower.
Jami Masjid: The simplicity and profound architecture of this masjid is a beautiful sight to see midst its grand courtyards and entrances. Its beautiful architecture is inspired from the magnificent mosque of Damascus and is a perfect place to witness the grandeur of great architecture.
Roopmati's Pavilion: It is a striking carved palace constructed out of sandstone. The scenic beauty of this palace makes it a favourite destination for tourists. Rani Roopmati, the love interest of Baz Bahadur is believed to have lived here.
Baz Bahadur Palace: Situated below Roopmati's pavilion, this palace is famous for its marvelling courtyards surrounded by grand halls and exquisite terraces.
All these beautiful places make Mandu a perfect tourist destination where you can go for your weekend getaway and indulge in the beauty of some of the finest arts of architecture.