Where are you travelling to next? Clue less? Maybe give Rajasthan a try and this Travel Guide should be of some help. The northern state of India has so much for you to experience and a trip to this state will be worth your money and time.
Rajasthan, the royal state is the largest state of India as per the surface area with having an area of 342,239 km square and has 33 districts. Every district, every city has some stories for you to dig out. The uniqueness of Rajasthan is not only popular in India but also in the world too. Rajasthan is an important destination in the popular 'Golden Circuit' which foreign travellers love to travel.
Rajasthan, Rajao Ka Sthan (Land of Kings), has an endless list of forts, palaces, Havelis, and shrines and what not! If you ever wondered how the royals used to live and also if you want to experience that too then, Rajasthan is THE place for you. It has so many beautiful architects to experience that it will just make you fall in love with it.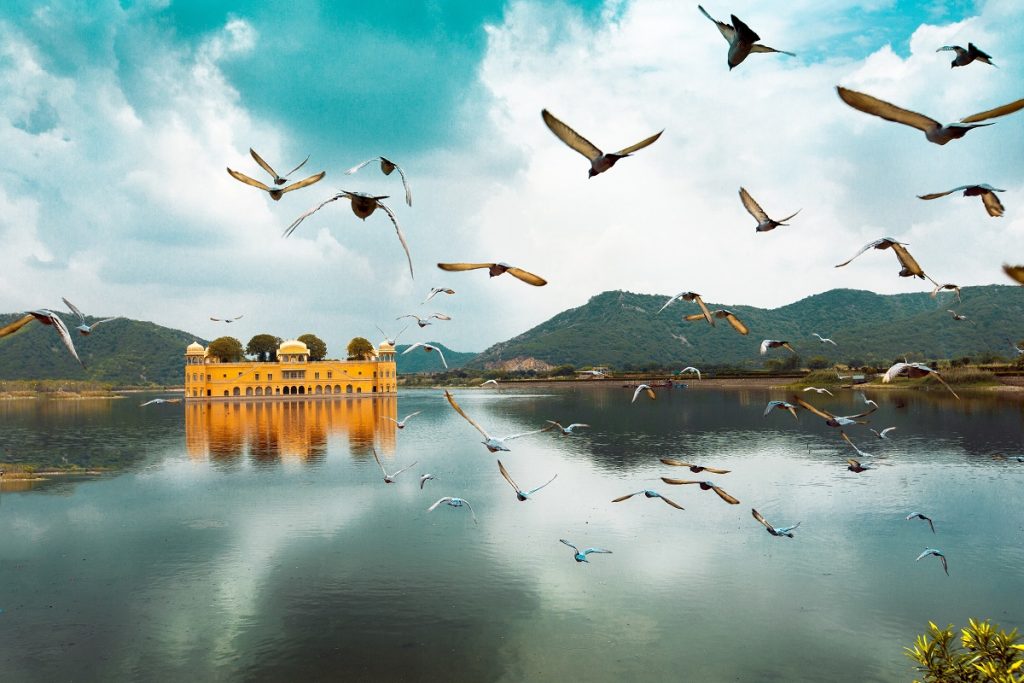 Are we really talking about Rajasthan and not talked about the food yet? OOP! My bad! Have you ever tasted Rajasthani cuisine? I am sure some of you must have and some were just waiting for me to tell them about the Rajasthani cuisine. Well for those who have already tasted the Rajasthani cuisine, you know what we talking about. Rajasthani cuisine is spicy, several flavours, sometimes crunchy, a solid hard taste that it leaves on your tongue, and Of course the state has its own sweet dishes too like Ghevar. Now, have you got the idea of how the cuisine might taste? Not yet? I will name you some dishes and you must really try it. Where? Of course in Rajasthan, Duh! It's authentic. Try out Mirchi Bada, Daal Baati, Gatte Ke Sabji, Bajre ke roti, Baingan Ka Bharta, and for all the sweet lovers, must try out ghevar. It can be said as an Indian cake.
Aren't you already interested to travel to Rajasthan? Of course, you are. Today, let me guide you for your complete tour of this royal state, Rajasthan.
Best Time to Visit Rajasthan:
If you keep any knowledge of the geography of Indian states, you must be pretty aware that the royal state is also the hottest state of India. It is always recommended not to travel in summers, but if you like the sunburns or you just like way too much of heat on your face then it is a different story. But, ideally, the best time to visit Rajasthan is during the winter season, ie, from October to Mid March.
Why the winter season? Good question. Well first the obvious reason, because of the weather. Its considerably low during nights and gives very cool chill vibes. The temperature during the day is low too, as compared to other months, which obviously gives you a good time while you explore the state.
Also, not just the weather but most of the Rajasthani festivals are also celebrated during winters seasons only, all according to different locations like, Shilpgram Festival in Udaipur, Pushkar Camel Fair which is a 14 days fair organized in November and etc.
How can you go to Rajasthan and not visit a desert? Well, yea, visiting the deserts of Rajasthan is recommended during winters too because of the low temperature then.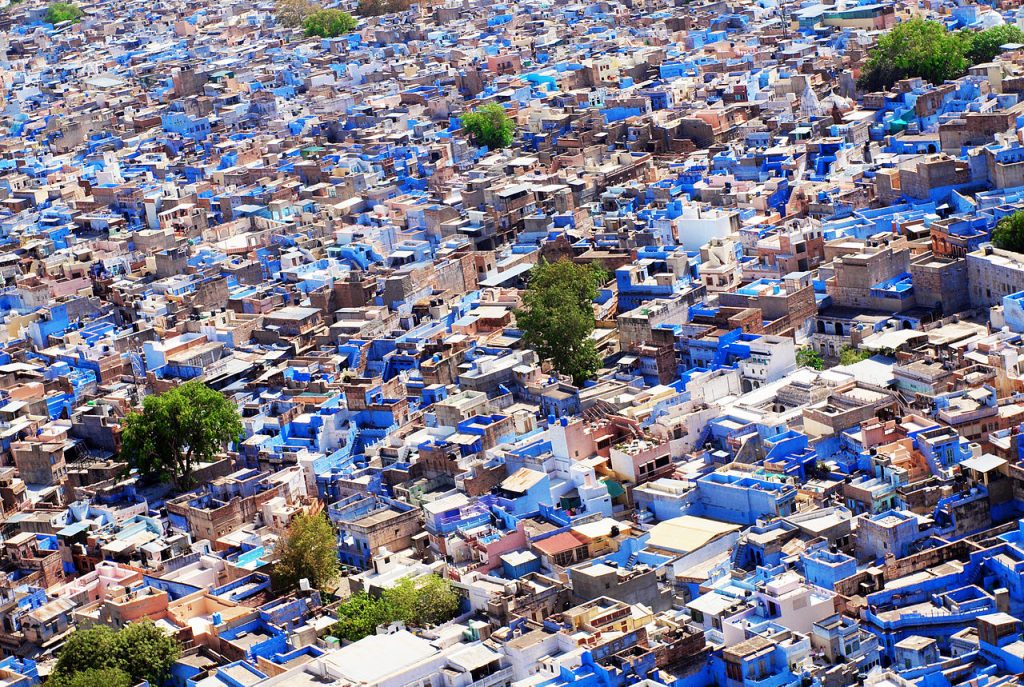 How to Reach Rajasthan:
I am pretty sure you might be hyped enough to travel the royal state, Rajasthan. But the big question comes, how do you reach Rajasthan? Well, the state has connectivity through air, land, and rails. One can easily find flights, buses, and trains to reach Rajasthan. Let us talk about them one by one.
Travel by Air:
Travelling by air will obviously save you a lot of time than other ways of transport. Jaipur International Airport is the main airport of Rajasthan, besides having other airports in Udaipur and Jodhpur too. There are other domestic airports too, for example, Maharana Pratap Airport in Udaipur, Jodhpur Airport, Jaisalmer Airport and etc. The airports have almost all the facilities like restaurants, clothing outlets, book shops and etc.
Travel by Road:
Rajasthan, the largest state of India by surface has 20 national highways. Although, the most used one is NH8 which connects from Delhi to Udaipur, Jaipur, Vadodra, and Mumbai. One can travel to different cities in Rajasthan by state buses which are operated by Rajasthan State Road Transport Corporation (RSRTC). One can also opt for private buses to tour around the cities of Rajasthan like Volvo.
Travel by Train:
The royal state has major connectivity by rails too and major stations are in Jaipur, Jodhpur, Udaipur, and Ajmer. Since Jaipur being the capital has the busiest station in Rajasthan.
Some of the popular passenger trains are super fast express, Shatabdi and Rajdhani. Luxury lovers and who can afford it too can travel by the very popular luxurious train of Rajasthan, which is, Palace on Wheels. The perks of this luxurious train have a never-ending list but if it has to be concluded in short then it is a package full of luxury. Another train that provides tourists a royal experience is 'Heritage on Wheels'.
Best Places to Visit in Rajasthan:
Rajasthan is unbeatable when it comes to forts, mahals, and Havelis, after all, it was the state of Royals. Therefore it has many things and experiences to offer tourists. Not just the forts and mahals but Rajasthan has also the nature's blessings that give the state all in one title.
The most famous tourist place in Rajasthan is the 'pink city' or the 'old city'. Guessed it yet? Obviously, the capital city of Rajasthan, Jaipur. The biggest city and one of the most popular travel destinations, not only in the Rajasthan but also in India. One can visit the Hawa Mahal, Amer Fort, The City Palace, The Jal Mahal. Shopping handmade ornaments are also something you cannot miss.
Nature lovers, you all can travel to Udaipur and visit the Lake Pichola and have a boat ride which will take you around the Lake Garden Palace which is made up all by the beautiful white marble and gives it a very mesmerizing look.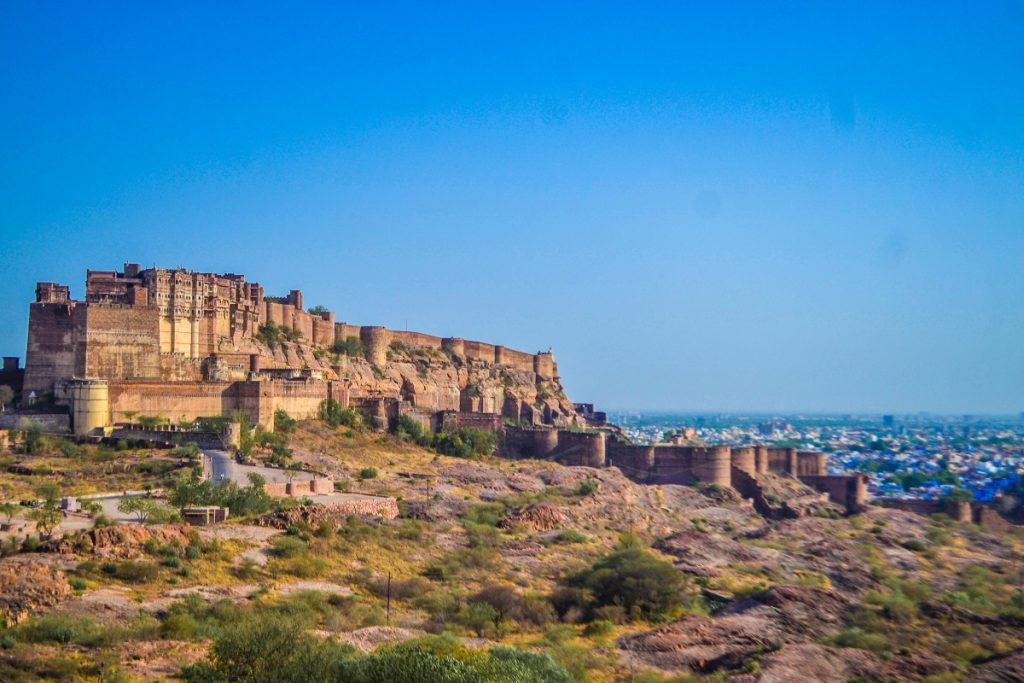 Jodhpur and Jaisalmer are other important tourist attractions in Rajasthan and have so many forts and temples that will just leave the tourist in deep thoughts. Although the list is never-ending, to name some are, Mehrangarh Fort, Umaid Bhawan Palace, Chamunda Mata Temple, Jaswant Thada, Sam Sand Dunes, Salim Singh Ke Haveli and etc. One cannot just miss these places and say they have explored the whole Rajasthan.
Other then forts and Havelis, Rajasthan has some wildlife to explore too. Yes, the very popular, Ranthambore National Park, Sariska National Park, and Bharatpur Bird Sanctuary are just to name few. In the national parks, you can easily spot the Indian tigers, leopards, hyenas, and animals that roam freely.
Let us get back to nature with chill vibes to get from the popular hill station, Mount Abu. There you cannot miss the sunset point for an amazing scenic view of the sun. Also, must-visit Achalgarh fort, Nakke lake, and Dilwara Jain Temple.
Now, we will talk about the Holy city of India, Pushkar. Pushkar is popularly for having the only separate Brahma Temple in the world. It also has the Pushkar lake flowing by the Brahma Temple, having over 52 ghats where devotees go to take bath.
Are you interested in exploring haunted places? If yes, then you must give Bhangarh fort in Alwar, a try. It is the most haunted place in India and Asia. It is the 4th most haunted place in the world.
Do you feel the vibes of the state? The royal state has a lot more to offer, but these places mentioned above is a must-must experience.
Things to Do In Rajasthan:
There are plenty of interesting things to do in this royal state, but everything depends upon the duration of your trip. If you are travelling for the weekends, you cannot cover everything, but if you are planning to experience the whole state and you have some good days for it then here are some things you must do in Rajasthan.
One should try both, jeep and camel safari in the Thar desert and get a raw experience of the sand world. The desert has many other things to offer like the puppet shows, folk dances, and of course the delicious authentic Rajasthani meals.
If adventure gives you the thrill, try out the zip lining where you can zip across cliffs in forts like Mehrangarh and Neemrana. As already discussed above in the article, if wildlife attracts you then you have the Ranthambore National Park, Sariska National Park, Keoladeo National Park, and Bharatpur Bird Sanctuary. All these parks and sanctuary got some views to capture in your camera.
One can try trekking in Mount Abu and go on a wildlife safari. People who want to experience the rural life of Rajasthani people, because they are the most authentic Rajasthani people alive, then you can visit some villages where you can experience straw huts and the rawest form of how Rajasthani people live.
Some other interesting activities that cannot be missed are, peddling across the Jaipur Streets, hot air balloon ride, Kite festival and one must watch a puppet show in Rajasthan.
Best Places to Shop in Rajasthan:
You travel to Rajasthan and come back empty-handed? No! Not possible! Rajasthan has such beautiful and attractive souvenirs that you just cannot stop yourself from buying some.
Well, the most famous market of Rajasthan is the Johri Bazar in Jaipur and it is popular for handmade jewelry and other ornaments. Bapu Bazar, another great market to shop in Jaipur is popular for Jaipuri textiles and handlooms. You must visit the Clock Tower Market to get some of the most authentic spices of Rajasthan.
Well, you visited Rajasthan and didn't get traditional clothes? You just cannot miss it! Visit the Nai Sarak market, Bada Bazar, Sadar bazaar in Jaisalmer to get the best traditional Rajasthani outfit like Bandhani fabric, Jootiya, and other traditional ornaments.
Drop in the comments if you want to add anything to our Rajasthan travel guide.
You should also read :