Kedarkantha Trek is often regarded as the 'Queen of Winter Treks' for all the right reasons. Planning a trek can turn out to be an overwhelming thing to do, with so much information out there on the internet. Our Kedarkantha trek guide will ensure you have all the information required to embark on your journey.
The scenic beauty of this trek from the very start of the base camp to the summit is irresistible. It encloses the best of everything, be it pine forests, massive mountains, picturesque views, or beautiful white snow.
It is the most popular trek and additionally, it completely transformed winter trekking in India. People gained a keen interest in exploring the beauty that it has, and getting a taste of the adventure it offers.
Let's Hop Onto The Only Kedarkantha Trek Guide You Need:
About Kedarkantha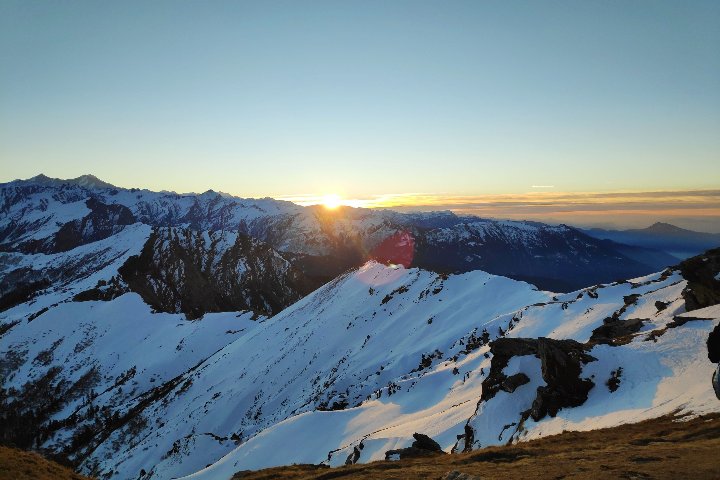 This mesmerizing winter trek is elevated at a steering elevation of 12,500 ft. Kedarkantha translates as 'Lord Shiva's throat', and has numerous legends and mythologies attached to it. It offers a majestic view of ranges like Swargarohini, Black peak, Gangotri, Yamunotri ranges, etc.
It became a popular trek owing to the scenic beauty, massive mountains, and enchanting valleys. Due to the unpredictable trails, it offers adventure like no other and that is exactly what the trekking community craves.
People who are newbies to the trekking community or experienced ones, all find their way to this beautiful summit. . This Kedarkantha travel guide will have you all excited for what is coming your way.
Additionally, note that the climb is not an easy one because of the tricky trails, and is steadily steep as well. But the mountains and scenic views are great companions and act as motivating agents for you to continue with your trek.
The summit is extremely rewarding and gives you an unparalleled feeling of accomplishment and a newfound self. You get to witness yourself in the strongest form, and it indeed would make you feel like anything is achievable.
Recommended Read: Best Winter Treks To Do In the Himalayas
Quick Facts about Kedarkantha Trek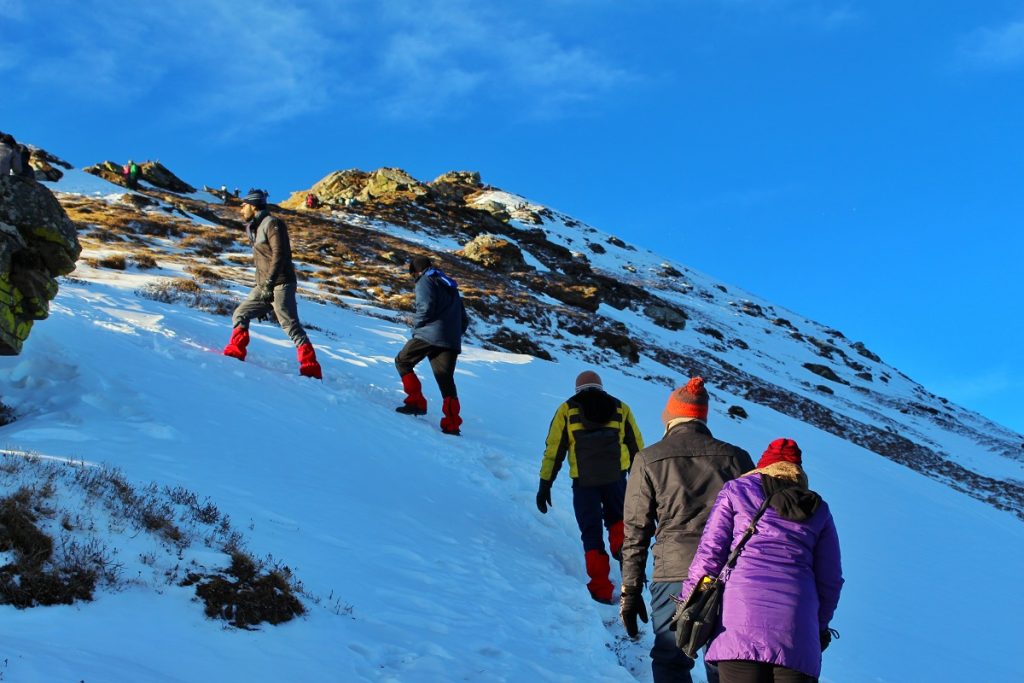 The altitude of Kedarkantha: 12,500 Ft.
Base Camp: Sankri
Duration: 5 Days
Trek Difficulty: Easy To Moderate
Trek Length: 20 Kilometers
Best Time to do Kedarkantha Trekking: November to April
Day 1: Reaching Sankri Village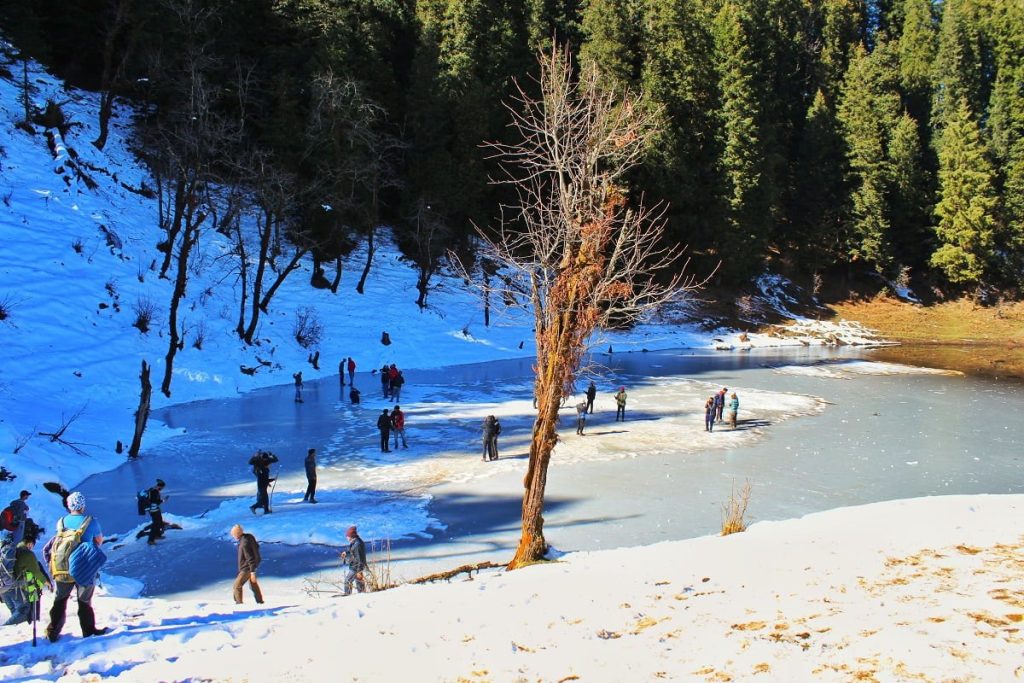 The journey begins with a beautiful 8-hour drive from Dehradun to a tiny hamlet Sankri in Mori Tehsil, in the Uttarkashi district of Uttarakhand. The drive by the Yamuna and Tons rivers, surrounded by dense forests, and taking in nature's splendor is the best start.
Sankri Village provides you with comfort and peacefulness before embarking on your trek to Kedarkantha. In addition, it is a gateway to the spectacular Govind Pashu National Park and starting point for a total of 7 treks.
There is an overnight stay at the homestays in the village, and it sets your mood right for the journey ahead. You will get a peaceful sleep at this beautiful hamlet and a well-needed rest before trekking.
Next Read: Har ki Dun Trek Guide
Day 2: Trek to Juda Ka Taal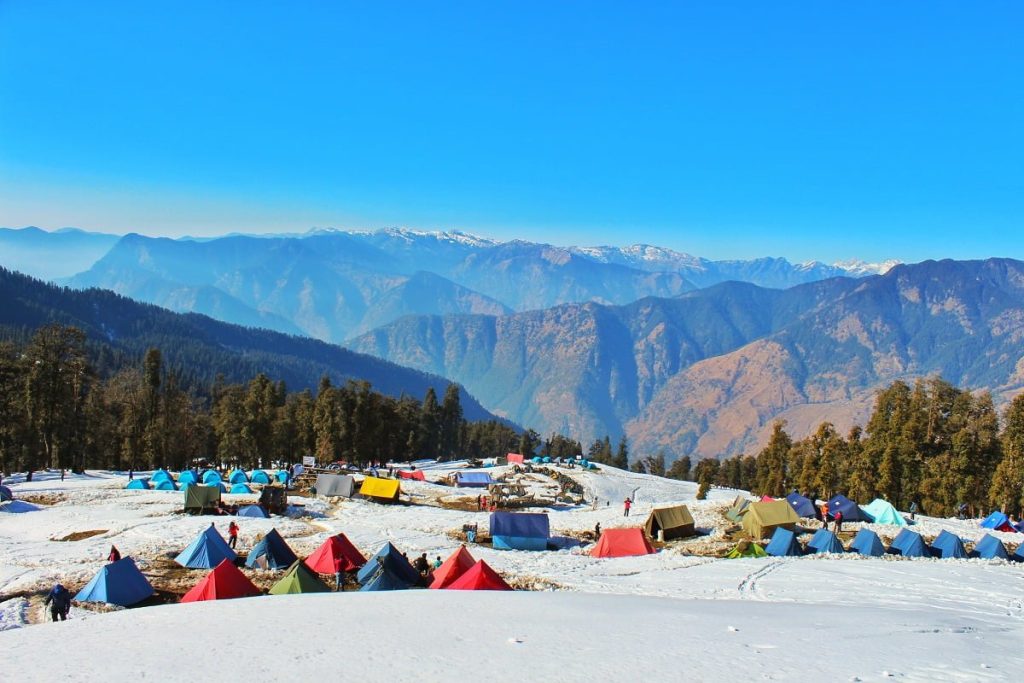 On day 2 of our Kedarkantha trek, we climb to the Juda Ka Taal which takes up to 4 hours. We would be passing through luxuriant green forests of pine trees en route to our camping site, with the Swargrohini Massif in the background beckoning you closer.
Juda Ka Taal is a breathtakingly beautiful lake with an interesting story behind it. People believe that Lord Shiva opened a tiny clamp of his hair from which water started to drip down. This resulted in the creation of this massive lake.
After trekking for four hours, you can indulge in lip-smacking food. Followed by a day at leisure. You could stay in comfort at the campsite under the starring sky.
Day 3: Juda Ka Taal To Kedarkantha Base Camp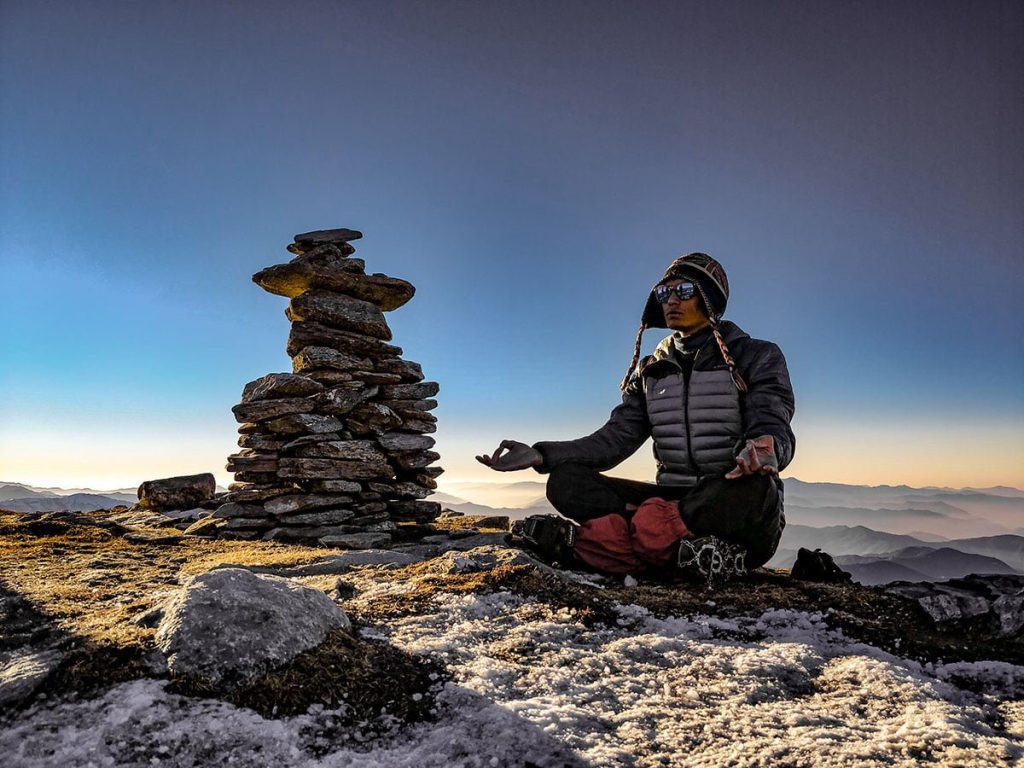 Next, we head towards the base camp of Kedarkantha after indulging in morning tea by the stunning river. It is a 3-kilometer trek that takes around three to four hours to reach.
Additionally, on the way, the breathtaking view of the snow-covered Himalayan peaks of Bandarpoonch, Kala Nag, Swargarohini, and Ranglana will leave you spellbound.
Upon reaching the base camp, you can feast on delicious food after a short trek. It would be a rejuvenating day afterward. Followed by an overnight stay at camps with the excitement for the day you have been waiting for.
Top Read: Hampta Pass Trek Guide
Day 4: Trek to Kedarkantha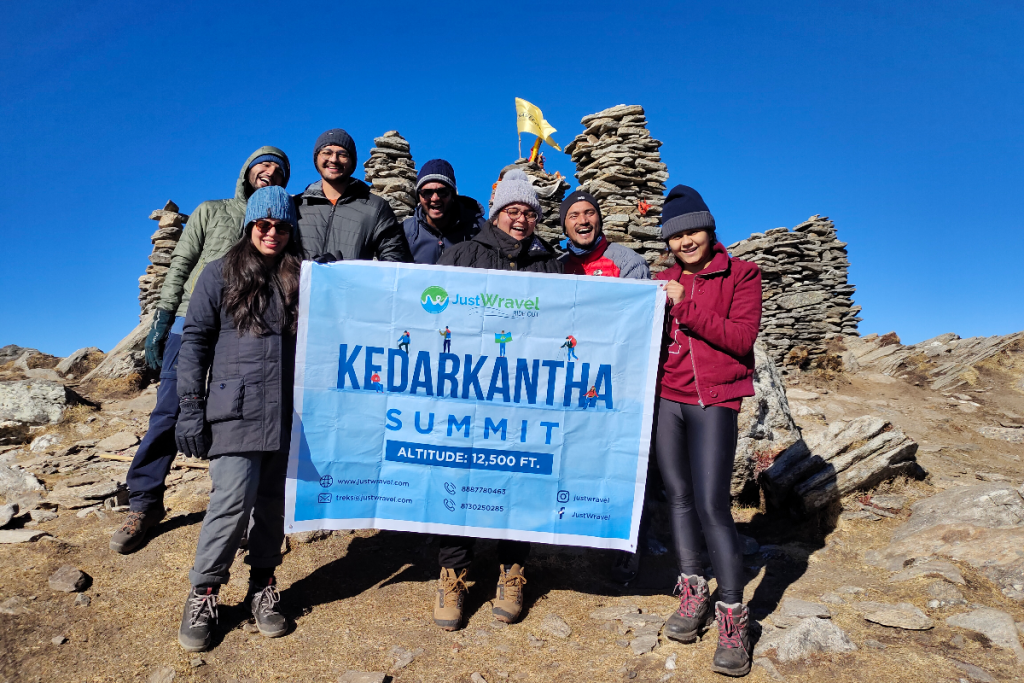 Finally, the wait ends, and you will get to be closer to your dream view from the summit of Kedarkantha. The trek is 8 kilometers long and will take you approximately 9 hours to reach. Hence, an early start to the trek is the way to go!
On the trails, you will get warm greetings from Yamunotri and Gangotri ranges. In addition, with Kinner Kailash ranges as well. The whole trail is filled with scenic views and beautiful dense forests.
Upon reaching the summit, you will get to experience the best sunrise of your life. The sun peeking through the forest, and the light on you will give you a glow like no other.
The feeling of overcoming hurdles and accomplishment will stay with you for life.
Post-spending some quality time, we would be trekking back to the base camp. You can then treat yourself to some delicious food. Followed by an overnight stay at the Juda Ka Taal campsite after a long day full of adventures.
Day 5: Juda ka Taal To Sankri and back to Dehradun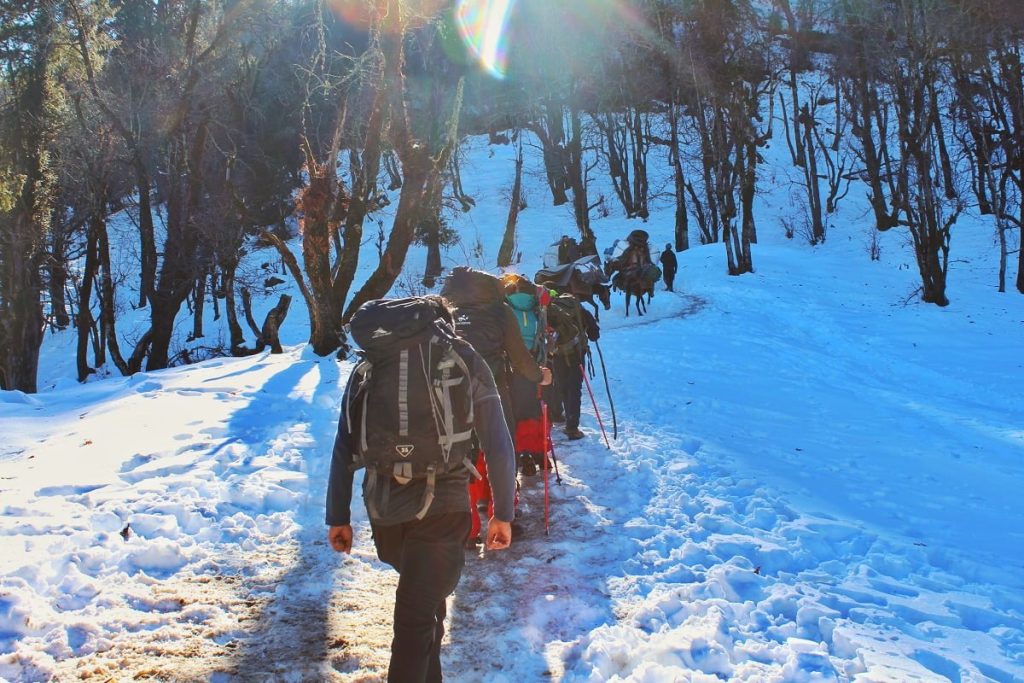 After a nutritious and delicious breakfast, we start back our journey to Sankri village. It will take us approximately 4 hours to Trek.
Upon reaching the village, we will spend some time refreshing ourselves and having lunch while appreciating the simple and raw local life of the village.
Soon after that, we will head back to Dehradun with a bag full of great memories and newfound companions who share the same zeal for trekking as you!
Best time to do the Kedarkantha Trek
Heading for a Kedarkantha Trek is a thrilling experience in itself. In addition, going for the trek in the months of December, January, February, and March double-up this thrill and fun.
Even though this trek is cold throughout the year, these months receive extra love in form of snowflakes making it breathtakingly beautiful. The best time for Kedarkantha Trek is during these winter months as the thrill and scenic beauty that you get to experience are unparalleled.
What to pack for Kedarkantha Trek?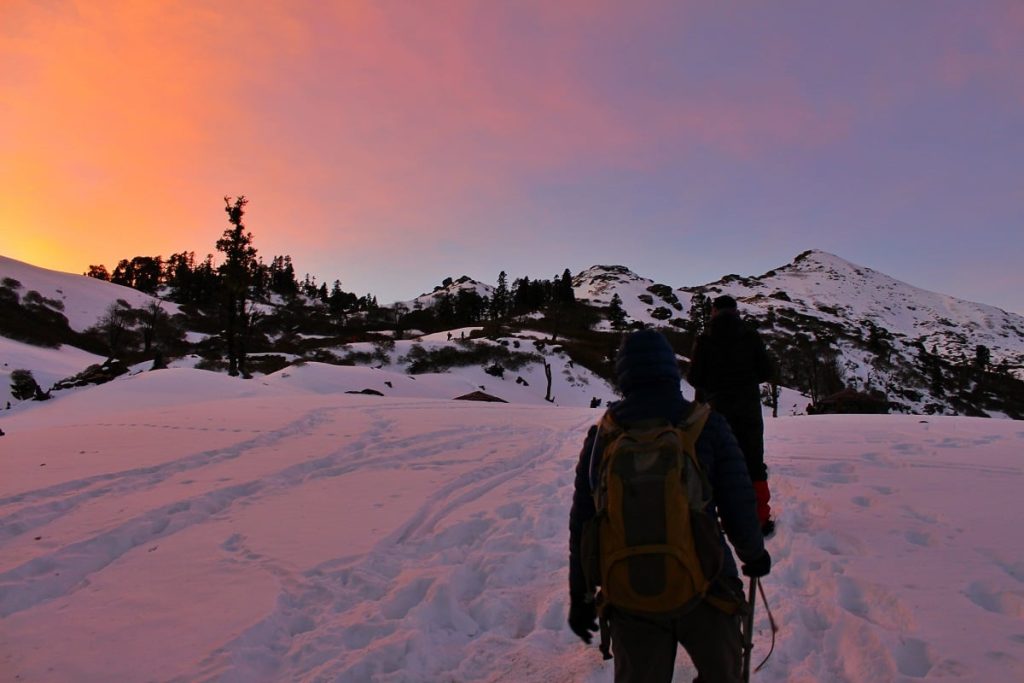 When it comes to packing for a trek it might get overwhelming so our Kedarkantha trek guide will help you through this boring yet necessary step. You need to make sure that you pack only minimum and high-quality clothes that will keep you warm.
Additionally, carrying a small backpack is a must to carry your essentials while going for the trek as you don't need heavy weight on your shoulders. Do pack Water-Repellent Trekking shoes, a resilient sleeping bag, and a box full of necessary medicines.
Recommended Read: Winter Trek Essentials
This brings us to the end of the Kedarkantha trek guide which included all the necessary information and itinerary for your adventure to Kedarkantha. Pack your bags and hop on for this adventure with us this winter!