Kedarkantha is one of the most popular trekking sites in the Himalayas but it is often confused with the holy Kedarnath Trek. Well! The name sounds similar and they both are connected with the same pieces of history as well, so this is something bound to happen.
But wait! We don't want this journey of misinformation to continue any further and we're putting a full stop to that. This is why we have explained how both these treks are different from each other, and well! Also similar in some manner.
So, go on and take a look and when you're done, pass this information to someone else who you think would benefit from it by simply sharing the article.
History Between Kedarkantha and Kedarnath
Kedarkantha is a place situated in the Himalayan range and is known for its very famous trekking route. For reaching here, one had to drive down from Dehradun to a small village, Sankri. While Kedarnath is one of the pilgrimage locations from the Chardham yatra. It does have a trek but it's more famous as a journey which takes you to a temple of Shiva, which goes by the same name, Kedarnath Temple.
If locals at Kedarkantha are to be believed then, we can say that according to Hindu mythology Kedarkantha is supposed to be the original location for the Kedarnath Temple. The work towards building the pilgrimage was started by the craftsmen of that time but due to some unholy signs, it was stopped and shifted to the new location which is now known to be Karnataka.
So, they both are connected by the supreme god of Hindu mythology, Lord Shiva. Which is why sometimes the Lord Shiva's devotees do visit Kedarkantha as well.
Also, if we go by popularity, Kedarnath bags the crown for that as it's not only visited by Indians but foreigners and all different kinds of people as well due to its vast importance in Hindu Mythology and religion.
Moving on, let's check both of these places in more detail and get to know a little bit more about each one, so as to clear the confusion that surrounds.
Kedarkantha: The Winter Trek Paradise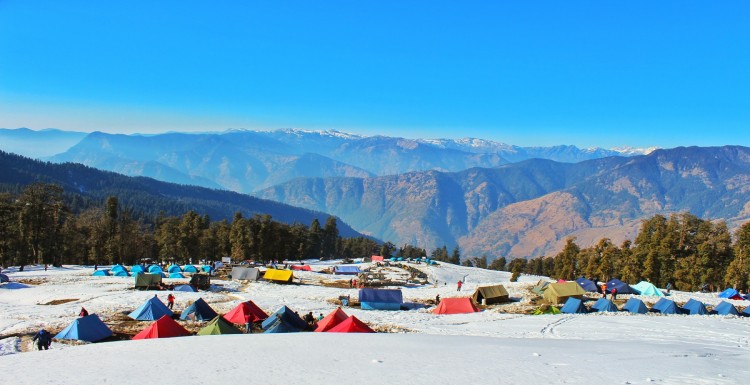 Kedarkantha Trek is one of the finest gems in the Himalayan range situated in Uttarakhand and the trek to the Kedarkantha summit is a wonderfully redeeming experience.
No wonder that it is one of the most popular treks in Indian during winter. The serene beauty and clear openings combined with a sheet of snow on top is a treat for nature lovers and makes up for a great Instagram story as well.
Kedarkantha Trek is a five-day-long trek which starts from Dehradun and ends in Dehradun. The trek route of Kedarkantha goes like this:
Day 1 : Drive from Dehradun and Arrival at Sankri
Day 2 : Trek from Sankri to Juda Ka Taal (9050 Feet, 4 Kms)
Day 3 : Juda Ka Taal – Kedarkantha Trek Base Camp (11200 FT, 4 Kms Trek)
Day 4 : Kedarkantha Base Camp- Kedarkantha (12,500 FT)- Juda ka Taal (9050 FT, 10 KM)
Day 5 : Juda Ka Taal – Sankri- Dehradun (6 Kms Trek)
The best time to go to Kedarkantha would be in the months of winter, where the snow arrives by mid December and almost lasts till the second or third week of April.
The landscapes turn surreal, covered in white, mystical snow which adds to the charm of the place. You are guaranteed the best views of Himalayan peaks and your campsite is located amidst tall pine trees and open meadows with amazing panoramic Himalayan vistas all around you.
Kedarkantha Trek is one of the few Himalayan treks which is accessible during winter season and also, provides the best experience to the trekkers during winter season.
During the duration of the trek you go from the altitude of 6,500 ft of Sankri to 12,500 ft. of Kedarkantha summit. The rise in altitude is gradual, so you would not be feeling the ill effects of that altitude gain, most notably being AMS (Acute Mountain Sickness).
The Kedarkantha trail is easy in summers and easy to moderate in winters because the trail changes due to the effect of weather.
The trail goes through the forests and open parts, so you have to be careful where to step when it snows, or you risk the chance of slipping and falling in some sections of the trek. People with no prior trekking experience can go for Kedarkantha Trek with no worries, the trail is well marked and provides no difficulties or challenges.
The only thing to note for beginners is that they need to prepare themselves before the trek. They should be physically fit and prepared for their high altitude trek.
Jogging, running and various cardio and stretching exercises a few months prior to the trek would go a long way in making their first trek memorable and without any hassles.
Beginners and prior trekkers should also invest in trekking gears like good trekking shoes, trekking backpack, snow glasses, gloves, woollen socks and balaclava to name a few.
A trekking pole would prove a massive help to the beginner as it would reduce the efforts required to ascend the steep sections of the treks. Everyone must hydrate at regular intervals to maintain their energy levels and not to also not to burnout during the course of the trek.
Kedarnath: The Holy Land Of Lord Shiva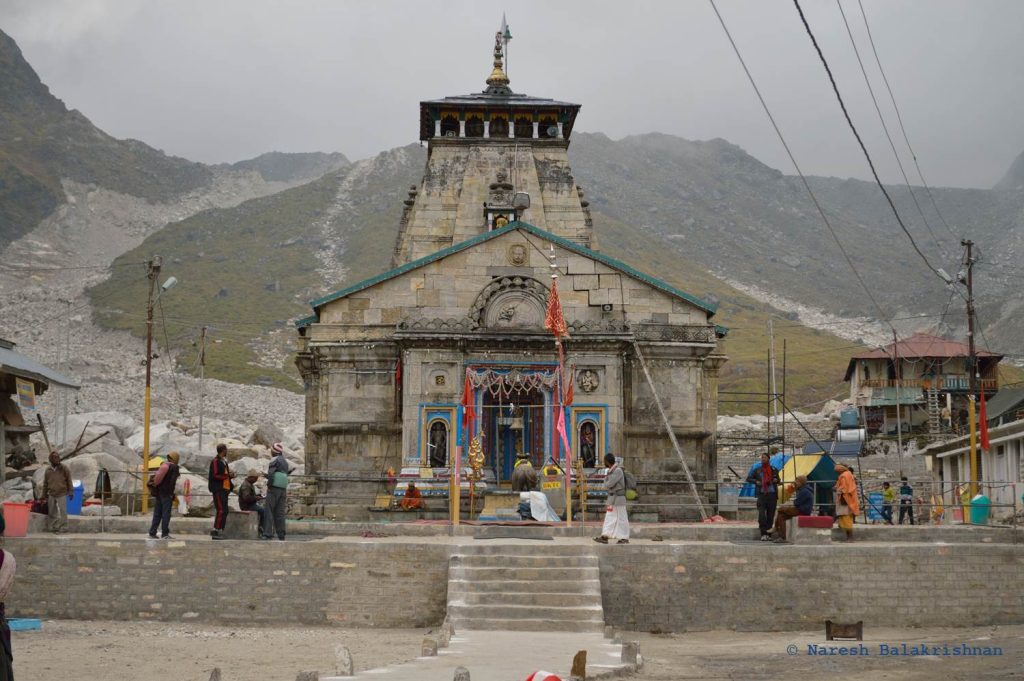 Uttarakhand is a state which lies in the northern region of India, and is known as "Devbhoomi" which means "Land of the Gods". Kedarnath lies in the Garhwal Himalayan region of Uttarakhand and the place is said to be the "Abode of Gods". The Ganges, the holy river of this region and also of India, takes its source at the sacred shrine of Gangotri. 
Kedarnath lies at an altitude of 3,584 mts, and has a temple of Kedarnath, i.e. Lord Shiva up there. According to the Hindu mythology, this temple of Kedarnath was built by the Pandavas of Mahabharata, where they aimed to please Lord Shiva through penance.
This temple remained in oblivion for many centuries until it was discovered again by the great Hindu philosopher, Adi Shankaracharya in the eighth century.
How to reach/visit Kedarnath?
There are mainly two ways in which you can reach Kedarnath:
By Road
If you want to reach Kedarnath by road, you can take your personal vehicle, or book a taxi or bus service and can go only till Sonprayag. The route from New Delhi would be as follows:
New Delhi to Haridwar
Haridwar to Rishikesh
Rishikesh to Devprayag
Devprayag to Srinagar
Srinagar to Rudraprayag
Rudraprayag to Gaurikund (via Tilwara-Agastmuni-Chandrapuri, Kund, Guptkashi, Phata, Sitapur and Sonprayag)
Gaurikund to Kedarnath
You can also take a direct bus from New Delhi itself from Kashmiri Gate Bus Stand and reach Gaurikund and from Gaurikund you can trek further up to Kedarnath.
By Air
This option is suitable for people who do not want to trek or cannot trek up till Kedarnath due to various reasons. You can take a helicopter ride till Kedarnath and this facility is available from Dehradun, Haridwar and Rishikesh.
Reach Haridwar or Rishikesh via taxi or any other preferred vehicle of your choice and then travel to Phata in a taxi to get to the helicopter.
You need to reach Sahastradhara helipad in Dehradun and then you can go to Kedarnath which will take around 40 minutes in a helicopter.
All About Kedarnath Trek
Before one attempts Kedarnath Trek, they must have the good physical strength to endure the medium to the steep terrain of this trek.
The authorities who are based in Kedarnath, check the pilgrims before the trek whether they are capable of trekking or not. This is a high altitude trek and one must consult their doctor or a physician before going for this trek.
The distance of the trek from Gaurikund to Kedarnath is 16kms and goes through Kedarnath Wildlife Sanctuary and there is a strict timing when one can trek, i.e. from 4 am in the morning till 1:30 pm in the afternoon, and no pilgrim is allowed to leave during other time apart from these specific timings.
Kedarnath Temple opens up for pilgrims from the summer months of April/May and remains open until October or early November and is closed for the rest of the months.
Earlier the trek route went through Rambara, which was a well maintained and a well facilitated trek route. After the 2013 floods, the trek route was changed which goes something like this:
Reach Gaurikund from Sonprayag
Gaurikund to Jungle Chatti going through Rambara bridge
Jungle Chatti to Bheem Bali
Bheem Bali to Linchauli
Linchauli to Kedarnath Base Camp
Kedarnath Base Camp to Kedarnath Temple
We hope this might have cleared up and now you can explain someone who asks you ' Hey, is Kedarkantha and Kedarnath, two different places?' Do share and help other in expansion of their knowledge.
Also, for any queries regarding the same or booking yourself a tour to Kedarkantha, contact us anytime. And for more such updates along with tips, tricks, travel news, and offers join our WhatsApp group by clicking here.