Triund a small hill station in the Kangra district in the state of Himachal Pradesh, India is definitely a must-go-to place for everyone who visits McLeodganj. It is at a height of 2,828 m and is a part of Dharamkot. Unlike McLeodganj where one can reach via Bus, one has to trek a minimum of 6 KM to reach Triund.
Triund can be reached from either of the two routes, one starting from Dharamkot via Gallu Devi Temple or from Bhagsu Nag via Shiva Café. Having trekked on both the routes, it is recommended to reach the top via the Dharamkot route and descend via the Shiva Café route.
Gallu Devi temple which acts as the starting point of the trek is at a distance of 2.5 KM from the Main Square and can be approached on foot and even in Autos/Taxis, though they charge a premium which can be easily avoided by walking all the way to Gallu Devi temple
Don't forget to stock up on water (from McLeodganj market or your hotel) if you plan to stay for the night at the top, as there is a water scarcity owing to lack of natural water source. A 1 L water-sealed water bottle costs a whopping Rs 50 at the top and even in the shops mid-way.
If you choose to walk all the way from McLeodganj to Gallu Devi temple, do have some frooti or appy from the shop. Drink it slowly and savor the taste as it will surely be the best frooti/appy drinking experience, trust me on that.
The trekking route is on an Easy to Moderate level as there are some steep steps at places. If you plan to carry your own Tent/Sleeping Bags, you better do some leg exercises like squats and lunges for a week before attempting the trek. We carried our own tents, sleeping bags, yoga mats, and food which resulted in a heavy backpack (around 12-15kg) and frequent muscle spasms in the calf muscles because of the steep steps, a lesson learned the tough way.
The whole route is properly marked and attracts a lot of crowd on a daily basis. Magic View Café acts as a milestone as it is exactly located midway and you can estimate how much time they are going to take to cover the other half. The 6 KM trek from the Gallu Devi temple all the way to the top usually takes anywhere between 4-5 hours depending on your fitness and the load you are carrying. The last one KM is popularly known as "22 curves" as one has to traverse these 22 tilting curves to reach the top.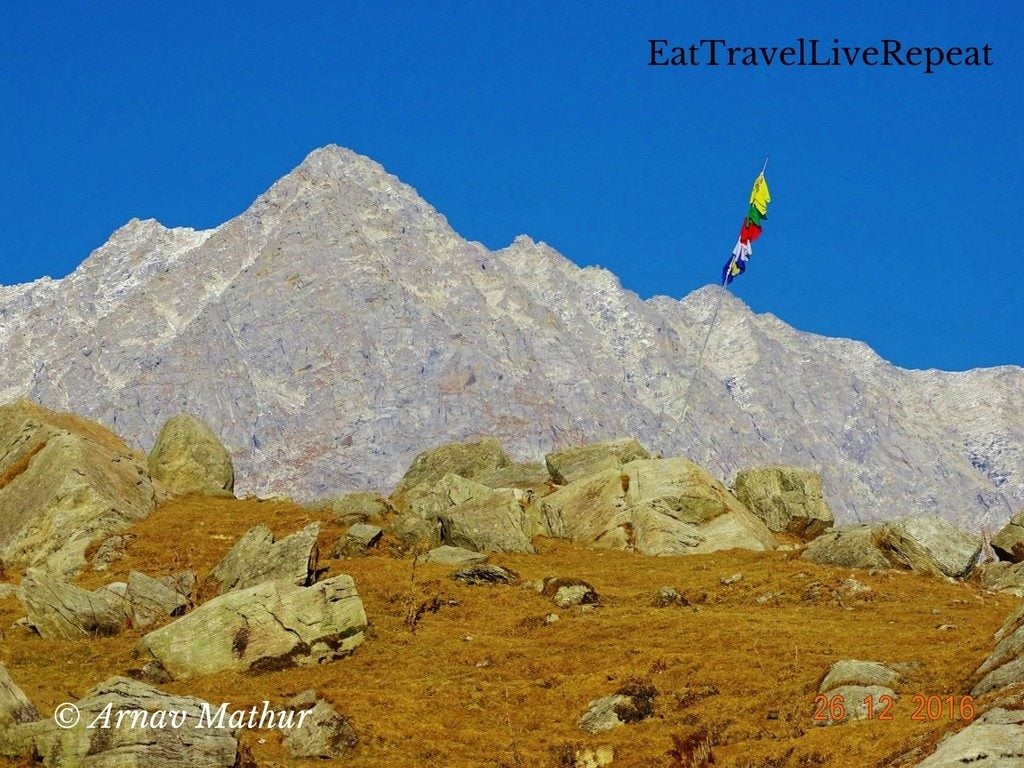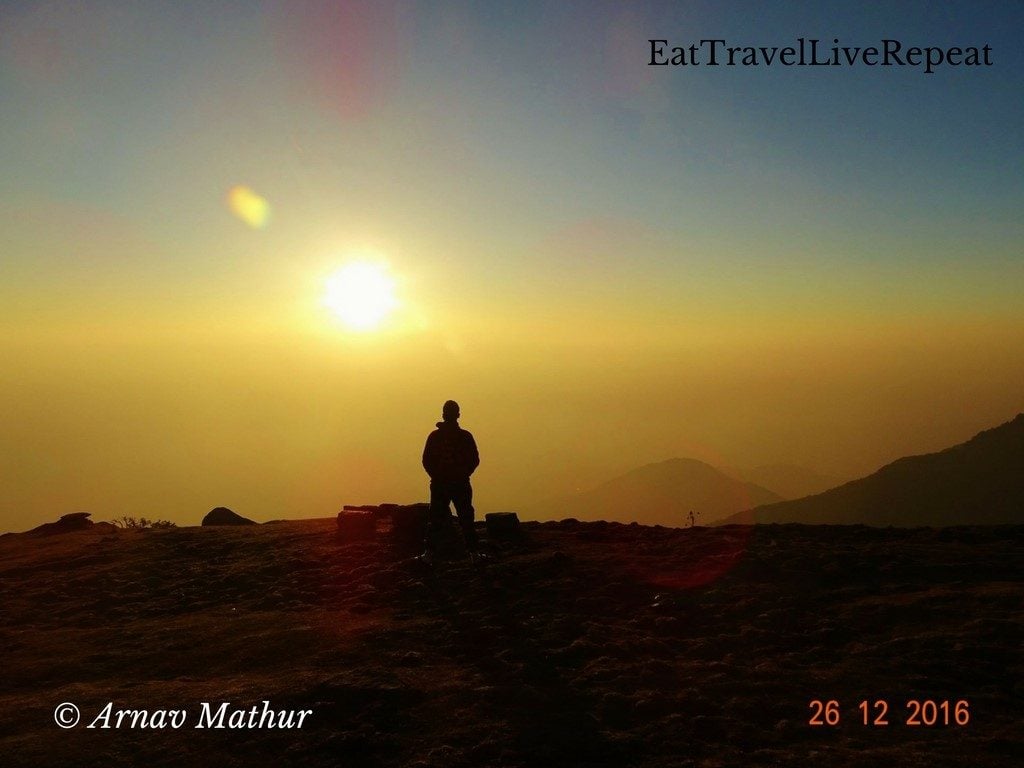 The view with which you are greeted after reaching the Triund ridge is completely surreal and mind soothing making the 4-5 hour ordeal totally worth it. To enjoy the beauty of nature and to witness the magical Sunrise and Sunset, it is highly recommended to camp at the ridge for the night.
Tents are scattered all the way along the ridge in different groups and campsites, so choose your camping ground wisely. If you want peace and relaxation, go the extra mile and go further away from the main ground in either direction. Tents can be booked beforehand from McLeodganj or on the spot at the top starting at anything from Rs 500 per head (Rates may vary depending on the footfall and weather).
If you are a frequent traveler and like trekking and camping, it is advised to invest in your own gear and carry it along. A 2 person Quechua Arpenaz tent costs just Rs 2000 and can be bought online or from Decathlon, so do the math before making the decision to purchase their own tent or rent the tent.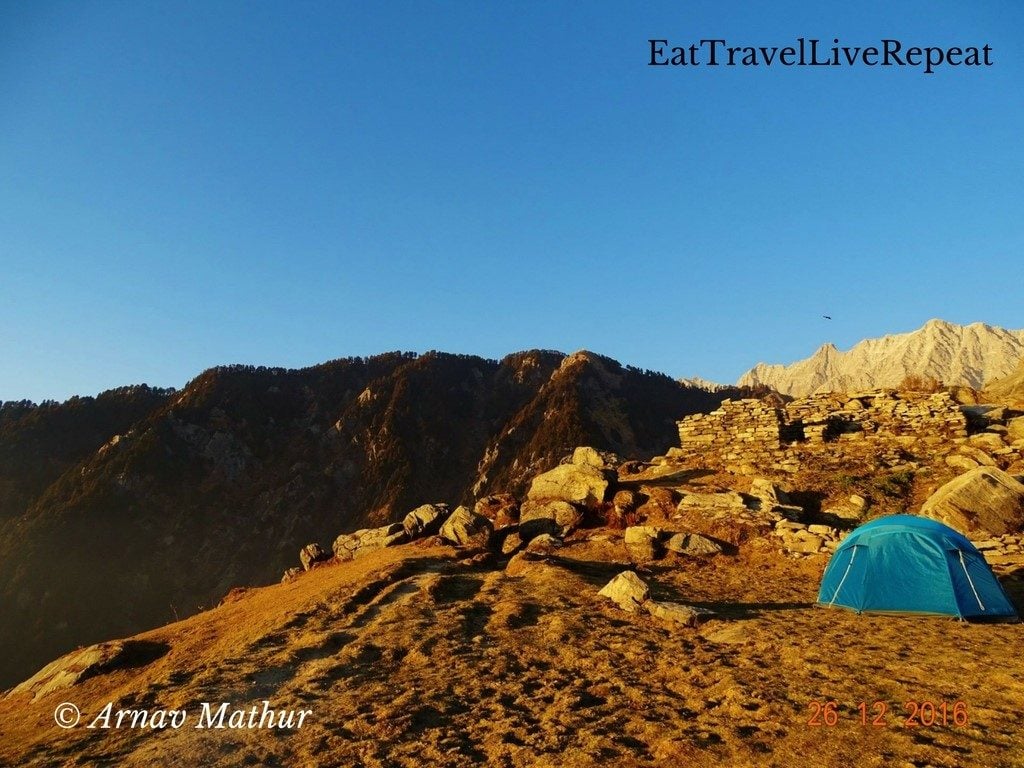 There are a couple of campsites on the ridge from where you can get something to eat like Maggi/Bred Omlet/Daal Chawal but be warned that the rates may be exorbitantly high. All the campsites usually put up bonfires and you can even manage something on your own with the help of the locals and cook your own food for the night.
We choose to cook Wai Wai instead of Maggi and it was indeed a good decision. The best thing about Wai Wai is that it can be consumed cooked, semi-cooked, and even raw depending on your preference.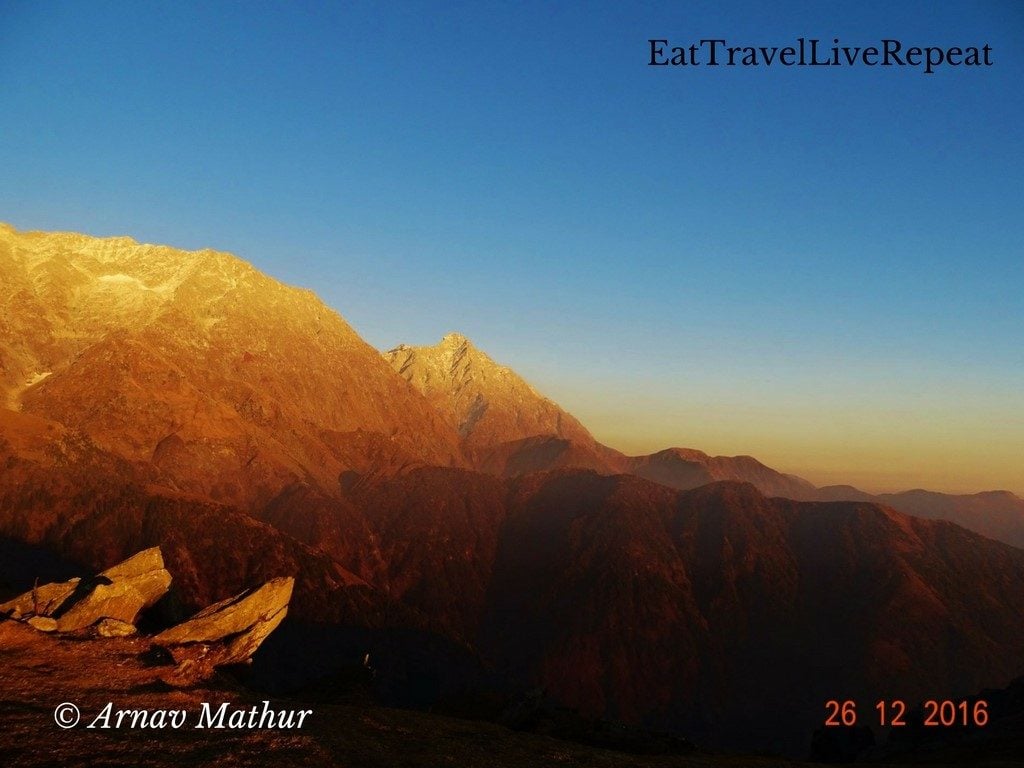 Nights are sure to get chilly, so better pack your woolens wisely, and opt for fleece jackets which are lighter and warmer rather than traditional hoodies.
The Triund ridge is the place to capture some magnificent shots during the sunset and sunrise and even at night. Stargazing in the chilly night is going to be a lovely cherished memory.
Next day morning after capturing the sunrise, you can either head further up towards Snowline café and Ilaqa Paas or start your descent towards McLeodganj.
Having taken the Dharamkot route, we choose to descend from the other route leading to Shiva Café. Be warned, that this route apart from being more scenic, is not properly marked and sees very few trekkers. So it's better to take a guide for this route or go with a group of fellow travelers.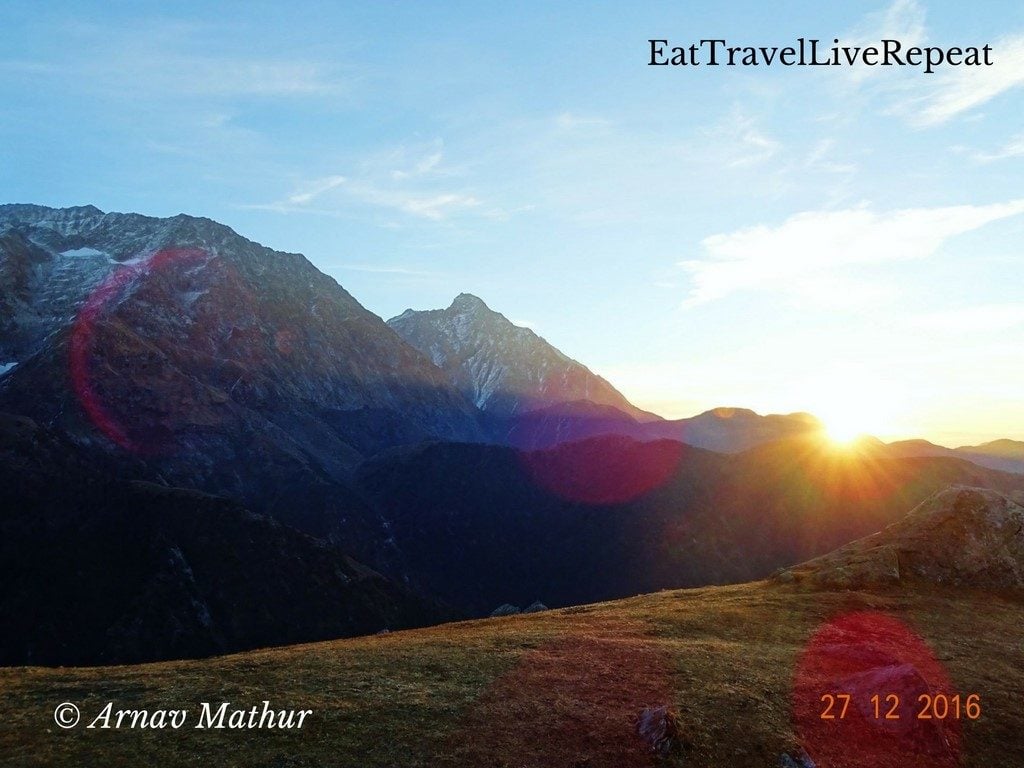 Just follow the footsteps on the trail and you should reach Shiva Café in a matter of 2-3 hours. Shiva Café is a quaint little café away from the brimming crowd and is the perfect place to relax with a cup of hot tea and some yummy pasta and sandwiches.
You can refill your water bottles with fresh cold water for free over here. The view of the mountains in the backdrop along with the waterfall makes a meal at the café totally memorable.
McLeodganj main square is further 2-3 KM from Shiva Café out of which 1 KM is along the road and 1-2 KM is on a well-cemented trail with long steps, making the descent quite easy.
Triund trek is recommended for everyone who loves to enjoy nature and doesn't mind working hard for it (trekking) apart from having that sense of adventure in them.
You can also read :
Contributed By: Arnav Mathur
For travel related queries, outstation cab booking, bike rentals, Hotel bookings or Group Tours; Kindly contact us at http://justwravel.com/contact or  call +91-9205725727