Waiting for bike trips to do this year? We believe that "When men and machines meet, great things are bound to happen." So what do you think about this quote?
The ultimate freedom is when a person rides his bike on the tarmac and leaves his worries behind for some time.
So here in this blog, we have listed out 6 bike trips to do, that you should definitely do to make this year a memorable and adventure-filled year.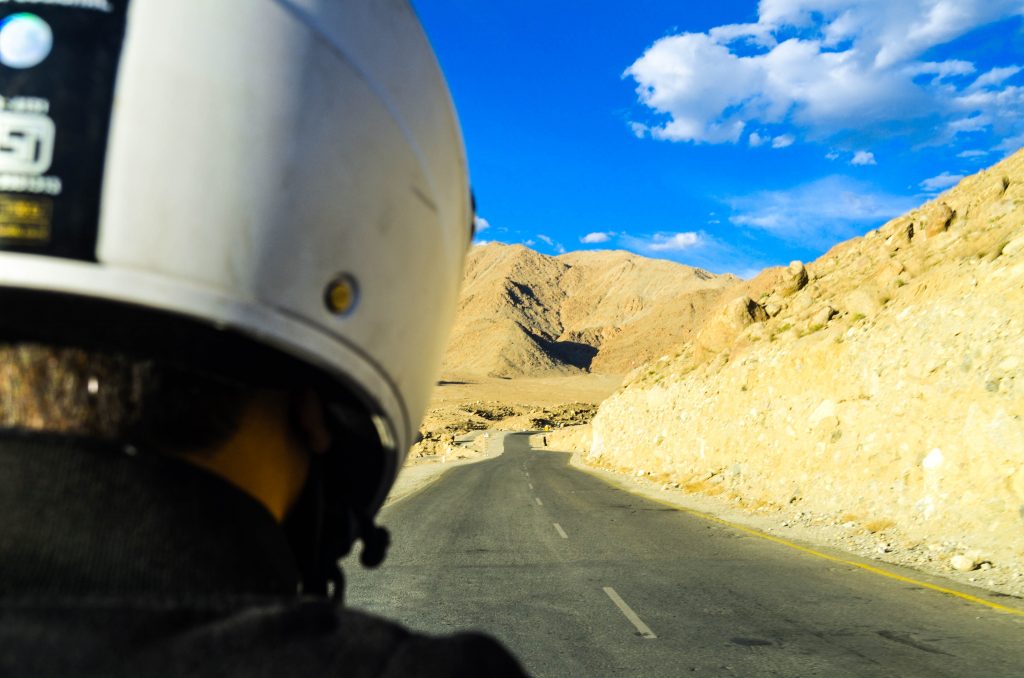 The holy grail for every biker not only in India but also around the world, bike trip to Ladakh remain on every biker's and traveller's bucket list.
Still looking for reasons why should Ladakh be on your list of 6 bike trips to do?
Let us give you some reasons.
Ladakh Bike Trip will offer you the best Himalayan views and landscapes, along with many thrills and adventures that come along with a Himalayan bike escapade.
The main talking points for your bike trip to Ladakh would be:
Ladakh is home to some of the highest mountains, and the passes here are not only highest in India, but also the world. Ladakh boasts of 20 passes and the breakdown of Ladakh is, "La" meaning passes and "Dhak" meaning numerous.
Some of the famous passes that you would encounter during your Bike trip to Ladakh are: Rohtang Pass, Baralacha La, Tanglang La, Khardung La, Nakee La and Chang La.
Gata Loops: A paranormal story
On your bike trip to Ladakh, you will be crossing Gata Loops, which is a series of twenty one hairpin bends, which leads to one of the highest passes in the region of Ladakh, Nakee La.
According to the local legends, a ghost or a paranormal presence is present on Gata Loops.
Passengers passing through this route have to offer either cigarettes or water to the spirit as an offering for a safe trip ahead.
Whether you believe in the paranormal or not, Gata Loops would still provide you with ample raw adventure with its sharp and challenging loops.
Magnetic Hills: A mysterious phenomena
Located on the Leh-Kargil highway, Magnetic Hills is a famous attraction when you would be on your bike trip to Ladakh.
An unusual thing that attracts visitors here is that if you park your vehicle at the marked spot on this road, the vehicle would start moving on its own.
This happens due to the natural magnets present in and around the area but logically this phenomenon can be related to the optical illusion created by the location of the hills and the road.
According to the locals and legends, this road was once a pathway which led straight to heaven. People who were deserving continued on the path to heaven, while the undeserving ones were left behind.
So for the villagers, they attribute this phenomena to the supernatural aura of the place.
River crossings: Pagal Nallah and Chhota Darrah
Ladakh's Bike trip will offer you some river crossings as well. 
Don't believe us? Well, you better be prepared for some daredevilry when it comes to these river crossings, as it will take sheer patience and skill to navigate these tricky waters.
You will face Pagal Nallah when going from Nubra to Pangong. The flow of the water is from Shyok River, and the name "Pagal" is due to the fact that the flow of water is uncertain and rapid.
You need to cross this water crossing early in the morning, otherwise the flow of this water crossing becomes so strong that it can sweep away even big vehicles and trucks.
Chhota Darrah is not as strong and intimidating as Pagal Nallah, but should be crossed with utmost care. You will come across Chhota Darrah when going to Sarchu from Jispa.
Bike trip to Ladakh would be hard and a tough challenge.
Sometimes riders would feel like giving up due to the exhaustion and level of determination that this bike trip commands.
But all their worries and pain take a side step when they approach the Moore Plains/ Pang Road. This plain on Manali-Leh highway would surely take your breath away.
This stretch is 40kms long between Leh and Sarchu, at an average elevation of 4,800mts.
You will see some of the most dramatic landscapes while crossing this stretch and will be flanked by huge mountains on either side.
The ride on this stretch would be so amazing, that you won't even feel like you are in Ladakh, but some highway in a metropolitan city.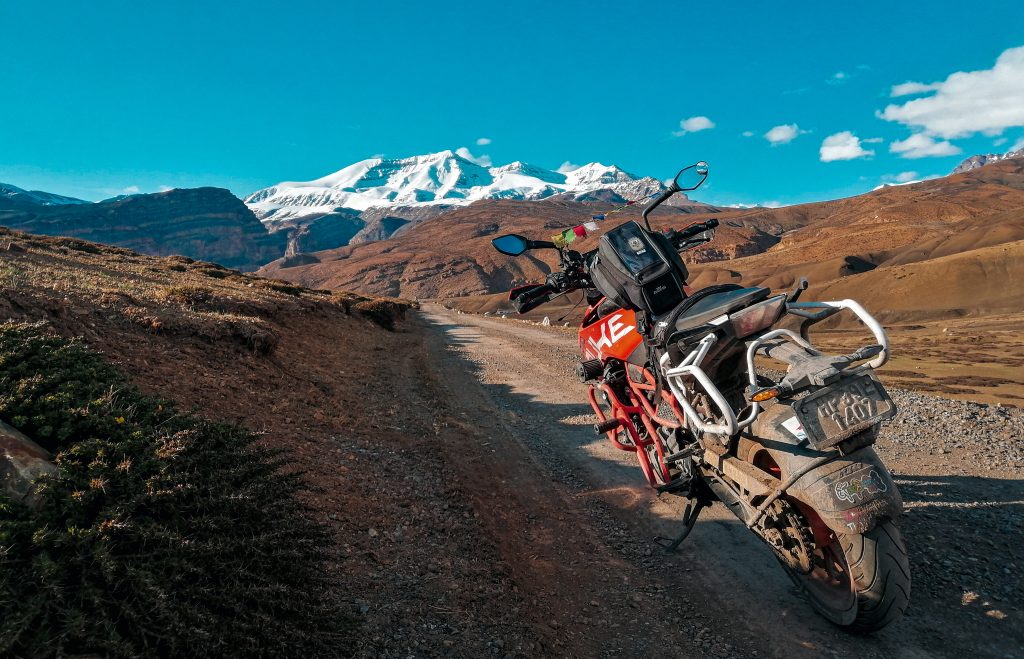 If you are not heading for Ladakh with your bike trip you might want to consider Spiti Valley.
Your bike trip to Spiti would be loaded with challenging roads and the lack of it, several high altitude passes and amazing Himalayan views.
Some seasoned riders would rate Spiti bike trip as more challenging and tough than the Ladakh bike trip as there are many stretches in the bike trip to Spiti where there are no roads, just wilderness in full force.
Interested in a Spiti bike trip? Well, here are some highlights of the trip that would interest you.
Jibhi is one of the most secluded places that exists in Himachal Pradesh.
Located in Banjar Valley, Jibhi is a scenic, old Himachali Village that lies on the banks of Tirthan River. It has many places to explore such as Serolsar Lake and Cheni Fort.
Bikers riding in from Manali or farther would appreciate this place, as it offers peace and tranquility to the tired bikers.
Along the route of your Spiti bike road trip, you will come across Chitkul, which is the last inhabited village of the Indo-Tibetan border.
To reach Chitkul, however you have to tackle bad and challenging roads. The roads are narrow, which requires complete focus of bikers and personal navigating skills as well.
After reaching Chitkul, you will discover its charm. Snow clad mountain peaks will usher you and make your mood mellow after a long biking day.
Places to visit in Chitkul include the ITBP post which is the checkpoint of Indian and Tibetan border and also the famous "Hindustan ka Aakhiri Dhaba " which is nearby the ITBP post.
Bikers would have a moment of pure exhilaration when they reach here.
You ask why?
Well here it goes…
Chicham Bridge is no ordinary bridge, but can be called a "marvel" when it comes to the bridges.
Built at an ambitious height of 13,596ft, Chicham bridge is Asia's highest suspension bridge and dwarfs all other bridges.
Wrapped in beautiful Buddhist prayer flags, this bridge exudes a certain aura that is hard to ignore and makes for a good place to take your photos for Insta feed.
Chandratal: The mystic lake
Tso Chick Gma or Chandratal is a high altitude lake located in Spiti Valley, Himachal Pradesh.
India is blessed with many high altitude alpine lakes, but this one is quite unique.
Chandratal lies in the middle of nowhere and it's emerald coloured water looks really surreal. The surroundings nearby the lake consists of meadows with several wildflower blooming and Himalayan mountains encircling the lake.
The blue skies and wide open landscapes with rolling hills provide a desolate backdrop to the all surreal Chandratal.
Trip to the Chandratal would definitely have a calming effect on the bikers after a toll taking trip, and would provide a much needed escape.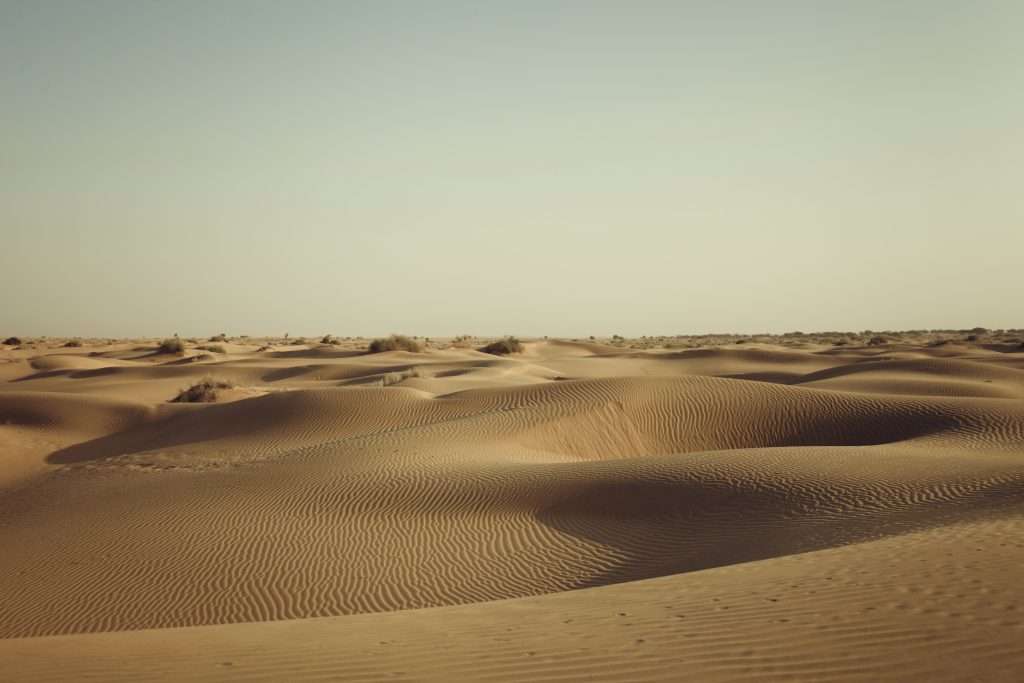 The name Rajasthan means "Land of Kings" and it lives up to its name with many castles, forts and lakes amidst arid deserts. This makes up for quite an interesting sight to see with local people, food and colorful clothes adding to the vibe of the place.
When compared to other Himalayan Bike Trips, Rajasthan's bike trip won't be as extreme and you would find good roads for almost throughout your journey.
Some of the highlights of your Rajasthan's bike trip would be:
Udaipur is known as the "Lake City" and there are many beautiful palaces which are set alongside Lake Pichola.
As every city in Rajasthan has a colour scheme, in Udaipur you will see white coloured architecture and buildings.
If you plan a bike trip to Rajasthan in the month of February, you could go to Udaipur World Music Festival, and that too free of cost. This music festival hosts many world famous and Indian musicians which adds to the vibe of the place.
And if you are a sunset lover, then Sajjangarh Fort is the place to be. You will witness one of the most amazing sunsets.
Jaisalmer is one of the largest cities of Rajasthan and is famously known as the "Sun City of India".
Bikers can gather some amazing memories during their time at Jaisalmer. You can experience sand dunes and this would be the time to get off your two wheels and evolve to four wheel drive.
You can also enjoy camel safari and camp at the sam sand dunes for an amazing view of the night sky filled with stars.
Pushkar is a city in the Ajmer district of Rajasthan which is famous for its temples and pilgrimage sites for both Hindus and Sikhs. Some of the most famous places to visit in Pushkar are the Pushkar lake, Gurudwara Singh Sabha and Brahma Temple.
The world famous Pushkar Camel fair starts in November which makes it one of the best times to visit Pushkar. It is one of the best places to see the sun go down, you might want to hop off to a rooftop cafe to unwind from the day's travel and enjoy a surreal sunset and some local delicacies of Pushkar.
Jaipur is the capital city and the largest city in the state of Rajasthan. It is also known as the "Pink City" as almost all of the buildings and architecture adorn pink color on their walls. Jaipur also serves as a gateway to other famous places in Rajasthan such as Udaipur, Jaisalmer and Mount Abu.
Some of the famous places to visit in Jaipur are the Hawa Mahal and Jal Mahal.
So bikers, gather round for some history lessons on the famous forts of India as you can go on and visit Jaigarh and Nahargarh fort, which are amongst the famous forts to visit when in Rajasthan.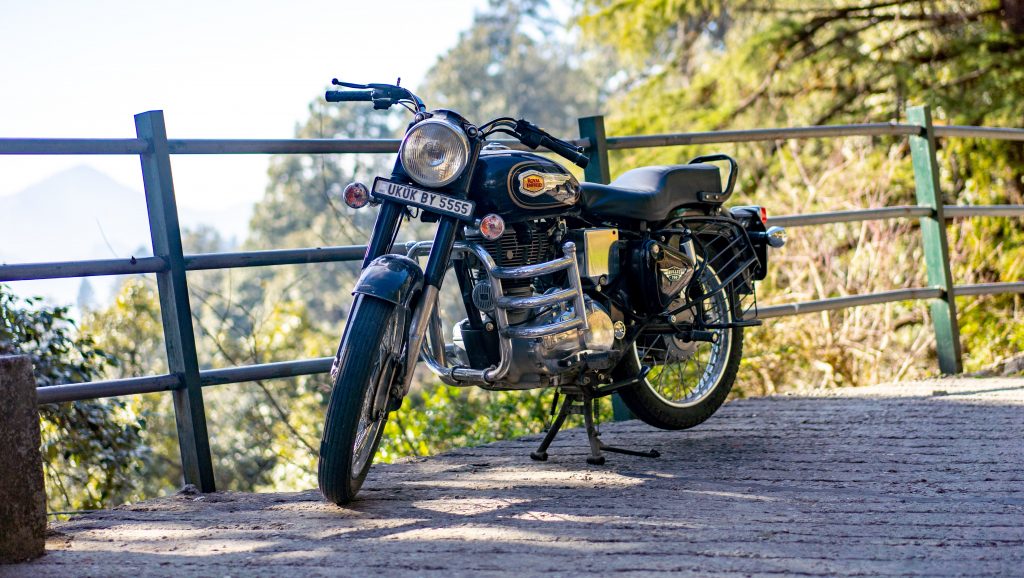 A bike trip to Uttarakhand sounds exciting…right?
Well we hope that your answer is yes, because biking around the state of Uttarakhand, which is known as "God's Land" is an absolute delight.
Confused on what the itinerary would be to bike around Uttarakhand? Well, we have got you covered!
Day 1 : New Delhi to Rishikesh (250 km | 7-8 hrs | 371 m)
Day 2 : Rishikesh to Chopta (160 km |6-7 hrs | 2,680 m)
Day 3 : Trek to Chopta Chandrashila (16km | 7-8 hrs | 3,657 m)
Day 4 : Chopta to Joshimath (135 km drive | 6-7 hrs | 2,000 m)
Day 5 : Joshimath – Auli – Joshimath (32 km drive | 2-3 hrs | 2,800 m)
Day 6 : Joshimath to Kausani (190 km drive | 8 hrs | 1,890 m)
Day 7 : Kausani to Munsiyari (170 km | 9 hrs | 2,300 m)
Day 8 : Munsiyari to Binsar (180 km | 8 hrs | 2,450 m)
Day 9 : Binsar to Jim Corbett (180 km | 8hrs | 900 m)
Day 10 : Jim Corbett to Delhi (245 km | 7 hrs)
The main highlights of your Bike trip to Uttarakhand would be:
When you compare Uttarakhand's Bike trip, to other Himalayan bike trips such as Ladakh and Spiti, you will notice that Uttarakhand's bike trip is relatively easier.
This is not to take the charm away from this bike trip, but the roads are well maintained by the state government and you won't find any hindrances or obstacles that are hard or challenging.
We would rate Bike trip to Uttarakhand as "intermediate " on the scale of difficulty level.
Well, this bike trip to do has a trek in store for you!
You would be surprised but the trek is none other than the famous Chopta Chandrashila Trek.
You will begin the trek to Chopta Chandrashila, from where the view of high mountains will blow you away with its beauty. After breakfast, you will take your bags and will head-out for the trek to Chopta. While trekking you will pass through abundance of greenery and numerous forest, and small streams. You will also get a chance to pray at the highest Shiva temple in the world.
Ever dreamt of riding your bike amidst snow covered landscapes?
If yes, then Uttarakhand Bike trip would fulfill your dream.
When you will be revving your engine and taking your two wheels and a heart full of desire to Joshimath, you will witness the enchanting landscapes covered in white snow during winters.
Auli is a hill station and is more popular due to the fact that you can hop on that Ski-board and take a swing at the mountain slopes while skiing in Auli, which is altogether a different kind of experience.
Are you ready to face off a different beast on your biking trip?
It's home is in the wild forests of Uttarakhand and witnessing it would certainly be the most adventurous part of your bike trip!
Jim Corbett National Park is a delight for nature lovers as it has around 500sq km of forests, rivers, marshy lands, hills, and rough terrains. It is home to a large number of animal species which includes tigers, leopards, black bears, mongoose, moose, and otters.
While here, you can go for a jungle safari, which gives you a sneak peek into the lives of these wild animals in enthralling landscapes and forests. Also visit the Jim Corbett Museum, which is dedicated to the life's work of Jim Corbett, on whose name the national park is dedicated. You will also find a surreal waterfall amidst the jungle, known as Corbett falls, which is sure to mesmerize you.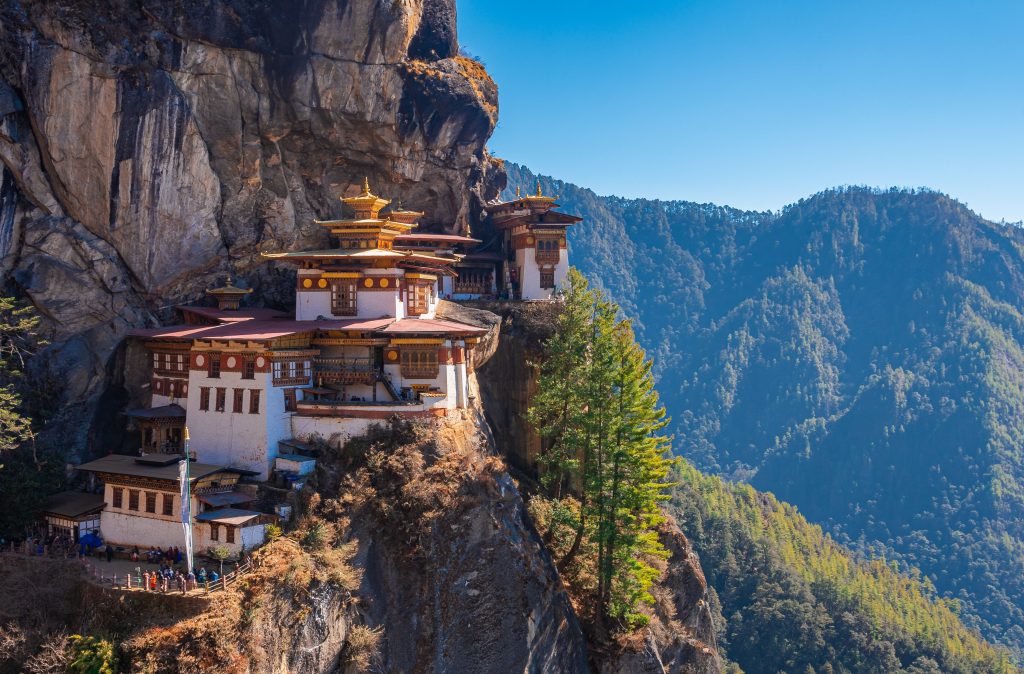 A biking trip, and that too internationally?
The land of thunder dragon, Bhutan is a special country to visit for Indians, as they don't require any passport or visa to visit the country. Sounds cool…right?
Your bike trip would start the Indian land and would end up taking you to a foreign land. The main highlights of your Bhutan bike trip would be:
Indian culture is one of the world's most diverse culture that people all around the world talk about. But as an Indian, you might get to rarely experience foreign culture. Bike Trip to Bhutan would change all of that.
With an exposure to foreign culture there would be lots for the bikers and travelers to soak in. You will see the citizens of Bhutan wearing different attires altogether with men wearing a belted, knee-length robe and women wearing ankle length dresses, again belted at the waist.
One thing constant about your Himalayan road trip to Bhutan would be that the weather would be uncertain and unpredictable. No wonder Bhutan is known as "The land of Thunder dragons". You would find the weather bright and clear one moment and the other moment, it could be raining and thundering.
Go on and breath a lungful of air. Feel good? Well, that's because Bhutan is the only "Carbon Negative" country in the world. The nation of Bhutan absorbs more carbon dioxide than it produces, thanks to its 70% area covered with forests. Bhutan absorbs roughly seven million tons of carbon dioxide annually and only produces around two million tons.
Another interesting fact of Bhutan is that it does not measure its GDP. You ask why? Well the government of Bhutan has rejected the concept of GDP since 1971 and instead has shifted its focus on Gross National Happiness and its principles such as the spiritual, physical, social and environmental health of its citizens and natural environment.
The name of this monastery sounds cool…right? Well if you witness this monastery in person, you will be short of words as the monastery is so surreal and unique.
Located on the cliffside of Upper Paro Valley, Paro Taktsang or Tiger's Nest Monastery is a sacred Buddhist Monastery and was built all the way back in 1692.
So if you are taking a Bike Trip to Bhutan, Tiger's Nest Monastery is a place that must be definitely explored. There is a 4kms hike to the monastery which is a moderate one, but filled with beautiful views of the valley.
Located at a height of 10,200fts, Dochula Pass when you would travel from Thimpu to Punakha and crossing this pass would take you further to the Eastern ranges of the Himalayas.
While crossing this pass, on a clear day, you would be able to see Mt. Masanggang which stands at 7,158mts in height, the highest in Bhutan. The stunning views you will get while riding your bikes through these pass would surely be in your memory for a lifetime.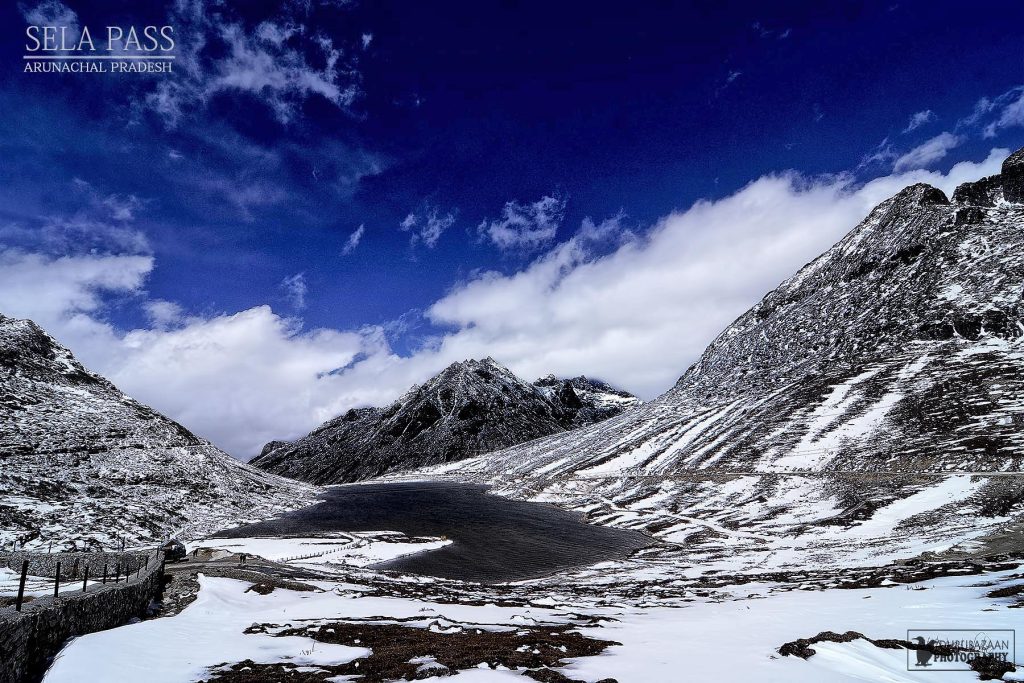 You might relate the word "Expedition" to mountaineering or trekking, but out in the state of Arunachal Pradesh your bike ride would be more of an expedition.
A challenging and skill testing ride, riding through Arunachal Pradesh is no joke. Rough terrains, curvy roads at mind boggling heights are something that you would encounter throughout this bike trip.
Some of the highlights of your biking expedition to Tawang would be:
There are a few states in India which boasts of high altitude alpine lake and Arunachal Pradesh is one of them. Sangestar Tso Lake, which also goes by the name of Madhuri Lake or PTSO Lake, is located at an altitude of 15,200ft above sea level.
An offbeat place, the bikers can be assured of some peaceful moments after a rough and long ride.
Located 37kms from the town of Tawang, Bumla Pass is located at an altitude of 15,200fts. This pass will surely add a sense of achievement after you cross it on your trip.
It is one of the most offbeat high altitude passes in the world and is often covered with heavy snow throughout the year. The roads leading to the pass are quite treacherous and tough, so only an SUV can cross this pass. You also require additional clearances and permission from the Indian Army to cross through this pass.
You might have been lucky to see monasteries in your life, but if you haven't been to Tawang Monastery, something is definitely missing.
Tawang Monastery is the largest monastery in Asia, and the second largest in the world. It is situated alongside the valley of Tawang River, and is the "World's largest active monastery".
Ambitiously located on top of a mountain at 10,000fts, the monastery offers a picturesque view of the valley and snow-capped mountains and coniferous forest. It's complete name is Tawang Galdan Namgye Lhatse, which translates to "celestial paradise in a clear night."
The origin of the Tawang monastery dates back to the 17th century, between 1680-1681. The Buddhist culture clearly reflects in this monastery, and the calm and serenity will overtake you and make you at peace with yourself and your surroundings.
So are you ready to rev your engines ? Which of these destinations is on top of your bike trips to do ? Do let us know.
For more information related to trekking and travel scenarios, trip updates, and the latest developments of other states and the rest of India, you can join our Whatsapp group.