If you ever want to find paradise on earth, it can only and truly be Kashmir. In the 17th century, Mughal Emperor Jahangir was so mesmerized by the beauty of the place that he said, "If there is a paradise anywhere on the earth, it is here, it is here, it is here." Kashmir offers varied varieties of activities and exploration that can be done such as trekking, mountaineering, rock climbing, camping, skiing, and paragliding and therefore there are many top destinations to visit in Kashmir. The northernmost state of India has one of the most beautiful landscapes, snow-capped mountains, serene panoramic view of lush green forests which makes it a perfect place for tourists to visit and spend some quality time.
Kashmir is undoubtedly one of the most beautiful and gorgeous destinations in India, and we can't recommend it enough. However, there are some places in the state of Kashmir which are a must-visit for everyone, whether you are on a short trip or looking to spend the vacation with your family or group of friends. So here are our top destinations to visit in Kashmir –
1. Srinagar
Srinagar is the capital city of the state of Kashmir and one of the most majestic and beautiful capital cities of India which you'll be visiting in your lifetime, and therefore it is one of the best places to visit in Kashmir. This city is characterized by snow-capped peaks surrounding it, beautiful lakes, warm and humble people which will make your stay a memorable one.
You can shop for pashminas, carved wooden boxes, Kashmiri carpets, and the world-famous Kashmiri Saffron. Take in every bit of authentic Kashmiri cuisine when you stop by their famous eateries in the market. Kashmiri food is considered as the pinnacle of culinary excellence with their famous spices and rich colour. While in Srinagar, do not miss out on the "Shikara ride" in the serene Dal Lake which will make you one with nature, while you enjoy beautiful landscapes surrounding it.
2. Gulmarg
Gulmarg is known as "Meadow of Flowers" and quite rightly so as during spring time, Gulmarg turns into a flower bed as far as the eyes can see.
While in Gulmarg, you can experience a trip in one of the highest cable cars in the world, which is also known as "Gondola" around these parts. Also for all the golf aficionados out there, you can visit Gulmarg Golf Course which is quite possibly one of the most beautiful golf courses in the world, surrounding snow capped mountains.
3. Sonmarg
Sonmarg which is rightfully known as the "Meadow of Gold" is one of the most famous and one of the best attractions of Kashmir. Sonmarg boasts of "Thajiwas Glacier" which has crystal clear waterfalls and green meadows welcoming you.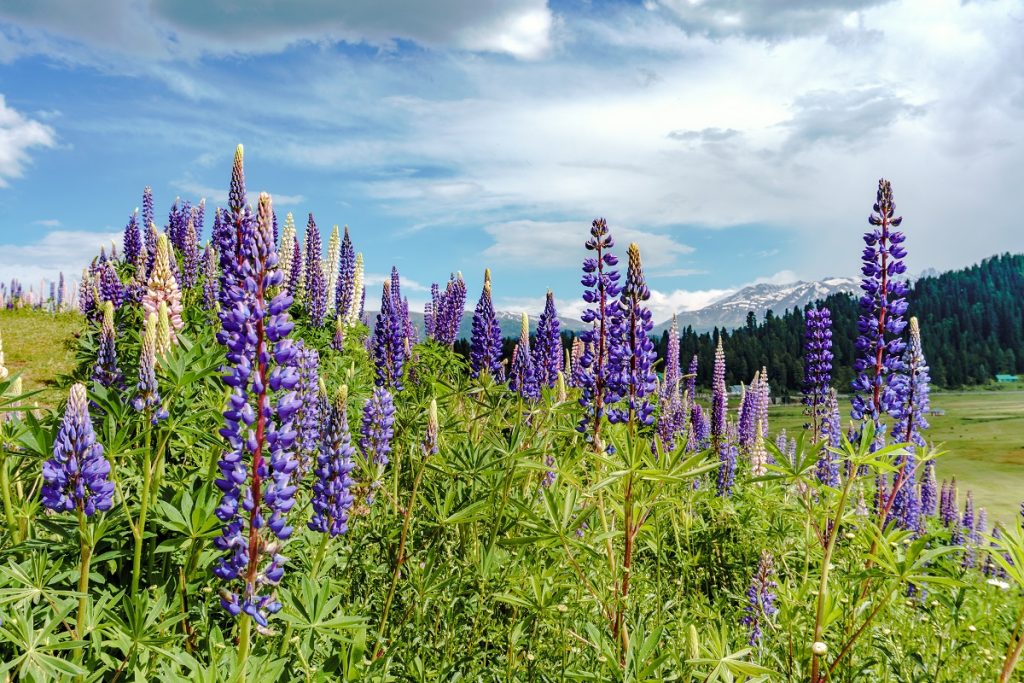 You can visit Nilagrad River which is a highly revered river for the locals. This river also contains many medicinal and healing properties, so make sure not to miss out on this place while you are at Sonmarg.
4. Pahalgam
Pahalgam is also known as "Valley of Shepherds". While here, you can visit Aru Valley and Betaab Valley. Pahalgam has its own charm which makes many Bollywood directors flock up here, the result being many movies were filmed here.
Pahalgam has many lakes namely Sheshnag Lake, Tarsar and Marsar Lake which has one of the most famous treks in India.
5. Patnitop
Patnitop is located on a plateau in the belt of Shivalik ranges of the Himalayas. Patnitop has lush green meadows and various mountain peaks surrounding it which makes up for a thrilling destination.
You can along with your family and friends can go for some adventure activities such as hiking and trekking along with skiing and is one of the top destinations to visit in Kashmir.
6. Amarnath
Amarnath cave is a very religious and auspicious place for Hindus, which is located at an altitude of 3,888mts, the way of which forms through the town of Pahalgam. It is considered to be the holiest shrine and forms an important part in Hinduism.
The cave is surrounded by rugged mountains and rough terrains, and it only opens up for a few months in a year, so that brings in a lot of devotees to this place.
7. Vaishno Devi
This town, which is named after the temple located here is considered as one of the most sacred places by the Hindus. To reach the temple, you need to trek 13kms which takes about 7 to 8 hours depending on your pace. If you are not up for the trek, you can even hire horses or helicopters to reach the temple.
All in all, this place is great for spiritual purposes and the surrounding mountains covered in rolling mist add to the beauty of the place.
8. Anantnag
Anantnag is a city in Kashmir which is blessed with freshwater springs and mystic gardens. It is located around 53kms from the state capital Kashmir and is the commercial and financial sector of the Kashmir Valley.
You can even go on a day tour here to places such as Daksum and Verinag where you can enjoy some serene and calm time amidst beautiful surroundings.
9. Sanasar
Most people haven't heard of Sanasar and it is a shame because this is one of the hidden gems of Kashmir and probably one of the best places in Kashmir to visit. If you think of indulging in some adventure sports and activities, Sanasar is your go-to destination, whether be it for rock climbing, trekking, abseiling or paragliding.
The name Sanasar has been derived from the twin lakes "Sana" and "Sar". You can even spend some time in nearby villages which are eco-friendly and self-sustainable.
10. Pulwama
Pulwama is a quaint little town located in the Pulwama district in the state of Kashmir. This place is known as "Anand of Kashmir" which literally means "Joy of Kashmir" and there is no doubt that this place will surely bring joy to you.
This town has apple orchards and farms which have some of the most delicious apples you will ever have. You'll also have waterfalls, natural springs, and scenic valleys accompanying you wherever you go in this town which makes it an amazing place to visit.
11. Dachigam National Park
When people think of Kashmir, they imagine scenic beauty, mystical lakes, and majestic mountains, but Kashmir is much more than that, Dachigam National Park being its proof. Located at an altitude of 1700 to 4300mts, the flora and fauna of the place will amaze you.
You will get to see Himalayan Bears, owls, leopards amongst various other wildlife and is one of the top destinations to visit in Kashmir.
12. Dras
Dras is a surreal hill station which is located in the Kargil District. It is located at an altitude of 3230mts and is famously known as "Gateway to Ladakh". It is one of the coldest places of India with the lowest temperature going down to -45 degrees celsius and it is the second coldest inhabited place in the world.
This place is rugged, has scenic snow-capped mountain peaks, and one of the most desolate places which you will ever visit in India. Dras is popular as a trekking base where people stopover during their trek from Minamarg to Amarnath via Zojila Pass.
13. Khilanmarg
Khilanmarg is located around 6kms away from Gulmarg and you can bet that this place will enchant you. During winter, the place is covered with snow, away from the hustle and bustle of the city, it'll take you on a serene trip. Pine trees and white winterland setting of the place adds to its charm.
14. Bhaderwah
Bhaderwah is located in the Doda district of Kashmir which is known for its scenic landscapes and greenery all around and it is one of the best places in Kashmir to visit. The most amazing thing about this place is that it is known for its flora and fauna and large varieties of snakes.
A drive to this scenic place will beat all your tiredness with its vast open surroundings.
15. Baltal
Baltal is located at an altitude of 2743mts and it provides a base for all the Amarnath devotees and pilgrims to take rest for a night. It is located around 14kms away from Amarnath caves which makes this place accessible to all.
The surrounding beauty and landscape of the place is highly admirable and makes for an unforgettable destination to visit.
16. Aru Valley
Aru Valley is one of the most splendid valleys of Kashmir which is set against the backdrop of the mighty Himalayas. It is located around 12kms from Pahalgam and it serves as a base camp to several trekking points such as Kolahoi Glacier and Tarsar Lake Trek.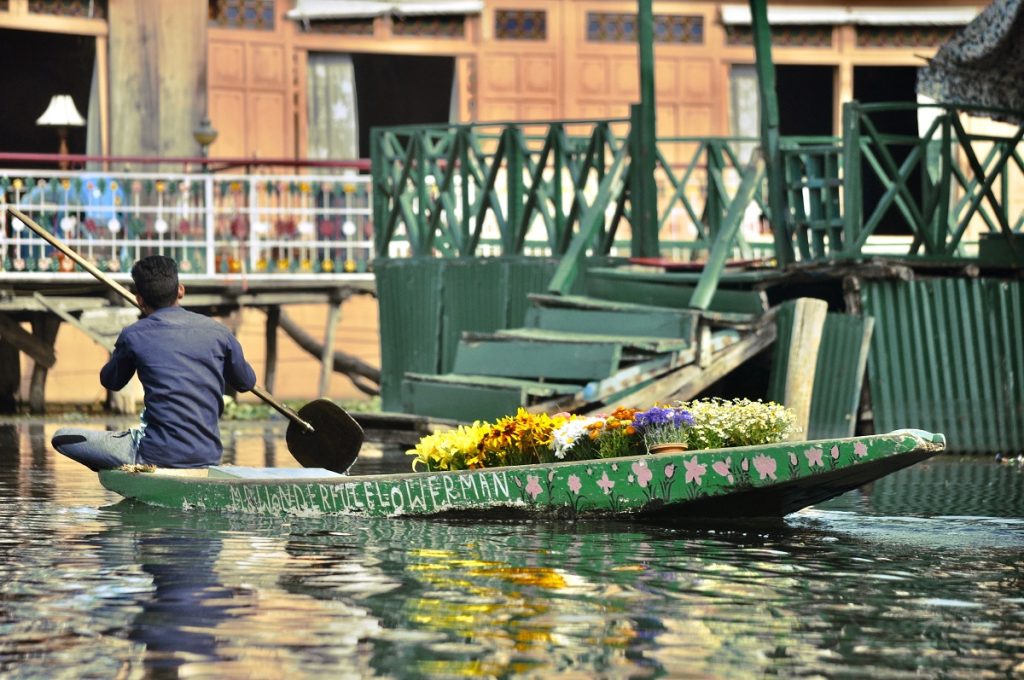 You can even enjoy horse riding and hiking here if you do not want to indulge in intense activities such as trekking. The valley is also home to the Aru river which is a tributary of the Lidder River.
17. Kashmir Great Lakes
The Kashmir Great Lakes trek starts from Sonamarg which is a famous tourist spot and it takes around 8 days to complete the trek. The gradient of the trek comes under the band of a moderate level. One has to trek around 63 km to complete the circular journey and the maximum altitude that can be attained while on the trek is around 13000 feet. The Kashmir Great Lake trek requires good physical fitness so that one can accomplish it by enjoying it to the fullest and without any difficulty.
The actual starting point of the trek is 3 km ahead from Sonamarg on the Srinagar highway. Here one can buy some eatables from the Dhabas which are available here. The trail starts from a green alpine meadow followed by a dense forest having maple and pine trees.
The valley of Sonamarg looks magnificent from this point. Trekkers will always be walking on the meadows throughout the complete trek.
18. Kishtwar National Park
Kishtwar lies on a plateau above the Chenab River and below the Nagin Sheer Glacier, surrounded by acres of dense green forests which consist of pine and deodar trees.
This place is great for wildlife and nature aficionados as this national park is spread over 400sq km and it boasts of many varieties of mammals which include musk deer and Himalayan bears.
19. Charar e Sharief
Charar e Sharief is a Muslim shrine and mosque which is located in the town of Charari Sharief in Budgam district. It is one of the oldest places to worship in Kashmir, which dates back to over 600 years. This shrine is dedicated to a revered Sufi saint named Sheikh Noor-ud-Din Noorani, who propagated Rishism in Jammu and Kashmir.
This mosque has a wooden structure which got destroyed during the Indo-Pak war of 1995 but was restored to its former glory after some restoration work. This mosque brings in a large number of devotees, further adding to the significance of the place.
20. Martand Sun Temple
Martand Sun Temple is located in the middle of nowhere, perched above a plateau that offers a panoramic view of Kashmir Valley from its vantage point. It is a Hindu temple which is dedicated to the God of Sun, Surya.
The temple is located around 5 miles from Anantnag but is now in ruins, but you can still witness some splendid views from here. The temple was an excellent example of Kashmiri architecture which also infused styles of Greek, Roman, and Chinese form of architecture amongst other styles.
21. Kokernag
Kokernag is a town which is located in Breng Valley, which is also called "The Golden crown of Kashmir". It is known for its green gardens, natural water springs and is one of the top destinations to visit in Kashmir.
It is located at an elevation of 2000mts and is the home to the largest trout fishery in Asia. Kokernag's gardens a perfect getaway to spend some quality time with the family and have a picnic.
22. Yusmarg
Yusmarg has a serene and tranquil landscape that draws visitors from everywhere. It is considered by many as the best place to visit in Kashmir because of its untouched natural beauty.
It is still an unknown location which means that you would be away from all the hustle and bustle, unlike other touristic places. This is also one of the favorite places frequented by the trekkers as it has lush maple trees surrounded by majestic vistas of the Himalayas.
23. Tarsar Marsar Trek
Tarsar Marsar Trek is located right in the lap of Aru Valley, which makes this trek really unique with changing landscapes and scenery all around. It is one of the best adventure treks in the state of Kashmir with a bloom of colorful flowers, small pools, and beautiful lakes with various shades of blue gracing the trek's route.
One of the most exciting treks to be done in India, and shouldn't be missed while planning for a trek in Kashmir.
24. Chatpal
Chatpal is often known as "Mini-Pahalgam" and rightly so as it has all the fine details and accompanying the natural beauty of Pahalgam and is one of the most offbeat and best places to visit in Kashmir. Chatpal is surrounded by mountains on all sides and the trail from the nearby woods connects it to the Kashmir Valley.
Chatpal is free of crowds and you will get to experience and indulge in nature without any interruptions whatsoever. There are some famous places nearby which you can visit from Chatpal which are Aharbal waterfall, Sonmarg, Lolab valley, Gulmarg, Martand temple, and Kishtwar National Park.
25. Doodhpathri
Doodhpathri is a tourist destination located in Budgam district of Kashmir at an altitude of 2,730mts, making it one of the best places to visit in Kashmir. The name Doodhpathri means The Valley of Milk as the flow of water in the river gives it this name, and according to some the name also adds up to the large quantity of rich milk the place has to offer.
It lies in a bowl-shaped valley in the Pir Panjal ranges of the Himalayas. It is an alpine covered green valley with splendid mountains, crystal clear water and stunning blue skies. It is around 2 hours drive from Srinagar which makes this place highly accessible and a great destination for a weekend drive.
These are some of the best destinations that you can visit while in Kashmir, and while here you can enjoy solo travel and also if you want to travel with your family and friends. You will experience snow capped peaks, lush green meadows and wildflowers and beautiful high altitude lakes which makes this state unique from the rest of India. 
You should also read :