Kashmir is undoubtedly one of the most beautiful and gorgeous offbeat destinations in India, and we can't recommend it enough. However, there are some places in the union territory of Kashmir which are a must-visit for everyone, whether you are on a short trip or looking to spend a vacation with your family or group of friends, and we'll list out the reasons to visit Kashmir if you are still looking for some…
1. Paradise of India
There is a reason why Kashmir is known as the "Paradise of India" and whatever you see on your screens as photos and videos or in magazines and books don't do the place justice. Kashmir is absolutely surreal with breathtaking views around every nook and corner.
You will see the best of landscapes covered with wildflowers and lush green meadows, snowy mountain peaks and mountain lakes that will surely mesmerize you and makes it the top reason to visit Kashmir.
2. Food
Kashmiri food is considered as the pinnacle of culinary excellence with their famous spices and rich color. It is a delightful place for food lovers to be here as they can enjoy both vegetarian and non-vegetarian cuisines.
Some of the famous cuisines to be tried in Kashmir are Rogan Josh, Yakhni, Matschgand, Qabargaah, Kashmiri Dum Aloo, Paneer Chaman, Kashmiri Saag, and Nadur Churma.
3. Stunning High Altitude Lakes
Amidst snowy peaks which will take you through some of the most stunning landscapes, you will ever witness in India, you will be greeted with some stunning high altitude lakes. These lakes lie amidst green meadows and wildflowers which bloom around them and they make for some perfect photo-worthy moments when you visit them.
Some of the famous lakes to visit are Dal Lake, Marsar Lake, Tulian Lake, Tarsar Lake, Manasbal Lake, and Shesnag amongst others.
4. Trekking hub
Many people view Kashmir as a place where friends and family can enjoy some calm and peaceful time but majestic Himalayan ranges also have some adventurous activities in store for travellers. Some of the famous treks that you can do in the state of Kashmir are Kashmir Great Lakes Trek, Tarsar Marsar Trek, Tulian Lake Trek, Aru Valley Trek amongst other treks.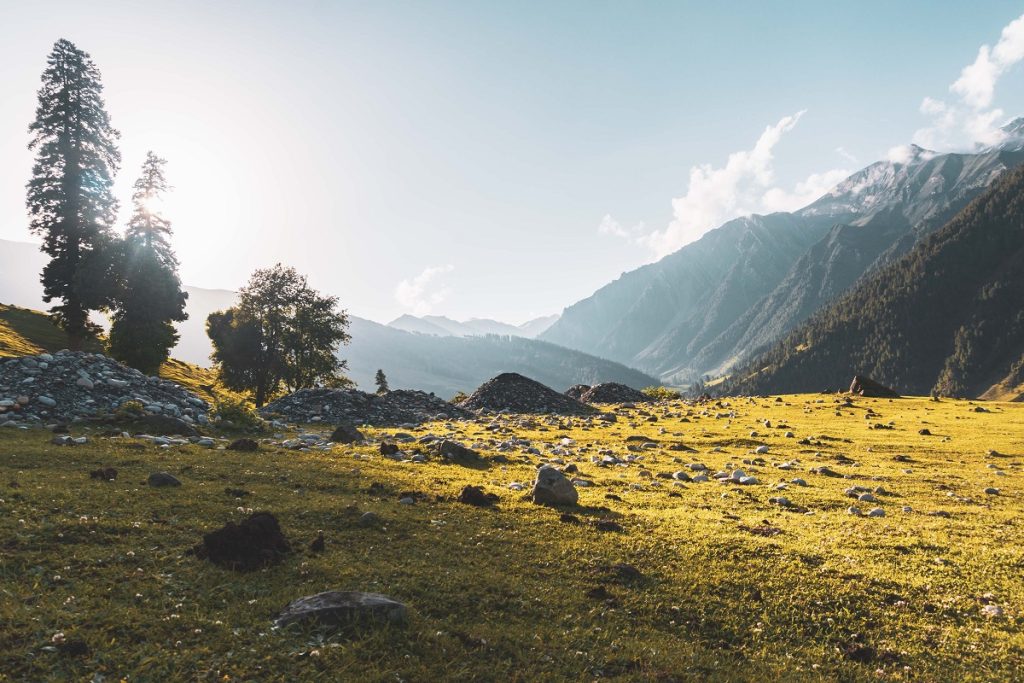 While traveling to this gorgeous land, you will witness the most enchanting views of mountains, lakes, and meadows which makes it a unique proposition to the trekkers.
5. Kashmir: Home to many divine and holy places
Kashmir can be also called "Land of holy and divine places" as there are many religious and important places for both Hindus and Muslims. Some of the famous Hindu Temples and shrines are Vaishno Devi, Amarnath Caves, Sharika Devi, Kheer Bhawani, Bhuteshwar Temple amongst others.
For Muslims Jama Masjid in Srinagar is an important place and also Charat-e-Sharif Ziarat Dastgir Sahib is also an important religious spot.
6. Handicrafts and shopping in Srinagar
It doesn't get any better than shopping in the lanes of Srinagar amidst Himalayan Valleys which provide a beautiful backdrop for your shopping activities. You can shop for antique handicrafts, World famous Pashmina shawls, handicrafts, hand-woven carpets, and traditional jewelry.
Safe to say, you will be spending more than you intended, as the shopping list will turn endless.
7. Amazing Climate
Kashmir is one of the best places in India where you can travel to and plan your vacations during summer, as Kashmir has a blissful climate even in the harshest of summers. You will be greeted here by snow-capped mountain peaks, fast-flowing rivers, green meadows, and blooming wildflowers and fresh mountain water spring.
The landscapes take on a surreal and dreamy look in winters, with the valleys and lanes of Kashmir covered in snow which makes for a beautiful holidaying experience and definitely makes it one of the reasons to visit Kashmir.
8. Stay in the houseboats of Dal Lake
Dal Lake is one of the most beautiful lakes in Kashmir and rest of India as well. It is also known as the "Jewel Crown of Kashmir" due to its enchanting beauty.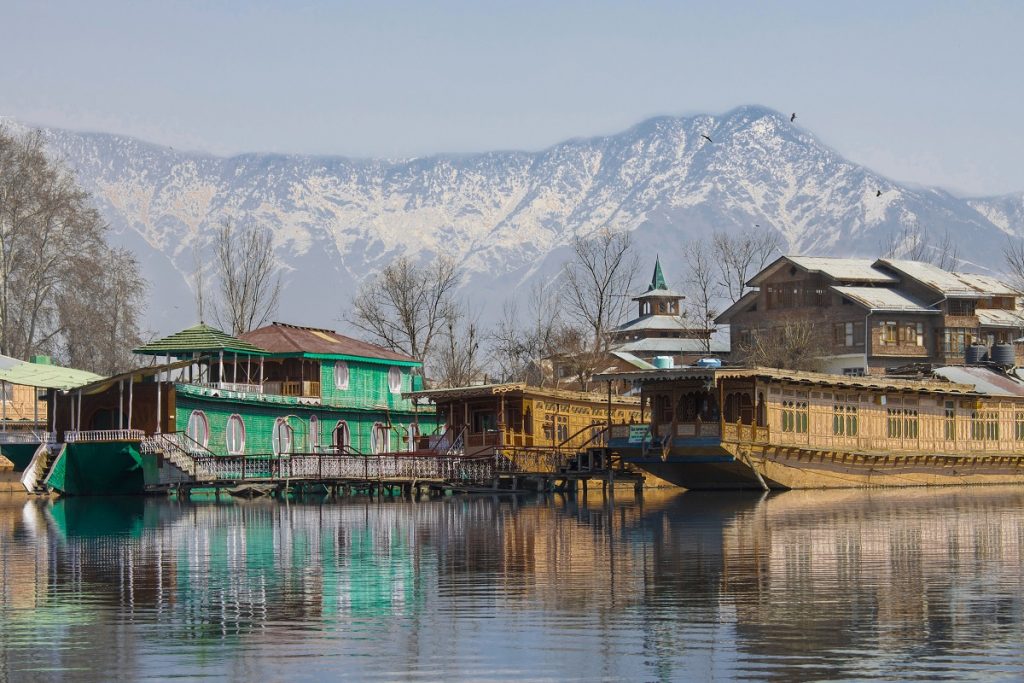 Houseboats are really luxurious and you will be floating amidst serenity and beauty of the lake while enjoying traditional Kashmiri cuisines and is one of the reasons to visit Kashmir.
9. Shikaras
Imagine Gondolas of Venice but in Kashmir, that is what you will experience here. You will be exploring parts of Kashmir through Shikaras amidst tranquil waterways and canals.You can even stop to shop at floating markets which sell Kashmiri fruits and vegetables, handicrafts and saffron amongst other items.
This is one of the best experiences you will get while in Kashmir which draws people from all over the world.
10. Experience Kashmir's Rich History
There are many historical places and monuments in the state of Kashmir where you can learn more about the history of the state and the historical traditions of the place.
Some of the most popular monuments of Jammu & Kashmir are Martland Sun Temple, Bumzuva Cave, Shankaracharya temple, Khanqah of Shah Hamadan, Patthar Masjid, Pir Haji Muhammad Sahib, Jama Masjid, Hari Parbat Fort, Pari Mahal amongst others.
11. Witness art and heritage through Kashmir's Museums
There are many museums and art places in Kashmir which you can go to learn about Kashmir's history, heritage and culture. These museums have handicrafts, pottery,stones, historical artifacts, pottery, paintings and sculptures.
There are many old art galleries where you can see paintings, artworks, and books of ancient times. Some famous museums of Jammu & Kashmir are Amar Mahal, Dogra Art, Sri Pratap Singh, Kanchenjunga, and Stok Palace Museum.
12. Of lanes and Old Town
The Old Town of Srinagar has interesting lanes and alleys which gives you all the feels of an old-world setting. There are many bazaars and shops where you can shop, and also eateries and restaurants where you can enjoy Kashmiri cuisines to your heart's content.
So whether it is a winter wonderland or dreamy spring landscapes with meadows and wildflowers, Kashmir has it all for anyone and everyone. You can go for solo exploration or spend quality time with your friends or family in the state of Kashmir and this list of reasons to visit Kashmir should have helped you out.
You should also read :