Goa – A dream holiday for many, a blend of Portuguese and Indian Culture, attracts a swarm of tourists round the year. Whether you want to Party or Relax, a Solo Adventure, a Couple Trip, a Family Outing or just chill out with friends, Goa has got a lot to offer for everyone and every mood! Which makes it one of the most sought after tourist destinations in the country.
In Spite of being the smallest state of the country, this place attracts a large crowd towards it, mostly because of its tranquil beaches and nightlife. Goa is a complete package in itself, you can enjoy a modern atmosphere and also indulge in some heritage vibes. We can witness a beautiful sunrise or sunset and also the kind of places where we can enjoy the nightlife.
Everyone has visited the famous spots in Goa, but apart from various beaches and casinos, Goa has so much more that people usually miss when exploring Goa, as the popular beaches steal all the glamour from the ones which are secluded. But that is where a different Goa and perhaps an enchanting Goa exists.
Let's talk about some of the offbeat places fewer people are aware of, which are still untouched and will give you a completely different feel when you visit. The unexplored side of Goa!

Chorla Ghats
Set aside the beaches for once, and give a visit to Chorla ghats, and just wait to see how they leave you feeling enchanted. These ghats are like a hill station in Goa and a ride till here is like a small trip in itself. Chorla ghats are hidden away from the city being situated in the North Goa in Sahyadri Mountain Range at Goa – Karnataka – Maharashtra border. The best season to visit these ghats is monsoon season. This short trip will offer you a marvelous driving experience in the western ghats.
You'll be riding through the lush green forests, past the paddy crops and you can also expect to encounter small waterfalls all along the way. You can take a halt at Bondla wildlife sanctuary and see Bondla zoo. Also, Vazira Shakira Waterfall is on the way, so you can stop there and enjoy the stream of water.
And in the end, after all the places you'll reach the viewpoint of ghats, and this captivating site will surely free you of all the tiredness of the trip.

Querim (Keri) Beach
Keri beach is one of the longest beaches in north Goa. This white sand beach is packed with palms and trees along the stretch. It is a quieter beach compared to other beaches in goa, come here if you are looking to escape the hustle and bustle of the city and the crowded beaches. You can also visit the ancient Portuguese fort while you are here, ferry rides are available every 30 minutes for the commute.

Butterfly Beach
On this beach, you can expect an experience as beautiful as its name is. It is very much isolated, and it will give you an island type of feel as you can reach only by boat from Agoda or Palolem beach, a trekking route is also available but opting for a boat is a safer option.
The calmness of this beach is spellbinding, you can experience a beautiful sunset at this place. With its bluish water, it is home to some exotic species of butterflies, goldfish, and crabs. You can also spot dolphins around here.

Kakolem beach
This is a small deserted beach in the south of goa. You can reach this turquoise water beach by land and boat both. Sunset is a beautiful scene from here, so if you are looking for a place to watch a peaceful sunset, kakolem beach is the place you should be in.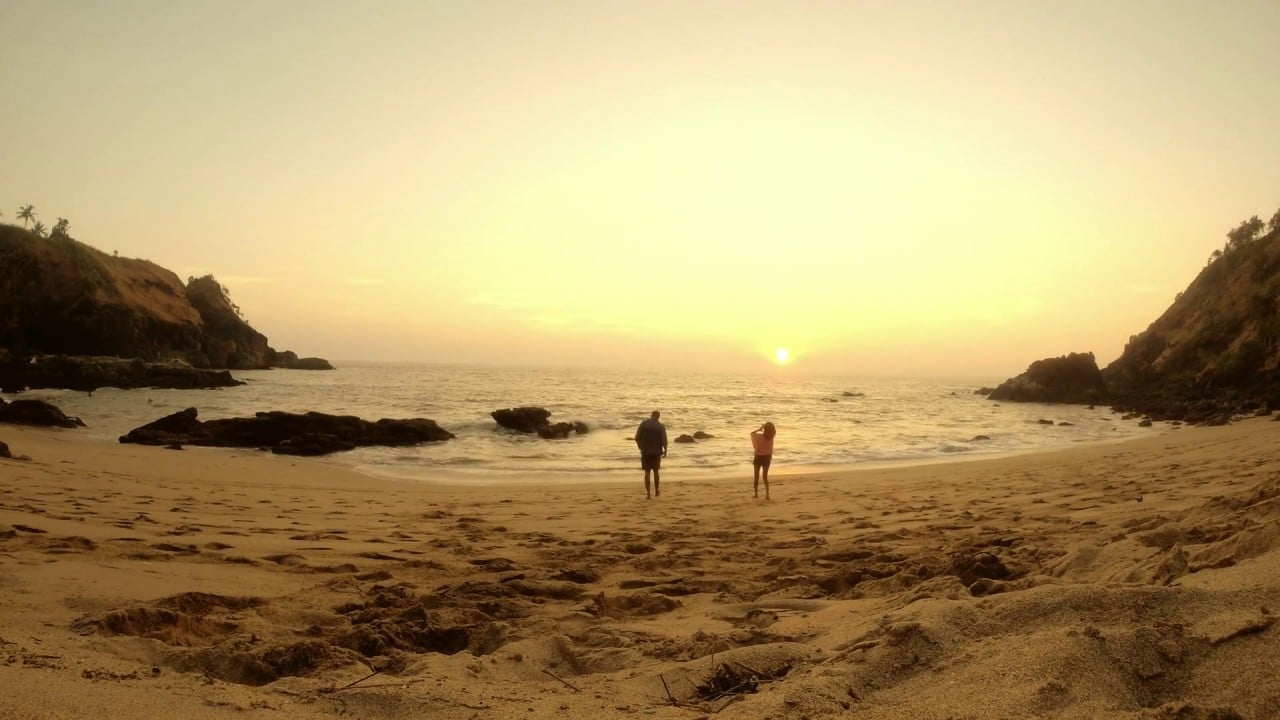 Betul Beach
Betul beach is located in the south of Mobor Beach, at a distance of 18km from Margao, on the opposite bank of the River Sal. It is called the fishing beach of goa, so you can also get fresh and cheap seafood in the nearby markets.
To reach here, you can take a ferry ride from Mobor beach.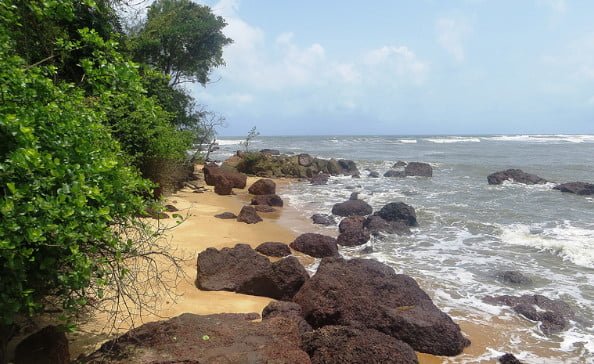 Cola Beach
Cola beach is a perfect place for relaxation. It is covered by palm trees and you can find Rajasthani style tents here. And like every other hidden spot in Goa, this beach is also a little difficult to reach. You can get here only by private transport, and roads are also muddy throughout.
Galgibaga beach

Galgibaga beach is the nesting site of Olive Ridley Turtles. You won't find many restaurants near the beach, as this beach is maintained with fewer tourist attractions, mainly to protect nesting of eggs here. Turtles lay eggs in between October and March, during this time if you're lucky, you can expect to spot some newborn turtles. You can reach the beach by road easily.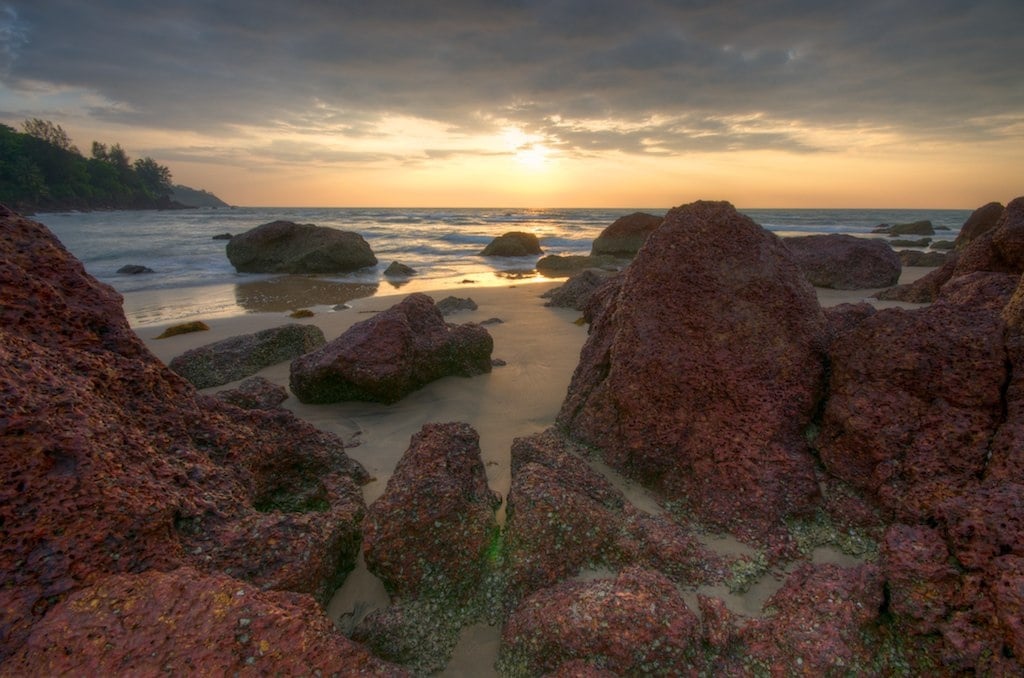 Butterfly Conservatory Goa

Located in Ponda district of Goa, it is situated on a remote hill in Ponda. It is spread over 4000 sq mts. It houses more than 100 species of butterflies, so you can be sure to witness a lot of butterfly species and some of the most exotic ones. It is designed like a park, so you can stroll and enjoy around.
So, go once again if you've been there before and see Goa as you've never seen before. And plan a trip right away if you haven't seen Goa yet and be ready for a fun and a crazy trip that lies ahead.
You should also read :