Holi is a festival of colors that every Indian patently waits for every year to get into the spirit of freedom and play with colors. This year, to make the spirit of Holi exciting, JustWravel brings you several trips to the different parts of North India. In the 3rd week of March when the Holi Long Weekend kicks in from 20th to 24th  of March, JustWravel has planned out trips for its ever-growing following of Wravelers in the states of Himachal Pradesh and Uttarakhand.
It includes independent as well as fix departure trips to extremely beautiful places such as Deoriatal-Chandrashila, Nag Tibba Trek, Kanatal Road Trip in Uttarakhand. It also includes Parashar Lake, Kareri Lake Trek, Chitkul Road Trip, Barot, and Tirthan Valley Road Trip, McleodGanj and Triund Road Trip, Paragliding in Bir- Billing in Himachal Pradesh & Grahan – Kasol Trek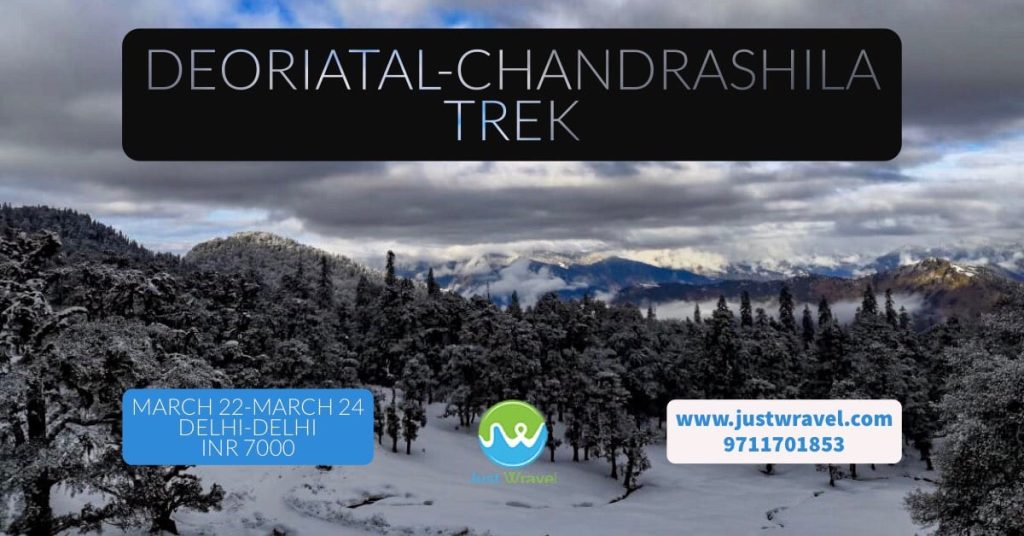 The locations that we are covering during this Trek are Deoriatal, Chopta, Tungnath, and Chandrashila. Chopta is a small region in Kedarnath Wildlife Sanctuary, Tungnath is the highest Shiva Temple in the world, Chandrashila peak is at an altitude of 4000 mts and offers perfect panoramic views of all the remarkable peaks of Uttarakhand such as Kedarnath, Gangotri, Chaukhamba, Nanda Devi, Trishul, etc.
One night stay is at Deoriatal and 2nd will be at Chopta.
Difficulty Level: Easy
Duration: 3 Days
Kilometers: 28
Highest Altitude: 4000 Mts
Region: Kedarnath, Uttarakhand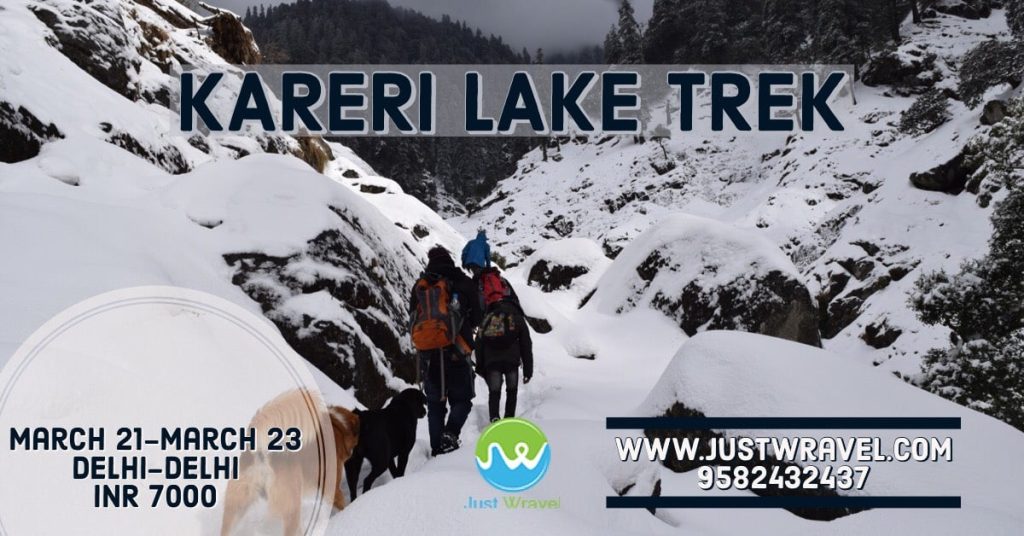 Kareri Lake is a high altitude freshwater lake situated at an altitude of 2950 meters above sea level. The lake is surrounded by scenic meadows and Dhauladhars. The glaciers located in the Dhauladhars act as a water source to the lake. The trek is less explored and offers great scenic views of valleys and mountain ranges. The difficulty level of this trek varies from easy to moderate and hence it is suitable for both beginners as well as experienced ones.
With Triund trek closed for winter, Kareri lake trek is a very good alternative, little tough compared to Triund, but worth it.
Difficulty Level: Easy to Moderate
Duration: 3 Days
Kilometers: 26 Kms
Highest Altitude: 2850 Mts
Region: Dharamshala, Himachal Pradesh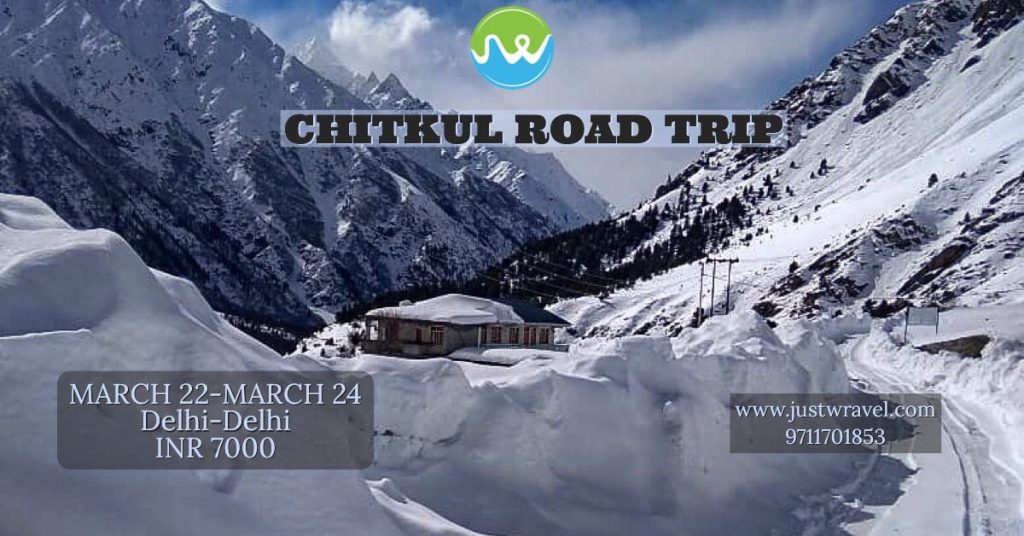 The last inhabited village on the Indo-Tibetan border is Chitkul, around 569 kilometers from Delhi and 24 kilometers from Sangla and is famous for its sunsets, potatoes, apples and the incredible hospitality of the locals.
At 3450m, Chitkul is well over a few mountain tops in Himachal alone that makes it witness very cold winters during which the snow makes the inhabitants move to the lower regions of Himachal. Situated on the bank of river Baspa, Chitkul is the first village of Baspa Valley and the last village on the old Hindustan-Tibet trade route and is also the last point in India that one can travel to without a permit.
Difficulty Level: Easy
Duration: 3 Days
Region: Sangla Valley, Himachal Pradesh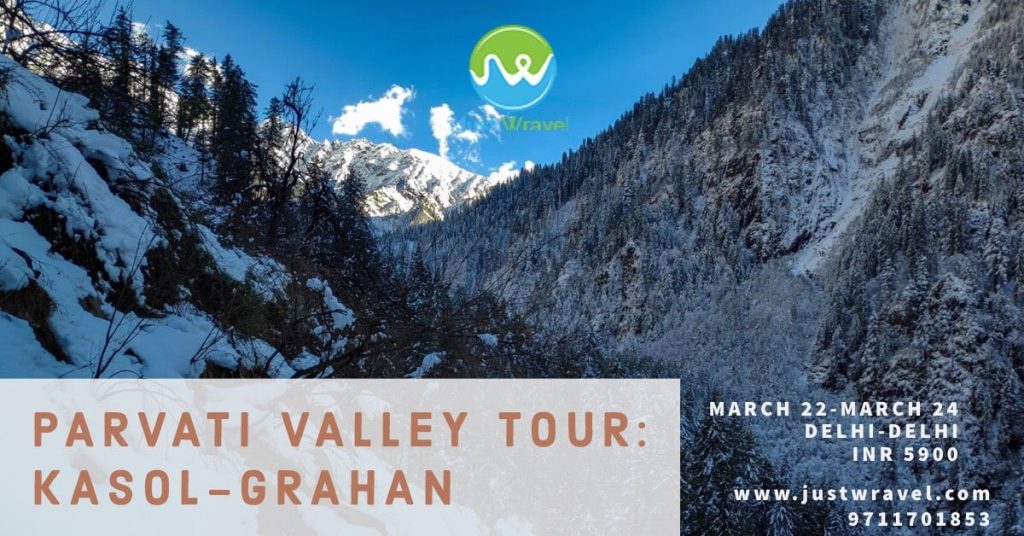 Not so popular among travelers visiting Kasol, but a great scenic hike of 10km starting from Kasol. It is also famously known as the Spiritual Village in Parvati Valley as you are not allowed to carry alcohol with you in this village.
Difficulty Level: Easy to Moderate
Duration: 3 Days
Kilometers: 20 Kms
Highest Altitude: 2850 Mts
Region: Parvati Valley, Himachal Pradesh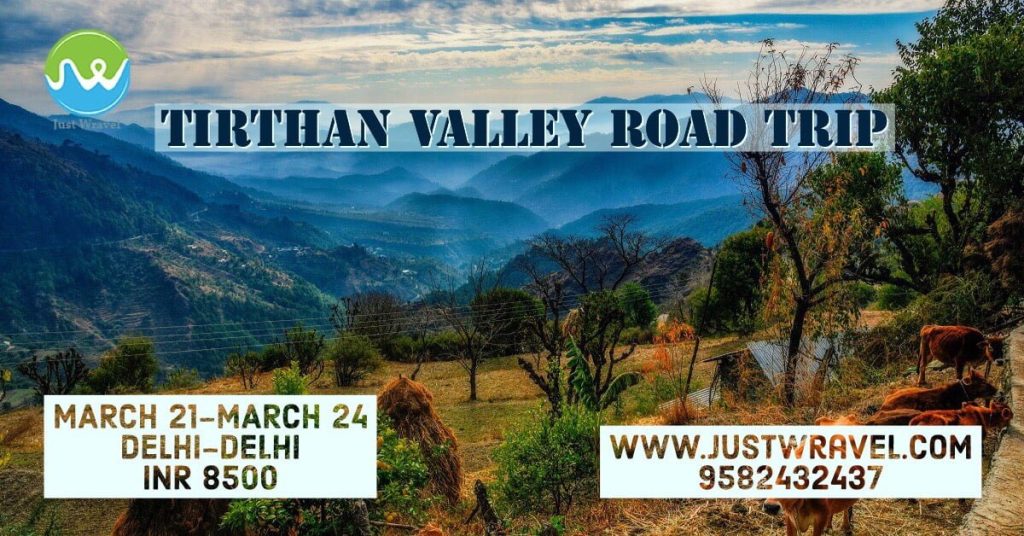 Barot is a tiny village situated in the Mandi district of Himachal Pradesh. The road to Barot is scenic and offers views of terraced fields and dense cedar forest. The village also forms the gateway to the Nargu Wildlife Sanctuary. The sanctuary is home to varieties of animals such as Monal, Black Bear, Ghoral, etc.
A serene picturesque Valley in Himachal Pradesh which usually goes unnoticed because of the newly constructed tunnel which guides people to Kullu and Manali. Making Tirthan and Banjar Valley a perfect extended weekend getaway for Wravelers looking to stay away from hustle bustle of overcrowded tourist destinations.
Duration: 4 Days
Kilometers: Small Hikes involved
Highest Altitude: 3500 Mts
Region: Barot and Tirthan Valley, Himachal Pradesh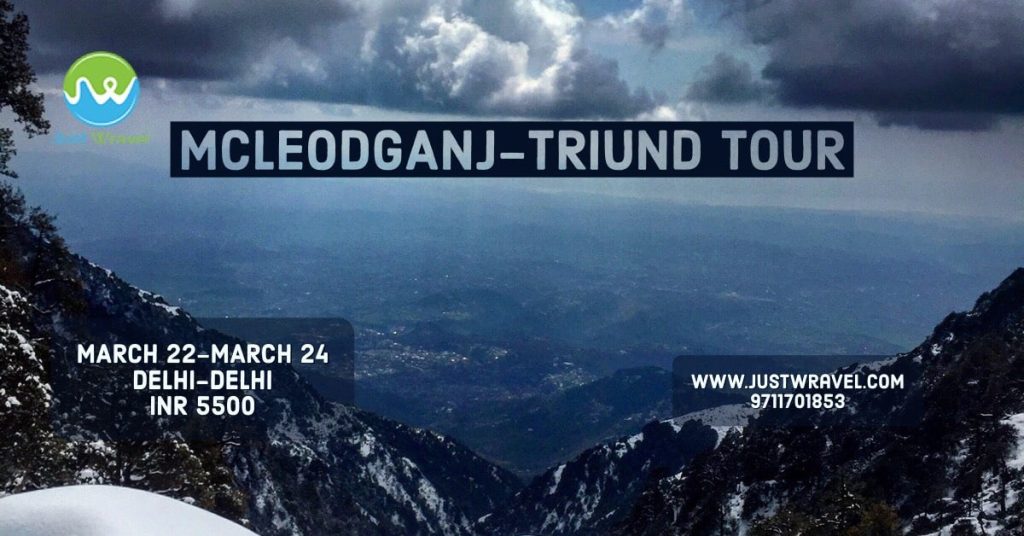 This is a 3 day trip from New Delhi wherein,we spend one day in McleodGanj exploring the place, visiting monastery , Bhagsu waterfall, cafe hoping . Just knowing about the place and people. The mix of culture that has so easily blend in the routine of the town.The following day after having our breakfast we start our trek to Triund, which is a very good hike starting from McleodGanj and curling upto the top.C amping under the under the stars, view of the valley, sunrise dazzling the snow-covered peaks are few things to watch out for at Triund.
Difficulty Level: Easy
Duration: 3 Days
Kilometers: 20 Kms
Highest Altitude: 2850 Mts
Region: McleodGanj, Himachal Pradesh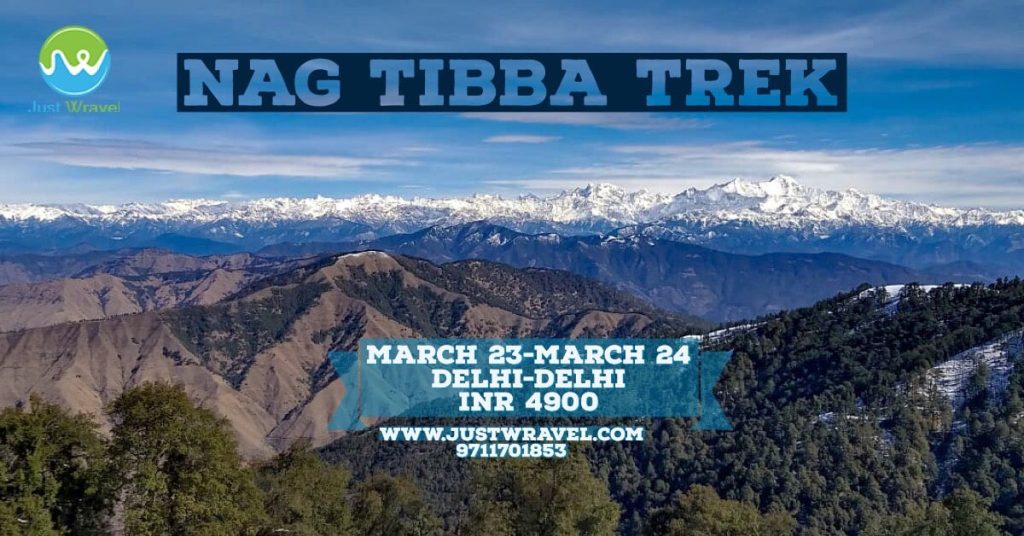 Nag Tibba also called as Serpent's Peak is the highest peak in the lesser Himalayas in Garhwal region. Situated at a height of 3022 meters above the sea level, the peak offers majestic views of some remarkable peaks such as Swargarohini, Banderpooch, Kala Nag and much more. The trail passes through villages, dense forest and meadows.
Difficulty Level: Easy
Duration: 2 Days
Kilometers: 20 Kms
Highest Altitude: 3022 Mts
Region: Mussoorie, Uttarakhand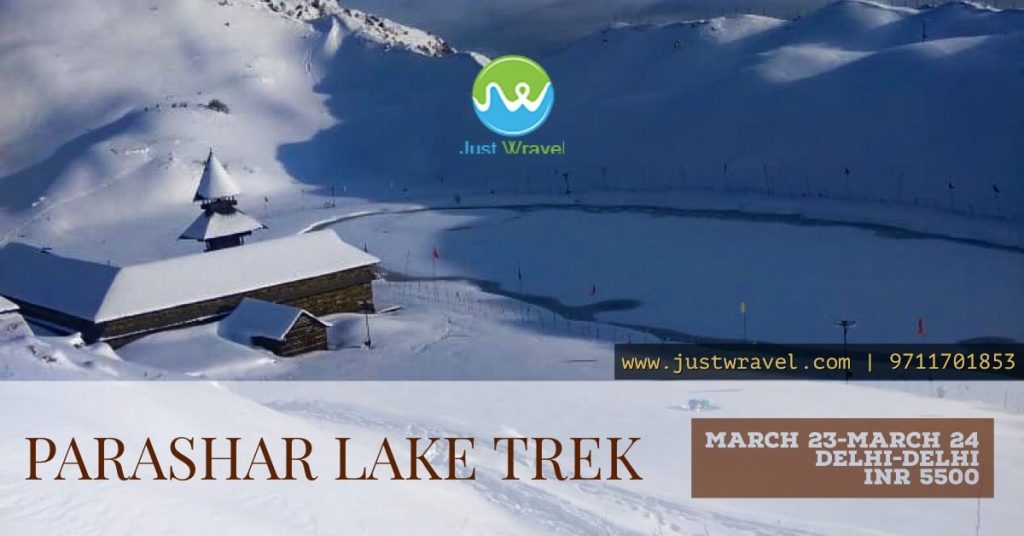 Parashar lake is a sacred lake located on the top of a hill near the Baggi village in the Mandi district. The lake is situated at a height of 2730m above sea level and it is dedicated to Sage Parashar. There is a temple situated near the lake and is believed to be built in the 13th century.
The lake houses a floating island which keeps changing its position time to time. With many stories doing the round few believed that it hasn't shifted for the past three months and with the help of island shifts locals can predict weather conditions and can be prepared for worse.
Difficulty Level: Easy
Duration: 2 Days
Kilometers: 17 Kms
Highest Altitude: 2734 Mts
Region: Mandi, Himachal Pradesh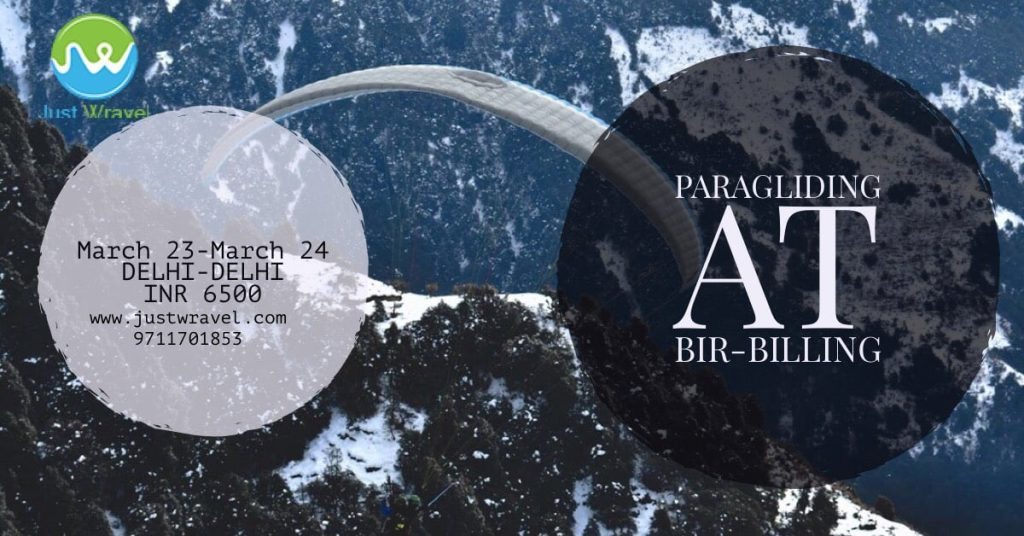 Bir Billing is famous for monasteries and is considered the best site for Paragliding in India whereas Barot is a serene and beautiful place which is popular for activities like angling, trekking, etc.
Bir Billing the paragliding capital of India, is a noted center for ecotourism, spiritual studies, and meditation.  Bir is also home to a Tibetan refugee settlement with several Buddhist monasteries and a large stupa.
Difficulty Level: Easy
Duration: 3 Days
Kilometers: 6 Kms
Region: Bir, Himachal Pradesh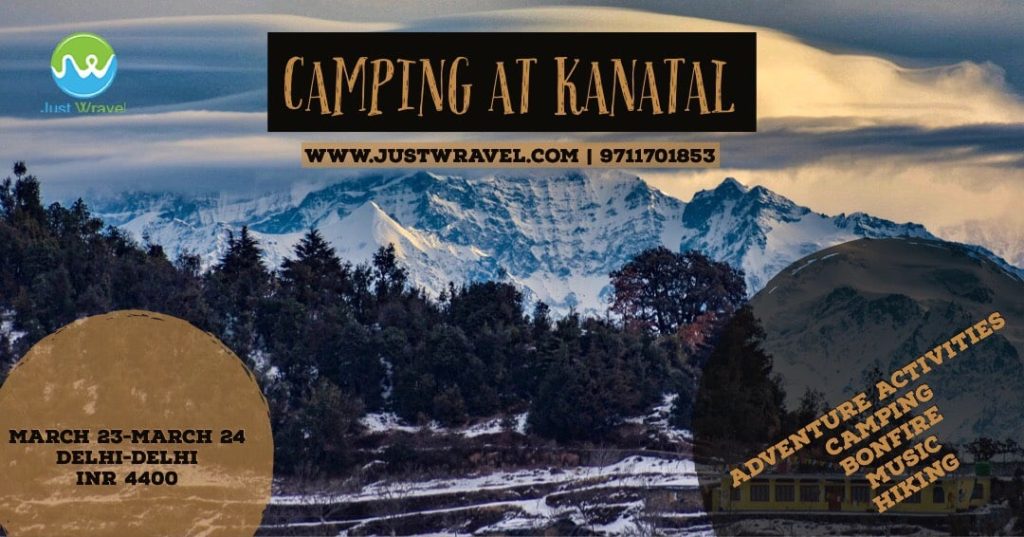 Kanatal is a small village in Uttrakhand state about 80 kms from Rishikesh. A picturesque location set in Garhwal hills and makes it a perfect weekend getaway for Travelers from New Delhi , Chandigarh and around.
At an elevation of 8500 feet , it is located between Mussoorie and Chamba. The place is still unexplored but can be easily reached as it connected by roads from Mussoorie as well as via Rishikesh & Chamba. Great place to explore for nature lovers, photographers and families who are looking for leisure stays away from hustle bustle of touristy locations.
Difficulty Level: Easy
Duration: 2 Days
Region: Chamba, Uttarakhand
For any details regarding the trip, you can contact Team JustWravel at 92057 25727 //   95824 32437  or drop us an email to contact@justwravel.com