"No weekend, all weakened."
We see it coming. The much-awaited, deeply desired LONG WEEKEND !! ?
What about you?
Well we have something that can make your weekend from ordinary to extraordinary one ?
Check out our 9 trips planned for Dussehra Long Weekend (30 September – 2 October) and join us and be a wraveler for life.
Hampta Pass Trek
Hampta Pass is a high mountain pass which links Lahaul and Kullu valley in Himachal Pradesh. Having an elevation of 4270 meters, the journey to the pass is one of the beautiful treks in Pir Panjal range of Himalayas. There is also a village named Hampta and its name is based on the Hampta Pass. The pass is usually crossed by shepherds. Every year, they open the route and come here in seeking for high altitude grassland.
Apart from scenic views, one can experience vertical rock walls, hanging glaciers, lakes, waterfalls, 6000 m and above peaks on this trek. The difficulty level of this trek is moderate and is suited for experienced ones or one should have done atleast one trek before. The added advantage of doing this trek is one gets to see scenic and pristine Lake of Chandratal.
Paragliding and Trekking at Bir & Barot
This trip plan is perfect for those who needs adventure and leisure together. We are covering two beautiful and lesser explored destinations of Himachal Pradesh, i.e. Bir Billing and Barot. Bir Billing is famous for monasteries and is considered the best site for Paragliding in India whereas Barot is a serene and beautiful place which is popular for activities like angling, trekking, etc.
Bir Billing the paragliding capital of India, is a noted center for ecotourism, spiritual studies and meditation. Bir is also home to a Tibetan refugee settlement with several Buddhist monasteries and a large stupa.
The paragliding launch site is in the meadow at Billing (14 km north of Bir), at an elevation of 2400 metres, while the landing site and most tourist accommodations are in the village of Chowgan (also spelled Chaugan), on the southern edge of Bir.
Barot is a tiny village situated in the Mandi district of Himachal Pradesh. The road to Barot is scenic and offers views of terraced fields and dense cedar forest. The village also forms the gateway to the Nargu Wildlife Sanctuary. The sanctuary is home to varieties of animals such as Monal, Black Bear, Ghoral, etc.
Mcleodganj Camping and Triund trek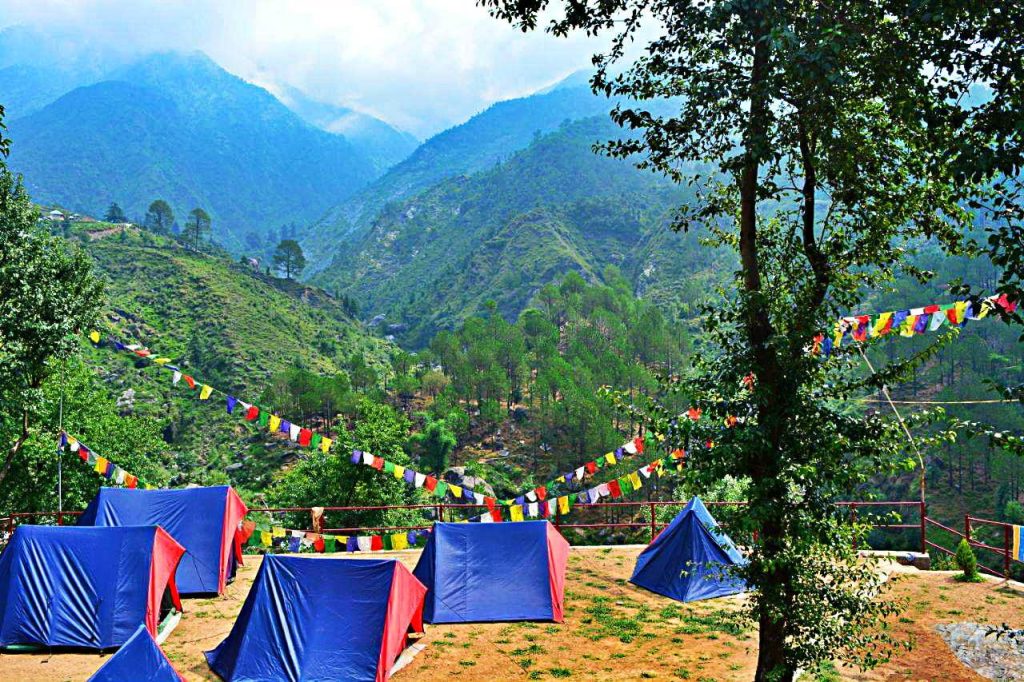 Mcleodganj, also known as "Little Lhasa (Tibet) of India", situated in the outskirts of Dharamshala at a height of 1785 meters (6831 feet) above the sea level. A small and beautiful hill station with a blend of Tibetan and Indian culture. The place is nestled amidst the mighty hills of Dhauladhars. Mcleodganj is known for its majestic landscapes, amazing culture and trekking trails.
Triund hill is situated at an altitude of 2875 meters above sea level, surrounded by breath taking view of Kangra valley and the Dhauladhar range. It is a considered to be an easy trek and is at a trekking distance of 9km from McleodGanj town.
Mcleodganj situated at a road distance of 250 kms from Chandigarh and 480 from New Delhi it is one of the most sought after trek.
Dayara Bugyal Trek
Himalayas have always been a charming destination for nature and adventure lovers. Apart from snow clad mountains and forest, Himalayas are also famous for its scenic meadows, also called as Bugyals in local language Uttarakhand. The route to these meadows are also scenic and over the time have become prominent trekking routes. In Uttarakhand, there are several scenic bugyals where one can trek and one such is Dayara Bugyal.
The trek to Dayara Bugyal starts from and ends at a small village, Barsu situated in the Uttarkashi district of Uttarakhand. The village is 180 km from the state capital, i.e., Dehradun. It takes around 8 hours to reach the village from Dehradun. The whole trek is scenic and passes through forest, lake, and meadows. One gets to see several snow-capped peaks of Greater Himalayas during the trek. Bakharia Top, standing at an elevation of 12000 feet, is the highest point that can be reached on this trek.
Parashar Lake Trek
Parashar lake is a sacred lake located on the top of a hill near the Baggi village in the Mandi district. The lake is situated at a height of 2730m above sea level and it is dedicated to Sage Parashar. There is a temple situated near the lake and is believed to be built in the 13th century.
The lake houses a floating island which keeps changing its position time to time. With many stories doing the round few believed that it hasn't shifted for the past three months and with the help of island shifts locals can predict weather conditions and can be prepared for worse.
According to locals, it is said that the water level of the lake has been maintained for centuries now. There is no water source to the lake. The lake is surrounded by snow laden peaks of Himachal Pradesh most of the time of the year. One can have clear views of mighty peaks such as Indrasan, Deo Tibba, etc. It is one of the few weekend treks from Delhi and Chandigarh.
Deoriatal Chandrashila Trek
Scenic camping destination that we are covering in this trip is Deoriatal. Deoriatal is a pristine lake situated at a height of 2400 meters. The site is best known for the breathtaking views of Chaukhamba peaks and its reflections in the lake.
Chopta is also the starting point of treks to Tungnath, which is the world's highest Shiva temple and Chandrashila peak
Trip to Jibhi
Jibhi is a secluded gem in the Tirthan/ Banjar Valley of the Great Himalayan National Park, about 40 kms from Aut.
A serene picturesque location in Himachal Pradesh which usually goes unnoticed because of the newly constructed tunnel which guides people to Kullu and Manali. Making Jibhi a perfect weekend or extended weekend getaway for Wravelers looking to stay away from hustle bustle of overcrowded tourist destinations.
The mountains surrounding Jibhi are lush with pine and cedar forests and it is also just one hour away from the highway connecting Manali and Chandigarh. A short drive from picturesque Jalori Pass, Jibhi is a good base for hiking, birding, relaxing, and enjoying the outdoors.
Kareri Lake Trek
Kareri Lake is a high altitude fresh water lake situated at an altitude of 2950 meters above sea level. The lake is surrounded by scenic meadows and Dhauladhars. The glaciers located in the Dhauladhars act as a water source to the lake. The trek is less explored and offers great scenic views of valleys and mountain ranges. The difficulty level of this trek varies from easy to moderate and hence it is suitable for both beginners as well as experienced ones.
The trek starts from a small village called Kareri, which is around 2 hours from Dharamshala. The trek offers amazing views of Dhauladhar ranges and valleys. The trail of the trek is all the way ascending from the starting point and it passes through the lush forest of oak and spruce, narrow terrains and beautiful meadows. The site of the Kareri Lake is also the basecamp of Minkiani and Bleni passes.
Bhrigu Lake Trek
Bhrigu Lake is a high altitude sacred lake situated at an altitude of 4300 metres in the Kullu district of Himachal Pradesh. The lake is oval shaped and lies near the Rohtang pass. The lake got its name from a sage named Bhrigu. According to locals, the sage Bhrigu used to meditate near the lake and that is why the lake became sacred. The trek begins from a point called Chaudda Morh, which is around 20 km from Manali. The trek passes through virgin forests, large meadows, mountain ridges and finally one gets to see the lake