Kaas Plateau or 'Kas Pathar', located 25 kilometers from Satara District is one of UNESCO World Heritage Sites of India. It is renowned for the blanket of flowers it presents every year. The place is relatively unexploited and that has still maintained pristine nature there. It is an absolute treat for your eyes to see the shades of green all around. It is Maharashtra's very own "Valley of Flowers".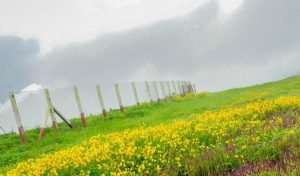 What Makes Kaas Plateau Unique?
On the way to the destination, you will be greeted by the lush green expanse sprinkled with waterfalls all along. When you reach the plateau, you will feel like you are walking on the bed of flowers. It is indeed once in a lifetime experience. You will see a myriad of yellow, red, violet, pink, and white flowers all around you. Just take your steps carefully because you will feel like you are walking on the flowers. You would be surprised to know that there are more than 850 varieties of flowers that you can see during every monsoon season at this place.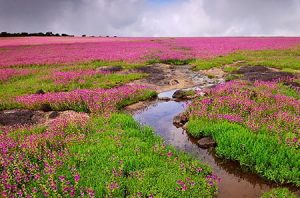 Do not miss out on visiting the Kumudini Lake and Kaas Lake. It feels like a fairytale world that you would have seen on desktop wallpapers and children story books. You can trek around the area and check out the sightseeing places around. Just pitch your tents around Kaas plateau and be in the lap of nature without worrying about the worldly chaos. Camping could never be more fun and Kaas Plateau is the best destination for that.
How to Reach?
You can reach Pune or Mumbai via airways or by train and then hire a cab to reach Kaas Plateau. It is around 130 kilometers from Pune and 270 kilometers from Mumbai.
Best Time to Visit
Monsoon season is the best time to visit Kaas Plateau. September and October are the months when the plants are in the best of their flowering spirits. Keep in mind that per day they allow only 3000 visitors at the flower haven.
Expenses
Entry fee: Rs. 100
Children below 12 years of age and senior citizens above 65 years of age have no entry fees. You have to carry your age proof for the same.
Parking is free. From the parking place to the plateau, state transport buses are available at 10 Rs. (one way ticket)
What to Carry?
Make sure you carry appropriate footwear suitable for outdoor activities, torches, sunglasses, sunscreens, polythene bags, some food items, important over-the-counter medicines, and mosquito repellants to ensure a comfortable stay at the destination. Do not forget your camera to try out some photography skills.