Republic Day honors the date on which the Constitution of India came into effect on 26 January 1950. India obtained its independence on 15 August 1947 but it did not yet have a permanent constitution, it was governed by laws of Government of India Act.
Above is the reason why Republic day is celebrated and below are trips that can be planned during this extended Weekend 😀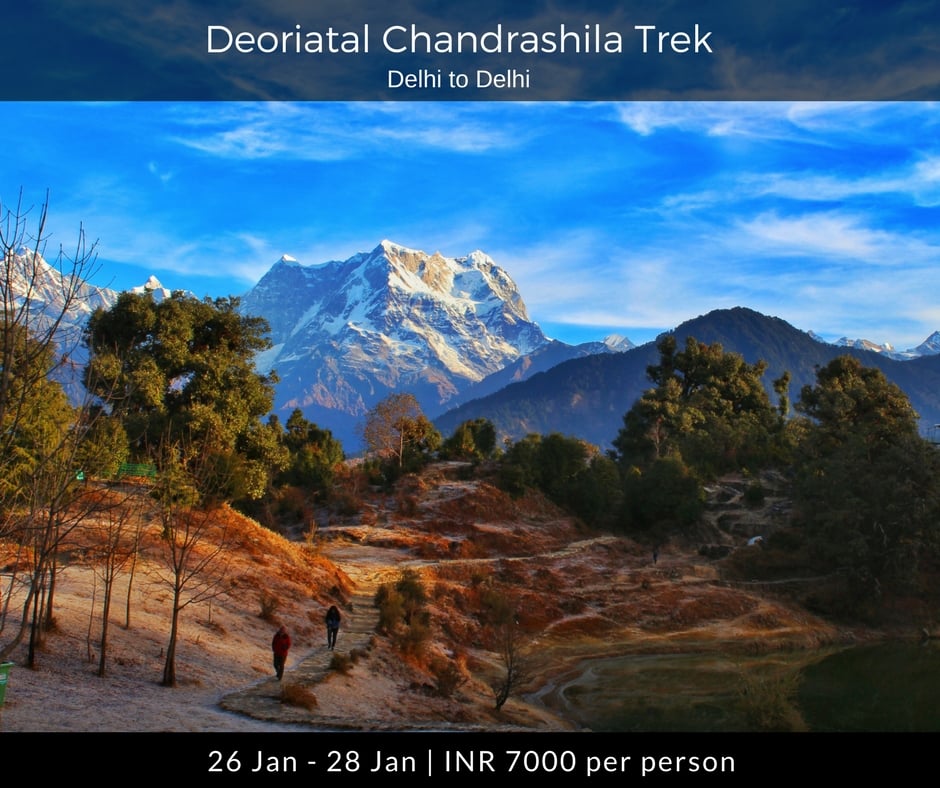 The locations that we are covering during this Trek are Deoriatal, Chopta, Tungnath, and Chandrashila. Chopta is a small region in Kedarnath Wildlife Sanctuary, Tungnath is the highest Shiva Temple in the world, Chandrashila peak is at an altitude of 4000 mts and offers perfect panoramic views of all the remarkable peaks of Uttarakhand such as Kedarnath, Gangotri, Chaukhamba, Nanda Devi, Trishul, etc.
One night stay is at Deoriatal and 2nd will be at Chopta.
Difficulty Level: Easy
Duration: 3 Days
Kilometers: 28
Highest Altitude: 4000 Mts
Region: Kedarnath, Uttarakhand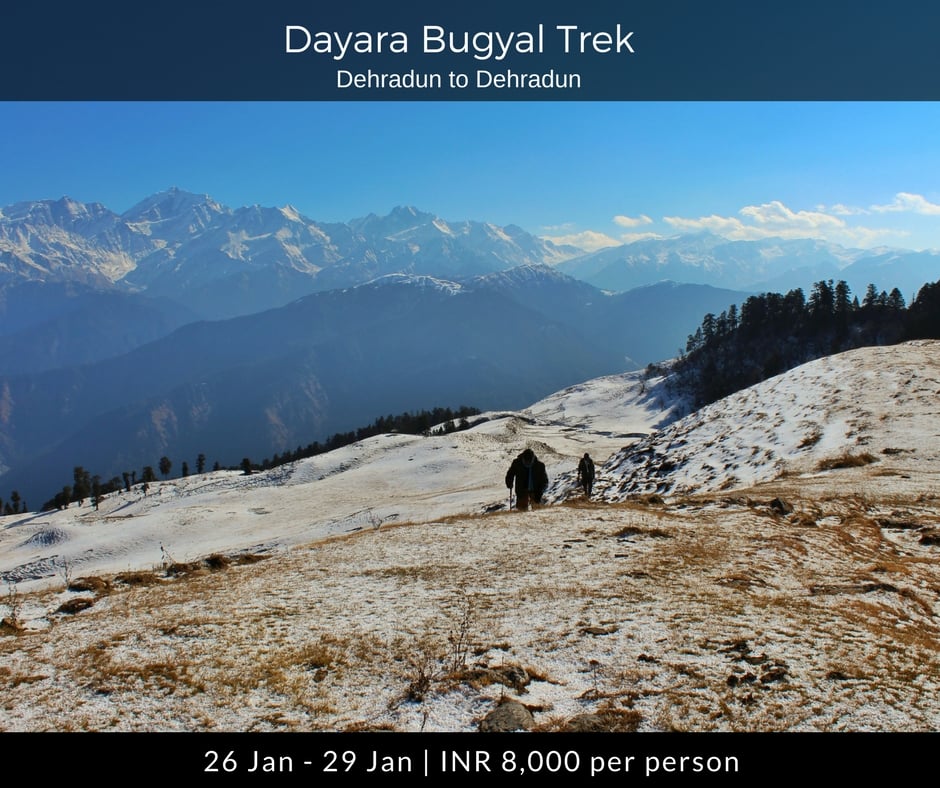 Apart from snow clad mountains and forest, Himalayas are also famous for its scenic meadows, also called as Bugyals in local language Uttarakhand. The route to these meadows are also scenic and over the time have become prominent trekking routes. In Uttarakhand, there are several scenic bugyals where one can trek and one such is Dayara Bugyal.
With the last batch returning a few days back, most parts of the trail are covered with snow .
Difficulty Level: Easy to Moderate
Duration: 4 Days
Kilometers: 20
Highest Altitude: 3658 Mts
Region: Uttarkashi, Uttarakhand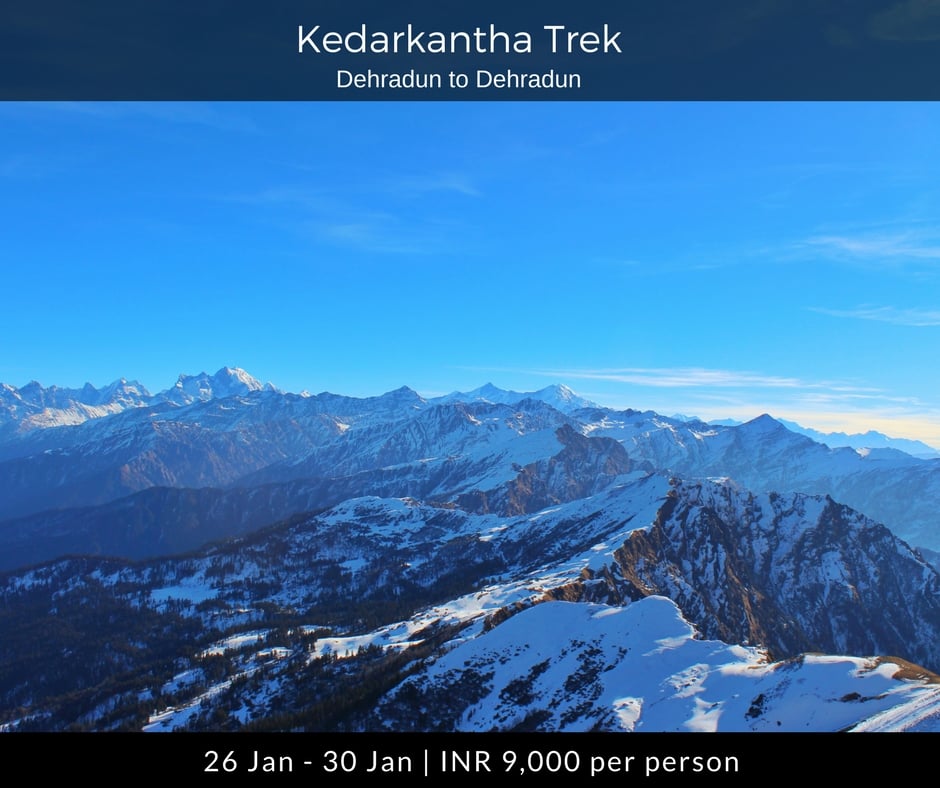 Embellished with stunning scenes of snow set on the trail and decorated with trees, trek to Kedarkantha is one of the most popular winter treks in the Indian Himalayas. The views of falling snow from sky and trees are just mesmerizing and adding to this, the views of Himalayan peaks make this trek a wonderful one. The peak stands at an elevation of 3810 meters above the sea level and the trail covers a distance of around 20 km.
One of the best winter treks.
Difficulty Level: Moderate
Duration: 5 Days
Kilometers: 20
Highest Altitude: 3810 Mts
Region: Uttarkashi, Uttrakhand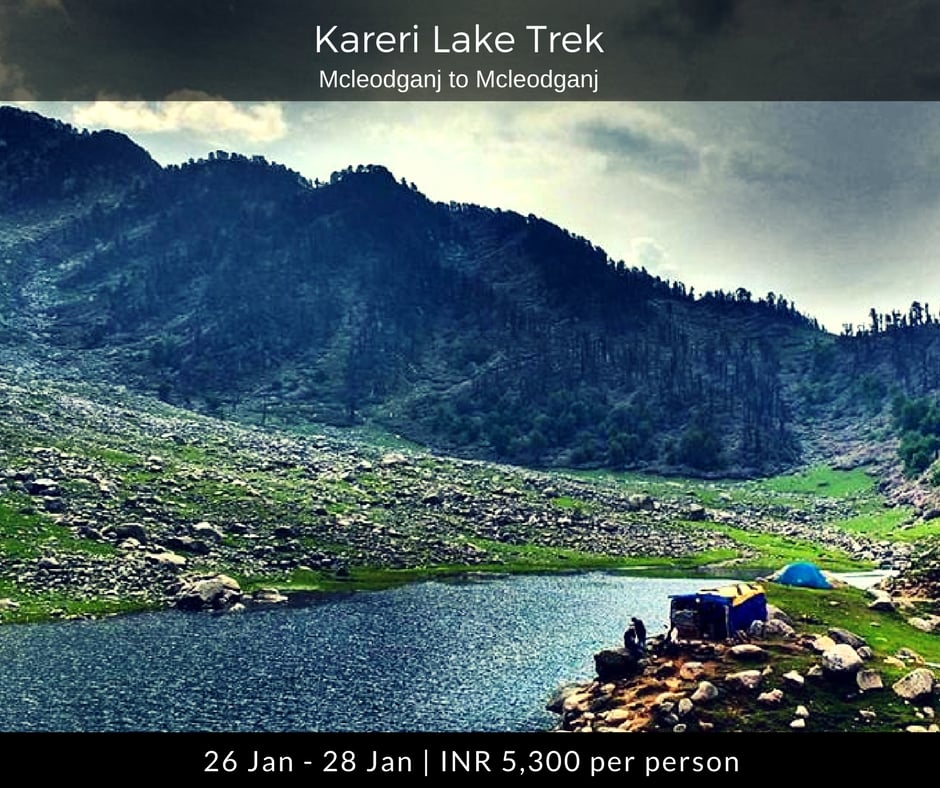 Kareri Lake is a high altitude freshwater lake situated at an altitude of 2950 meters above sea level. The lake is surrounded by scenic meadows and Dhauladhars. The glaciers located in the Dhauladhars act as a water source to the lake. The trek is less explored and offers great scenic views of valleys and mountain ranges. The difficulty level of this trek varies from easy to moderate and hence it is suitable for both beginners as well as experienced ones.
With Triund trek closed for winter, Kareri lake trek is a very good alternative, little tough compared to Triund, but worth it.
Difficulty Level: Easy to Moderate
Duration: 3 Days
Kilometers: 26 Kms
Highest Altitude: 2850 Mts
Region: Dharamshala, Himachal Pradesh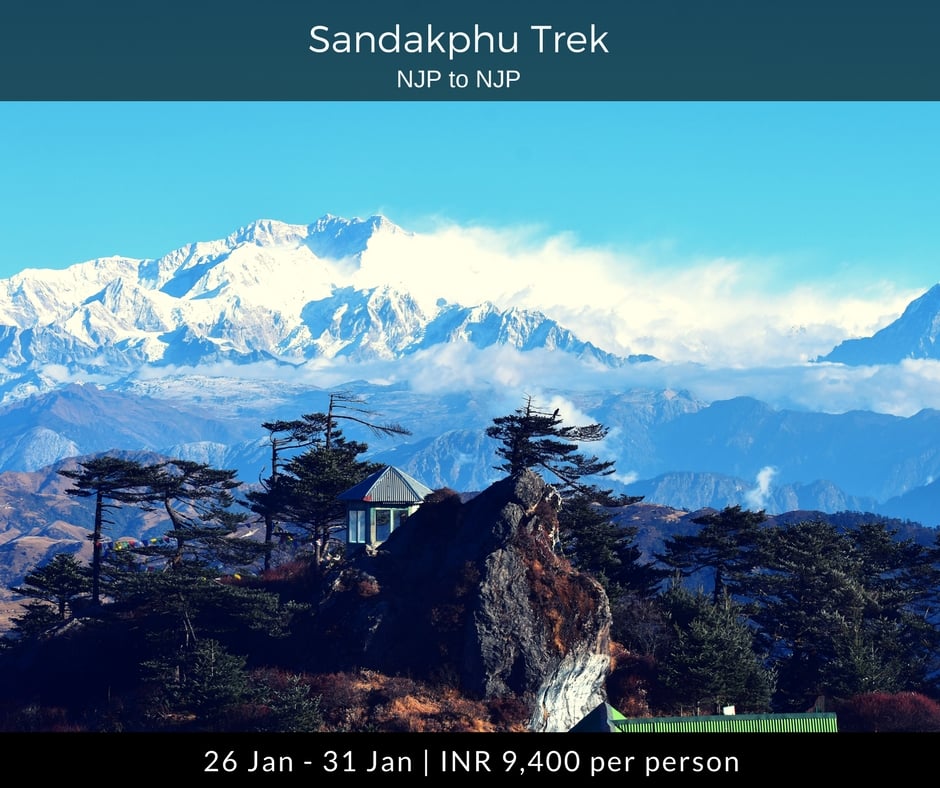 Sandakhphu is located at an altitude of 3636 mts in Darjeeling district of West Bengal. Being the highest point in West Bengal state, this trek is frequented by trekkers; height being just one reason, this is the only trek in India wherein you can see four of the five highest peaks in the world namely Mt. Everest, Kanchenjunga, Lhotse and Makalu.
Difficulty Level: Easy to Moderate
Duration: 6 Days
Kilometers: 44 Kms
Highest Altitude: 3636 Mts
Region: Darjeeling, West Bengal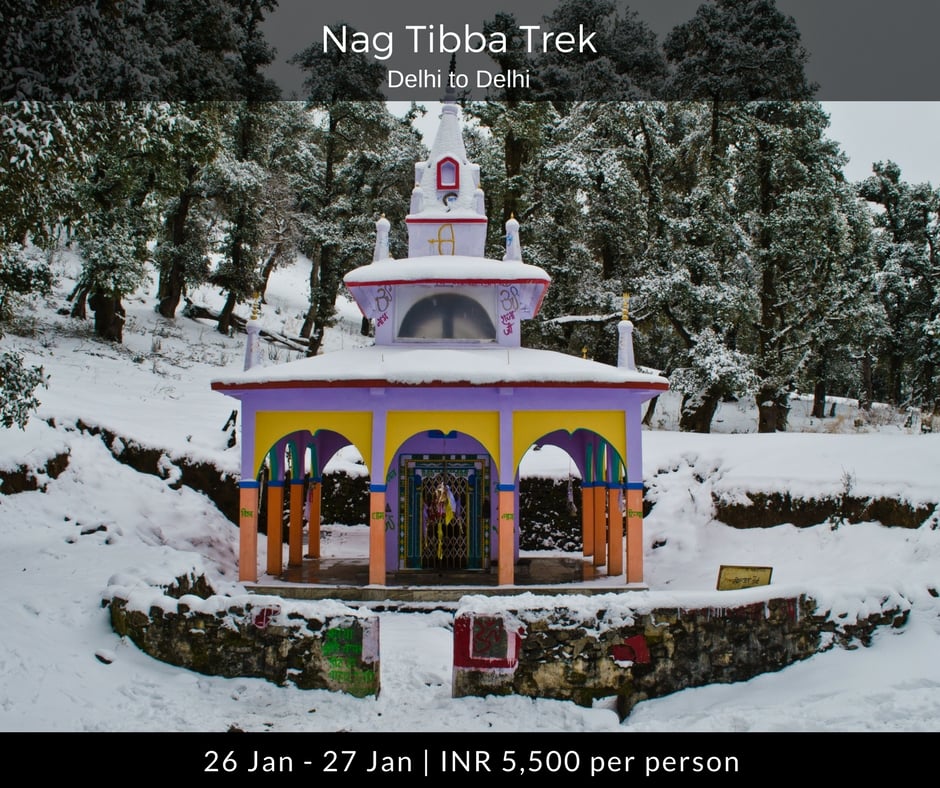 Nag Tibba also called as Serpent's Peak is the highest peak in the lesser Himalayas in Garhwal region. Situated at a height of 3022 meters above the sea level, the peak offers majestic views of some remarkable peaks such as Swargarohini, Banderpooch, Kala Nag and much more. The trail passes through villages, dense forest and meadows.
Difficulty Level: Easy
Duration: 2 Days
Kilometers: 20 Kms
Highest Altitude: 3022 Mts
Region: Mussoorie, Uttarakhand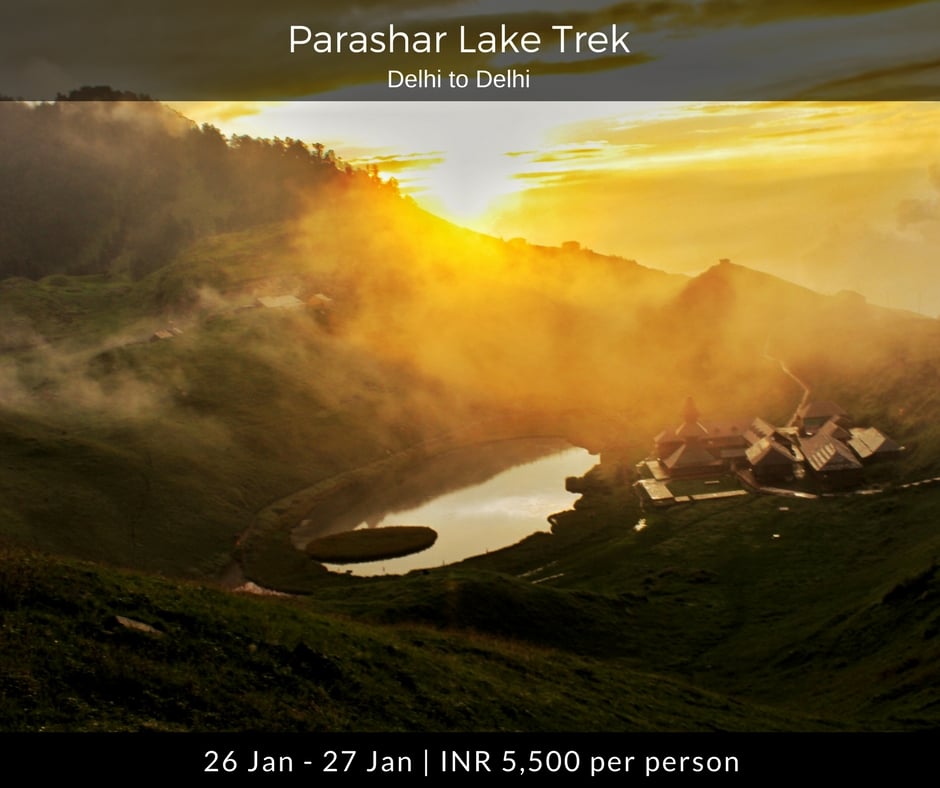 Parashar lake is a sacred lake located on the top of a hill near the Baggi village in the Mandi district. The lake is situated at a height of 2730m above sea level and it is dedicated to Sage Parashar. There is a temple situated near the lake and is believed to be built in the 13th century.
The lake houses a floating island which keeps changing its position time to time. With many stories doing the round few believed that it hasn't shifted for the past three months and with the help of island shifts locals can predict weather conditions and can be prepared for worse.
Difficulty Level: Easy
Duration: 2 Days
Kilometers: 17 Kms
Highest Altitude: 2734 Mts
Region: Mandi, Himachal Pradesh
For any details regarding the trip, you can contact Team JustWravel at 92057 25727 //   95824 32437  or drop us an email to contact@justwravel.com