The state of Goa is a beautiful blend of Indian and Portuguese culture with beautiful beaches, amazing people, palm trees, blue skies, and sunny vibes. It is divided into two main parts, namely "North Goa" and "South Goa" from the tourists' perspective. North Goa is more of a party hub where you will experience the great nightlife, great food, social hangout spots, and much more and this is where most people go when they choose their Goa tour package. On the other hand, South Goa is known for its serene and calm beaches, where you can relax and enjoy some quiet time and it has some offbeat places to visit in Goa. Some people tend to be "Mountain Person" and others tend to be "Beach Person". Goa tour packages are definitely for people who love open blue waters, white-sand beaches, clear blue skies, and fun adventure activities along the beaches and parties all along and this Goa travel guide will help you plan this better.
How to reach Goa?
By Air:
The nearest and the sole airport in Goa is "Dabolim Airport". It is located around 29 km from Panaji which is the capital city of Goa. This airport is well connected domestically to all regions and internationally too, namely with countries like Germany and the UK.
By Train:
It is easy to reach Goa by train as Goa is well connected to the Indian railway lines with major railway stations located in Margao. The main railway stations are Madgaon and Vasco-Da-Gama. You can also get off "Thivim Railway station" and hire a taxi to Candolim.
By Road:
If you want to travel by bus, the main bus stand is the Kadamba bus stand of Panaji. You will get various bus services and connectivity to major cities, especially Mumbai. You can even plan an epic road trip through Goa straight from your city/state.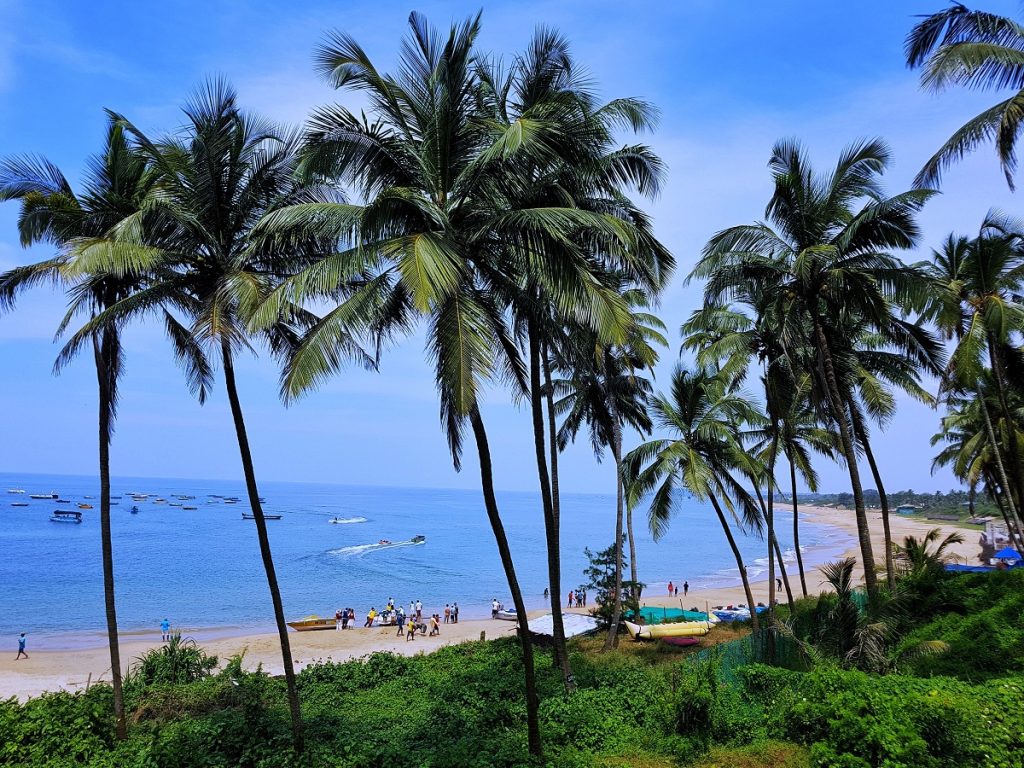 How to get around Goa?
After going through various packages of Goa which have a plethora of public and private options for travel, it all comes down to your preferences and budget on which mode of transportation you use. Here are some of the options available to travellers:
By bus and bicycle:
If you are strapped for cash and want the cheapest way around Goa, local buses are your best bet. You just need to know their schedule and run time at the local bus stop and you are good to go. These buses connect all the major tourist hotspots and urban areas so commuting becomes easy. This is also a great way to chat with locals and soak up knowledge about places to travel to.
Your next option would be to rent a bicycle which would set you back around INR 150-200 per day. You can rent these on a daily basis or a weekly basis. If you are renting it for a longer duration, you can bargain and get a good discount.
Taxi, Auto rickshaw, Car and Scooty:
You can always trust an autorickshaw to get you to your desired place whether it be in Goa or any part of India. These are not costly and will get the job done. You can also hire a taxi, there is no Uber or Ola available in Goa so you'll have to rely on taxis that operate through Goa Taxi Union.
If you want more freedom in how you commute and stop at places, you should customise your Goa tour package and might want to consider renting a scooty or a car. A car would set you back by INR 1000 to 1500 per day excluding the fuel and you will get various options depending on the place you are renting it from. Scooty is also a good option if you are travelling solo or with another person and it will cost around INR 300-500 excluding fuel depending on your options.
PS: If you are renting a car, we would recommend you get a Mahindra Thar with the open rooftop to soak in all the good vibes of Goa and to travel in style.
Private chauffeur:
If you are not afraid to splurge some moolah, want to make heads turn, and travel in absolute comfort, you can rent a private car with a driver. It will set you back by 3000-6000 with fuel depending on your options.
The driver will remain with you for a day of travel and sightseeing and you can request for one when you select a Goa tour package that is customized according to your travel preferences.
Best time to visit Goa:
The best time to visit Goa would be from the months of November to mid-March when the state is experiencing cooler temperatures and pleasant winter months, so this is the best time to look for Goa tour packages.
During the rest of the year, the temperatures are too high and humid to travel or there is a monsoon which makes travel really unpleasant.
Christmas and New Year is the time to be at Goa when the place comes alive throughout the night with never-ending parties and vibes to settle you right in and this is the time when Goa tour packages are in high demand.
What to pack?
One good thing about travelling to Goa after selecting your ideal Goa tour package is that you can pack light and have that extra skip in your step while commuting. You don't need them heavy winter clothes which feels like a huge burden. While in Goa, you need to pack:
Cotton shirts and shorts
T-shirts
Swimwear
Sarongs
Sunscreen
Sunglasses
Flip Flops and casual shoes
Hats/Caps
Reusable water bottle
Lip Balm/Moisturizer
First aid kit
Backpacks/Fanny packs
You can add to this list if you have some personal preferences or according to the duration of your travel or decide on a customized trip to Goa.
What to eat?
We all know that Indian food is one of the best in the world, but what if Indian food is merged with Portuguese culinary art and finesse? You get the best Goan dishes that are an absolute delight. These dishes are the ones you should not wait for on your trip to Goa. We'll list out some of our favourite dishes from our time in Goa from a wide variety of options that were available to us.
1. Goan fish curry
The Goan fish curry or commonly known as "Xitti Kodi" is a quintessential food of every Goan people and a hot take for people outside Goa. This dish is made with spices along with coconut, and mango is added for that tangy flavour. It is made using a Pomfret or a kingfish and is usually served with rice.
2. Goan Pork Vindaloo
This dish is the one that cannot be missed. It is made with pork, onion, chillies and garlic along with a blend of spices. The masala mixture is stored overnight and then the dish is fried the next day with onions and other herbs.
3. Chicken Cafreal
A chicken dish made with culinary finesse of Goan style can never go wrong. It is prepared using green chillies, spices and select herbs which make the masala for chicken and is then fried for that surreal taste.
4. Sorak
This dish is for all the vegetarians out there, and this dish is made especially during the monsoon season of Goa. This curry is made with spicy masala, onion and tomatoes and is served alongside fish or rice.
5. Sannas
This dish is the Goan take on idlis. These idlis are unlike normal idlis, as they have distinct sweet coconut flavour and are made from Goan rice. Sannas can be eaten almost with any Goan cuisine.
What to do in Goa?
Alright, so you have landed or arrived in Goa and are excited to explore and see what the place has to offer. It might confuse you if you think about what to do when in Goa. If you are not sure, you can take a look at Goa tour packages that we have to offer or here are some of the activities that you can do while in Goa:
1. Scuba diving and Snorkelling
This activity is the most sought after when people select a Goa tour package. Scuba diving is once in a lifetime experience which should not be missed out on when you travel to Goa. The surreal feeling of experiencing vast wide open waters, seeing colourful corals and sea life all around you is really great.
You do not need to spend out a fortune to experience it like in other international destinations like Thailand or Australia, and you do not need to be a swimmer as well. An hour's worth of training with your instructor is all you need before you explore the blue wide world.
The places which offer scuba diving in Goa are Grande Island, Pigeon Island, and Agatti Islands amongst others. The scuba diving session would cost you a minimum of INR 4,000.
2. Parasailing
Imagine the thrill and excitement of seeing the Arabian ocean from up above, that is what you will experience when you go for parasailing. It is one of the most popular adventure sports to do while in Goa and is a favourite amongst kids, adults and families while on their family trip to Goa.
The best time to experience and go parasailing in Goa is from October to May when the weather is pleasant and the sea is calm. The places which offer to parasail are Arambol Beach, Baga Beach, Dona Paula, and Mobor. The parasailing session starts around INR 900 to 1800 depending on the place you get it from and also the availability.
3. Jet Skis
Jet Skis will bring out your inner child and is definitely one of the coolest adventure sports to do in Goa. It is just like riding a bike but on the water surface. These are available at almost every beach of Goa and are one of the most popular options.
The places in Goa where you can Jetski are Dona Paula beach, Baga Beach, Vagator beach, Candolim and Calangute beach. The cost usually hovers around INR 800 and upwards.
4. Kayaking
This is one of the adventure activities that gets overlooked and people don't pay much attention to while selecting their Goa Tour package. Explore Goa's backwater and rivulets while paddling along and rowing with your friends. Kayaking is more popular in the beaches of South Goa.
You can go for kayaking in Palolem Beach, Hollant Beach, Nerul River, Mandovi, and Sal and it will cost you upward of INR 1500 to 3500 depending on the place you get it from.
5. Banana Boat Ride
These boat rides are the most fun and will bring out the inner child in you. The boat is shaped like a banana, and then it is attached to the back of a powerboat which takes it in the blue waters, ripping through waves.
You can partake in a banana boat ride in Palolem Beach, Baga, Agonda, Miramar, and Calangute Beach and it costs INR 800 and upwards.
Places to visit in Goa
Here are our favourite places to visit while in Goa, and they should be on your list as well when you choose your Goa tour package.
1. Miramar Beach
Miramar Beach, which is located near the Goan capital of Panjim. It is situated at the confluence of the Mandovi River and the Arabian Sea which makes up for a really unique experience.
Explore churches in Panjim which are quite inspired by Portuguese architecture and they will take you back to older days with their old-world charm and setting.
2. Bat Island
Bat Island or Grand Island is prominently known as the best spot to experience snorkeling in Goa. This place feels like a customized location for snorkeling admirers. If you are in love with snorkeling, you will be amazed with the environment in Bat Island.
This place deserves to be on the top of your bucket list while travelling to Goa when you choose your ideal Goa tour package.
3. Vagator Beach
Vagator Beach is the hippest part of Northern Goa. You can enjoy various water based adventure activities here such as windsurfing, parasailing, snorkelling, water zorbing and much more.
Watch the sunset go down from the rocks at the beach to end your adventure-filled day around North Goa. You can even stay back at the beach as it has various clubs and partying spots nearby.
4. Calangute Beach
Calangute beach is the hub for all the tourists and backpackers in North Goa as it is the largest beach of North Goa, and you will find many stay options as well as shacks that will treat you well and you can enjoy local Goan delicacies.
You also have a wide variety of water based activities that you can enjoy here.
5. Fort Aguada
Channel your "Dil Chahta Hai" vibes when you visit the famous Aguada Fort, which is a 17th century Portuguese Fort on Sinquerim Beach which overlooks the mighty Arabian Sea. The unique thing about this fort is a solo four-storey lighthouse which opens up a gateway to one of the most stunning sunsets that you will ever see.
We hope this Goa tour guide provides you with an ideal head start to plan your trip and choose the best Goa tour package to this beautiful western state overlooking the Arabian Sea.
From the partying hub of North Goa to the serene and calm beaches of South Goa, this little western state has everything for everyone who wants to vacay. So what are you waiting for? Choose your ideal Goa tour package and have one of the best holidays of your life. You can also read our blog about the Offbeat places that you can visit in Goa.
For more information related to Goa's travel scenarios, trip updates and latest developments of other states and rest of India, you can join our Whatsapp group https://bit.ly/3cuzrOj.
You should also read :