World's Environment Day
World's Environment Day (WED) is celebrated every year on 5 June to make people aware about the Environment, issues related to Environment caused by them like global warming, pollution, wildlife crime, etc. & effects on their daily life due to these issues and thus encourage them to protect environment & plan to mitigate these issues. It is also known as Environment Day and Eco Day. It is one of the greatest annual events which is celebrated worldwide. It was started in 1972 by United Nations General Assembly on the first day of United Nations Conference on the Human Environment and after two years, first WED was held. Since 1974, it has been hosted by different countries like Italy, Barbados, Angola, Norway, United States, and Brazil, i.e. the centre of the activities has been rotating. This year's host is Canada. Currently, WED has participation from over 143 counties worldwide.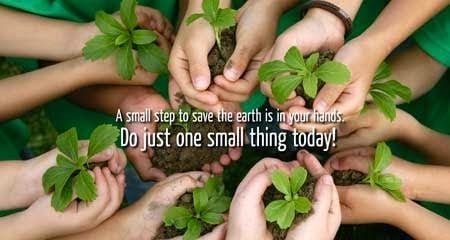 <Source: www.awarenessdays.com>
World's Environment Day promotes ways to improve Earth's environment, such as conserving forests, protecting wildlife, etc. It is celebrated by holding activities like street rallies, parades, concerts, tree planting, art exhibitions, dance activities, film festivals, community events, social media campaigns, and clean-up campaigns. Schools and universities also hold many competitions related to it like slogan writing, poster making, etc.Environment is very necessary for one's life, nobody can survive without it. People are cutting trees very rapidly for different reasons like construction, raw materials, etc., using natural resources without any planning which will cause them to vanish from earth and thus will affect future generations so it is very necessary to save them. As people are getting more aware about the impacts that environment degradation can cause, the importance of this day has been increasing. It is a day for global action and resolution toward keeping environment healthy for one and all.
From the first WED event only, there has always been a theme associated with the celebrations, decided by UN, which is used by major corporations, NGOs, governments, communities, and celebrities to advocate environmental causes. The first theme was 'Only One Earth'. Every year's theme focus on a special issue of Environment to make people aware about it, its effects and thus do something so that Environment can be protected for future use which is necessary for future development. Theme also brings effectiveness in the campaign by attracting more attention from people. There has been many themes like 'Development without Degradation', 'A Tree for Peace', 'Desertification', 'Children and the Environment', 'Melting Ice- a Hot Topic?', 'Green Cities', 'Give Earth a Chance', 'One World, One Environment', etc. Last year's theme was 'Zero Tolerance for the illegal trades in wildlife' which highlighted the fight against the illegal trade in wildlife. This year's theme is 'Connecting People to Nature', which encourages us to get outdoors and into nature, to appreciate its beauty and its importance, and to take forward the call to protect the Earth that we share.
Eco-tourism, a good example of ways in which people can connect to nature, means responsible travel to natural areas conserving the environment and improving the well-being of the local people. It involves visiting relatively undisturbed natural areas and focuses on socially responsible travel, personal growth and environmental sustainability. The places visited are the ones where flora, fauna and cultural heritage are the primary attractions. It offers people an insight into impact of their activities on Environment and nurtures greater appreciation of natural habitats among them. It sensitizes people to the beauty and the fragility of nature. India is considered to be land of varied geography and it has many destinations which not just de-stress you but also rejuvenate you. There are many eco-tourism destinations in India which make you feel closer to Mother Nature. Some of them are:
Kerala Backwaters
Munnar, Kerala
Kodaikanal, Tamil Nadu
Thenmala, Kerala
Jotsoma village in Kohima, Nagaland
Tsomoriri Wetland Conservation Reserve, Ladakh
Mawlynnong, Meghalaya
Tyda, Andhra Pradesh
Thodupuzha, Kerala
Coorg, Karnataka
Maredumilli, Andhra Pradesh
Nagarhole National Park, Karnataka
Bandipur National Park, Karnataka
Great Himalayan National Park, Himachal Pradesh
Kanha National Park, Madhya Pradesh
Ranthambore National Park, Rajasthan
Sunderbans National Park, West Bengal
Khangchendzonga Biosphere Reserve, Sikkim
Kaziranga National Park, Assam
Eravikulam National Park, Kerala
Periyar National Park, Kerala
Galgibaga Beah, Goa
Chilika, Odisha
So, this year on 5 June, you can choose one of these destinations to travel and enjoy far away from a stressful world and in turn, also contribute towards this year's WED theme.
You should also read :
Contributed by:
Tunisha Singal