India is a land of wonders and only here will you find snowfall as well as a sandy beach. Many parts of the country are surrounded by the ocean giving us stunningly scenic beaches offering solitude as well as fun.
A staggering display of beaches blesses the long and magnificent coastline of India. If you take a look at the map, seawater surrounds our country on 3 sides that include the Arabian Sea, the Indian Ocean, the Bay of Bengal and the Lakshwadeep Sea.
In other words, the coastline is huge! Which in turn gives us many beaches. Back in the day, beaches used to be clean, safe and environmentally friendly. Unfortunately, many of them are becoming spoilt due to overcrowding and over-commercialization.
But since there are so many beaches, there are also some yet to discover. These beaches are the perfect getaways from the daily hustle and bustle of life to attain some peace and solitude.
You can truly enjoy the crystal blue skies and the perfectly golden sand at these beaches. With the crashing waves, a cold drink in hand and a platter of mangoes, summer for you beach bums will be just perfect.
Five definitely does not do justice to the various beautiful beaches around but they are worth visiting. These are some of the best and untouched offbeat beaches in India.
1. Cola Beach, Goa
On the southwest coast of India, lies the tiny but largely sought-out place of Goa that offers a world of activities to do and places to see. Goa offers both cultural diversity and natural beauty at the same time.
Cola Beach here gives us golden sand beaches with a spread of huge volcanic boulders and tall forested hills in the background. This offbeat beach is a great place for relaxation and getting some swimming lessons in.
The beach does not buzz with tourists compared to its northern counterparts, which is a good thing. It is so remote that it almost seems like a private beach. It remains hidden by thick vegetation, palm trees, and hilly terrain.
Sunset at Cola Beach is gorgeous. It is mainly due to the distinct landscape of the beach and the reflections from the streams of the Goan skies.
2. Henry's Island, West Bengal
Serving as an inspiration for artists, the sun-soaked sand and white frothy waves of Henry's Island is something you don't want to miss. The rocks and white sand of the beach are what makes it unique.
Dating back to the European era of India, the name comes from a European who surveyed this island covered with mangrove forests. It is also opposite to the famous Lothian Island's forest.
The beach is not very well-known, which is what makes it attractive. Many people from Kolkata have started to make it their weekend getaway destination.
3. Om Beach, Karnataka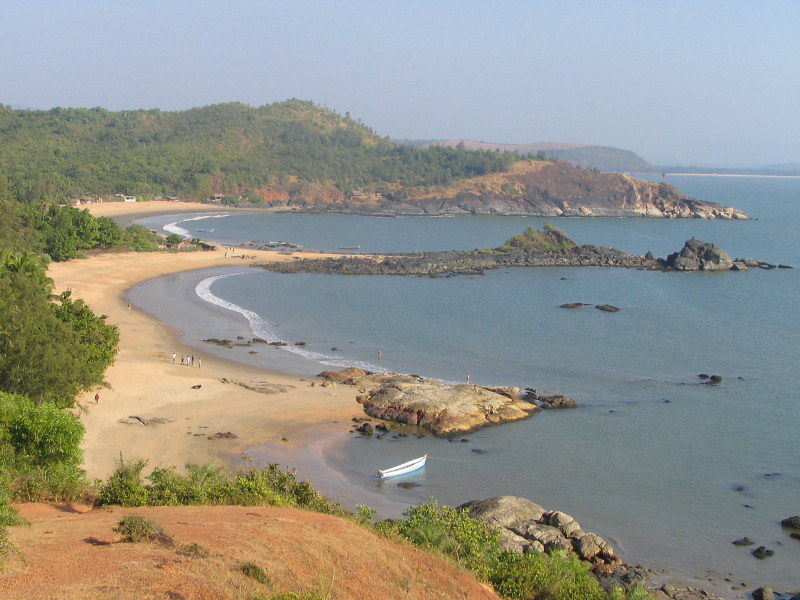 Gokarna is famous for its beaches. The scenic beauty of the beaches summed up by the ravishing greenery on one side is an astonishing sight to watch. Om beach here is a great place for water sports and where you will find yourself lost in the moment.
As its name goes, Om Beach is shaped as two semi crescents joined together forming the shape of the Hindu Symbol Om. Hence the name Om beach. It is considered to be highly auspicious amongst the locals.
This beach is spiritually important when it comes to its geographical appearance. It is also famous for its early morning and late evening sights making it an Elysium for photographers.
You may come across fishermen boats on the shores. The adventurous activities to try here are Banana boat rides, bumper boat rides, dolphin spotting, jet skiing, fishing, trekking, and speed boating.
4. Cherai Beach, Kerala
Cherai beach is one of the finest beaches in the state. It is also just at the distance of 30 km from the city of Cochin. Located on the north end of the Vypeen Island in Kochi, the scenic Cherai beach is an excellent amalgam of the sea and the backwaters.
A relaxing swimming experience and coconut groves are what you'll experience at Cherai Beach. The beach has a wonderful view of the famous Chinese Fishing Nets. There are shacks nearby that offer fresh cuisine after a refreshing swim.
The seashells found here are unique and you can also find dolphins in this area. Swimming and sunbathing are favourite activities that make the beach a tempting option for a getaway from the clamour of city life.
5. Mandvi Beach, Gujarat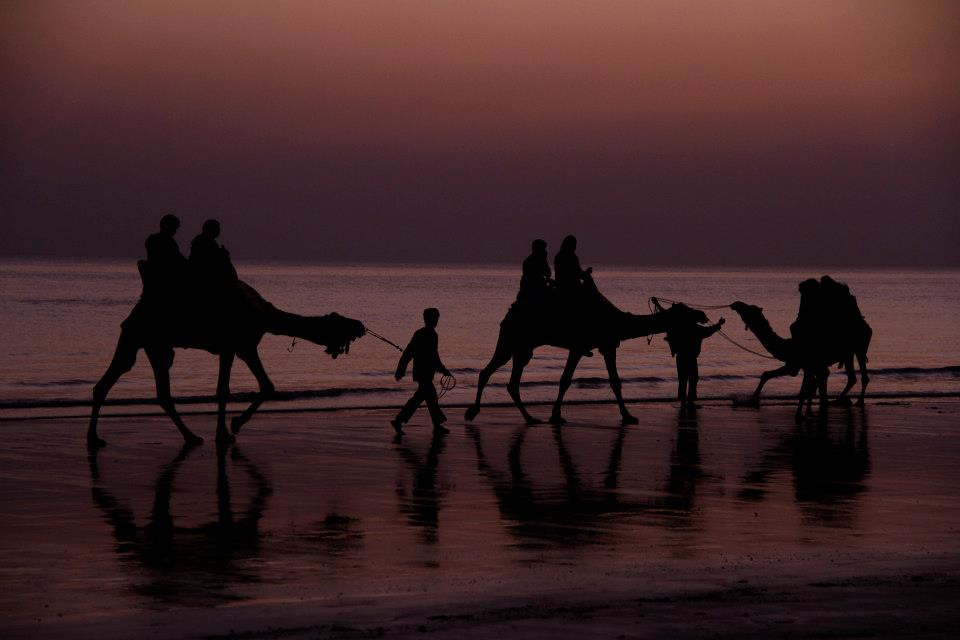 Mandvi is a small town visited by tourists from all over the world for the lovely Mandvi beach. The strategic topography and rich history of the beach make it an inherent seaport.
The Mandvi beach is secluded and not crowded. It is a great holiday spot for those looking to experience nature at its finest. It is a relaxing beach where you can fix up a hammock from palm trees and enjoy the striking sunset in the red sky.
This beach flaunts about a 400-year-old shipbuilding yard where even today, various ships can be seen getting manufactured. There also comes a historic palace nearby, Vijay Vilas Palace, that portrays a comprehensive blend of architecture and culture.