Uttarakhand – Simply Heaven. Located in the Foothills of Majestic Himalayas, Uttarakhand is one of the most wonderful states of India. Charming hill stations, Snow-capped peaks, Clean and Quaint villages, fresh flowing rivers, Pine and oak forests make this place beautiful and most visited, mentioning below 20 must-visit places in Uttarakhand.
World Heritage sites like Valley of Flowers, Nanda Devi Biosphere Reserve, world renowned conservation parks like Jim Corbett Tiger National Park and Asian Wetland Conservation Reserve makes Uttarakhand great and most visited place in India.
Here you can get everything flying like birds, Cruising through the rapids of Gangs, trekking to snow-covered peak, Skiing through slopes, Jungle safari, Cable car ride, and everything. Just you name it and you have it……
Uttarakhand is dream destination for all; you can come here for enjoying adventure games or doing parties with friends. You can come with families for pilgrimage and refreshing your mind and soul by Yoga or Meditation.
But remember that Uttarakhand is destination for Honeymoon couples also.
Uttarakhand is a land of sublime natural beauty and serene spirituality. And to top, it is the availability of numerous cannot miss experiences.
So, these are the 20 must visit places in Uttarakhand that you never missed when you are there.
Haridwar–
This is the popular pilgrimage site in India. Haridwar literally translated as Gateway to God and it is one of the seven holiest places of Hindus, located on the bank of river Ganga. This is also a Gateway to Char Dham destinations at Uttarakhand, which is Badrinath, Kedarnath, Gangotri and Yamunotri.
Har ki Pauri is the place where people take a dip in a holy water of river Ganga. Haridwar is the venue for famous Kumbh Mela which takes place once every 12 years.
One can experience peace on Ganga ghat for meditation or soul and mind refreshments. The bluish clean water of river Ganga, large mountain range of Himalayas attracts many tourists to this unique place.
Haridwar is around 200 km from Delhi and it is well connected to all major cities in India.
Best time to visit this holy place is October to April.
Rishikesh–
Rishikesh is world-famous as a Yoga Capital of the World. This is located at the heart of the West Himalayan rang.Ram Jhula, Laxman Jhula are the main attraction to the tourists. One cannot stop himself from capturing selfies in this place.
Rishikesh is also famous for Ganga River Rafting, Mountain Biking, Bungee Jumping. This is the thrilling and most exciting experience that one must try in Rishikesh.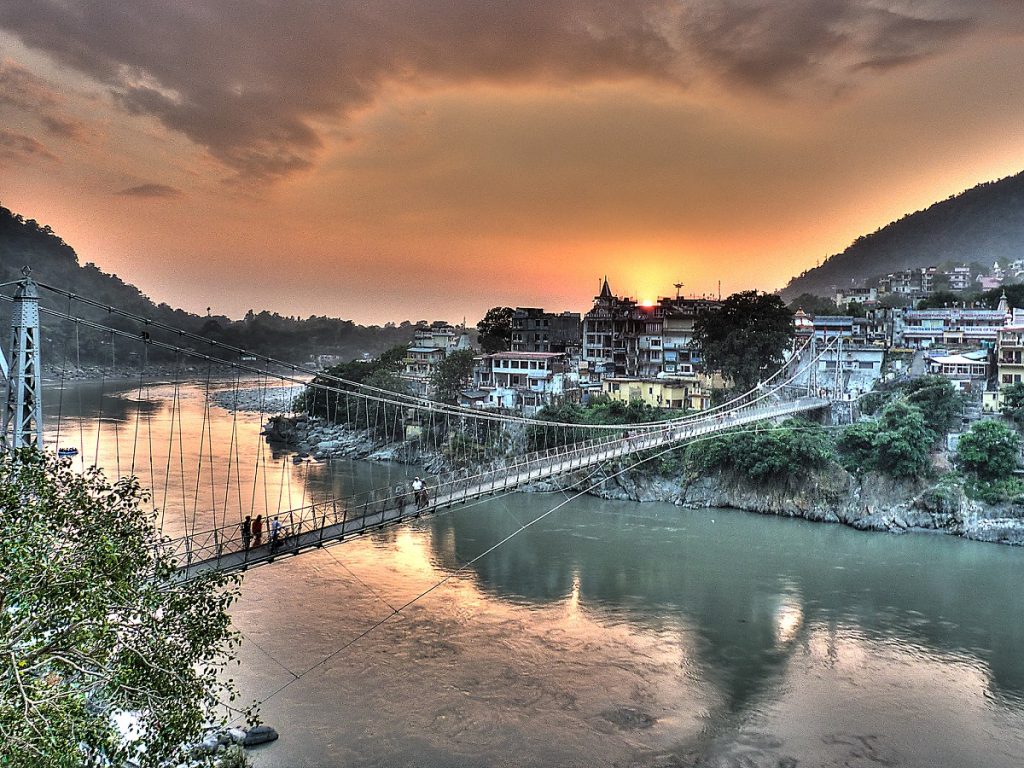 There are many Trekking and camping points that are always calling to young and adventure Backpackers. One can get experience of Ayurvedic massage which relief your body stress.
Triveni Ghat, Neel Kanth Mahadev Temple, Swarganiwas, Bharat Mandir are important pilgrimage sites in Rishikesh.
You can visit this place throughout the year. Rishikesh is 42 km from Dehradun and around 234 km from Delhi. Which is connected to other main cities.
Nainital–
The amazing star of Uttarakhand, Nainital is a delightful hill station that sits prettily at the green foothills of the Kumaon ranges in the Himalayas. This place derives this name from the beautiful Naini lake, located in this place. The lake has facilities of boating and yachting.
It is a perfect weekend gateway from Delhi. This little town has a charming climate throughout the year, which attracts tourists from all over India. This is the best destination for Honeymoon couples which gives them privacy.
Nainital Lake, Naina Peak, Bhimtal are the awesome places that one can explore. You can get opportunity to test a local food in any cafes while shopping through Tibetan market and Mall road. You may also enjoy ropeway ride to soak in the beauty of the Himalayas from Snow View Point.
In winter this green land is covered with white snow blankets which added beauty in it.
Best time to visit this lovely place is March to May or December to February.
Nainital is around 300 km from Delhi and 280 km from Capital Deharadun.
Mussoorie–
Mussoorie is popularly known as Queen of Hills and attracts thousands of tourists every year. Located at a height of almost 1900 m from sea level, this landscape has become a favorite spot for Honeymoon couples.
Kempty Falls, Camels back road, Dhanaulti, Gun Hill, Mall Road are the famous destinations that one can must see. Mussoorie offers you the awesome view of Doon valley and Magnificent Himalayas.
It is founded by Caption Young from British Army in 1820.
Tourists can enjoy Horse ride or leisure walk across the Camel Back road or one can enjoy Ropeway ride to the top of Gun Hills.
The lush green hills, the varied flora and fauna and the pleasant atmosphere will put this great place in your life long memories.
Mussoorie is around 38 km from Capital Dehradun . We can visit this place through whole year but winter is specially recommended.
JIM Corbett National Park-
This is one of the oldest and most popular National Park in India. This park is established in 1936, acts as Protection Zone of Royal Bengal Tigers.
The park is spread around 520 sq km and is home of around 580 species of birds, equal amounts of animals. 500 different types of plants and trees are also present in park.
We can enjoy the Elephant Safari or Jeep Safari to see the Bengal Tiger, Elephant, Chital, Nilgai, Indian Pangolin, Sambar, and many more things.
This is the Best Managed and well Protected area in India that attracts many tourists every year. this place is ideal for Nature Enthusiast, Photographers, Nature lovers.
We can visit this place for the whole year except Monsoon. Park is 65 km from Nainital and around 261 km from Delhi.
Almora–
This is one of the most beautiful places in Uttarakhand that you must see. Almora is located on 5 km horse shoe shaped ridge, this is the scenic hill station in Almora District.
The Kosi and Suyal are two rivers run alongside the town added beauty in the place.
Almora is famous for its alluring beauty, panoramic view of Himalayas and rich culture heritage. This area is consider as culture heart of Kumaon region of Uttarakhand.
Kasar Devi, Binsar Mahadev, Nanda Devi Temple, Almora Fort, Bright End Corner are places near Almora, which one can explore.
Romantic couples, Solo travelers, adventure folks are the main tourists in Almora. This place is very popular for Indigenous handcraft, Local cuisines, Rich culture and Tradition.
Best time to visit is Summer. This place is well connected to Main cities, Nainital is 64 km away and Delhi is around 364 km.
Valley of Flower-
If you are looking for must-visit places in Uttarakhand, Valley of flower is one of them. Valley of Flower National Park is one of the most popular tourist destination located in Western Himalayas in Chamoli District Uttarakhand.
This place is known for its Meadows of endemic alpine flowers and variety of flora.
The valley is stretching over 87.5 sq km, Valley of flower and Nanda Devi National Park together constitutes the Nanda Devi Biosphere Reserve.
Place is declared as UNESCO World Heritage Sites in 2004. More than 650 species of flowers and rich wild diversity attract tourists to this place.
Best time to visit is July to September. Valley is around 500 km from Delhi .
Auli–
Auli is a very famous Ski resort in the Chamoli district of Uttarakhand. This place is known for its snow cladded surroundings, this destination is for adventure sports.
Auli is popular for snow covered slopes and panoramic views of Himalayas.
The mountain sports activities can be enriching to the spirit of an adventure sports lover. One can also enjoy Asias longest cable car located at Gondola.
Trekking is the most demanding activity in summer to explore the Garwal Himalayas.
Chattrakund, Hot spring, Joshimath, Rudraprayag, Badrinath temple are popular destinatios near Auli.
The best time to visit Auli is April to June and November to February. Auli is only 56 km from Badrinath and 495 km from Delhi which is well connected to major cities in India and is one of the must-visit place in Uttarakhand because of the variety of things that it has to offer. 
Chamba–
Chamba is at altitude of 1676 m above sea level, on foothills of Himalayas.
This place is unexplored, untouched, overlooking the snowclad peaks on one side and offering a magnificent view of the valley on the other side.
Mountains in valley is covered with forest of Pine, Deodar trees. Chamba offers you never explred break.
The delightful views of the green Gorges and enchanting valleys all around the river Bhagirathi will undoubtedly leave you spellbound.
One can also explore the nearby locations such as Mussoorie, New Tehri, Surkanda Devi Temple.
We can visit this place whole year. This place is around 100 km from Dehradun and 310 km from Delhi which is well connected by roads.
Champawat–
Indian mythology mentions this place where lord Vishnu appeared as Kurmavtar.
Champawat is the destination that attract many pilgrimage tourists due to sheer no. of temples located in this reagion. The construction and architecture of temple is a masterpiece.
Naganath temple which is dedicated to Kranteshwar Mahadev and Baleshwar Temple in Champawat are most visited by tourists. Baleshwar temple is also famous for its Intricate carving on the ceiling is evidence of the ancient glory and artistic excellence of the people at that time.
This place is well connected to major cities. Champawat is 150 km from Nainital and around 410 km from Delhi.
Dhanaulti-
Dhanaulti is the small pristine village on the way to Mussoorie surrounding by the pine and oak forests. It comes as pleasant surprise for the travelers who like peacefulness and silent nature
It is away from crowds, busy markets and pollution. This is the perfect location to ensure the absolute peace of mind and soul.
One can enjoy leisure walk and nature trails or participate in adventure sports that you like. Trekking , Sky walking, Camping , rappelling, rock climbing are some interesting things that you experience in Dhanaulti.
Best time to visit this place is March to June. This place is around 290 km from Delhi and only 36 km from Dehradun.
Kedarnath–
Kedarnath is simply heaven on the earth that we can see, Breth taking snow covered Himalayan mountains; a 1000 year old temple invoking deep emotions , this called Kedarnath –the land of Gods.
Kedarnath is one of the four Char Dham in Uttarakhand. It is set amidst the stunning mountain scape of the Garhwal Himalayas at the head of the Mandakini River.
The movie Kedarnath is the perfect example of how the beautiful it is .
The shrine of Kedarnath is very scenically placed and is surrounded by lofty, snow covered mountains.
One can must visit the wonderful place once in life.
Best time to visit this place is May to October. This place is around 550 km from Delhi.
Pithoragarh–
It is the Eastermost district of uttarakhand, neighbouring Tibet in the north and the Nepal in the East. Pithoragarh is also known as Little Kashmir, it promises a scenic gateway with its gleaming river Kali and lush green forests due to this pithoragarh is the one of best places to visit in Uttarakhand.
From here, Pilgrimage take their journey to the holy shrines, Kailash and Mansarovar.
This valley also nestles the snow crested peaks Nanda Devi East.
Kapileshwar Mahadev, Pithorgarh Fort, Thal Kedar are the near by location that one can explore during this journey. We also have the option of Adventure sports like Paragliding, Skiing, River Rafting and trekking to make your trip thrilling.
Best time to visit this place is March to June and September to December.
Pithoragarh is around 241 km from Delhi.
Rajaji National Park-
This park is famous for its scenic beauty and rich biodiversity. This place is home of more than 23 species of mammals and 315 species of birds and the park is spread across 34 km. 
To enjoy the wildlife and the nature in its pristine we have the option of Jungle Safari.  The enchanting experience of nature walks, jungle safari by walk, or by vehicles in the park is really memorable and therefore this place features in our list of must-visit place in Uttarakhand.
For adventure they have Elephant safari to explore the park, during safari one can spot wild animals like Asian Elephants, Tiger, King cobra, Panther, Bear, Chital, Sambar, Wild Boar, Kakar, Python.
Best time to visit this place is November to June. Dehradun is just 21 km away from park and Delhi is around 223 km away.
Shri Hemkund Sahib-
This is the important pilgrimage destination for Hindus as well as Sikhs.
Hemkund is breathtaking Lokpal lake located at altitude of 4329 m from sea level. Snow covered mountains and Picturesque natural settings make this hill region an amazing place.
One can reach this Majestic lake through a challenging but interesting and enjoyable trek from Ghangharia.
In the heart of mountain one famous Gurudwara is placed and Lakshmana temple is also built on the bank of hemkund.
Nearby locations are Valley of flower, Ghangaria, Govind Ghat.
Roads are only connected upto Govind Ghat from where you have to commence trek of 16 km to teach Hemkund Sahib.
This place is around 517 km from Delhi
Tungnath–
Tungnath is one of the highest Shiva temples in the World. The meaning of Tungnath is land of peaks. This is at altitude of 3680 m from sea level, just below the peak of Chandrashila.
Right in the heart of the Himalayas, Tungnath trek is a thrilling adventure. Here, you walk the snow trails and live in charming campsites with delighting surrounding.
Chandrashila, Deoria Tal, Chopta are nearby locations which takes you across the nature.
Majestic Himalayas, Brith-taking views, snow glaciers attract many tourists in this untouched, unexplored and peaceful place.
Tungnath is around 232 km from Delhi. It has a 4 km trek from Chopta, definitely a must-visit place in Uttarakhand.
Chakrata–
You are looking for a peaceful and beautiful place located in the Himalayas to enjoy your holidays? Chakrata is the perfect destination for you.
It is a small hill town near Dehradun surrounding by hills. Chakrata will offer you many trekking points around, it will become popular for camping also. Khramba peak surrounding by forests is the highest peak and Tiger fall is the most beautiful falls in this region
Postcard size houses, serene quaint hills with the birds chirping in the background are the main attractions for tourists.
For solo travelers and couples this is the unique example of beauty, culture and hospitality.
One can visit this place whole year, this is just 80 km from Dehradun and around 332 km from Delhi.
Binsar-
Binsar is a small village in the Kumaon region and part of Almora District is where one can see amazing views of Majestic Himalayas. The town is fringed by the gorgeous and opulent Binsar Wildlife Sanctuary.
It is among the most popular places in Uttarakhand. Binsar will offer you the Majestic view of Nanda Devi Temple, Nanda Kot, Kedarnath. Like the other popular places, Binsar also has a story that the local god Golu had a fight with king of Binsar.
If you want a break from noise of city life then Binsar is the perfect destination for you. This is the ideal place for nature lover, peace seeker and writer.
This place is around 380 km from Delhi , takes a little time to reach because of the mountains but a must visit place in Uttarakhand.
Uttarkashi–
This is the most visited site due to its religious relevance. Two out of total four holy shrines of hindu mythology are situated in the Uttarkashi.
This is the home of Lord Vishwanath . The Charming town of Uttarkashi is quite popular among the adventure enthusiasts as it offers several opportunities for trekking, mountaineering and adventure sports.
This is one of the most Picturesque town of Garhwal region of Uttarakhand.
Best time to visit this great place is March to June and September to November.
This is around 143 km from Dehradun and 450 km from Delhi.
Devprayag–
This place is famous by the confluence of rivers Alaknanda and Bhagirathi, this is the religious hub in Uttarakhand. This place is situated at the foothills of Himalayas.
With ancient temples and idols, lush green surrounding, fresh flowing water make this place serene and beautiful.
Dashrathachal peak, chandrabadani temple, the Raghunathji temple are some of the popular destinations that we can explore during this holy trip.
One can also have the option of water sports and trekking activities.
You can visit this place whole year, around 350 km from Delhi is a must visit place in Uttarakhand.