India is a pillar of diversity, culture and tradition. We are lucky to be living in a nation where people coming from different backgrounds live together in harmony. The country unquestionably deserves the title 'Incredible India.'
What also brings people together is delicious street food. With a melange of exotic spices and splendid methods of cooking, India is truly a gastronomic heaven. The different cuisines are what make our country stand out.
As far as our land's diversity extends, the variety of our flavourful street food does too. The street food of India is undoubtedly off the charts. The best part about these foods is that they are inexpensive and always ready to eat.
The power of street food over us is unmatched. When you think of street food, there's a warm smile that creeps across your face. You immediately start drooling and imagining the various foods you can devour.
Instead of chocolate pastries and cheesy pizzas, our cheat meals include a warm pillow-like pav stuffed with golden-fried spiced potatoes, also known as vada pav or maybe deep-fried sweetness in the form of jalebis.
India's street food is not only lip-smackingly delicious but also the best way to explore the city. Roaming the streets of India is a great way to understand the culture and people around.
From chilli momos of the north to idlis of the south, every part of India possesses a speciality. Our street food attracts many foreign travellers too. This list is perfect for all foodies and die-hard lovers of street food.
Since there are plenty of street foods in several regions of India, here is a handy list of 10 locations you can add to your bucket list to discover India's most mouth-watering street foods.
1. Mumbai
Aamchi Mumbai! The food culture of Mumbai shines through its street food. Mumbaikars are always wrapped up in the hustle and bustle of the city. That's exactly why street food here is popular.
All economic classes of this city dig into the roadside delights where only the best local food is served, even better than restaurants. You'll wander the Mumbai lanes with food trucks and canteens offering various culinary charms.
Chaat is the way to everybody's heart. It's almost impossible to ignore panipuri, bhelpuri and sevpuri. Also, discover a delicious spread of seafood here including the best Bombil fry.
The most popular street foods here include Vada Pav, Bombay sandwich, Frankies, ragda-pattice, pav bhaji, omlette pav and kebabs. The sweet side of Mumbai includes Kulfi, Falooda, Modaks and Ice Gola.
The Maharashtrian, Gujarati and Parsi culture largely influences this foodie paradise. Being the financial capital of India, Mumbai provides the best easily accessible food.
2. Delhi
The capital of the country is a stunning location with highly appetizing foods. The crispy parathas, piquant golgappas, sweet jalebis and kebabs that melt in the mouth are some of the tastiest street foods here.
Enter a world of flavours with Pakoras, Dahi Bhalle, Chole Bhature, Ram Laddoo and Raj Kachori in Chandni Chowk. Indulge in the heavenly dessert of Karachi Halwa. A tall glass of creamy buttermilk is the perfect finish.
Delhi is home to people coming from all walks of life. Be it soya chaap and aloo tikkis for the vegetarians or butter chicken and kebabs for the non-vegetarians, Delhi has something special for everybody.
3. Lucknow
Nawab, Kebab and Aadab – This is Lucknow. It is a one-stop destination for all non-vegetarian foodies. Tunday kebabs found in Lucknow are the best kebabs you'll eat!
You'll find the best Tundey Kebabs in the oldest market in the city. The soft, juicy kebabs made from finely chopped meat sold here will surely tantalize your taste buds in no time!
This majestic city is famous for Aloo Tikki, Tokri Chaat, Malai Makhan, Mutton Biryani, Kali Gajar ka Halwa and much more!
4. Amritsar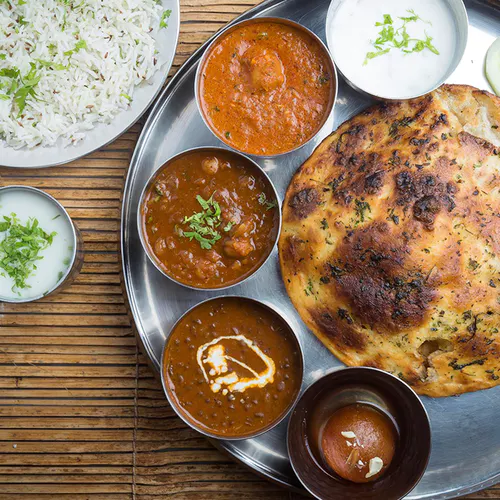 The Punjabi culture immensely comes out in the form of delicious, stomach-filling street food. With an extra splash of ghee, the high-quality food here will make your heart sink!
The method of preparation of street food here is what makes the food stand out from the others. The Amritsari fish fry is something to die for. Biting into the buttery dish will definitely satiate the soul.
Amritsar also puts some great vegetarian delights on the plate, like the essential Makke Ki Roti and Sarso Ka Saag. Let's not forget the velvety Falooda-Kulfi which I must say, is sweeter than honey.
Perhaps it's the soft kulcha, fresh lassi, richly spiced meat or syrupy jalebis that makes Amritsar the 'street food capital' of India.
5. Kolkata
The street food of Kolkata is rich, vibrant and a gift to every food connoisseur out there. The dynamic food culture of Kolkata is a mix of tradition and originality.
Whenever in Kolkata, the first thing to try out are the Kathi Rolls. Loved by all, this delicacy is made up of hearty flatbread rolls loaded with mixed savoury fillings.
From spicy Jhal Muri to flavoursome sweets like Sondesh and Roshogullas, it's a never-ending list of yummy delights. The city also offers the best Puchkas and Papdi-chaat.
A trip to Kolkata is incomplete without indulging in the diverse variety of fish that the city brags about. Mach Bhaja, a legendary fish fry dish is a must-try.
The City of Joy also surprises you with Chanar Jalebi, a mix of gulab jamun and jalebi. Enjoy this two-in-one treat by letting the flavours explode in your mouth!
6. Chennai
Being one of the biggest cities in South India, this location doesn't disappoint when it comes to street food. Chennai offers a delectable combination of scrumptious food and spicy condiments.
South Indian street food has a great influence over the whole nation. Idli with Sambhar and Dosa with chutney are staple foods that vendors sell all over the country. Upma and Uthappam are also popular.
Bhajji, the South Indian version of pakora, is a crispy delight served with spicy and tangy sauces. Other famous street foods include crunchy Muruku, exotic Sundal, steamed Puttu, all, embracing a touch of coconut.
7. Varanasi
The people from different parts in and around the city greatly influence the street food here. Spicy, sweet and sour treats like the crispy kachoris and hot samosas of Varanasi are unbeatable.
This city produces a lot of milk and curd, hence you will definitely find them in many street foods. Thandai and Lassi topped with Rabdi are two favourites.
Many Benarsi sweets are prepared with a milk and ghee base like the Magdal, Sankat Mochan Ke Laddoo, Parval Mithai, Kheer Mohan and Launglata.
Relish the foamy and creamy goodness of Malaiyo, a winter speciality of Varanasi. This street dish is influenced by the Persian style of cooking. Flavoured with saffron and cardamoms, topped with pistachios and almonds, it would be criminal not to try it out!
8. Ahmedabad
The heart of Gujarat lies in the street food of Ahmedabad. People here are quite fond of eating. The best part about the street food here is that it's tasty and healthy at the same time!
The street food here comprises top-notch snacks and delicacies found all over India. Moreover, the taste of street food here possesses originality and uniqueness.
Quench your appetite with crispy and crunchy Khakras. Satisfy your taste buds with soft and juicy Dhoklas. Dal vadas, quite similar to the Pakoras of Delhi, is the best snack to have in the evening with a hot cup of tea.
An honourable mention would be Dabeli. Boiled potatoes with special spices are the ingredients. Finally stuffed between the pav, this spicy snack is ready to eat.
9. Kashmir
An Elysium for non-vegetarians, Kashmir flaunts an authentic aroma, rich seasonings, well-defined texture and an impressive presentation in its street food.
The vegetarians don't have to be disappointed, there's creamy and flavourful Dum Aloo and tangy Kachalu Chaat for you.
Kalari Kulcha tops off every seller's list. The Kalari part of this street food is a dense cheese made from goat or cow's milk and served with kulcha, vegetables, and chutneys.
You can also never go wrong with some deep-fried Monje Gaade. To satisfy your sweet tooth, don't miss out on the charming Halwa-Paratha!
10. Hyderabad
A true foodie will not want to miss out on this location full of flavourful and surprising street items. The street food here is layered with an amalgamation of various cooking styles.
The city of Nizams serves the best biryani you have ever had in your life! Not only that but the Telangana capital also offers various types of Biryani with taste-enhancing curries, especially the Kachhe Gosht Ki Biryani.
You will have no room left in your belly after trying out delicacies like Haleem, Paaya, Hyderabadi Marag, etc. Phirni, a sweet surprise in a clay pot, is a Ramadan special and also my personal favourite.
India is a country full of diverse tastes that immerse from every corner of this land. There are street foods to keep you warm in Kashmir and cool in Chennai. And some foods to keep you balanced while it rains in Mumbai.
"Main toh raste se jaa raha tha, main toh bhel puri kha raha tha." Listen to this famous 90s Bollywood track while you explore these locations and grab a bhel puri while you're at it!