So to bring you relief from all the search, you can pack your backpack for Prashar Lake. Prashar Lake trek begins from a small town of Baggi close to Mandi in Himachal Pradesh. Walking along the Beas river, the trek takes you through the Kullu valley amidst the Dhauladhar, Pir Panjal, and Kinnaur mountain ranges. Here's why I call Prashar Lake the best weekend trek from Delhi.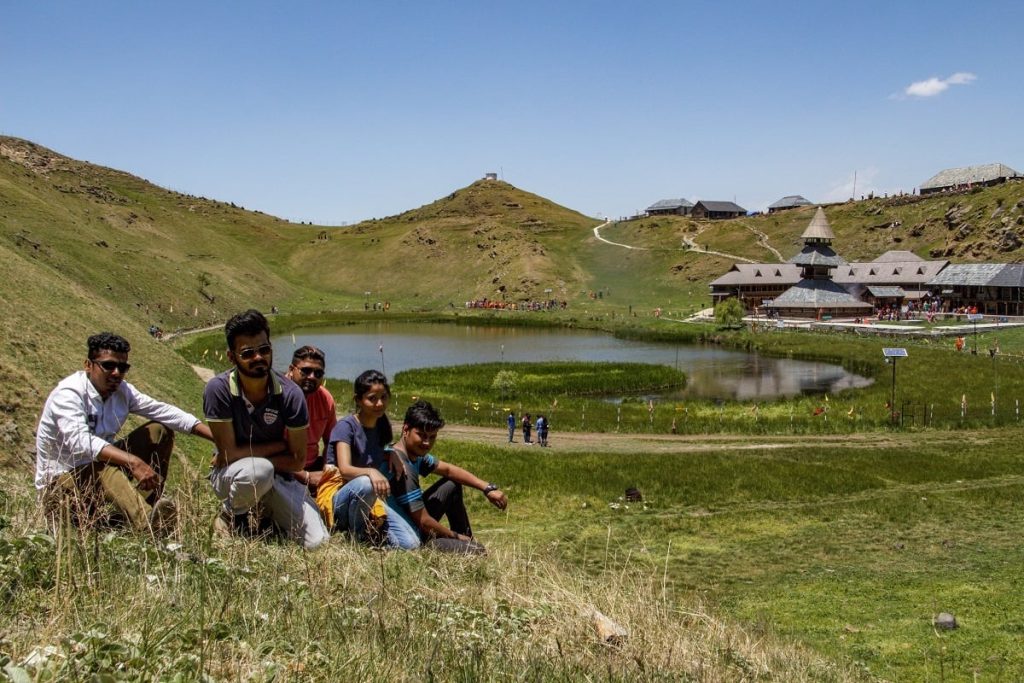 Proximity
As Delhi has nothing to boast about in terms of mountains besides those heaps in dump yards,
so any trek you plan calls for travel to either Himachal Pradesh or Uttarakhand. And when travel comes into the picture it brings along concerns; time it would take to reach the base village or starting point of the trek.
Any trek you chose would require you 8-10 hours of journey to reach the base village. Prashar Lake trek is one of the options shining out as it starts from Baggi, Mandi which is very well connected by buses from Delhi, Chandigarh. It takes overnight travel from Delhi and you can start trekking on Saturday morning and return by Monday morning there recommended as weekend trek from Delhi.
Connectivity
It is one such issue that only the users of public transport can understand better. There are numerous treks that begin from such places that reaching there is itself a task. But, here comes a good news that makes Prashar Trek a hot favorite over the weekend.
There are regular buses that ply from Delhi to Mandi and as the roads are well maintained you won't feel any pain at least prior to the trek. Further, cabs are easily available to the town of Baggi where the actual trek begins and is 30 km from Mandi.
A comfortable overnight journey and you are all ready to set your foot on the trek.
Climatically Stable
Prashar Lake Trek is one of the few treks that welcomes a trekker round the year and showcases a different picture every time. The only time you don't get to witness the landscape of the lake is when heavy snowfall hinders the route i.e in the months of December or January..
Be prepared to feel the cold as you camp in temperature that can be anywhere between -5 degrees to 23 degrees celsius in the year.
Its not a high altitude trek so the weather is highly predictable and stable round the year and can be done around the year on any weekend. Another reason why Prashar Lake is the best weekend trek from Delhi.
Breathtaking Landscapes
Flanked by the snowclad dhauladhar range and resting between the carpeted green fields is the pristine deep blue Prashar lake. The place shines out in every weather be it the white winters or the green monsoons.
There's no reason for anyone to not fall in love with this beauty perched at an altitude of 9000 feet.
A family adventure
Well, you are one of those who have a family that's as adventurous as you and looking for a trek that's doable with your little ones then look no further then Prashar Lake. A well-marked trail, not too steep slopes, and a fact that you can take up your car to the lake provided it's not snowing makes this a perfect getaway for people of all ages.
History and Culture
Well, if all the verbose so far on the natural beauty of the lake doesn't feel inviting enough then there is another side too of this place. Coming from the history the relics are that the temple built in the 13th century on the lakeside took 18 years to complete. Hats of to the efforts of that 6-month-old child who crafted it out of a single deodar tree. Yes, you read it right! That's for 6 months.
Oh wait and there is a belief running around that this lake is bottomless and to amaze you, even more, is the floating island within the lake that keeps on changing its position. Doesn't that sound intriguing to visit? There's more to it about the Pandavas but leaving it for there needs to be something left to be discovered by you too.
That's all folks, I hope I have given you enough reason to vote Prashar Lake as the best weekend trek from Delhi. If you do not want to go through the hustle of booking bus tickets and then transport to Baggi and further finding guides for Prashar Lake and finally the camping place, you can join one of the weekend batches make your bookings and get going in a group 🙂