Winter is here and so is the season to travel. So here are the "Top 15 winter destinations to visit in India".
Winter stays for a few months, especially in the northern parts of India, but has a massive change on the landscape.
The mountain peaks and the valleys are draped in a beautiful white sheet of snow. This adds to the surreal and charming aura of the place.
Some places in other parts of India have pleasant weather and warm sunshine when the winters arrive. These conditions are also preferred by many who want to escape harsh winters.
Want to have an amazing winter vacation? Hold on to your snow sleds as we take you on a journey to the "Top 15 winter destinations to visit in India".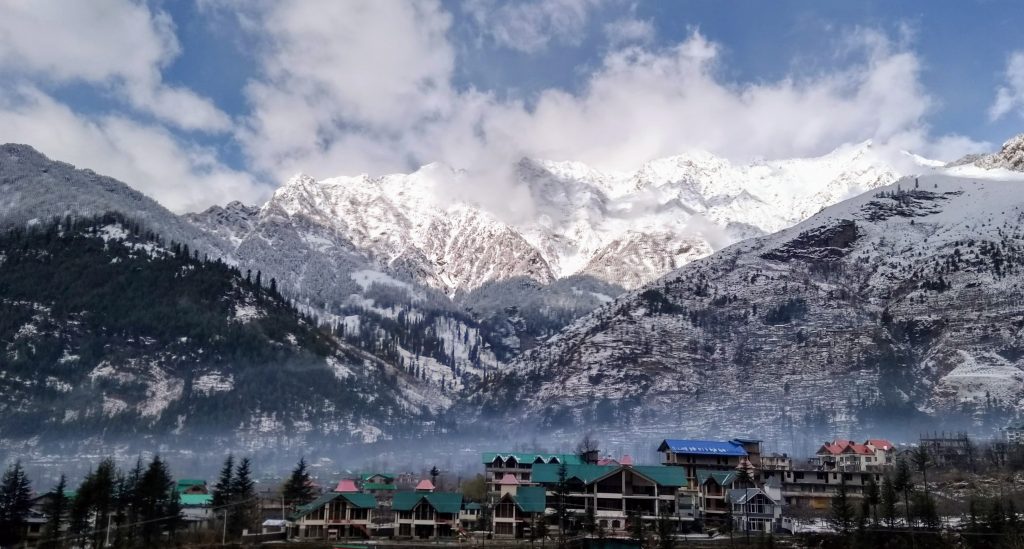 It wouldn't be wrong to label Manali as the "Winter capital of India". Manali is the preferred destination to visit by many throughout the year, but it takes on a whole different charm during winters.
The Himalayan peaks and valleys would becken you with their serene beauty. While here in Manali, don't forget to indulge yourself in various adventurous activities.
Some of these adventure activities which are available in Solang Valley are: paragliding, skiing, horseback riding, tobogganing and zorbing among others.
When you are visiting Manali in winters, don't just stay in Manali.
Don't be confused by the statement.
You can go on and explore some amazing hamlets which are situated nearby Manali such as Kasol, Tosh, Grahan and Malana.
All these hamlets coupled with Manali makes it one of the top winter destinations to visit in India.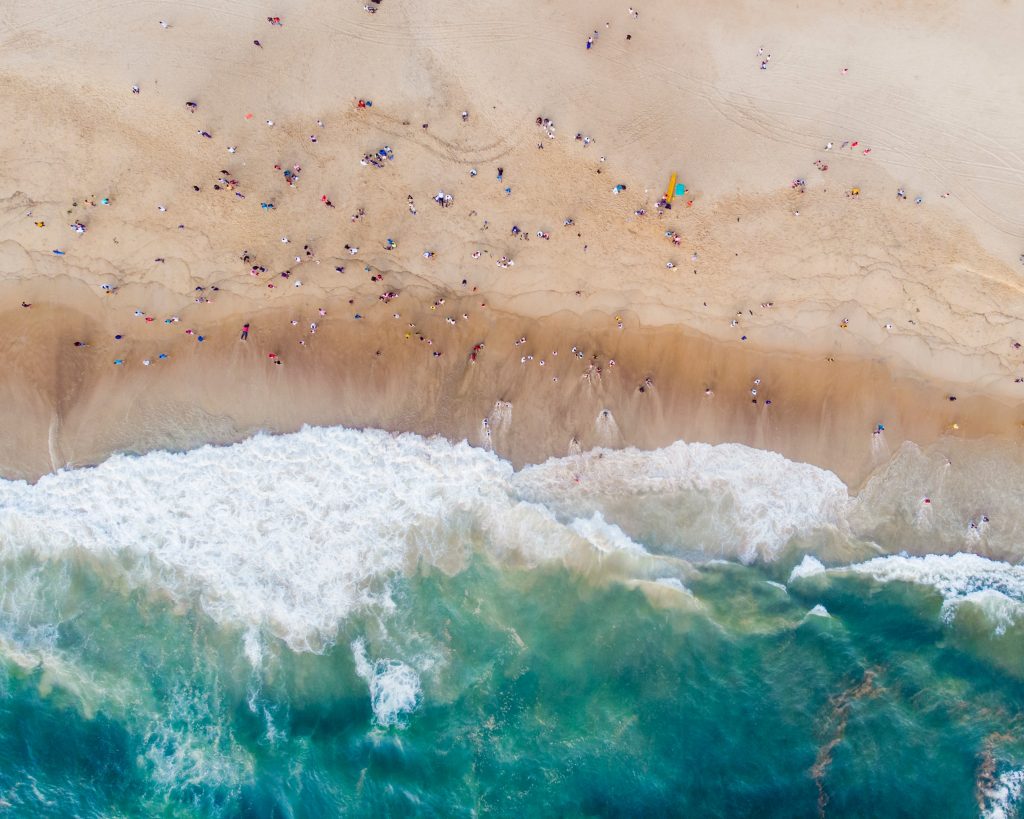 Not a big fan of snow capped peaks and valleys? Well, this one is for all the beach bums out there.
Some people tend to be "Mountain Person" and others tend to be "Beach Person". This one's definitely for people who love open blue waters, white sand beaches, clear blue skies, and fun adventure activities along the beaches and parties all along.
The smallest state of India is a total power punch in terms of places to explore and things to do. Winter months are the best time to explore places in Goa and do water based adventure activities.
These things are what makes Goa one of the best winter destinations to visit in India.
Apart from adventure activities, "the party capital of India" hosts one of the best beach parties along with nightclubs and beach shacks which serve amazing Goan cuisines.
Also if you are travelling in winter months to Goa, you can be a part of and enjoy festivals like Goa film festival, Goa carnival, Christmas and New Year festivities and Sunburn music festival.
So travellers? What do you make of Goa as one of the top winter destinations in India to visit?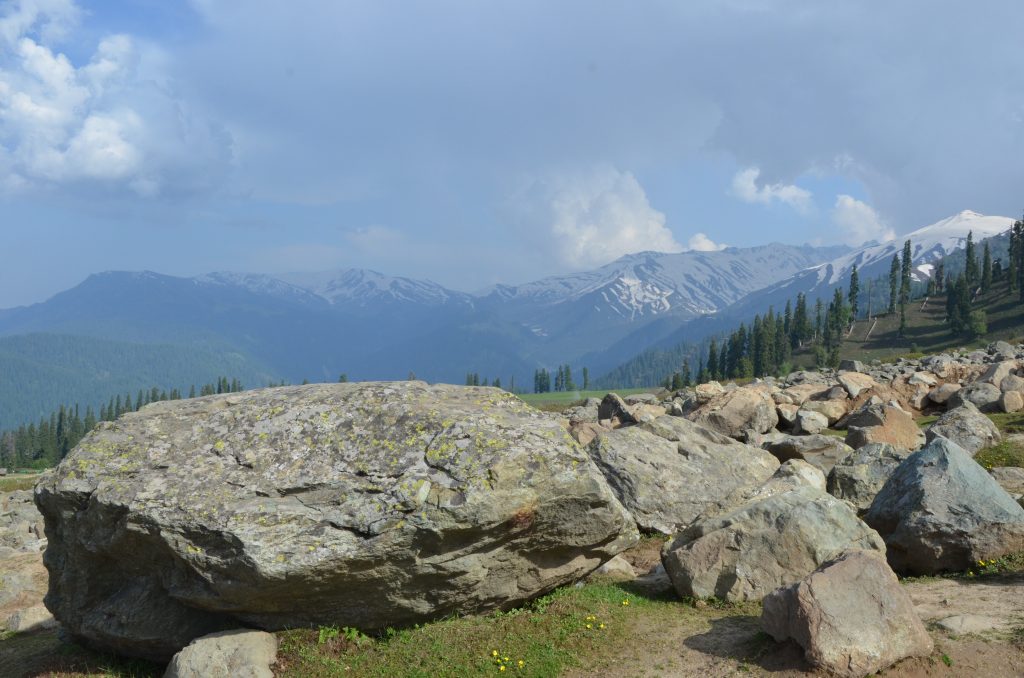 Taking you back to the snowscapes, we arrive at Gulmarg, which is located in Kashmir.
If you ever want to find paradise on earth, it can only and truly be Kashmir. In the 17th century, Mughal Emperor Jahangir was so mesmerised by the beauty of the place that he said, "If there is a paradise anywhere on the earth, it is here, it is here, it is here."
Kashmir offers varied varieties of activities and exploration that can be done such as trekking, mountaineering, rock climbing, camping, skiing, and paragliding.
These places are enough to warrant the title of top winter destinations in India to visit in Kashmir.
Gulmarg is a beautiful location in Kashmir Valley. This place is known as "Meadow of Flowers" and quite rightly so as during springtime, Gulmarg turns into a flower bed as far as the eyes can see.
While in Gulmarg, you can experience a trip to one of the highest cable cars in the world, which is also known as "Gondola" around these parts.
Also for all the golf aficionados out there, you can visit the Gulmarg Golf Course which is quite possibly one of the most beautiful golf courses in the world.
In winters, you can go snowboarding and skiing in Gulmarg, which is surely one of the best adventure sports to indulge in while winters stay.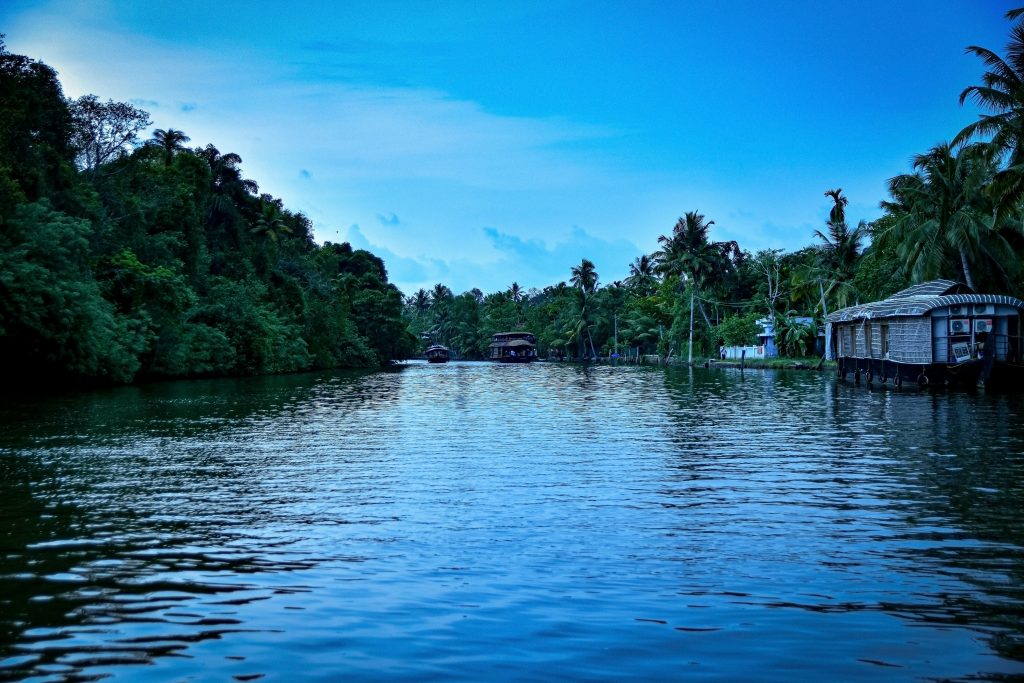 A perfect place to spend your winter vacations, Kerala is preferred by many people. That's what makes Kerala one of the top winter destinations to visit in India.
There is a reason why Kerala is known as 'God's Own Country'. Kerala is probably the most serene and beautiful state. It has beautiful coastal landscapes, Arabian Sea and beaches, amazing backwaters which are quite unique.
Kerala also has spice and tea covered Western Ghats with many hill stations and exotic locations.
While travelling here in winters, you will experience a mild and pleasant climate. It is also the best time to visit some national parks such as Eravikulam National Park and Periyar National Park.
A historic place, Kerala also has some nice trekking locations such as Wayanad, Munnar and Alleppey for houseboats.
If you are a beach lover, do head out to Varkala, Kovalam and Vagamo beaches as they are some of the best beaches in Kerala.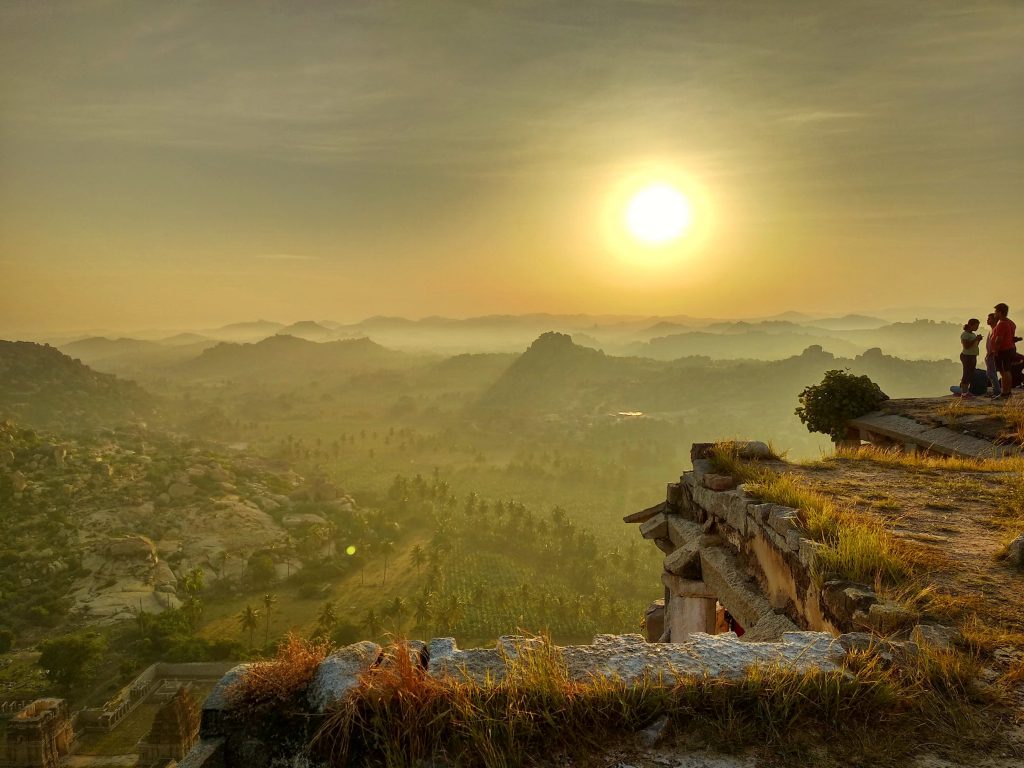 Continuing with our theme of mild and pleasant places to visit in India during the winters, we now arrive at Hampi.
Hampi is a UNESCO World Heritage site which is located on the banks of the Tungabhadra River in east-central Karnataka. Hampi is the most famous place for tourists to go in Karnataka, where they can experience ancient temples and stone monuments overlooking the rice paddy fields.
This place has a lot of boulders, where you can go for bouldering and take hikes along the place where you will get to witness the most beautiful sunrise and sunsets.
So anyone who is interested in exploring and trekking in the state of Karnataka should definitely visit Hampi, one of the top winter destinations to visit in India.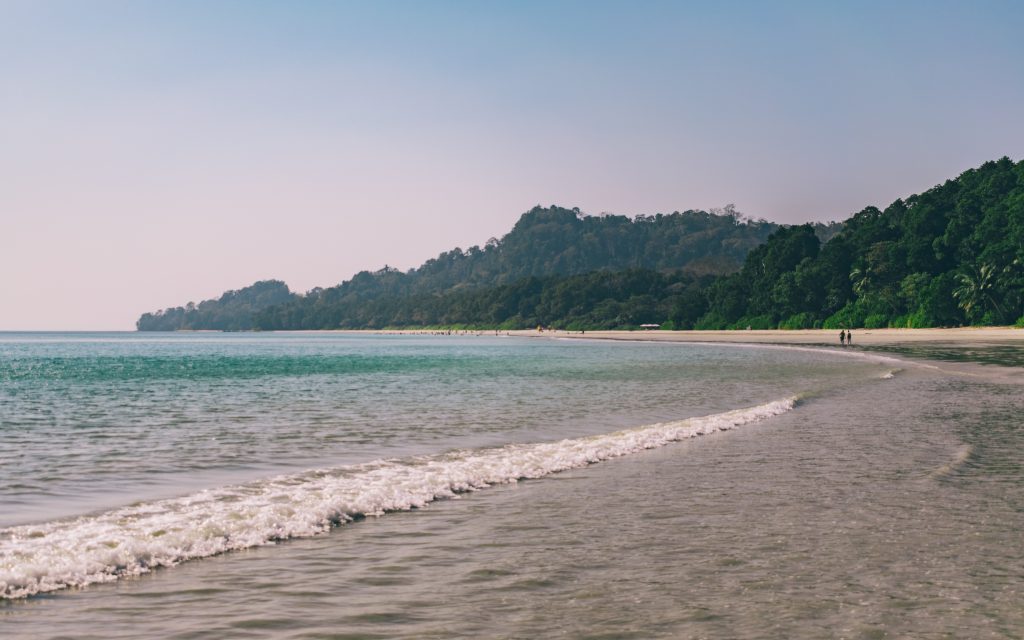 If you are looking for a serene and offbeat when compared to the touristic culture in rest of India, you need to head to Andamans.
The place is quite offbeat but is blessed with natural beauty that will surely take your heart away. If you wish for white sand beaches, sunny skies, palm trees, marine life and blue waters, Andaman and Nicobar is surely the place for you.
And when the winter months roll by, Andaman and Nicobar surely becomes the top winter destinations to visit in India.
There are various places to explore in Anadaman, such as Radhanagar beach, Havelock islands and Elephant Beach amongst others.
7. Auli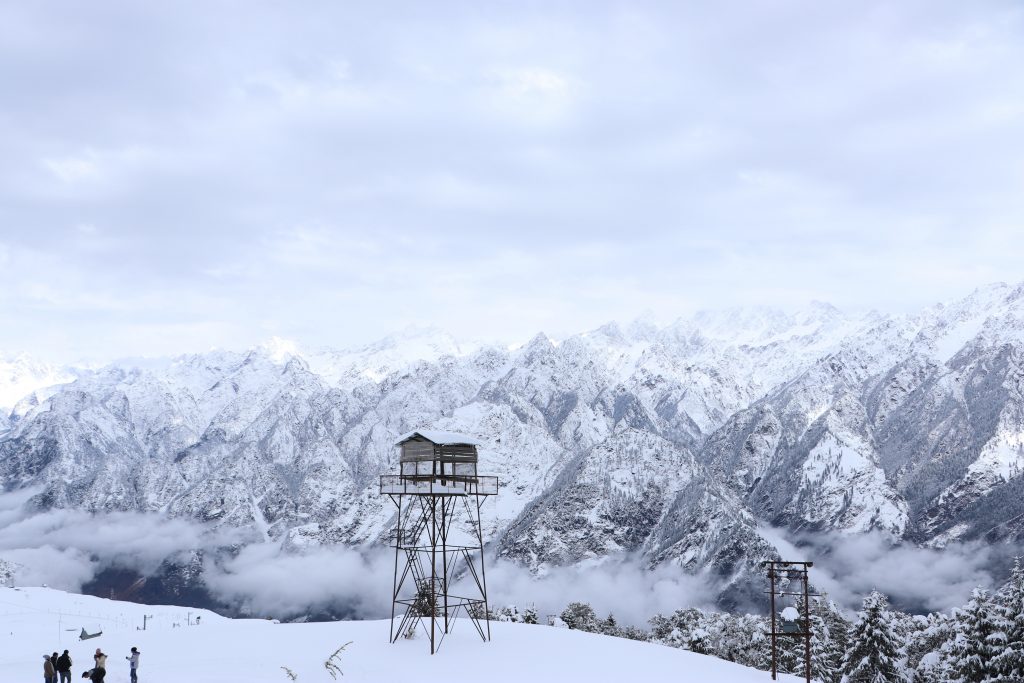 A Himalayan ski resort in the Chamoli district of Uttarakhand, Auli probably doesn't need any introduction.
It is one of the most pristine places that you can find in Uttarakhand if you want to experience snow. Not only you will enjoy the landscapes filled with snow, you can also try out some snow based adventure activities such as skiing and snowboarding.
Auli boasts of the second highest and longest ropeway of Asia which offers you a panoramic view of the mountains, the distance being 4kms.
If you are fond of trekking, Auli won't disappoint you. You can trek to Auli's artificial lake during winters. If you are visiting Auli in summers, you can trek to Gorson Bugyal and Chattrakund Lake.
So if you looking for some snow filled fun and adventures, Auli is the place to be, as it is one of the top winter destinations to visit in India.
8. Rajasthan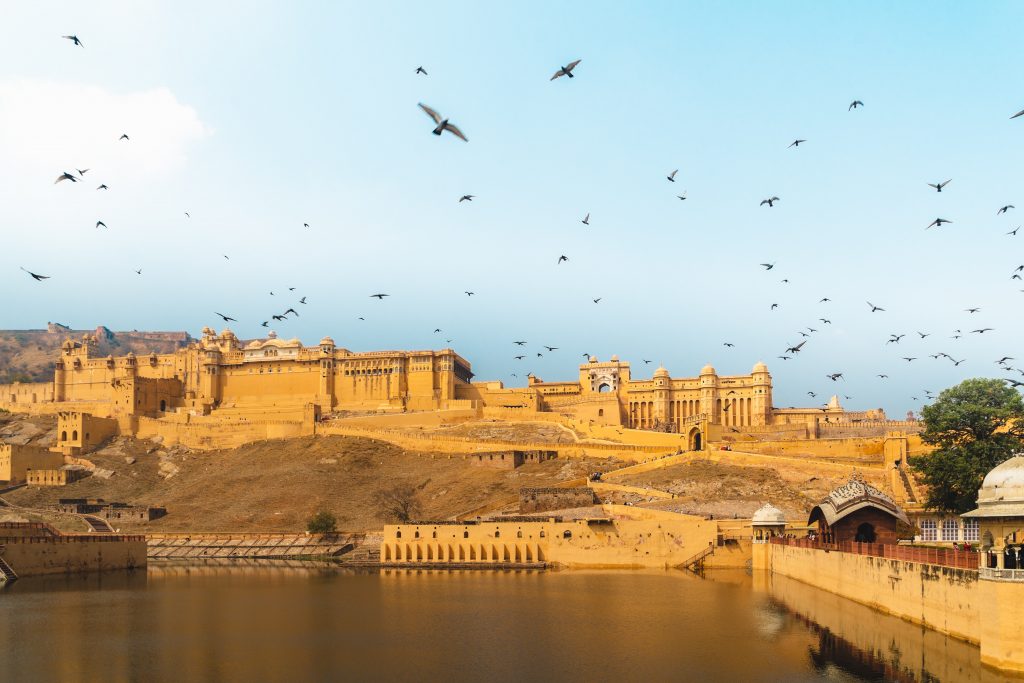 If you ever want to visit a place that has rich history, beautiful castles and forts, thought provoking legends and stories, beautiful streets full of color and happiness, humble people and exotic food, look no further than Rajasthan, also known as "Land of Kings".
One of the best time to visit Rajasthan would be in the winter months i.e. from October end to early February.
You can witness and explore many palaces and forts in locations such as Jaipur, Jodhpur, Jaisalmer and Udaipur.
And it's not just about forts and palaces: Rajasthan has many national parks which can be explored as well like Sariska Wildlife Sanctuary, Bharatpur National Park, Mount Abu Wildlife Sanctuary and many more.
You can spot many exotic species in their natural habitats such as leopards, tigers, many varieties of deers and monkeys.
You Rajasthan trip would be incomplete without camping out in the desert at Jaisalmer under a myriad sky full of stars and warm bonfire that adds to the amazing experience.
A trip to Rajasthan is for all those people who are not looking for chilly climate and negative temperatures, but for those who want to have fun in more pleasant weather, making Rajasthan as one of the top winter destination to visit in India.
9. Great Rann of Kutch, Gujarat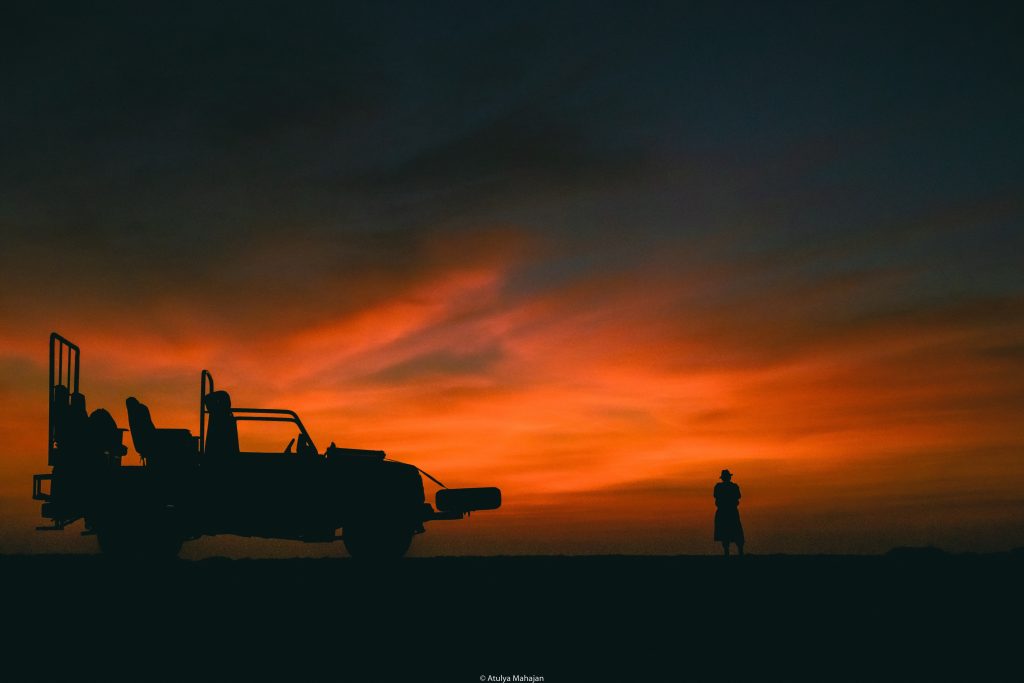 The Great Rann of Kutch is a salt marsh in India which lies in the Thar Desert and is quite unique and surreal. An hour and a half drive from Bhuj would take you to Rann of Kutch, which can be accessed through a small village called Dhordo.
It is a great natural phenomena which can be experienced not through words, but by going there and actually visiting the place. Celebrations take a whole new turn during "Rann Utsav", which is a festival held from November to February. You can star gaze, indulge in traditional Gujarati cuisines and dishes and then there are folk dances and live performances by traditional artists to enjoy.
All these things make Rann of Kutch a top winter destination to visit in India.
10. Meghalaya
Meghalaya is one of the most famous and beautiful states of India amongst all the Northeastern states. The name means "abode of clouds" in Sanskrit, and it lives up to its expectations.
Think mist descending upon the hills, mystical waterfalls, deep caves, lush green and dense forests that will take you to so many places unexplored. Tourism in Meghalaya has everyone captivated by it and surely it is once in a lifetime destination to travel to.
If you have explored North India and looking for a change in landscapes and culture, Meghalaya is the place to be as it is one of the top winter destinations to visit in India.
11. Sikkim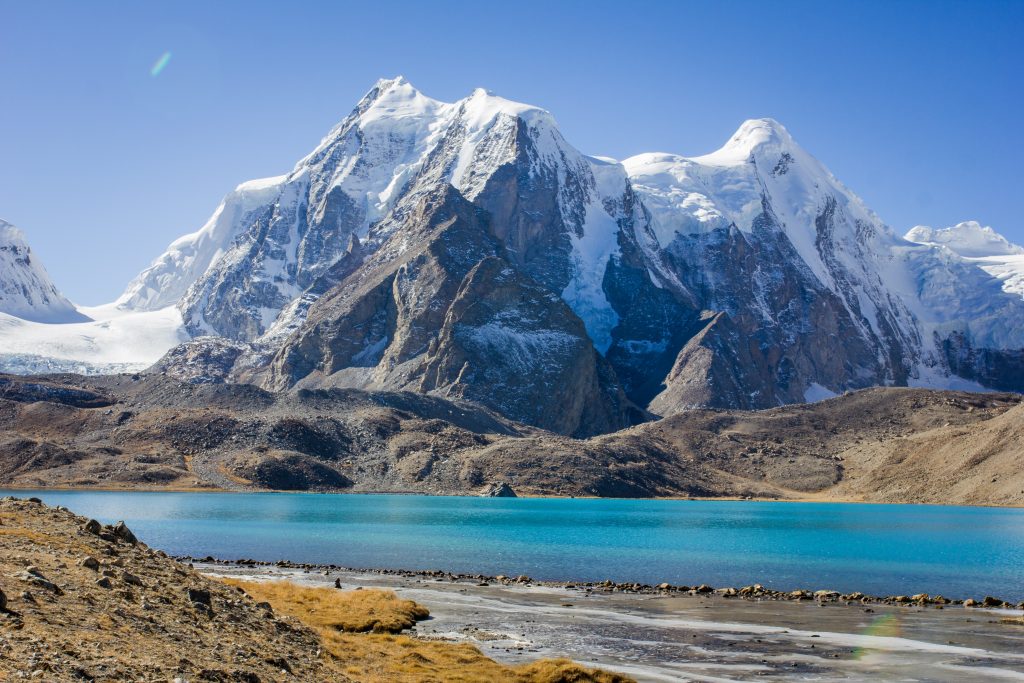 Continuing with our theme of North-Eastern states, we now arrive at Sikkim, which is one of the top winter destinations to visit in India.
You ask us why? Well here are the reasons why you should visit Sikkim.
The state of Sikkim seems like it is peacefully placed away in the northeastern part of India. It is one of the most beautiful states in India with its peaceful surroundings, lush green forests and acres of clean and green landscapes.
To top it off, the surreal Himalayan ranges cradling the state. The views are breathtaking and quite serene to say the least.
Some notable places to visit while in Sikkim are the high altitude lake Gurudongmar, Tsomgo Lake, Lachen, Lachung and the capital city Gangtok.
12. Shimla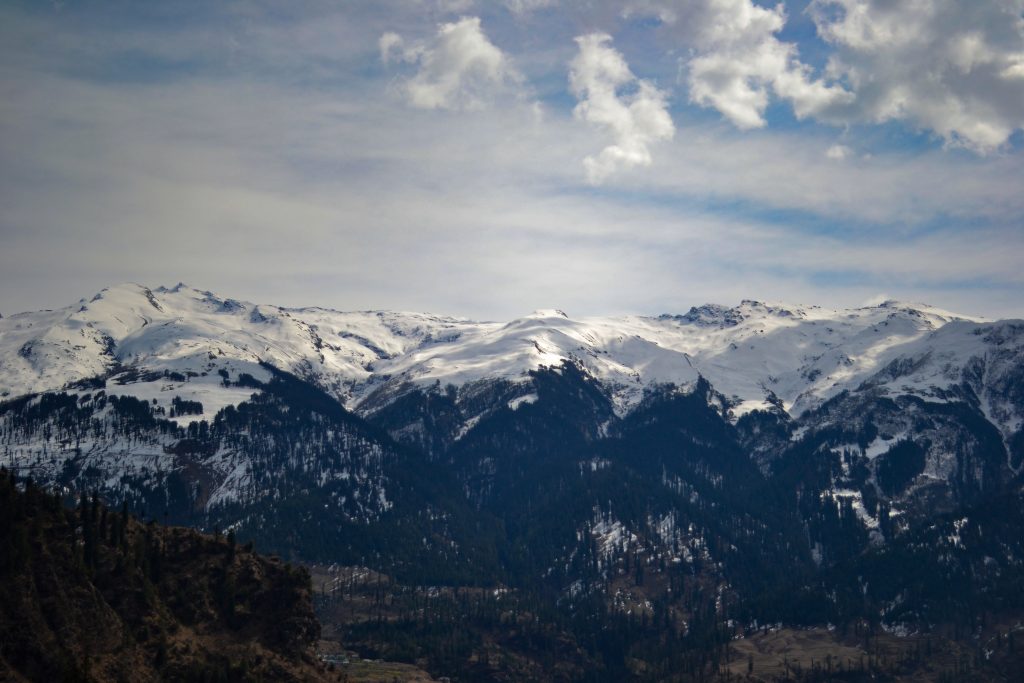 If you have never been to Shimla, you are missing out on a lot. And if you are reading this, better pack your bag and leave for Shimla.
Shimla is the capital city of Himachal Pradesh and it formerly acted as the summer capital of British India. The colonial architecture, beautiful mountains and dense forests are some of the highlights of Shimla which makes it for a top tourist destination.
Shimla offers a varied variety of places to discover. Explore Himalayan Bird Park and take a look at various bird species such as peacocks, pheasants and Himalayan Monal to name a few.
Visit The Ridge, which is the epicenter of all tourist locations in Shimla. It is connected with Mall Road, Scandal Point and also the Lakkar Bazar. The Ridge is also famous for the summer festival which is held every year. Admire the neo-gothic style architecture of Christ Church which has been in existence since 1857.
When in Shimla, do not miss out on Kufri. It is a small hill station which is located around 20kms from Shimla. In Kufri you can take a horse ride to Mahasu Peak or hike there.
You'll be able to see Kedarnath and Badrinath mountains and also acres of Deodar trees. You can also indulge in some adventurous activities such as skiing at Kufri.
All these things make Shimla a top winter destination to visit in India.
13. Mussoorie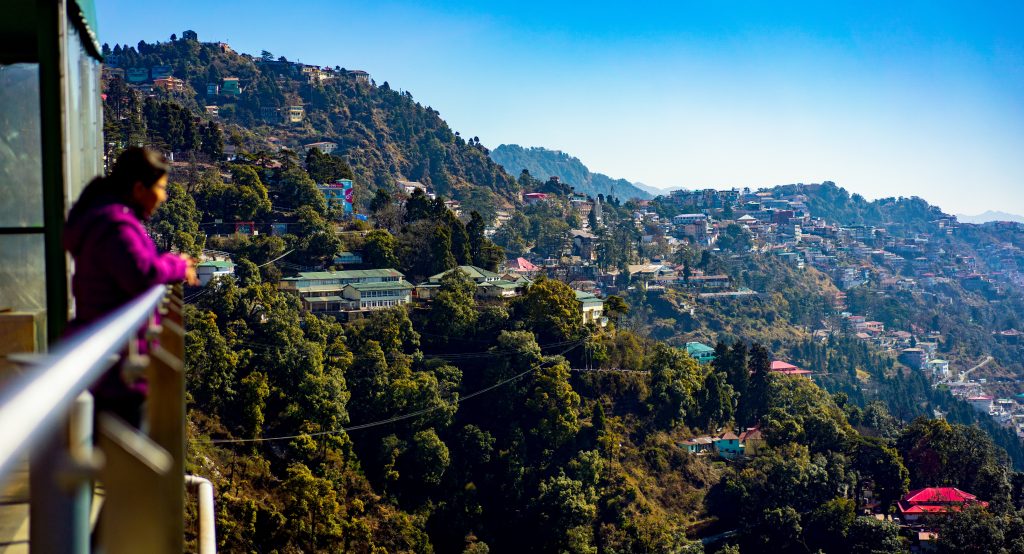 One of India's favorite hill station, Mussoorie has a lot to offer to travellers looking for a perfect winter escapade. No wonder Mussoorie is nicknamed "The Queen of the Hills".
Located at an elevation of around 2,000mts, Mussoorie will provide you with a panoramic view of the Himalayan peaks, with colorful flora and fauna all around.
With close proximity to Delhi, it is also one of the favorite weekend getaway for many people.
While in Mussoorie, do not forget to check out Kempty Falls, Gun Hill, George Everest Peak and the famous Mussoorie Mall Road, making Mussoorie as one of the top winter destinations to visit in India.
14. Coorg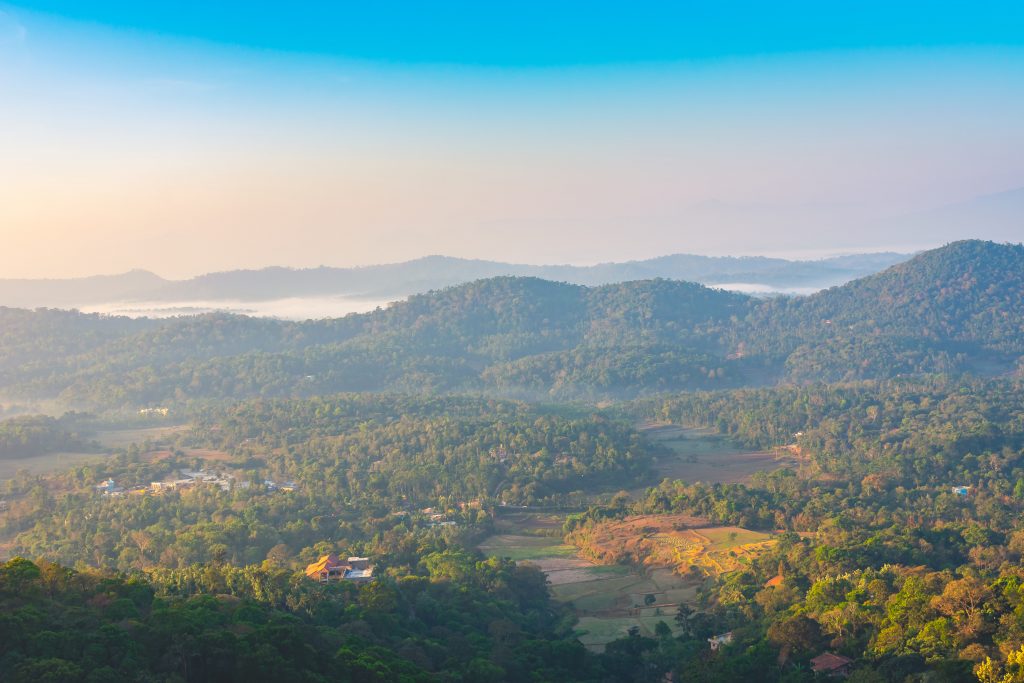 Coorg is located in the western ghats of the Sahyadri mountains of Karnataka. It is also called the "Scotland of India" and the "Kashmir of Karnataka" of Coorg.
It is famous for lush greenery, rich flora and fauna. The city of Coorg is characterized by coffee plantations, coffee seeds, coffee aficionados and much more, making it one of the finest destinations in India to have coffee.
So for all the coffee addicts who want to spend a pleasant winter in South India, they should head out to Coorg, which is one of the top winter destinations to visit in India.
15. Kodaikanal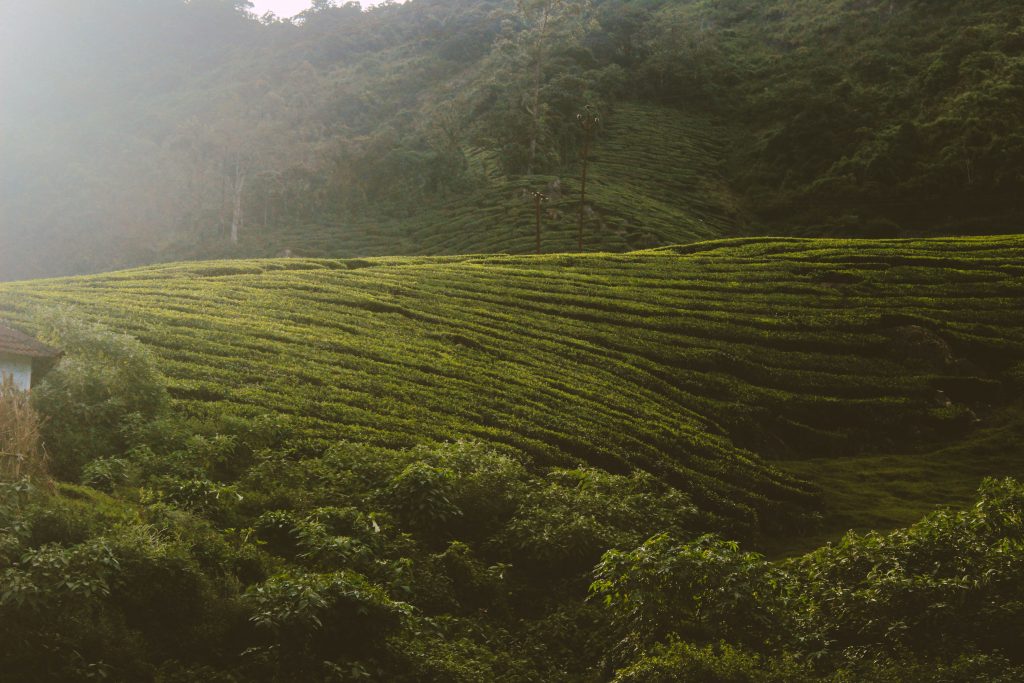 Our final destination that we would recommend you to travel during winters in India would be Kodaikanal. Haven't heard about it? Well…just stick around!
Known as the "Princess of Hill stations, Kodaikanal is located in Dindigul district in the state of Tamil Nadu. The name Kodaikanal transaltes to "The Gift of Forest".
If you do plan to go to Kodaikanal during winters, try out boating at Kodaikanal Lake, visit Berijam Lake, night safari and also biking through Kodaikanal.
So what do you make of these 15 winter destinations to visit in India. Which of these places make it in your list? Do let us know down in the comments!
For more information related to trekking and travel scenarios, trip updates and latest developments of other states and rest of India, you can join our Whatsapp group.