The famous Chandni Chowk of Delhi is home to a number of havelis inducing it with an aura of grandeur and class. Midst these beautiful havelis stands a haveli, which once was home to none other than the great literary figure Mirza Ghalib, the profound shayar known for his heartbreaking yet beautiful Shayari. He belongs to one of those rare categories of celebrated Urdu poets whose literary works are still quoted and remembered everywhere.
Talking about Mirza Ghalib's haveli, the old structure still seems to have lots of stories to tell which one can witness by entering the brick arched entrance of the mansion. Mirza Asadullah Khan aka Ghalib left his hometown Agra at the age of 13 and moved to Delhi where he lived till his last breath spreading the beauty and profoundness of his delicately inked poems and Shayari.
The intricately carved haveli was a gift given to the great poet by a traditional physician popularly known as Hakim during that era. Being his ardent fan, the Hakim gifted Ghalib with this beautiful haveli where Mirza Ghalib spent last few years of his life and penned some of his finest ghazals. He inked emotions profoundly through his ghazals and recited it every evening in front of a huge audience who cherished each and every word he said.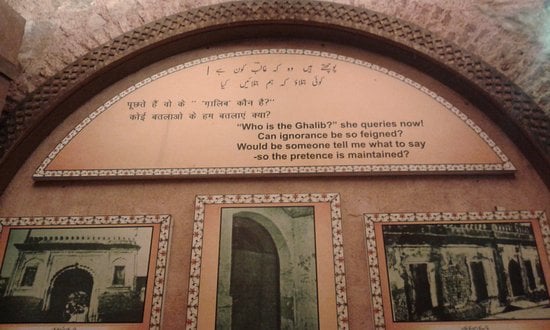 After Ghalib's death in 1869, the possession of Haveli changed multiple hands before the Govt of Delhi turned a part of it into a heritage site which is looked after by Archaeological Survey of India (ASI).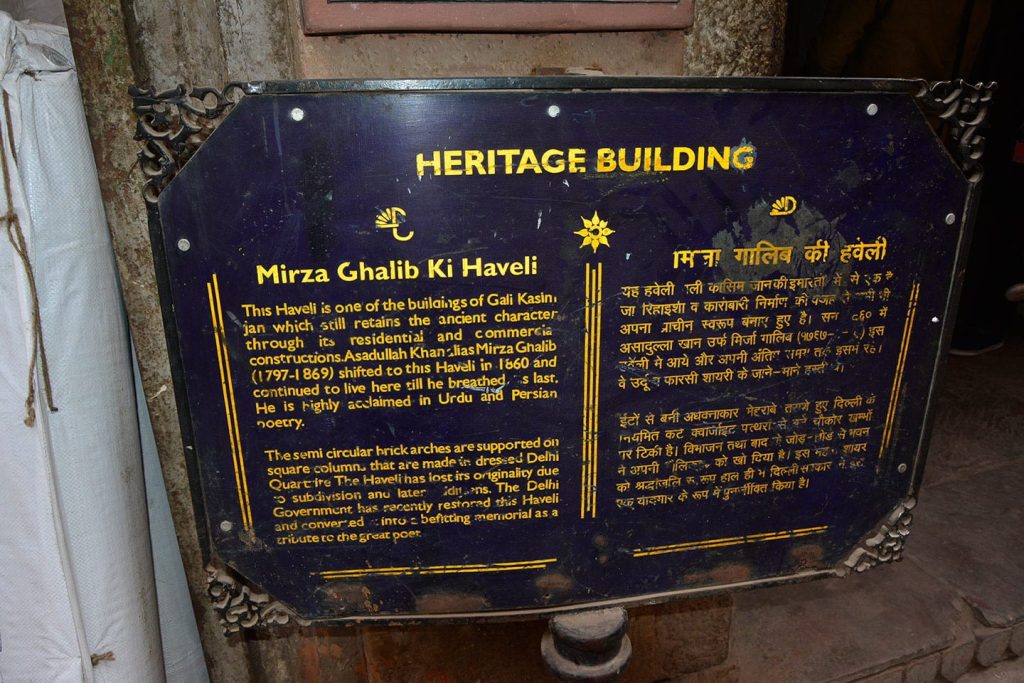 It has been transformed into a memorial museum with a vintage touch to make the atmosphere like that of the Ghalib's era. The entrance is adorned with a giant portrait of Ghalib's couplets which has been inked beautifully in his own handwriting. In addition, Ghalib's couplets are accompanied by the couplets of his contemporaries including Ustaad Zauq, Momin Khan Momin, and Abu Zafar. These couplets arranged in a beautiful collage enhance the literal beauty of the place. Apart from this, another wall of the haveli depicts the lifestyle that Ghalib led. From his favorite attire to his favorite dishes to his favorite activities, a chart mentions everything he loved doing. Furthermore, amidst this beautiful architecture resides the only room with a door, set a little aside from the rest of the haveli. A large frame of Ghalib's photograph, probably the last photograph he ever took can be found on the wall. The either sides of the wall also have various portraits of the eminent poet depicting various stages of his life. The room is also adorned by Ghalib's handwritten books including, a collection of his letters as well as translated couplets. A life-size replica of Ghalib is also present there which gives one the feeling of his profound presence.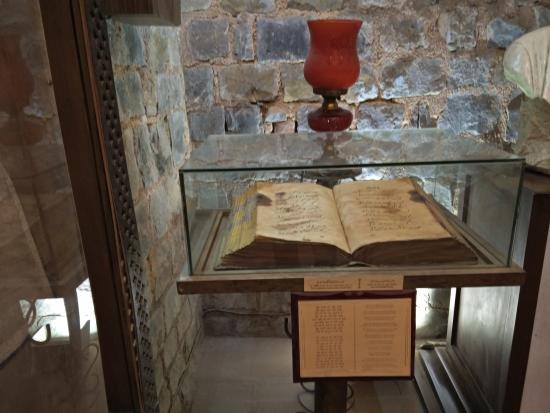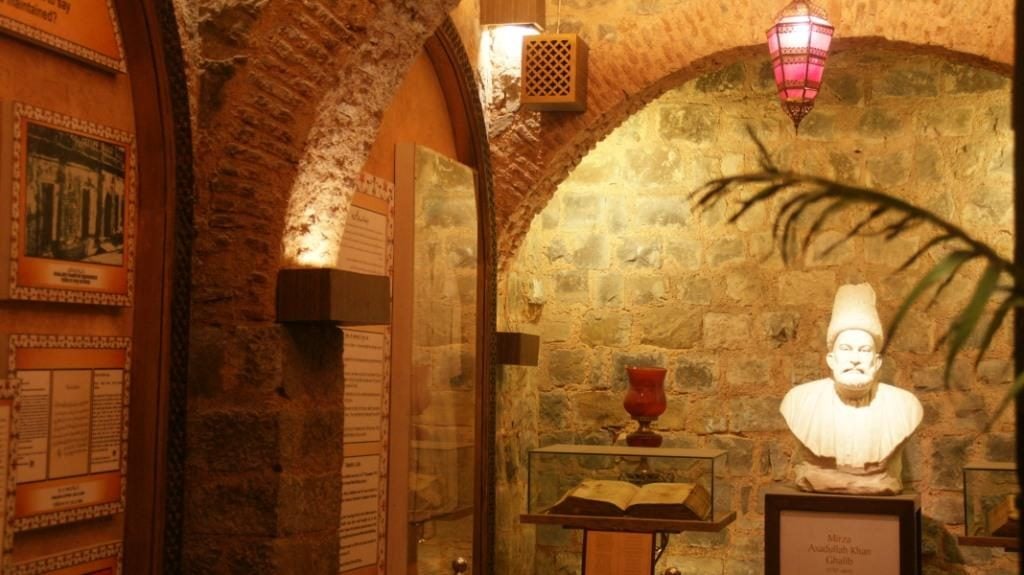 A close look at Haveli can leave one mesmerized. The floors carved with sandstones, the beautiful gateway crafted with wood, the Mughal bricks and the overhanging eaves within the courtyard is a perfect place for sightseeing and exploring new dimensions of this literature haven.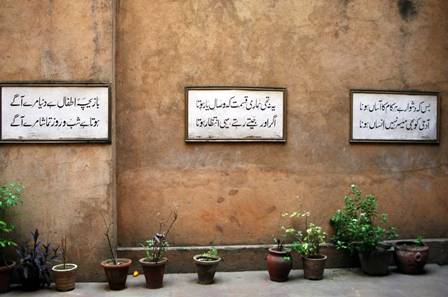 Located near Gali Qasim Jaan, Ballimaran, Chandni Chowk, Ghalib's haveli can be a perfect weekend getaway for anyone who is in love with literature. One can reach there through the metro station at Chawri Bazaar. Though the Haveli is open from 9 am to 5 pm every day except Monday, it is advisable to visit this place in the morning and explore, readout as well as enjoy Ghalib's beautiful verses carved on the haveli's walls. A sneak peeks into the life of a legendary poet is something that would linger in one's memory for quite a long time.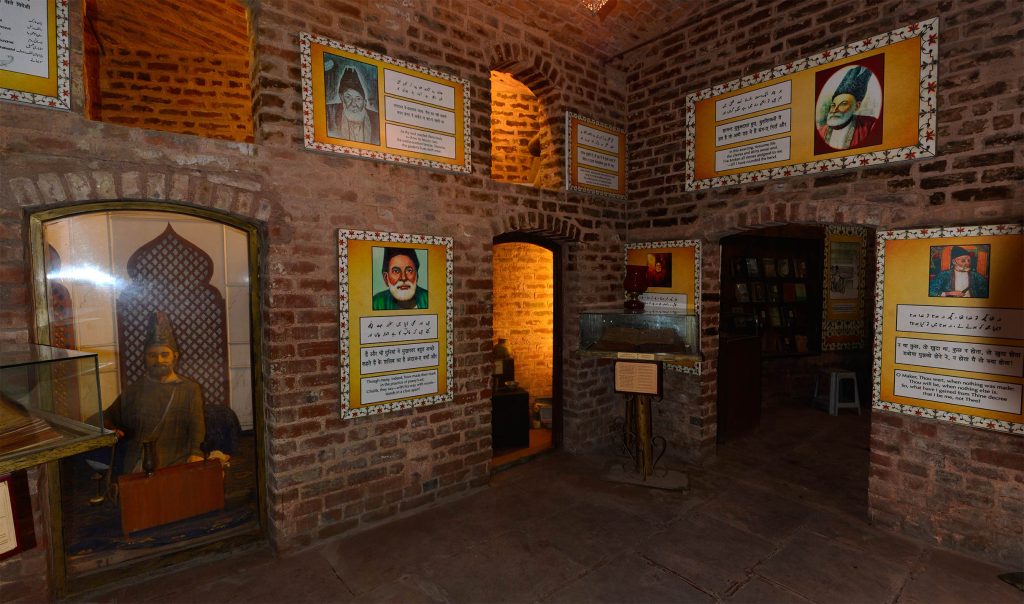 Here's a couplet that perfectly sums up his journey of being an enthralling poet. No doubt he was the best out of the best.
"Hain aur bhi duniya mein sukhanwar bohot achche,
Kehte hain ki Ghalib ka hai andaaz-e-bayaan aur".
"The world contains many a poet, meriting high praise,
But, unrivaled is Ghalib's verse, distinctive is his style and grace."