The mere mention of Bali evokes the thought of Paradise! The Balinese archipelago holds in its warm embrace the tranquility of spiritual bliss and the thrill of experiencing some of the most vibrant nighttime and seaside shenanigans. To help you have a memorable trip, we have jotted down some of the Best Places to Visit in Bali!
From rainforests to exotic beaches, luxurious resorts to ancient temples, there are many places you can visit that promise to leave you dazzled!
Bali is a perfect amalgamation of rich culture deeply rooted in the principles of Hinduism, culinary delights, lavish romantic escapades, and fascinating activities by the ocean side.
7 Best Places to Visit in Bali for a Dreamy Vacation!
The Heart Of Bali, Ubud, is where you actually experience the true essence of the Balinese Vibe.
Walking across lanes infiltrated with the sweet smell of incense and shrines adorned with tropical flowers makes you witness the pristine beauty that this country holds. Swinging amidst lush terraced rice fields, hiking to cascading waterfalls, and spending moments of serenity at age-old temples are what make Ubud one of the best places to visit in Bali.
Things to do in Ubud:
Take a stroll in the lush green landscapes of Tegalalang Rice Terraces.
Go on an enticing walk at the Sacred Monkey Forest.
Shop your heart out at Ubud Market and pay your respects at Saraswati Temple.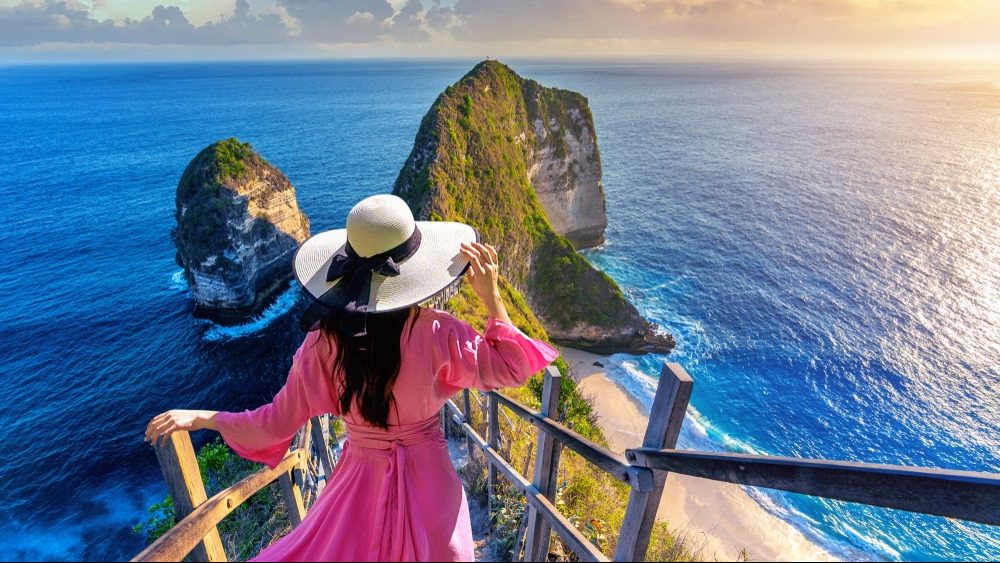 The largest of the 3 Nusa Islands, Nusa Penida, stays quaintly tucked away in the lap of nature.
Bestowed with the most magnificent views of the Indian Ocean, limestone cliff formations and turquoise lagoons are what make it one of the best places to visit in Bali, fabled for a plethora of adventure sports and perfect photography spots.
No matter how many days you spend here, you'd always want to stay a little more, diving at Crystal Bay witnessing the unique marine life, strolling at Atuh Beach, and floating in the natural pool at Angel Biblalong.
Things to do in Nusa Penida:
Spend a few moments of tranquility at Goa Giri Putri and Pura Paluang Temple.
Visit the iconic Kelingking View Point and capture the bayside panorama.
Rejoice in cliffside bliss at Broken Beach
Must Read: The Perfect 7-Day Bali Itinerary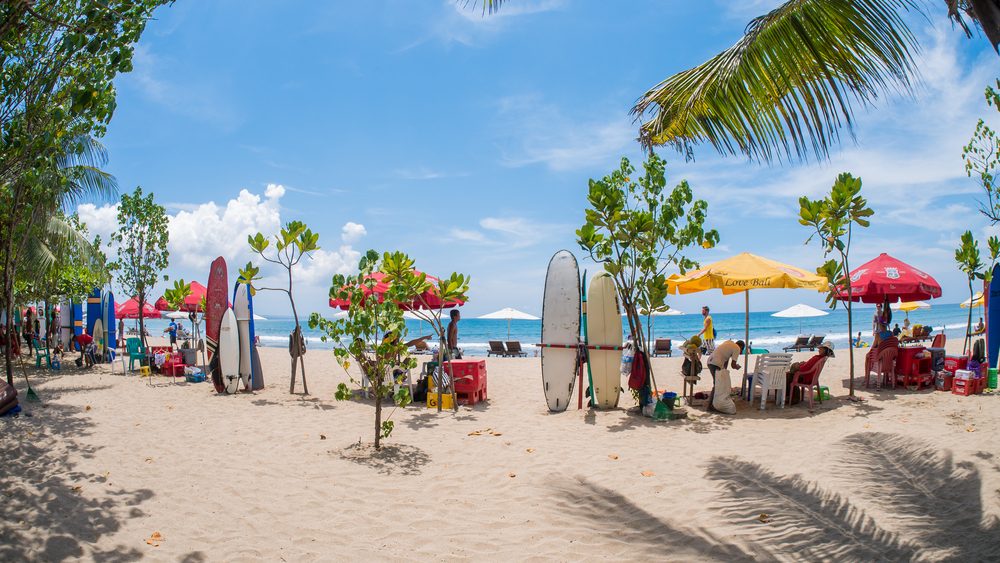 When it comes to experiencing a memorable Balian high, Kuta leaves no stone unturned with its captivating nightlife with some of the most popular clubs and concerts making you dance to the tune of freedom.
Even the markets, restaurants, and cafes are open all night long catering to the crowds and assuring its visitors have the grandest most fun time.
Talking about the best places to visit in Bali, Kuta Beache's long consistent waves also make it a famous surfing spot that attracts tourists from around the world to indulge in this first-class adrenaline-pumping activity!
Things to Do in Kuta:
Experience the grand Kecak Fire Dance at Uluwatu Temple.
Shop at the Kuta Night Market, and Enjoy rejuvenating Massages.
A vacation in Bali is incomplete without pampering yourself with the sybaritic pleasures and that's exactly when the grandeur of Seminyak comes into play.
The extravagant ocean-side resorts, villas with infinity pools, and absolutely lavish services are what make the stay here absolutely splendid!
Spending your time indulging in decadent cuisines, living your main character moments swimming around in your very own private pool, or simply splurging into a refreshing body massage session will make you want to spend a couple more days wrapped in luxury.
Things to Do in Seminyak:
Visit the offshore Tanah Lot temple and enjoy one of the most beautiful Balian Sunsets. Go on a morning hike to Mount Batur which is one of the active volcanoes.
Pay your respects at the 6 prominent sea temples at Pura Petitenget.
Recommended Read: Your Guide to International Travel in 2023
The Badung Regency in southwest Bali is home to numerous alluring beaches that boast not just its natural splendor but also a plethora of fun activities that one can indulge in.
Be it spending your afternoons surfing at Bingin or Dreamland Beach or going on small adventures to explore the lesser-known offbeat beaches like Tegal Wangi Beach or Green Bowl Beach, Badung never fails to leave you amazed making it one of the best places to visit in Bali.
Things to do in Badung:
Visit the Nugnung Waterfall which is about 70ft from the ground and offers a birds-eye view of the lush wilderness.
Take a stroll on Tegal Wangi Beach around the 'blue hour' and soak in the calmness of the place.
Lempayung and Tirtta Ganga Temple
A trip to Bali is simply not complete without visiting one of the six holiest temples of Bali also famous for housing the 'Gates Of Heaven' that gives you an incredible view of Mt. Agung up close. The Lempayung Temple is an ancient architectural marvel with 3 different complexes that are home to intricately designed shrines, meru towers, and temples dedicated to different deities.
There are about 1700 stairs in the temple that might seem arduous to climb but the very aura of the place simply makes it worth it.
Yet another one of the best places to visit in Bali is the Tirtha Ganga Temple named after the Ganges which was also formerly the royal palace. Entering the gates of Tirtha Ganga, you are welcomed with the pleasant sight of sprawling water gardens with water lilies and lotuses adding a splash of color to the place.
Things to do:
Walk on the stepping stones at Tirtta Ganga and feed the fish.
Pose against the marvelous background of Lempayung Temple.
Striking a clear contrast to Traditional Bali, Nusa Dua is the biggest settlement of Luxurious Hotels and Resorts. A day spent here means immersing yourself in ripples of comfort and luxury.
It also boasts to have some of the best fine-dining restaurants and cafes by the beachside that offer international cuisine along with finger-licking Balinese food.
The white sand beaches and calm waves also make it a great spot to indulge in an array of water sports like parasailing, banana boating, surfing, etc. You can also go for long strolls and enjoy a panoramic view over the bay, with Mount Agung on the horizon at the clifftop Pura Geger Temple.
Things to do:
Attend the Devdan festival at Nusa Dua Theatre which showcases a 90-minute intriguing show of Indonesia.
Get drenched at the Water Blow site.
Go for glass bottom water rides at Pantai Mengiat.
The true essence of Bali's magic can only be felt by diving deep into the oceans, catching illuminating sunsets, and being absolutely smitten by its joyous and fascinating culture!
Apart from these Best Places to Visit in Bali, it is a given that each place you visit at the Island Of Gods will soothe your soul and etch an unforgettable memory in your heart.