A total of 7.39 million people visited Dubai between the months of January to May 2023. What made Dubai the traveler's Paradise?
Dubai, the largest city in the United Arab Emirates, is a mesmerizing destination that offers a unique blend of tradition and modernity. From towering skyscrapers to pristine beaches, Dubai is a man-made wonder that you should visit at least once. Dubai is a city that captivates visitors with its awe-inspiring architecture, rich cultural heritage, and thrilling desert adventures. So, pack your bags, book your tickets, and get ready to explore the wonders of Dubai.
This itinerary is going to help you understand why Dubai has been ranked as the number one destination in the TripAdvisor Travelers Choice Awards.
What sounds better than a luxurious escape to Dubai??
Yes!!! The City of Gold is waiting for you!!!
Basic Details
Language – Arabic is the official language but English is widely spoken.
Currency – The currency that Dubai uses is Dirham
Weather – Dubai is primarily a desert land. Summers in Dubai can be extremely hot. And that leaves us with winters. Winter months starting from October to April make the best time to visit Dubai. Luckily, JustWravel's Dubai community trip is conducted during this time only.
The Best 6 Day Itinerary For Dubai
DAY 1: Dubai Arrival
Your Dubai journey starts as soon as you arrive at the Dubai International Airport. Once you've cleared the immigration process, you'll get transferred to your designated hotel. Your Best Dubai Itinerary is starting from this day.
On the way to your hotel, take some time to experience what a marvel the city of Dubai is. In the evening head out for the Marina cruise. Experience the dinner cruise around the stunning Dubai Marina, where you can enjoy a wide range of international dishes while taking in the breathtaking views of the city's skyline.
Experience the awe-inspiring sights of Dubai Marina at sunset or in the evening aboard a contemporary glass houseboat, ensuring you don't miss out on this breathtaking opportunity. Upon arrival, you will be warmly welcomed with a refreshing beverage before embarking on a delightful two-hour cruise along the marina. Immerse yourself in the enchanting atmosphere created by live saxophone performers while relishing a delectable array of international dishes presented on a buffet for your indulgence and pleasure.
End the evening with a traditional Tanoura Show and Belly Dance performance. After dinner, take pleasure in exploring the city of Dubai before being transported to your hotel.
It's time for your International Vacation! CLICK HERE TO BOOK
DAY 2: Dubai City Tour with Burj Khalifa
The second day of your Dubai tour is the most beautiful day. This day you will go for a city tour exploring the gems of Dubai. During the Dubai city tour, there are several captivating places that you must visit. One of the highlights is the breathtaking panoramic view of the iconic Jumeirah Mosque, where you can admire its stunning architectural beauty and learn about its cultural significance.
Another must-see attraction is the mesmerizing view of the world-famous Burj Al Arab Hotel. This magnificent structure, known as the epitome of luxury, stands tall and proud against the Dubai skyline. As you continue your tour, you will be enchanted by the beauty of the Palm viewing the incredible view of Atlantis, a man-made island that resembles a palm tree when seen from above. Another architectural gem is the Palm Jumeirah, an artificial archipelago shaped like a palm tree.
This man-made island is a testament to Dubai's ambition and engineering prowess. It is home to luxurious resorts, upscale shopping malls, and a vibrant nightlife scene. No visit to Dubai is complete without spending some time at Jumeirah Beach and Jumeirah mosque. Lastly, as you traverse through the city, make sure to take in the magnificent sights along Sheik Zayed Road. This bustling highway is lined with impressive skyscrapers, offering a glimpse into Dubai's modern and cosmopolitan side. Explore Dubai Mall, an unparalleled shopping destination, where you can experience the mesmerizing musical fountain show.
Later you will get to experience the most breathtaking view of the city as you'll be heading toward Burj Khalifa which is the tallest skyscraper in the world. You'll also be riding the World's fastest elevator as you make your way to the top floors. The iconic 124th floor has a spacious viewing deck that offers the most iconic 360° view of the city. The city is home to the iconic Burj Khalifa, the tallest building in the world, standing at a staggering 828 meters. Visitors can take an elevator ride to the observation deck on the 148th floor and marvel at the panoramic views of the city.
Even after returning to your Hotel, this day will be really difficult for you to forget!!
DAY 3 – Lost Chambers Aquarium and Desert Safari
The third day in Dubai will allow you to experience the true essence of this City. Our first stop is the Lost Chambers Aquarium. Prepare to be amazed as you step into this captivating world, where you'll encounter an array of creatures. From sharks and graceful stingrays to piranhas, lobsters, and even tiny seahorses there's a whole host of marine life to discover. With more than 21 exhibits and an astonishing 65,000 marine animals, Atlantis The Palm offers an unforgettable experience. You can even interact with some of these creatures. Assist in their feeding under the guidance of knowledgeable experts.
Dubai is renowned for its desert Safari adventures. No visit to Dubai is complete without experiencing the desert firsthand. Buckle up for an exhilarating ride through the sand dunes, in a 4×4 vehicle that will make you feel like you're gliding on waves. Your private vehicle will pick you up from your hotel whisking you away to explore this awe-inspiring landscape.
As adrenaline surges through your veins embrace activities like sandboarding or taking a camel ride – these authentic experiences provide glimpses into Dubai's way of life. After experiencing adventures you can treat yourself to activities such, as enjoying a Shisha session watching a captivating belly dance performance witnessing the Tanura show, and being mesmerized by a fire dance. Later treat yourself to a delectable buffet dinner and a mouthwatering BBQ under the starry night sky. Finally, make your way back to your hotel in Dubai.
Day 4 – Abu Dhabi and Ferrari World
If you are an adventurous person, the 4th day of our itinerary is only prepared for you!!!
Today, we embark on a journey to Abu Dhabi. The city of Abu Dhabi captivates its visitors with its awe-inspiring landmarks and skyline that never cease to enchant. The first surprise that is going to welcome us in Abu Dhabi is Sheikh Zayed Mosque – which is famously known for being the world's largest mosque. With its stunning architecture and religious significance, Sheikh Zayed Mosque amuses its visitors every time. No Dubai Itinerary is best in absence of Ferrari World.
Here comes the most exciting part that you have been waiting for!!
YESSSS…FERRARI WORLD
We will spend the rest of our day at Ferrari World with a One Day One Park ticket. This is the world's first Ferrari-themed park, located in the heart of the fascinating Yas Island. The main highlight of the Ferrari world is the incredible Formula Rossa, renowned as the World's fastest Roller Coaster. The ride will allow you to feel the exhilaration as you go from 0 to 240km/h in 4.9 seconds while soaring 52 meters in the air.
Day 5 – Leisure Day
One of the most important parts of visiting a new city is to experience the local culture and traditional lifestyles. For that, this day in Dubai is at leisure. Feel free to explore the city independently or engage in thrilling adventure activities. To experience the vibrant local culture, head to the traditional souks. The Gold Souk is a dazzling display of gold and jewelry, while the Spice Souk offers a sensory overload with its aromatic spices and herbs. Bargaining is a common practice in these markets, so be prepared to haggle for the best deals. This Dubai Itinerary will give you freedom to explore the city at your own pace.
Dubai is a shopper's paradise, offering a plethora of retail options. The city is home to some of the world's largest shopping malls, including the Dubai Mall and Mall of the Emirates. These malls not only house international luxury brands but also feature indoor ski slopes, aquariums, and entertainment centers.
PLAN YOUR JOURNEY RIGHT AWAY
Day 6 – Departure
It's time for you to bid adieu to the "City Of Gold". You'll be transferred to the Airport by a private mode of transportation to catch your evening flight. Afterward, you'll be flying back home with fond memories of the trip that you'll cherish for a lifetime. This day marks the end of our best Dubai itinerary. Even after leaving Dubai, the memories gifted by this city will stay forever.
Best Time To Visit Dubai
The best time to visit Dubai is during the winter months from November to March when the weather is pleasant and suitable for outdoor activities. This is the best month to visit malls, and the Burj Khalifa and indulge yourself in activities.
Things To Do In Dubai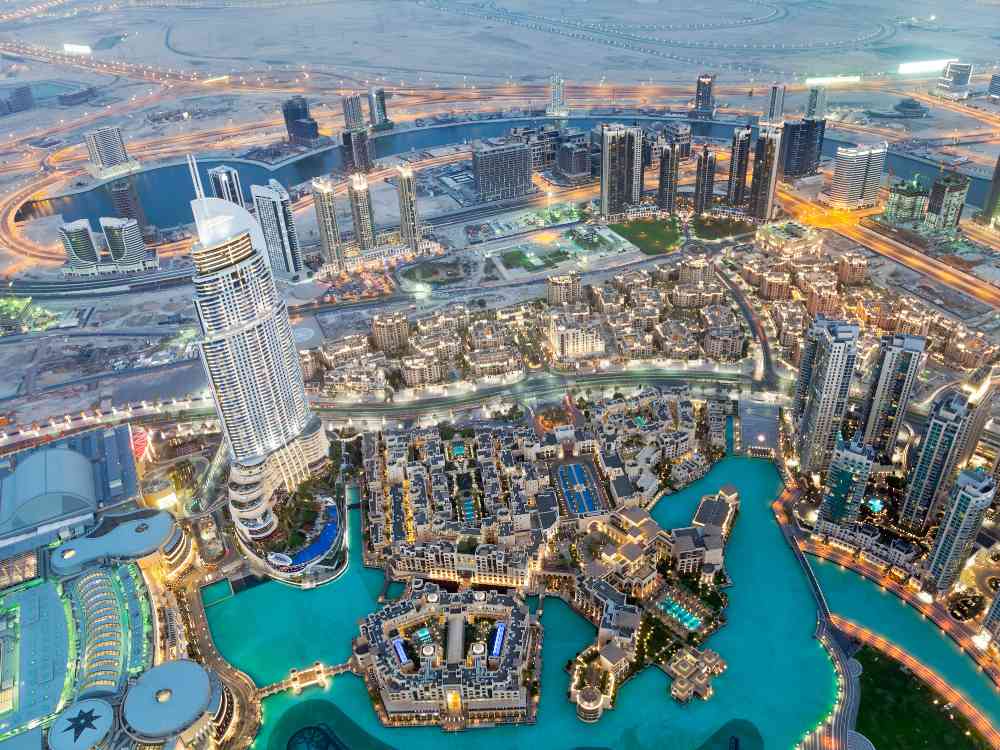 Dubai is a vibrant and modern city known for its stunning architecture, luxurious shopping, diverse culture, and exciting attractions. There is no best Dubai itinerary without mentioning the best things to do in Dubai. Here are some things you can do while visiting Dubai:
Dubai Creek – Take an Abra (traditional boat) ride along Dubai Creek, which divides the city into two parts, Deira and Bur Dubai. A saltwater creek called Dubai Creek runs through the United Arab Emirates city of Dubai. The Creek has played a significant role in the growth and history of Dubai. For generations, the Creek has functioned as the city's natural port and trading route.
Gold and Spice Souks – Wander through the bustling markets of Deira and experience the rich culture of Dubai through its vibrant gold and spice markets. The Deira neighborhood's Gold Souk, which is on the south bank of Dubai Creek, is known for its glamour and elegance. The Gold Souk is one of the most well-known gold jewelry trading hubs in the world, with brilliant displays of necklaces, bracelets, and earrings from more than 300 stores.
Jumeirah Beach – Relax on the pristine beaches, go for a swim, or engage in water sports like jet skiing and paddleboarding. One of Dubai's most well-known and often visited public beaches is Jumeirah Beach. Numerous sizable resorts and hotels are located adjacent to the frontage area of the city's white sand beach, which spans along the city's coastline. Jumeirah District, from where the beach comes, inspired the naming of Jumeirah Beach.
Dubai Opera – Catch a show, concert, or performance at this stunning architectural marvel in the heart of the city. The ability of the Dubai Opera to change from its traditional theatre mode to a flat floor layout and even into a concert hall is what distinguishes it from other theatres. This degree of flexibility has been made possible by the creative design. The Dubai Opera seating arrangement can hold more than 2,000 people at once in its horseshoe-shaped theatrical configuration.
Dubai Museum – Learn about Dubai's history and culture through the exhibits in Al Fahidi Fort, the oldest building in Dubai. One of the oldest museums in the city is the Dubai Museum or Bur Dubai. Traditional structures with wind towers and courtyards that have been restored to their original Arabic style make up the entire neighborhood surrounding this landmark.
FAQs
Q1. Do Indian citizens need a visa to travel to Dubai?
Yes, Indian citizens require a visa to enter Dubai. Tourist visas can be obtained through travel agencies, airlines, or online platforms. Expert travel consultants at JustWravel can provide assistance with visa procedures.
Q2. What's the best time to visit Dubai?
The best time to visit Dubai is during the winter months from November to March when the weather is pleasant and suitable for outdoor activities. This is the best month to visit malls, and the Burj Khalifa and indulge yourself in activities.
Q3. What's the currency used in Dubai and can I use Indian Rupees?
The currency used in Dubai is the United Arab Emirates Dirham (AED). While some businesses may accept Indian Rupees, it's advisable to exchange currency for AED for better convenience. One AED is 22 INR. It is advised to check the current conversation rate.
Q4. What are some popular attractions to explore in Dubai?
Dubai offers a variety of attractions including the Burj Khalifa, Dubai Mall, Jumeirah Beach, Dubai Marina, Desert Safari, Ferrari World, Miracle Garden, Dubai frame, Museum of Future, Global Village, and the Palm Jumeirah. Most of these attractions are covered in best Dubai Itinerary package.
Q5. What are the popular activities in Dubai?
There are a lot of fun and adventure activities you can do in Dubai. Some of the popular activities are Skydiving, Desert Safari with BBQ Dinner, Water Rides at Aquaventure Waterpark, Hot Air Balloon Ride, Watch Dubai Fountain Show, Scuba Diving, Bungee Jumping, Ziplining at Xline Dubai, Dhow Dinner Cruise, and many more fun-filled activities.
Q6. Can I use my Indian SIM card in Dubai for mobile services?
Indian SIM cards may work in Dubai, but international roaming charges can be expensive. It's advised to get a local SIM card at the airport or other outlets for better connectivity.
No need to procrastinate!!! Make your Dubai Dream come true!!!!!