Varanasi is a holy town. Varanasi exhibits the true essence of India with a divine and holy touch. The atmosphere of Varanasi, always has a fragrance same as incense sticks, as there are temples everywhere. The city is mostly crowded and looks beautiful at night with deemed lights of diyas everywhere floating over the Ganges.
Banaras has a great history that relates ancient education and development of literature in India. Although density of population is high. As a tourist, we often visit only 25% of Varanasi i.e. Old Benares city area. This part of city is the actual Kashi Nagari, parallel to Ganges River. Here old traditional buildings and narrow passages is common seen. Access to this region is complex due to narrow roads and high population density. Rickshaw (tri-cycle) is the most prominent mode of public transport in Old Varanasi. It is most preferred due to cheapness and compactness which can move easily in narrow lanes at slow speed. Rickshaw is the very common seen Varanasi Similarly "Paan" (Beetel leaf chewable product) is the most frequently used chewing item in Varanasi. People of any category from a labour to rich businessmen can be seen chewing Paan and spitting here and there. They can easily be identified with their red lips and spit-marks of orange in roads, lanes, walls etc.
People in Varanasi prefer to wear white and orange outfits of cotton made. Saffron dresses are preferred by religious people and Hindu saints. A thin cotton-made towel (locally called "Gamcha" ) is another distinguishing feature of Varanasi people. It is a multi-utility cloth piece which is used in various ways like as handkerchief, towel and turban is easy to wash and dry. Varanasi people, belonging to any religion, are much more religious and spare handsome amount of time in their religious activities and rituals. Hindi language is most commonly used communication. Body structure and fitness of Varanasi people is good and 5 feet 6 inch is the average height of people. Overall pace of life in Varanasi is medium where society is moving towards modernization with slow pace. Such marks of change can be visualized in terms of mobile phone usage, use of loud-speakers, dress code is changing and now city is expanding in other directions. New generation is shifting in outskirts of city where area which are more developed with modern facilities and amenities like wide roads, better sewage system and water supply system but far from holy Ganges
Visiting the Vishwanath temple is a must. Situated in the premises of Banaras Hindu University (BHU), New Vishwanath Temple is definitely a must visit in Varanasi and the temple complex consists of 7 temples. The Shiva temple is situated on the ground floor, whereas Durga temple and Lakshmi Narayan temple are located on the first floor. The architecture of the temple is inspired by the old Vishwanath Temple and the structure is made of white marbles. The walls of the temple are adorned with the text of Gita, which certainly catches the eyes of the visitors here.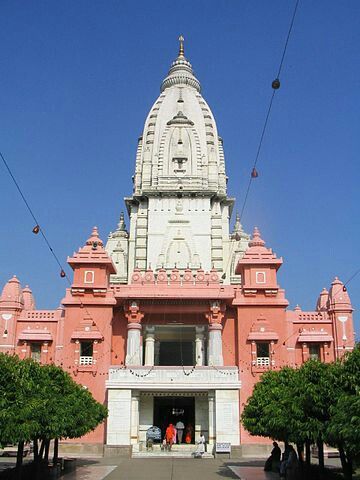 IMAGE SOURCE – PINTEREST