A lot of us have been stuck at home, working our way through the pandemic. A workation seems tempting now more than ever. A workation in Himachal Pradesh doesn't sound so bad. In fact, it would be a blessing.
I'm sure Himachal is on everyone's bucket list of travel destinations. When it comes to experiencing snow, many people flock to famous locations like Manali, Shimla and Dalhousie.
But if you like to take up routes less travelled, Himachal Pradesh has some of the best offbeat locations to offer. These hidden gems in the state offering ethereal nature, picturesque landscapes and serenity are perfect for your workation.
Himachal Pradesh is a land that gives warmth to the mind and soul. Being one of the most admired destinations in India, nestled between the snow-capped Himalayan mountains, it makes it very hard for us to not love it.
Working in a beautiful rented cottage with a view of magnificent hills, pristine valleys, ancient monasteries and gleaming lakes offer more than just pleasure for the eyes.
Keeping the current situation in mind, the times have been chaotic and stressful. A workstation in Himachal Pradesh will give you peace from all the commotion of the city and provide you with a creative space to boost your productivity.
Nowadays many people are searching for offbeat places in Himachal Pradesh as most of the tourist places are turning into concrete jungles. The demand for lesser-known places in Himachal is high which is turning the places into tourist spots now.
Here are some of the best offbeat places to keep in your mind for a workation in Himachal Pradesh
Barot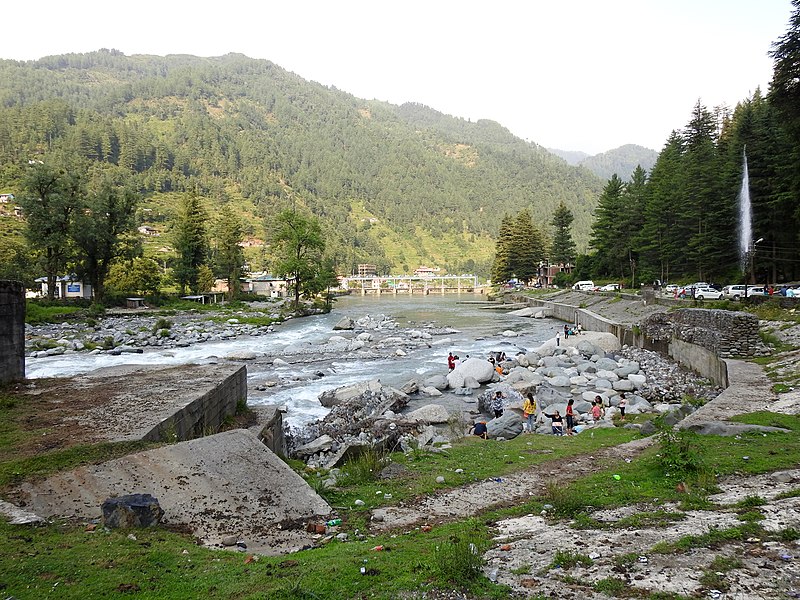 In a place like Barot, you are bound to find everything you wished for – wildlife, nature, peace, and panoramic views. Surrounded by lush forests and the breathtaking Himalayas, Barot will give you the breath of fresh and crisp air you've been waiting for.
Barot resides upon the banks of river Uhl and offers many outdoor activities for tourists. Just across the Uhl River, a temple called the Dev Pashakot Temple was built dedicated to the local deity of rain.
The place offers outdoor activities like trekking through the scenic forest trails into the mountains, which are home to a variety of flowers and herbs that have healing properties, as well as enjoying the bird's eye views.
Chitkul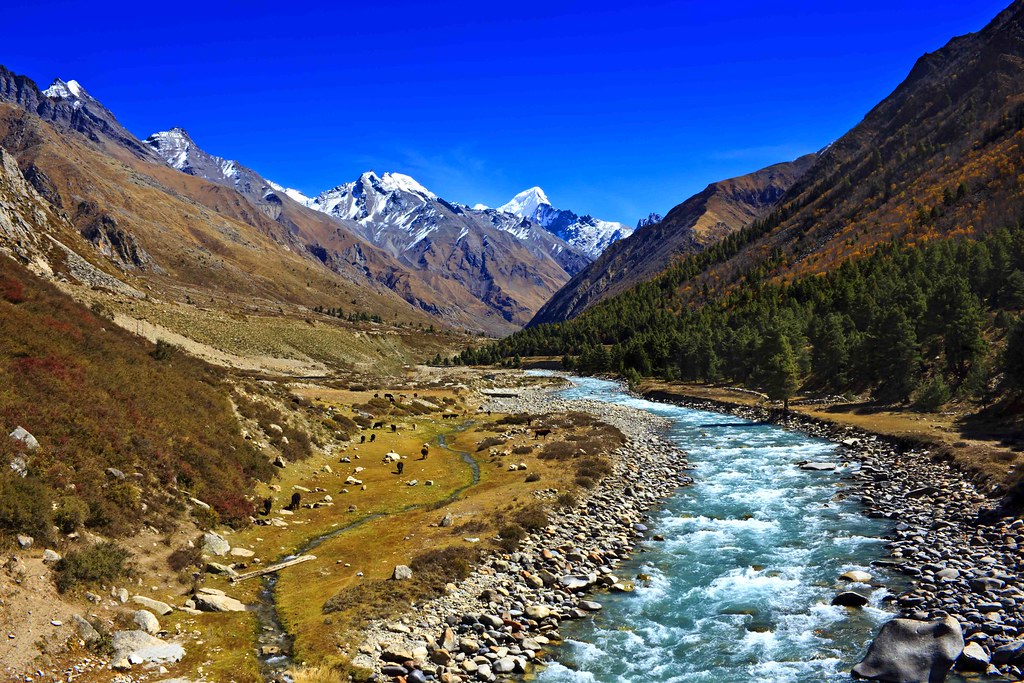 Chitkul is a quaint village situated in the Kinnaur district of Himachal Pradesh. It is the last inhabited village near the Indo-China border on the banks of river Baspa. It is also the last spot you can travel to without a visa in India.
The place is where you get the taste of chilling cold breeze swirl around you. Chitkul is full of wooden cottages with tinned roofs and ornately carved pagoda style temples, giving you a very earthy aura.
You'll find snow-capped mountains, apple orchards, mustard fields and many plants in the vicinity that paint a colourful picture for your eyes.
Interestingly, Chitkul is also famous for its potatoes and peas that are considered among the best in the world!
Jibhi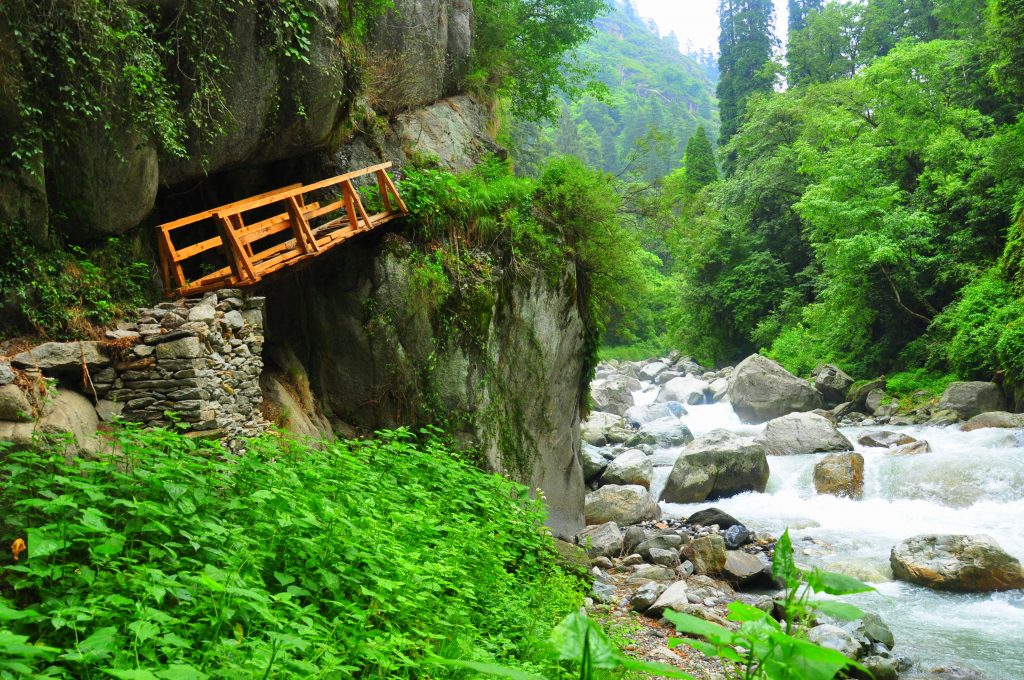 Jibhi is located just a short drive away from the beautiful Jalori Pass and the Great Himalayan National Park. This village is covered in the thick pine and cedar forests of the Banjar Valley. This makes Jibhi an ideal base for forest hiking.
There are plenty of activities to partake in if you need a break from your work. You can go birdwatching, fishing and hiking in the wilderness. You will also be tempted to take some time out to visit the holy lake of Serolsar.
Jibhi also has two must-visit ancient forts, one being the mist-shrouded Raghpur fort and the other is the Chaini fort. You will also find a collection of wooden houses with arched verandas and elaborate carvings.
Near the Chaini fort, there lies a 40-meter high watchtower that is believed to be more than 1500 years old. If you wish to explore the area, you can visit this watchtower built in the Pahadi architectural style. Interestingly, it is only found in Himachal Pradesh!
Shoja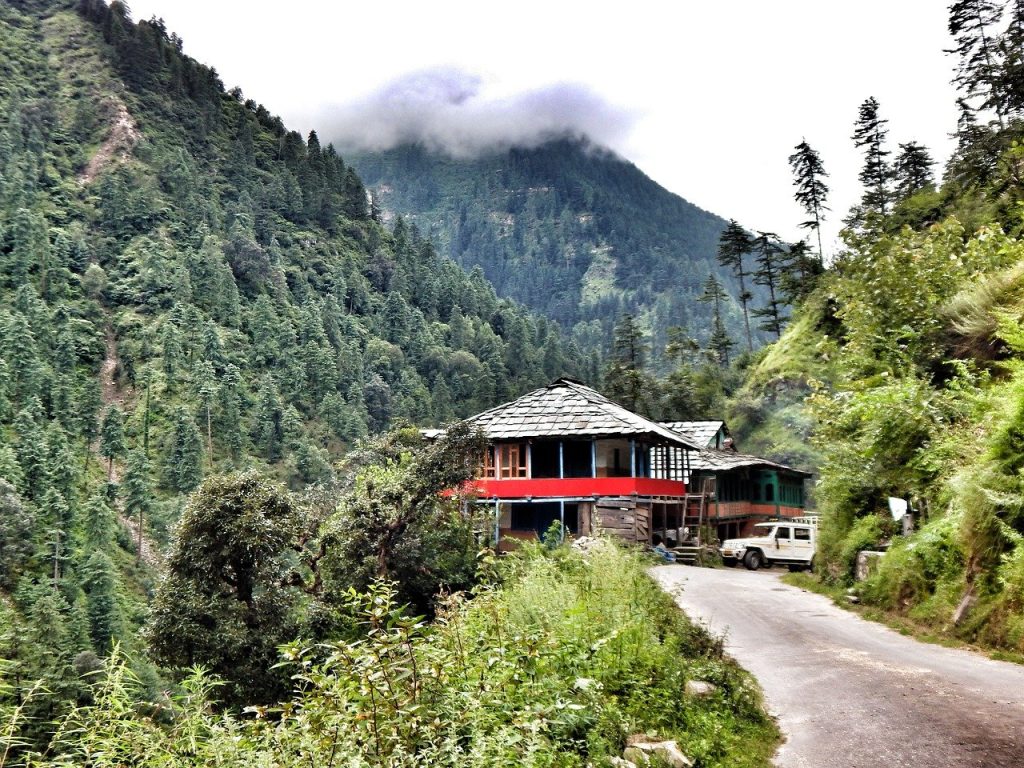 Shoja is a small place located in the Seraj Valley untouched by commercialization. Famous for its sunsets, Shoja gives you a beautiful sight to enjoy. You get to see the picturesque snow-capped mountains and get lost in the thick veil of fog.
Shoja is perfect for your workation as you get to connect with nature and unwind in solitude. Speaking of unwinding, you can also talk a walk to the Waterfall point and experience the refreshingly cold water.
Shoja is also famous for its Serolsar Lake that offers a mesmerizing view of the sunset. You can also take a soothing walk discovering the Jalori Pass which is covered in lush oak trees.
Something to remember is that Shoja has a tiny list of accommodations but that is also what makes the place charming.
Tirthan Valley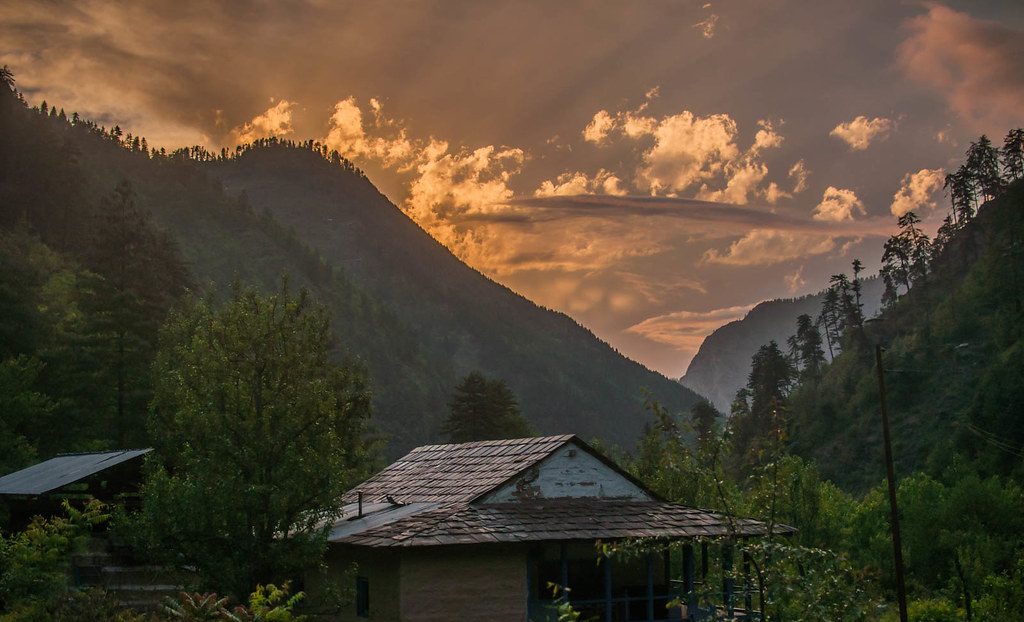 Tirthan Valley is a perfect example of nature in its truest form. This lovely valley is situated right beside the Tirthan river, which is also a hidden tourist gem. To add to its splendour, it is also surrounded by the Great Himalayan National Park.
This valley is perfect for some relaxation and completely isolated where you can focus on your work too. This is my most favourite place on the list because it's the perfect getaway for you and your loved ones.
The best time to visit Tirthan Valley is during the early summers. Even though the valley is open all year long, during summers, the beauty in this place enhances itself with blooming flowers.
To beat the crowd, have a quiet time with your loved ones, and work productively, staying at any of these places will not disappoint you a bit. All these places now have small guest houses or homestays run by mostly local families.
If you want to visit any of these, we're happy to book a stay for you. Want to know how? Well! Its just a touch of a button away.